What to Do In Boston - for Free!
Best free things to do in Boston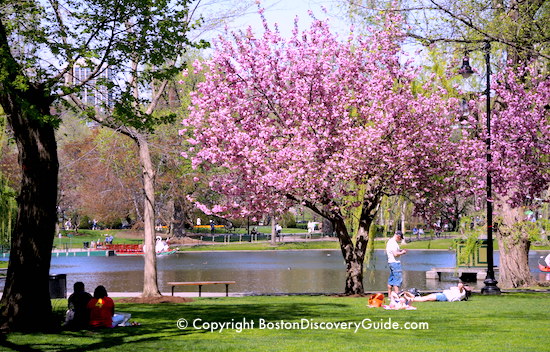 Looking for things do in Boston for free? Go for a picnic in the beautiful Public Garden in the center of the city, home to the famous Make Way for Ducklings statues
Wondering what to do in Boston for free?
Great news - many of the best Boston attractions and things to do are free or almost free.
In fact, the huge number of free things to do every day mean you get a 100% discount on the best of Boston.
Shakespeare on the Common, the Freedom Trail, the gala Boston Pops concert and fireworks on July 4th, the Columbus Day parade through the North End ... these are just the beginning of the free festivals, celebrations, tours, parks, celebrations, concerts, museums, sports, and kids activities for you to enjoy throughout the summer and the rest of the year.
You won't sacrifice any fun or miss any important sights by focusing on free things to do in Boston!
What to Do in Boston for Free - Tour the Freedom Trail
Touring Boston's 2.5 mile (4 km) Freedom Trail, marked by a red line, is one of the top things to do in Boston - and it's free.
Want to see where the Sons of Liberty gave the secret signal for the Boston Tea Party? Where the Redcoats massacred 5 colonists? Where the Battle of Bunker Hill raged?
As you take a walk through history along the Freedom Trail's red path, you'll see these plus 13 more historic sites in historic Downtown Boston, the Italian North End, and picturesque Charlestown.
Only 3 Freedom Trail sites - Old South Meeting House, Old State House, Paul Revere's House - charge nominal admission fees if you want to go inside.
Along the trail, you can visit more free Boston attractions. Near Faneuil Hall, stop by Faneuil Marketplace and enjoy free entertainment by street performers, or visit the Boston Holocaust Memorial and colorful Haymarket. When you visit the USS Constitution, go on the free tour of the ship and then explore the free Constitution Museum.
Pick up free maps in the Tourist Information Center on Boston Common (across from Tremont Street / West Street intersection) - and also join a free 90 minute tour provided by the National Park Service, weather permitting.
Restaurant.com - Save 60% or More on Boston Restaurants
What to Do in Boston for Free - Museums
Boston boasts over 30 fabulous museums. Although most charge admission fees, you can visit several of the best Boston museums free or almost free at certain times.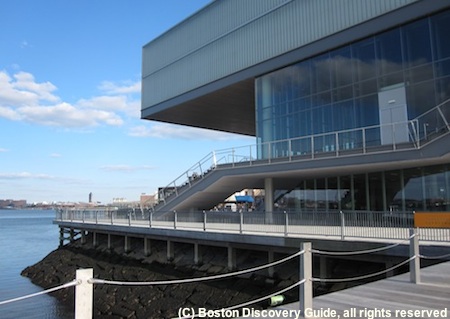 Boston's Institute of Contemporary Art offers free admission at certain times
Check out Boston's museums offering free admission:
Museum of Fine Arts- World-class art - Children and teens from 7-17 free after 3pm on weekdays, plus all day on weekends and Boston public school holidays. Children 6 and under free at all times. Also free if you have a Boston discount card.
Details: 465 Huntington Ave, Fenway, Boston; 617-267-9300
MIT Museum - Super technology and science exhibits - Free admission on Sundays 10am - noon, and second Friday of each month, 5pm - 8pm. If you're wondering what to do in Boston with teens, you'll love this museum.
Details: 265 Mass Ave, Cambridge, MA; 617-253-5927; www.mit.edu/museum
Boston Children's Museum - Top favorite among Boston things to do with the 10 and under crowd - $1 admission every Friday night from 5-9pm.
New England Aquarium - Watch seals play in their year-round outdoor habitat. You'll find two families of them in their outdoor "tank" - really a large habitat area that simulates their native New England coastal homes - to the left of the Aquarium's entrance. Free. More about New England Aquarium
ICA Boston - Boston's contemporary art museum - Free admission for all from 5pm - 9pm every Thursday, free for families (up to 2 adults accompanied by children 12 and under) on the last Saturday of each month except for December), and free for kids 17 and under at all times. Free for anyone with a Boston discount card.

Stargazing at Gilliland Observatory, Charles Hayden Planetarium at the Museum of Science - Free every Friday night from 8:30 - 10pm, weather permitting (thank you, Lowell Institute). Features a computer-controlled Celestron CGE 1100 Schmidt Cassegrain telescope; call 617-589-0267 to confirm the schedule (if weather conditions seem iffy) and to find out what's on view.
Details: Roof of the parking garage; Museum of Science, www.mos.org - click on Planetarium link.
Boston Public Library - Not a museum, but filled with magnificent paintings, sculpture, and architectural details. BPL also hosts frequent concerts, interesting lectures, and kids activities. Free at all times, plus it's right in Copley Square, across from Trinity Church and the John Hancock Tower. More about Boston Public Library
Make Way for Ducklings statues - Also not a musuem . . . but this popular outdoor sculpture pleases children and adults alike. More about Make Way for Ducklings
Outdoor sculpture - All of Boston's many beautiful parks feature plenty of statues and other sculpture. Pack a picnic, go for a walk, or toss a frisbee. More about Boston's many parks
Freedom Trail museums and sites: Free admission to the Massachusetts State House, Bunker Hill Museum in Charlestown (across the street from the monument), free USS Constitution tours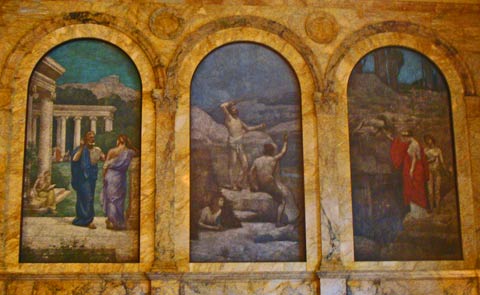 Murals in the Boston Public Library
Return to Top
- What to Do in Boston for Free
Boston discount passes for museums and other attractions
Keep in mind that if the free museum days don't work for you, you can get a Boston discount card and get free admission to many museums as well as other Boston attractions.
GoBoston Card

51 ways to save up to 55%

On attractions, tours, cruises

CityPASS

5 top attractions in 9 days

47% savings
Use these discount passes for admission to lots of other attractions, museums, tours, and cruises - compare the savings!
What to Do in Boston for Free -

Music

Home to several world-class music and performing arts colleges and plenty of musicians, Boston hosts numerous free concerts and performances - often on a daily basis. Here's a quick guide to where to find them:Free outdoor Boston concerts
Cheap and discount tickets - BSO and Pops
The Boston Pops and Boston Symphony Orchestra normally perform at acoustically-perfect Symphony Hall in Boston's Fenway neighborhood. Performances usually aren't free - but very low-cost or discount tickets may be available, especially if you're a student, under 40, or 65+. Check for availability: www.bso.org. To explore backstage and get fascinating glimpses into the history of the orchestras, go on a free tour of Symphony Hall.
Music schools and conservatories
To see what's offered on a particular day, check out events calendars for the following schools.
Berklee College of Music - Premier center for jazz and contemporary music
Go to www.berklee.edu - click on "What's happening at Berklee" to bring up the events calendar
New England Conservatory of Music - Specializes in musical performance; Website: www.necmusic.edu
Click on "Today's Concerts"
Most concerts take place in Jordan Hall - incredible acoustics!
Boston University College of Fine Arts- Free art exhibits and concerts
BU CFA website: www.bu.edu/cfa - click on News & Events, and check the listings
Historic churches
Many of Boston's historic churches provide free and almost free ($3-$5) concerts, in some cases on a weekly basis.
King's Chapel (corner of Tremont and School Streets, Historic Downtown on the Freedom Trail) - Tuesday Recitals feature musicians of every genre you can imagine, sometimes playing King's Chapel's own world-famous organ. Performances begin at about 12:15 (be there at 12 for seating) and last 35-45 minutes. Small (a few dollars) donation, which goes to the musicians. More information
Church of St. John Evangelist (35 Bowdoin Street, Beacon Hill) - Free classical concerts each Wednesday, 5:30pm, 30-45 minutes. www.stjev.org
Park and subway musicians
With so many music colleges in Boston, we have lots of musicians looking for venues. Look for talented musicians performing in the Public Garden, Christopher Columbus Park, other spots near the Boston Harbor waterfront, Downtown Crossing, and even popular subway stations such as Harvard Square.
While these performances are free, you'll usually see a hat or instrument case with a few dollars in it. If you enjoy the music, contribute a dollar or two.
Return to Top - What to Do in Boston for Free
What to Do in Boston for Free -

Theater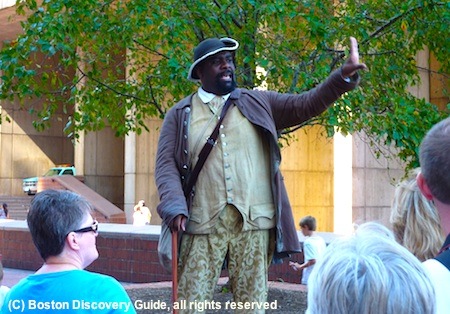 This talented re-enactor portrays Boston Massacre victim Crispus Attucks,
the first person to die in the American Revolution
What to Do in Boston for Free - Sports
Here in Boston, we're fanatics about sports - doing sports, watching sports, talking about sports, dreaming about sports. We hope you feel the same way because sports fans will find a lot to enjoy here for free.
If you're wondering what to do in Boston related to sports while you're here, try these suggestions for free and almost-free experiences, ranging from active to spectator:
Return to Top - What to Do in Boston for Free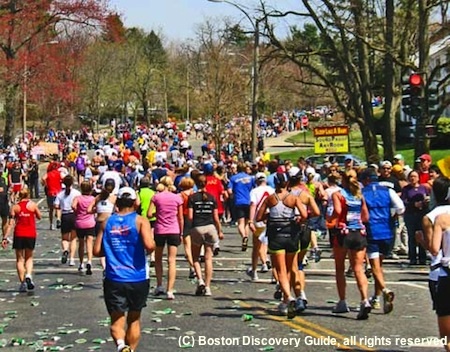 Boston Marathon runners near the beginning of "Heartbreak Hill"
Get around for free (or almost free)
Boston's compact size means that you can walk just about everywhere. This is fortunate, because driving in Boston is a nightmare if you're not used to it and parking can cost a small fortune.
Follow these tips to get around the city for free, or almost free:
What to Do in Boston for Free (well, almost) - Shop
OK, so this isn't exactly a free thing to do in Boston . . . but if you're going to shop for a souvenir anyway, you might as well get something unique at an affordable price.
Here are some suggestions:
From mid-May to late October, some of the area's best artisans and artists can be found on Sunday afternoons selling their creations beneath the white tents in SoWa Open Market in Boston's hip and trendy South End neighborhood. You'll find a wide range of mostly affordable prices. Want an edgy created-in-Boston t-shirt? This is the place to find wearable art, very cool jewelry, and loads of other have-to-have things.
Buy something delicious to consume later or give as a gift. You'll find lots of delectable goodies in the small specialty food shops along Hanover and Salem Streets in Boston's Italian North End and in Boston Public Market, across the Greenway from the North End.
Explore Boston's many city (and suburban) shopping malls. Wrentham Village specializes in discount designer wear. Others usually have some great bargains. And remember, you'll pay no sales tax on each clothing item under $175, and Massachusetts sales tax on other items is only 6.25% - so if you normally shop in a high-tax area, you can save money by shopping here.
More free things to do in Boston
Here are a few more suggestions about what to do in Boston for free - or almost free:
Return to Top - What to Do in Boston for Free
Like this Page? Please Share!
More things to do in Boston . . .
Boston Discovery Guide > See & Do > What to Do in Boston for Free