Historic Downtown Boston encompasses much of the oldest and most historic areas of the city.
This is where you'll find numerous Freedom Trail sites, Haymarket, Faneuil Hall Marketplace, and a lively mix of historic taverns and Irish pubs.
This historic area, sandwiched between Beacon Hill, Boston's Financial District, the West End neighborhood, and part of the Rose Kennedy Greenway, is where you'll find some of the city's iconic landmarks, historic markets, favorite night spots, hotels, and restaurants.
Don't be surprised if you see costumed reenactors walking down the street, as well as costumed tour guides leading groups of visitors.
Almost every sightseeing tour takes you through this area, but you'll also find it fascinating to explore on foot because there are so many interesting things to see and do here.
It's also a terrific area to stay.
Historic Downtown Boston hotels include luxury options as well as mid-range choices. All offer ideal locations for exploring both modern and historic Boston sites, nearby neighborhoods such as Beacon Hill and the North End, and the Rose Kennedy Greenway and waterfront departure points for Boston Harbor cruises.
Top photo: Costumed Reenactors on Marshall Street near The Point in Historic Downtown Boston, with the Bostonian Boston Hotel and Haymarket in the background
Boston Discovery Guide is a reader-supported publication. When you buy through our links, we may earn a commission at no additional cost for you. Learn more
---
1. Freedom Trail - Historic Downtown Boston Sites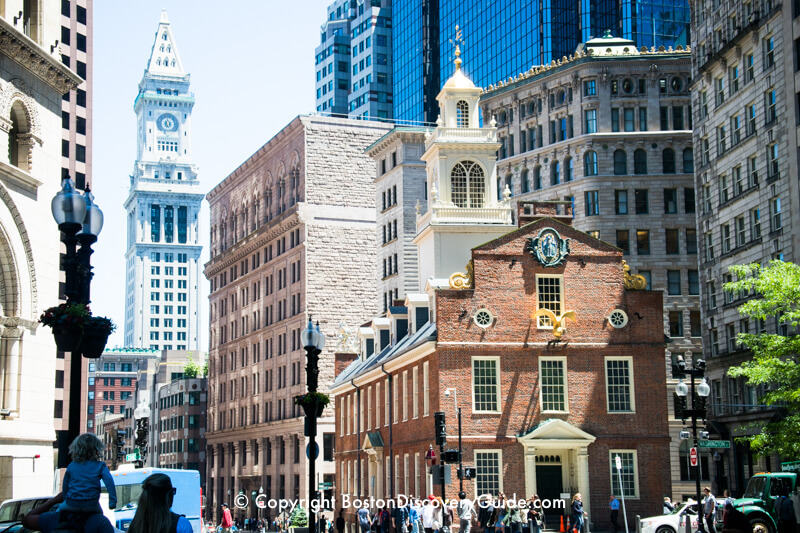 Boston's 2.5 mile Freedom Trail links together sites involved in the development of American liberty - and you'll find many of them in the Historic Downtown Boston area.
Start at Boston Common at the Park Street/Tremont Street intersection, and follow the red stripe to these sites:
Freedom Trail Tours in Historic Downtown Boston
Virtually all Freedom Trail Tours include most of these sites in the Historic Downtown and give you a fun way to see this part of Boston!
2. New England Holocaust Memorial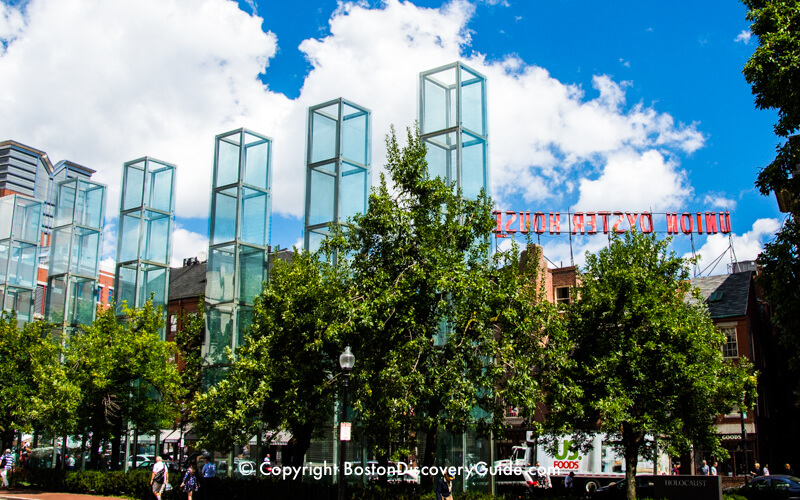 The Boston Holocaust Memorial's six soaring glass towers provide a moving reminder of the 11 million people murdered by the Nazis before their defeat in 1945.
Walk through the outdoor memorial and read the inscriptions; best for ages about 12 and up. Located between Congress and Union Streets, near Faneuil Hall Marketplace. Free.
More about the Boston Holocaust Memorial.
---
3. Orpheum Theatre in Historic Downtown Boston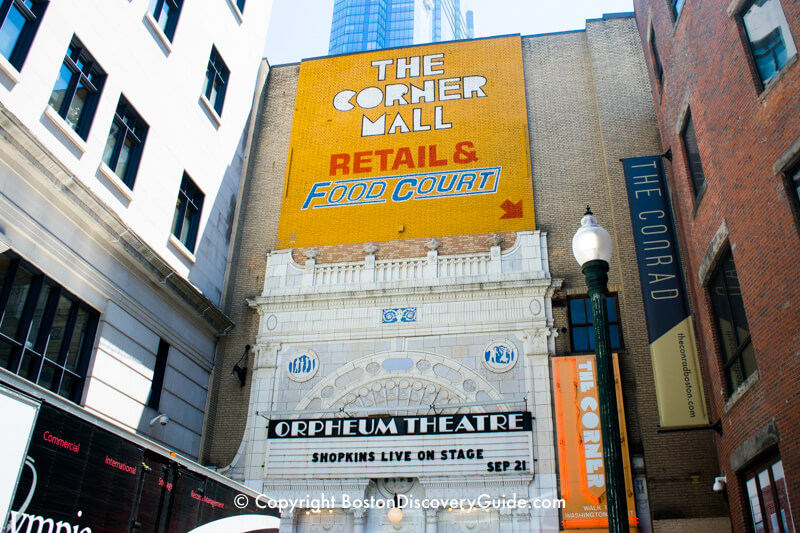 The Orpheum Theatre looks unpromising on the outside, if you can even find its almost-hidden location at 1 Hamilton Place, which is a short alley off Tremont Street across from Granary Burying Ground. Its original lobby/main entrance on the other side of the building now serves as retail space - yes, totally bizarre.
However, this historic concert hall dating back to 1852 is something of a Boston "insider's secret," legendary for its rock concerts and terrific acoustics. It is also much larger than you might expect, with seating for 2,800. Shows include an eclectic mix of mostly concerts, along with occasional comedy shows and family-friendly favorites for kids.
Schedules & Tickets
Enter DISCOVERY10 to save 10% on TicketLiquidator & TicketNetwork tickets. Good through 12/31/24.
---
4. Historic Taverns & Irish Pubs in Boston's Historic Downtown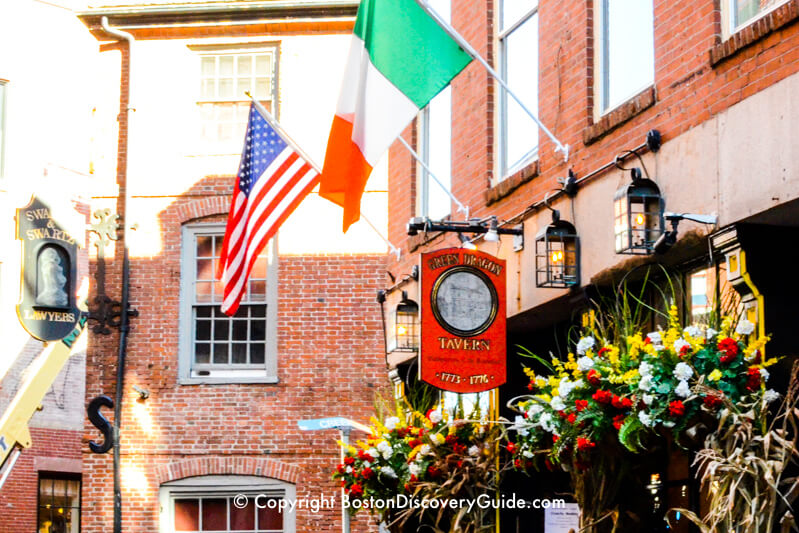 Historic taverns and Irish pubs in the area around Faneuil Hall Marketplace add up to a very lively nightlife.
You'll hear plenty of live Irish and other music, and probably encounter lots of revelers, especially on the weekend. Comedy clubs add to the merriment.
Come for lunch or in mid-afternoon for a more relaxed atmosphere.
Here are some favorites where you'll find excellent brew and decent-to-great pub food:
Hennessey's (25 Union Street) - Irish bar with live music, karaoke, DJs. Sometimes a small cover.
The Black Rose (160 State Street) - Very good reasonably priced pub food (including breakfast) with an Irish twist, live music every night, and plenty of Guinness. Top Irish musicians have played here, including U2. Nice fireplace upstairs.
Green Dragon Tavern (11 Marshall Street) - Historic tavern; pleasant place to stop for a drink and nachos. Live music on weekends and some week nights.
Bell in Hand (45 Union St) - Historic establishment, with great window tables for people-watching, and live music, karaoke, DJs, and dancing upstairs; cover on weekends.
The Point (147 Hanover Street) - Small bar with live music downstairs and a DJ upstairs on Friday and Saturday nights. Pub food such as burgers, quesadillas, and fried seafood.
Cheers (Faneuil Hall Marketplace) - Replica of the Cheers bar in the famed TV show (exterior shots show the Bull and Finch in Beacon Hill). Sure, it's touristy - but still a lot of fun. Come for the beer, burgers, ambiance, and outdoor seating during warm weather.
Ned Devine (Faneuil Hall Marketplace) - Combo Irish pub/restaurant/club, with outdoor seating, plus darkly atmospheric dining upstairs. Famous for their clam chowder. Live music, DJs, dancing on weekends; cover.
More about Boston's historic taverns
More about Boston's Irish pubs
---
5. Haymarket & the Blackstone Block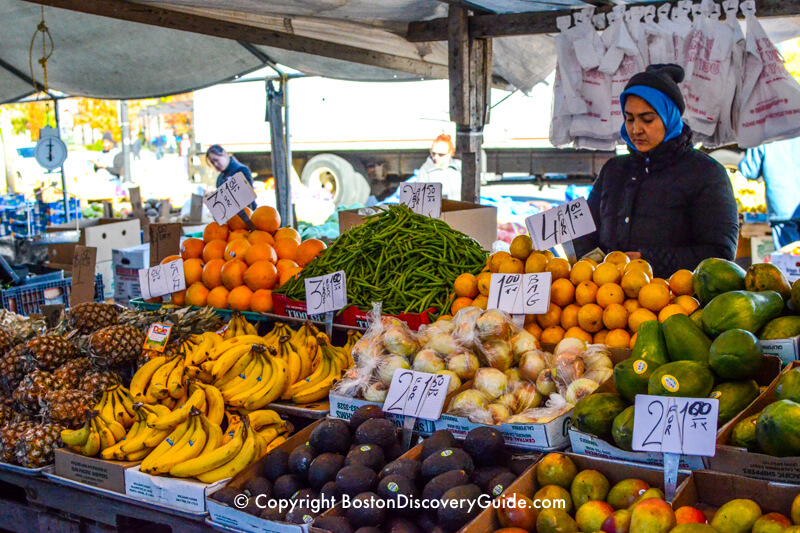 Haymarket, Boston's famous centuries-old outdoor market, pops up by the Bostonian Hotel on North Street on Fridays and Saturdays to offer the best deals in the city on a huge selection fresh produce.
Located close to the Freedom Trail in the historic heart of Boston, Haymarket and the small brick-and-mortar food shops lining Blackstone Avenue form a vibrant market district along with Faneuil Hall Marketplace and Boston Public Market.
If you're at Haymarket, spend a few minutes exploring nearby Blackstone Block (bounded by Union Street, North Street, Blackstone Street, and Hanover Street), where you'll find narrow cobblestone lanes dating back to the 17th century and are believed to follow the original pattern laid out by the Puritans. Devastating fires caused early wooden buildings to be replaced with many of the brick buildings you can still see today.
History buffs will also want to look for Ebenezer Hancock House nearby at 10 Marshall Street. Built in 1767, it was owned by John Hancock (signer of the Declaration of Independence) and occupied by his younger brother, Ebenezer, disburser of money to the Continental Army during the American Revolution. It's now used as offices, so you can't tour - but the exterior along with the rest of the street gives you a sense of what this area might have looked like during the eighteenth century.
---
6. Boston Public Market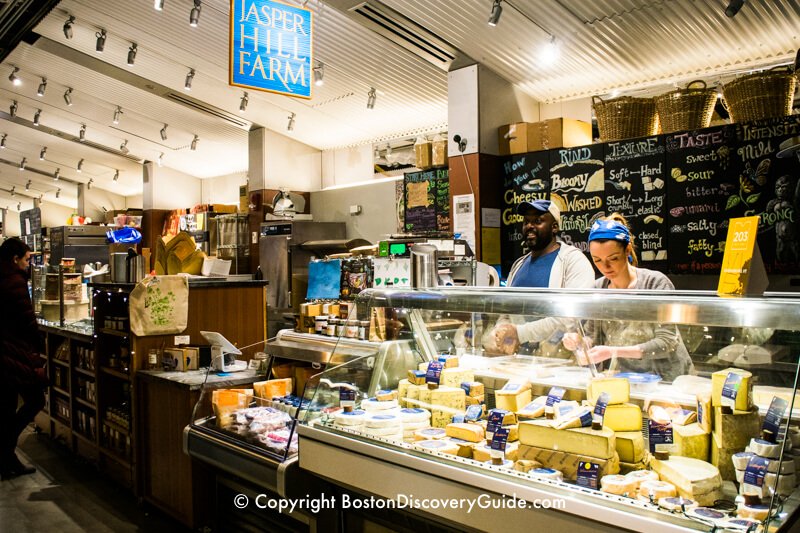 Boston Public Market (100 Hanover Street), also located in the historic market area encompassing Haymarket and Faneuil Marketplace, is an indoor market featuring local and New England food and products from 40 vendors.
In addition to wonderfully fresh seasonal fish, meat, and produce, look for specialty food entrepreneurs offering fruit vinegars, artisinal cheeses and cured meats, locally produced chocolate products, freshly roasted specialty coffee, local wines, gourmet doughnuts - you get the idea!
There are even a few vendors selling items perfect for gifts - polished serving trays made from local granite, beautiful salad bowls carved from felled (local) trees, lots of flowers.
A number of the vendors offer prepared foods - perfect to carry across the street to the Greenway for a picnic.
Boston Public Market offers a number of interesting events throughout the year. Check their website for schedules and more information.
---
7. The Greenway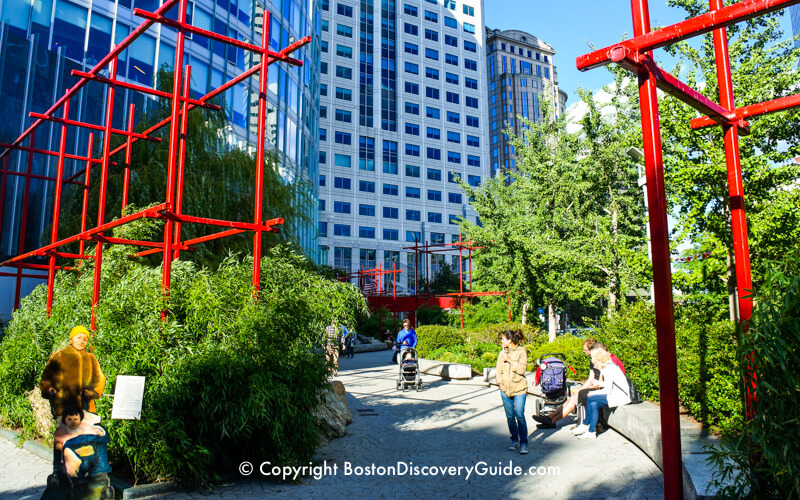 The Rose Kennedy Greenway stretches along the eastern side of Historic Downtown, forming a ribbon-like park from the North End to Chinatown.
Even though it's new, not historic, take a few minutes or a couple of hours to explore all or part of it. Look for the distinct sections, each with its own attractions such as art, a carousel, fountains, a seasonal beer garden, lush plantings, and grassy fields, and plenty of benches and tables for relaxing.
---
8. Union Oyster House & Other Historic Restaurants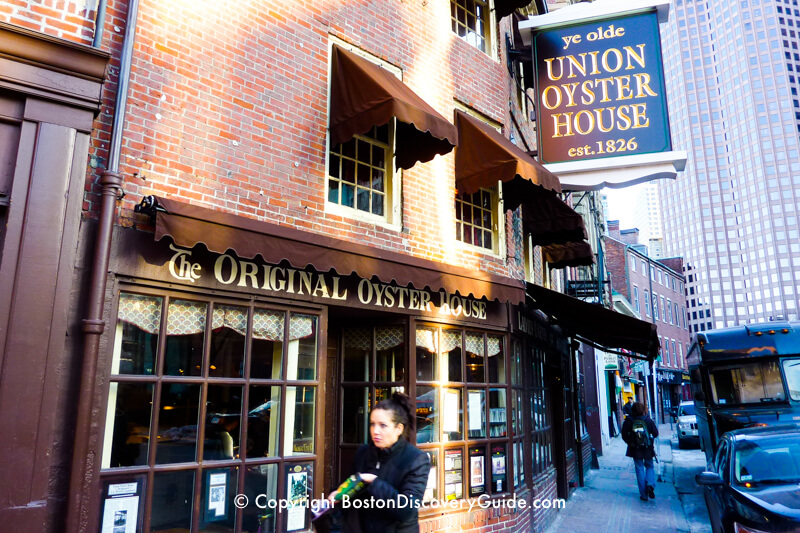 In addition to its historic taverns, this part of Boston offers several historic restaurants serving up specialties that continue to attract enthusiastic fans:
Union Oyster House (41 Union St; 617-227-2750) - Historic seafood restaurant open since 1826, and still one of Boston's best. Specialties include their famous oyster bar, whole steamed lobsters, and New England shore dinners. More Boston seafood restaurants
Parker House Bar (60 School St) at the Omni Parker House Hotel, once the meeting spot of the Saturday Club including members such as Nathaniel Hawthorne, Henry Wadsworth Longfellow, and Henry David Thoreau. Or have a meal in the Parker House Restaurant, which specializes in New England classics and local seafood and is famous for originating Parker House Rolls and Boston Cream Pie. More about the Omni Parker House Hotel.
More places to eat in Boston's Historic Downtown area:
9 Park Street (9 Park St) - Renowned Chef Barbara Lynch's wonderful Italian-French cuisine features mostly local and New England ingredients and exquisite wine pairings in an elegant townhouse overlooking Boston Common. Expensive. Bar menu is a relative bargain. (If you dine here and fall in love with the food, check out her cookbook: Stir.
Marliave (10 Bosworth St; don't miss the espresso bar on the lower level) - Oldest chef-owned restaurant in Boston, first open in 1885 - serves delicious French-Italian cuisine, including possibly the best shrimp scampi in the city.
Mooo (15 Beacon St; 617-670-2515, at the Fifteen Beacon Hotel) - Deservedly one of Boston's top steakhouses; seafood is also excellent. Come for a special occasion, or when you're on an expense account. Top picks: beef Wellington, lobster, and any of the steaks. More about the luxury boutique Fifteen Beacon Hotel
Scollay Square (21 Beacon St, 617-742-4900) - Bistro in a historic 1899 building near the Massachusetts State House, with raised patio dining overlooking Beacon Street.
Quincy Market at Faneuil Hall Marketplace - An English-style food hall lined with 35 stalls offering local specialties such as chowder and lasagna, plus homemade-type food from around the world. Gets VERY congested around midday.
---
9. Faneuil Marketplace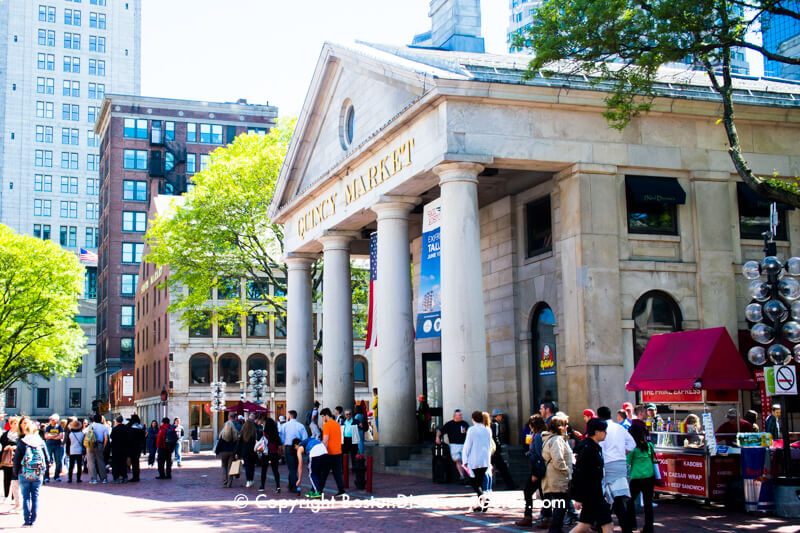 Although you'll find small specialty shops as well as a few street vendors scattered throughout the Historic Downtown Boston area, Faneuil Marketplace dominates the shopping scene in this area.
Part historic site (Faneuil Hall puts it on the Freedom Trail), part shopping and restaurant complex, and part entertainment center, Faneuil Marketplace's four historic buildings and outdoor courtyards have something for everyone. Browse in unique specialty boutiques, visit your favorite national or international brand stores, check out the interesting offerings from cart and kiosk vendors.
Street performers entertain crowds during the summer, special events take place all year, and if you're here between Thanksgiving and New Year, be sure to come see Blink!, a spectacular outdoor light and music show. More about Blink!
More about Faneuil Marketplace
---
10. Boston Athenaeum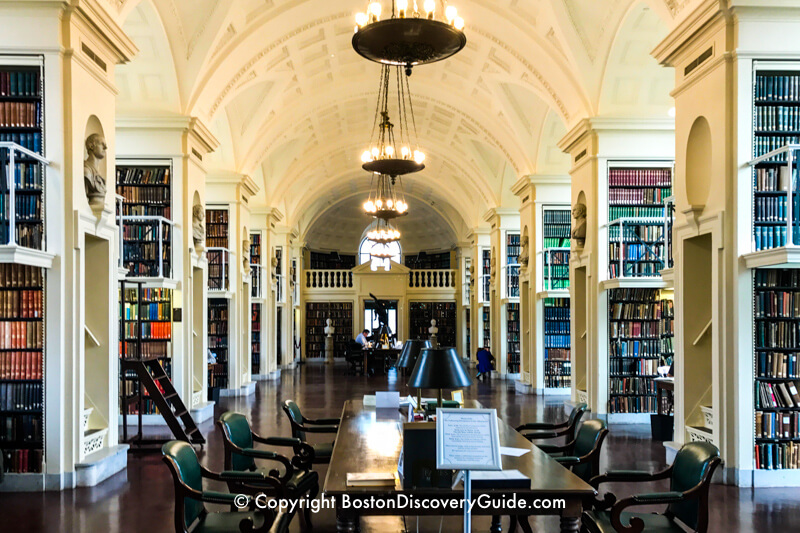 Boston Athenaeum (10 1/2 Beacon Street, on the Freedom Trail) is a membership library dating back to 1807 filled with books, art, and other treasures - truly one of Boston's gems.
If you're visiting Boston and want to explore more than the usual well-known attractions, the Boston Athenaeum will give you a glimpse the city's rich literary heritage.
Non-members can explore the first floor exhibition galleries, join a free 60-minute tour focusing on the library's architecture and museum-quality fine arts collection, and attend evening lectures open to the public.
Tours usually take place on Saturdays and one or two other days during the week; small admission and tour fees apply for non-members. Check www.bostonathenaeum.org for event calendar and tour registration information.
---
Historical Downtown Boston Hotels
To explore Boston's Historic Downtown area, stay in a nearby hotel, such as the luxurious Bostonian Boston Hotel with rooms overlooking Faneuil Marketplace: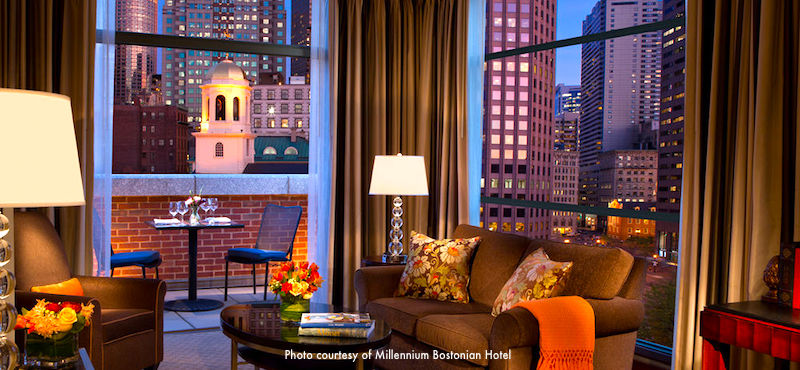 More top hotels in Historic Downtown Boston:
Check out other Historic Downtown Boston hotels
Need a Boston Hotel or Apartment?
Use this handy map from Booking.com to find the perfect place to stay. Just enter your dates to find what's available, see the best rates, and make your reservations.
---
More about Historic Downtown Boston
These books (#ad) provide terrific information about this part of the city:
---
Getting to Boston's Historic Downtown - Directions & Parking
Subway:
Red and Green Lines/Park St - Boston Common, near Park St/Tremont St intersection
Green and Blue Lines/Government Center - close to Tremont St/State St intersection
Blue and Orange Lines/State Street - under the Old State House
If you drive:
Boston's most historic sites cluster along streets laid out in Colonial times - in other words, they're narrow, twisting, and congested. Forget on-the-street parking - a garage will be your best bet. Easiest to access are garages at the edges of this area. Here are 3 where you'll find reasonable evening and weekend rates; high weekday rates reflect their location in the heart of central Boston.
Boston Common Garage - Huge parking garage under Boston Common; enter on Charles Street. Weekday rates are somewhat lower than average.
Parcel 7 Garage - 92 Sudbury Street, across from Haymarket. Daytime rates are slightly more than at Boston Common Garage - unless you get validation at Haymarket and other area businesses, which makes it the cheapest parking in town. The catch? It's often full.
75 State Street Garage - 75 State Street, enter at corner of State and Broad Street, very close to Faneuil Hall Marketplace/Quincy Market. Weekday rates are high, but it offers lower evening and weekend rates, made even cheaper by validation/discount tickets available at Faneuil Hall.
---
More to See & Do in Boston
Experience the best of historic and modern Boston on these fun sightseeing tours:
---
More Articles Related to Historic Downtown
Best Boston Tours - Find all the fun ways to see Boston's historic areas
Hop On Hop Off Trolleys - With convenient stops in Beacon Hill, these trolleys give you a great way to see historic Boston!
Beacon Hill - 10 top attractions in this famous Boston neighborhood
More Historic Boston Neighborhoods to Explore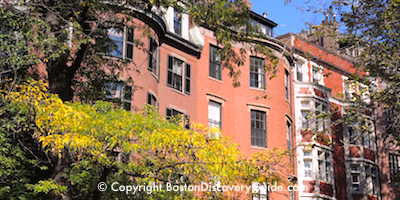 Beacon Hill - Historic Downtown Boston - Fenway - The North End - South Boston Waterfront - Bay Village - More about Boston Neighborhoods