Exciting Boston holidays, celebrations, and other events take place throughout the year, and give you a wonderful way to experience the best of Boston.
Our famous parades, celebrations, and street festivals attract huge crowds.
For special holidays and events, check out the lively and sometimes boysterous Saint Patrick's Day parade, the solemn Veterans Day parades, and the colorful and awesome Boston Pride Parade in June.
For only-in-Boston experiences, plan to attend the quirky HONK! Street Musical Fest/Procession in October, the North End's Saints Feasts, Festivals, and Processions throughout the summer and early fall, and the very fuzzy yellow Ducklings Day Parade on Mother's Day.
Some attract participants and spectators from around the world: the Boston Marathon, the Head of the Charles Regatta, and the July 4th Celebration with a free Boston Pops concert on the Esplanade followed by spectacular fireworks over the Charles River.
Other events draw mainly local or Boston-area visitors: Patriots Day celebrations, parades, and reenactments of the beginning events of the American Revolution, and the return of the Swan Boats - and swans - to the lagoon in Boston's Victorian-era Public Garden.
Christmas tree lighting ceremonies start in November, and holiday winter markets pop up all over the city in December.
And of course there are plenty of Boston sports, music, theater, and comedy club events taking place throughout the year, as well as lots of fun one-time-only events and free events.
Check out top events each month below, where you'll also find links to more details.
Top photo: Fireworks over the Charles River on July 4th, one of Boston's top annual events, (c) Boston Discovery Guide
Boston Discovery Guide is a reader-supported publication. When you buy through our links, we may earn a commission at no additional cost for you. Learn more
---
Top Boston Events Each Month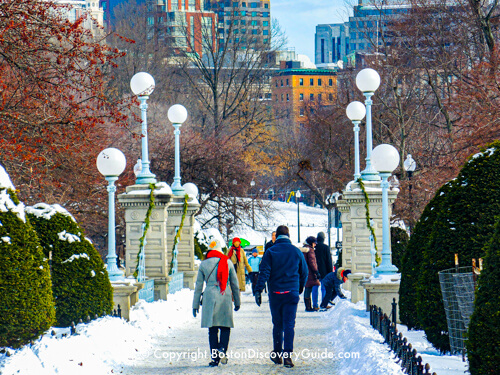 Get ready for New Year's Day hangover brunches, the L Street Brownies' New Year Day "Polar Bear" Swim, non-stop Bruins, Celtics, and Patriots games, city-wide events commemorating Dr. Martin Luther King Jr Day.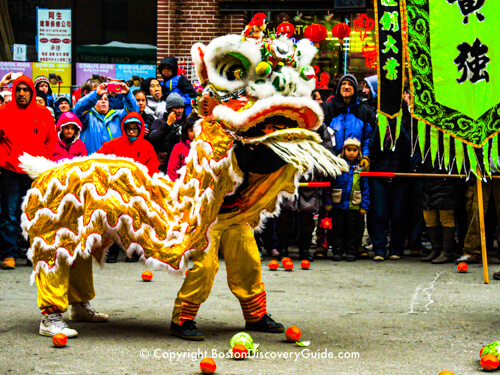 ---
---
---
---
---
---
Want information about Boston neighborhoods and districts where these events take place, including where to eat, stay, and shop? Check out our Boston Neighborhood Guide.
---
Fun Ways to Explore Boston's Food Culture'
---
More about Holidays, Celebrations, Parades, & Special Events
Looking for information about a specific event? Use this guide to find out more.
Parades
---
Top Events
---
Holidays & Celebrations
---
Sports & Entertainment
---
Festivals
---
Hotel Recommendations for Boston Holidays & Special Events
Nothing beats the convenience of staying near an event you're attending! Here are hotel suggestions for our top holidays and events:
---
More Fun Ways to See Boston
---
---
Need a Boston Hotel or Apartment?
Use this handy map from Booking.com to find the perfect place to stay. Just enter your dates to find what's available, see the best rates, and make your reservations.