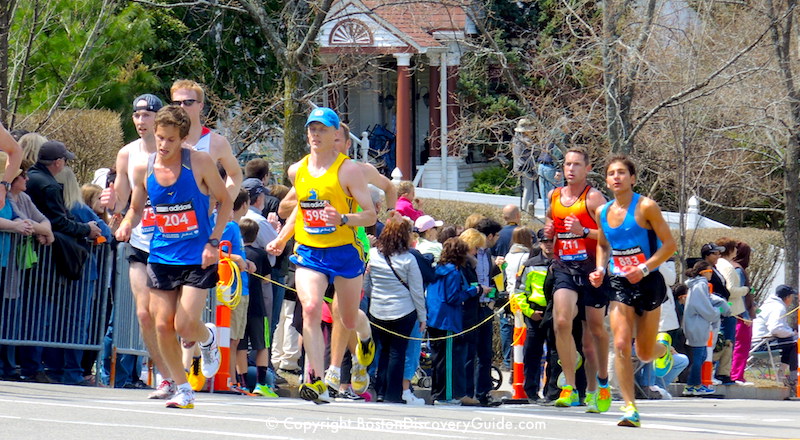 Each year, runners from all over the world compete in the famous Boston Marathon, held on the third Monday in April.
The Marathon is New England's most widely viewed sporting event, and has been taking place in Boston for over 100 years.
Even if you're not among the 36,000+ official participants expected this year, watching the runners is an awe-inspiring experience.
Every one of the elite athletes from around the world who participates in this famous race is a winner.
While some runners compete for the fastest finish times, many others run to raise money for charities, and still others simply want to do their personal best.
The Marathon is managed by the Boston Athletic Association, a non-profit group formed in 1887 to promote a healthy lifestyle through sports, especially running, and to manage athletic events.
---
Be warned: Boston hotels fill up quickly for Marathon Weekend. To be sure of getting reservations, you should decide where to stay as far in advance as possible.
Find out about different Boston hotel options for runners and watchers.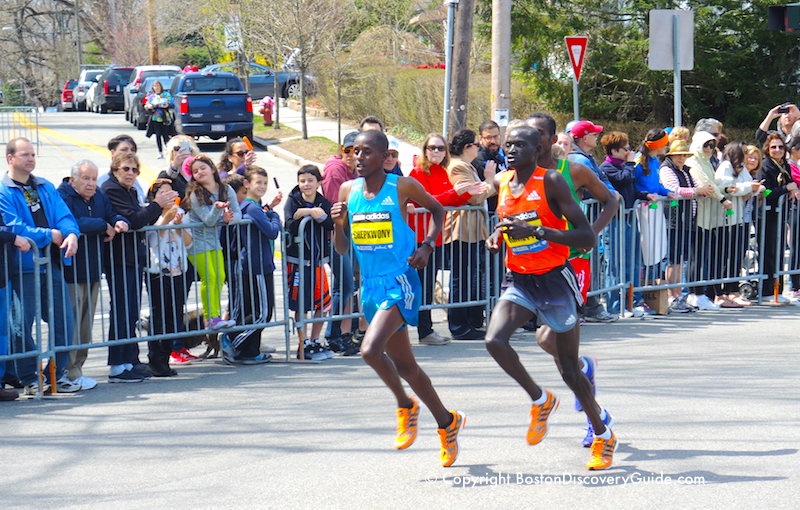 The Infamous Heartbreak Hill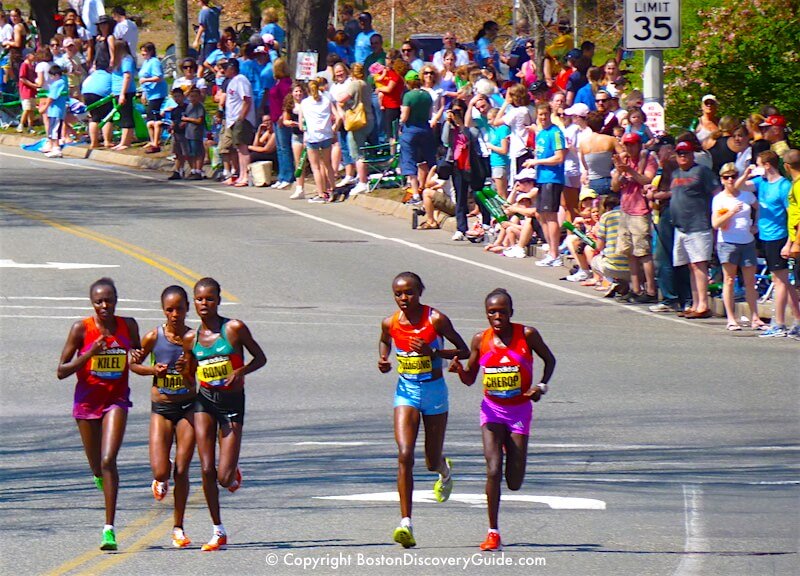 Unlike marathons held in flatter locations, hills characterize the Marathon route. Runners particularly dread "Heartbreak Hill" located between Mile 20 and 21 in Newton.
Heartbreak Hill is the last of 4 hills in Newton which begin at Mile 16. Heartbreak Hill is not the steepest or highest hill along the course - in fact, it makes only an 88 foot ascent over a .4 mile stretch near Boston College.
However, runners consider Heartbreak Hill to be the most challenging stretch of the course because it occurs so far along in the race, at a point when their energy and stamina is almost depleted.
Questions about the Boston Marathon? Check out what others have asked - or ask your own question.
Boston Marathon Race Times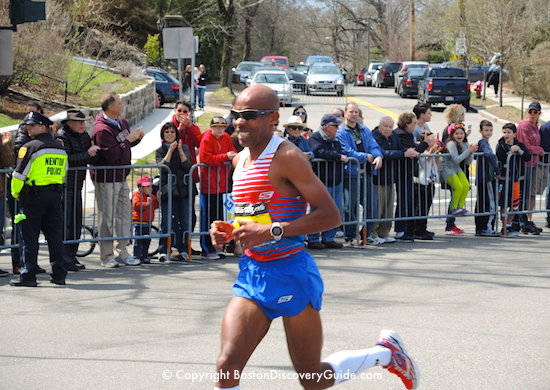 Boston Marathon start times are staggered and are based on the participant's division.
The Mobility Impaired Division starts at 9:00 am. The Elite Women's Division starts at 9:32. Elite Men and Wave 1 start at 10:00, and Wave 2 starts at 10:30. Please note that BAA labels these times as "tentative."
In the photo at the left, you can see previous Men's Elite Division winner, American Meb Keflezighi, at Mile 20 in Newton, where he already had a huge lead. The next Men's Elite runners didn't appear until minutes later.
The fastest runners finish in just over 2 hours. In other words, they reach the finish line at Copley Square shortly past noon. However, the race continues well into the afternoon.
In keeping with the democratic spirit, you'll see unofficial participants also running at least part of the race, even though this isn't technically allowed. Some people do this just to see if they can. Still others do it just for fun.
The Marathon officially ends at 5:30pm, and Boylston Street usually reopens to traffic by 8pm, with other streets used by the race opening at about 7pm.
One reason for the Boston Marathon's prestige is that it is the only U.S. marathon with qualifying time standards. Participants must meet the qualifying times in order to participate.
Curious to know if you could qualify? You can find the Marathon's qualifying times here.
Best Places to Watch the Boston Marathon
Depending on the weather, 500,000 or more people turn out to watch the race. When the weather hits the "perfect" mark (ie, not too frigid, not sweltering hot, no sleet, snow, or torrential rains), the number of Marathon spectators can soar to over a million.
Boston Marathon weather varies dramatically based on the year - find out more here
Our experience is that almost any viewing location along the route lets you experience the excitement of the race.
If you want to be near the finish line in Copley Square, be warned: crowds get huge and intense. Because of the massive number of viewers packed into a relatively small space, you will have only a slim chance of actually seeing the winners cross the finish line.
If you want to simply watch the runners, your best bet in the city is west of Kenmore Square.
Lots of boisterous crowds gather around Boston University, but plenty of more mellow venues can be found around the Chestnut Hill Reservoir near Boston College.
If you're planning to watch the Boston Marathon anywhere near the finish line, do NOT try to drive into the city. Many roads will be closed, traffic will be totally congested, and parking will be a nightmare.
If you're thinking you can drive into the city and park at some distance from the Marathon route, think again. Boston's Patriot Day Parade also takes place on Monday, kicking off from City Hall Plaza - so many streets in that part of the city will also be closed.
Street closures and parking restrictions impact six central Boston neighborhoods: Back Bay, Beacon Hill, Brighton, Fenway/Kenmore, the North End, and Government Center.
Public transportation on the T (Boston's subway) is the only sane solution - but you'll need to do some careful planning.
The closest T station to the finish line is the Copley station on the Green Line - but it will be closed for the day. Arlington station (Green Line, next to Boston Common) will also be closed.
The other closest option to the finish line on the Green Line is Hynes, down near Mass Ave, although you might also consider Boylston (Boston Common). To the south of Boylston, Green Line E/Prudential and Orange Line/Back Bay are good choices. Park Street on the Red Line (Boston Common) is also reasonably close.
A bit farther to the west, Green Line/Fenway is a good choice. If you want to be near Boston University - always a lively spot - take any of the Green Line B exits near BU, such as Blandford Street or BU East, BU Central, or BU West.
Keep in mind, though, that parking close of any and all of these areas may be restricted, even where roads aren't closed. Because Monday is the Patriots Day holiday throughout Massachusetts, parking in metered spaces is free - but good luck finding any that aren't Residents Only (and no, you can't park in those unless you want to be ticketed).
Many streets will be closed on both Saturday, when a couple of short races take place, and Monday, the day of the Marathon and Patriots Day Parade.
To see a complete list of road closures and parking restrictions, check the City of Boston's website and click on the link at the top of the home page (if you don't see it, check back within a week or two of the Marathon).
To ease your commuting effort and expense, the MBTA will run additional trains on Marathon Monday and also offers a couple of special 1-day pass options:
Subway/Bus 1-day pass for $12 - Buy it at any fair vending machine in a T station - good for 24 hours after purchase.
Worcester Line All-Day Commuter Rail Marathon Pass - $20 - good for unlimited travel on the Worcester Line, which runs parallel to the Marathon route with many stops less than 1/4 mile from the course. Buy it on MBTA's mTicket app, with case on board the train on Marathon Monday, or at ticket windows in North Station, Back Bay Station, or South Station.
You can find more details here: https://mbta.com/destinations/boston-marathon#passes
This map from the MBTA shows stops and stations closest to the Marathon route: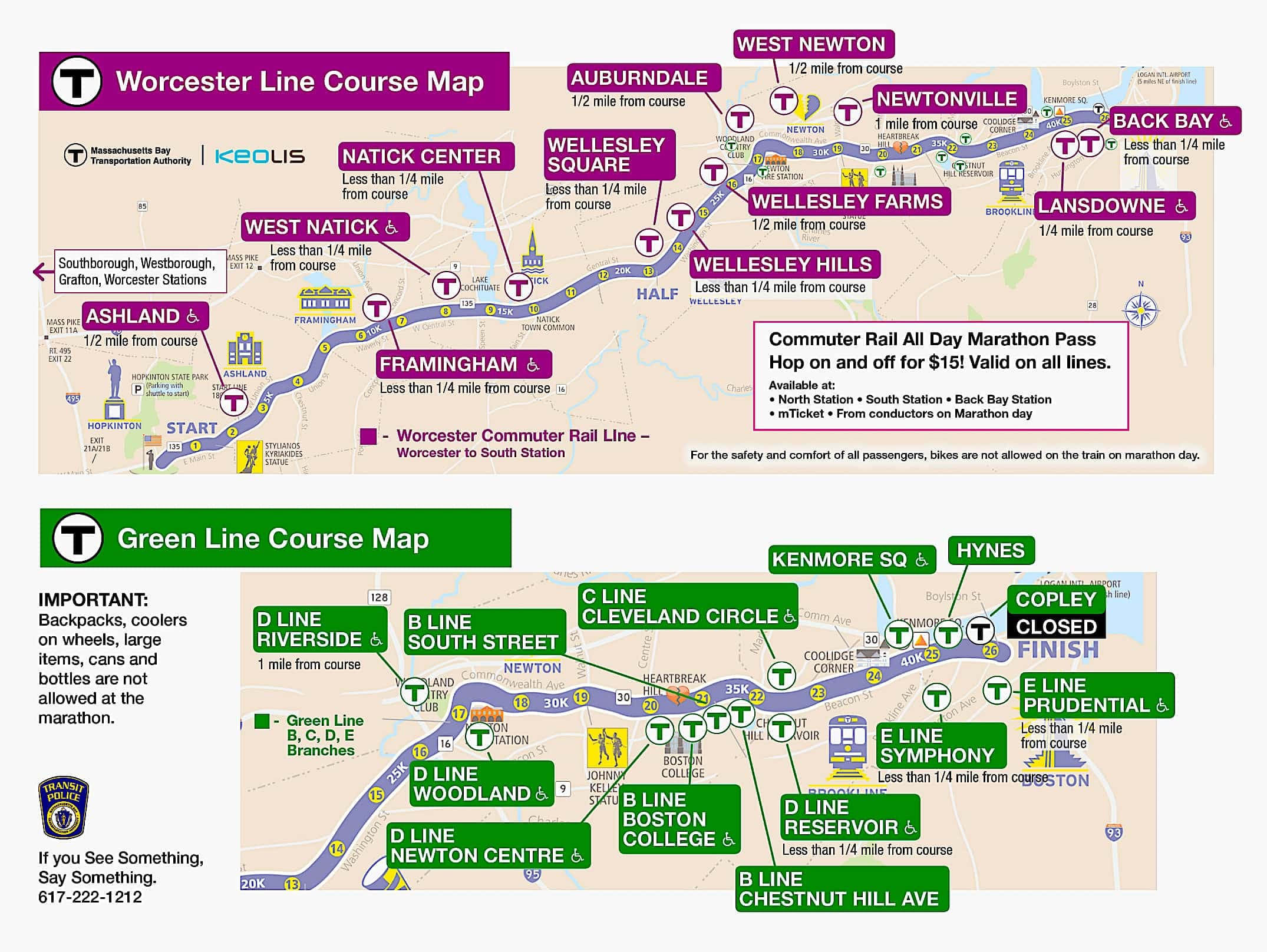 Why is the Marathon Called the "Patriots' Day Race"?
The Boston Marathon has taken place every year since 1897. Initially, runners ran on or just after Patriots' Day, a Massachusetts holiday that celebrates the battle on Lexington Green and Old North Bridge in Concord on April 19, 1775, marking the official beginning of the American Revolution.
Here in Boston, many people continue to call the Marathon the "Patriots' Day Race."
In 1969, Patriots' Day started to be officially celebrated on the third Monday in April, and the Marathon shifted to this day as well.
Because Patriots' Day is an official Massachusetts State holiday, most state, county, municipal offices, and schools are closed - which helps alleviate some of the commuter traffic into Boston and enables more people to watch the race.
Marathon Man Statue - John A. Kelley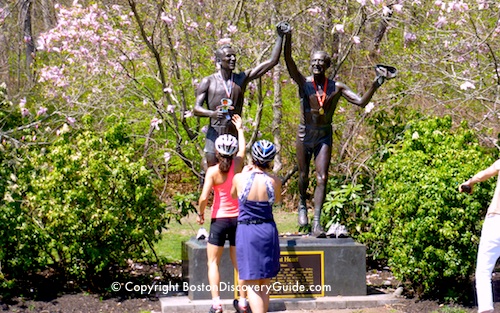 The "Marathon Man" statue near the beginning of Heartbreak Hill, just north of Commonwealth Avenue at the Walnut Street intersection, commemorates Boston's legendary world-famous long distance runner, John A. Kelley, who ran 61 Boston Marathons before his death in 2004 at age 97.
Kelley won the Boston Marathon in 1935 and 1946, and represented the U.S. at the Summer Olympics in 1936 and 1948.
The statue depicts two smiling runners joining hands in a triumphant gesture. On your left, as you face the statue: Johnny Kelley at age 27 after he won his first Boston Marathon. On your right: Kelley when he ran his last full Marathon at 84.
At the base, a plaque explains that the statue represents "everyone who is young at heart."
217th Marathon - Boston Strong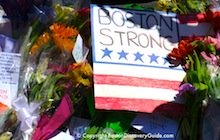 During the 217th Marathon, two bomb explosions near the finish line ripped through the heart of our most iconic Boston event.
But despite this horrific event, Boston was not "terrorized," and we will continue to run and watch Marathon every year.
Boston Marathon Questions