Boston whale watching cruises give you with the opportunity to see some of the ocean's most fascinating creatures up close and in action. You'll be just a short distance from the city - but immersed in another world.
You'll watch the whales splash in the water, see pods of dolphins playing nearby, and observe many species of sea birds and other marine life. You'll quickly understand why cruise passengers sometimes call this "the experience of a lifetime."
How many whales will you see? Usually anywhere from 3-4 to 10 or more. How many more? Occasionally, 50 or more are spotted. Whale cruise boat captains know how to bring you up close without disturbing or accidentally injuring the whales, so you'll have usually have excellent views as the whales frolic in the water.
As a bonus, you'll get a fascinating tour past many of the Boston Harbor Islands as you cruise out to see the whales.
You'll even pass by historic lighthouses along the way, and enjoy beautiful Boston skyline views on the way back.
Cruises depart daily from the convenient downtown Boston waterfront.
Get your whale cruise tickets now:
"We saw ten different whales all at once! They were jumping around so much that we thought they were putting on a show just for us.
I loved this so much - I want to go back every day!!!"
Olivia,
Boston, Massachusetts
Top photo: Whales frolicking at Stellwagen Bank National Marine Sanctuary near Boston, (c) Boston Discovery Guide
Boston Discovery Guide is a reader-supported publication. When you buy through our links, we may earn a commission at no additional cost for you. Learn more
---
What to Expect on a Whale Watching Tour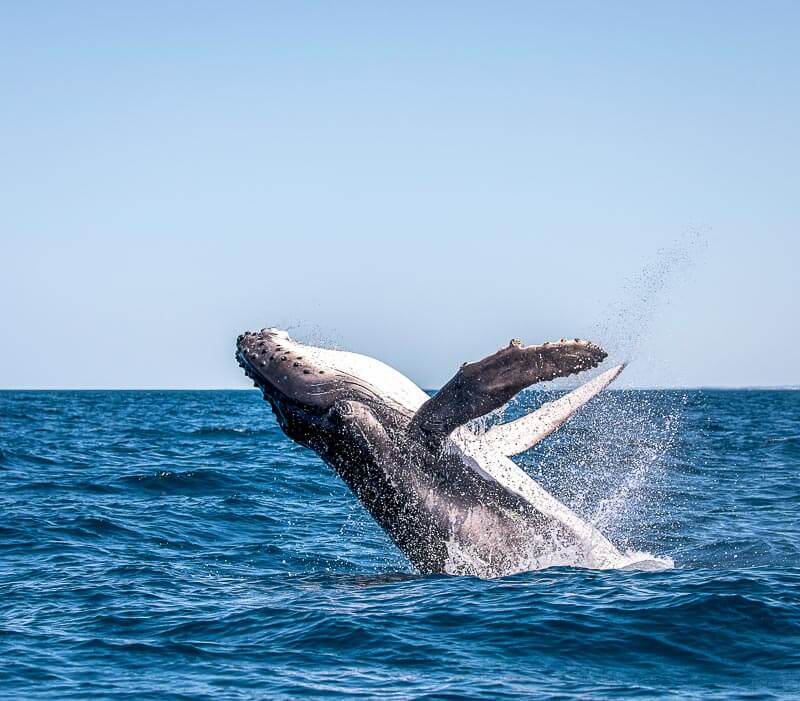 Boston Harbor Cruises and the New England Aquarium partner to give you a top cruise boat experience combined with expert marine biologists who share fascinating information about the sea life you'll be seeing.
Your whale watching cruise ship - a top-of-the-line high speed catamaran custom designed for comfort with three outside viewing decks, a climate-controlled cabin, and space for up to 400 passengers - will whisk you out to Stellwagen Bank. This large protected National Marine Sanctuary located about 25 miles east of Boston provides the perfect feeding ground for all kinds of marine life during spring, summer, and fall months.
A certified New England Aquarium naturalist sails with you on each cruise, and explains what you will see, answers your questions, and shares knowledge about the whales, white-sided dolphins, harbor porpoises, and other marine creatures who live in the sanctuary. You'll also see an amazing assortment of sea birds.
Whale watch trips typically last about 3-4 hours, and sometimes even a bit longer due to weather and wind conditions. Boston's best whale watching season is from late March through November, which is when the tours run.
Cruises depart from Central Wharf on the Downtown Boston Waterfront, located next to the New England Aquarium.
What to expect:
Large whales from several different species - typically, humpbacks, fin whales, and minkes. You may even spot pilot whales, endangered right whales, and sperm whales, as well as a few other much less common species. Especially fun: watching the young whale calves play.
Humpback whales often breach, or jump out of the water, one or more times. Have your camera ready!
Pods of playful dolphins (sometimes hundreds of them), seals, and harbor porpoises, along with lots of seabirds. You may also see dolphins breaching!
Amazing views from the catamaran's 3 outside viewing decks - and good views from the climate-controlled interior cabin.
You may hear the naturalist on board may call the adult humpback whales by names given to them by researchers who identify and monitor the whales as they migrate each year between the Caribbean and Stellwagen Bank.
Because so many whales live in Stellwagen Bank, tour boat operator Boston Harbor Cruises guarantees whale sightings for each cruise - so if for some reason there are no whales to be seen on your trip, they will give you a free ticket for a future whale watching cruise.
---
Whale Watching Cruise Tickets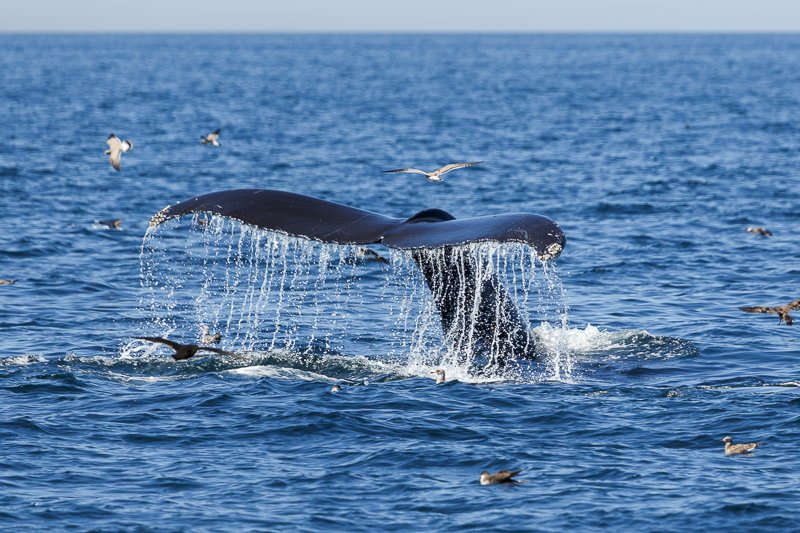 Join one of the exciting 3-hour Whale Watching Cruises departing from the Downtown Boston Waterfront, and experience the thrill of spotting whales off the coast of Boston.
You'll see magnificent creatures such as Humpback and Finback whales close-up from the deck of your ship, and spot White-Sided Dolphins frolicking in the waters.
These cruises sell out quickly, so don't wait to get your tickets now for this iconic Boston experience!
---
What to Bring on Your Whale Watching Cruise
Sunscreen, sunglasses, a hat - The sun reflects on the water, and may feel much stronger than on land. There will usually be a breeze, so make sure your hat fits snugly on your head.
Camera (or phone) and/or binoculars - You'll find lots to photograph and watch! Make sure your camera (or phone) is waterproof, as you may get splashed while photographing.
Sweater or jacket - light to medium-weight, depending on the season - You may feel MUCH cooler on water than on land, and there may be a breeze. A windproof jacket is best.
Motion-sickness medication? No - because motion-sickness remedies such as Dramamine need to be taken at least an hour before boarding. The catamarans used for Boston whale watching cruises are designed to be highly stable, but if you think you might experience motion sickness, take Dramamine (or something similar) before you board.
Comfortable rubber-soled sneakers or shoes - Far better and more stable than sandals or flip-flops for moving around on the decks.
Food? No need to - you can buy sandwiches, fruit, and snacks in the ship's galley, along with non-alcoholic and alcoholic beverages. Bring cash. Being out at sea sometimes means credit/debit card transactions are not possible due to connectivity glitches.
---
More to Know: FAQs about Boston's Whale Watching Excursions
Should you buy your tickets in advance? Yes, these cruises are very popular, have limited capacity, and often sell out, especially on weekends, holidays, and during summer months. Buy online in advance to save time, get your preferred date, and find the best deals.
Do whale watching cruises take place year-round? No. They run through late November, stop during the winter when the whales head south to the Caribbean, and then start up again in late March after the whales migrate back to New England.
What is the best time for whale watching cruises in Boston? You can see whales from early spring to late fall (mid-March through November or early December) - after all, the boat captains guarantee spottings. Peak season for the tours is usually April through October, simply because by November, the weather gets unpredictable. However, November can sometimes be the best month for seeing the largest number of whales, with 30-50 and more reported for some cruises.
Which side of the boat has the best whale views? Both are fine, because the captain will turn the boat so that everyone gets a great view. If you're not prone to seasickness, the front of the top deck gives you fantastic views. If ocean swells make you queasy, stay on a lower deck - you'll still have a good view.
How big are the whales? Humpback whales can be up to 50 feet long and 45 tons in weight. If you're very lucky, you may get to see them "breach" - suddenly jump out of the ocean. Needless to say, something this large makes a very big splash! Your boat will rock! Finback whales are even bigger - up to 70 feet in length and 65 tons in weight.
How close will you get to the whales? It depends ... boat captains get as close as they can to the whales and other mammals without endangering them. You'll usually be close enough to get great views, photos, and videos.
Get your Whale Watch Cruise tickets now
---
More Fun Boston Cruises:
---
More Articles about Popular Ways to Explore Boston
---
Make Your Boston Hotel Reservations
Enter your travel dates in this hotel map from Booking.com to see what's available and find lowest rates: