Our recommendations for fun outdoor winter activities in Boston will let you make the most of your visit to Boston during this special time of the year.
Cold New England weather turns Boston into a sparkling winter wonderland, making it the perfect time to enjoy outdoor winter sports.
Our suggestions range from easy things to do on winter days - ice skating on Frog Pond in the middle of the city, or following our itinerary for a scenic walk in the snow - to more challenging: frost-bite sailing!
Maybe you'd like to try skiing or snowboarding down scenic slopes near the city - or pamper yourself in a top New England ski resort.
Whatever your choice, remember: the best way to love the cold in Boston is to embrace it!
Boston Discovery Guide's Recommendations: 8 Outdoor Activities for Boston Winter Fun 
1. Skiing near Boston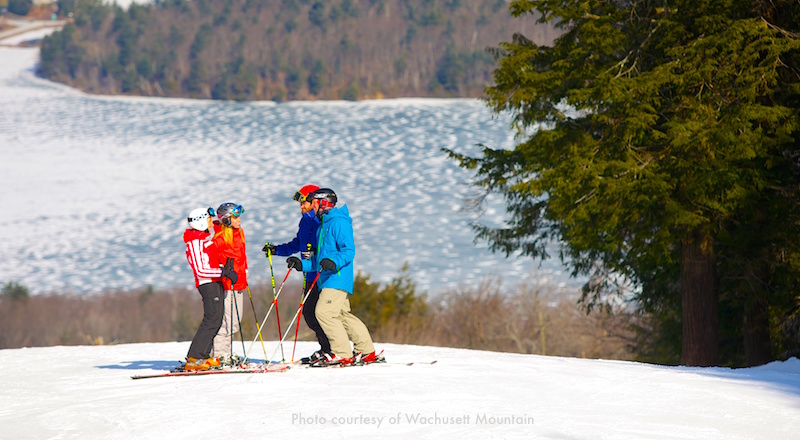 Less than an hour outside of Boston, you'll find a number of ski areas for downhill skiing, cross-country skiing, snow shoeing, and snow tubing. Some even have terrain parks for snowboarders and free stylers.
Go just for the day, or a long weekend. Most offer lessons and equipment rentals.
More about Massachusetts ski areas near Boston
2. Ice Skating in Boston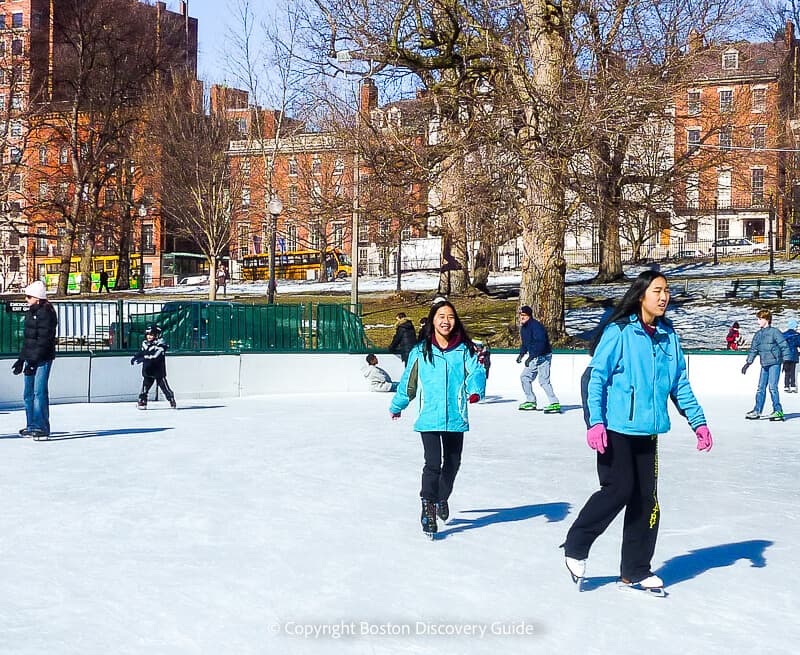 If you're visiting Boston and staying in a hotel in the central part of the city, walk over to Boston Common for ice skating on Frog Pond.
As you'll see when you get to the rink, this is a popular winter sport in Boston for all ages and all skill levels.
No need to bring your own skates - just rent them at the rink.
Don't know how to ice skate? Also not a problem - for about $10, you can rent a device called a "Bobby Seal" (short for "Bobby the Skating Seal") to hold onto while you learn how to navigate on the ice.
You can also head to several other ice rinks in Boston and Cambridge - most also offer skate rentals and lessons.
More about ice skating in Boston
3. Complete Guide to New England Ski Areas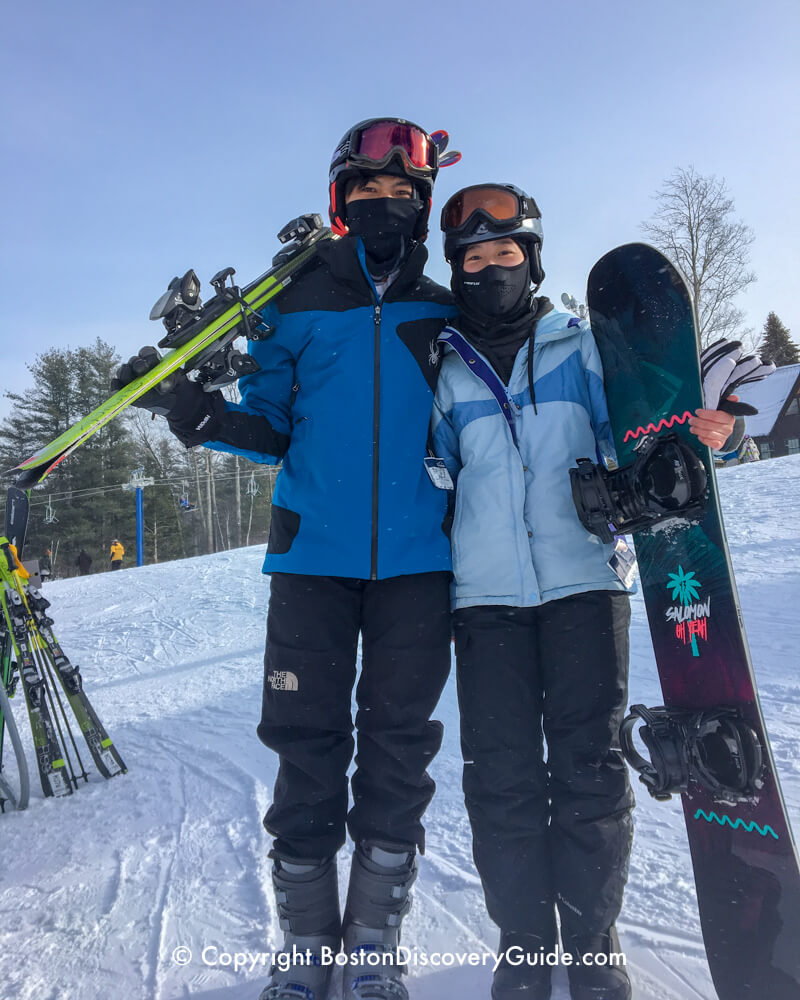 New England turns into a skier's paradise from late October through early May.
Drive just 2 or 3 hours from Boston, and you'll find plenty of places to enjoy this favorite winter activity. Plus, many mountains and resorts also offer snowboarding, tubing, ice skating, and other winter sports.
Go for the day, or stay for a weekend or longer.
Check out our complete guide to New England ski areas
More Ways to Experience Boston in the Winter
These fun trolley tours, bus tours, and special destinations let you enjoy the best of Boston!
---
4. "Frost Bite" Sailing in Boston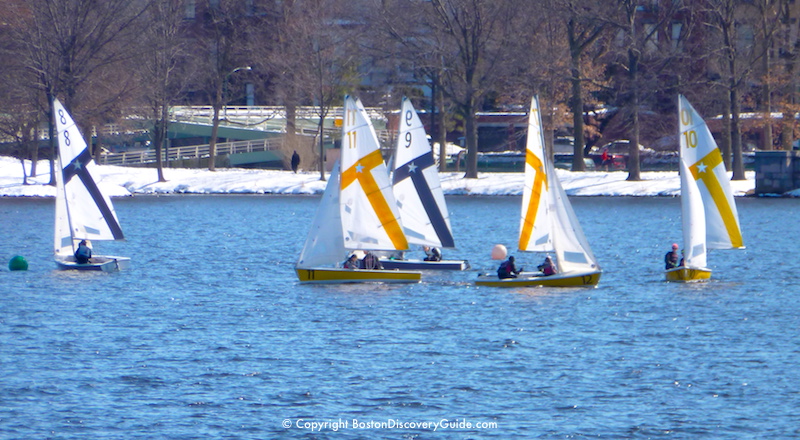 "Winter" and "sailing" don't usually go together - but for frigid-weather conditions add to the challenge for avid sailers.
If you fall into this category, you may want to try when you visit Boston during the winter.
Many of the Boston sailing centers provide short-term rate options to make this affordable, and lots of camaraderie to make it fun!
5. Sledding on Boston Common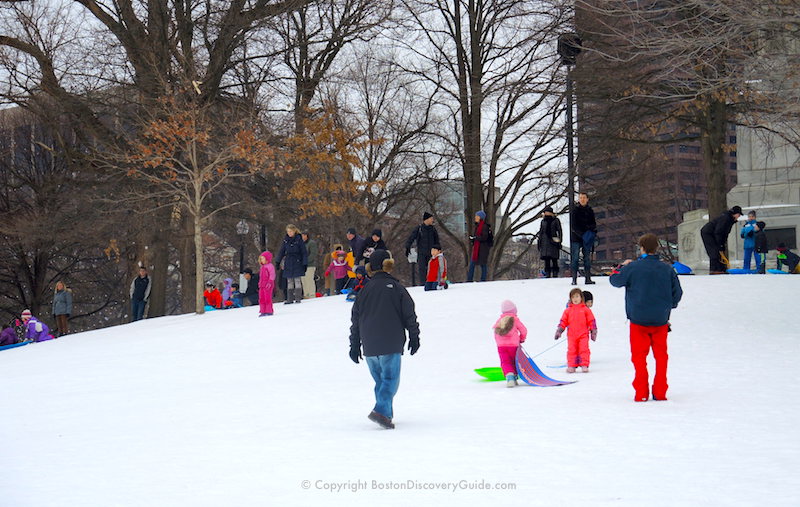 If your kids (or you) just want to have fun in the snow, nothing beats sledding.
Boston Common's gentle slopes and slightly steeper hills offer the perfect spot whenever freshly-fallen snow blankets the city.
Ask the concierge at your hotel about the closest place to buy a sled, or something sled-like. Simple plastic sliders cost $5-$20, and will work fine.
Boston Common's slopes offer plenty of tree-free spaces, so sledding conditions are reasonably safe even for younger kids.
Top Hotels near Boston Common