Staying in the newest hotels in Boston lets you be among the first to experience the newest trends in amenities and perks - rooftop decks, indoor swimming pools, creatively themed onsite bars and restaurants, and hot locations.
You may also get low rates and opening discounts if you're among the new hotel's first guests - so look for hotel offers.
You'll find a huge range of appealing choices. Boston and next-door neighbor Cambridge are in the middle of a huge hotel buiding boom, with eight more major new properties scheduled to open this year, next year, and through mid-2022 - and that's not counting smaller hotels and iconic properties such as the Langham Boston and the former Taj getting top-to-bottom renovations.
Several of the newly opened hotels such as Boston's second Four Seasons sit squarely in the "luxury" category, but a competing trend for affordable "micro" hotels such as the Theatre District's Moxy and the new CitizenM by TD Garden offers you welcoming communal spaces like rooftop terraces and lobbies designed for fun and relaxation to make up for minimalist guest rooms.
You can choose from major chains like Marriott and Hilton, hip but lesser-known international brands like CitizenM, and even independent boutiques like the Whitney Hotel and Studio Allston.
We list these new hotels in Boston in the general order of when they opened, starting with the most recent opening. Want to see what's coming soon? Under-construction properties are at the end of the article along with their projected opening dates.
Boston's newest hotels: Citizen M - Cambria Hotel - Moxy Boston - Whitney Hotel - Encore - Four Seasons at One Dalton - Hyatt Centric Faneuil Hall - Revolution Hotel - The Row at Assembly Row - Studio Allston Hotel - Courtyard by Marriott Boston Downtown/North Station - AC by Marriott, Ink Block Project - The Alise - YOTEL Boston - No. 284 - Homewood Suites @ Logan Airport - Hilton Garden Inn @ Patriot Place - Porter Square Hotel, Cambridge - AC Hotel by Marriott, Cambridge - Hotel Map - More New Hotels Coming Soon
Top photo: Cambria Hotel Boston lobby
CitizenM North Station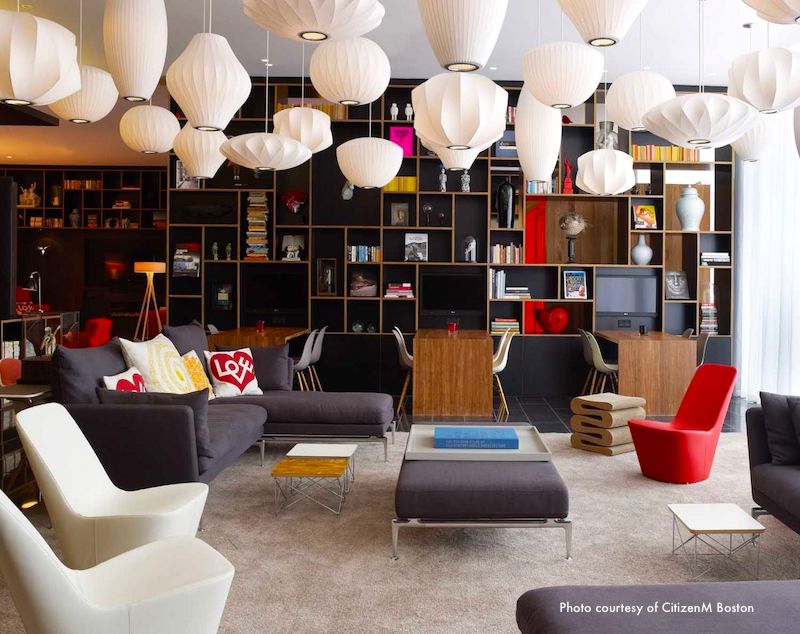 80-120 Causeway Street at Bulfinch Triangle in Boston's West End neighborhood
CitizenM Boston, located directly above theTD Garden sports/entertainment venue offers you 272 "affordable luxury" rooms, a welcoming 4th floor lobby featuring art, books, and cool furniture, 24x7 food and beverages (not that there's any possibility of going hungry in this restaurant-filled neighborhood), and an outdoor terrace with ping-pong tables.
Enjoy the fantastic views, explore nearby Faneuil Marketplace and Beacon Hill - and of course take in an event or two at TD Garden.
Compare rates for CitizenM Boston
Find more hotels near TD Garden
Check out other inexpensive Boston hotels
Cambria Hotel in South Boston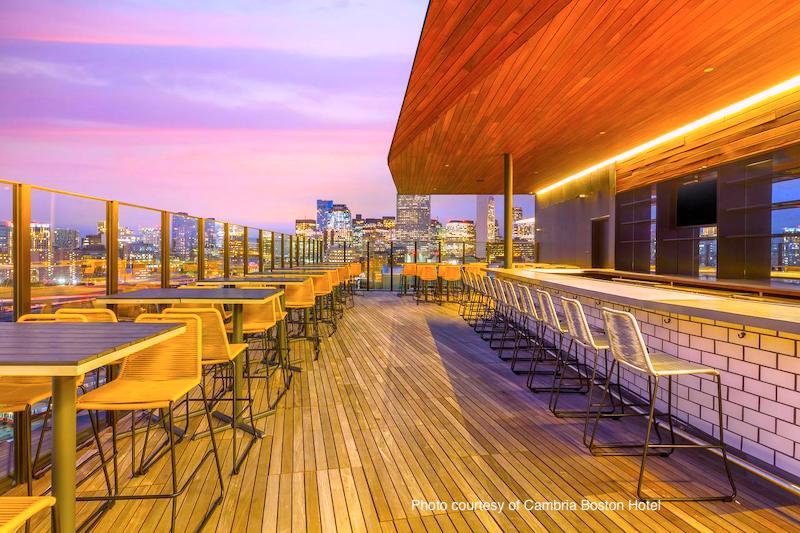 6 W. Broadway, South Boston
With a seasonal rooftop bar with fantastic views and a convenient location across the street from the Red Line's Broadway Station (less than 5 minutes to Downtown Boston, although it's also an easy walk), the Cambria Hotel offers lots of value in the newly trendy South Boston neighborhood (a.k.a. "Southie"). You're also near to the Boston Convention Center, and all the Seaport restaurants and nightlife along the Harbor. And if you're coming to Boston for St Patrick's Day, you're directly on the route of the famous St Patrick's Day parade.
The hotel's 159 guestrooms offer floor-to-ceiling windows and upbeat contemporary decor. If you're visiting Boston before or after a cruise, you'll appreciate the shuttle from the hotel to the cruise ship terminal on the waterfront.
Find cheapest rates plus reviews on Trip Advisor
Compare with other South Boston and Seaport Hotels
Marriott Moxy Hotel in Boston's Theatre District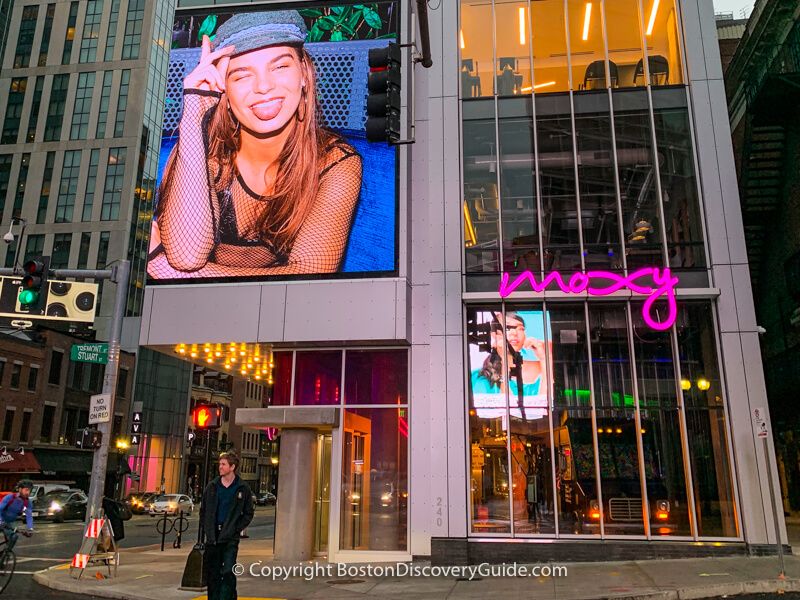 240 Tremont Street, Theatre District
From its neon sign and enormous electronic billboard to the food truck housing a photo booth in the lobby to the free welcome cocktail offered to guests, Marriott's new Moxy Hotel in Boston's Theatre District exudes a fun and welcoming vibe just one block away from Boston Common.
The 24-story micro-hotel next to the Wilbur Theatre and across the street from the Wang and Shubert Theaters offers 340 small guest rooms, many with spectacular views, affordable rates, a fitness room, and foosball in Bar Moxy on the ground floor. Special guest-only bonus: The Mezz, an indoor year-round rooftop lounge with fantastic views of the Common and the Massachusetts State House.
Find cheapest rates plus reviews on Trip Advisor
Compare with other Theatre District Hotels
Whitney Hotel in Beacon Hill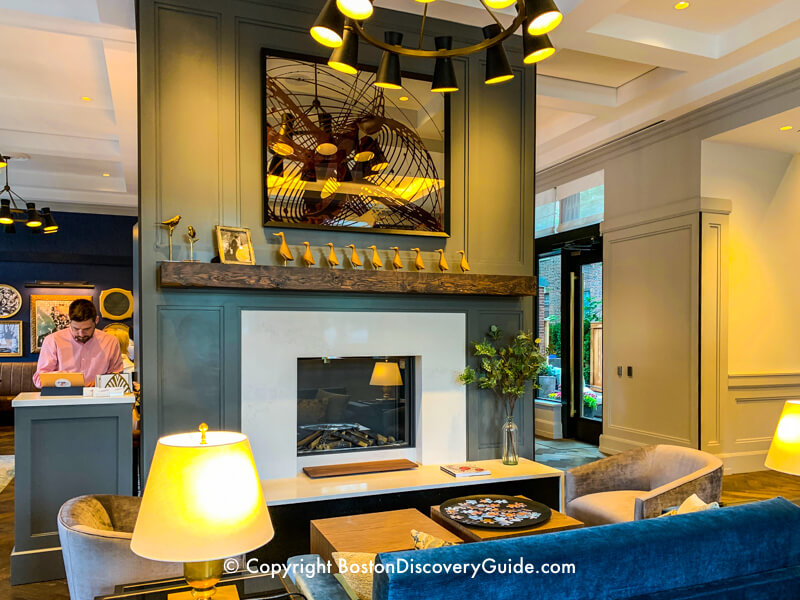 170 Charles Street, Beacon Hill neighborhood
The elegant and luxurious 65 guestroom Whitney Hotel occupies a prime location on Charles Street near Massachusetts General Hospital, historical landmarks and 21st century attractions, and easily accessible to the Esplanade along the Charles River.
Top-notch amenities, personalized service, plush beds with Frette linens, and an emphasis on comfort make the Whitney an ideal place to stay when you want a posh hotel with a residential vibe.
Have a drink or dine on tasty coastal Mediterranean specialties in Peregrine, the boutique hotel's onsite bar/restaurant, and enjoy the secluded courtyard garden.
Find low rates and reviews on Trip Advisor
Check out other Beacon Hill hotels
Encore Boston Harbor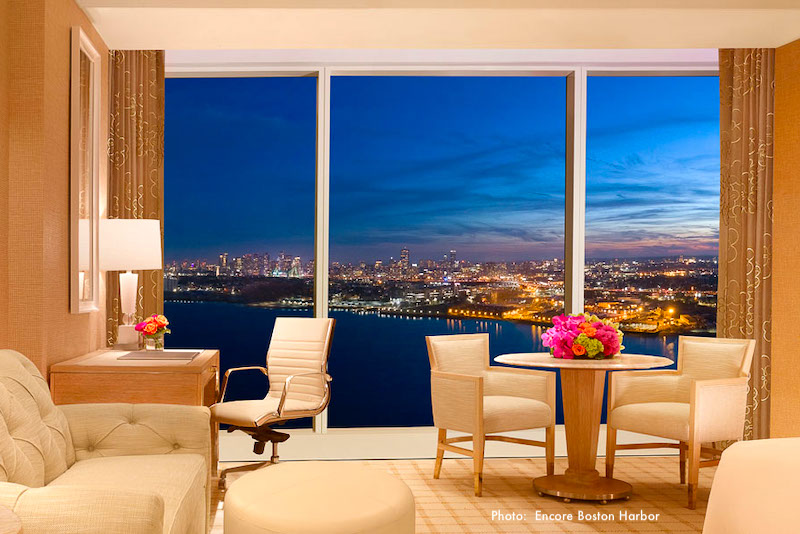 1 Broadway, Everett
As the Boston area's only casino-resort, the Wynn Company's Encore Boston Harbor brings a lot of glitz as well as luxury, fun, and excitement. Indulge in 5-star dining in the many high-end restaurants, entertainment, and of course, gaming in the casino.
Although the hotel/casino is located on the Mystic River 6 miles north of the city, water taxis and free shuttles from the nearby Wellington subway station on the Orange Line make getting there from Boston easy.
Find cheapest rates and book now through TripAdvisor
Four Seasons Hotel at One Dalton Street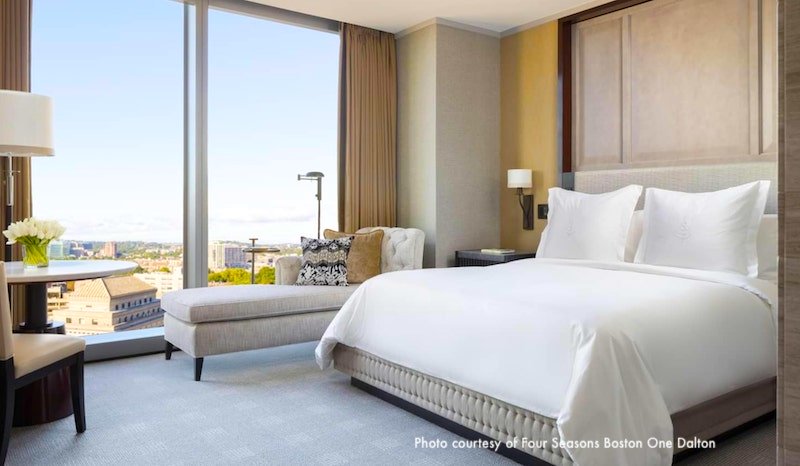 One Dalton Street, Boston's Back Bay neighborhood
Four Seasons Hotel One Dalton Street's arrival brings another 5-star luxury hotel to the ritzy Back Bay neighborhood. Stay here, and you're just a few steps from shopping along renowned Newbury Street, the city's top cultural attractions, and Fenway Park.
With 211 guest rooms topped by 160 ultra-luxury condos, the 61-story building is Boston's third tallest. You'll enjoy the sweeping views, the onsite spa, restaurant, and bar, and superb service.
Find low rates & book on TripAdvisor
Check out other Back Bay hotels
Hyatt Centric Faneuil Hall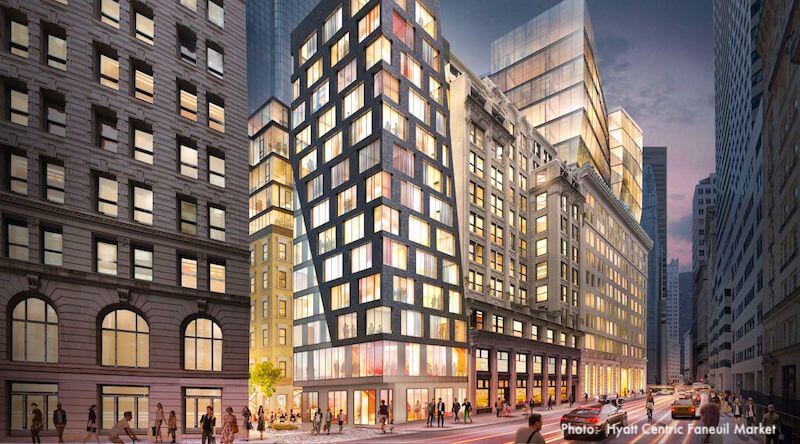 68 Devonshire Street, Boston's Downtown Financial District
A superb Financial District location close to Faneuil Marketplace, top visitor sites such as the historic Freedom Trail, and the Waterfront, Hyatt Centric Faneuil Market is ideally situated for both business and leisure travelers. You're about 8-10 minutes on foot from TD Garden, plus several nearby T (subway) stations put the rest of the city within easy reach.
The 163 guestrooms and suites offer free wifi, smart TVs, bluetooth speakers, robes and slippers, and all the other amenities you'd expect in a high-end hotel. The hotel's onsite Bar Mercato gets high marks for its small plates and relaxed ambiance.
Residence Inn Roxbury/South End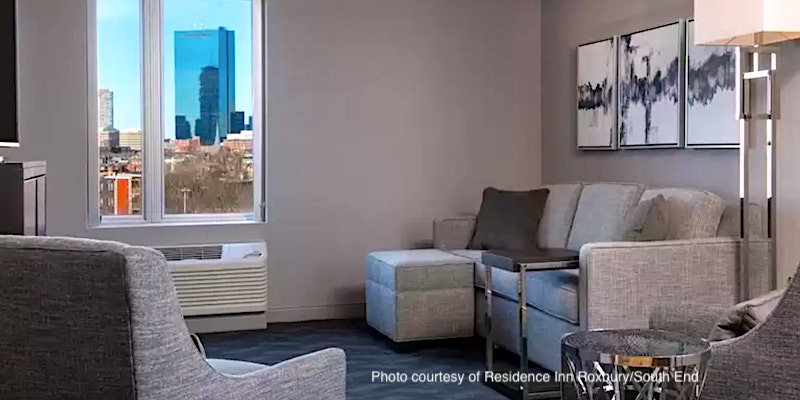 2001 Washington Street, Roxbury
Residence Inn Roxbury/South End, located on the South End/Roxbury border, offers 135 spacious suites with kitchens for both short term and long terms stays, a fitness room, the Residence Inn brand's signature free breakfast buffets, kids activities, and even a dog-friendly policy.
The 6-floor hotel is just a few blocks from Northeastern University, Wentworth Institute of Technology, and Simmons College, making it an ideal spot if your visit includes campus tours. It also adds much-needed affordable accommodations near the Longwood Medical Center, home to Boston Children's Hospital, Beth Israel Hospital, Brigham & Women's Hospital, and Dana Farber Institute as well as Harvard's Medical and Dental Schools. Boston's Museum of Fine Arts, Symphony Hall, and Jordan Hall are also within easy walking distance - but the nearby Ruggles Station on the Orange Line means you can also get to Downtown Boston quickly.
Compare rates and make your reservation
Revolution Hotel in Boston's South End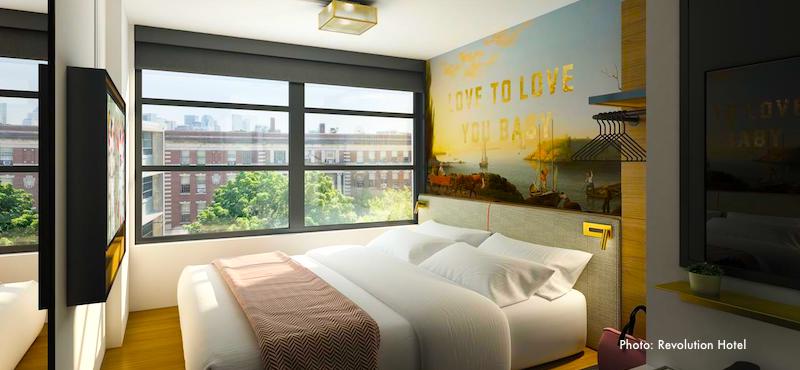 40 Berkeley Street, Boston's South End
A trendy vibe, "micro" guest rooms, and - dare we say it, cheap rates position the new Revolution Hotel as one of Boston's most attractive affordable hotels, especially considering its close distance (5-10 minute walk, depending on where you're going) to Downtown Boston. Free high-speed wifi is a nice bonus. Revolution Hotel is a Provenance Hotels property.
Some of the guestrooms in this former hostel actually boast quite a bit of space along with ensuite bathrooms, but even if you choose the smallest rooms options with shared bathrooms down the hall, you'll still find plenty of public areas for hanging out, especially in the hotel's co-working space Conspire and in the onsite cafe/bistro. Revolution Hotel is a Provenance Hotels property.
The Row Hotel at Assembly Row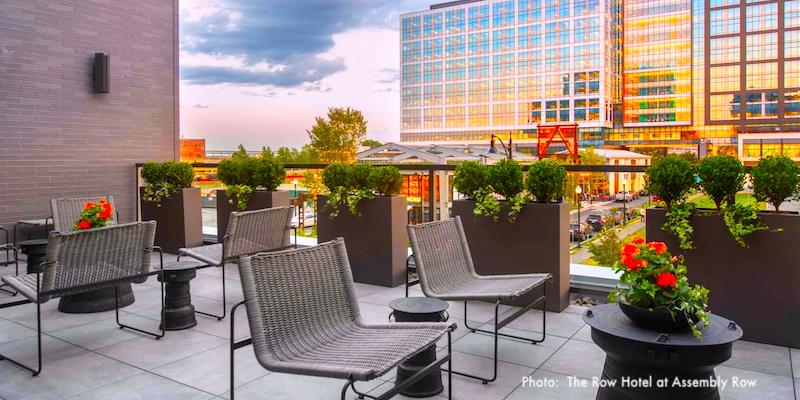 360 Foley Street, Assembly Row, Somerville
Dazzling modern architecture in a brand-new building, an indoor swimming pool with private cabanas, and a relaxing roof terrace are just a few of the reasons to love The Row Hotel, located next door to Boston in Somerville and just named as one of the "100 Best Hotels in the World" by Travel + Leisure.
Best of all, the hotel puts you right at the center of the exciting Assembly Row shopping/entertainment complex, yet just a 5-minute subway ride gets you to Downtown Boston.
Compare rates and make your reservation
Studio Allston Hotel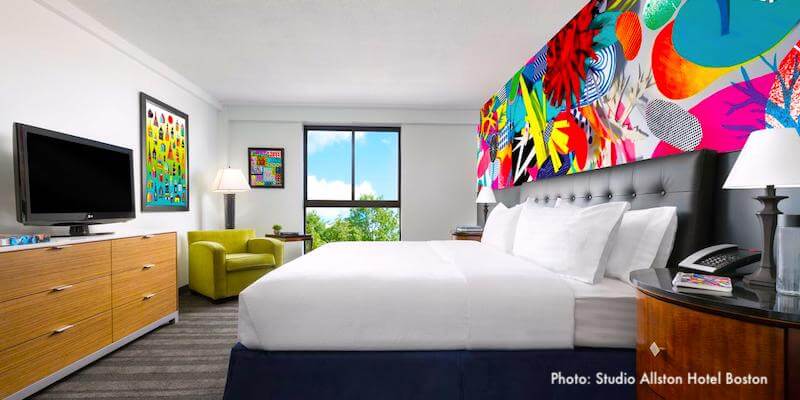 1234 Soldier's Field Road, Boston's Allston neighborhood
Hip boutique hotel across from the Charles River and Herter Park - close to Harvard Stadium (site of Boston Calling music festival), Harvard University, Harvard Business School, Boston University's West Campus, and the Head of the Charles Regatta.
Look for affordable rates at Studio Allston Boston, spacious rooms with vibrant art by local artists, a Cuban-themed restaurant and bar with music, and a fun vibe.
No public transportation nearby unless you walk about a mile to the Harvard Square subway station - a pleasant walk - but assuming you avoid rush hour traffic, a car service ride such a Uber or Lyft to central Boston and back will cost a lot less than parking in the city for the day.
Compare rates and make your reservation
Courtyard by Marriott Boston Downtown / North Station at TD Garden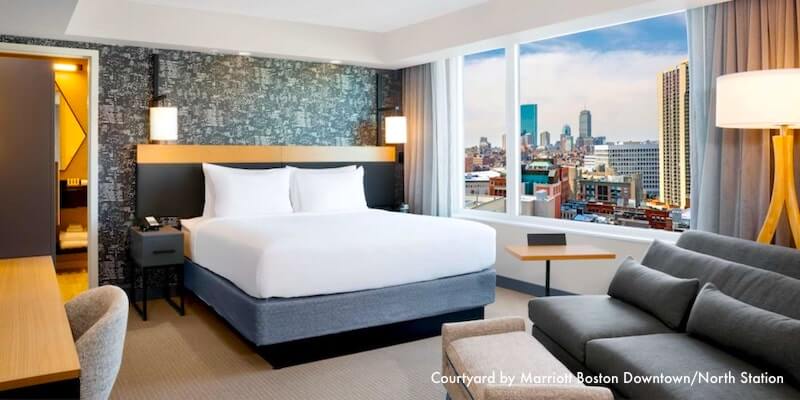 107 Beverly Street, Boston's North End neighborhood
The Courtyard Boston Downtown/North Station boasts a terrific location: directly across the street from famed sports and entertainment arena TD Garden, and at the edge of Boston's legendary North End neighborhood, home to over a hundred superb Italian restaurants, cafes, and bakeries.
Faneuil Marketplace is nearby, and you can easily walk to Downtown Boston - or take the commuter rail or subway from North Station.
You get all the usual Courtyard amenities, plus the pleasure of staying in a bright new building with great views from upper floors.
Compare rates and make your reservation
More hotels near TD Garden and the North End
AC by Marriott at Ink Block in the South End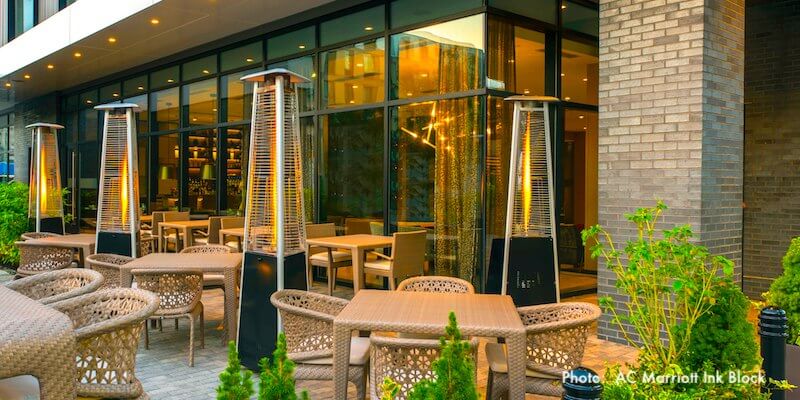 225 Albany Street, Boston's South End neighborhood
Located at Ink Block, an art-filled mixed-use complex once home to the Boston Herald newspaper operations in Boston's lively South End neighborhood, the AC Hotel by Marriott Boston Downtown offers a large fitness center, an outdoor dining terrace, and spacious well-designed rooms with a clean contemporary vibe.
You're also within easy walking distance of the South End's many acclaimed restaurants - plus there's a Whole Foods next to the hotel.
Compare rates and make your reservation
The Alise Boston in the South End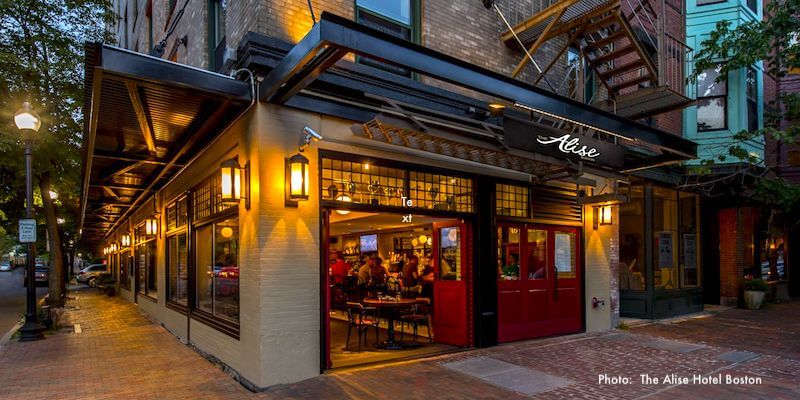 Boutique hotel The Alise Boston (formerly the Chandler Inn) offers 56 spacious rooms and a warm welcome in a mostly residential area of the South End neighborhood close to many wonderful restaurants and just a short walk from Back Bay Station (Amtrak, subway, commuter rail lines) and the designer boutiques at Copley Place.
You'll also enjoy the hotel's many amenities: plush robes and towels, European-style duvets on the king beds, popular onsite Trophy Room bar/bistro, affordable rates, and dog-friendly policies.
Compare rates and make your reservation
No. 284 - Luxurious Guest House in Boston's Back Bay Neighborhood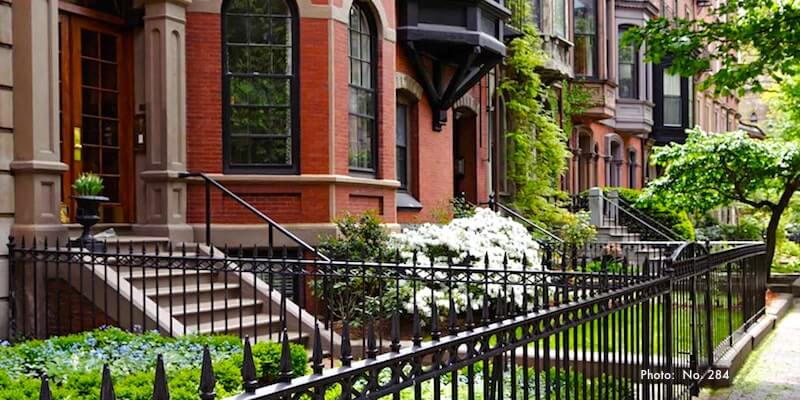 284 Commonwealth Avenue, Back Bay neighborhood
At No. 284, a small luxury guest house featuring original art in a beautifully restored Victorian mansion overlooking tree-filled Commonwealth Avenue Mall in the heart of Back Bay, you'll enjoy gracious public spaces such as a tranquil library and courtyard garden, personalized service, and luxurious accommodations.
Each of the 23 guestrooms and suites offers a special experience - or indulge yourself with a stay in the magnificent penthouse featuring an Andy Warhol lithograph.
Homewood Suites by Hilton at Boston Logan Airport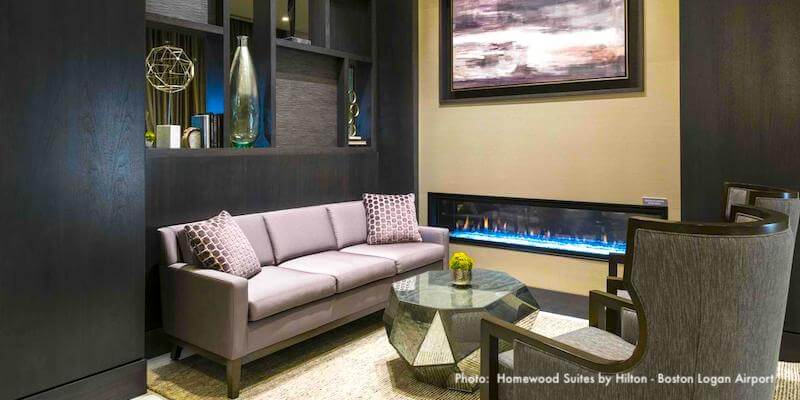 145 Beach Street, Chelsea
The new Homewood Suites located less than 3 miles from Boston Logan Airport is sparkling clean, modern, comfortable, and an affordable choice whether you're flying in/out of Logan or want (relatively) cheap accommodations close to Boston with public transportation access.
Getting around is easy: take the hotel's shuttle to the airport, and either hop on your flight or head into Downtown Boston on the subway's Line or Silver Line, or a water taxi. Even easier: walk a couple of blocks from the hotel to a commuter rail station with service into Boston's North Station - an 11 minute trip.
Another perk: Homewood Suites Boston Logan offers free parking at the hotel.
Porter Square Hotel, Cambridge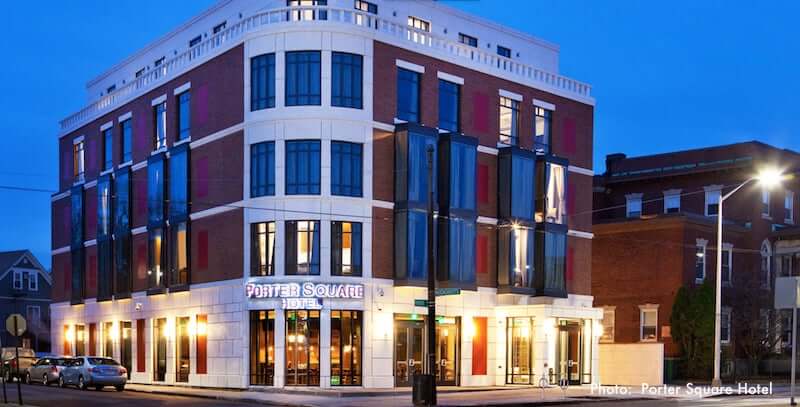 Porter Square Hotel's 65 guest rooms and suites are a welcome addition to places to stay near Harvard University's Cambridge campus, plus a subway Red Line station hear the hotel puts the rest of Boston within easy reach.
You'll enjoy the hotel's modern vibe, lovely outdoor terrace, and amenities such as fluffy robes and slippers for your stay.
Plus if you arrive by car, Porter Square Hotel offers overnight valet parking at one of the lowest rates in the Boston/Cambridge area - as well as affordable rates for your accommodations.
Find lowest rates and make your reservation
AC Hotel by Marriott Cambridge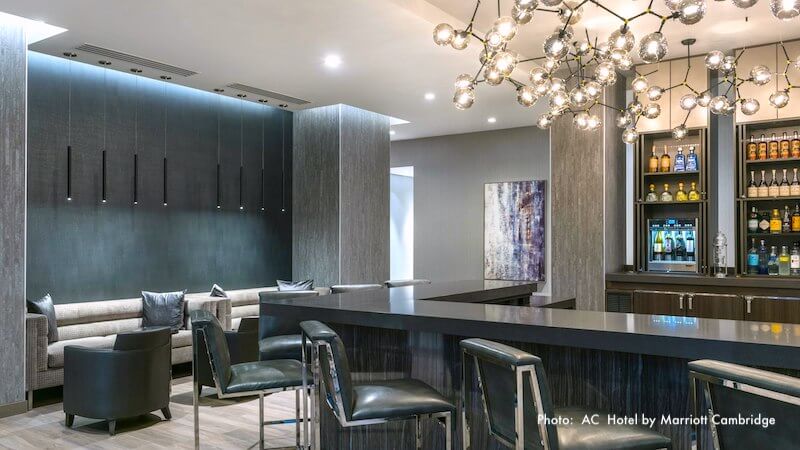 10 Acorn Park, Cambridge
At first glance, there's no obvious reason to stay in this sleek new AC Hotel on the western edge of Cambridge unless a work trip brings you to the business/research park where it's located.
But here's the "hidden secret" lure of the AC Hotel Cambridge for Boston or Cambridge visitors: it's just a 5-minute walk to Alewife Station on Boston's Red Line, which will get you to Harvard Square in 10 minutes or Downtown Boston in 20 minutes.
You can also typically find significantly lower rates here compared with pricey downtown hotels, especially if you book in advance.
And the hotel itself is lovely, with plushly comfortable guest rooms and well-equipped suites, stylish public spaces, and a tranquil outdoor terrace.
Compare rates and make your reservation
---
Find More Boston Hotel Choices
Enter your travel dates to see hotels available rooms and get accurate rates.
More about how to save on Boston hotels
More Boston hotels: All Boston Hotels - Newest Hotels - Deals & Discounts - Theatre District Hotels - Boston Marathon - Hotels with Fireplaces - Seaport/CruisePort Hotels - New Year's Eve Packages - Inexpensive Hotels - Discount Hotels - Back Bay Hotels - Hotels near Fireworks - Hotels with Outdoor Pools - Faneuil Market Hotels - Valentine's Day Packages - Downtown Boston - Park & Fly - Airport Hotels - Waterfront - Seaport - Historic Downtown - Suburban Hotels - Fenway Park Hotels - TD Garden Hotels - Gillette Stadium Hotels - Financial District
More New Boston Hotels Coming Soon . . .
Even though these new Boston hotels haven't opened yet, they're already getting plenty of buzz. So note their expected opening dates, look for possible opening discounts, and stay tuned for even more new hotels!
The Newbury Boston, formerly the Taj Boston Hotel (and before that, the nation's first Ritz-Carlton, is expected to open in Q2 2021 with 286 plush contemporary guest rooms, a rooftop glass-enclosed restaurant with 6 retractable ceiling panels, and a totally new entrance at One Newbury Street
907 Main, Cambridge - There's a huge amount of buzz already about this five-story, 67 room boutique hotel opening in an 1871 building near the Red Line T station in Central Square; look for lots of original features including brick walls and bay windows, a new Toscanini's Ice Cream shop, and a new restaurant called The Dial featuring a fantastic mural at one end. Open now.
Marine Wharf Hotels (including a 245-room Hampton Inn and a 166-room Homewood Suites, both part of the Hilton hotel famiy), Boston Marine Industrial Park, 660 Summer Street, Seaport District/South Boston Waterfront - Part of a huge 14-story complex straddling the nearby CruisePort and Boston Convention and Exhibition Center, projected opening April 1, 2021
Home2 Suites by Hilton, 15 Jan Karski Way, Dorchester - a 130-room extended hotel with 77 parking spots next to the South Bay shopping/entertainment center and about a 15 minute walk from the Andrew T Station on the Red Line. Open now.
Avid Hotel Boston Logan Airport, Revere - 104 guestrooms close to Boston Logan International Airport designed for business and leisure travelers need a night's stay before or after a flight. Projected opening: Open now
Boston Landing Hotel, Brighton. Open now
Hyatt Place, 295 Northern Avenue, Seaport District, 293 guestrooms, part of a larger office/restaurant/retail building; pet-friendly. Open
The Langham Boston, 250 Franklin Street, Financial District, top-to-bottom almost $80 million plus renovation. Will they still offer their famous chocolate bar? Stay tuned... Projected opening: Spring 2021.
Beacon Hill Hotel, 25 Charles Street, Beacon Hill - this small European-style boutique hotel with 12 guestrooms and one suite will reopen in 2021 after a total makeover
Omni Boston Seaport Hotel across from Boston Convention & Exhibition Center, corner of Summer and D Streets, South Boston, 21 floors, 1055 guestrooms including 52 suites, pool deck with bar, 3 restaurants, luxury spa, fitness center, direct access to the Boston Cenvention & Exhibition Center, plenty of break-out spaces for business and convention guests, and also the city's 2 largest ballrooms. When it opens, it will be the 4th largest hotel in Boston and the largest to open in the city since - get this - 1984. (In case you're wondering, the huge hotel that opened in 1984 was the mammouth 1,144-room Boston Marriott Copley Place.) Projected opening June 2021.
Canopy by Hilton on the Greenway - 111 North Street, near Haymarket and across from the North End - projected opening mid-2021 - Will include 212 guestrooms plus restaurant/bar and retail space with views of the Greenway and a retracting glass wall. Projected opening: Q3 2021
Kenmore Square Hotel (official name TBD) - 560 Commonwealth Ave, Kenmore Square - 29 stories, 391 rooms, with a triangular flatiron shape; will involve major street reconfigurations and demolition of an existing building, so timeline TBD but probably at least 2021 or beyond
Raffles Boston Back Bay Hotel & Residences, 40 Trinity Place (site of the former Boston Common Hotel), Back Bay - One of only 14 Raffles hotels worldwide, projected opening 2021 with 33 floors and 147 guest rooms and suites, 146 condos, 6 beverage/food venues, spa and fitness club, 20 meter indoor swimming pool, rooftop garden terrace/lounge, 16 gathering spaces, and a 2-story sky lobby overlooking historic Copley Square and a slice of the Charles River. Raffles is part of the AccorHotels group. Is this going to be Boston's most fantastic luxury hotel ever? Projected opening: 2022
Boylston Street Hotel, 1241 Boylston Street near Fenway Park on the site of an existing Shell station and parking lot - 8 floors, 184 rooms, ground-level retail, 80+ underground parking spaces. Timeline (and official name) TBD
Haymarket Hotel, 99 Blackstone Street, Boston's West End neighborhood, TBD
150 Kneeland Street, Boston's Chinatown neighborhood/Theatre District, 21 floors with 230 guestrooms and a lounge. TBD
Chain Forge Hotel, 105 First Avenue in the Charlestown Navy Yard, Charlestown - 220 guestrooms, 5 floors, 2 ballrooms, restaurant, meeting space, and historic museum displaying artifacts from the National Park Service in the lobby to be constructed in a historic property that's been vacant since 1974; construction currently delayed due to the pandemic; TBD
Club Quarters in Back Bay - 300 room hotel on Stanhope Street between Stuart Street and Stanhope Ave, TBD
Onyx Hotel, West End - Major expansion including another 77 rooms in a 9-story addition, using space next door that was previously a surface parking lot, for a total of 189 guest rooms - plans approved but opening date estimate TBD
Fun Ways to See Boston
Need a Boston Hotel?
Use this handy hotel map from Booking.com to find the perfect place to stay. Just enter your dates to find what's available, see the best rates, and make your reservations.