Boston offers a excellent shopping areas in easy-to-reach central locations.
Because so many locals live, work, and shop right in the center of the city, many of the best places to shop in Boston are within easy walking distance of other visitor attractions including appealing shopping streets, such as the boutique-lined Newbury Street, and Faneuil Marketplace (a.k.a. Quincy Market) on the historic Freedom Trail.
You can explore luxury designer clothing boutiques, large department stores, home furnishing emporiums, affordable consignment shops with high-end fashions at cheap prices, big shopping malls, antiques, art galleries, and concept stores close to other visitor attractions.
Interested in discount shopping? Two excellent outlet malls offering frequent sales on their already-steeply discounted prices are only a 5-minute subway ride or luxury bus trip away.
And just a few miles outside the city, you'll find excellent suburban malls, each with its unique mix of stores, restaurants, and entertainment.
Top photo: Boutiques along Newbury Street
---
Faneuil Hall Marketplace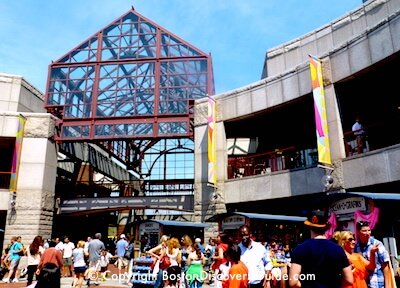 With more than 100 stores, unique artisan pushcarts, and four restored historic buildings, shopping at Faneuil Marketplace (also called Quincy Market) ranks high as a favorite Boston shopping destination.
You'll find national brands plus unique local shops. Hungry? Several top local restaurants, plus 40+ stalls in the Quincy Market Colonnade Food Hall serve up seafood, ethnic, and other specialties. And right around the corner is Haymarket, Boston's historic open air market in Historic Downtown Boston.
---
Discount & Outlet Shopping near Boston - 2 Great Choices!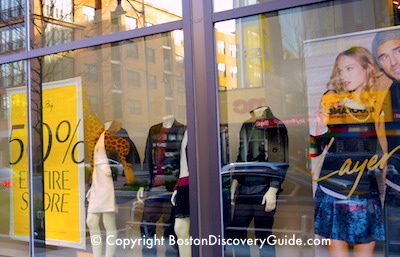 Did you know that Boston has two major outlet shopping centers near the city?
Wrentham Village features 170 outlets including many high end and luxury brands at deep discounts, while Assembly Row offers a mix of outlet shopping, fine dining, and entertainment.
Find out about how to get to Wrentham Village Outlets by bus from Boston - Currently not available
Find out more about how Wrentham Village and Assembly Row Outlets compare.
---
Luxury & Designer Shopping in Back Bay
Let's say you have only one day - or maybe just a couple of hours - for a Boston shopping spree.
Head straight to Back Bay, where you can splurge in two luxury shopping plazas and and check out all the trendy designers along Newbury Street.
Or, skip the swanky shops and stretch your dollars at the discount and consignment shops tucked between all the pricey boutiques along Boylston and Newbury Streets.
---
Boston's Best City & Suburban Shopping Malls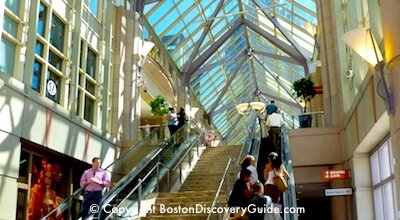 Boston boasts many diverse shopping malls and plazas right in the central city - perfect for icy January, steamy July, and anytime when you don't want to brave the outdoor elements.
City malls offer a wide range of choices: luxury designers to outlet shopping.
Find upscale city malls at Copley Place and Prudential Center.
Discover even more malls just outside the city - Cambridgeside Galleria and Burlington Mall.
Further away, explore the Natick Collection mega-mall, the largest shopping mall in New England.
More about Boston shopping malls
---
Haymarket & Boston Public Market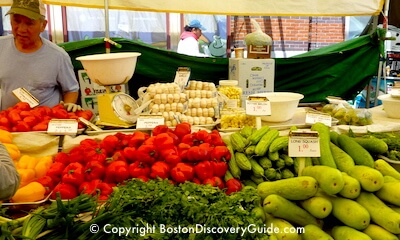 Vendors have clustered around Haymarket, Boston's oldest open air market, for at least 300 years. Today, this is where you'll find the cheapest produce in the city on market days. Come on Fridays and Saturdays when the market is open from dawn to dusk to find bargains - or just to visit this historic part of the city and perhaps visit the nearby historic pubs and restaurants. More about Haymarket
For a wider range of good things to consume on the spot, such as apple cider donuts and George Howell's specialty coffee, walk over to adjacent Boston Public Market (between Hanover and Blackstone Streets), where vendors sell everything from fresh fish to artisan cheeses, with an emphasis on organic and local products.
---
More Places to Shop in Boston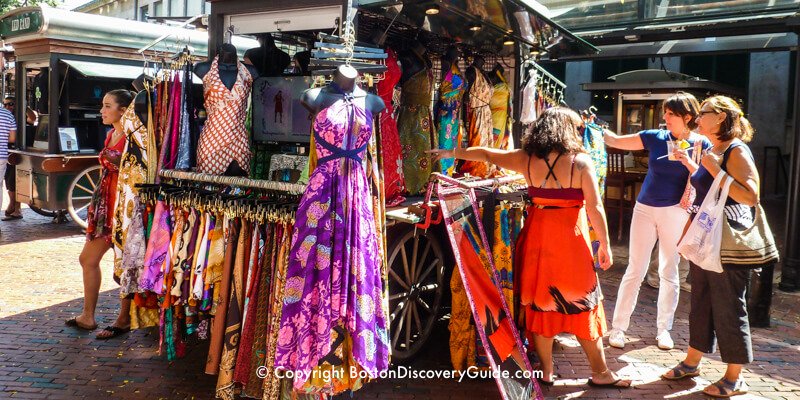 ---
7 Special Spots for Holiday Shopping in Boston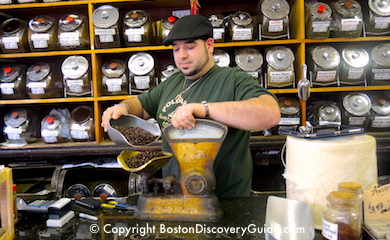 Holiday shopping in Boston is easy and fun because the city has many places where you can find special one-of-a-kind gifts.
Our recommendations focus on seven unique shopping streets and areas: Charles Street on Beacon Hill, Salem Street in the North End, Boston Public Market in the heart of historic Boston, Prudential Center and Newbury Street in Back Bay, Downtown Crossing, and Harvard Square across the river in Cambridge.
We tell you about each area's specialties - antiques, collectibles, art, clothing, rare books and maps, concept stores, Italian specialties, artisinal food gifts, local products, jewelry - and where to find them. More . . .
---
Boston's Christmas Markets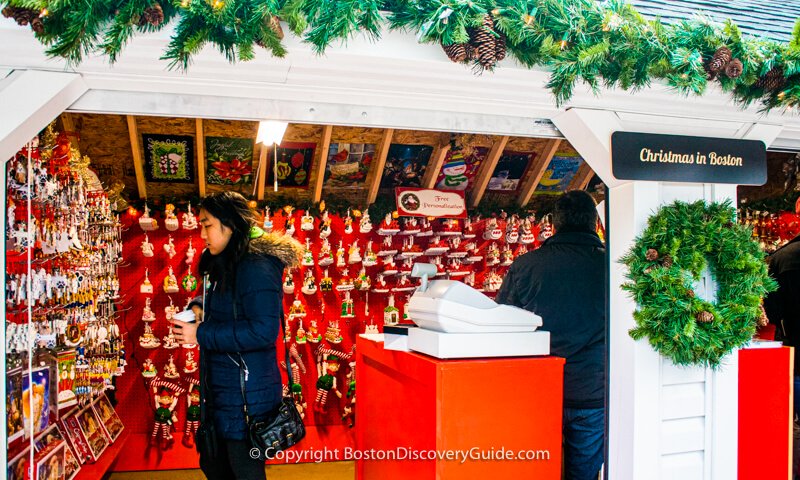 For a different kind of holiday shopping experience, don't miss Boston's pop-up Winter Holiday Markets.
Each of these seasonal markets offers something different and locations vary each year - but don't miss these special occasions to find fun places to eat, perhaps an ice skating rink or two, and of course fantastic holiday shopping. More . . .
---
Art Galleries - For Browsing & Buying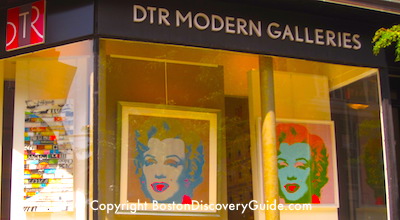 Thriving art communities plus plenty of art schools and museums make Boston an excellent place to discover, explore, and even shop for art of all kinds.
Here are guides to where you can find find top art galleries:
- Guide to Boston's art galleries - Where to buy art in Boston, from emerging to internationally famous artists
- Newbury Street art galleries - 30+ galleries in an 8-block stretch make this THE place in Boston to go gallery-hopping
---
Art Markets & Art Walks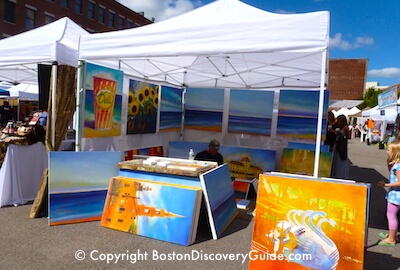 Every Sunday from early May through October, Boston's biggest artisan crafts and design market, SoWa Open Market (shown in photo) attracts crowds of shoppers to its sea of white tents at Ink Block, 375 Harrison Ave, where food trucks, next-door SoWa Vintage Market, and SoWa Farmer's Market round out the offerings.
Twice each year, Boston's large art communities in the South End and Fort Point neighborhoods open their studios and galleries for day-long art walks. This is your chance to view a wide variety of Boston's best art, talk to the artists, and perhaps acquire a piece you can't resist.
South End events take place in May and September. Find dates and details for SoWa Art Walk on the May Events Calendar and for the South End Open Studios on the September Events Calendar. You can also visit South End art studios and galleries during SoWa First Fridays, held on the first Friday of each month.
Fort Point Open Studios occur in May and October.
---
Where to Shop in Cambridge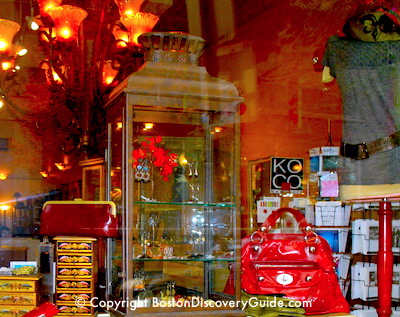 Across the Charles River from Boston is Cambridge, home to more shopping areas.
In East Cambridge near MIT, the 3 floors of CambridgeSide Galleria include Best Buy, Macy's, and 120 other stores.
Harvard Square, filled with many unique clothing, gift, jewelry, and book stores, attracts more than just students. For some of the best indie boutiques, explore the area along Massachusetts Avenue between Harvard Square and Porter Square.
---
More to Know about Shopping in Boston
Massachusetts sales tax on retail sales of tangible items is 6.25%. Some things, such as food to be prepared at home (in other words, not restaurant meals or carry-out), prescription drugs, and clothing costing less than $175 per item are exempt.
Unlike some other cities in the United States, the City of Boston does not levy any additional sales tax on top of the state sales tax.
This means that you can save money by shopping for clothing and food items in Boston (and the rest of the state), compared with buying these items in states that charge sometimes as much as almost 10% in sales tax.
Returning a Purchase
Most Boston area stores will give you a refund or store credit if you return items with your receipt within a specified period of time.
Typically, if you pay with a credit card, the merchant will give you a credit refund, not cash. The time period and other terms vary by store, so make sure you understand their return policy. By law, stores must post their return policy near the cash registers in a place where you can see it.
However, many stores will not give a refund or credit or even allow exchanges on sale items. Usually they will tell you or indicate in some way that "sales are final." However, if they don't, you should ask them to explain their return policy BEFORE you hand over cash or a credit card if there is even the slightest chance you might return an item.
Credit Cards or Cash?
Almost all larger stores accept major credit cards for payment - Visa, MasterCard, American Express, and perhaps a couple of others.
Some smaller stores, restaurants, and other businesses accept only Visa and MasterCard, not American Express or other cards.
Other smaller stores and cafes take only cash. Usually, although not always, they post a "Cash Only" sign to let you know. You are most likely to see Cash Only signs in Chinatown, Haymarket (although an increasing number of sellers take credit cards), and some street vendors. You may also encounter a couple of cash only shops and even a few cash only restaurants in the North End.
Questions & Answers about Shopping in Boston
---
More Articles about Shopping in Boston
---
More Fun Ways to See Boston
---
Need a Boston Hotel or Apartment?
Use this handy map from Booking.com to find the perfect place to stay. Just enter your dates to find what's available, see the best rates, and make your reservations.