Boston's Halloween festivities start at least a month before the actual event on October 31st.
Home to some of the country's oldest graveyards, Boston has more than its share of haunted tales and scary (but fun) events, plus great places to shop for Halloween costumes.
In this article, you'll find suggestions for some of the best places to celebrate Boston Halloween starting with graveyard tours and ghost stories.
Need more suggestions about what to do in Boston in October? Check the October Events Calendar.
Top photo: Jack o'Lanterns for Halloween - Photo credit: iStock.com/Kesu01
Boston Discovery Guide is a reader-supported publication. When you buy through our links, we may earn a commission at no additional cost for you. Learn more
---
Ghosts and Gravestones Tours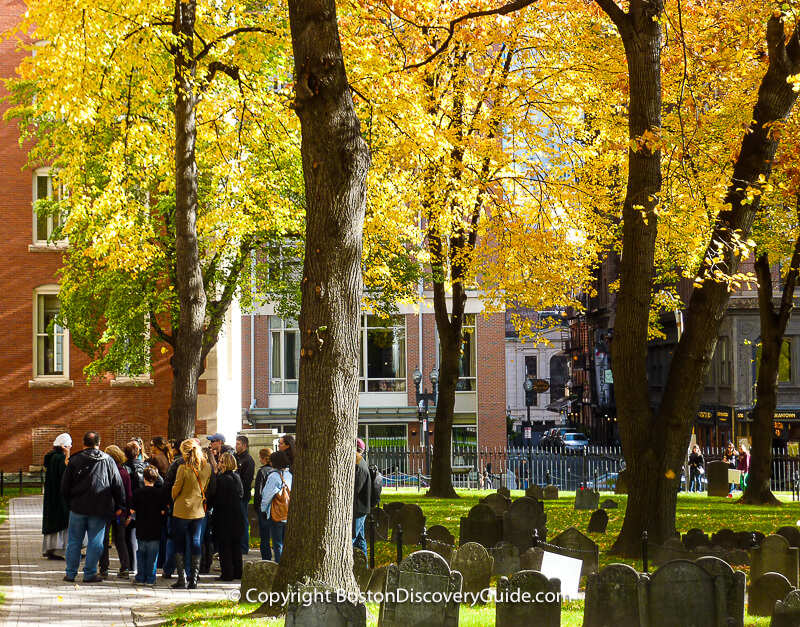 Not just for Halloween, Boston's nightly Ghosts and Gravestones Tour combines a trolley ride with walking to visit the city's scariest sites.
Costumed "gravedigger" guides show you the darker side of Boston.
They'll entertain you with haunted tales about the city's earliest days and strange discoveries - the mysterious North End tunnels, the unexplained Day of Darkness back in 1780, and the haunting ghost of Boston Harbor, the Lady in Black.
And then there's the scariest part of the tour . . . a chilling visit to 2 of Boston's oldest graveyards, accompanied by tales of the macabre.
Ghosts and Gravestones tours fill up fast around Halloween in Boston - so make your reservation now!
For more fun thrills and chills, try these Boston ghost and graveyard experiences:
---
Pru Boo at Prudential Center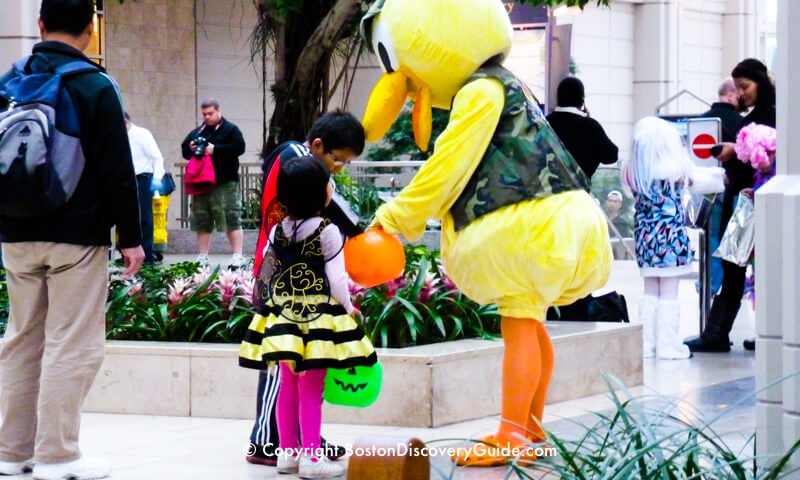 Every year, over 50 stores and restaurants at the Shops at Prudential Center sponsor Trick or Treating for Charity, with proceeds going to a non-profit partner. Kids come dressed in their cutest Halloween outfits and enjoy trick-or-treating, face painting, magic shows, pumpkin decorating, live musical performances, and more.
When: Sunday, October 30, 11-1pm.
Where: Prudential Center
Cost: $5 donation per child (12 and under) to purchase a trick or treat bag; all other activities are free. Parking for the day will be $18 (Pru Center Garage). Donations this year will benefit Food Allergy Research & Education. You'll also find lots of healthy treets as well as non-food treats this year.
Date and time: Boston October Events
---
Beacon Hill with a BOO!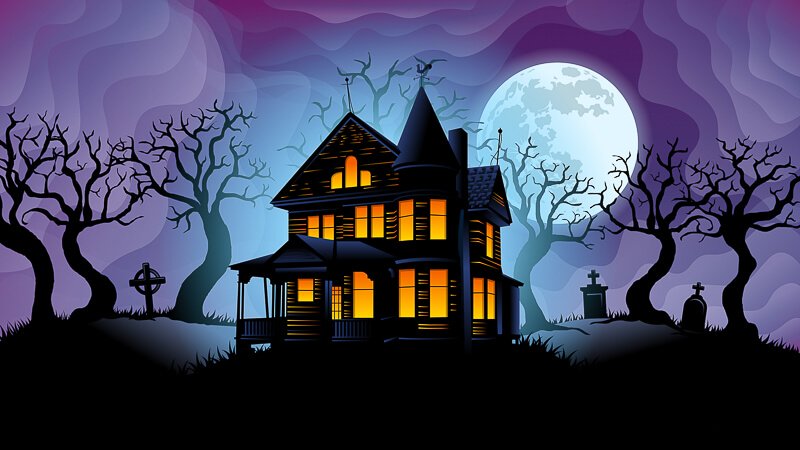 Murders, mysteries, mayhem, and the occasional ghost haunt this special 90-minute walking tour of Beacon Hill featuring (mostly) true tales.
Your guide for this ghoulish annual event, a volunteer with local tour group Boston by Foot, will show you the dark side and even darker alleys of this charming neighborhood.
Wear comfortable walking shoes and your favorite costume!
This tour is Boston by Foot's most popular tour and has been going strong for over 30 years. Don't wait to book, as it fills up quickly.
When: Halloween (plus sometimes other late October dates), multiple time slots, Beacon Hill, Boston
Where: Boston's Beacon Hill neighborhood
For more information: Boston by Foot website
Cost: $20 ($10 for Boston by Foot members) - Purchase tour tickets directly from your guide - no reservations are required.
Interested in a private tour? Boston by Foot will arrange that for you, at private tour rates, given enough lead time - call them at 617-367-2345 for details.
Can't make the Halloween tour? Catch Boston by Foot's "The Dark Side of Boston" tour and hear tales of crime, disease, death, and disaster as you walk around the North End. Takes place earlier in October and throughout the year - check BBF's website for details.
---
Beyond Boston . . . Halloween in Salem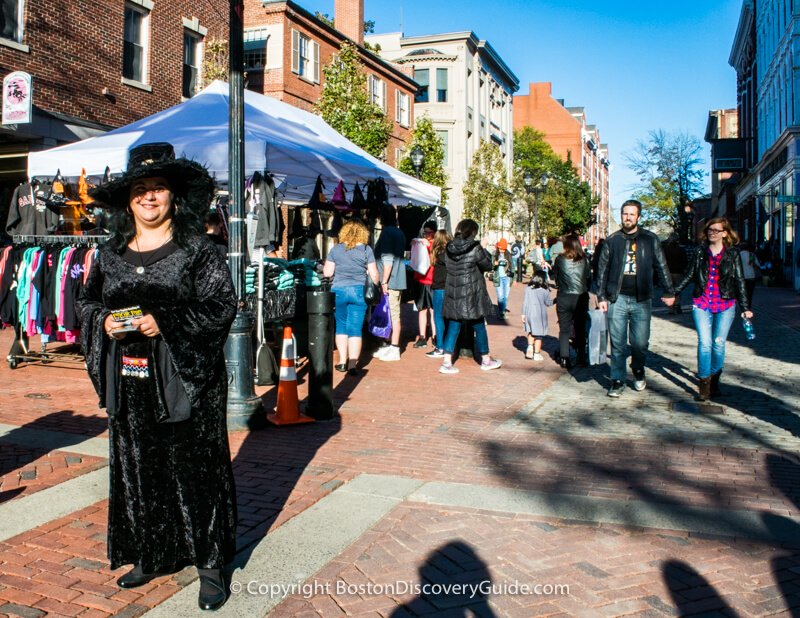 Immerse yourself in witch culture by heading north of Boston to Salem, Massachusetts, also known as the "Witch Capital" after the infamous witch trials of 1692 led to the execution of 20 people and 2 dogs. Numerous historic and entertaining witch museums, historic sites, and appealing restaurants provide more than enough to see and do during your visit.
Two easy ways to get to Salem from Boston include a private half-day trip tour to Salem & Marblehead (with plenty of time for exploring on your own), or a high-speed ferry from Boston if you prefer to see Salem on your own.
Find some fun ways to explore Salem:
To find this year's date for Salem's Haunted Happenings Grand Parade, usually held in early October, check the Boston Events for October.
---
Boston Halloween Pumpkin Float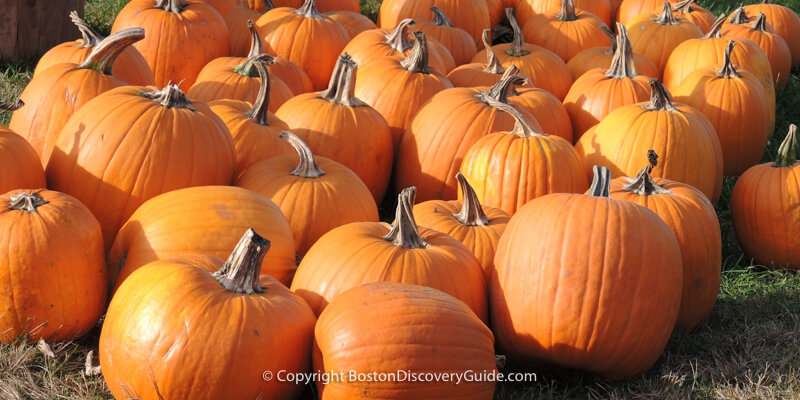 Put on your Halloween costume and head over to Boston Common's Frog Pond on Sunday, October 16 (to be confirmed) for a Halloween Pumpkin Festival, refreshments, music, and lots of family activities.  Halloween costumes are encouraged! This free event takes place from 5-8pm. 
Bring an 8 inch or smaller hollowed out carved pumpkin - it will be lit and then floated on Frog Pond for a spectacular display from the glowing pumpkin luminaries. (Note: You MUST hollow it out - otherwise, it will not float!)
More information:  Boston Frog Pond website
---
Halloween Costume Events and Parties
Boston pubs and hotels get into the Halloween spirit with prizes for best costumes, live music and/or DJs, and shows. Tickets usually required (call in advance to check); most are 21+.
Halloween parties and events to check out: (all events are to be confirmed for 2023)
Walking Dead Costume Crawl - Oct 31 8pm-Nov 1 2am - Join over 3,000 crawlers and get access to over 10 West End bars (Beerworks, Bodega Canal, Finn McCools, The Point, Causeway, Greatest Bar, & more). Spooky decor, costume contest, drink specials, swag. Tickets are $3-$10 - book here: https://www.eventbrite.com/e/tower-of-terror-the-greatest-bar-tickets-74856404521
Lansdowne Pub (9 Lansdowne St, Fenway) - Free Spooky Legs & Eggs Drag Brunch Show on October 19 - doors open 11am, show at 1pm; Halloween Ball with Live Band Karaoke with the Jukebox Heroes on Thursday, Oct 31, band plays at 10pm - costume contest - 21+, no cover. More info: http://www.lansdownepubboston.com
Liberty Hotel (215 Charles Street) - Liberty's special "Day of the Dead" Halloween Costume Party Package (includes 2 tickets for the Day of the Dead Halloween party on 10/26, and 2 Bloody Mary vouchers for Sunday morning, plus luxury accommodations). Check regular rates. Book online with Promo code HO9 or call 1-800-228-9290 and ask for promo code HO9). Package rates start at $599.
The Greatest Bar (262 Friend Street, West End near TD Garden, 617-335-5582) hosts their 12th annual Haunted Mansion Halloween fundraiser - Enjoy great music and wear your scariest costume - Saturday, October 27, doors open at 6pm, $15. $500 cash prize for best costume. DJs; party is on all 4 floors. Tickets required - get them here: https://www.eventbrite.com/e/12th-annual-haunted-mansion-the-greatest-bar-tickets-50405704820. And don't miss Tower of Terror on October 25 - 4 floors of terror and mayhem. Tickets: https://www.eventbrite.com/e/tower-of-terror-the-greatest-bar-tickets-74856404521
Loretta's Last Call (1 Lansdowne St, Fenway, 617-421-9595) - Pumpkin Carvin' Party - October 28. 6-8pm - $17 includes pumpkin, carving kit, and 1 pumpkin beer with prizes, giveaways, and live music starting at 7pm. 21+. Tickets: https://www.eventbrite.com/e/pumpkin-carvin-party-tickets-38092796580. Puppy Patio Party: Halloween Edition - Oct 26, 12 noon - 2pm - bring a furry friend in an Halloween costume (and come in one yourself); treats, giveaways, brunch specials. Halloween Hoedown - Oct 31, 10pm - Live music, costume contest, specialty cocktails, 21+, no cover. More info: https://lorettaslastcall.com/calendar/
Trick or Drink: Boston Halloween Bar Crawl - Oct 26, 4pm-2am and Oct 31, 6pm-2am, starts at King's Bowl Back Bay (50 Dalton St) - Participating bars include Bill's Bar, Loretta's Last Call, Bleacher Bar, Dillon's Boston, Lansdowne Pub, McGreevys, Kings, House of Blues Boston- DJ, Costume Contest, more. 21+, $15-$45. More info: https://www.eventbrite.com/e/trick-or-drink-boston-halloween-bar-crawl-2-days-tickets-61822507785
Planning to Party? Spend the Night in Boston
There's no need for a designated driver after a Halloween bar crawl when you stay over in a Boston hotel - just make sure you choose a hotel within close walking distance from your last stop. Enter your dates to find best rates:
More about how to save on Boston hotels
---
Ghosts, Halloween Decorations, & More - Themed Walking Tours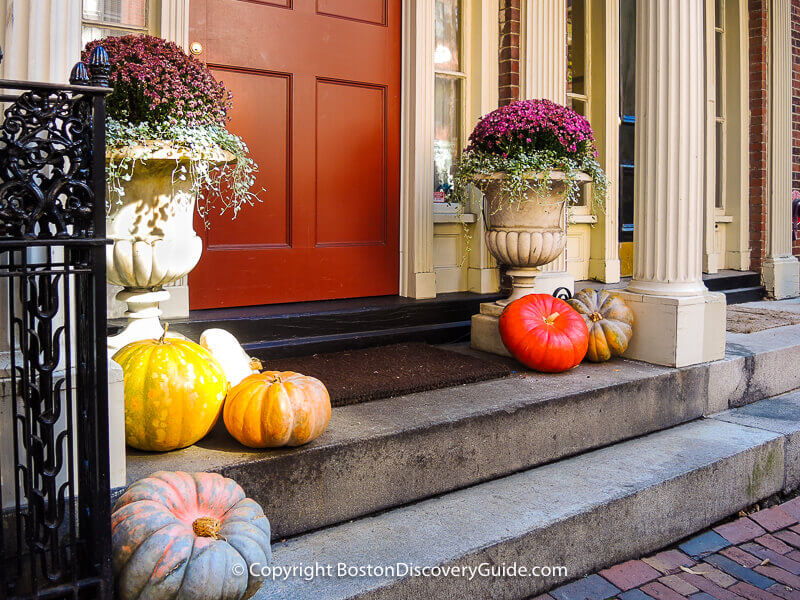 Beacon Hill's historic homes display some of the most colorful and lavish Halloween door and window decorations in the city. You can easily stroll through the neighborhood on your own - Chestnut and Mt Vernon Streets are great starting points.
Even better - join a Evening Ghost Tour of Boston More information
- Beacon Hill Photography Walking Tour - Your guide will make sure you see the neighborhood's famous cobblestone lanes and other photo-worthy attractions, entertain you with stories about the famous residents who live here, and photograph you at various points along the way. For the full Halloween experience, come in costume! More about the Beacon Hill photography tour
Of course, you can take these tours throughout the year, but seeing the colorful and creative Halloween decorations adds to the fun!
---
Halloween Celebration on Castle Island
Children of all ages will love the Magical Halloween Castle and Celebration at Fort Independence on Castle Island on October 26 and 27, 12 noon-4pm.
Look for storytelling, magicians, a Magical Castle (that may be "haunted"), refreshments, and more at the star-shaped fort ... supposedly the inspiration for "The Cask of Amontillado," Edgar Allan Poe's famous chill-filled short story.
The Castle Island events take place between 12 noon and 4pm on both days, weather permitting. Children MUST be accompanied by an adult. Free admission.
More about Castle Island and how to get there
---
Boston's (Haunted?) Burying Grounds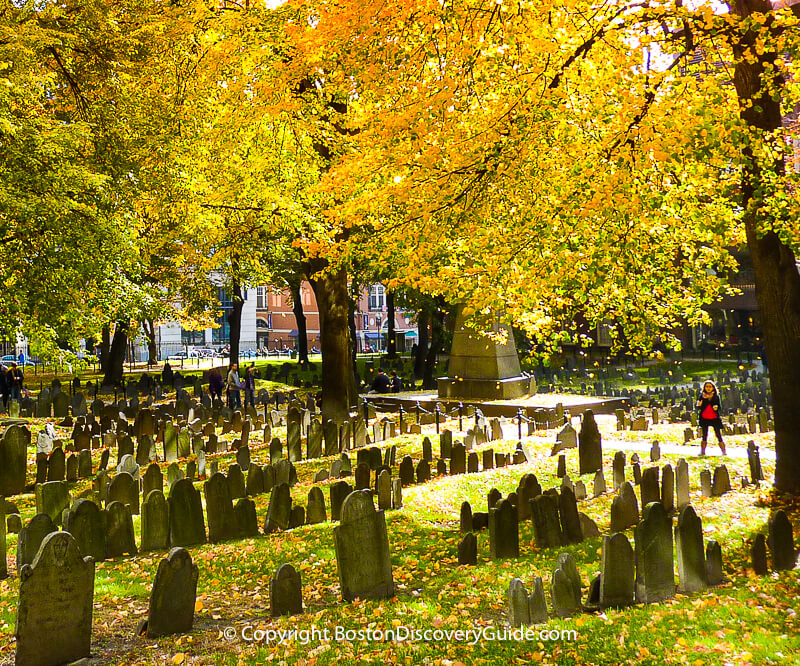 Are Boston's Puritan-era burying grounds dating back to the 1600s actually haunted? Stroll through a couple of these Freedom Trail sites, and decide for yourself.
Granary Burying Ground contains the remains of some of the greatest Revolutionary War heroes including Samuel Adams, Paul Revere, and the 5 Boston Massacre victims.
A block away is King's Chapel Burying Ground, Boston's oldest cemetery. Many of the first generation of English Puritans who settled in Boston are buried here. Be sure to check out the intricately carved seventeenth century headstones embellished with skulls and crossbones, and depicting Time wrestling with Death.
And, if you enjoy scary ghost stories, King's Chapel Burying Ground is supposedly haunted by Captain Kidd, hanged for piracy in 1701.
Of course, like many other Boston Halloween tales, that story may not actually be true.
Detailed signs at both graveyards will help you discover where all the bodies are buried.
Cost: Free
Locations:
- Granary Burying Ground is next toPark Street Church, at the Park Street/Tremont Street intersection
- King's Chapel Burying Ground is next to King's Chapel, corner of Tremont and School Streets
---
Make Way for (Costumed) Ducklings
As Halloween approaches, you'll begin see people all over Boston wearing costumes of various sorts.
Even the famous Make Way for Ducklings statues in the Boston Public Garden get into the act - usually about a week before the big event.
---
More Articles about Boston Fall Activities