Granary Burying Ground is where Revolutionary War heroes rest in peace, steps away from Boston Common and shadowed by the towering skyscrapers of the city's Financial District.
This Freedom Trail stop, one of Boston's oldest historic sites, dates from 1660.
Due to the large number of famous patriots and revolutionary heroes buried in this quiet tree-filled space, you may hear it called the "Westminster Abbey" of Boston.
Explore its serene shade-dappled grounds, and you'll find three signers of the Declaration of Independence - Samuel Adams, John Hancock, and Robert Treat Paine.
What to find out about any resident ghosts? Take a Ghosts and Graveyards Tour to find out more!
Top Photo: Granary Burying Ground on an autumn afternoon, (c) Boston Discovery Guide
Boston Discovery Guide is a reader-supported publication. When you buy through our links, we may earn a commission at no additional cost for you. Learn more
---
What to See & Do at Granary Burying Ground
Paul Revere and Boston Massacre Victims Graves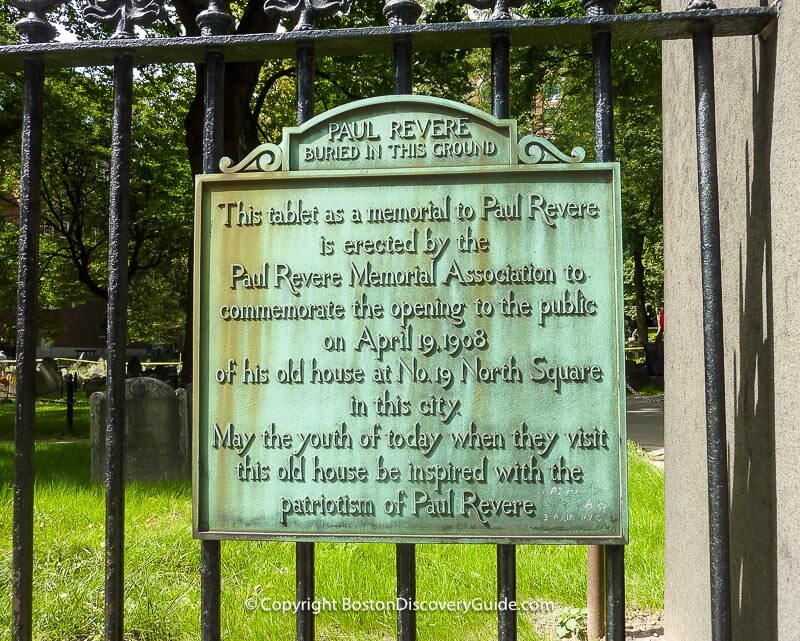 Paul Revere is here, as a memorial sign attests on the cast-iron fence along the front of the cemetery.
You may have to look around a bit to find Revere's actual grave, located near the back of the cemetery.
The first thing you'll probably spot is a medium-sized memorial marker from the 19th century.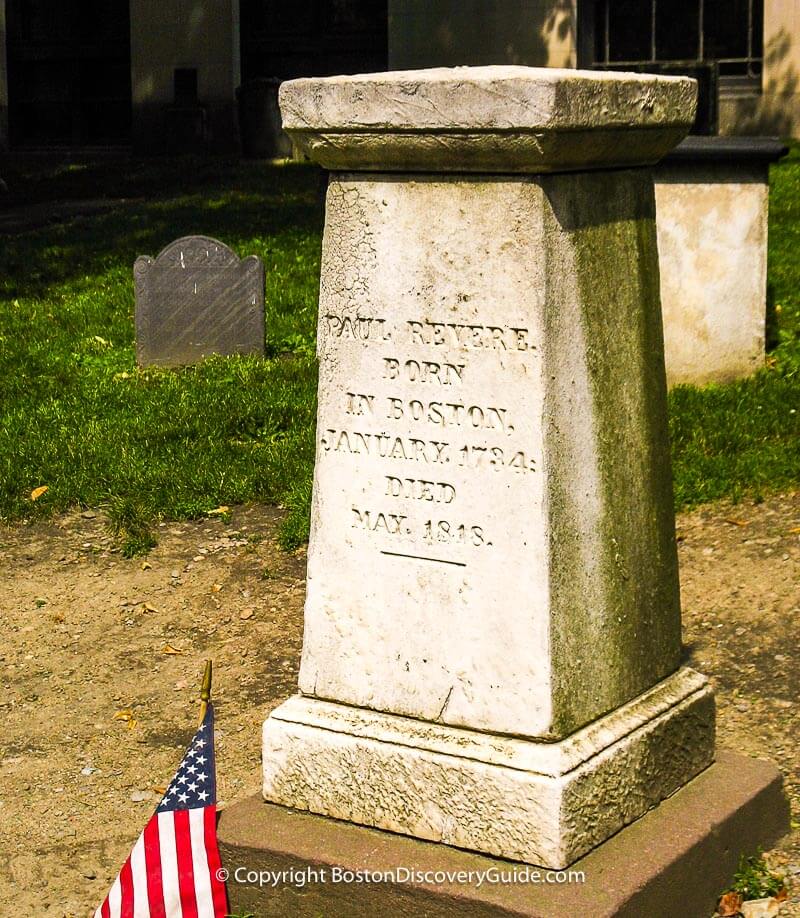 Considering Revere's outsized role in the American Revolution, his grave's old slate marker (believed to be original from when he was buried here in the Granary in 1818) is surprisingly small and easy to overlook.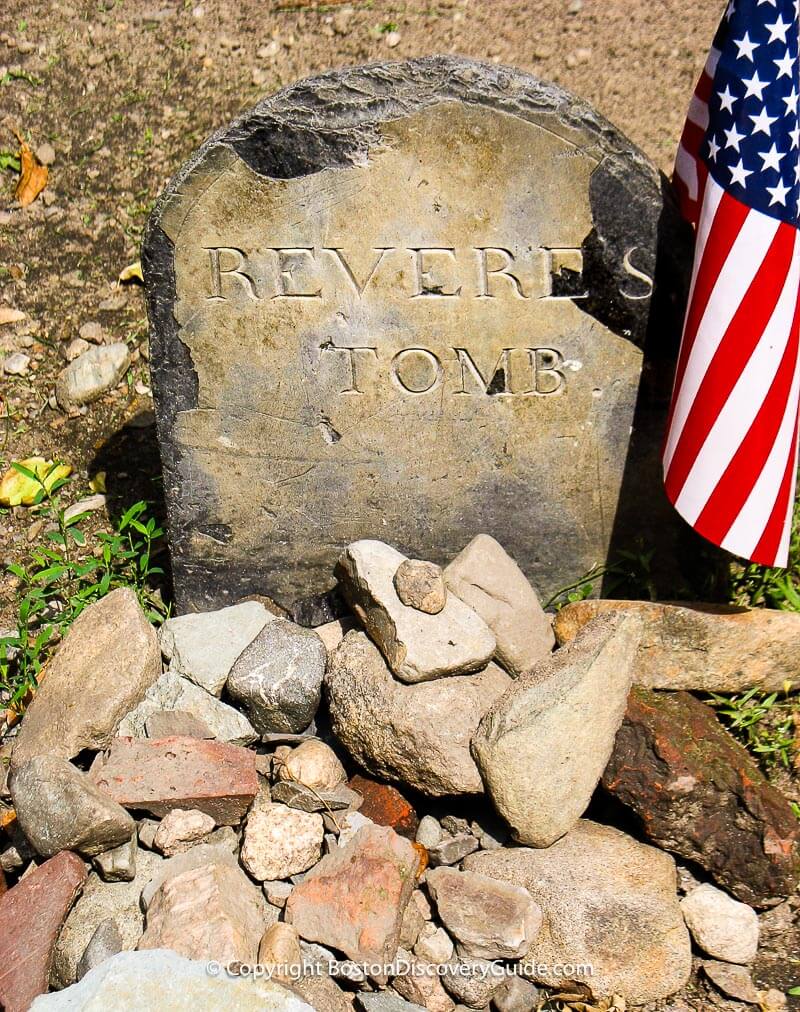 You can also find the graves of numerous other notable 17th and 18th century citizens in the Granary Burying Ground, including the five Boston Massacre victims and many Revolutionary War veterans.
Wealthy merchant Peter Faneuil, who built Faneuil Hall and donated it to the city in 1742, is here (with his name Anglicized, or perhaps just misspelled, as "Funel").
So are Benjamin Franklin's parents, 9 Massachusetts governors, and Judge Samuel Sewall, who presided over witchcraft trials.
In fact, the 21 foot granite obelisk placed over the tomb holding Franklin's parents and other relatives leads many people to mistakenly believe that Ben Franklin is also here.
Unfortunately, the remains of this native son are elsewhere.
---
More Reasons to Visit Granary Burying Ground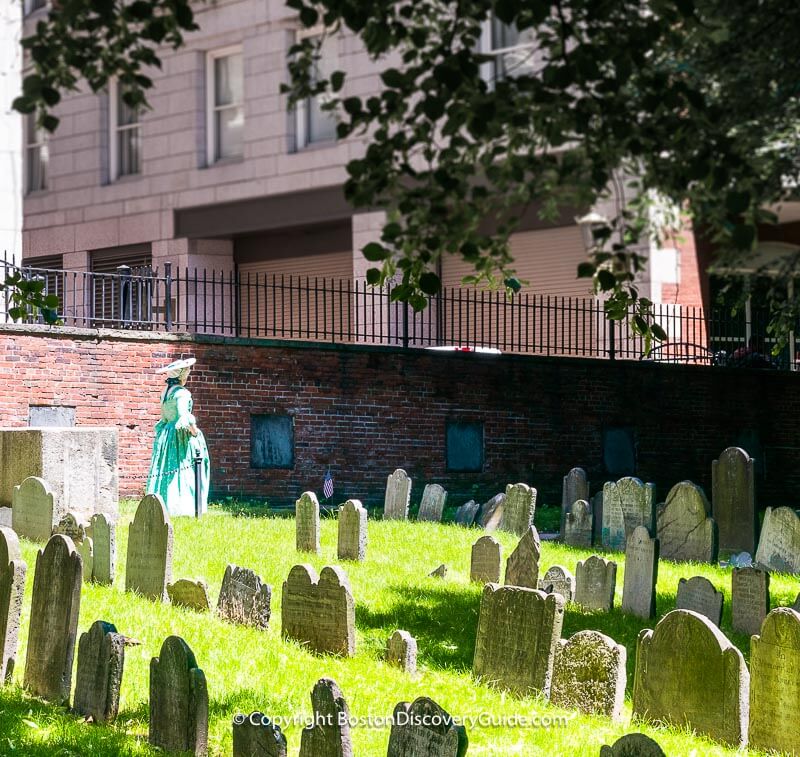 If you have any interest in old graveyards, old tombstones, or the final resting places of American revolutionary heroes, you'll find this burying ground fascinating.
You can explore quickly, looking at just the marked sites - or linger longer, discovering 17th century inscriptions for Boston's early citizens.
Save some time for reading the signs . . . they have lots of details.
Many tours stop at this historic site. The guides, often excellent actors and historians, provide fascinating details about early Boston life and death.
Will you find ghosts in Granary Burying Ground? Plenty of legends claim they do - take Ghosts and Graveyards Tour to find out more!
If you have time to tour only one Boston graveyard, you may want it to be the Granary Burying Ground because of all of the historical connections. Plus this old Colonial-period cemetery is a lovely, peaceful spot - even just a few moments there will make you forget that you're in the center of a large city.
---
17th Century Graves in Granary Burying Ground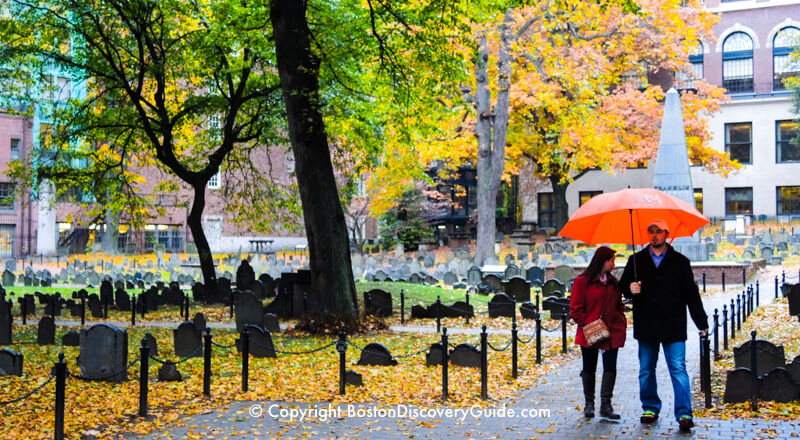 Look farther among the 2,345 gravestones and 204 tombs, and you'll see 17th century stones carved with elaborate letters, death's heads, and fruits of paradise. As many as 8,000 men, women, and children are believed to have been buried in this old but beautiful Boston cemetery.
The oldest tombstone belongs to John Wakefield and is dated 1667.
The oldest inscription on a horizontal marker commemorates Hannah Allen, who also died in 1667 at age 21.
The words on her tombstone, believed to be the first stone marker of this sort placed within the burial ground, read:
Stay! thou this tomb that passeth by,
And think how soon that thou may'st die:
If sex, or age, or virtue bright

Would have prolong'd to these, it might,
Though virtue made not death to stay:
Yet turn'd it was to be their way.
And if with them thou wouldst be blest,
Prepare to dye before thou rest.
Numerous gravestones have crumbled and decayed. Many of the earliest markers were made from wood, and they've long since disappeared.
The remaining stone markers have been rearranged at least a couple of times to make pathways and better landscaping effects.
---
Overcrowding at Granary Burying Ground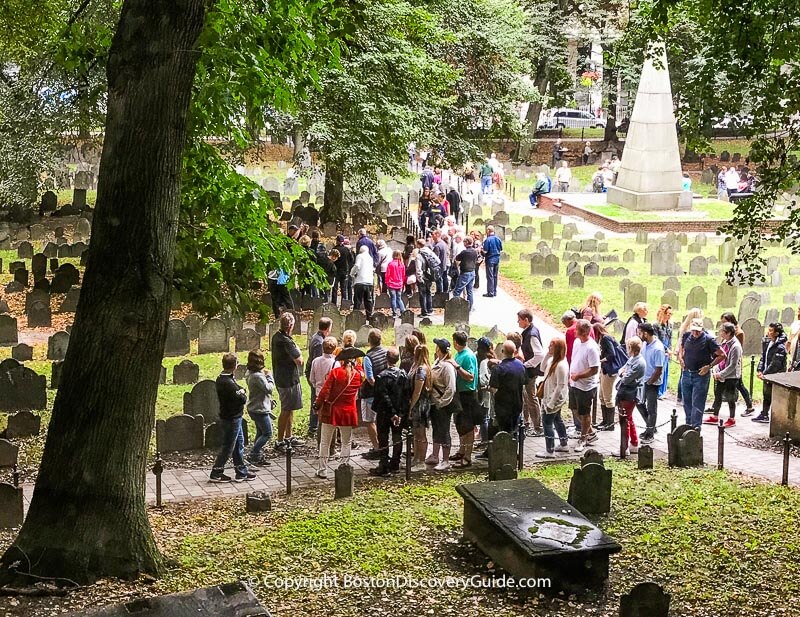 Developed on what was then a corner of Boston Common because of overcrowding at the "old" burying ground next to King's Chapel, another Freedom Trail further down the street, Granary Burying Ground was the city's third cemetery.
Originally known as New Burying Ground or South Burying Ground, it started being called Granary Burying Ground as early as 1737 because of the Old Granary located next door, which was moved in 1809 to make way for Park Street Church.
Sometimes visitors think that Granary Burying Ground is linked in some way to the church, but it is not.
A striking, although decidedly uncolonial, feature is the Egyptian-style entrance. This was designed in 1840 by Boston sculptor and architect Solomon Willard, designer of the Bunker Hill Monument.
Granary Burying Ground became crowded by the 18th century. In 1740, a petition for more space from John Chambers and other gravediggers complained that they were having to bury bodies "four deep."
Most burials were prohibited here after 1856.
---
Visiting Granary Burying Ground as Part of Freedom Trail Tours
Many Freedom Trail Tours visit Granary Burying Ground:
---
More Interesting Gravesites to Visit at Granary Burying Ground
In addition to its well-known citizens, Granary Burying Ground also contains the mortal remains of lesser-known Bostonians.
See if you can find these:
Anne Pollard arrived as a 10 year old, part of the Massachusetts Bay Colony group that came to the Shawmut Peninsula in 1630. Once they finally reached shore, she leapt ashore from the boat's bow - the first English girl to set foot in what would become Boston. During the course of her long and eventful life, she raised numerous children, smoked a pipe, operated the raucous Horse Shoe Tavern alone after her husband died, and had her portrait painted at 103. (You can see a reproduction on display in the Old South Meeting House.) She finally died 2 years later at 105, mourned by over 100 descendants.
Elisha Brown organized his fellow tenants in Manufactory House, located at 120 Tremont, when the occupying British Army ordered them to vacate so that troops could be quartered there. He and the other tenants refused to comply, and barricaded the building. Finally the Redcoats went away after a 17-day siege, and instead, camped out in the mud on Boston Common.
---
Where to Stay in Historic Downtown Boston near Granary Burying Ground
The historic Omni Parker House Hotel (shown in photo) is just a few steps away from Granary Burying Ground as well as other Freedom Trail sites in this historic part of Downtown Boston: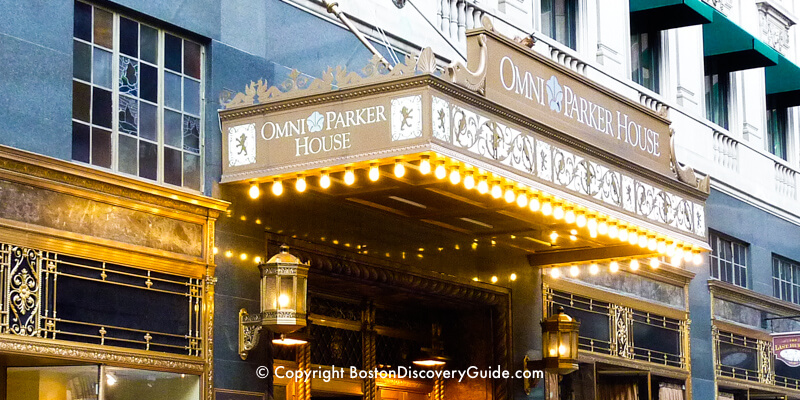 More top hotels near this part of the Freedom Trail in Boston's Historic Downtown:
Find more choices with this Boston hotel map - just enter your dates to see the cheapest rates at available hotels, inns, and apartments:
More about how to save on Boston hotels
Find more hotels in Historic Downtown Boston
---
Granary Burying Ground Visitor Information
Location: Tremont Street, near Park Street Intersection, Downtown Boston on the Freedom Trail
Hours and Cost: Daily, 9 am - 5 pm; free of charge
Getting there by subway: Red and Green Lines/Park Street
Park: Boston Common Garage is easy - just follow the Freedom Trail from the Common to the Granary Burying Ground (but driving in Boston is never easy - so take public transportation if possible)
---
More Granary Burying Ground Information
Where is the best parking near Granary Burying Ground?
If you're visiting on the weekend, Boston Common Garage and 75 State Street Garage both offer attractive rates and are close to the graveyard and other downtown Freedom Trail sites - choose the one that's most convenient based on the direction you're coming from.
On weekdays, Boston Common Garage will usually be less expensive.
---
More Fun Ways to See Boston near the Freedom Trail
---
More Articles about Boston's Freedom Trail