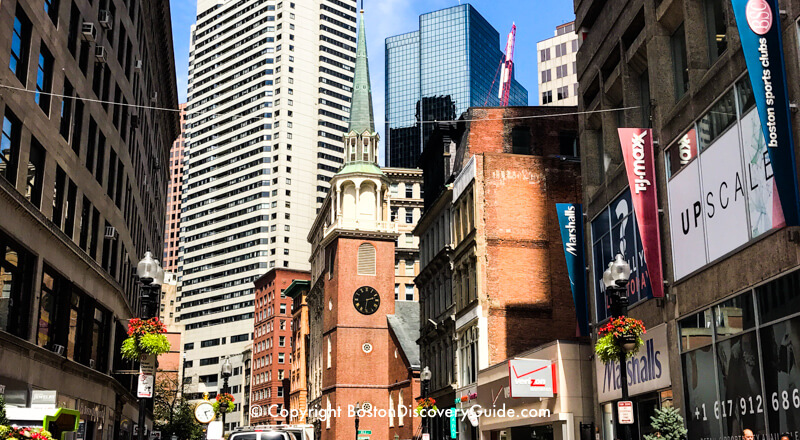 A visit to the Old South Meeting House, now a museum filled with interesting exhibits and information on Boston's Freedom Trail, puts you in the very spot where a secret code shouted to a crowd triggered the Boston Tea Party in 1773.
The Georgian brick building you see today was built in 1729-30 to replace a simple wooden structure built by the congregation, a group of dissenters from Boston's First Church (read more about that here) in 1669.
Like other Puritan meeting houses, Old South's design rejects ornate Anglican church embellishments. Windows are clear glass, not stained. The interior is plain. Even the brick is laid in a simple Flemish bond pattern.
Today, the Meeting House's design seems appealingly elegant in its simplicity. The tower, topped with a belfry, steeple, and gilded weather vane, soars upward for 183 feet. The 1768 brass, wood, and iron tower clock in the belfry, which you can see in the photos above and below, still keeps excellent time.
Freedom Trail Tours & Old South Meeting House
Many Freedom Trail Tours go past Old South Meeting House and include commentary about its role in American history. You can easily visit on your own after the tour - count on spending 1-2 hours there.
---