Boston Common Garage almost always offers cheaper rates than most other nearby garages when you want to park in a central location near Boston's theaters, Faneuil Marketplace, TD Garden, Downtown Financial District, Beacon Hill, and Back Bay.
Even better, the garage's location under Boston Common makes it easy to find, easy to enter, and easy to exit.
"Easy" is a huge benefit in a city where many streets are so narrow and winding that you'd swear they haven't changed since Colonial times.
If you've parked in other downtown garages with steep ramps, low ceilings, and narrow spaces, you'll appreciate the spacious layout.
Evening and weekend rates give you an especially good deal.
And if you can take advantage of the Weekday Super Late Night Special, you can potentially save a bundle - especially if you want to avoid high parking prices at nearby hotels.
Find out more about parking in Boston
What you need to know about driving in Boston before you come
Top photo: Boston Common Parking Garage, (c) Boston Discovery Guide
Boston Discovery Guide is a reader-supported publication. When you buy through our links, we may earn a commission at no additional cost for you. Learn more
---
Parking Rates at Boston Common Garage
Parking rates are hard to beat in this part of Boston:
Weekday rate: Enter between 6am and 4pm
$12 - Up to 1 hr
$18 - Up to 2 hrs
$24 - Up to 3 hrs
$28 - Up to 10 hrs
$32 - Maximum charge for 24 hours
Evening Rate: Enter between 4pm and 6am and exit before 8am - pay just $10 for up to 1 hour, $14 for 1-3 hours, and $18 (up to 8am) for 3 hours or more.
Weekend and Week Night Rates: Enter after 6am on Saturday or Sunday and exit by 8am on the following morning; or enter Monday - Friday 4pm-6pm, and exit before 8am.
$10 - Up to 1 hour
$14 - 1-3 hours
$18 - Over 3 hours (up to 8am) - but only $16 if you reserve online
Potential Savings for Boston Visitors needing Overnight Parking: Staying at a nearby hotel in Downtown, Beacon Hill, or Back Bay and want to avoid expensive hotel parking rates?
If your schedule permits you to enter the Boston Common Garage after 9pm on Monday-Friday, leave before 8am the next day, and don't need in/out priveleges during this time period, you can snag the biggest parking garage bargain in Boston: the $5 Super Late Night Rate. To get it, you MUST reserve online at bostoncommongarage.com.
If those hours don't work for you, the garage also offers 24-hour self-parking for $26. Compared with other options, that's a huge bargain.
Students, Faculty, and Medical Personnel can also get this $26 rate.
Check the Boston Common Garage website to see the details and "fine print."
The garage offers other deals and bargains:
An All-Weekend rate (enter Friday between 4pm and midnight, and exit before 8am Monday morning, with no in-out privileges) of only $48
Evening Restaurant Parking (enter between 6pm-9pm and leave before 1:30pm with no in-out) for $14
Again - please check the garage website to confirm details, as rates and conditions can change without our knowledge.
Fastest Way to Pay: When you enter the parking kiosk on the way back to your car, pay with cash or a credit card at the payment machines.
Slower: Pay with credit card with you exit the garage; make everyone behind you has to wait longer.
Snow emergencies: When on-street parking bans go into effect in the city due to snow emergencies, Boston residents of nearby neighborhoods get to park here for discounted rates - so expect the garage to be very full during these times.
Size: Inside, you'll find 1,350 parking spaces. The underground garage is well-lit, and gets fairly heavy usage day and night. Security personnel are usually a visible presence in the garage.
---
How to Save on Overnight Parking in Boston
If you're planning to visit Boston, want to bring your car, and your hotel of choice has just quoted $50 as the daily parking rate - which is not uncommon now at many Boston hotels - you may be able save a significant amount of money if you can take advantage of overnight and weekend parking at the Boston Common Parking Garage.
This strategy works best if you're just visiting for the weekend.
During the week, you'd need to be willing to get up early in the morning and move your car out of the parking garage before weekday hourly rates kick in.
---
5 Tips for Parking Under the Common
1. You enter the Boston Common Garage from Charles Street, which is 1-way going north between Boston Common and the Public Garden. The garage is easy to reach from Storrow Drive, I-93, and Mass Pike (I-90).
2. Once you park and lock your car, be sure to note:
The letter (A, B, C, D, etc) on the aisle where you parked
The garage level you parked on (Upper, Middle, Lower) - this is the Number 1 detail that first-time parkers here forget to note!
3. Once you walk up the stairs or take the elevator up to ground level, you'll exit through a small kiosk. There are four kiosks scattered across the west end of the Common, and they all look identical.
Make a mental note of the location where you exit, so that you can find it when you return to your car.
They do all provide access to the same garage, but re-entering through the one you exited will save you some potential confusion once you get inside.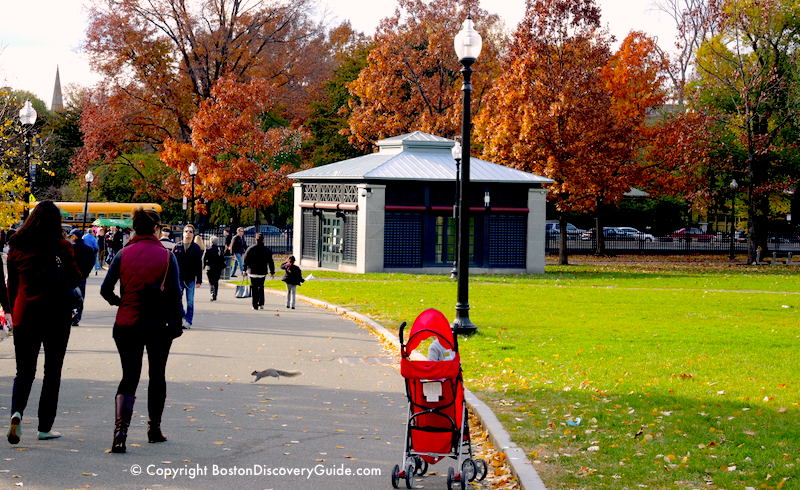 4. Bring your ticket with you, as you may need to swipe it at the kiosk door in order get back in.
(Boston Insider's Tip: Sometimes late at night, all but one kiosk is locked - definitely disconcerting if you aren't expecting it.)
5. Payment machines are available in each kiosk. It's easiest to pay before going back to your car - assuming the machines are working. Sometimes they don't.
---
How to Get Around Boston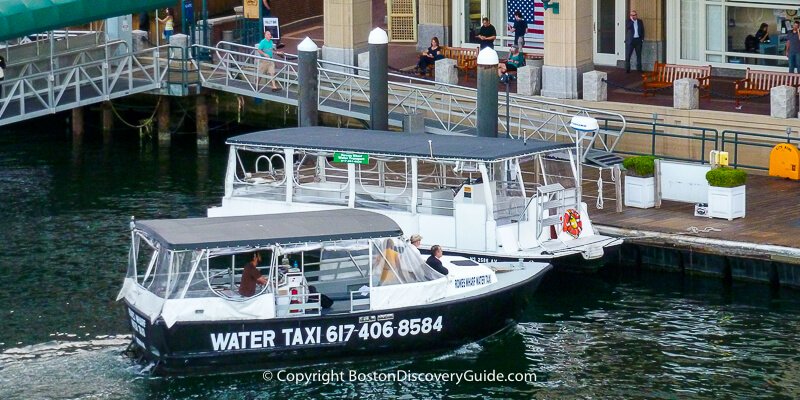 ---
Attractions Located Near Boston Common Garage
Because Boston is so compact, the location of Boston Common Garage is convenient to the Theatre District, Historic Downtown Boston, Chinatown, Beacon Hill, Back Bay (especially the end closest to the Public Garden), the Greenway, and Faneuil Hall / Quincy Market.
TD Garden and the Downtown Waterfront are also reasonably close - perhaps a 12-15 minute walk.
If you're planning to explore the Freedom Trail, you'll find the Boston Visitor Information Center where you can pick up a free map just on the other side of the Common - and of course, Boston Common itself is part of the Trail.
---
Directions for Boston Common Garage
Address: 0 Charles Street
Enter Boston Common Garage on Charles Street between the Public Garden and Boston Common.
Hours: 24 x 7
Cost: See above
For more information: Boston Common Garage website
Nearest T station: Green and Red Lines/Park Street or Green Line/Boylston; if you need to go somewhere on the Blue or Orange Line, State Station is a few blocks away
---
What to Do If You See the "Garage Full" Sign at Boston Common Garage
Boston Common Garage is not the city's biggest parking facility, so unfortunately, the dreaded "Garage Full" sign does appear whenever an event is scheduled nearby, and also at random times.
Therefore, the best strategy when you plan to park under the Common is to always have a couple of alternate options in mind.
The Post Office Square Garage in the Financial District is a good options (in other words, easy to access, clean, well-lit) if your destination is on the east side of the Common.
In Back Bay to the west of the Common, Dartmouth Street Garage operated by LAZ Parking is good.
Both of these garages will probably cost you more than the Boston Common Garage.
However, they're cheaper than a parking ticket if you find curbside parking and overstay your time, plus even finding an empty parking space in this part of the city can be a big hassle and sometimes impossible.
---
More Articles about Parking in Boston
---
Fun Things to Do in Boston
---
Need a Boston Hotel or Apartment?
Use this handy map from Booking.com to find the perfect place to stay. Just enter your dates to find what's available, see the best rates, and make your reservations.