Sports contribute as much to Boston's local culture (or what we call "culchah") as do our world-famous museums, concert halls, and universities.
You can experience the excitement at legendary Fenway Park when "Red Sox Nation" cheers on the home team . . . at the iconic sports bars surrounding TD Garden where a sea of fans wearing green or gold and black surrounds the big screens . . . at Gillette Stadium where fans boil whole lobsters, grill steaks, and chow down on huge pots of chili at tailgate parties before going to cheer the Patriots.
There's nothing else quite like Boston's sport culture - so experience it for yourself when you visit!
Here's a quick guide to our five major sports teams, our three major sports venues, current schedules, and how to get the best tickets at the right price.

Boston Red Sox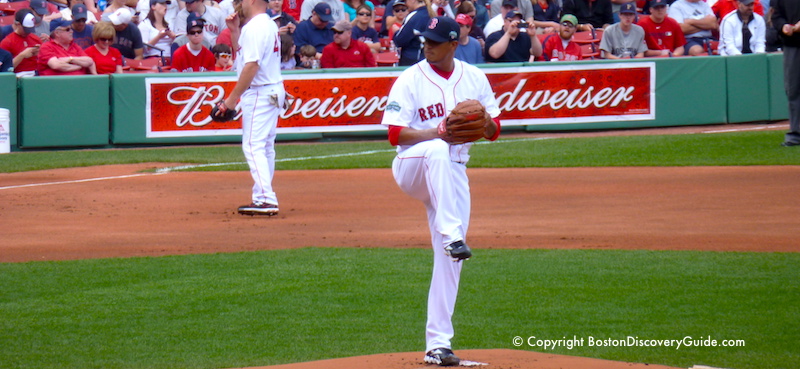 After winning the World Series in 2004, 2007, and again in 2013, the Boston Red Sox sell out almost every home game at Fenway Park.
The 2004 World Series win came after a dry spell of 86 years, attributed to a rumored "Curse of the Bambino" after the team's management sold star player Babe ("The Bambino") Ruth to arch-rival New York Yankees during the off season.
Here in Boston, Red Sox fans are collectively known as "Red Sox Nation" due to our loud and obsessive support of the team, winning or losing.
Red Sox September Schedule 2021
Boston Bruins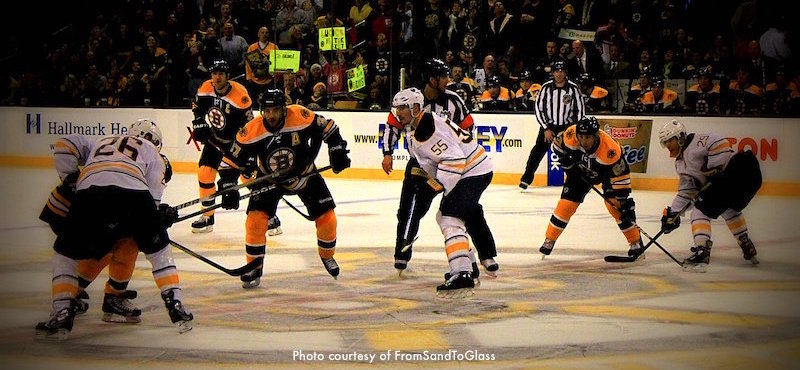 Winners of 5 Stanley Cups, 2 Conference championships, and 22 Division championships, the Boston Bruins have brought excitement to the ice since their formation in 1924.
Legendary players: Bobby Orr, Eddie Shore, Ditt Clapper, Dutch Gainor, Milt Schmidt
TicketNetwork Discount Code - Enter TNTIX to get $10 off orders of $300+

More Bruins Games & Tickets - TD Garden
More Bruins Games & Tickets - All Arenas
Photo courtesy of FromSandToGlass
New England Patriots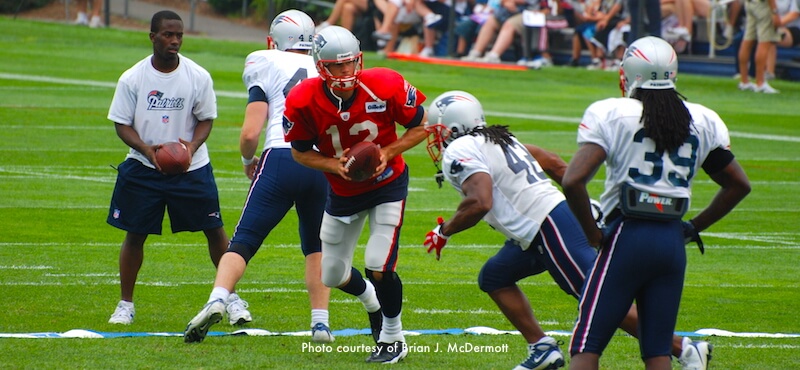 Winners of 4 Super Bowls since 2001, the New England Patriots (usually just called "the Pats") are owned by Robert Kraft, who also owns the New England Revolution pro soccer team as well as Gillette Stadium itself.
With Coach Bill Belichick at the helm and star quarterback Tom Brady plus a bunch of other stellar players, the Pats generate a lot of excitement among Boston sports fans.
With the Patriots making so many trips to the Super Bowl, Boston fans have become experts at how to celebrate.
TicketNetwork Discount Code - Enter TNTIX to get $10 off orders of $300+

More about where to watch Super Bowl in Boston
Photo courtesy of Brian J. McDermott
Boston Celtics
PLEASE NOTE - ALL GAMES HAVE BEEN SUSPENDED FOR THE REST OF THE SEASON BY THE NBA due to the coronavirus
Winners of 17 NBA championships, the Celtics attract large crowds and lots of excitement.
Boston sports fans love to watch them beat their long-time rivals, the Los Angeles Lakers. Wear green and white to games to blend in with the crowd.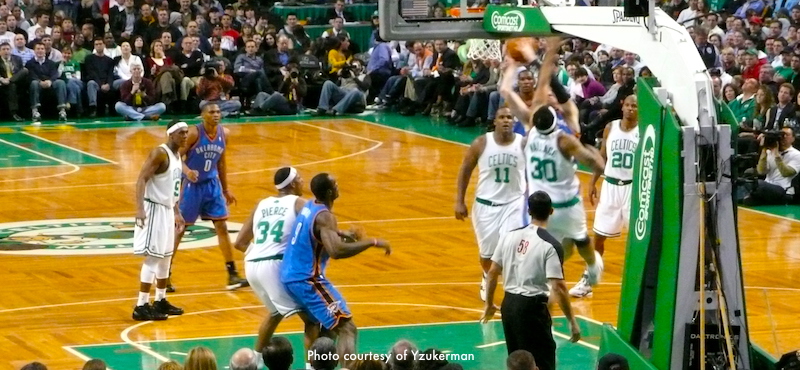 TicketNetwork Discount Code - Enter TNTIX to get $10 off orders of $300+

Photo courtesy of Yzukerman
New England Revolution - Men's Major Soccer League
League: Major League Soccer (MLS), Eastern Conference
Home games: Gillette Stadium
Season: March - October

TicketNetwork Discount Code - Enter TNTIX to get $10 off orders of $300+

More Revolution Games & Tickets
Winners of the 2007 US Open Cup, the Revolution plays in Gillette. Rival fan clubs provide extra entertainment - watch the Midnight Riders and the Rev Army occupy areas nicknamed "The Fort" at the north end of the stadium.
More Boston Sports
Beyond Boston's Big Five professional sports teams, another locally-known team provides plenty of additional action and excitement. Big plus to attending their games: affordable ticket prices.
Boston Cannons - Men's Lacrosse
League: Major League Lacrosse (MLL)
Home games: Veterans Memorial Stadium, Quincy
Season: May - August
TicketNetwork Discount Code - Enter TNTIX to get $10 off orders of $300+

More Boston Cannons Games and Tickets
Winners of 2 division championships, the Cannons formed in 2001 and have raised the profile of lacrosse in among Boston sports fans. They're strong supporters of community youth teams, and host lacrosse camps and events in the Boston area.
Boston Sports Venues
Fenway Park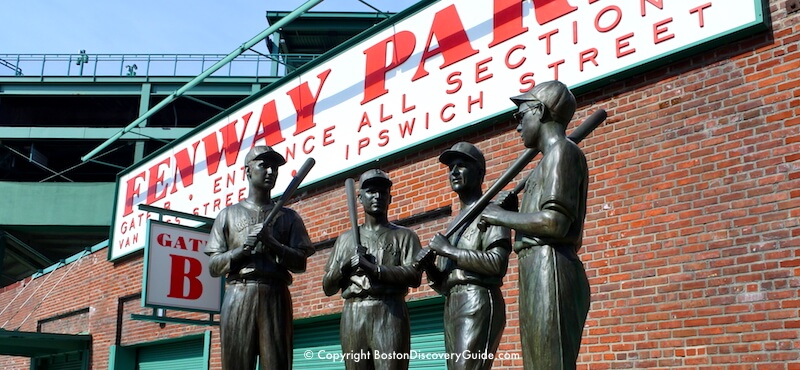 Built for the Boston Red Sox in 1912, Fenway Park is famous for its "Green Monster" wall.
The Red Sox play all their home games at Fenway. When the Sox are away, Fenway hosts several concerts during the summer and early fall, special ice hockey matches during the winter, and other events.
Best of all, Fenway Park's in-town location makes it easy to reach by walking, subway, train, or car.
Next games and events at Fenway Park:
TicketNetwork Discount Code - Enter TNTIX to get $10 off orders of $300+

Red Sox Home Game Schedule for Fenway Park & Tickets - 2021
Red Sox May Home & Away Schedule 2021
Complete Fenway Park event schedule & tickets
TD Garden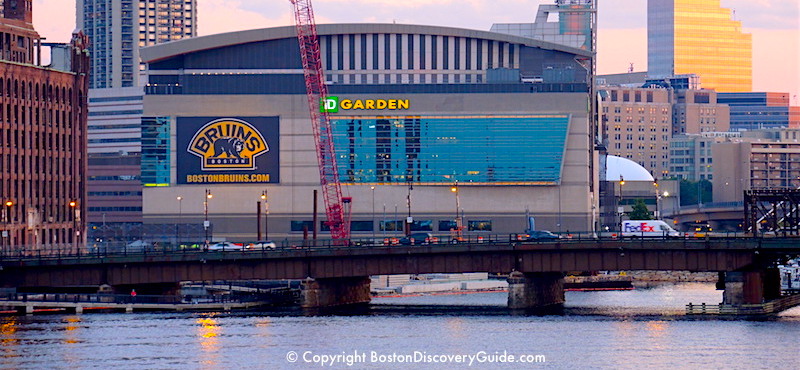 TD Garden is Boston's state-of-the-art sports arena / entertainment complex.
Home to the Celtics, Bruins, and Blazers, TD Garden is where you can also see concerts, performances such as "Disney on Ice," political speeches, wrestling and other sports events, and even the circus.
TD Garden replaces the old Boston Garden, and you'll hear both of them referred to as simply "the Garden" - not to be confused with the Public Garden, the Victorian-era park filled with flower gardens across from Boston Common.
Next games and events at TD Garden:
TicketNetwork Discount Code - Enter TNTIX to get $10 off orders of $300+

All TD Garden Events Schedule & Tickets
Gillette Stadium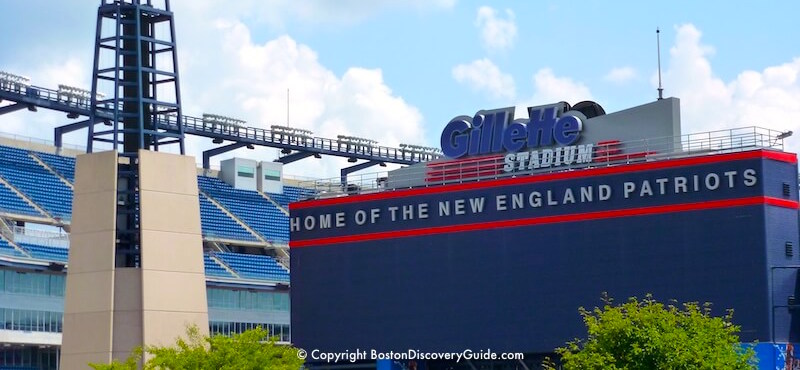 Seating almost 70,000 fans, Gillette Stadium is located in Foxboro, just 22 miles south of Boston.
It is part of Patriot Place, a fun-filled entertainment and shopping complex complete with its own hotel, many restaurants, and many sports-related stores.
The Patriot Place complex is owned by Robert Kraft - who incidentally owns the New England Patriots and the New England Revolution.
Not surprisingly, Gillette Stadium is home to the Patriots and the Revolution as well as college football, crowd-thrilling concerts by stars such as U2 and Bon Jovi, and other events.
Next games and events at Gillette Stadium:
TicketNetwork Discount Code - Enter TNTIX to get $10 off orders of $300+

All Gillette Stadium Events Schedule & Tickets
Other Famous Boston Sports Events
Boston Marathon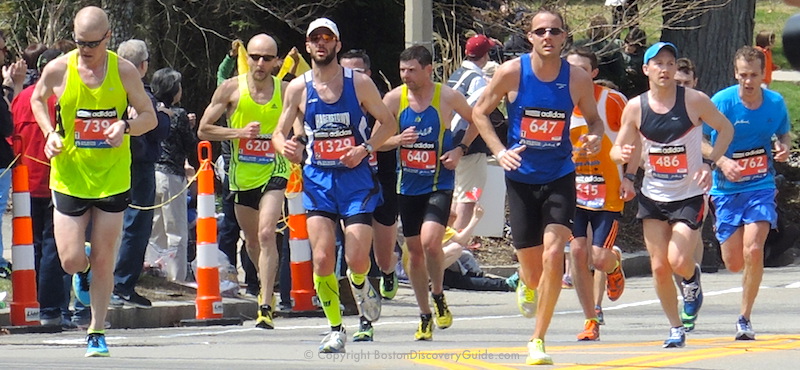 New England's most widely viewed sporting event, the Boston Marathon is held annually on Patriot's Day, the 3rd Monday in April.
More about the Boston Marathon
You can join the hundreds of thousands of spectators along the 26-mile route from Hopkington to Boston's Back Bay neighborhood . . . or you can participate as one of the 25,000 runners . . . if you meet the qualifying times.
More to know about the Marathon:
---
Head of the Charles Regatta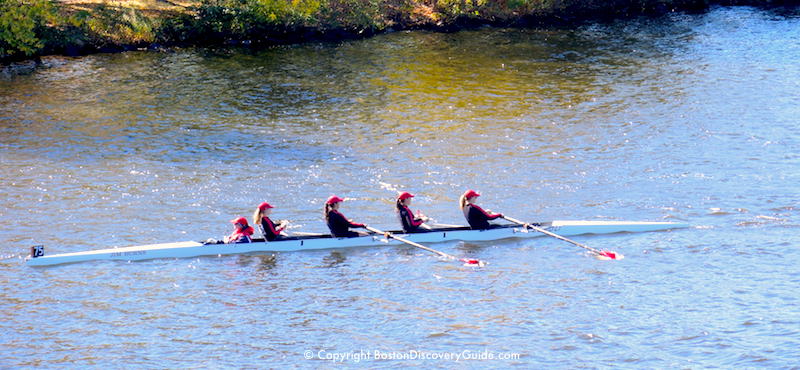 7,500 athletics converge from all other the world on the 3rd weekend in October to compete in the world's largest 2-day rowing event, watched by 300,000+ spectators along the banks and bridges of the Charles River between Boston and Cambridge.
More about the Head of the Charles Regatta
Or, check the Boston Event Calendar for October for the exact dates.
---
Boston Beanpot Hockey Tournament
Begun in 1952 to provide some entertainment during a dull stretch in the Boston sports calendar, the annual Boston Beanpot Hockey Tournament pits four intensely competitive Boston college hockey teams together to find out who's the best.
On the first and second Monday night in February, sparks fly on the ice at TD Garden as competition among Boston College, Boston University, Harvard College, and Northeastern University rises to a fever pitch. Check the Boston Event Calendar for February for more Beanpot information.
---
Disney on Ice
Somewhere between sports and entertainment is Disney on Ice, a perennial Boston favorite and popular family event. Venues alternate between Agganis Arena at Boston University and TD Garden in Boston's West End neighborhood.
Although the schedule varies slightly from year to year, you can almost always count on a series of performances beginning a few days before Christmas and continuing until around New Year's Day, as well as a second series of a different Disney on Ice show scheduled to coincide with Massachusetts' public school winter vacation week.
Schedules usually get finalized 2-3 months in advance of each series of shows. Check our Disney on Ice article for more information and detailed schedules.
TicketNetwork Discount Code - Enter TNTIX to get $10 off orders of $300+

Find all tickets for Disney on Ice performances in Boston
Where to Get Boston Sports Tickets
If you're visiting Boston, the easiest way to get great seats for the game you want to see is to order your tickets online before you leave home. Just choose your game, pick your seats, and click.
These highly reputable ticket sellers all guarantee their tickets, deliver promptly, and offer tickets at a wide range of prices. They cover Boston's five pro teams - the Red Sox, Patriots, Bruins, Celtics, New England Revolution - plus major college games, wrestling, the Harlem Globetrotters, figure skating championship matches - and a lot more!
TicketLiquidator - Best seats, great prices for all Boston sports at TD Garden, Fenway Park, Gillette Stadium
StubHub - All sports, concerts, events - 200% guarantee - get tickets by email or pick up in person as AceTicket is local
TicketNetwork Discount Code - Enter TNTIX to get $10 off orders of $300+

Discount Sports Tickets
Groupon is usually the best source for discount and half-price tickets.
Look for discount tickets preseason tickets for the New England Patriots, tickets to a few Red Sox, Bruins, and Celtics games each season, and occasionally tickets for other teams such as the New England Revolution.
Availability varies and the tickets usually sell out fast - but you're always smart to look.
More about Sports in Boston

More Recommendations for You
---
Need a Boston Hotel?
Use this handy hotel map from Booking.com to find the perfect place to stay. Just enter your dates to find what's available, see the best rates, and make your reservations.