Boston's top St Patrick's Day events include the enormous St. Patrick's Day Parade in South Boston (locally known as "Southie"), rollicking concerts by the Dropkick Murphys' at House of Blues and other venues, non-stop festivities in our famous Irish pubs - and that's only the beginning of fun things to do on this favorite Irish-American holiday.
You can also raise a glass of Guinness while listening to traditional Irish music on a sightseeing cruise around the Harbor. Or explore Boston's Irish heritage along the Irish Heritage Trail, watch the Celtics play at TD Garden, or stop by Harpoon for some house-made Irish specialties and of course their special brew.
Check out these top ways to celebrate St Patrick's Day in Boston - and you'll quickly see why Boston is considered the most Irish of any American city!
Find out about the St Patricks Day parade in Boston
Find out where to stay near the parade
---
1. Rock on at the Dropkick Murphys concerts at House of Blues & Roadrunner 2022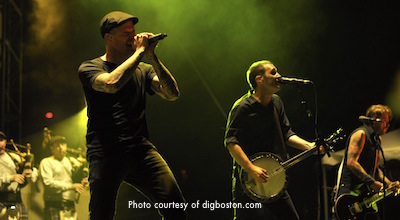 Boston's most famous Celtic punk rock group, the Dropkick Murphys, spends most of their time touring since becoming so popular, but they always return home to Boston to perform concerts St Patrick's Day at House of Blues, near Fenway Park. This year, they've also added performances at Roadrunner in Boston's Brighton neighborhood.
Needless to say, the Dropkick Murphys' rollicking performances sell out quickly, but if you're a fan, you'll want to catch one of these concerts - so get your tickets now!
Enter DISCOVERY 10 to save 10% on TicketNetwork & TicketLiquidator tickets
---
2. Dress in green for the St Patrick's Day Parade in Southie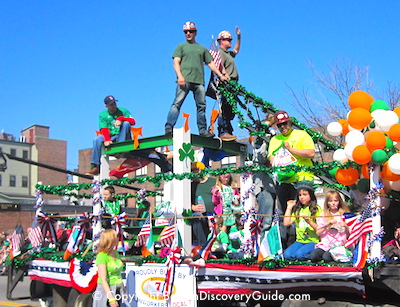 The massive St. Patrick's Day Parade in South Boston takes center stage on the Sunday closest to March 17th, attracting up to one million spectators.
You'll enjoy the colorful floats, Irish and American pipe and drum bands, and enthusiastic crowds.
Just be sure to wear green.
Find the updated St Patrick's Day parade route through South Boston
Check the March Boston Event Calendar for the exact date and time
More about the St Patrick's Day Parade
Did you know?
St Patrick's Day is actually an official Boston (and Suffolk County) holiday because it happens to fall on Evacuation Day, which commemorates the ousting of British troops from the city on March 17, 1776 during the Revolutionary War. Public schools and Suffolk Country government offices will be closed, but virtually all businesses and everything else will be open.
---
3. Sign up for the St Patrick's Day Road Race in Southie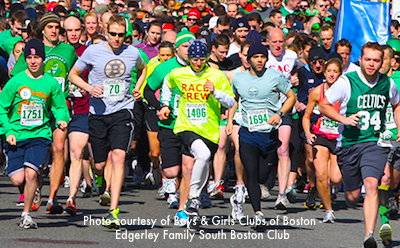 If you're going to South Boston for the big St Patrick's Day Parade, head over to West 6th Street to cheer on the runners of the St Patrick's Day 5K Road Race, where the first lucky 600 runners to register will be wearing the official long-sleeved race shirts designed by the Dropkick Murphys, one of the race's sponsors.
The South Boston Boys and Girls Club sponsors this race, which has been held each year since 1940. Entrants are capped at 1,750 - so early registration is advised.
The race starts and ends at the South Boston Boys and Girls Club at 230 West 6th Street in South Boston, and follows a 5K (3.1 mile) course.
Check the Boston Event Calendar for March for the exact date and time.
---
4. Go hear Irish music, see Irish step dancers, and raise a glass of Guinness to celebrate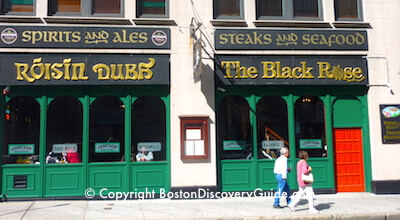 St Patrick's Week at Lansdowne Pub (9 Lansdowne St, across from Fenway Park) - Live music all week, with an all-day show and plenty of Guinness on March 17 starting at 10am. More info
A Saint Patrick's Day Celtic Sojourn with Brian O'Donovan - Boston's famed radio host welcomes top musicians at Sanders Theatre in Cambridge - More info
The Burren - Traditional Irish music 7 nights each week - plus special Irish sessions, open mics, Irish step-dancing (normally the 1st and 3rd Mondays of each month), and appearances by Brian O'Donovan (host of "A Celtic Sojourn) and other Irish music stars. The Burren will host a special St Patrick's Day Dinner show on March 14,15, 16, and 17 featuring Irish specialties, Irish tunes, ballads, stories, and dancing at The Burren, Davis Square, Somerville. Check out their new back patio! Check the Burren's website for details and reservations.
Ned Devine's in Faneuil Marketplace - Live entertainment all day and food specials such as corned beef and cabbage. Come at 1pm to see Irish Step Dancers. Check out their new indoor Beer Garden! More details at neddevinesboston.com.
The Black Rose - Irish musicians perform here (160 State Street, Downtown Boston, behind Faneuil Marketplace) every night of the week, and often on Saturday and Sunday afternoons as well. If you've ever experienced the pleasure of a trad session in Ireland, you'll come close to finding the same thing here, along with plenty of Irish craic. The menu features a few Irish specialties, and of course plenty of Guinness at the bar. You can find the current schedule on the Black Rose's website. STATUS: Reservations & ticket (redeemable for its value in food, beverages, and merch) required for St Patrick's Day this year.
Mr Dooley's Boston Tavern - (77 Broad Street, near Faneuil Marketplace) - Doors open at 9am on March 16th and 17th for a weekend of non-stop live Irish music. Boiled Irish dinner available for the entire month of March. More on Mr Dooley's Facebook page.
The Harp - Celebrate St Patrick's Day at The Harp with corned beef and cabbage and other Irish food specials plus entertainment all day with Irish Step Dancers, Black Rose Band (12 noon - 4pm) and Never in Vegas (5pm-9pm). Check their Facebook page for more information.
Find more of the best Irish pubs in Boston
---
5. Dine on Irish food in Boston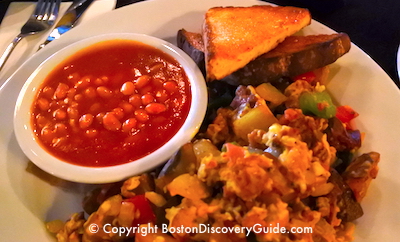 Not surprisingly, you can find some of the best Irish food in Boston's Irish pubs.
They do get packed with Guinness fans during evening hours, but most also serve brunch on the weekend. Here are 4 top places to try (some have been closed temporarily over the winter due to the pandemic but are planning to reopen in March -however, check their websites to make sure they're open before you go):
Lansdowne Pub (9 Lansdowne Street across from Fenway Park) - Go for the Irish Scrambler (shown in photo, brunch only), the Irish Breakfast, and house-made Bangers and Mash. Live music on many nights; weekend brunch. website
The Kinsale (2 Center Plaza on Cambridge Street, across from City Hall Plaza) - Built in Ireland and shipped to Boston, the Kinsale replicates a real Irish pub. Try the Asgard Burger made with real Irish cheddar, or the Irish Cod. Live music in the bar; weekend brunch. website
The Black Rose - (160 State Street, Downtown Boston, next to Faneuil Marketplace) - Order the Irish Breakfast (breakfast menu only) with black and white pudding, or the Shepherd's Pie. Irish music every night of the week, and often on Saturday and Sunday afternoons; weekend breakfast. Reservations may be required for St Patricks Day. website
J.J. Foley's Cafe (117 East Berkeley, in Boston's South End) - Family owned and operated since 1909, JJ Foley's offers a nice selection of Irish ale and cider, along with plenty of Guinness. For a taste of Ireland, order the Fish and Chips, and a side of Irish Brown Bread. For a special Irish treat, save room for dessert and order Banoffi Pie. Patio seating is open already! website
More Irish pubs in and near Boston
---
6. Try these fun ways to experience Boston's pub culture
---
7. Cheer the Boston Celtics at TD Garden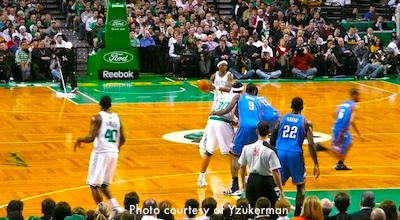 Of course a Boston Celtics game is not just a St. Patrick's Day event - but what better way to show your Celtic spirit than dressing in green and cheering for the home team at a game against the Washington Wizards and NY Knicks at TD Garden?
Tickets are affordable, TD Garden's downtown location is super-easy to reach (just take the T to North Station), and you'll find plenty of Irish pubs/sports bars nearby.
So get your Celtics tickets, wear lots of green, and cheer our home team!
Enter DISCOVERY 10 to save 10% on TicketNetwork & TicketLiquidator tickets
Find Celtics tickets for March
Find all March events at TD Garden
---
8. Stay close to Boston's Irish pubs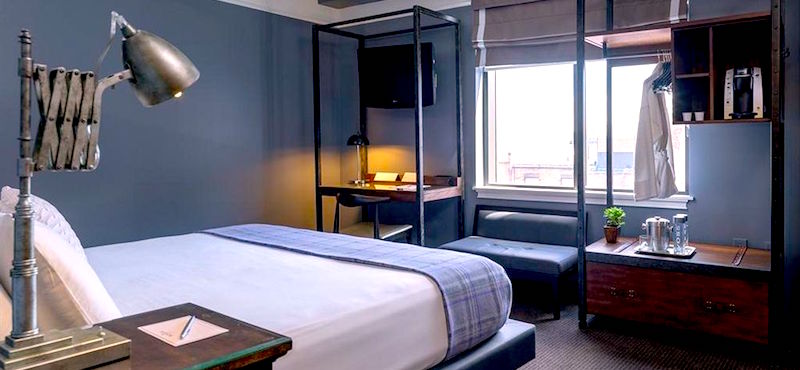 If you're planning some serious St Patrick's Day celebrating at one or more of our fine Boston Irish pubs, a reservation at a nearby hotel means you'll have no worries about getting home or finding a non-celebrating designated driver.
Best strategy: Think about where you'll be at Last Call, and make a hotel reservation nearby. For example, if you think you'll end up at one of the Irish pubs near TD Garden, make your reservation for conveniently-located The Boxer (shown above). If you plan to sample the brew in Southie (a.k.a. South Boston) along the parade route, stay at the new Cambria Hotel across from the Broadway T station.
Here are a few suggestions for hotels in several Boston neighborhoods rich with Irish pubs where you might find yourself at the end of the evening:
Hotels convenient to Irish pubs near Faneuil Marketplace / Downtown
Hotels close to Irish pubs in Southie
Hotels close to Irish pubs around TD Garden
Hotels close to Back Bay pubs
Hotels near Irish pubs in Fenway Park
Cambridge hotels near Irish pubs in and around Harvard Square
---
9. Sample the brew & Irish food at Harpoon Brewery's St Patrick's Day Festival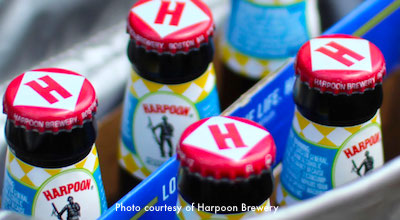 Normally, Harpoon Brewery (306 Northern Ave, South Boston Waterfront) would be kicking off their 2021 St Patrick's Day Festival with a 2-day beer festival at their brewery featuring a large selection of Harpoon and UFO beers, handmade brewery pretzels and food for purchase, and non-stop live music from Joshua Tree, Colum Cille Pipes & Drums, Dicey Riley with Dicey Riley and the Celtic Rock Band, and other local bands throughout the weekend.
But, of course, this year isn't normal. The good news is that even though the festival isn't taking place, Harpoon is offering a variety of other great options. You can join them at the Beer Hall for a pint and a traditional house-made Irish meal (different menu every night) almost every day between March 12 and 17 - a step up from the usual Harpoon pretzels. But if you're prefer to celebrate at home, they'll have tasty kits complete with Harpoon swag for you to pick up and if you live nearby in South Boston, they'll even deliver.
Find more details on the March Events Calendar.
In case you're planning ahead for future years, this is what normally happens:
Boston's own Harpoon Brewery, located on the South Boston Waterfront, hosts its annual St Patrick's Day Festival.
Join in the fun during the 2-day fest as local bands provide non-stop music while you sample the selection of Harpoon and UFO beers, and munch on homemade Harpoon pretzels. Designated Drivers get free non-alcoholic drinks.
A free shuttle from South Station makes getting there and back easy.
Age: 21+

---
10. Explore the Irish Heritage Trail
Boston is the most Irish of all American cities, with almost a quarter of all Boston residents claiming at least some Irish ancestry in the 2000 U.S. Census.
Boston's Irish Heritage Trail celebrates the contributions of the Irish immigrants and their descendants to the city and the nation over the course of 3+ centuries.
The Trail starts at the beautiful Rose Kennedy Rose Garden in the North End, stretches across more than 3 miles of Downtown Boston and Back Bay, and ends at Fenway Park.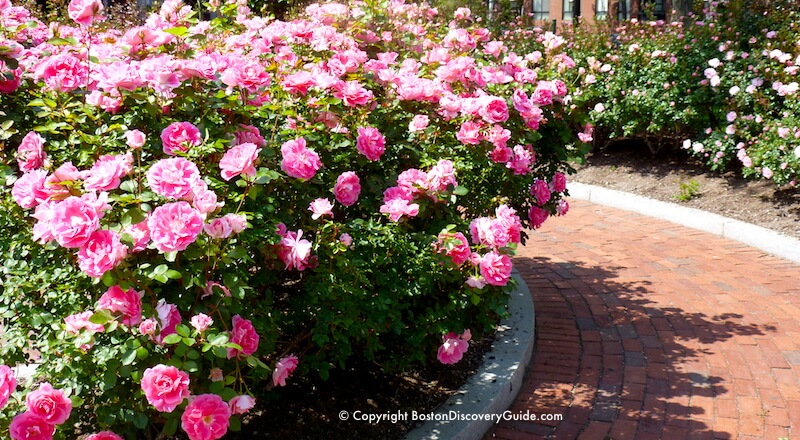 Walking along the self-guided Irish Heritage Trail is a popular St Patrick's Day activity. If you decide to do this too, you'll visit statues, monuments, and buildings ranging from multiple statues of Irish politician James Michael Curley to the moving Boston Irish Famine Memorial to the Massachusetts State House.
The Irish Heritage Trail also takes you past many of Boston's other famous sites and attractions, so it doubles as a way to tour a large swath of the city. More about the Irish Heritage Trail
Return to Top: St Patrick's Day Events in Boston
---
11. Immerse yourself in culture at the Irish Film Festival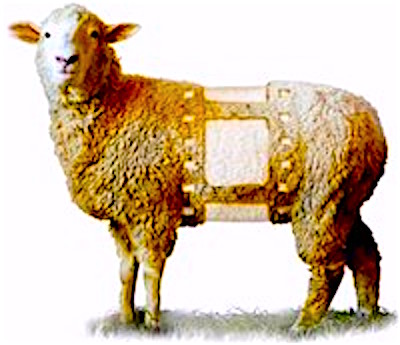 Boston's Irish Film Festival takes place over a period of 4 days around St Patrick's Day each March.
The festival's 30 or so films showcase the very best of contemporary Irish cinema and focus on Ireland and Irish culture, and what it means to be Irish in the 21st century. These are typically productions you're unlikely to see elsewhere in the U.S.
Check the March Boston Event Calendar for the exact date, time, and ticket information.
---
St Patrick's Day - Your Questions, BDG's Answers
Boston Hotels Convenient to the St Patrick's Day Parade
My wife and I are coming to Boston for St. Paddy's Weekend and need to book our hotel. We're going to the St. Patrick's Day Parade and also have tickets to the Dropkick . . . More
More To See & Do in Boston - 2021
---
More Things to Do in Boston in March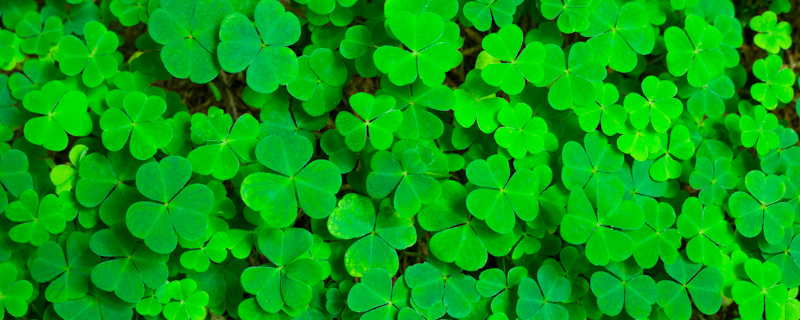 More Articles about St Patrick's Events in Boston
---
Need a Boston Hotel or Apartment?
Use this handy map from Booking.com to find the perfect place to stay. Just enter your dates to find what's available, see the best rates, and make your reservations.