Boston's Flynn (Black Falcon) Cruise Terminal (also known as "CruisePort") welcomes almost half a million passengers a year between April and November.
Whether you're stopping in Boston for a one-day Port of Call visit during your vacation cruise, or departing on cruise from Boston to Bermuda, the Caribbean, New England/Canada, and Europe, you'll appreciate Cruiseport Boston's convenient location.
Unlike many other cruise terminals located far from the closest town or city, our Cruiseport's location in the South Boston Waterfront neighborhood lands you in the city's trendiest, most exciting area.
Within a 7-to-10 minute walk or a 4-5 minute bus ride after you step off your ship, you'll find excellent museums, terrific waterfront restaurants, and even a couple of local breweries.
Walk another 5 minutes, and you'll reach top historical sights, famed cultural and sports venues, art galleries, and excellent shopping in the heart of Downtown Boston.
If you want to see even more, several popular shore excursion tours take you to the most famous places in and near Boston, including Revolutionary War sites in Lexington and Concord.
So whether you're here for just a few hours or a couple of days at the beginning or end of your cruise, you'll have a great opportunity to experience Boston.
Find out about the best shore excursions & other ways to explore Boston
Find all cruises departing from Boston
Top photo: Departure gates at Boston's Cruise Terminal, (c) Boston Discovery Guide
Boston Discovery Guide is a reader-supported publication. When you buy through our links, we may earn a commission at no additional cost for you. Learn more
---
Getting to Cruiseport Boston from Logan Airport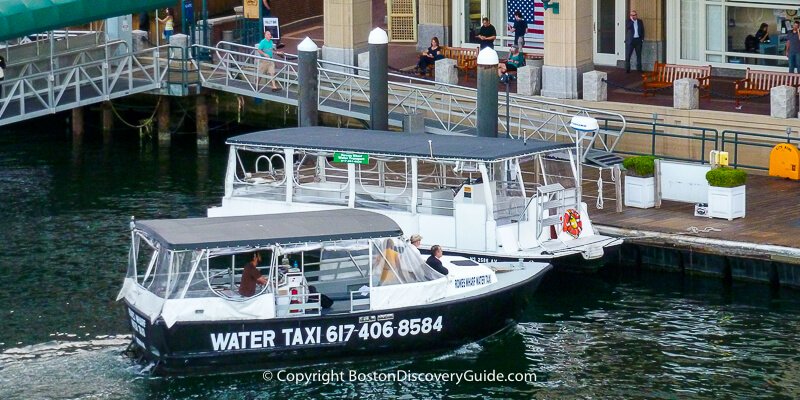 The fastest way to get from Logan Airport to Cruiseport is by water taxi - about a 7 minute trip. This is also the most scenic way of getting here.
If you need to store your luggage for the day while you explore the city, choose Rowes Wharf Water Taxi and take advantage of their locked storage room - free to their round-trip water taxi passengers - in their office next to the Boston Harbor Hotel. More about Boston's water taxis.
You can also take a land taxi, although this will take longer - perhaps 10-15 minutes, if you don't hit any traffic snarls. Taxi fare from Logan to Cruiseport runs about $25, plus tip. For one person, a water taxi will be cheaper, but for two or more people, a land taxi is a more economical choice.
The least expensive option is to take the MBTA's Silver Line bus, if you can manage your own luggage.
---
Getting Around from Cruiseport
To get to the heart of the South Boston Waterfront neighborhood by public transportation, you can hop onto the Silver Line bus (considered part of the Boston subway system, since it uses underground tunnels at times) right outside Cruiseport. You can pay the bus fare as you board - you'll need exact change. Check the MBTA website to get the current fare: www.mbta.com/fares_and_passes/bus
When you return to the cruise terminal, be sure to take the SL2 bus, as it is the one that comes back to the port.
The Silver Line makes several stops in the South Boston Waterfront neighborhood, where restaurants, hotels, a brewery (yes, you can tour and taste), museums, a concert pavilion, shops, and spectacular water views will provide you with plenty of sightseeing opportunities.
More about what to see and do near CruisePort in the South Boston Waterfront.
If you want to explore this area, get off at the centrally-located World Trade Center stop. You can even walk over to Fish Pier and watch fresh catch being unloaded right at the dock.
Rather than take the bus to this area, you can also walk. The distance is short - perhaps half a mile, depending on which way you go. If you decide to do this, print out the map at the bottom of this page, as the streets are not very well marked and wind around a bit. The area seems rather industrial until suddenly, all of the boutiques, restaurants, museums, and hotels appear in front of you.
Alternately, you can take a water taxi to other points along Boston Harbor if you want to visit Faneuil Marketplace on the Freedom Trail, Charlestown (Bunker Hill, USS Constitution), or the picturesque North End.
More information about water taxis.
---
Shore Excursions and Other Tours
If you book your cruise through a travel agent or directly through the cruise line, you may have been offered the opportunity to add on shore excursions and tours - sometimes for a hefty price.
Did you know that you can also book Boston shore excursions directly yourself, possibly saving money and having better choices?
For example, you can find Boston shore excursions that let you:
Explore Boston's top attractions at your leisure on a hop-on, hop-off trolley that you board just outside the cruise terminal?
Follow Paul Revere's path through Cambridge, Concord, and Lexington, and see famous American Revolution sites
Find out more about Boston shore excursions
More Fun Ways to Experience Boston
---
More Attractions near the Cruise Terminal
From the World Trade Center area, you can continue on the bus for another mile or so (another 5-7 minutes, depending on traffic), and you'll reach South Station in Downtown Boston. From here, you can either walk or take the T (subway) to many of our famous historical and popular sites.
Alternately, on Port of Call days, the Beantown Hop On Hop Off Trolley provides frequent shuttle service to several of the city's most popular destinations, including Faneuil Hall Marketplace, the New England Aquarium, and Copley Square in Back Bay.
If you plan to visit several museums or other destinations, getting a Boston Discount Card will save you money and even more important, time. The cards let you go straight to the front of most lines, and enter free of charge.
---
---
Map Showing Cruiseport Boston and Nearby Attractions in the South Boston Waterfront
This map shows the cruise port and nearby attractions:
---
Want to Stay near Cruiseport?
Check out these top hotels near Cruiseport:
---
Questions and Answers about Boston's Cruiseport
What is the best transportation to take from the Boston cruise terminal to Boston Logan Airport after our cruise? We'll have all our bags with us . . .
I was wondering if you could offer some suggestions for us because we're traveling as a group of 16 (extended family). We are arriving at Logan on Saturday morning . . .
We're coming to Boston for the day for a Port of Call visit. What's the best way to get to Faneuil Hall? Is there a shuttle? What else should we consider doing while . . .
Find out more about Seabourn Sojourn cruises to Canada from Boston
---
More Fun Ways to Experience Boston
---
---
Need a Boston Hotel or Apartment?
Use this handy map from Booking.com to find the perfect place to stay. Just enter your dates to find what's available, see the best rates, and make your reservations.