The Boston Events Calendar for October 2019 is packed with exciting events: the huge Columbus Day Parade, Head of the Charles Regatta, Boston Fashion Week, art walks and exhibitions, Halloween events, Hamilton at the Boston Opera House, and Carrie Underwood at TD Garden!
Fall foliage colors start appearing in early October - so enjoy the gold and crimson leaves as they light up the city, and join one of the popular fall foliage tours and cruises.
Go on an art walk, take a cruise on Boston Harbor, or just walk around one of the city's historic neighborhoods such as Beacon Hill and the South End, where jack-o-lanterns on doorsteps and our spooky Colonial-era graveyards will remind you Halloween is on its way.
Check out all our top recommendations for fun things to do in Boston in October - and plan your visit now!
World Series Champions Celebration for Boston Red Sox - Duck Boat Parade Through Boston
Want to congratulate the Boston Red Sox on their World Series Championship win against the LA Dodgers? Boston will hold the traditional celebratory Duck Boat Parade through the city on Halloween, Wednesday, October 31st. The parade kicks off at 11am on Lansdown Street near Fenway Park, turns right onto Ipswich Street, then turns left onto Boylston Street, and rolls through Back Bay to Boston Common. At the corner of Tremont Street, it turns left, continues onto to Cambridge Street, and finally ends at New Sudbury Street near City Hall Plaza.
If you're planning to come into the city to watch and celebrate, public transportation is highly recommended, along with an arrival time of 8am or earlier. Please note that no public consumption of alcohol is permitted. Streets along the parade route will be closed, and curbside parking will be prohibited on numerous streets surrounding the route.
Boston Theater & Shows for October 2019

Top October Theater Shows in Boston
Schedules & Tickets:
Ticket Discount Codes
  TicketLiquidator
- Enter TLSUMMER to get $10 off orders of $250+
TicketNetwork - Enter TNTIX to get $10 off orders of $300+

Boston Concerts & Shows - October 2019

Top October Concerts in Boston
Top October shows include Carrie Underwood at TD Garden, Peter Hook And The Light at the Paradise Rock Club, and Bethel Music at Wang Theatre
Schedules & Tickets:
Ticket Discount Codes
  TicketLiquidator
- Enter TLSUMMER to get $10 off orders of $250+
TicketNetwork - Enter TNTIX to get $10 off orders of $300+

More Concerts & Shows for October
Boston Concerts & Shows throughout the Year
Half-Price & Discount Halloween Events, Shows, Cruises, & Pub Crawls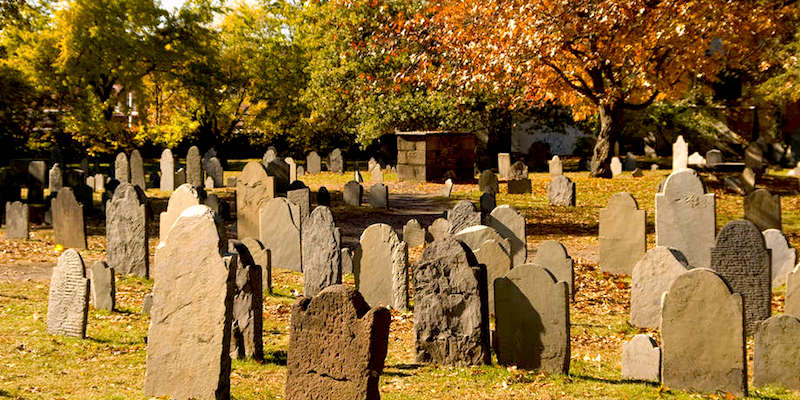 Half-price, discount, and free tickets to Halloween events, parties, and shows are starting to become available through Goldstar.
Save BIG on half-price & discount Halloween event tickets from Goldstar
Fall Foliage Boston Harbor Cruise on the Northern Lights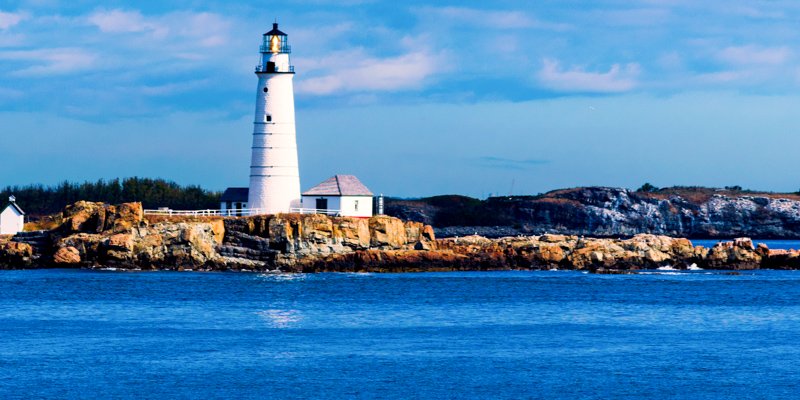 Combine a scenic fall foliage cruise around Boston Harbor with a delicious brunch or lunch on the elegant Yacht Northern Lights this month.
The relaxing 2.5 hour brunch cruise gives you panoramic views of fall colors around the Boston Harbor Islands while you enjoy a tasty 3-course brunch, with mimosas and Bloody Marys available for purchase. You'll see lots of historic sites along the way, and also hear some of the best stories about Harbor Island pirates and ghosts on this narrated cruise.
Find out more and get tickets for the Fall Foliage Brunch Cruise
The 2-hour lunch cruise combines sightseeing and colorful fall foliage around the Boston Harbor Islands and takes you past Long Island Head Light, Boston Light, Fort Warren on Georges Islands, and Fort Independence, as well as numerous islands.
A gourmet picnic lunch and non-alcoholic cold drinks to enjoy on board are included in the price of your ticket, and you can purchase beer, wine, cocktails, and hot beverages. Sit back, relax, and enjoy the gorgeous sights!
Get your tickets for the Fall Foliage Lunch Cruise
Boston Halloween Pumpkin Float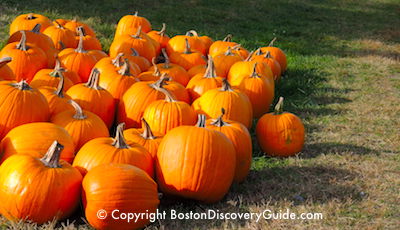 Put on your Halloween costume and head over to Boston Common's Frog Pond on Sunday, October 21 for a Halloween Pumpkin Festival, refreshments, music, and lots of family activities.  Halloween costumes are encouraged! This free event takes place from 4:30 - 6:30.  (Date and time to be confirmed for 2019)
Bring an 8 inch or smaller hollowed out carved pumpkin - it will be lit and then floated on Frog Pond for a spectacular display from the glowing pumpkin luminaries. (Note: You MUST hollow it out - otherwise, it will not float!)
More information:  Boston Frog Pond website
Columbus Day Parade 2019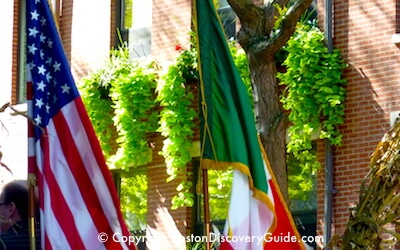 Boston's Columbus Day Parade honors Christopher Columbus and his explorations of the Americas, Boston's military commitments to freedom from Colonial times through today, and the city's Italian heritage.
The parade alternates between the North End (odd years) and East Boston (even years).
When: Sunday, October 13, approximately 1pm - normally lasts about 2 hours
Where: North End for 2019
Closest T stations:
- North End: Blue Line/Aquarium or Green Line/Haymarket
- East Boston: Blue Line/Maverick
---
Where to Stay In or Near Boston's North End
More hotels in Boston's North End
Fort Point Open Studios - 2019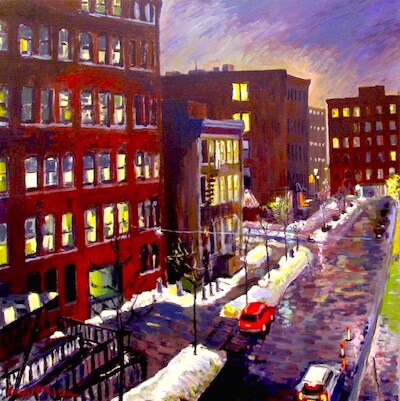 When:
Oct 18 Preview from 4pm-7pm
Oct 19 and 20 from 12 noon - 6pm
Where: Fort Point area of the South Boston Waterfront
Nearest T station: Red Line/South Station; walk across the Congress Street bridge
Parking: Free, in the Central Parking Lot at Binford and A Street
Cost: Free...unless you buy some art!
More information: Fort Point Arts Community website; 617-423-4299
Stop by the FPAC Gallery at 300 Congress Street, pick up a map showing the more than 150 open studios in 14 buildings, plus studios and pop-up venues. Performances, free hands-on art-making activities, and other special events will also take place.
Then stroll around this area of former warehouses and explore the art studios, chat with the artists, and if you're unable to resist, buy a piece or two of memorable art from some of the area's emerging or well-known artists.
Photo of painting by Karen McFeaters
Fun Boston Tours for October
More: Sightseeing Tours | Tours for Teens | Kids & Family Tours
New England Patriots at Gillette Stadium - October 2019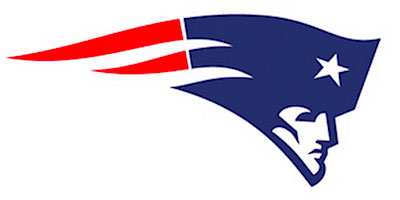 Two New England Patriots home games take place at Gillette Stadium during October - so don't miss this chance to watch the Pats play the Colts and Chiefs.
Get your tickets now, and get ready to join in the fun!
Ticket Discount Codes
  TicketLiquidator
- Enter TLSUMMER to get $10 off orders of $250+
TicketNetwork - Enter TNTIX to get $10 off orders of $300+

Where: Gillette Stadium
Getting there: The Patriot Train - plus more ways to get to Gillette from Boston
Where to stay: Hotels near Gillette Stadium
Tickets: Check for great prices, great seats, and sometimes discounts
Bruins & Hockey Return to TD Garden for the Preseason & Regular 2019 Season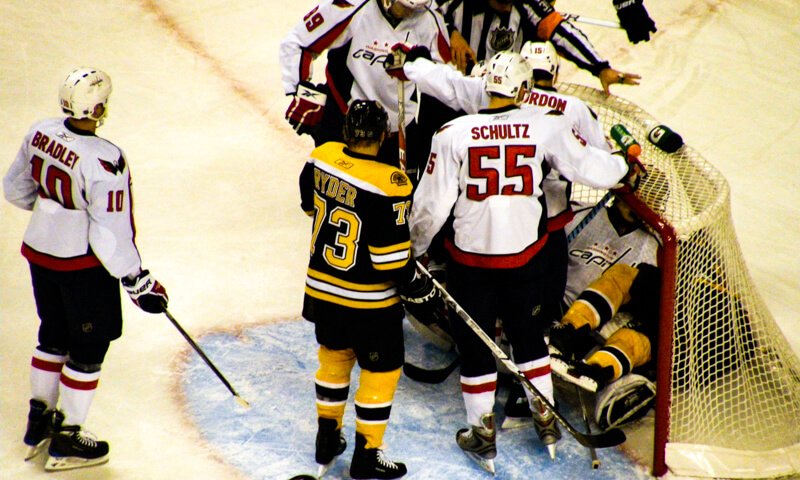 Get your Boston Bruins tickets for October home games, and head over to TD Garden for some fast action on the ice.
The Garden's convenient location next to North Station and close to Faneuil Marketplace makes it super-easy to get to.
Don't miss the chance to see Boston's hockey team, winner of 6 Stanley Cup championships!
Ticket Discount Codes
  TicketLiquidator
- Enter TLSUMMER to get $10 off orders of $250+
TicketNetwork - Enter TNTIX to get $10 off orders of $300+

Park: Garages near TD Garden
Celebrate: Best sports bars and clubs near TD Garden
More: TD Garden schedule, directions, best ticket prices
---
Hotels near TD Garden
If you're coming to an event at the Garden, spend the night or the weekend at one of the nearby hotels, such as the stylish Boxer (shown in photo):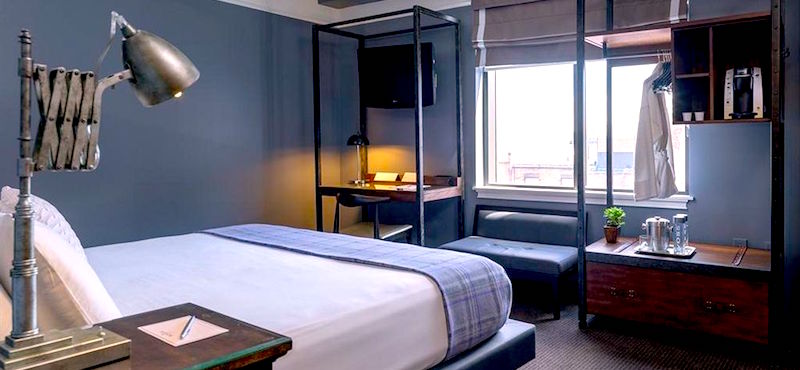 More top hotels near the Garden:
Check out more hotels near TD Garden
Best Fall Foliage Tours Departing from Boston - 2019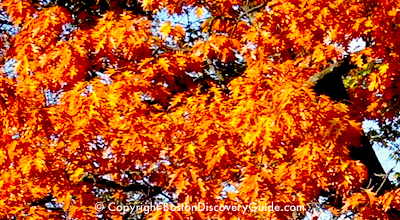 Leaves may still be mostly green in Boston in October, at least during the first couple of weeks - so if you want to see gorgeous foliage, head outside of the city where you'll start to see lots of spectacular colors by mid-month.
These luxury 1-day fall foliage tours take you to the best viewing locations in New Hampshire, Maine, and Cape Cod. Sit back and relax while someone else drives and you get to enjoy all the scenery!
More about fall foliage tours leaving from Boston
---
Enjoy Fall Foliage near Your Boston Hotel
Want to enjoy brilliant fall colors right in the city? Boston is filled with trees. Book a room in these hotels, and you'll see these views of stunning autumn color across the street or less than a block away.
Here's how to find the brilliant fall foliage near these hotels:
Colonnade Hotel - Walk across Huntington Ave to Christian Science Plaza.  Find a comfortable bench by the reflecting pool, and enjoy the golden leaves on nearby trees.
Verb Hotel - Cross Boylston Street and enter The Fens, where you'll find the famous Victory Gardens and Kelleher Rose Gardens.
Charlesmark Hotel - Walk half a block to Copley Square.  Soak up some sun by the pool, explore the weekly Farmer's Market, and tour Trinity Church.
Taj Boston Hotel - Cross Arlington Street and enter Boston's Victorian-era Public Garden.  Stroll by lush flowers, admire the Make Way for Duckling statues, and go for a Swan Boat ride in the Lagoon. 
More places to see gorgeous autumn colors in Boston
---
Tours & Cruises to see Fall Foliage in Boston . . . and Beyond
British Troops Occupy Boston - Reenactments on Columbus Day Weekend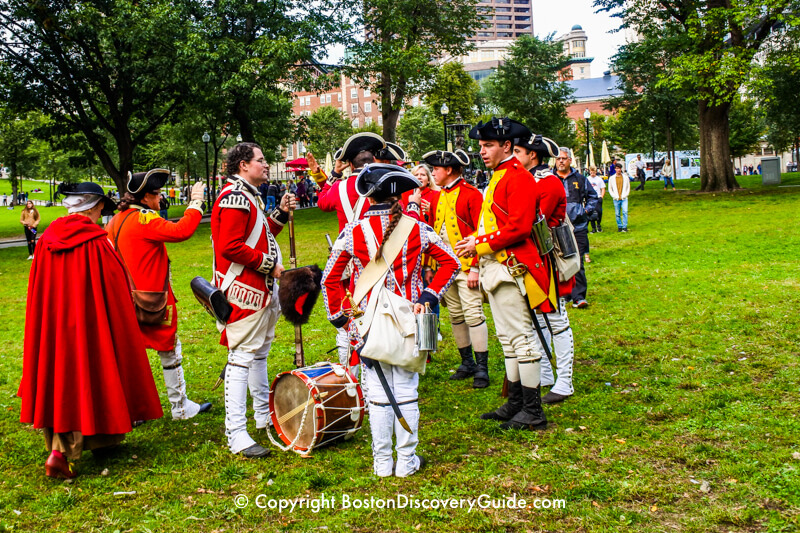 Colonial and British troop reenactors commemorate the 250th anniversary of the arrival of British troops in 1768 - the beginning of a 7-year occupation of the city that led to the Boston Massacre and finally the American Revolution. Reenactments take place on Boston Common, Long Wharf, historic sites such as the Old State House on the Freedom Trail, and in Downtown Crossing on October 6 (9am-8pm) and October 7 (10am-1pm).
If you miss the event, you can still raise a glass to revolution at one of Boston's historic taverns and Democracy Brewing (35 Temple Place, Downtown), a new worker-owned brewery and pub committed to making tasty brew and celebrating Boston's revolutionary spirit - check out the photos and posters covering the walls with scenes and photos of protests from the Sons of Liberty to abolitionists to suffragettes to Occupy Boston.
Boston Columbus Day Weekend Events - 2019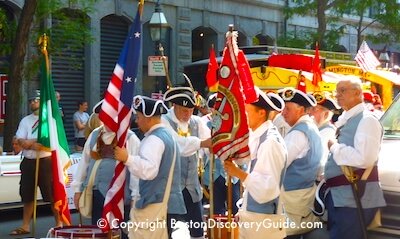 Dates for Columbus Day Weekend: Saturday, October 12; Sunday, October 13; Monday, October 14
The 3-day Columbus Day Weekend holiday packs in lots of fun events in and around Boston. You'll find plenty to do all weekend - plus big Columbus Day sales in all the stores!
Boston Columbus Day events to check out:
- Christopher Columbus Day Parade
- Spirit of Boston Buffet Cruise in Boston Harbor (check now for half-price tickets)
- Local Food Festival on the Greenway
- Opening Our Doors - Free arts and culture celebration in Fenway
- Cape Ann Artisans Open Studio
- Cranberry Harvest Festival
- HONK! Festival

More about Boston Columbus Day Events
More about the Columbus Day Parade
Celtics Basketball at TD Garden - 2019 Season Begins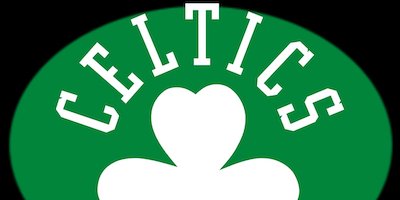 The Boston Celtics take to the court for Pre-Season and Regular Season October home games at TD Garden.
The Garden's convenient location next to North Station and close to Faneuil Marketplace makes it super-easy to get to.
Get ready for plenty of action at the net from Boston's champion basketball team.
Get your tickets now:
See all Celtics tickets: Check for great prices, great seats, and sometimes discounts
Where: TD Garden
Nearest public transportation: Green Line/Orange Line or Commuter Rail to North Station, next to the Garden
Save with Discount Tickets
Save BIG on half-price & discount tickets from Goldstar
New England Coastal Tour from Boston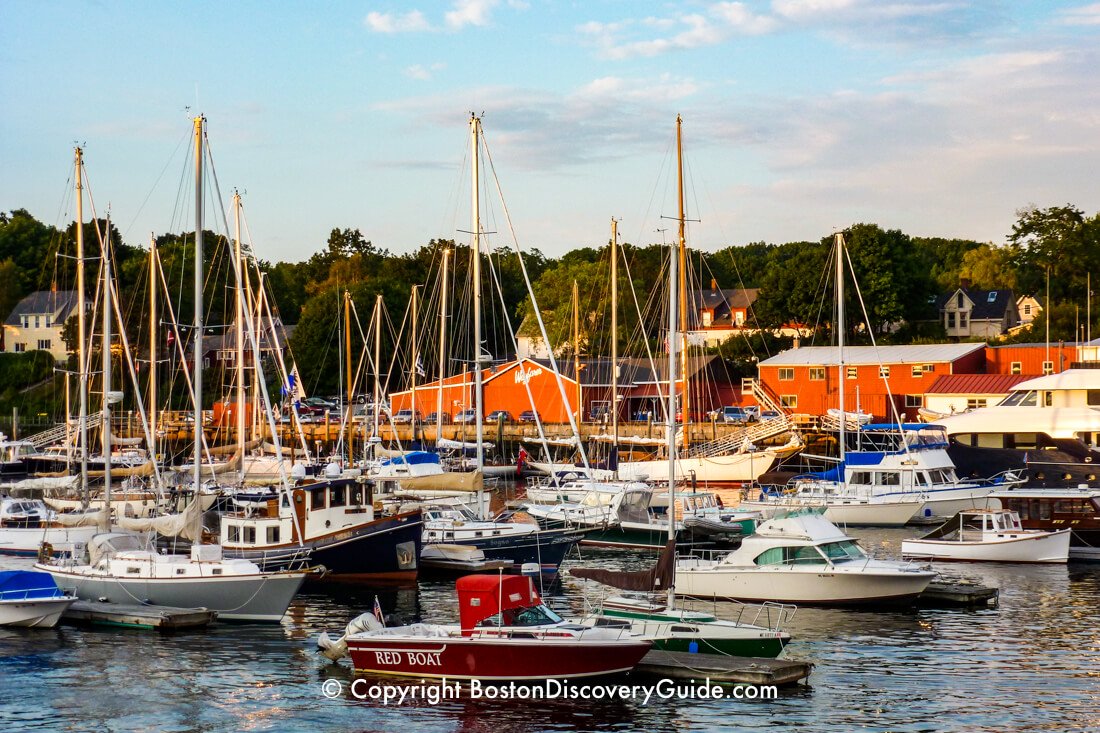 This New England Coastal All-Day Tour gives you spectacular views of the beautiful New England coastline along Massachusetts, New Hampshire, and Maine. By October, foliage should be brilliant along the way.
You'll get to visit historic Nubble Lighthouse in York, Maine, enjoy lunch, shopping, and leisure time in quaint Kennebunkport, admire the well-preserved 18th and 19th century architecture in quaint Kenebunk Village, visit Hampton Beach (after Labor Day, you may just drive by Hampton Beach and visit Stonewall Kitchen instead), and see all the charming villages along the rocky coastline as you cruise along in a luxury climate-controlled coach.
Pickup and dropoff from selected Boston hotels is included.
---
More Fun Boston Tours
Save Big $$$s on Boston Museums and More Top Attractions
Find out how a Boston Discount Card gives you free entrance to museums and lots of other attractions every day while your card is valid - plus you get to go straight to the head of the line.
Beacon Hill with a BOO!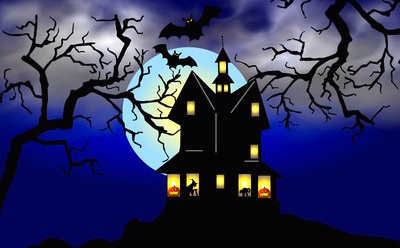 Murders, mysteries, mayhem, and the occasional ghost haunt this special 90-minute walking tour of Beacon Hill featuring (mostly) true tales. Your guide for this ghoulish annual event, a volunteer with local tour group Boston by Foot, will show you the dark side and even darker alleys of this charming neighborhood. Wear comfortable walking shoes and your favorite costume!
When: 6pm on October 31, Beacon Hill, Boston - arrive 10 minutes before tour starts.
Where: Boston's Beacon Hill neighborhood
For more information: Boston by Foot website
Cost: $20 ($10 for Boston by Foot members) - Purchase tour tickets directly from your guide - no reservations are required. Interested in a private tour? Boston by Foot will arrange that for you, at private tour rates, given enough lead time - call them at 617-367-2345 for details.
Can't make the Halloween tour? Catch Boston by Foot's "The Dark Side of Boston" tour and hear tales of crime, disease, death, and disaster as you walk around the North End. Takes place earlier in October and throughout the year - check BBF's website for details.
Columbus Park Fall Festival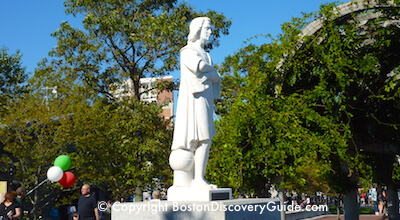 When: Monday, October 14, 12 noon - 4pm (date and time still being confirmed for 2019)
Location: Christopher Columbus Park, Boston's North End (100 Atlantic Ave - next to the Marriott Long Wharf Hotel)
Public Transportation: Blue Line/Aquarium; about a 3 minute walk north on the Greenway
Cost: Free
The Columbus Park Fall Festival features a children's parade through the park (watch it or join it), a variety of music and entertainment by local groups, plus family activities including a petting zoo to celebrate Boston's Italian heritage and the Columbus Day holiday in this gorgeous park overlooking Boston Harbor.
Popular Boston Tours & Cruises
Head of the Charles Regatta - 2019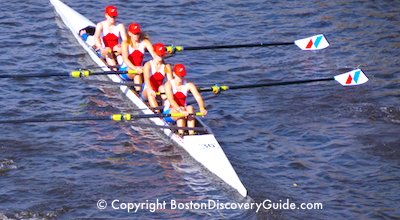 When: October 19 and 20, 8am - 4:30pm
Where: Charles River between Boston and Cambridge, MA
Cost: Free viewing from most locations. Exceptions include Reunion Village ($10 for one day) and the Eliot Bridge Enclosure ($90 for one day or $150 for both; includes breakfast, lunch, and 2 free drinks)
For more information, including best viewing spots and hotels: Head of the Charles Regatta

More than 11,000 elite athletes from around the world compete in 55 events as part of the Head of the Charles Regatta, an exciting 2-day rowing meet held on the Charles River during the last full weekend in October.
If you're visiting Boston this weekend, join the more than 300,000 spectators watching from the bridges and banks of the Charles. Fall foliage along the river is usually near peak on this weekend - so bring your camera!
Boston Book Festival in Copley Square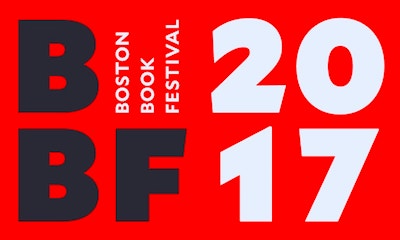 Where: Copley Square area - Boston Public Library, Boston Common Hotel, Berklee College of Music, French Cultural Center
When: October 19
Nearest T Station: Green Line/Copley Square or Commuter Line/Orange Line/Back Bay
Cost: Free
More information including schedule & locations: website
A huge array of 150+ renowned and mostly local writers, scholars, NPR hosts, publishers, and thought leaders including National Book Award, Newbury, and Pulitzer Prize winners converge in dozens of forums, presentations, and discussions to celebrate our local culture of reading and ideas, making the Boston Book Festival the largest literary event in New England.
Featured speakers includeDoris Kearnes Goodwin, Kate DiCamillo, Michael Pollan, Tayari Jones, Becky Albertalli, Adam Silvera - plus many more!
In addition to exhibitions, discussions, and presentations, you'll find live music, booksellers, food, and kids/teen activities.
Boston Book Festival is one of the biggest book fests in the U.S. and there's nothing else quite like it, so don't miss it!
Not Sure about Boston Neighborhood Locations?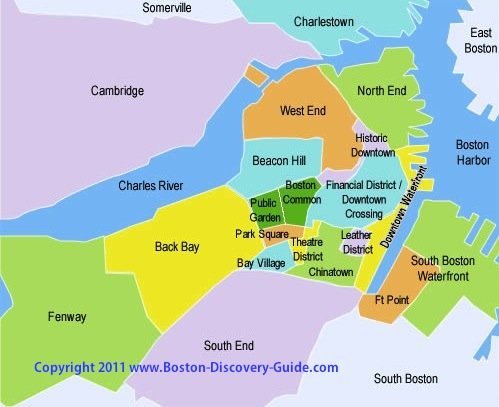 This neighborhood map should help you get oriented. You can find a list of top attractions in each neighborhood here.
Need a more details? See our recommendations for free and low-cost Boston maps.
2 Easy Ways to Save BIG in Boston on Tours, Cruises, Admissions
Boston Discount Cards offer you an easy way to save BIG when you take a Boston Harbor cruise or Duck Boat tour, visit Plimouth Plantation, the New England Aquarium, Museum of Science, Prudential Skywalk Observatory, Museum of Fine Arts, Fenway Park Tour, and more.
Find out which Boston Discount Card is best for you.
ICA Boston Art Show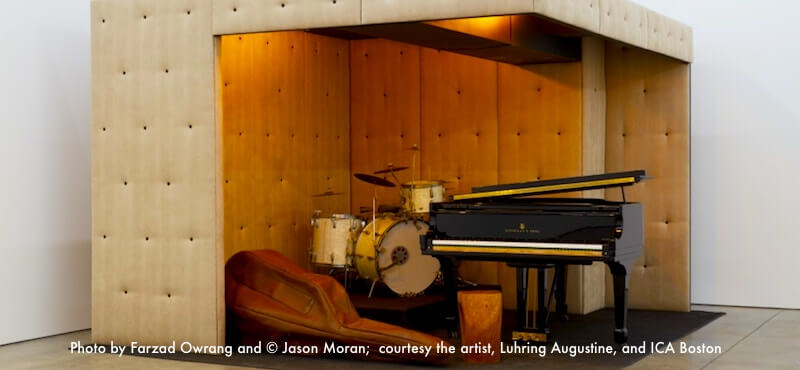 Jason Moran, STAGED: Three Deuces - Mixed media and sound
September 19 - January 21, 2019
ICA presents a new sculptural commission from interdisciplinary artist Jason Moran's series of mixed media installations based on famous jazz venues from past eras. In-gallery performances will also occur during the run of the show.
Where: ICA Boston in the South Boston Waterfront
Admission: $15 general admission; free entrance with GoBoston Discount Card and on Thursday nights from 5pm-9pm; on Fridays, open only to First Fridays ticket holders ($15/ticket) from 5pm-10pm.
Cape Ann Artisans Open Studios - 2019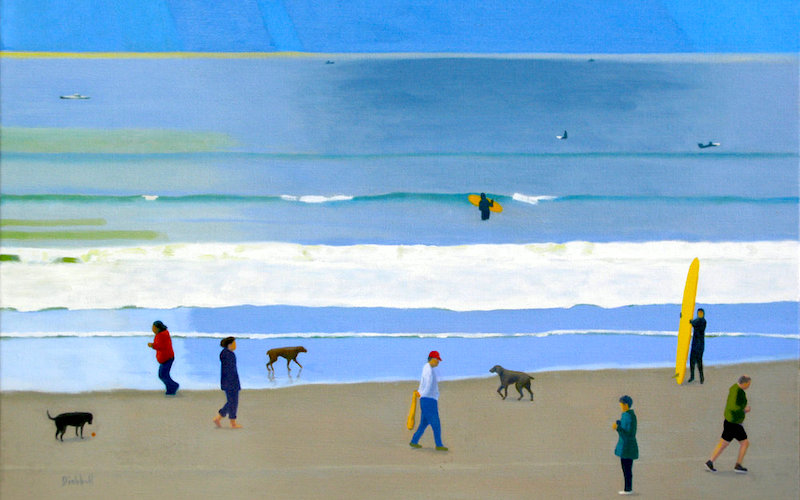 Don't miss this wonderful excuse to tour artist studios along the beautiful Rockport and Gloucester coast on Columbus Day weekend! 23 artists and artisans at 20 locations will welcome you to view their paintings, sculpture, mosaics, photography, pottery, jewelry, and other wonderful creations.
You can easily rent a car and drive up from Boston for the day - or spend the weekend and go for walks along the beach, dine on lobster dinners, and browse in local boutiques, galleries, and antique shops. View Rockport Hotels
Open Studio Tour: October 12, 13, and 14, 10am - 5pm
Where: Open Studio Tour map and more information at www.capeannartisans.com. You can also pick up brochures with route maps at the Cape Ann Chamber of Commerce, the Rockport Information Booth on Rte 127, and at each studio. Look for the bright magenta Studio Tour banner at each location
More information: 978-546-6186; Cape Ann Artisans website: http://capeannartisans.com
Cost: Free
Painting in photo: "The Next Wave" by Cape Ann painter Rob Diebboll, 1 Camborne Way, Rockport
More Columbus Day Events in and near Boston
MFA Exhibit: Winnie-the-Pooh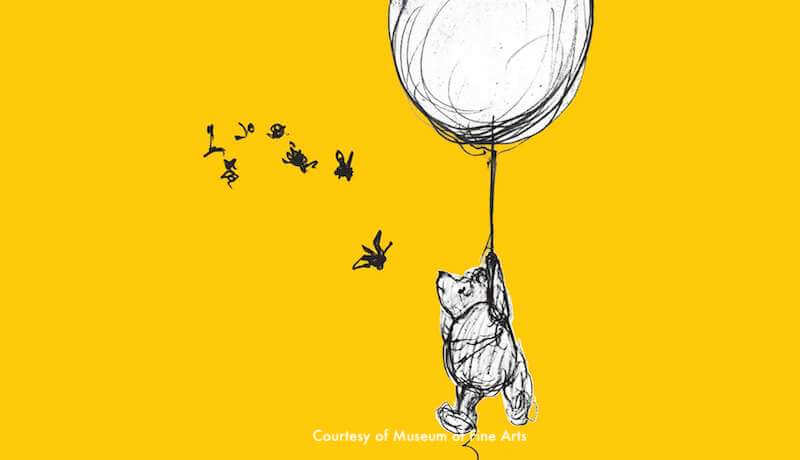 Explore the famous children's story book character, Winnie the Pooh, in this exhibit of almost 200 works in an immersive display as youjourney through the stories of Pooh and his friends Eeyore, Kanga and Roo, Owl, Piglet, Rabbit, Tigger, and Christopher Robin.
Don't miss this wonderful family-friendly exhibit!
Where: Boston's Museum of Fine Arts
When: September 22 - January 6, 2019
Admission: Timed exhibition tickets required for everyone including children(see MFA website for details); $25 general admission, or get free museum entrance with GoBoston Discount card and Boston CityPASS card. Museum admission is also free on Wednesday nights after 4pm (voluntary contribution of $25 suggested)
Halloween Pet Parade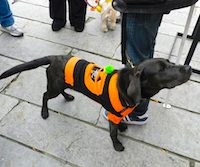 Does your pet love to dress up and strut around? If so, bring out your favorite (pet) Halloween costume and head over to Faneuil Hall Marketplace on October 27 from 12 noon to 2pm to show off your holiday spirit.
The Pet Parade takes place at 1pm. At 2pm, your pet could win a prize. Categories include Best Owner and Pet Combo, Best Local Boston Representation, and Most Creative. Registration is required for this free event: Faneuil Marketplace website
More Halloween Events in Boston
Boston Fashion Week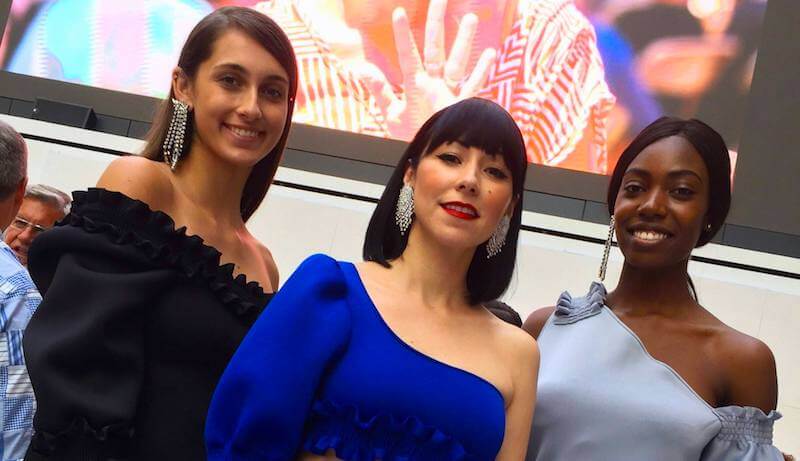 Boston Fashion Week is bigger and better than ever this year - 7 days packed with celebrations of Boston style. Enjoy runway shows, exhibitions, special events such as GlamSlam, and parties as Boston's fashion professionals, retailers, and talented design students explore ideas, innovations, and new directions a venues throughout the city.
Fort Point Pumpkin Pageant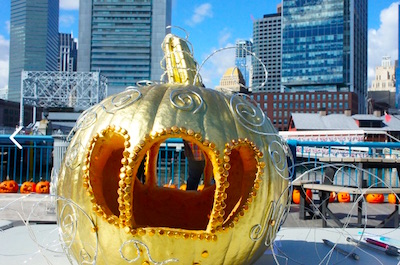 Vote on your favorite carved pumpkin at the Fort Point Channel Pumpkin Pageant on October 25 from 12 noon-3pm. (date and time to be confirmed for 2019)
Bring your already-carved pumpkin to the Harborwalk in front of Boston Children's Museum at 11:30, and put it on display. You get to vote for Funniest, Scariest, Most Original, and Overall Crowd Favorite. Stick around for some fun sports such as pumpking bowling!
Then head over to the Boston Tea Party Ships & Museums for the new Fall Fling to hear the winners announced as you enjoy drinks, small bites, and live music.
Pumpkin Pagent participants get free Fall Fling admission - but everyone else needs to purchase tickets.
More information: Friends of Fort Point Channel website
Pru Boo at Prudential Center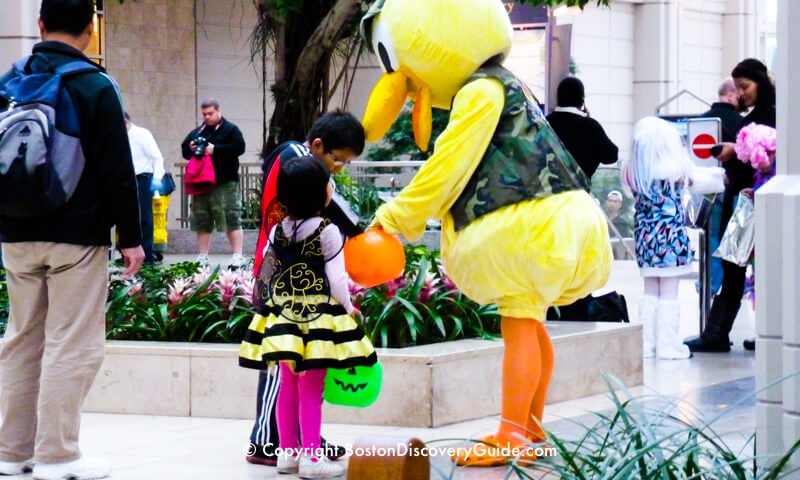 When: Sunday, October 27 - 11am-1pm. There's also a kids concert at 1:30 in the South Garden, weather permitting. In case of rain, the concert will be in Pru Center's Belvidere Pavilion
Where: Prudential Center
Cost: $5 donation per child (12 and under) - purchase trick or treat bag at Customer Service desk starting Oct 1 or check in at the Food Court or Center Court as early as 9am on the date of the event to beat the crowds and pick up a map of all the activities. Parking for the day will be $18 (Pru Center Garage). Donations this year will benefit The Home for Little Wanderers. You'll also find lots of non-food treats this year.
More information: Halloween in Boston
Every year, over 50 stores and restaurants at the Shops at Prudential Center sponsor Trick or Treating for Charity,with proceeds going to a non-profit partner to benefit the neediest babies and children in Boston. Kids come dressed in their cutest Halloween outfits and enjoy trick-or-treating, face painting, magic shows, pumpkin decorating, and more, but most important: they'll be helping other children.
Boston Harbor Cruises - October 2019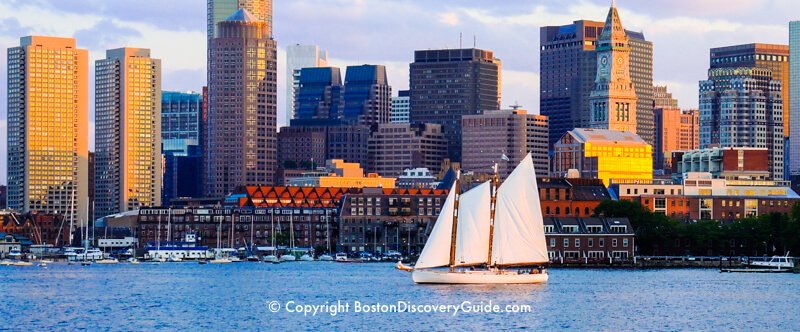 Tour Boston by boat - the best way to see the city!   Check out these fun sightseeing, music, and entertainment Boston Harbor cruises on the Yacht Northern Lights and Schooner Adirondack III:
Adirondack III Cruises:
Northern Lights Cruises:
Cranberry Harvest Festival on Columbus Day Weekend - 2019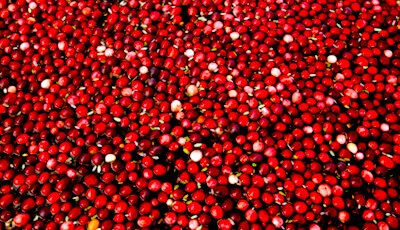 When: October 11-12, 10am - 4pm, rain or shine
Location: A.D. Makepeace Company, 158 Tihonet Road, Wareham, MA
Admission: $10 adults, $5 seniors, free for children under 7 and military; free parking; some activities have additional fees or donations to the non-profit organizations that sponsor them
More information: Festival website or call 508-322-4000
Celebrate the fall cranberry harvest season at this annual Cranberry Harvest Festival open house, located at the nation's largest cranberry grower south of Boston. This popular event attracted over 32,000 visitors last year. Cranberry bog tours, family-oriented games and entertainment, and fresh cranberries to buy!
More about the Cranberry Harvest Festival and nearby Plimouth Plantation and Mayflower II
New England Coastal Tour from Boston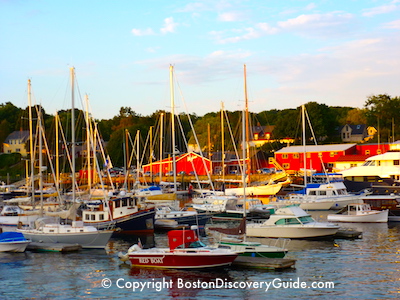 This day trip New England Coastal Tour gives you spectacular views of the beautiful New England coastline along Massachusetts, New Hampshire, and Maine.
You'll get to visit historic Nubble Lighthouse, enjoy lunch and leisure time in quaint Kennebunkport, visit Hampton Beach, and see all the charming villages along the rocky coastline as you cruise along in a luxury climate-controlled coach.
Boston hotel pickup and dropoff included.
---
More Fun Boston Tours & Cruises
Salem Halloween: Haunted Happenings Grand Parade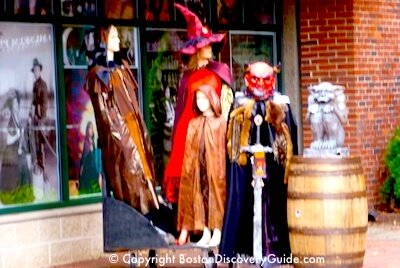 When: Thursday, October 4, 6:30pm - 8:00pm
Location: Downtown Salem, MA; ends at Salem Common
The Haunted Happenings Grand Parade officially kicks off the season of witches, ghosts, and goblins with a lavish pageant of costumes, music, and entertainment - but that's just the beginning of Salem's Halloween festivities.
More about the Grand Parade and the "Witch City"
Best ways to get to Salem from Boston:
Check out Halloween in Salem for more about the witch museums.
More to See & Do in Salem:
Boston Discount Passes for Attractions, Tours, Cruises
Why pay full price for top Boston attractions such as the New England Aquarium, Museum of Fine Arts, Plimouth Plantation, Salem Witch Tours, Boston Harbor Cruises, and much more?
Boston Discount Cards are the best deal in town. Select Boston CityPass to see Boston's Top Attractions at a leisurely pace, or choose the GoBoston card (you pick how many days) to see almost 50 attractions, tours, cruises, and day trips.
HUBweek - Celebrating Innovation in Boston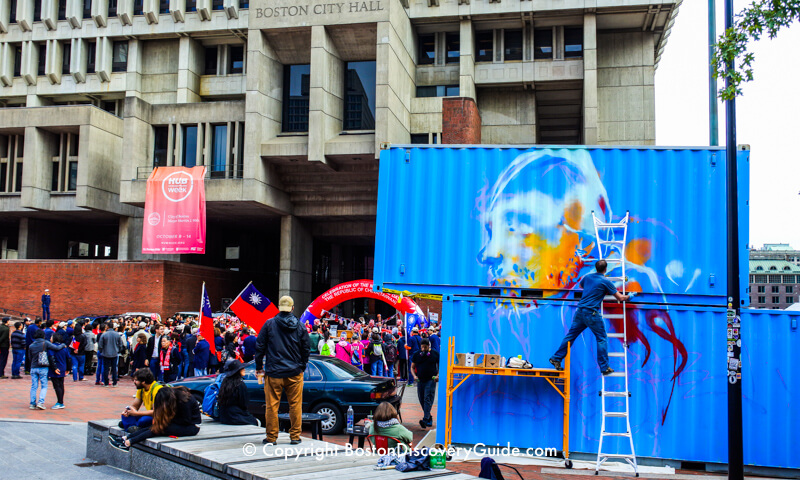 HUBweek brings together innovators from all over the world for a festival celebrating cutting edge and impacful ideals in art and technology.
Access to most exhibits, demonstrations, and nightly parties is free (although you must register); the concurrent file festival and Changemaker conference requires ticket.
Dates: October 8-14
Locations: City Hall Plaza and other venues around Boston
Event schedule and registration: https://2019.hubweek.org
John Coltrane Memorial Concert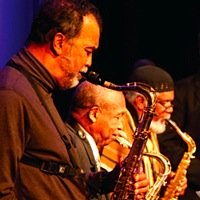 The 39th Annual John Coltrane Memorial Concert will present an evening of Ballads & Blues, featuring the JCMC Ensemble with Carl Atkins (reeds and woodwinds), Billy Buss (trumpet), Consuelo Candelaria (piano), Jeff Galindo (trombone), Jason Palmer (trumpet), Bill Pierce (reeds and woodwinds), Ron Savage (percussion), Avery Sharpe (acoustic bass), Rick Stepton (trombone), Stan Strickland (reeds, woodwinds and voice), and Bobby Tynes (reeds and woodwinds). 
The concert will take place on Saturday, October 29 at 7:30 at Northeastern University's Blackman Theatre, 360 Huntington Ave.
Tickets: $25-$40 - call 617-373-4700; use code FJCMC10 to get 10% off general admission through 9/30/16
Find more Boston Concerts during October
Opening Our Doors Day in Fenway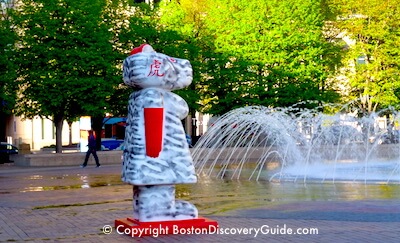 Fenway Alliance presents "Opening Our Doors," Boston's biggest single day of FREE arts, cultural, and educational events when its members invite you to 60+ activities, performances, tours, music, and games from 10am - 4pm.
Festivities start on the Mass Ave side of the Christian Science Plaza at the intersection of Huntington Ave and Mass Ave. The kick-off celebration features a Kids Parade with the Hot Tamale Brass Band, performances, and free cupcakes, with fun activities for all ages all day.
Added plus: Free admission to several top Fenway museums, including the Museum of Fine Arts, Isabella Stewart Gardner Museum, and the Mary Baker Eddy Library Mapparium.
When: Monday, October 8
Where: Multiple locations in Fenway
Cost: Free
More information: Fenway Alliance website - Complete events schedule for Boston's Fenway neighborhood
HONK! Street Music Festival on Columbus Day Weekend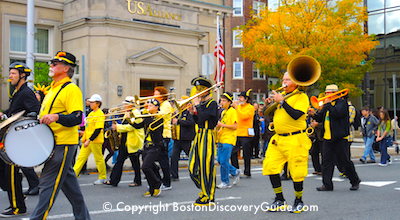 When: October 5-7
Where: Davis Square, Somerville; Harvard Square, Cambridge
Cost: Free
More information: www.honkfest.org
HONK! Festival of Activist Street Bands fills streets in Cambridge and Somerville with celebratory music, colorful attire, and lots of fun during Columbus Day weekend. Participants come from around the U.S. and other parts of the world. Expect to hear a cacaphony of sounds reminiscent of New Orleans brass bands, European Klezmer, Brazilian-Afro music, Romani and Balkan music, and much more.
Join lantern-making workshops on Friday from 4pm-6pm at Hodgkins Park near Davis Square - bring your kids, neighbors, friends, and even your parents. Then at 7pm-8pm, head out from Hodgkins Park with your lanterns along with DYI lighting such as flashlights, bikelights, etc. End up at 8:30 until midnight at Once (corner of Central St and Highland Ave in Somerville), or 8pm-11pm at Aeronaut Brewing Company to hear HONK! bands perform - free admission.
On Saturday, almost 30 activist street bands will perform from 12 noon-9pm at various outdoor venues around Davis Square (just follow the sound of the music to find them.
On Sunday from 2pm-6pm, the musicians parade around Harvard Square, where they'll play at Octoberfest throughout the afternoon.
More info about all events here: http://honkfest.org
More to Do in Boston in October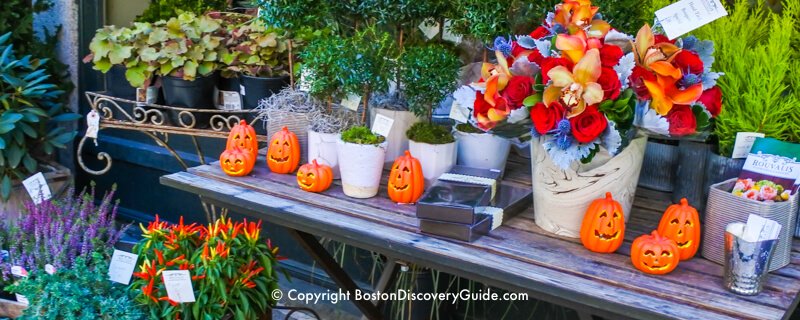 ---
How to Save on Boston Hotels
Check out all our tips on how to find discounts, deals, and promo codes for Boston hotels. Whether you're looking for bargain accommodations or want to pay less for luxury, we'll show you How to Save on Hotels in Boston.
More about how to save on Boston hotels