The Boston Events Calendar for October 2023 is packed with exciting events: the exciting Head of the Charles Regatta, Boston Fashion Week, and at the end of the month, Halloween events in Boston and nearby Salem (a.k.a. "Witch City").
With an exciting lineup including new shows in the Theatre District, October is an especially exciting month for theater fans.
Music fans can catch shows at TD Garden, Big Night Live, House of Blues, Paradise Rock Club, and other top concert venues in Boston and Cambridge.
Fall foliage colors appear in earnest in early October, - so enjoy the gold and crimson leaves as they blaze across the city, and join one of the popular fall foliage tours and cruises.
Go on the Fort Point Art Walk, take a sightseeing cruise on Boston Harbor, or just walk around one of the city's historic neighborhoods such as Beacon Hill and the South End, where jack-o-lanterns on doorsteps and our spooky Colonial-era graveyards will remind you Halloween is on its way.
Check out all our top recommendations for fun events & things to do in Boston in October - and plan your visit now!
Top photo: Beautiful October day in Boston's Back Bay neighborhood, (c) Boston Discovery Guide
Boston Discovery Guide is a reader-supported publication. When you buy through our links, we may earn a commission at no additional cost for you. Learn more
---
Boston Theater & Shows for October 2023

Top October Shows in Boston's Theatre District
Enter DISCOVERY10 to save 10% on TicketLiquidator & TicketNetwork tickets. Good through 12/31/24.
Schedule & Tickets
---
Need a Hotel or Short-Stay Apartment in Boston?
Enter your dates to see available hotels and rates. Click through to read reviews and make your reservations.
More about how to save on Boston hotels
---
Boston Harbor Cruises - October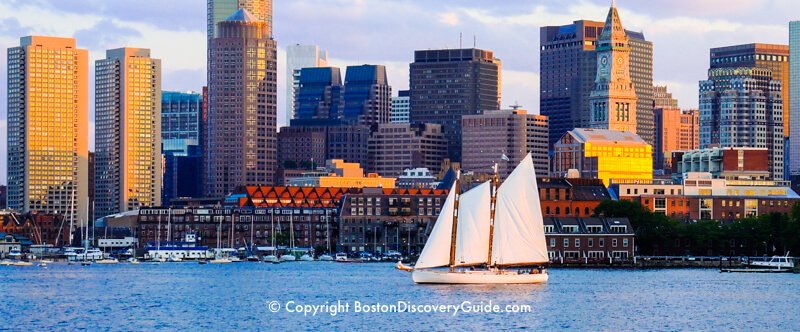 Tour Boston by boat - the best way to see the city!   Check out these fun sightseeing, music, and entertainment Boston Harbor cruises on the Yacht Northern Lights and Schooner Adirondack III:
Popular Cruises on the Northern Lights:
Sailing on the Adirondack III
Adirondack III Day Sail - Enjoy cool breezes and the afternoon sun on this relaxing sightseeing sail around Boston Harbor and the Inner Harbor Islands - Starts May 3
Adirondack III Sunset Sail - Relax as the setting sun turns the sky brilliant colors - Starts May 3
Adirondack III 90-Minute Mimosa Day Sail - Soak up the sun on this afternoon sail through the Inner Harbor and Harbor Islands with drinks available for purchase at the bar - Starts July 1
Book Your July 4th Cruises Now!
---
Boston Concerts & Shows - October 2023

You'll find a phenomenal number of concerts and shows this month!
Top October Concerts in Boston & Tickets
Enter DISCOVERY10 to save 10% on TicketLiquidator & TicketNetwork tickets. Good through 12/31/24.
Top concerts in Boston in October 2024 include ...
October Concerts - Schedules & Tickets
More Concerts & Shows for October
More Boston Concerts & Shows throughout the Year
---
Salem Halloween: Haunted Happenings Grand Parade
When: Thursday, October 7, 6:30 pm - 8 pm
Location: Downtown Salem, MA around Salem Common and along Hawthorne Boulevard and Essex, Central, and Charter Streets
The Haunted Happenings Grand Parade officially kicks off the season of witches, ghosts, and goblins with a lavish pageant of costumes, music, floats, and entertainment - but that's just the beginning of Salem's Halloween festivities.
More about the Grand Parade and the "Witch City"
Best ways to get to Salem from Boston:
Newburyport/Rockport Commuter Rail from North Station
#450 bus from Haymarket Station in Boston
Check out Halloween in Salem for more about the witch museums.
More to See & Do in Salem:
---
Boston Discount Passes for Attractions, Tours, Cruises
Why pay full price for top Boston attractions such as the New England Aquarium, Museum of Fine Arts, Plimouth Plantation, Salem Witch Tours, Boston Harbor Cruises, and much more?
Boston Discount Cards are the best deal in town. Select Boston CityPass to see Boston's Top Attractions at a leisurely pace, or choose the GoBoston card (you pick how many days) to see almost 50 attractions, tours, cruises, and day trips.
---
Whale Watching Cruise Tickets
Join one of the exciting 3-hour Whale Watching Cruises departing from the Downtown Boston Waterfront, and experience the thrill of spotting whales off the coast of Boston.
You'll see magnificent creatures such as Humpback and Finback whales close-up from the deck of your ship, and spot White-Sided Dolphins frolicking in the waters.
These cruises sell out quickly, so don't wait to get your tickets now for this iconic Boston experience!
---
Oktoberfest in Boston: Where to Celebrate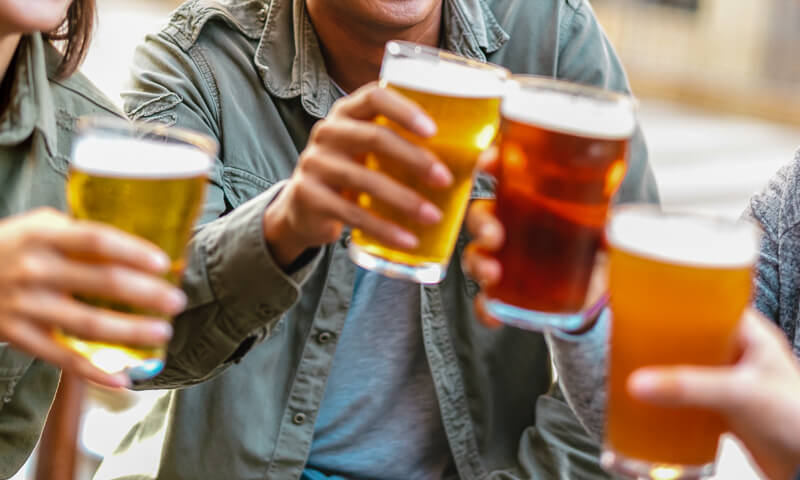 Three important things to know about Oktoberfests in Boston: 1) Contrary to what the name "Oktoberfest" leads you to believe, many happen in late September with just a few in October; 2) as Boston's craft brewery scene expands, so does the number of Oktoberfests across the city; and 3) they are massive fun!
Fortunately, Oktoberfest fun does continue through October, so you'll still find plenty of fun and brew even if you missed last month's events.
Take advantage of Oktoberfest to check out some new-to-you brewerys, sample some of Boston's best craft beer along with bratwurst, other German foods, pretzels, oompah music, and maybe even do chicken dancing.
Find out more, including where to find the best Boston Oktoberfests this month
---
Chef's Table Food & Wine Pairing Events at Bonde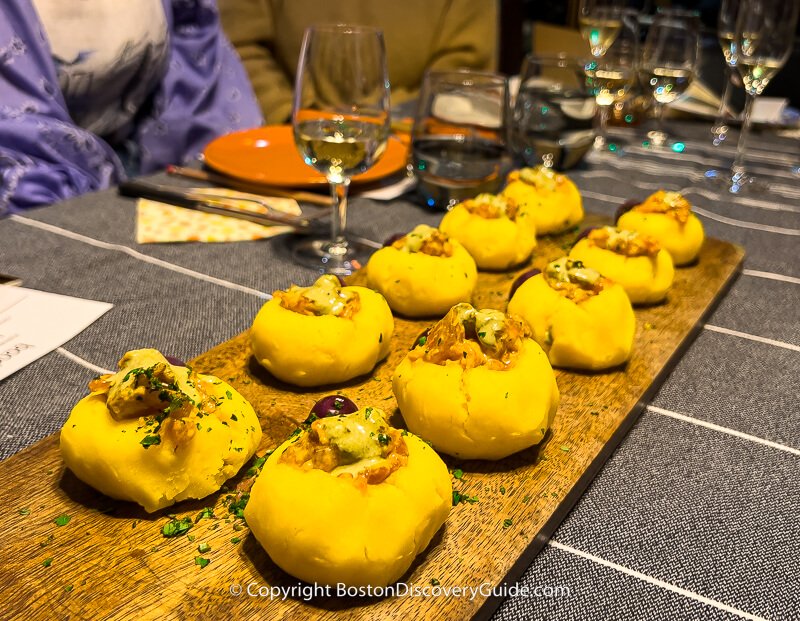 Get ready to savor superb small-production American wines paired with cuisine from top local restaurants when Bonde Fine Wines' owner/sommelier Bertil Jean-Chronberg teams up with chefs at some of the area's best restaurants to present weekly wine and food pairings. You'll enjoy a flight of four special wines accompanied by small plates of complementary food as you learn about the 5 key things to consider when doing your own pairings. Here's the lineup for October (these are from last year - look for updates closer to October):
Oct 5: Explore various styles of Pinot Noirs and their perfect food pairings
Oct 12: Pairing wine & various types of wood-fired Neopolitan-style pizza with guest Chef Brian Kevorkian from Cambridge's Source
Oct 19: New American wines paired with new American cuisine from Chef Conor Dennehy of Cambridge's Talulla Restaurant
Oct 26: Biodynamic wines from top American winemakers paired with complementary food
Bonde also offers 45-minute wine and food tastings on Sunday afternoons; see the website for details
Location: 54 Church Street, Harvard Square, Cambridge
Time: Wednesday evenings, 7pm-9pm
Cost: $85; sessions limited to 8 participants; reservations required
More information and reservations: Bonde website
More about where to find wine tastings in Boston
---
Fall Foliage Cruises from Boston 2023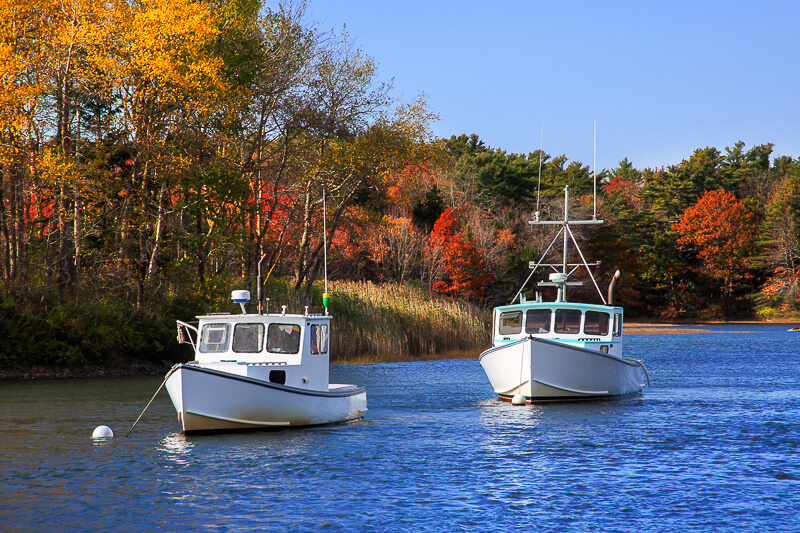 Want to see gorgeous fall foliage along the New England and Eastern Canadian coastlines - and enjoy a few days relaxation and touring?
Fall foliage cruises depart throughout October. You can choose from day-long cruises and overnight trips.
When: Departures throughout October
Cost: Varies according to length of tour and cruise line
More information: Fall foliage cruises
---
Boston Lights at Franklin Park Zoo 2023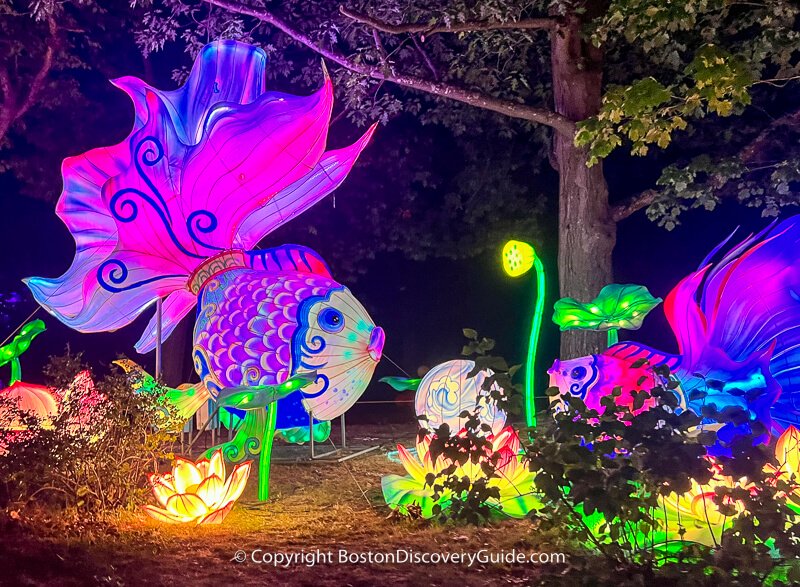 Franklin Park Zoo transforms into an evening wonderland as more than 55 brilliant outdoor all-new displays take you through fantastic journeys filled with color and light.
You'll discover an ice-breathing dragon, underwater adventures in a coral reef, and Chinese lantern scenes with pagodas, cranes, and lotuses.
Not to be missed: a 80-foot glowing walk-through dragon tunnel.
Get your tickets at the gate (if available), or secure your spot (highly recommended) and also save a little by booking online in advance on the Zoo's website.
Boston Lights dates/hours: July 22 - October 29, 6pm-10:30pm
Just want to visit the zoo during the day? You can also book or pre-book tickets online for a regular visit (does NOT include the Boston Lights show).
---
Pru Boo at Prudential Center 2023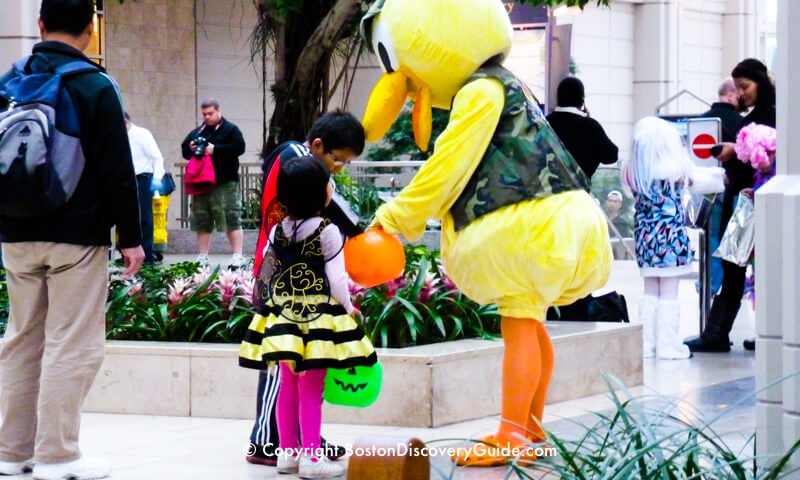 Every year, over 50 stores and restaurants at the Shops at Prudential Center sponsor Trick or Treating for Charity, with proceeds going to a non-profit partner.
Kids come dressed in their cutest Halloween outfits and enjoy trick-or-treating, face painting, magic shows, pumpkin decorating, live musical performances, and more.
When: Sunday, October 29, 11-1pm.
Where: Prudential Center
Cost: $5 donation per child (12 and under) to purchase a trick or treat bag; all other activities are free. Donations this year will benefit Food Allergy Research & Education. You'll also find lots of non-food treats this year.
More information: Halloween in Boston
---
Indigenous Peoples Day Weekend Events 2023
Dates: Saturday, October 7; Sunday, October 8; Monday, October 9
You'll find plenty of fun events throughout the weekend, but at this point, none are related to Indigenous People.
This weekend is also when traditionally you'll find big sales in many stores.
Indigenous People's Day Weekend events to check out:
---
Head of the Charles Regatta 2023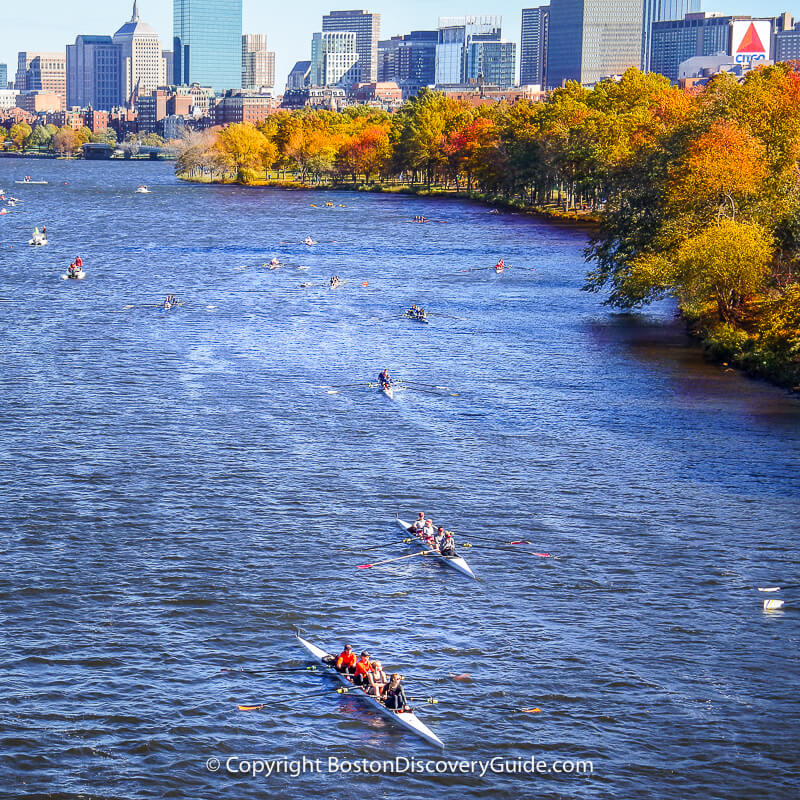 More than 11,000 elite athletes from around the world compete in 60+ events as part of the Head of the Charles Regatta, an exciting 2-day rowing meet held on the Charles River during the last full weekend in October.
If you're visiting Boston this weekend, join the more than 300,000 spectators watching from the bridges and banks of the Charles. Fall foliage along the river is usually near peak on this weekend - so bring your camera!
When: October 20 (8am - 10:30am), 21 (7:45am - 5pm), and 22, (7:45am - 4:30pm)
Where: Charles River between Boston and Cambridge, MA
Cost: Free viewing from most locations. Exceptions include Reunion Village ($10 for one day) and the Eliot Bridge Enclosure ($175 plus online booking fee per day); includes breakfast, buffet lunch, and open bar with beer, wine, and soda)
For more information, including best viewing spots, hotels, transportation (& road closures): Head of the Charles Regatta
---
Popular Boston Tours & Cruises
---
Fall Harvest Celebration at Patriot Place 2023
Celebrate the fall cranberry harvest season at Ocean Spray's annual Fall Harvest Celebration at Patriot Place, located adjacent to Gillette Stadium south of Boston.
Highlights of the fun family-friendly day include cranberry bog walks along the nature trail behind Bass Pro Shops, live music, complimentary pony rides, arts and crafts, pumpkin decorating, the New England Patriots Cheerleaders, and lots more.
This year, look for complimentary family photo sessions from 10am - 1:30pm in front of the Harvest Celebration display, and a special Wormtown Brewery pop-up from 12 noon - 4pm in SouthNorth Marketplace.
In North Marketplace, you'll find pickleball, arts and crafts, and pumpkin carving.
Find even more activities, plus all the details on the event website.
When: October 14, 10am - 4pm
Location: Patriot Place
Admission & activities: Free
---
Columbus Park Fall Festival & Pumpkin Patch 2023
The Columbus Park Fall Festival features a children's parade through the park (watch it or join it), a variety of music and entertainment by local groups, plus family activities including lawn games, pumpkins, and balloon animals in this gorgeous park overlooking Boston Harbor.
Wear your costume!
When: Saturday, October 14, 12 noon - 3pm
Cost: Free
Location: Columbus Park, Boston's North End (100 Atlantic Ave - next to the Marriott Long Wharf Hotel)
Public Transportation: Blue Line/Aquarium; about a 3 minute walk north on the Greenway
---
Boston Pizza Festival at City Hall Plaza 2023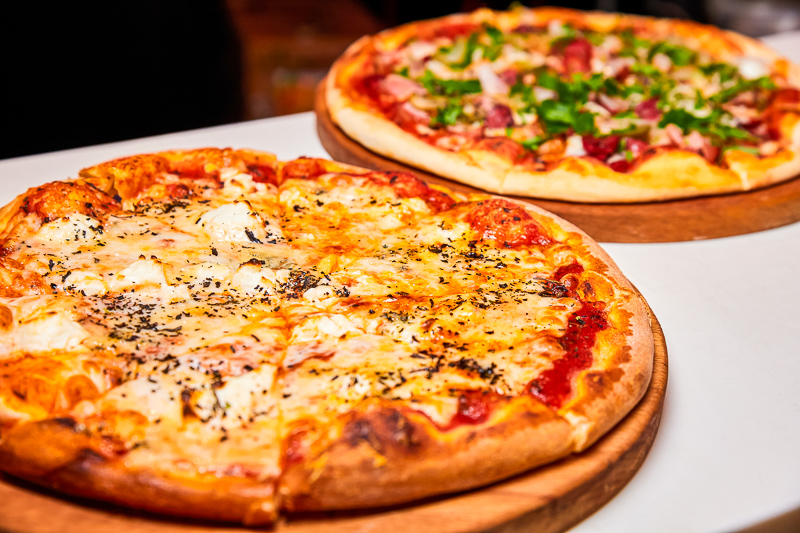 Boston's expansive City Hall Plaza turns into a giant picnic ground when the Boston Pizza Festival returns on June 24-25 bringing pizza, entertainment such as pizza tossing shows and live music, adult and other beverages, and games to this family-friendly celebration of summer.
Fans devoured over 27,000 pizzas by top local pizza makers such as Pizzeria Regino, Bricco, Antico Forno, and Serafina at Boston's most recent event.
Entrance is free, and you can by tickets for pizza slices and beverages onsite.
Tickets: Entrance is free, and you can by tickets for pizza slices and beverages onsite.
More info: https://www.bostonpizzafestival.com/
---
Cape Ann Artisans Open Studios 2023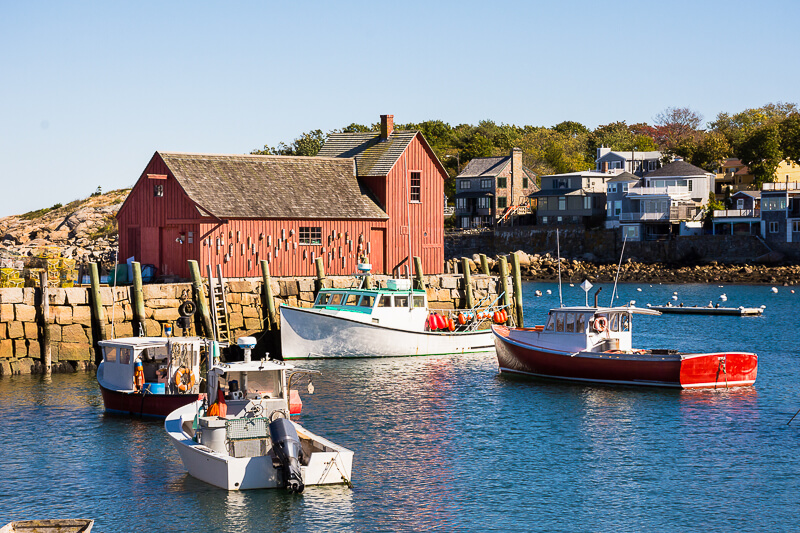 Don't miss this wonderful excuse to tour artist studios along the beautiful Rockport and Gloucester coast on Indigenous Peoples Day Weekend!
Local artists and artisans will welcome you to view their paintings, sculpture, mosaics, photography, quilts, pottery, jewelry, and other wonderful creations.
Drive up from Boston for the day (or take the Commuter Rail) - or spend the weekend and go for walks along the beach, dine on lobster dinners, and browse in local boutiques, galleries, and antique shops. View Rockport Hotels
Open Studio Tour: October 7 and 8 at 10am - 5pm
Where: Open Studio Tour map and more information at www.capeannartisans.com - or pick up brochures with route maps at the Cape Ann Chamber of Commerce, the Rockport Information Booth on Rte 127, and at each studio. Look for the Studio Tour banner at each location
More information: Cape Ann Artisans website
Cost: Free
More Indigenous Peoples Day Events in and near Boston
---
Where to Stay In or Near Boston's North End
Interested in staying in or near Boston's wonderful North End neighborhood, filled with tantalizing Italian restaurants and bakeries?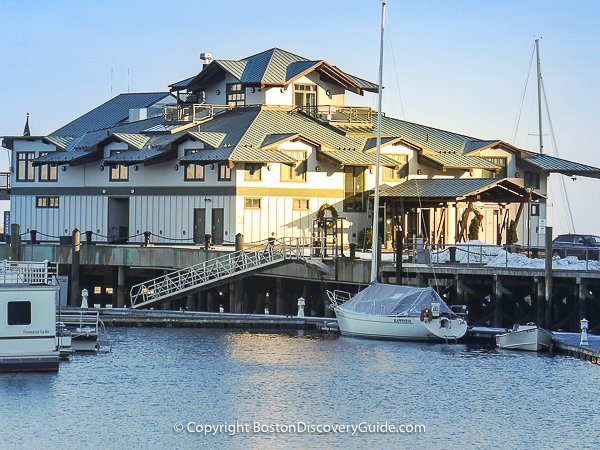 Consider these welcoming choices:
Find more hotels in or near the North End
More hotels in Boston's North End
---
Visit Cape Cod on the Fast Ferry in Early October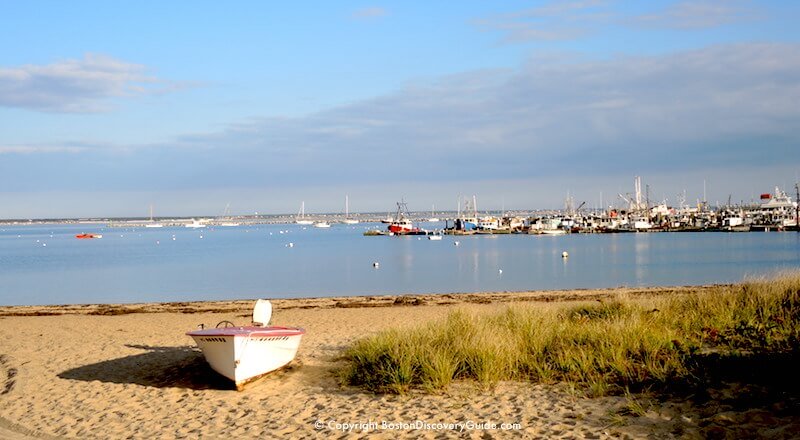 The easiest and fastest way to get to scenic Provincetown at the eastern tip of Cape Cod is on the "Fast Ferry" - a sleek and luxurious passenger-only catamaran that whisks you to this charming village in only 90 minutes.
Explore Provincetown's many art galleries, chic clothing boutiques, and picturesque lanes at your leisure.
Watch the sun set as you feast on clam chowder and a lobster roll at one of the many restaurants overlooking the water.
But don't wait too long - the Fast Ferry runs only through the Indigenous Peoples Day weekend.
Get Your Fast Ferry Tickets to Provincetown
Find out more about visiting Provincetown
---
Boston Book Festival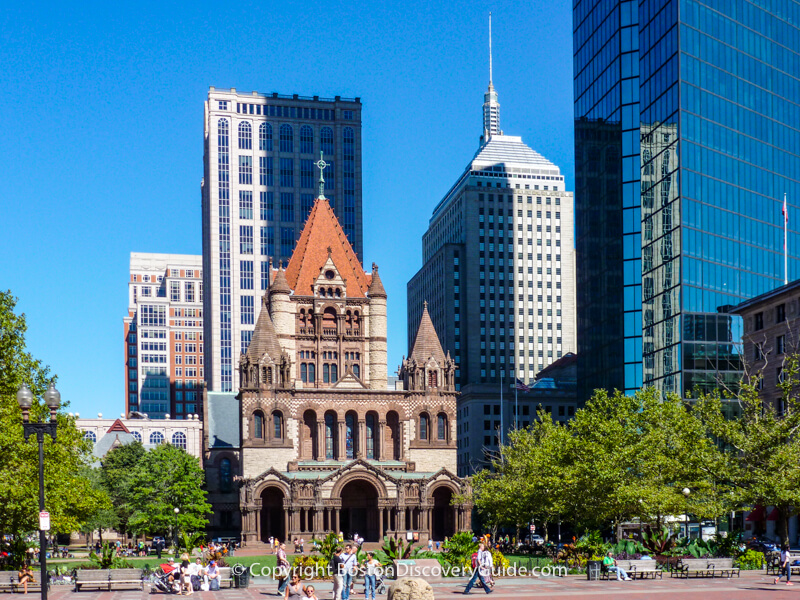 Boston Book Festival brings together a huge lineup of renowned and mostly local writers, scholars, NPR hosts, publishers, and thought leaders.
National Book Award, Newbury, and Pulitzer Prize winners converge in numerous forums, presentations, and discussions organized around topics such as "Legacy of Slavery" and "Women Working It" to celebrate our local culture of reading and ideas, making the Boston Book Festival the largest literary event in New England.
In addition to exhibitions, discussions, sessions for writers, and presentations, you'll normally find live music, booksellers, food, and kids/teen activities.
Boston Book Festival is one of the biggest book fests in the U.S. and there's nothing else quite like it, so don't miss it!
When: October 29 (to be confirmed)
Cost: Free
More information including events, schedules, & locations: website
---
Fall Foliage Boston Harbor Cruises on the Northern Lights 2023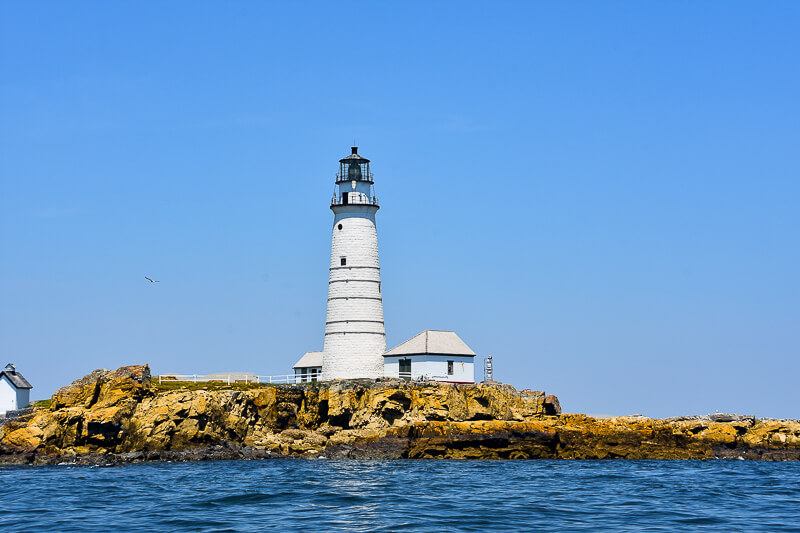 Combine a scenic fall foliage cruise around Boston Harbor with a delicious brunch or lunch on the elegant Yacht Northern Lights throughout this month and early November.
---
Fort Point Open Studios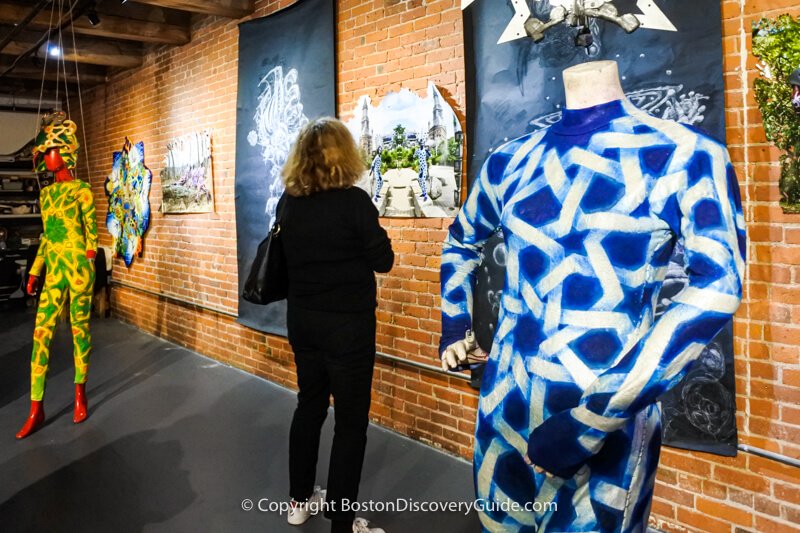 When: (to be confirmed)
Oct 13 Preview from 4pm-7pm (select studios)
Oct 14 and 15 from 12 noon - 6pm

Where: Fort Point area of the South Boston Waterfront
Nearest T station: Red Line/South Station; walk across the Congress Street bridge
Parking: Free, in the Central Parking Lot at Binford and A Street
Cost: Free...unless you buy some art!
More information: Fort Point Arts Community website; 617-423-4299
Stop by the FPAC Gallery at 300 Congress Street, pick up a map showing locations where you can see the work of about 60 local resident artists at locations with studios and galleries.
Locations include: 249 A and 259 A Street, Factory 63 (63 Melhcer Street), Boston Button Factory (50 Melcher Street), Atlantic Wharf (290 Street), 300 Summer Street, Midway Artists Studios (15 Channel Center Street), and Assemblage Art Space (70a Sleeper Street).
Then stroll around this area of former warehouses and explore the art studios, chat with the artists, and if you're unable to resist, buy a piece or two of memorable art from some of the area's emerging or well-known artists.
---
Fun Boston Tours for October
More: Sightseeing Tours | Tours for Teens | Kids & Family Tours
---
New England Patriots at Gillette Stadium - October
Two New England Patriots home games take place at Gillette Stadium during October - so get your tickets now, and get ready to join in the fun!
Enter DISCOVERY10 to save 10% on TicketLiquidator & TicketNetwork tickets. Good through 12/31/24.
Where: Gillette Stadium
Getting there: The Patriot Train - plus more ways to get to Gillette from Boston
Where to stay: Hotels near Gillette Stadium
Tickets: Check for great prices, great seats, and sometimes discounts
---
Bruins on the Ice at TD Garden - Preseason & Regular Season Games - October 2023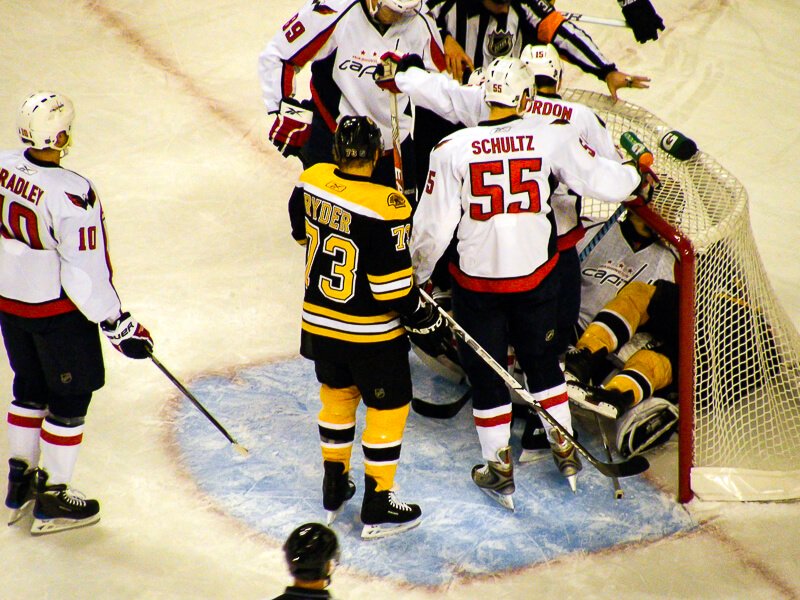 Preseason games start in early October, followed by the kickoff of regular season games.
Will this be the year the Bruins win another Stanley Cup?
See the Schedule & Get Your Tickets Now
Save when you use these Ticket Discount Codes:
Enter DISCOVERY10 to save 10% on TicketLiquidator & TicketNetwork tickets. Good through 12/31/24.
Find Bruins schedule & tickets for all October home games at the Garden
Find Bruins schedule & tickets for all home games
---
Hotels near TD Garden
Coming to an event at the Garden? Consider spending the night or the weekend at one of these top nearby hotels:
Check out more hotels near TD Garden
---
Celtics on their Home Court at TD Garden - October Schedule & Tickets
Get your Boston Celtics tickets for November home games, and head over to TD Garden for some fast action on the court.
The Garden's convenient location next to North Station makes it super-easy to get to.
Get ready for plenty of action at the net from Boston's champion basketball team.
Get your tickets now:
Enter DISCOVERY10 to save 10% on TicketLiquidator & TicketNetwork tickets. Good through 12/31/24.
Where: TD Garden
Nearest public transportation: Green Line/Orange Line or Commuter Rail to North Station, next to the Garden
Where to stay: Hotels near TD Garden
---
Best Fall Foliage Tours Departing from Boston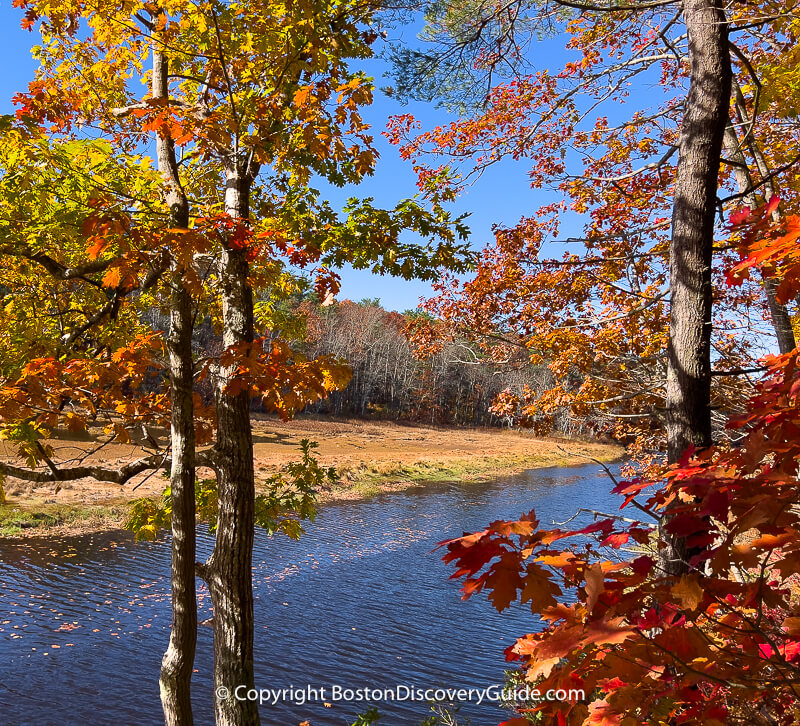 Leaves may still be mostly green in Boston in October, at least during the first couple of weeks - so if you want to see gorgeous foliage, head outside of the city where you'll start to see lots of spectacular New England fall colors.
These luxury 1-day fall foliage tours take you to the best viewing locations in New Hampshire, Maine, and Cape Cod. Sit back and relax while someone else drives and you get to enjoy all the scenery!
More about fall foliage tours leaving from Boston
---
Newport Mansion Tour from Boston
On this Newport Mansions Day Trip from Boston, you'll visit charming Newport, Rhode Island where the country's richest families built the spectacular waterfront mansions that they called "cottages" during the Gilded Age.
You'll visit two of the most magnificent mansions, and will also have time to walk along the scenic coastal Cliff Walk. You'll see Newport's main attractions during a 1-hour narrated small group driving tour, which includes a visit to the Truro Synagogue. During free time, you can shop, have lunch along the waterfront, and perhaps visit the International Tennis Hall of Fame.
Pickup and dropoff from selected Boston hotels is included.
---
More Fun Boston Tours
---
HONK! Street Music Festival on Indigenous Peoples Day Weekend 2023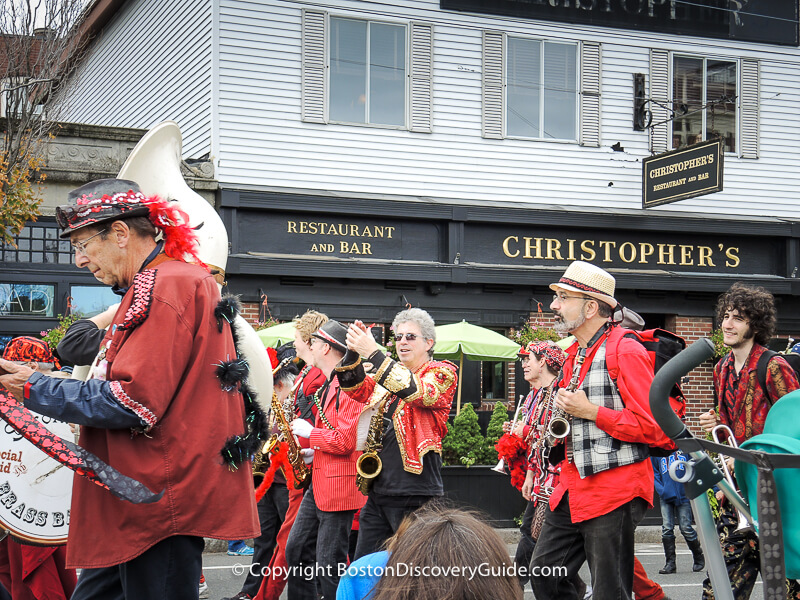 When: October 6-8
Where: Somerville & Cambridge
Cost: Free
More information: www.honkfest.org
HONK! Festival of Activist Street Bands fills the streets of Somerville and Cambridge with celebratory music, colorful attire, and lots of fun during Indigenous Peoples Day weekend.
Look for a gigantic bands showcase on Friday evening, continuous free performances and art-making activities in Davis Square all day on Saturday, and the enormous and always entertaining HONK! parade down Mass Ave in Cambridge followed by an afternoon of HONK! performances in Harvard Square, where the annual Oktoberfest celebration (which attracts 100,000+ revelers) is also underway.
Check their website for more specific details: http://honkfest.org
---
Enjoy Fall Foliage near Your Boston Hotel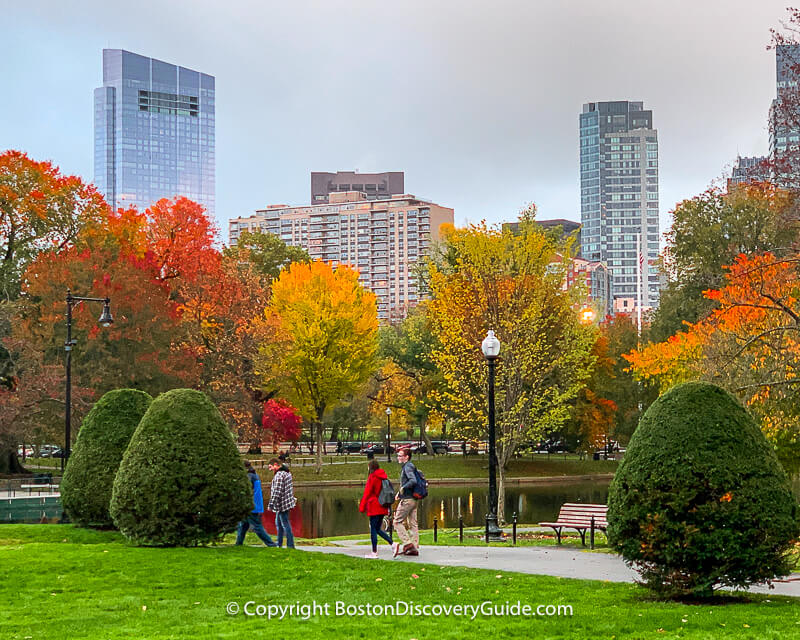 Want to enjoy spectacular fall colors right in the city? Boston is filled with trees, and their foliage turns turns brilliant by October.
Here's where to find colorful autumn foliage near these popular hotels:
More places to see gorgeous autumn colors in Boston
---
Tours & Cruises to see Fall Foliage in Boston . . . and Beyond
---
Museum of Science Exhibits - October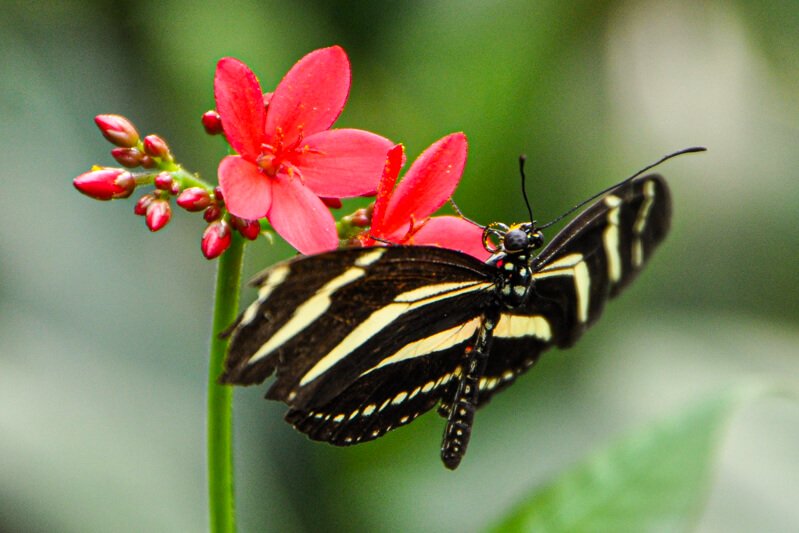 Special Exhibits
New England Climate Stories - Meet fascinating New England animals
All Aboard! Trains at Science Park - Visit miniature landscapes with fantasic model trains - through January 16
Gaia - View our planet in a new way through UK artist Luke Jerram's artwork with NASA images of Earth's surface
Mental Health: Mind Matters - Get insights into understanding mental health through this interactive exhibit
With fascinating permanent exhibits for all ages, there's always something to see, do, and learn. Here are just a few of the most popular: Engineering Design Workshop, Colossal Fossil: Triceratops Cliff, Cosmic Light, Dinosaurs, Arctic Adventure, Hall of Human Life, Live Animal Care Center, Mathematica, Exploring AI, Natural Mysteries, New England Habitats, Project Vaccine.
Where: Boston's Museum of Science
When: Daily, 9am-5pm; open until 9pm on Fridays
Admission: $29 general museum admission ($24 for kids; children under 3 free). Get free museum admission when you have a GoBoston Discount card or Boston CityPASS card.
Imax Theater and Planetarium: Additional fees apply
---
Lawn on D 2023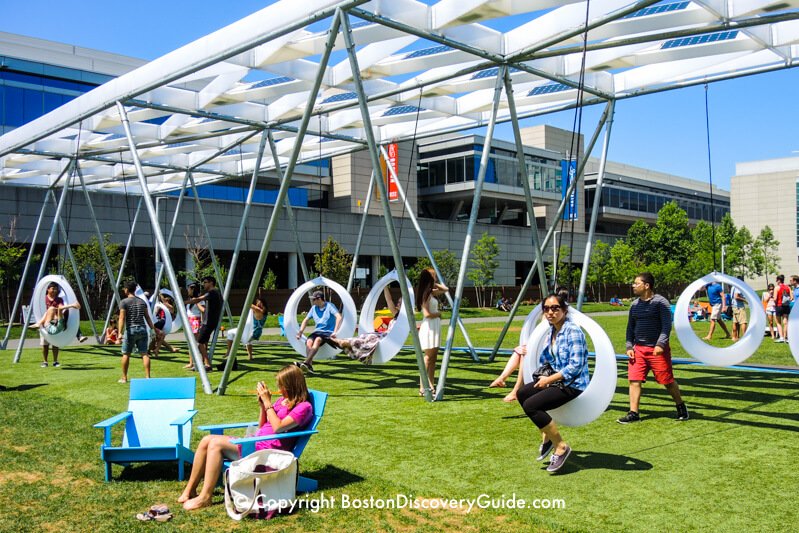 Lawn on D, a playground for adults (kids are welcome too but this is primarily an adult venue) located behind the Convention Center in the South Boston Waterfront, is where you'll find fun swings with LED lights and comfy seating, pickleball and other games, and music throughout the summer and early fall, along with casual food and wine, beer, cocktails, and non-alcoholic beverages.
Open daily from 7am-11pm from May to October, except when closed for private events (always check their website before going).
Food, drinks, and lawn games available Thursday 3-10:30pm, Friday & Saturday 12 noon-11pm, Sunday 12 noon-10:30pm, with live entertainment by local bands on the weekends.
Swings are open whenever Lawn on D is open.
Rules, in case you're wondering: No dogs, no outside alcohol, no outside food during concession hours.
Another option in this area is to sample one of the many restaurants in the Seaport and Fort Point areas of the South Boston Waterfront.
For Boston Harbor views while you dine, visit a Seaport restaurant. To try the creative cuisine of some of Boston's most innovative chefs, head to a Fort Point restaurant.
---
Save Big $$$s on Boston Museums and More Top Attractions
Find out how a Boston Discount Card gives you free entrance to museums and lots of other attractions every day while your card is valid - plus you get to go straight to the head of the line.
---
Boston International Antiquarian Book Fair 2023
Whether you're a serious collector of old books, want to shop for a few holiday gifts, or just like to read, the huge Boston International Antiquarian Book Fair is a must-visit.
With 100+ dealers from the U.S. and Europe, the fair attracts visitors from around the world.
In addition to the rare, collectible, and antiquarian books on exhibit and for sale, you'll also find manuscripts, autographs, maps, children's books, ephemera, atlases, modern first editions, and fine and decorative prints.
If you're coming from out of town, hotels near the Hynes include the Back Bay Hilton, the Mandarin Oriental Boston, the Colonnade, the Charlesmark, the Sheraton Boston, and the Lenox.
When: October 27-29
Where: Hynes Convention Center
Closest T station: N/A
For more information: website -
General public entrance fee: $25 for Friday night preview; free on Saturday and Sunday
---
Opening Our Doors Festival in Boston's Fenway Neighborhood 2023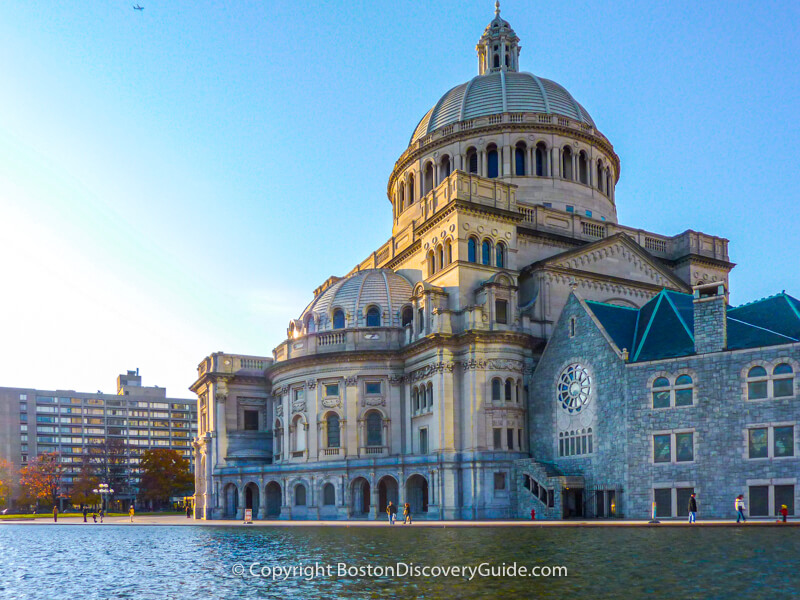 Fenway Alliance presents "Opening Our Doors," Boston's biggest single day of FREE arts, cultural, and educational events when its members invite you to 80+ activities, performances, tours, music, and games from 10am - 4pm.
Festivities start on the Mass Ave side of the Christian Science Plaza at the intersection of Huntington Ave and Mass Ave. The kick-off celebration features a Kids Parade with the Hot Tamale Brass Band, performances, and free cupcakes, with fun activities for all ages all day.
Added plus: Free admission to several top Fenway museums, including the Museum of Fine Arts, Isabella Stewart Gardner Museum, and the Mary Baker Eddy Library Mapparium.
When: Saturday, October 9, 2023
Where: Multiple locations in Fenway
Cost: Free

More information: Fenway Alliance website - Complete events schedule for Boston's Fenway neighborhood
---
Fun Events & Activities on the Rose Kennedy Greenway 2023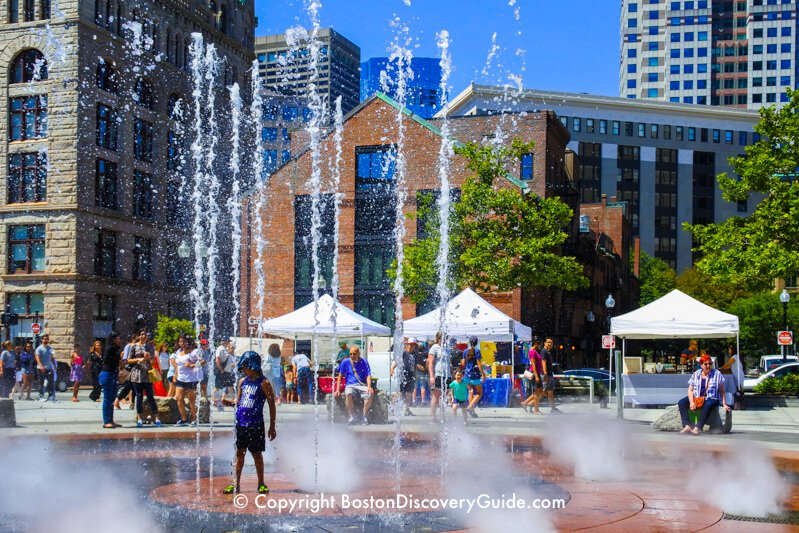 Weekly events on the Rose Kennedy Greenway begin to wind down in October, but there's still plenty to do and see as leaves begin to turn gold and crimson.
Greenway Artisan Market, 11am - 5pm, operated by Somerville Flea on Rowes Wharf Plaza - Shop for handmade items by local makers and artisans; open every Saturday from May 6 through October 31 and every Sunday through October 8, 2023
Trillium Beer Garden in the Wharf District Parks (High Street and Atlantic Ave) featuring draft beers by Trillium Brewing Company and a rotating selection of food trucks. Open Thursday 3pm-8pm, Friday and Saturday 12pm-8pm, and Sunday 12 noon-6pm.
Fountains - You'll find them in 7 different locations along the Greenway - so get ready to splash, wade, and cool off!
Carousel - Open daily, 11am-6pm. Tickets: $4 (buy online)
Greenway Food Trucks: A rotation of 18 trucks, including 6 new ones this year, offer Korean, Jamaican, Italian, Caribbean, Italian, seafood, and other specialties along the Greenway in Dewey Square, the Carousel, Rings Fountain (Milk Street), State Street, Rowes Wharf Plaza, and Trillium Beer Garden. You'll find them at several locations each day, usually with a total of about 3 trucks per day. You can track the schedule and locations of your favorites here
Public Art - See new installations by top artists
More about the Rose Kennedy Greenway
---
Beacon Hill with a BOO!
Murders, mysteries, mayhem, and the occasional ghost haunt this special 90-minute walking tour of Beacon Hill featuring (mostly) true tales.
Your guide for this ghoulish annual event, a volunteer with local tour group Boston by Foot, will show you the dark side and even darker alleys of this charming neighborhood.
Wear comfortable walking shoes and your favorite costume!
This tour is Boston by Foot's most popular tour and has been going strong for over 30 years. Don't wait to book, as it fills up quickly.
When: Halloween (plus sometimes other late October dates), multiple time slots, Beacon Hill, Boston
Where: Boston's Beacon Hill neighborhood
For more information: Boston by Foot website
Cost: $20 ($10 for Boston by Foot members) - Purchase tour tickets directly from your guide - no reservations are required.
Interested in a private tour? Boston by Foot will arrange that for you, at private tour rates, given enough lead time - call them at 617-367-2345 for details.
Can't make the Halloween tour? Catch Boston by Foot's "The Dark Side of Boston" tour and hear tales of crime, disease, death, and disaster as you walk around the North End. Takes place earlier in October and throughout the year - check BBF's website for details.
---
Not Sure about Boston Neighborhood Locations?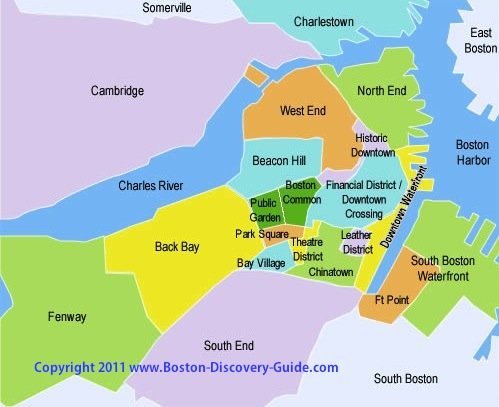 This neighborhood map should help you get oriented. You can find a list of top attractions in each neighborhood here.
Need a more details? See our recommendations for free and low-cost Boston maps.
---
2 Easy Ways to Save BIG in Boston on Tours, Cruises, Admissions
Boston Discount Cards offer you an easy way to save BIG when you take a Boston Harbor cruise or Duck Boat tour, visit Plimouth Plantation, the New England Aquarium, Museum of Science, Museum of Fine Arts, Fenway Park Tour, and more.
Find out which Boston Discount Card is best for you.
---
More Fun Boston Tours & Cruises
---
Boston Halloween Pumpkin Float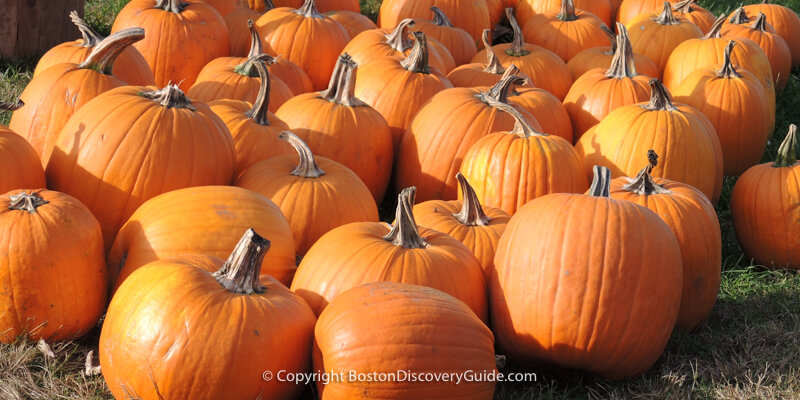 Put on your Halloween costume and head over to Boston Common's Frog Pond on Sunday, October 16 (to be confirmed) for a Halloween Pumpkin Festival, refreshments, music, and lots of family activities.  Halloween costumes are encouraged! This free event takes place from 5-8pm. 
Bring an 8 inch or smaller hollowed out carved pumpkin - it will be lit and then floated on Frog Pond for a spectacular display from the glowing pumpkin luminaries. (Note: You MUST hollow it out - otherwise, it will not float!)
More information:  Boston Frog Pond website
---
Greenway Open Market 2023
Greenway Open Market, sister market to SoWa Open Market (held Sundays in the South End), brings an eclectic mix of hand-made art, music, and locally produced products to Boston.
Look for the sea of white vendor tents - and get ready for some fun shopping, plus good eating at the gourmet food trucks.
With a different mix of vendors present each week, you never know what treasures you'll find! It's a quintessential Boston event.
When: Every Saturday from May 1 through October 31, 11am - 5pm
Where: Rose Kennedy Greenway, near Rings Fountain along the Wharf District parks (look for the Carousel and the vendors' white tents)
Nearest T station: Blue Line/Aquarium, or Orange and Green Lines/Haymarket
Cost: Free (but of course you'll probably be tempted to buy things
---
More Fun Ways to See Boston
---
More to Do in Boston in October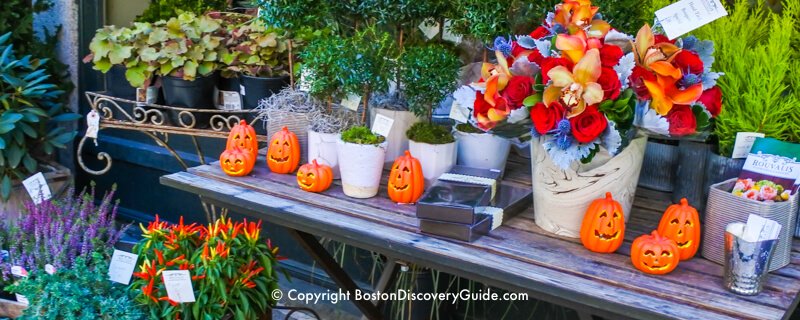 ---
Need a Boston Hotel or Apartment?
Use this handy map from Booking.com to find the perfect place to stay. Just enter your dates to find what's available, see the best rates, and make your reservations.
---