The Boston Events Calendar for October 2021 is packed with exciting events: the huge Columbus Day Parade, Head of the Charles Regatta, Boston Fashion Week, and at the end of the month, Halloween events.
To add to October's exciting events, the Boston Marathon (rescheduled from April) is tentatively scheduled to take place, depending on the state of the pandemic.
With an exciting lineup in the Theatre District, October is an especially exciting month for theater fans.
Music fans can catch shows at TD Garden, Big Night Live, House of Blues, Paradise Rock Club, and other top concert venues in Boston and Cambridge.
Fall foliage colors appear in early October, - so enjoy the gold and crimson leaves as they blaze across the city, and join one of the popular fall foliage tours and cruises.
Go on the Fort Point Art Walk, take a sightseeing cruise on Boston Harbor, or just walk around one of the city's historic neighborhoods such as Beacon Hill and the South End, where jack-o-lanterns on doorsteps and our spooky Colonial-era graveyards will remind you Halloween is on its way.
Check out all our top recommendations for fun events & things to do in Boston in October - and plan your visit now!
Top photo: Beautiful October day in Boston's Back Bay neighborhood
---
Boston Theater & Shows for October 2021
Top October Theater Shows in Boston - 2021
Top shows for October 2021 include Anastasia, Bikini Kill, and Million Dollar Quartet. Foodies will want to get tickets to see Yotam Ottolengi.
Schedule & Tickets
Enter DISCOVERY 10 to save 10% on TicketNetwork & TicketLiquidator tickets
Need a Hotel or Short-Stay Apartment in Boston?
Enter your dates to see available hotels and rates. Click through to read reviews and make your reservations.
More about how to save on Boston hotels
---
Fall Foliage Cruises from Boston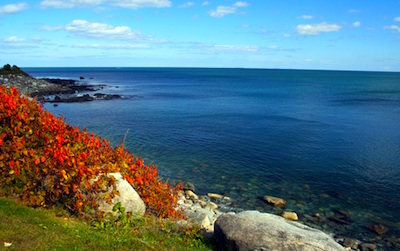 Want to see gorgeous fall foliage along the New England and Eastern Canadian coastlines - and enjoy a few days relaxation and touring?
Fall foliage cruises depart throughout October. You can choose from day-long cruises and overnight trips.
When: Departures throughout October
Cost: Varies according to length of tour and cruise line
More information: Fall foliage cruises
---
The Boston Marathon 2021 - Rescheduled from April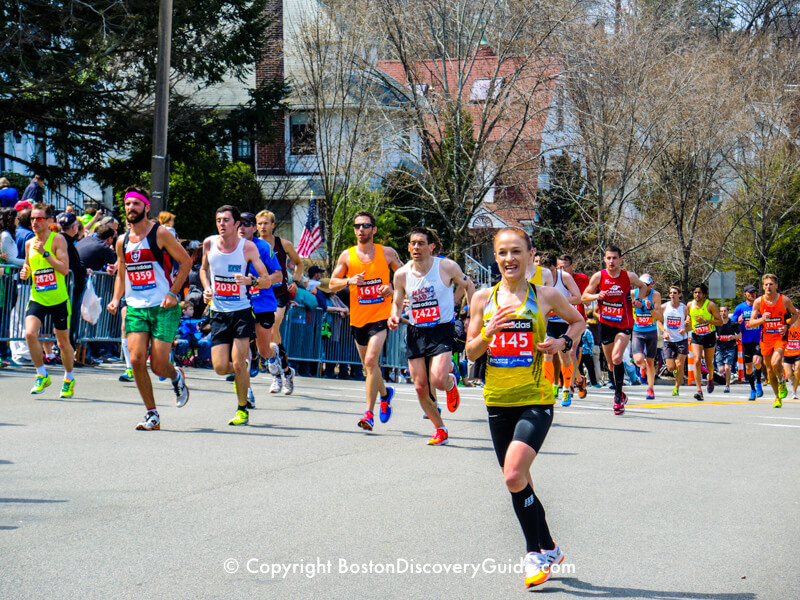 Boston Marathon runners not far from Heartbreak Hill
The Boston Marathon - one of the city's biggest events of the year, and also known as the "Patriots Day Race" - features about 31,500 elite runners from around the world competing in a route made difficult by rolling terrain and features such as "Heartbreak Hill."  Although this hugely popular event normally takes place in April, it has been rescheduled this year to Monday, October 11 on Columbus Day Weekend due to the ongoing pandemic.
Look for more details soon about when the race begins, any changes to the normal race course, and other related events.
Although the winners complete the course in just over 2 hours, many participants are still running hours later.  You can watch from anywhere along the route.
More about the Boston Marathon
Hotels close to the Boston Marathon route
Best places to watch along the Marathon route
---
John Hancock Sports and Fitness Expo - Rescheduled Marathon Event 2021
The huge (and free) John Hancock Sports and Fitness Expo and Number Pick-Up is expected place in the Seaport World Trade Center (200 Seaport Ave) prior to the rescheduled race on Columbus Day Weekend - October 9-11 - and if you love running, you couldn't ask for a better reason to arrive a few days early before the race.
Runner's World magazine calls this event the "best runner's expo in the country" and the 100,000 enthusiasts typically in attendance can attest to that.
In addition to the popular Runners Seminar Series, you can usually visit exhibits by 200 of the running industry's top companies - and of course you can buy every piece of running gear on your bucket list. Stay tuned for any updates for this year!
Race participants pick up their bib number here as well.
More info: www.baa.org
Closest T station: Silver Line SL1/Seaport WTC; take the Red Line to South Station, and change to the SL1 bus on the Silver Line
---
Boston Concerts & Shows - October 2021

Top October Concerts in Boston
Enter DISCOVERY 10 to save 10% on TicketNetwork & TicketLiquidator tickets
Schedules & Tickets:
More Concerts & Shows for October
Boston Concerts & Shows throughout the Year
---
Visit Cape Cod on the Fast Ferry in Early October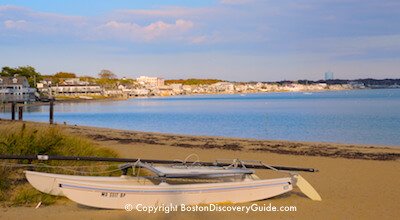 The easiest and fastest way to get to scenic Provincetown at the eastern tip of Cape Cod is on the "Fast Ferry" - a sleek and luxurious passenger-only catamaran that whisks you to this charming village in only 90 minutes.
Explore Provincetown's many art galleries, chic clothing boutiques, and picturesque lanes at your leisure.
Watch the sun set as you feast on clam chowder and a lobster roll at one of the many restaurants overlooking the water.
But don't wait too long - the Fast Ferry runs only through the Columbus Day weekend.
Get Your Fast Ferry Tickets to Provincetown
Find out more about visiting Provincetown
---
Boston Columbus Day Weekend Events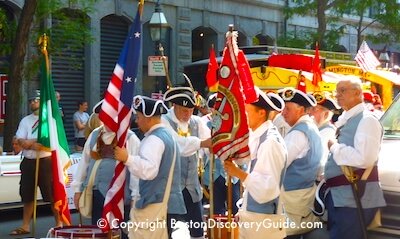 Dates for Columbus Day Weekend: Saturday, October 10; Sunday, October 11; Monday, October 12
The 3-day Columbus Day Weekend holiday packs in lots of fun events in and around Boston. You'll find plenty to do all weekend - plus big Columbus Day sales in all the stores!
Boston Columbus Day events to check out:
---
Columbus Park Fall Festival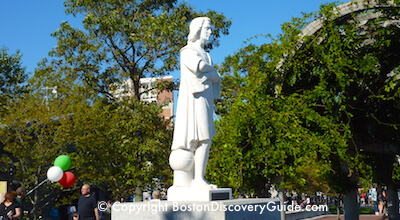 When: Monday, October 3, 12 noon - 4pm
Location: Christopher Columbus Park, Boston's North End (100 Atlantic Ave - next to the Marriott Long Wharf Hotel)
Public Transportation: Blue Line/Aquarium; about a 3 minute walk north on the Greenway
Cost: Free
The Columbus Park Fall Festival features a children's parade through the park (watch it or join it), a variety of music and entertainment by local groups, plus family activities including a magician, storyteller, bubbles, and aquarium tidal pool, and a musical petting zoo to celebrate Boston's Italian heritage and the Columbus Day holiday in this gorgeous park overlooking Boston Harbor.
---
Cape Ann Artisans Open Studios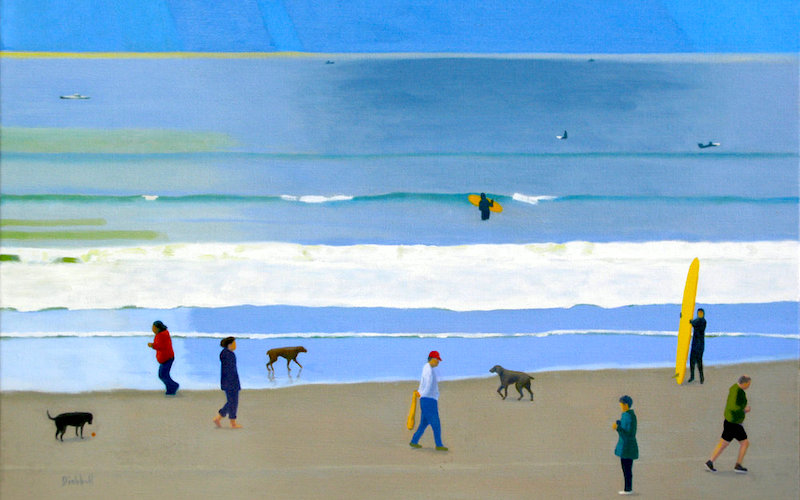 Don't miss this wonderful excuse to tour artist studios along the beautiful Rockport and Gloucester coast on Columbus Day weekend! 19 artists and artisans will welcome you to view their paintings, sculpture, mosaics, photography, pottery, jewelry, and other wonderful creations.
You can easily rent a car and drive up from Boston for the day - or spend the weekend and go for walks along the beach, dine on lobster dinners, and browse in local boutiques, galleries, and antique shops. View Rockport Hotels
Open Studio Tour: October 9 and 10, 10am - 5pm
Where: Open Studio Tour map and more information at www.capeannartisans.com. You can also pick up brochures with route maps at the Cape Ann Chamber of Commerce, the Rockport Information Booth on Rte 127, and at each studio. Look for the bright magenta Studio Tour banner at each location
More information: 978-546-6186; Cape Ann Artisans website: http://capeannartisans.com
Cost: Free
Painting in photo: "The Next Wave" by Cape Ann painter Rob Diebboll, 1 Camborne Way, Rockport
More Columbus Day Events in and near Boston
---
Columbus Day Parade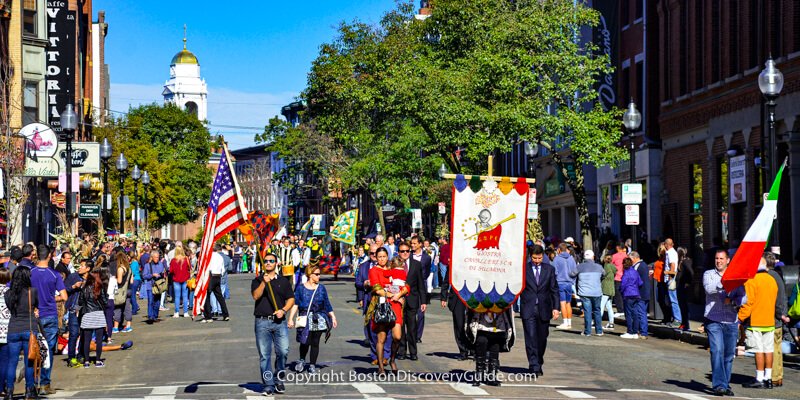 Boston's Columbus Day Parade honors Christopher Columbus and his explorations of the Americas, Boston's military commitments to freedom from Colonial times through today, and the city's Italian heritage.
The parade alternates between the North End (odd years) and East Boston (even years).
When: Sunday, October 10, approximately 1pm - normally lasts about 2 hours
Where: North End for 2021
Closest T stations:
- North End: Blue Line/Aquarium or Green Line/Haymarket
- East Boston: Blue Line/Maverick
---
Where to Stay In or Near Boston's North End
More hotels in Boston's North End
---
HUBweek - Celebrating Innovation in Boston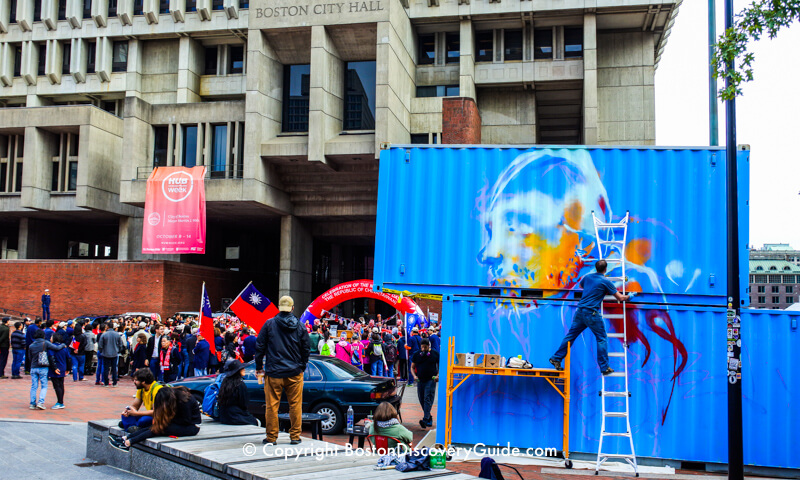 HUBweek brings together innovators from all over the world for a festival celebrating cutting edge and impacful ideals in art and technology.
Access to most exhibits, demonstrations, and nightly parties is free (although you must register); the concurrent file festival and Changemaker conference requires ticket.
Dates: October 1-3
Locations: Boston's Seaport and other venues around Boston
Event schedule and registration: https://www.hubweek.org
---
Lawn on D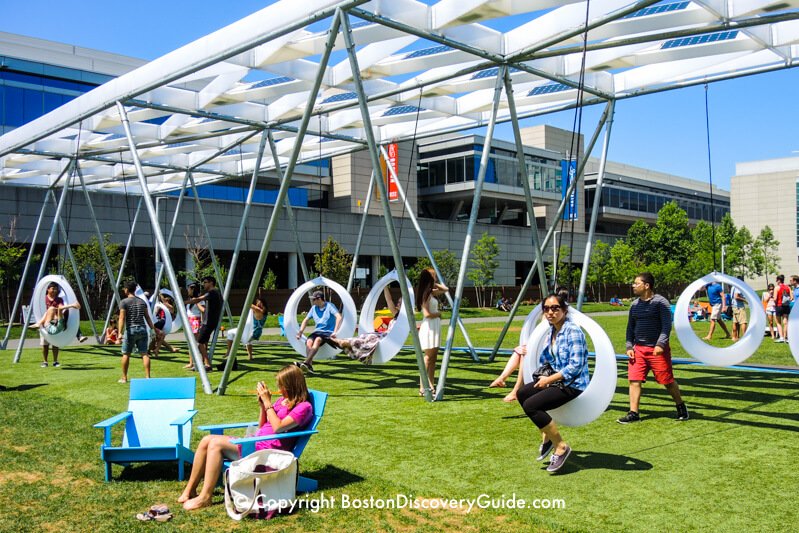 Lawn on D, a playground for adults (kids are welcome too but this is mostly an adult venue) located behind the Convention Center in the South Boston Waterfront, is where you'll find fun swings with LED lights and comfy seating, bocce and other games, and art installations throughout the summer, along with casual food and wine, beer, cocktails, and non-alcoholic beverages.
Open daily from 7am-11pm from May to October, except when closed for private events. Food, drinks, and lawn games available Thursday 3-10pm, Friday & Saturday 12 noon-10:30pm, Sunday 12 noon-10pm, with live entertainment by local bands on the weekends.
Pandemic safety and sanitation precautions are in place.
Another option in this area is to sample one of the many restaurants in the Seaport and Fort Point areas of the South Boston Waterfront. For Boston Harbor views while you dine, visit a Seaport restaurant. To try the creative cuisine of some of Boston's most innovative chefs, head to a Fort Point restaurant.
---
John Coltrane Memorial Concert
The 43rd Annual John Coltrane Memorial Concert would have taken place this year - but it is not scheduled due to the coronavirus pandemic.
Tickets: normally $25-$40
Find more Boston Concerts during October
---
Boston International Antiquarian Book Fair
When: September 29-30 (Dealer to Dealer portion); November 12-14 (General public portion; paid preview on Nov 12)
Where: Virtual this year, due to the coronavirus pandemic
Closest T station: N/A
For more information: website
General public entrance fee: $TBD for Friday night preview; free on Saturday and Sunday
Whether you're a serious collector of old books, want to shop for a few holiday gifts, or just like to read, the huge Boston International Antiquarian Book Fair is a must-visit. With over 150 dealers from the U.S. and Europe, the fair attracts visitors from around the world. In addition to the rare, collectible, and antiquarian books on exhibit and for sale, you'll also find manuscripts, autographs, maps, atlases, modern first editions, and fine and decorative prints. Do you think you already own a treasure? Bring your own books, maps, and ephemera and get a free appraisal.
If you're coming from out of town, hotels near the Hynes include the Back Bay Hilton, the Mandarin Oriental Boston, the Colonnade, the Charlesmark, the Sheraton Boston, and the Lenox.
---
Opening Our Doors Day in Fenway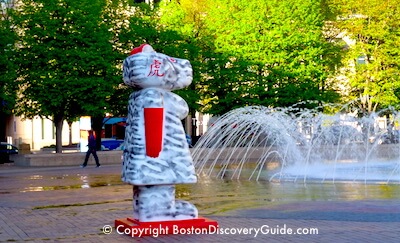 Fenway Alliance presents "Opening Our Doors," Boston's biggest single day of FREE arts, cultural, and educational events when its members invite you to 60+ activities, performances, tours, music, and games from 10am - 4pm.
Festivities start on the Mass Ave side of the Christian Science Plaza at the intersection of Huntington Ave and Mass Ave. The kick-off celebration features a Kids Parade with the Hot Tamale Brass Band, performances, and free cupcakes, with fun activities for all ages all day.
Added plus: Free admission to several top Fenway museums, including the Museum of Fine Arts, Isabella Stewart Gardner Museum, and the Mary Baker Eddy Library Mapparium.
When: Monday, October 11, 2021
Where: Multiple locations in Fenway
Cost: Free
More information: Fenway Alliance website - Complete events schedule for Boston's Fenway neighborhood
---
HONK! Street Music Festival on Columbus Day Weekend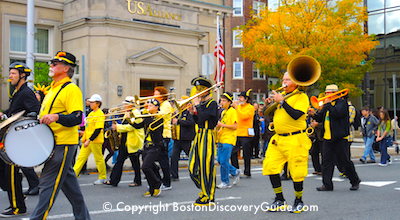 When: October 9-11
Where: Davis Square, Somerville; Harvard Square, Cambridge
Cost: Free
More information: www.honkfest.org
HONK! Festival of Activist Street Bands fills streets in Cambridge and Somerville with celebratory music, colorful attire, and lots of fun during Columbus Day weekend. Participants come from around the U.S. and other parts of the world. Expect to hear a cacaphony of sounds reminiscent of New Orleans brass bands, European Klezmer, Brazilian-Afro music, Romani and Balkan music, and much more.
The 3-day fest is packed with events and activities, and is bigger and better than ever this year. Find out about all events here: http://honkfest.org
---
Head of the Charles Regatta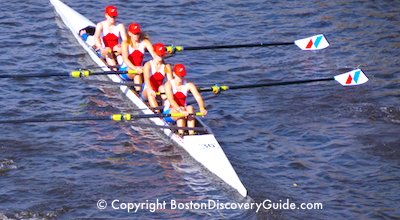 When: October 16 and 17, 8am - 4:30pm
Where: Charles River between Boston and Cambridge, MA
Cost: Free viewing from most locations. Exceptions include Reunion Village ($10 for one day) and the Eliot Bridge Enclosure ($90 for one day or $150 for both; includes breakfast, lunch, and 2 free drinks)For more information, including best viewing spots and hotels: Head of the Charles Regatta

More than 11,000 elite athletes from around the world compete in 55 events as part of the Head of the Charles Regatta, an exciting 2-day rowing meet held on the Charles River during the last full weekend in October.
If you're visiting Boston this weekend, join the more than 300,000 spectators watching from the bridges and banks of the Charles. Fall foliage along the river is usually near peak on this weekend - so bring your camera!
---
Popular Boston Tours & Cruises
---
Boston Book Festival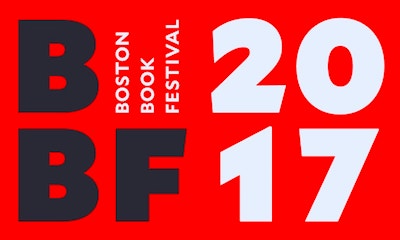 When: October 3 - 4
Cost: Free
More information including schedule & locations: website
A huge lineup of 150+ renowned and mostly local writers, scholars, NPR hosts, publishers, and thought leaders including National Book Award, Newbury, and Pulitzer Prize winners converge in dozens of forums, presentations, and discussions organized around topics such as "Graphic Memoirs" and "Pathogens and Pills" to celebrate our local culture of reading and ideas, making the Boston Book Festival the largest literary event in New England.
Featured speakers include Oneeka Williams, Natasha Trethewey, Sophie Yanow, Jason Chin, Chryl N. Laird, Derrick Barnes, Jacob Kramer, K-Fai Steele, and Brad Aronson - plus many more!
In addition to exhibitions, discussions, sessions for writers, and presentations, you'll normally find live music, booksellers, food, and kids/teen activities - but this year is obviously different so stock up on snacks, perhaps a glass of wine, and whatever else you need to make the live virtual programs extra enjoyable.
Boston Book Festival is one of the biggest book fests in the U.S. and there's nothing else quite like it, so don't miss it!
---
Fall Foliage Boston Harbor Cruises on the Northern Lights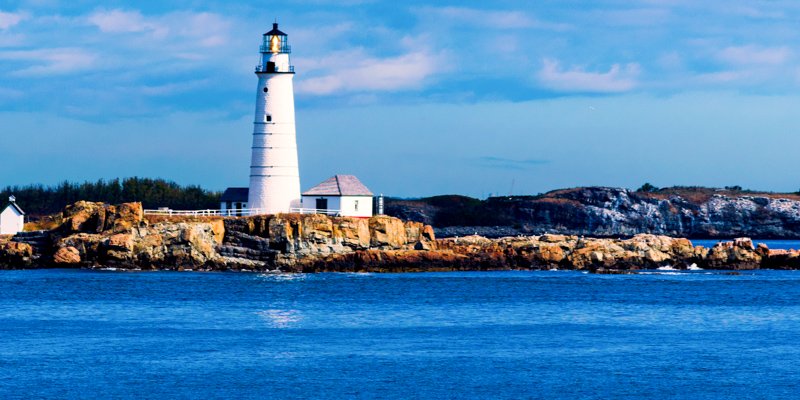 Combine a scenic fall foliage cruise around Boston Harbor with a delicious brunch or lunch on the elegant Yacht Northern Lights this month.
---
Boston Halloween Pumpkin Float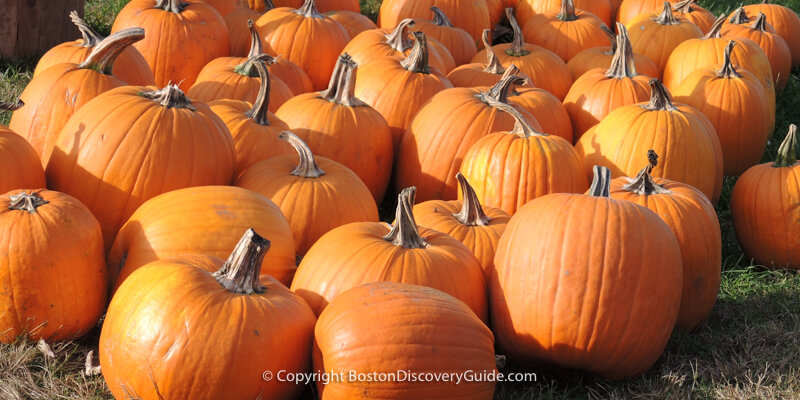 Put on your Halloween costume and head over to Boston Common's Frog Pond on Sunday, October 17 for a Halloween Pumpkin Festival, refreshments, music, and lots of family activities.  Halloween costumes are encouraged! This free event takes place from 5-8pm. 
Bring an 8 inch or smaller hollowed out carved pumpkin - it will be lit and then floated on Frog Pond for a spectacular display from the glowing pumpkin luminaries. (Note: You MUST hollow it out - otherwise, it will not float!)
More information:  Boston Frog Pond website
Fort Point Open Studios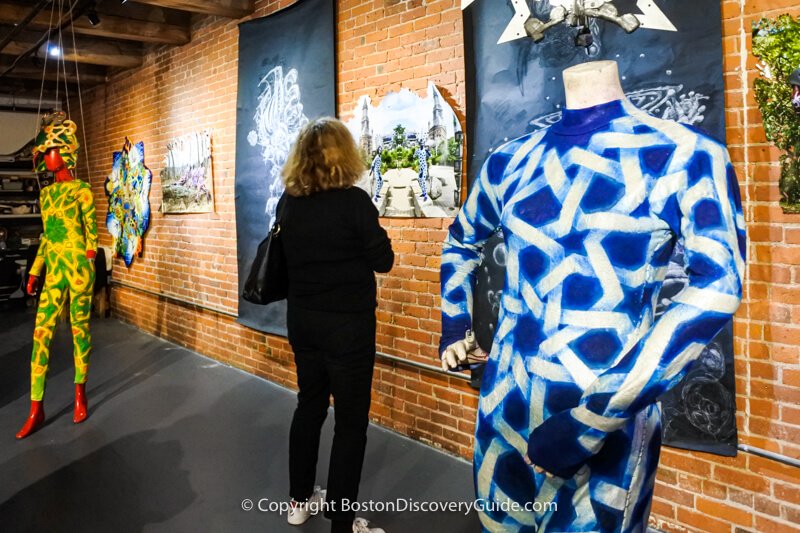 When:
Oct 15 Preview from 4pm-7pm
Oct 16 and 17 from 12 noon - 6pm

We're leaving this information up in case you're planning for 2021:
Where: Fort Point area of the South Boston Waterfront
Nearest T station: Red Line/South Station; walk across the Congress Street bridge
Parking: Free, in the Central Parking Lot at Binford and A Street
Cost: Free...unless you buy some art!
More information: Fort Point Arts Community website; 617-423-4299
Stop by the FPAC Gallery at 300 Congress Street, pick up a map showing the more than 150 open studios in 14 buildings, plus studios and pop-up venues. Performances, free hands-on art-making activities, and other special events will also take place.
Then stroll around this area of former warehouses and explore the art studios, chat with the artists, and if you're unable to resist, buy a piece or two of memorable art from some of the area's emerging or well-known artists.
Photo of painting by Karen McFeaters
---
Fun Boston Tours for October
More: Sightseeing Tours | Tours for Teens | Kids & Family Tours
---
New England Patriots at Gillette Stadium - October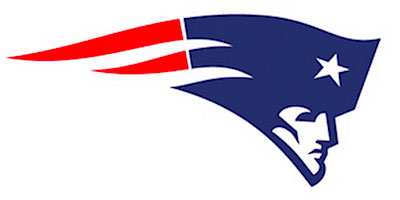 Although two New England Patriots home games take place at Gillette Stadium during October, no decision about letting fans be present in the stadium has been made yet.
Get your tickets now, and get ready to join in the fun!
Enter DISCOVERY 10 to save 10% on TicketNetwork & TicketLiquidator tickets
Where: Gillette Stadium
Getting there: The Patriot Train - plus more ways to get to Gillette from Boston
Where to stay: Hotels near Gillette Stadium
More Patriots tickets: Check for great prices & great seats
---
Bruins & Hockey at TD Garden for the Preseason & Regular - October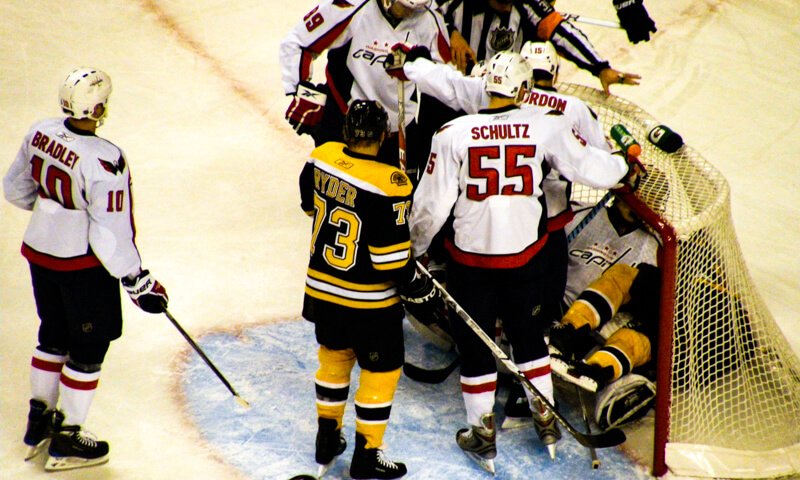 To be determined.
---
Get Your Bruins Hoodie
(#ad)
---
Hotels near TD Garden
If you're coming to an event at the Garden, spend the night or the weekend at one of the nearby hotels, such as the stylish Boxer (shown in photo):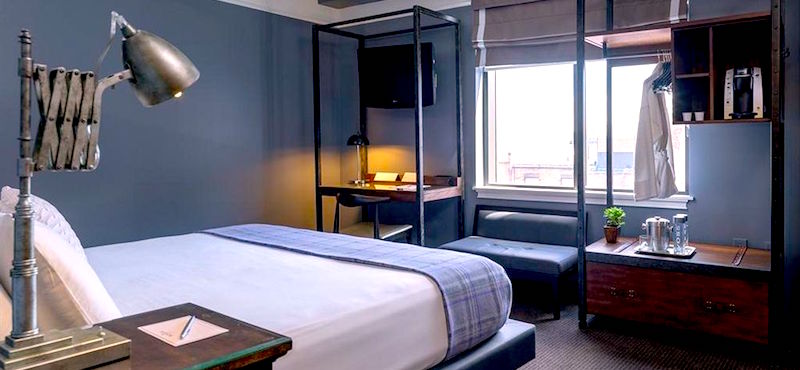 More top hotels near the Garden:
Check out more hotels near TD Garden
---
Best Fall Foliage Tours Departing from Boston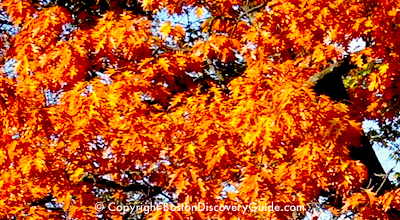 Leaves may still be mostly green in Boston in October, at least during the first couple of weeks - so if you want to see gorgeous foliage, head outside of the city where you'll start to see lots of spectacular colors by mid-month.
These luxury 1-day fall foliage tours take you to the best viewing locations in New Hampshire, Maine, and Cape Cod. Sit back and relax while someone else drives and you get to enjoy all the scenery!
More about fall foliage tours leaving from Boston
---
Enjoy Fall Foliage near Your Boston Hotel
Want to enjoy brilliant fall colors right in the city? Boston is filled with trees. Here's where to find colorful autumn foliage near these popular hotels:
Colonnade Hotel - Walk across Huntington Ave to Christian Science Plaza.  Find a comfortable bench by the reflecting pool, and enjoy the golden leaves on nearby trees.
Verb Hotel - Cross Boylston Street and enter The Fens, where you'll find the famous Victory Gardens and Kelleher Rose Gardens.
Charlesmark Hotel - Walk half a block to Copley Square.  Soak up some sun by the pool, explore the weekly Farmer's Market, and tour Trinity Church.
Four Seasons Hotel - Cross Boylston Street and enter Boston's Victorian-era Public Garden.  Admire the spectacular autumn colors and visit the  Make Way for Duckling statues. 
More places to see gorgeous autumn colors in Boston
---
Tours & Cruises to see Fall Foliage in Boston . . . and Beyond
---
New England Coastal Tour from Boston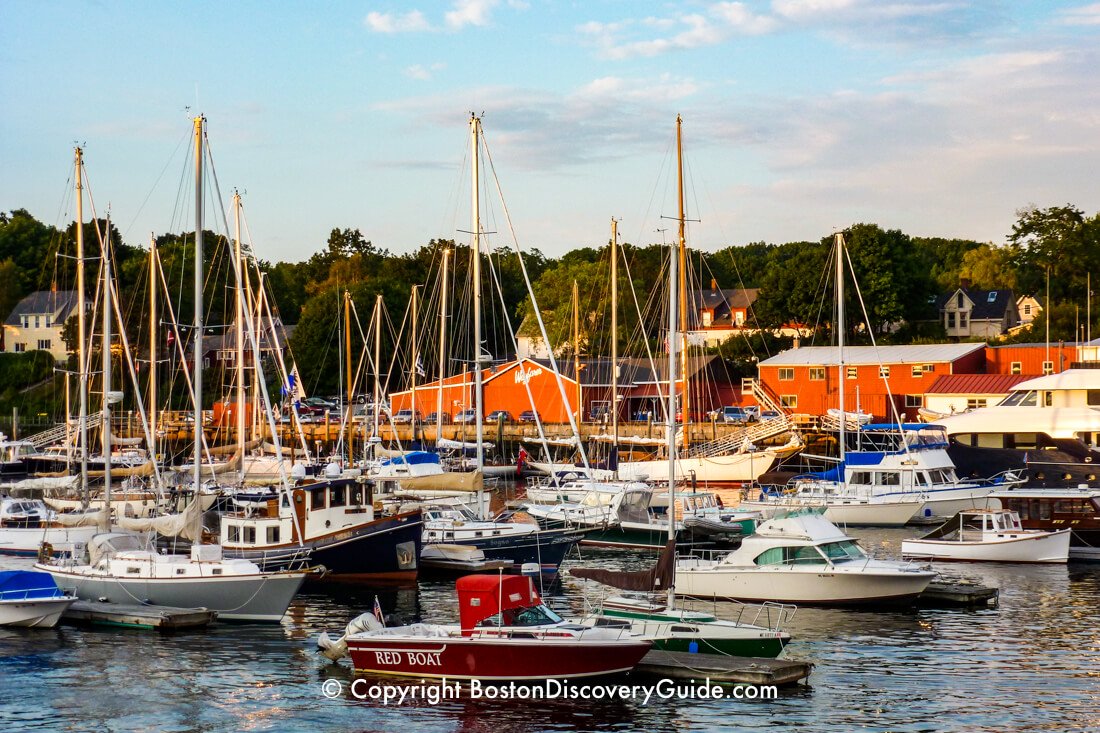 This New England Coastal All-Day Tour gives you spectacular views of the beautiful New England coastline along Massachusetts, New Hampshire, and Maine. By October, foliage should be brilliant along the way.
You'll get to visit historic Nubble Lighthouse in York, Maine, enjoy lunch, shopping, and leisure time in quaint Kennebunkport, admire the well-preserved 18th and 19th century architecture in quaint Kenebunk Village, visit Hampton Beach (after Labor Day, you may just drive by Hampton Beach and visit Stonewall Kitchen instead), and see all the charming villages along the rocky coastline as you cruise along in a luxury climate-controlled coach.
Pickup and dropoff from selected Boston hotels is included.
---
More Fun Boston Tours
---
Save Big $$$s on Boston Museums and More Top Attractions
Find out how a Boston Discount Card gives you free entrance to museums and lots of other attractions every day while your card is valid - plus you get to go straight to the head of the line.
---
Museum of Science Exhibits - October 2021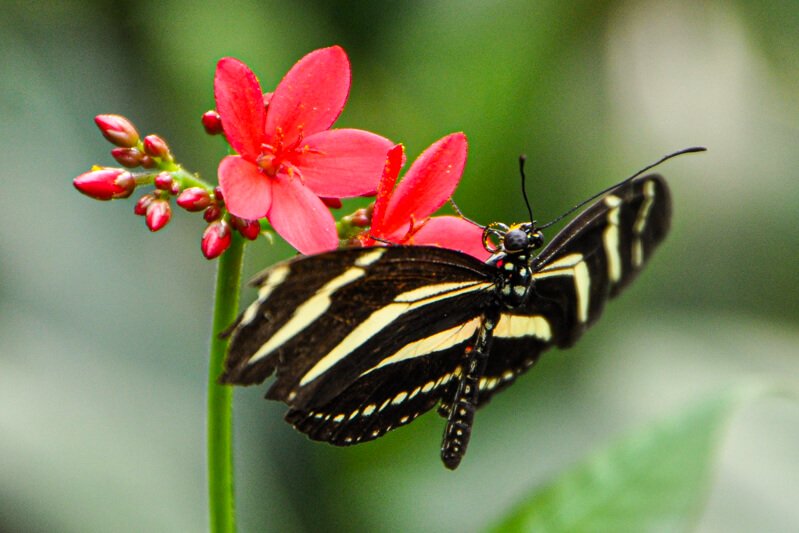 Special Exhibits
Arctic Adventure: Exploring with Technology - Find an Arctic fox, travel across a glacier, & more in this immersive exhibit
Science Behind Pixar: See how art and science create magic
Design Engineering Workshop - Design, build, and test solutions for everyday problems
Permanent Exhibits
With fascinating permanent exhibits for all ages, there's always something to see, do, and learn. Here are just a few of the most popular: Butterfly Garden (extra fee), Colossal Fossil: Triceratops Cliff, Cosmic Light, Dinosaurs, Hall of Human Life, Live Animal Care Center, Mathematica, Nanotechnology, Natural Mysteries, New England Habitats, The Light House - plus 17 more!
Where: Boston's Museum of Science
When: Daily, 9am-5pm; open until 9pm on Fridays
Admission: $29 general museum admission ($24 for kids). Buy online to skip the line. Get free museum admission when you have a GoBoston Discount card or Boston CityPASS card.
Imax Theater and Planetarium: Additional fees apply
---
Fun Events & Activities on the Rose Kennedy Greenway 2021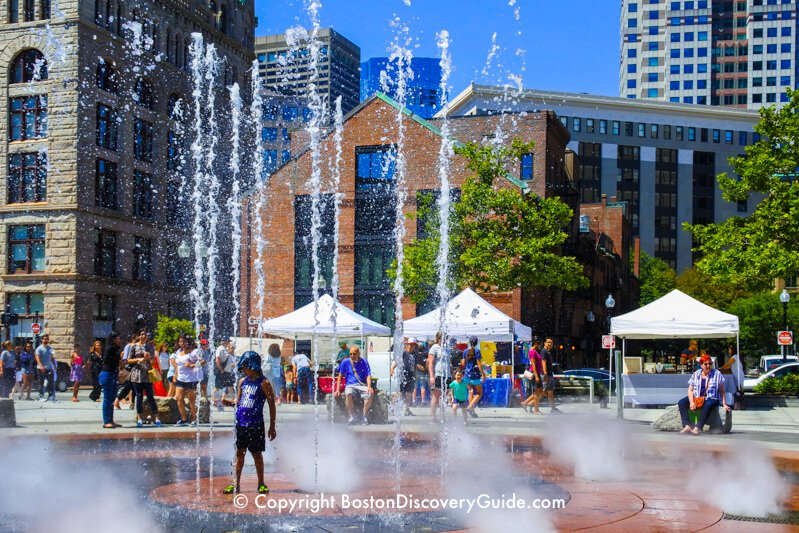 Weekly events on the Rose Kennedy Greenway begin to wind down in October, but there's still plenty to do and see as leaves begin to turn gold and crimsom.
More about the Rose Kennedy Greenway
---
Beacon Hill with a BOO!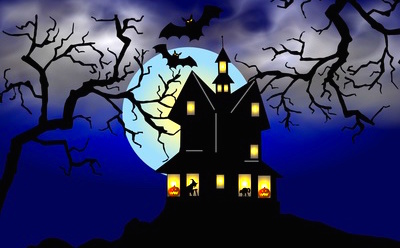 Murders, mysteries, mayhem, and the occasional ghost haunt this special 90-minute walking tour of Beacon Hill featuring (mostly) true tales. Your guide for this ghoulish annual event, a volunteer with local tour group Boston by Foot, will show you the dark side and even darker alleys of this charming neighborhood. Wear comfortable walking shoes and your favorite costume!
When: 6pm on October 31, Beacon Hill, Boston - arrive 10 minutes before tour starts
Where: Boston's Beacon Hill neighborhood
For more information: Boston by Foot website
Cost: $20 ($10 for Boston by Foot members) - Purchase tour tickets directly from your guide - no reservations are required. Interested in a private tour? Boston by Foot will arrange that for you, at private tour rates, given enough lead time - call them at 617-367-2345 for details.
Can't make the Halloween tour? Catch Boston by Foot's "The Dark Side of Boston" tour and hear tales of crime, disease, death, and disaster as you walk around the North End. Takes place earlier in October and throughout the year - check BBF's website for details.
---
Not Sure about Boston Neighborhood Locations?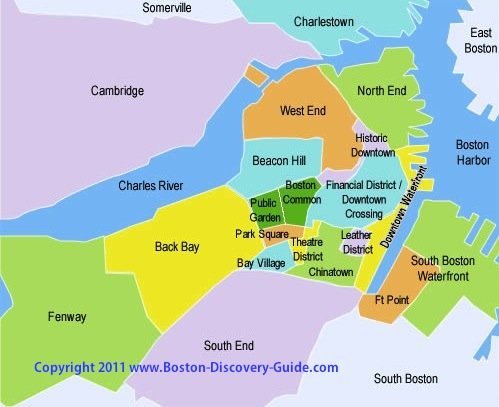 This neighborhood map should help you get oriented. You can find a list of top attractions in each neighborhood here.
Need a more details? See our recommendations for free and low-cost Boston maps.
---
2 Easy Ways to Save BIG in Boston on Tours, Cruises, Admissions
Boston Discount Cards offer you an easy way to save BIG when you take a Boston Harbor cruise or Duck Boat tour, visit Plimouth Plantation, the New England Aquarium, Museum of Science, Museum of Fine Arts, Fenway Park Tour, and more.
Find out which Boston Discount Card is best for you.
---
Halloween Pet Parade & Costume Contest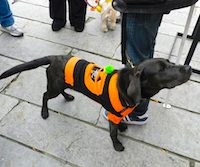 Does your pet love to dress up and strut around? If so, bring out your favorite (pet) Halloween costume and head over to Faneuil Hall Marketplace on October 26 from 12 noon to 2pm to show off your holiday spirit.
The Pet Parade takes place at 1pm. At 2pm, your pet could win a prize. Categories include Best Owner and Pet Combo, Best Local Boston Representation, and Most Creative. Registration is required for this free event: Faneuil Marketplace website
More Halloween Events in Boston
---
OctoberFest at Harpoon Brewery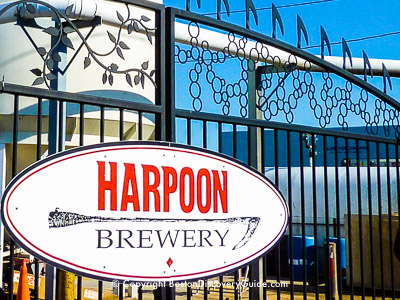 Harpoon Brewery's 24th annual German-style OctoberFest boasts 3 stages with live music, a big selection of Harpoon beers and ales, and lots of bratwurst and other German food sold by a local restaurant. Come do some Chicken Dancing, keg bowling, and enjoy 3 stages filled with German Oompah bands at one of New England's largest OctoberFests.
Try your luck at this year's new events: a German chocolate-eating contests!
When: (dates & times to be confirmed)
- October 2 - 5:30pm - 11pm (doors close at 9:30pm)
- October 3 - 1pm - 7pm (doors close at 5:30pm)
Where: 306 Northern Ave, South Boston Waterfront
Nearest T station: Red Line/South Station; take Silver Line 2 or 3 and get off at Harbor Street, or catch the free shuttle behind Federal Reserve building next to Fort Point Channel off Summer Street
Parking: None at the Brewery - so catch the shuttle from South Station (Summer St going toward Fort Point Channel)
Cost: $25 - includes one drink ticket and a souvenir cup (additional cost for food and additional drinks); bring a designated driver who will receive complimentary non-alcoholic beverages - or stay over in a nearby South Boston Waterfront hotels so that everybody can have fun). General Admission tickets are not sold in advance - so pay at the door (cash only). You can also buy Early Access passes - see Harpoon's website for details.
Age: 21+, and you must have proper ID
More information: Harpoon Brewery website

---
Boston Fashion Week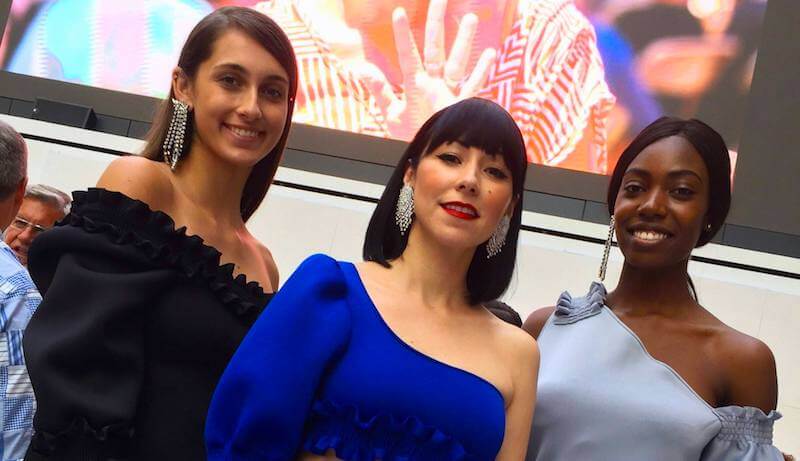 Boston Fashion Week is bigger and better than ever this year - 7 days packed with celebrations of Boston style. Enjoy runway shows, exhibitions, special events such as GlamSlam, and parties as Boston's fashion professionals, retailers, and talented design students explore ideas, innovations, and new directions a venues throughout the city.
---
Pumpkin Pageant & Costumed Dog Parade
Create the most fantastic pumpkin you can imagine, and compete to win the title for Funniest, Scariest, Most Original, and Overall Crowd Favorite.
The mostly-free Pumpkin Pagent and Dog Costume Parade ($10 to enter your dog in the parade) takes place on October 27, 12 noon - 3pm at the Atlantic Wharf Waterfront Plaza in Fort Point, and includes lots of other fun - pumpkin carving for kids, face painting, DJ Magic Mic, locally-made bites, beer and wine (21+, at your own expense), & more.
See details: Friends of Fort Point website
---
Pru Boo at Prudential Center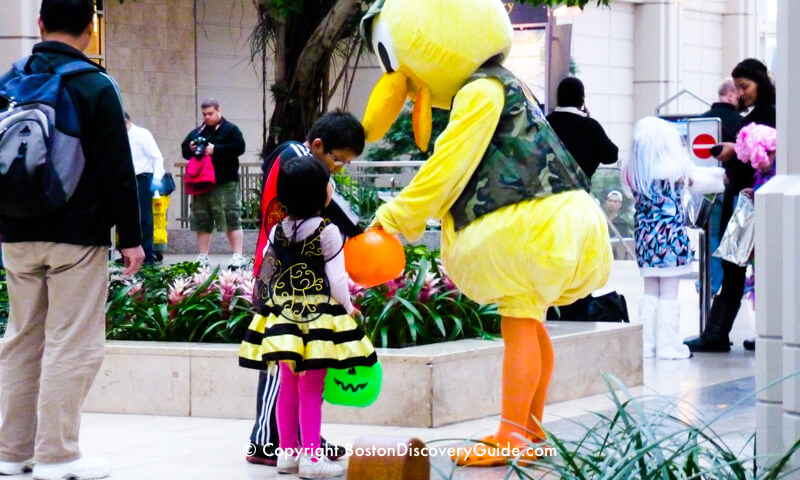 When: Sunday, October 27 - 11am-1pm. There's also a kids concert at 1:30 in the South Garden, weather permitting. In case of rain, the concert will be in Pru Center's Belvidere Pavilion
Where: Prudential Center
Cost: $5 donation per child (12 and under) - purchase trick or treat bag at Customer Service desk starting Oct 1 or check in at the Food Court or Center Court as early as 9am on the date of the event to beat the crowds and pick up a map of all the activities. Parking for the day will be $18 (Pru Center Garage). Donations this year will benefit The Home for Little Wanderers. You'll also find lots of non-food treats this year.
More information: Halloween in Boston
Every year, over 50 stores and restaurants at the Shops at Prudential Center sponsor Trick or Treating for Charity,with proceeds going to a non-profit partner to benefit the neediest babies and children in Boston. Kids come dressed in their cutest Halloween outfits and enjoy trick-or-treating, face painting, magic shows, pumpkin decorating, and more, but most important: they'll be helping other children.
---
Boston Harbor Cruises - October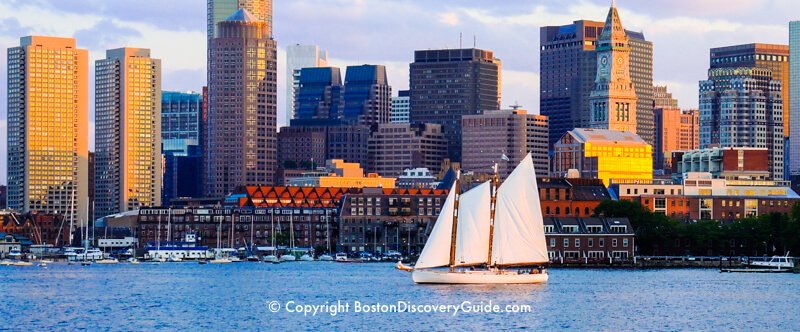 Tour Boston by boat - the best way to see the city!   Check out these fun sightseeing, music, and entertainment Boston Harbor cruises on the Yacht Northern Lights and Schooner Adirondack III:
Fun Boston Harbor Cruises To Do Right Now:
---
Cranberry Harvest Festival on Columbus Day Weekend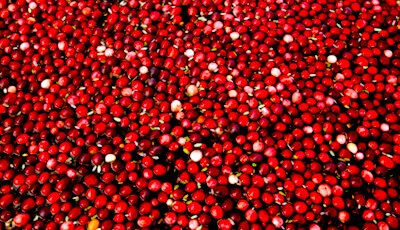 When: October 11-12, 10am - 4pm, rain or shine
Location: A.D. Makepeace Company, 158 Tihonet Road, Wareham, MA
Admission: $10 adults, $5 seniors, free for children under 7 and military; free parking; some activities have additional fees or donations to the non-profit organizations that sponsor them
More information: Festival website or call 508-322-4000
Celebrate the fall cranberry harvest season at this annual Cranberry Harvest Festival open house, located at the nation's largest cranberry grower south of Boston. This popular event attracted over 32,000 visitors last year. Cranberry bog tours, family-oriented games and entertainment, and fresh cranberries to buy!
More about the Cranberry Harvest Festival and nearby Plimouth Plantation and Mayflower II
---
New England Coastal Tour from Boston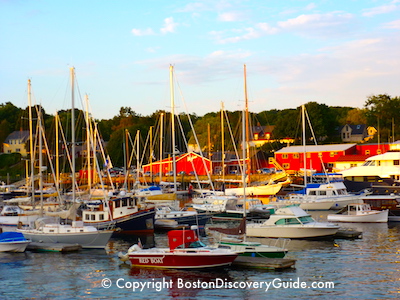 This day trip New England Coastal Tour gives you spectacular views of the beautiful New England coastline along Massachusetts, New Hampshire, and Maine.
You'll get to visit historic Nubble Lighthouse, enjoy lunch and leisure time in quaint Kennebunkport, visit Hampton Beach, and see all the charming villages along the rocky coastline as you cruise along in a luxury climate-controlled coach.
Boston hotel pickup and dropoff included.
---
More Fun Boston Tours & Cruises
---
Salem Halloween: Haunted Happenings Grand Parade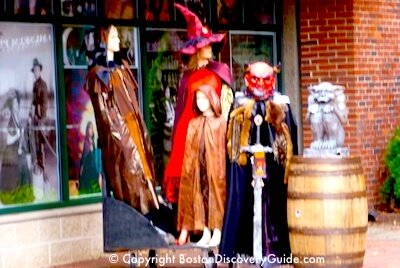 When: Thursday, October 3, 6:30pm - 8:00pm
Location: Downtown Salem, MA; ends at Salem Common
The Haunted Happenings Grand Parade officially kicks off the season of witches, ghosts, and goblins with a lavish pageant of costumes, music, and entertainment - but that's just the beginning of Salem's Halloween festivities.
More about the Grand Parade and the "Witch City"
Best ways to get to Salem from Boston:
Check out Halloween in Salem for more about the witch museums.
More to See & Do in Salem:
---
Boston Discount Passes for Attractions, Tours, Cruises
Why pay full price for top Boston attractions such as the New England Aquarium, Museum of Fine Arts, Plimouth Plantation, Salem Witch Tours, Boston Harbor Cruises, and much more?
Boston Discount Cards are the best deal in town. Select Boston CityPass to see Boston's Top Attractions at a leisurely pace, or choose the GoBoston card (you pick how many days) to see almost 50 attractions, tours, cruises, and day trips.
---
More to Do in Boston in October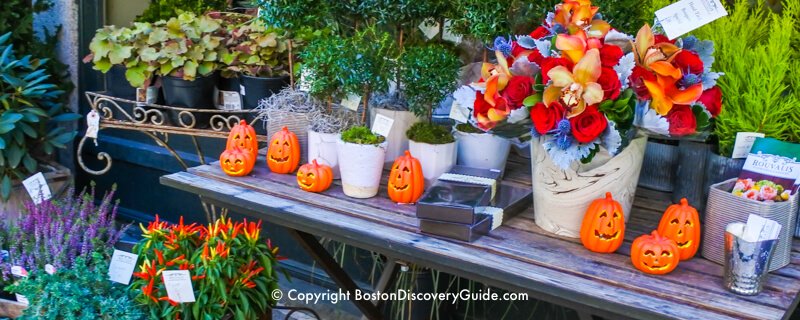 ---
---
---
More Fun Ways to See Boston
---
Need a Boston Hotel or Apartment?
Use this handy map from Booking.com to find the perfect place to stay. Just enter your dates to find what's available, see the best rates, and make your reservations.