Boston's Fenway neighborhood gains its fame from its biggest attraction, Fenway Park, home ball park of the Boston Red Sox but there's a lot more to love, do, and explore here.
Fenway is home to 17 colleges and universities, world-renowned medical research centers and hospitals in the Longwood Medical Area, lively nightlife along Lansdowne Street, and the highest concentration of cultural institutions in the city, including the Museum of Fine Arts and Isabella Stewart Gardner Museum, and Symphony Hall.
Trendy restaurants line Boylston Street.
Around the corner on Park Ave, you'll find the Time Out Market food hall in one of Boston's premier Art Deco buildings, once occupied by a Sears store.
As central Boston neighborhoods go, Fenway is one of the largest.
"East Fenway" includes the famous ballpark, House of Blues Boston, and other bars, restaurants, and shops in the Kenmore Square commercial stretch near Boston University.
"West Fenway" includes museums, the medical area, and more colleges and universities including Northeastern University. Lots of medical professionals and students live in the neighborhood's residential areas.
The Fens, part of the "Emerald Necklace" string of parks and green spaces, stretches between the two areas and includes Muddy River (which usually seems more like a pond), the stroll-worthy Victory Gardens begun in World War II, ball fields where you'll almost always see a game or two underway, an interesting war memorial, and the spectacular Kelleher Rose Garden.
And last but not least, Fenway displays the huge red and white Citgo sign, one of Boston's most endearing and admittedly quirky landmarks.
Top photo: Fenway Park and House of Blues Boston, (c) Boston Discovery Guide
Boston Discovery Guide is a reader-supported publication. When you buy through our links, we may earn a commission at no additional cost for you. Learn more
---
Top Fenway Attractions
1. Fenway Park & the Boston Red Sox
Fenway Park's Red Sox games, summer concerts, and occasional winter sports events attract hundreds of thousands of visitors to the neighborhood.
Fenway Park - Cheer the Red Sox for the quintessential Boston experience - or catch one of the star-studded rock concerts or other sports events hosted twice a year here.
Red Sox schedule and ticket information
Fenway Park Tour - See the famed ballpark up close, and enjoy your guide's entertaining stories about Fenway history, legendary players, and funny events. You even get to go on top of the Green Monster. Allow about 1 hour.
---
2. Museum of Fine Arts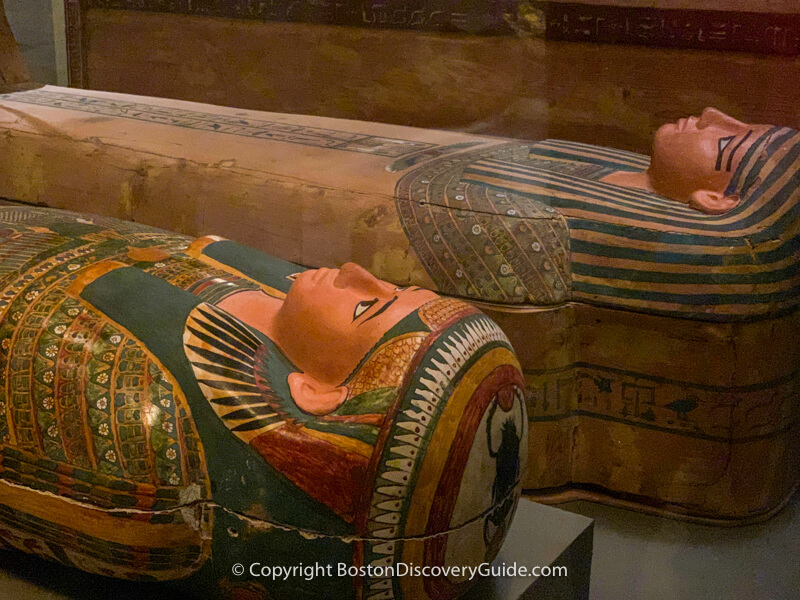 Museum of Fine Arts - World-famous for its comprehensive collections spanning 7 thousand years.
Must-sees include the Egyptian mummy collection and the dazzling new Art of the America's wing.
Use a Go Boston Pass or Go Boston Explorer card for admission
---
3. Isabella Stewart Gardner Museum
Isabella Stewart Gardner Museum - This 1903 mansion, modeled after a 15th century Venetian palace, displays the wide-ranging art collection - eclectic and wonderful - of its creator.
There's also a spectacular courtyard garden that alone is worth the price of admission on a cold winter day.
Don't miss the Sunday afternoon concerts in the courtyard.
Free admission if you're named "Isabella."
---
4. Boston Symphony Hall & Jordan Hall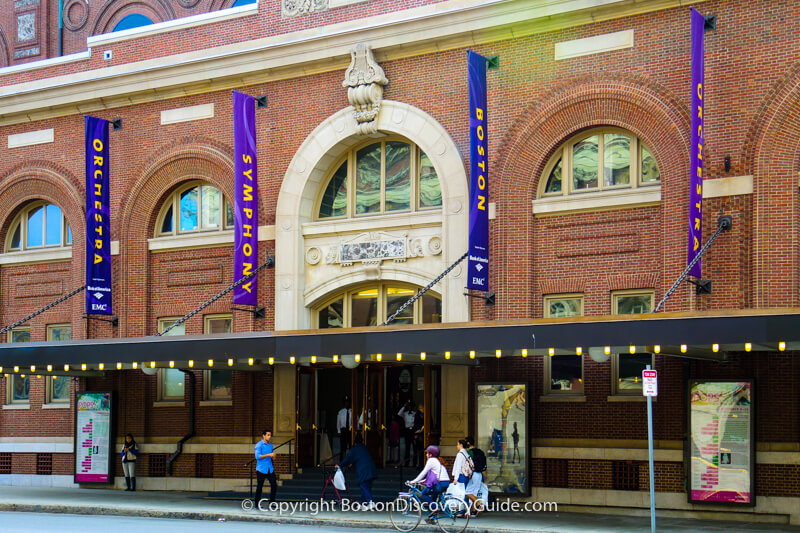 Symphony Hall - Home to Boston Symphony Orchestra and Boston Pops. Attend a concert and enjoy its perfect acoustics, or join a free tour for behind-the-scenes views and stories.
Jordan Hall - Another acoustically superb concert hall, and the main performance venue for the New England Conservatory as well as guest performers.
Free admission to many student performances - huge bargain considering that some students here are already renowned professional musicians.
---
5. Mapparium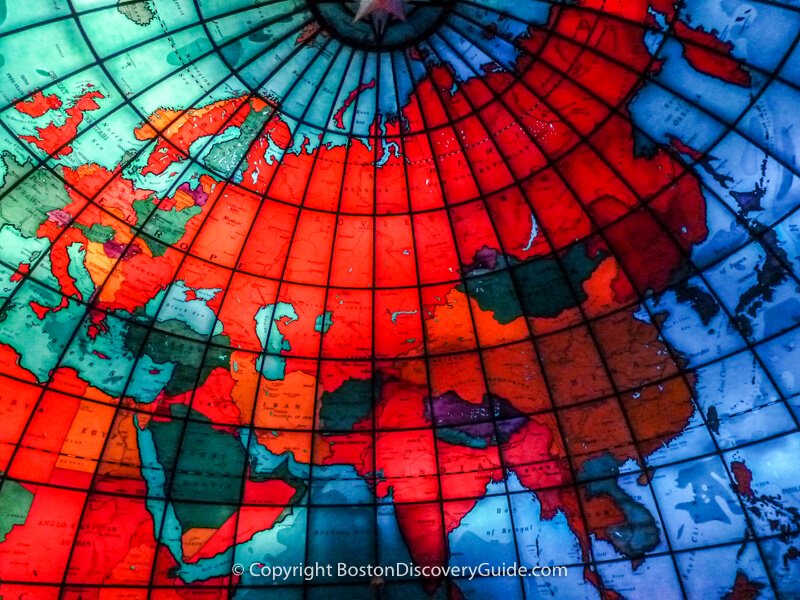 Mapparium (200 Massachusetts Ave, next to the Christian Science Mother Church) - This enormous walk-through painted glass globe in the Mary Baker Eddy Library at the Christian Science Mother Church features a 1935 world map overlaid with geography and global history. Included with Boston discount card
---
6. Back Bay Fens: Victory Gardens, Kelleher Rose Garden, Memorials
Back Bay Fens - A serpentine-shaped park designed by Frederick Law Olmsted as one of the "jewels" in the Emerald Necklace of parkland encircling Boston.
Usually just called "The Fens," and known for its World War II-era Fenway Victory Gardens, Kelleher Rose Garden, and Veterans Memorial Park.
Memorial Day services take place each spring in this grassy area containing 3 memorials honoring veterans of World War II, the Korean War, and the Vietnam War.
Although parts of the Fens are rumored to be dicey late at night, the park is filled with students, joggers, and gardeners during the day. Look for a big playground, lots of statues, and a tranquil stream called Muddy River.
---
7. Citgo Sign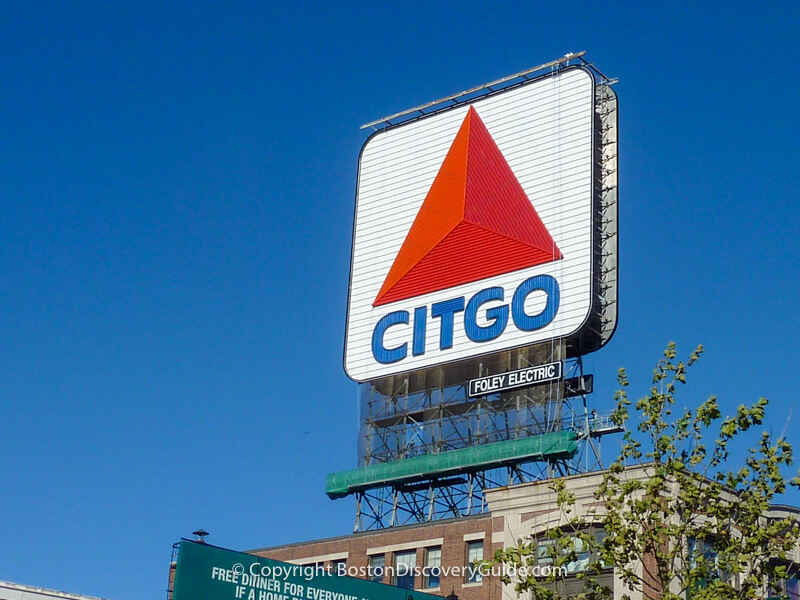 Dating back to 1940, the red, white, and blue Citgo sign measures 60 feet by 60 feet and can be seen from many Boston locations, including Fenway Park.
The sign, now considered a historic landmark, used to be neon, but now sports thousands of energy-efficient LEDs.
The lights go out at 1am - not coincidentally, also the closing time for Boston bars
---
8. Boston Marathon & Fenway Park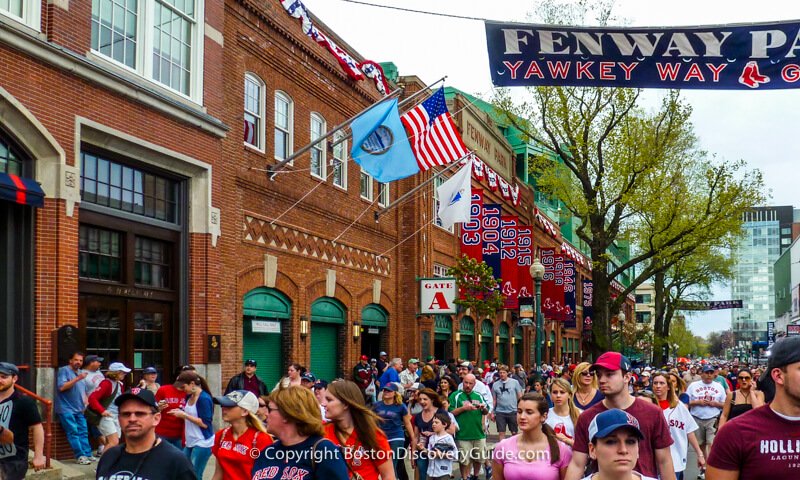 Boston Marathon - The almost-final stretch of this famous race cuts through Fenway along Commonwealth Ave.
Traditionally, the Red Sox play a home game on Marathon Day, timed to finish just as the first runners streak by.
Crowds pour out of Fenway Park to cheer on the racers as they tear through Kenmore Square on their way to the finish line in Back Bay.
---
9. Fenway: Opening Our Doors
Opening Our Doors - Annual FREE 1-day event, usually on Columbus Day weekend, to celebrate Fenway's extensive arts and cultural institutions, with free museum admissions, performances, tours, workshops, concerts, and a ton of other fun things to do.
---
10. Ramler Park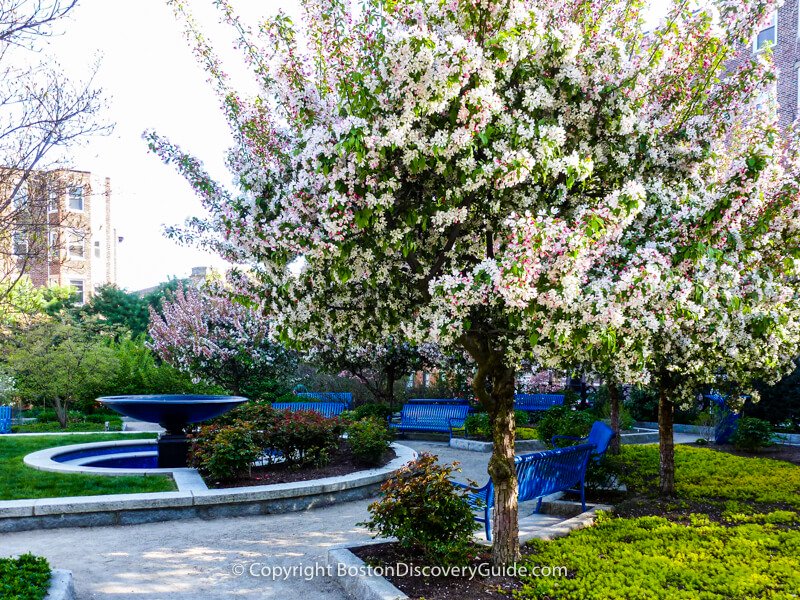 Ramler Park (Peterborough Street) - Half-acre urban oasis created from a former parking lot. Plants, flowers, benches, a fountain, plus a summer concert series make this a favorite neighborhood gathering spot.
---
11. House of Blues & Other Fenway Music Venues & Nightlife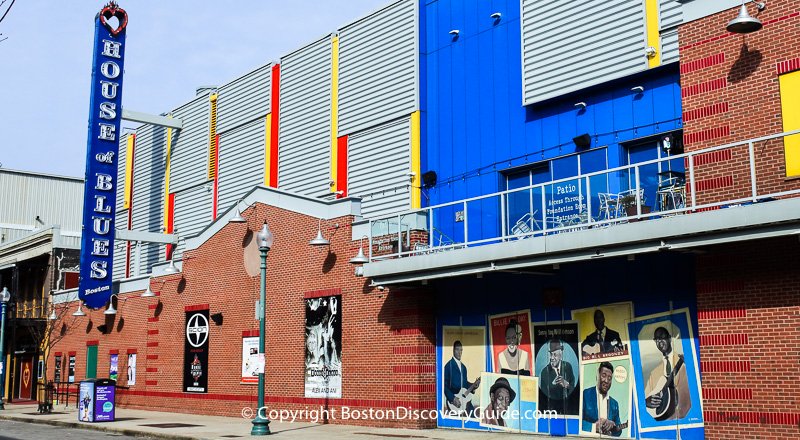 Fenway's legendary nightlife - yes, there's a lot of it - mostly clusters around Fenway Park.
Several Fenway pubs rank among the top sports bars in the city (a couple even top national lists), House of Blues and other venues showcase live music, and some places such as Bill's Bar and Loretta's Last Call manage to do both.
When the Red Sox are playing or a concert or other sports event is scheduled at Fenway Park, expect these places to be crazed. Weekends also pack in crowds. Otherwise, they're quiet (well, relatively speaking) neighborhood spots.
Boston concert schedules (including Fenway Park & House of Blues
---
12. Unique Fenway Boutiques & Stores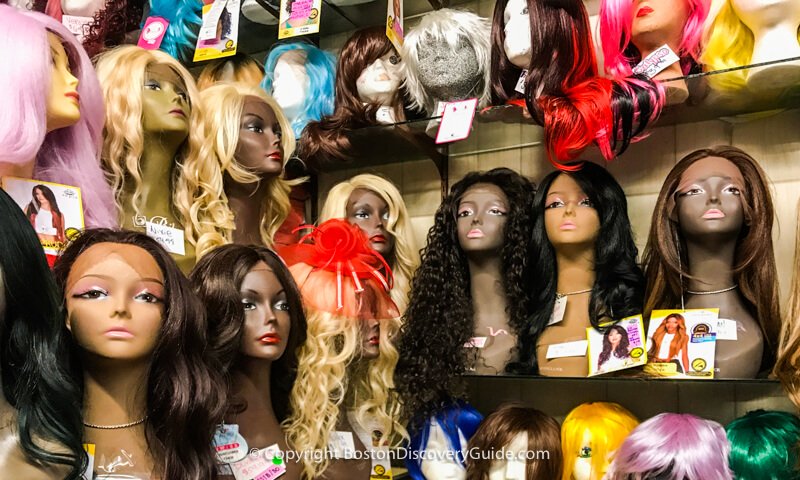 While Fenway doesn't offer the same level of shopping as, for example, Back Bay's Newbury Street, you can find some unique places to shop here.
Here are some of our favorites:
Bodega (6 Clearway St - but there's no street sign, so find Dorothy's, walk along Mass Ave toward the Christian Science Church, and turn left onto the first side street) - Enter through the door marked "6", and you're in a tiny and artfully messy place packed with packed foods and papers. Walk straight back and just before you hit the wall, a hidden door slides open to reveal a beautifully curated collection of streetwear - yes, you're in Bodega, a "store within a store," with over 100 brands of shoes, jackets and other clothing, and accessories. It's a not-so-hidden local secret, and possibly the best sneaker boutique in New England, renowned for periodically collaborating with Nike on limited edition designs. Try to look cool as you drool.
Red Sox Team Store - Everything Red Sox-related that you can imagine - and then some! Fenway Park Tours leave from here, so allow shopping time after your tour.
Dorothy's Boutique (190 Massachusetts Ave) - From floor to ceiling, every kind of costume and accessory imaginable - not just for Halloween. To be clear: these costumes are for adults and while the store is not officially 21+, you may not want to bring your kids. More about Dorothy's Boutique
---
13. Christian Science Plaza
The Christian Science Plaza contains the Mother Church and reading rooms, the Mary Baker Eddy Library and its historic Bible collection,and the Mapparium.
Outside, a reflecting pool, splash fountains, and lushly planted gardens form an oasis in this corner of the city.
---
Where to Stay: Fenway Hotels
If you're coming to a Red Sox game, spend the night or the weekend at one of the top nearby hotels, such as:
Check out more hotels near Fenway Park
---
Where to Eat: Time Out Market, Tasty Burger, & More!
Fenway boasts one of the city's liveliest dining scenes, particularly along the stretch of Boylston Street starting near Fenway Park where you'll find sports bars and burgers (don't miss Tasty Burger's Green Monster milkshake!) and then gradually becoming more upscale until you reach Park Drive where Time Out Market features kitchens created by Boston's top chefs.
---
More to Do in Boston's Fenway Neighborhood
Tour a Fenway College, University, or Professional School
Fifteen colleges, universities, and professional schools call Fenway "home," giving it the highest concentration of higher education institutes of any Boston neighborhood.
Boston University (also extends west into Allston), including their law school, business school, and other graduate schools
Northeastern University, including their law school, business school, and other graduate schools
Wentworth Institute of Technology
Emmanuel College
Simmons College
Berklee College of Music
Boston Conservatory
New England Conservatory
Massachusetts College of Art and Design ("Mass Art")
School of the Museum of Fine Arts
Massachusetts College of Pharmacy and Health Sciences
Harvard School of Public Health
Harvard School of Dental Medicine
Harvard University Medical School
Forsyth Institute
Find more information about each of these Fenway colleges, universities, and schools at Universities and Colleges in Boston
Feel Awed by the Longwood Medical Area (& Hear a Concert)
The 213-acre Longwood Medical Area bounded by Riverway, the Fenway, and Huntington Ave contain some of the world's premier medical research and care institutions, as well as top academic institutions.
More than 40,000 people work within the LMA, more than 18,000 students study here, and approximately 1 million patients receive care here each year.
Medical centers located in the Longwood Medical Area include:
Brigham and Women's Hospital (75 Francis Street)
Beth Israel Deaconess Medical Center (330 Brookline Ave)
Children's Hospital Boston (300 Longwood Ave)
Dana-Farber Cancer Institute (450 Brookline Ave) - Find out how you can help support cancer research at ScooperBowl, Boston's biggest ice cream event
Joslin Diabetes Center (1 Joslin Place, near Longwood Ave and Pilgrim Road)
The Longwood Symphony Orchestra, made up of members of Boston's medical community who are also highly accomplished musicians, performs concerts throughout the year. Find their schedule here.
---
More about Fenway
Fenway Boundaries
North: Charles River
East: Charlesgate West, Massachusetts Turnpike, Boylston St, Dalton St, Belvidere St, Huntington Ave, Massachusetts Ave
South: Southwest Corridor, Ruggles Street, Parker Street, Ward Street, Huntington Ave, Francis St
West: Muddy River, St Mary's Street, Commonwealth Ave, Boston University Bridge
Caveat: These boundaries are approximate, and opinions about Fenway boundaries vary. Boston neighborhoods don't have "official" boundaries, so they're often ambiguous and sometimes contentious.
Fenway Parking
On-street parking is almost non-existent in most areas of Fenway, aside from a few metered spaces along some parts of Boylston Street, Huntington Ave, Mass Ave, and Commonwealth Ave and a few nearby streets. You're almost always better off taking the T, especially on Red Sox game days.
But if you must drive, check out nearby parking garages and lots
Fenway T Stations
The Green Line dominates in Fenway, other than a couple of Orange Line stations:
Green Line - Kenmore
Green Line B - Blandford St, Boston University East, Boston University Central
Green Line D - Fenway
Green LIne E - Symphony, Northeastern, Museum, Longwood, Brigham Circle
Orange Line - Massachusetts Ave, Ruggles St
Fenway Center
Look for changes to the Fenway landscape during the next few years as Fenway Center, a huge 1.1 million square foot solar-powered mixed-use complex of offices, apartments, condos, space for life sciences firms, and stores begins to roll out over the next few years.
If you look around densely-developed Fenway today, you may question where Fenway Center could possibly be built?
The answer: mostly in the air - right over the Massachusetts Turnpike between Beacon Street and Brookline Ave. With much of Boston already built on land created during the 1800s by filling bays, swamps, and marshes, Fenway Center will break new ground, so to speak. Stay tuned!
Neighborhood Website
Want to know more about Fenway? The neighborhood has an all-volunteer civic organization that organizes events and also publishes a periodic online newsletter. Find it here
---
---
More to See & Do in Boston
---
More Articles Related to Fenway
---
More Historic Boston Neighborhoods to Explore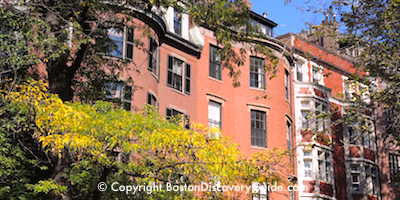 Beacon Hill - Historic Downtown Boston - Fenway - The North End - South Boston Waterfront - Bay Village - More about Boston Neighborhoods