Boston hotels near Fenway Park give you total convenience, whether you're watching a Red Sox game or attending a summer concert at the famous ball park.
If you want to enjoy the neighborhood's lively bars, clubs, and restaurants along Lansdowne, Ipswich, and Boylston Streets without worrying about having a designated driver, you can easily walk to several of these Fenway hotels in just a few minutes.
Rates at our recommended hotels near Fenway Park range from budget to luxury, and everything in between.
For the biggest bargains, make reservations in a hotel close to Fenway Park when the Red Sox are not playing home games and cheap rates become easy to find, especially during colder months.
We've also included a few hotels a bit further away from the ball park to give you additional choices, espcially at the affordable end of the price range.
And, last but not least, we've included the Fenway Park events schedule.
Boston Discovery Guide is a reader-supported publication. When you buy through our links, we may earn a commission at no additional cost for you. Learn more
---
Hotel Commonwealth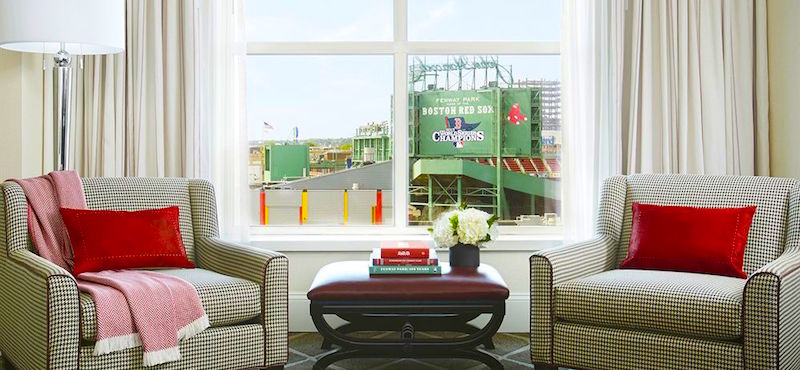 Hotel Commonwealth Boston, only 2 blocks from Fenway Park, gives you an appealing mix of luxury and great Fenway Park views, thanks to a recent expansion and makeover.
You can expect plush linens, elegant decor, top service, and a super onsite restaurant.
For an extra splurge, book the huge Fenway Park Suite with memorable views from the balcony overlooking the ball park.
The hotel faces onto lively Commonwealth Ave Mall, and is just steps away from the subway's Green Line if you're visiting Boston University.
You'll also be close to Symphony Hall, Museum of Fine Arts, and trendy Back Bay/Newbury Street shopping.
---
Verb Hotel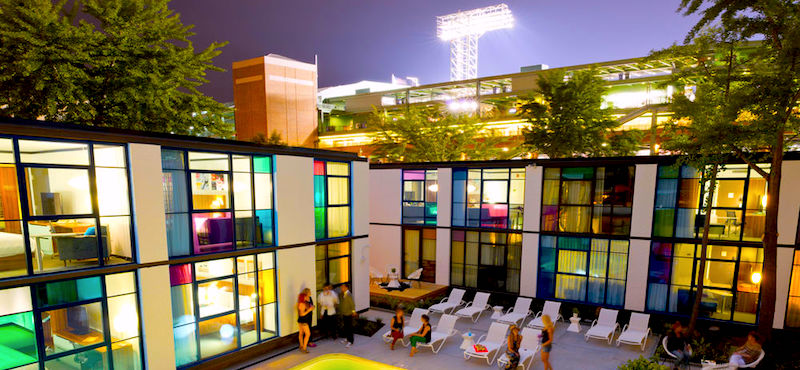 A location next to Fenway Park, a cool rock-and-roll vibe, and a trendy Japanese bar and grill make the Verb Hotel one of the hippest places to stay in the city.
You'll also like the outdoor swimming pool, and the Boylston Street location that puts you within an easy 2-5 minute walk from some of the city's best sports bars.
---
Residence Inn Fenway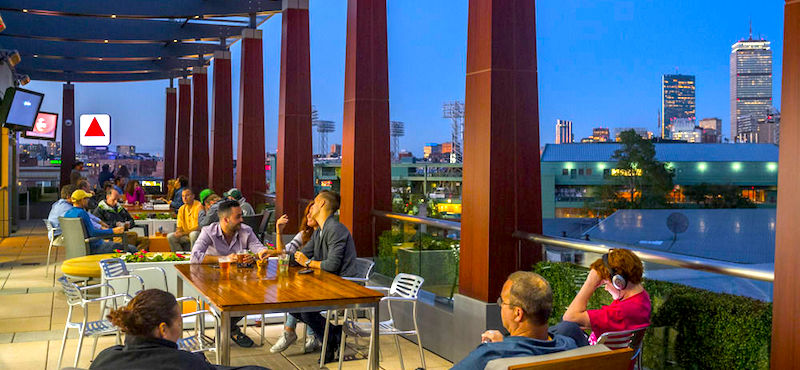 The Residence Inn Fenway, one of Boston's newer hotels, is particularly popular with families and groups of friends because of its spacious suites, top amenities, and rooftop bar overlooking Fenway Park.
Located just around the corner from Fenway Park, the 175-room and suite Residence Inn has an indoor pool, pet-friendly policies, and a super-convenient location which is also close to the Longwood Medical Area, Boston University, and Northeastern University.
Request room with a view of Fenway Park, explore the terrific restaurants along nearby Boylston Street, and enjoy some of the best sports bars in the city.
---
Eliot Hotel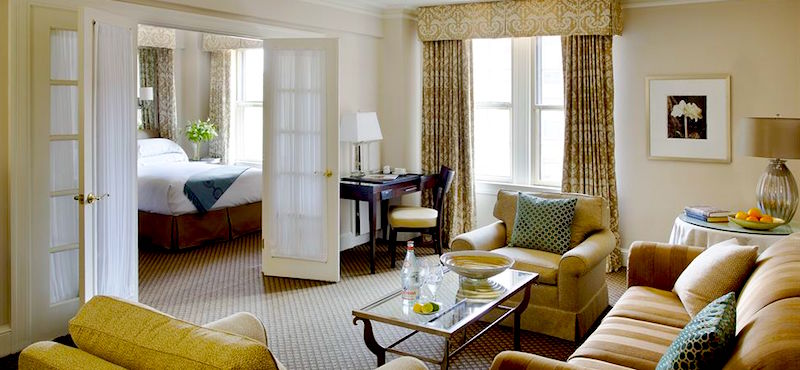 Located about half a mile from Fenway Park on Commonwealth Avenue, at the western edge of Boston's Back Bay neighborhood, the luxurious Eliot Hotel offers guestrooms and suites perfect for families and groups. You can often find 1-bedroom suites here for about the same rates you'd pay for just a room at other nearby hotels.
The Eliot is also close to Boston University and downtown Boston, yet offers all of the amenities of Back Bay: world-class shopping, a huge choice of restaurants, and the beautiful trees, statues, and mansions along Commonwealth Avenue Mall right outside the Eliot's door.
Boston Insider Tip: More Attractions near Fenway Park Hotels
You will be close to many of Boston's top visitor attractions and destinations:
Cultural Venues: Museum of Fine Arts, Isabella Stewart Gardner Museum, Mapparium at the Christian Science Center
Shopping in Back Bay: Prudential Center, Newbury Street designer boutiques
Colleges & universities: Boston University, Northeastern University, Berklee College of Music, Wentworth Institute of Technology, Wheelock College, Simmons College, Emmanuel College
Longwood Medical Campus: Beth Israel Deaconess Medical Center, Dana Farber, Brigham and Women's Hospital, Boston Children's Hospital, Harvard Medical and Dental Schools, and much more
Games & Concerts at Fenway Park
Enter DISCOVERY10 to save 10% on TicketLiquidator & TicketNetwork tickets. Good through 12/31/24.
See the full schedule and available tickets for Fenway Park events
More Hotels near Fenway Park
Hilton Garden Inn Boston/Brookline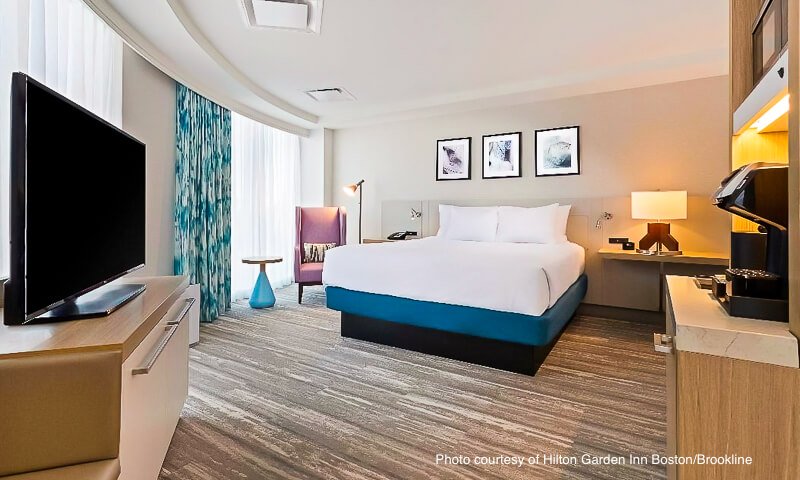 700 Brookline Place, Brookline
With 174 guestrooms and a convenient location on the Brookline/Boston border close to Fenway Park as well as top cultural attractions and universities, the new Hilton Garden Inn Boston/Brookline offers an indoor swimming pool and fitness center, onsite dining, and easy access to the famous ball field by commuter rail or a short walk (the distance is slightly over a mile through interesting parts of the Fenway neighborhood).
If you're driving into the city from the west, you'll also appreciate the hotel's convenient location close to the Mass Pike (I-90) and Route 9 and affordable (for Boston) valet parking.
Hilton Hotel Back Bay Boston
Adjacent to Hynes Auditorium and Prudential Center, this business hotel is slightly less than a mile from Fenway Park. You can sometimes find excellent bargain rates on the weekends. Enjoy the indoor pool and sweeping views from top floors. Rates & reviews
Gryphon House
This luxury inn/B&B, located about 4 blocks from Fenway Park, occupies a gorgeous Victorian mansion overlooking the Charles River and offers comfortable suites, with breakfast included. Rates and reviews
Inn at Longwood Medical
Located in the heart of the Longwood Medical Area, this comfortable hotel is about half a mile from Fenway Park - an easy 10-minute walk. Rates and reviews
Holiday Inn Brookline
Located in a tree-filled area of Brookline near Boston University, this Holiday Inn is about three-quarters of a mile from Fenway Park. If you don't want to walk, you can hop on the subway's Green Line right outside the hotel and take it to Kenmore Square, where Fenway Park is located. Rates and reviews
More Boston hotels: All Boston Hotels - Newest Hotels - Deals & Discounts - Theatre District Hotels - Boston Marathon - Hotels with Fireplaces - Seaport/CruisePort Hotels - New Year's Eve Packages - Inexpensive Hotels - Discount Hotels - Back Bay Hotels - Hotels near Fireworks - Hotels with Outdoor Pools - Faneuil Market Hotels - Valentine's Day Packages - Downtown Boston - Park & Fly - Airport Hotels - Waterfront - Seaport - Historic Downtown - Suburban Hotels - Fenway Park Hotels - TD Garden Hotels - Gillette Stadium Hotels - Financial District
---
More Articles about Boston Hotels near Fenway Park
Fun Ways to See Boston
Need a Boston Hotel or Apartment?
Use this handy map from Booking.com to find the perfect place to stay. Just enter your dates to find what's available, see the best rates, and make your reservations.