The famed Newbury Street shopping district in Boston's swanky Back Bay neighborhood is where you'll find internationally known designers such as Marc Jacobs, Chanel, and Ralph Lauren, trendy boutiques such as Pink, national retailers such as Rag & Bone, and local locally owned shops such as Betsy Janney, L'Elite, and Soodee.
If Newbury Street doesn't offer what you're looking for, visit nearby Boylston Street, Prudential Center, and Copley Place to sample a full array of international boutiques including Gucci and Saint Laurent, national brands such as Neiman Marcus, unique local shops, mid-range and big-box retailers, department stores, discounters - basically, every thing you want can be found here.
Newbury Street is located in Boston's elegant Back Bay neighborhood. All the shops can be found along 8 blocks sandwiched between the Public Garden and Massachusetts Avenue. As you can see in many of the photos on this page, grand Victorian mansions line both sides of the street, although you'll also notice a few modern buildings tucked in here and there.
In addition to shopping, Newbury Street is where you'll find elegant hotels and guest houses such as Newbury Hotel Boston (formerly the Taj), top salons and spas, and fashionable restaurants such as Sonsie and La Voile.
Top photo: Boutiques along Newbury Street in Boston's Back Bay neighborhood
---
International Designer Boutiques on Boston's Newbury Street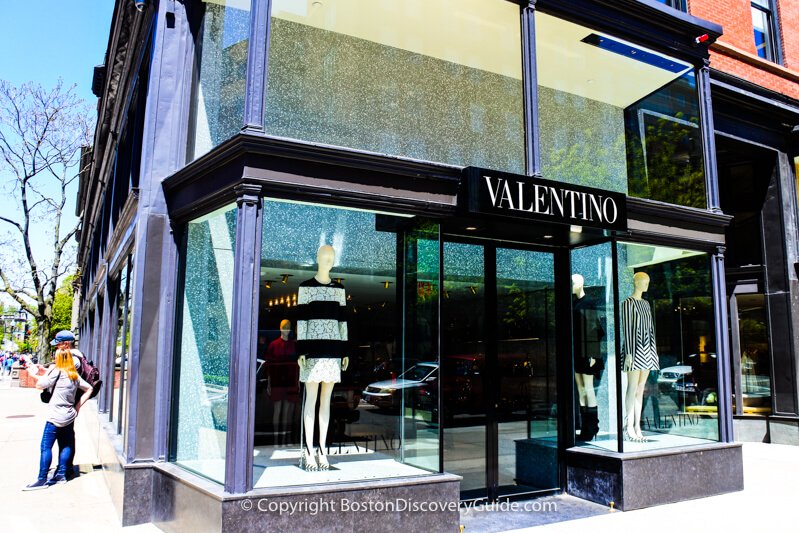 Newbury Street is where you'll find big-name designers - Valentino, Chanel, Marc Jacobs, and Ralph Lauren.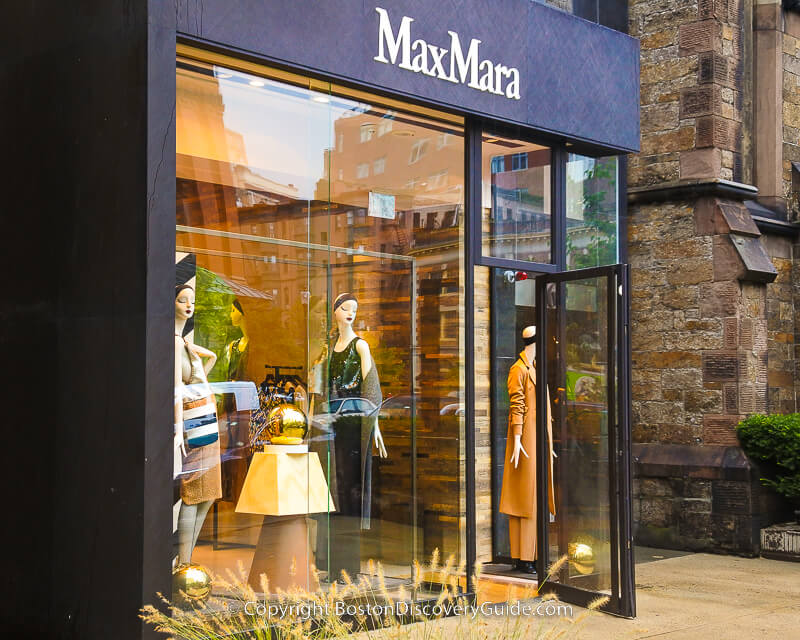 Generally speaking, the most famous (and most expensive) brands occupy prime real estate on the eastern end of Newbury Street close to the Public Garden.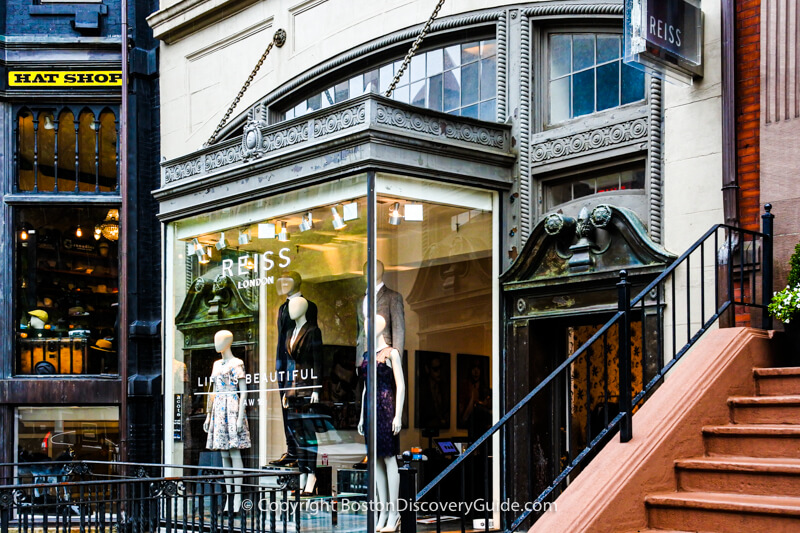 This is where you'll find a cluster of internationally and locally renowned clothing boutiques and jewelers: Burberry, Tiffany, Chanel, Armani, Alan Bilzerian, Cartier, Brooks Brothers, L'Elite Bridal, Valentino, and Shreve, Crump, & Low.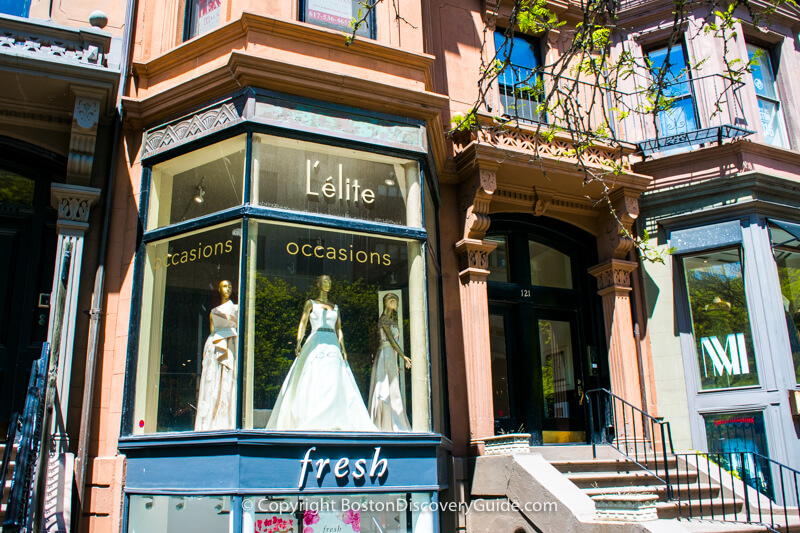 But sometimes, the focus on the Newbury Street's most famous boutiques makes it easy to forget that this is a neighborhood where people shop for all kinds of everyday items.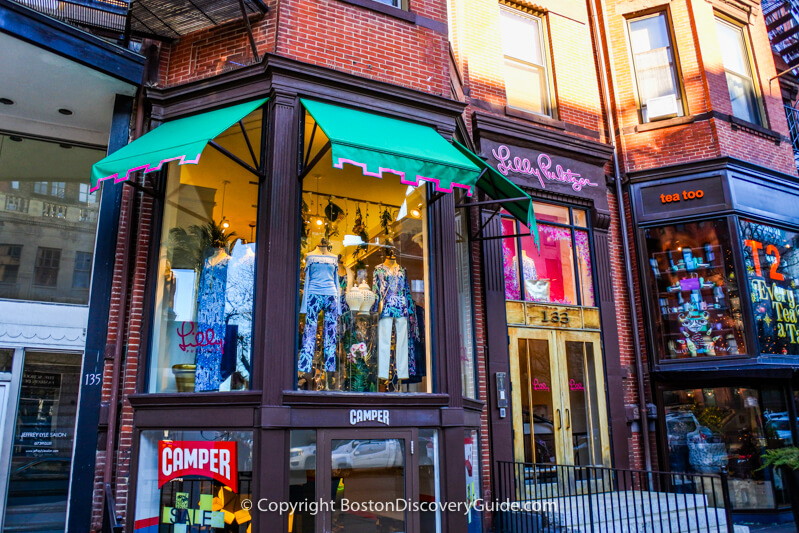 Restoration Hardware occupies an historic building once occupied by the Boston Museum of Natural History (precursor to today's Museum of Science).
But there's also an actual hardware store, and further west toward Mass Ave, a paint store (ok, they do carry the exalted British brand Farrow and Ball, but you can also get affordable paint and supplies here too).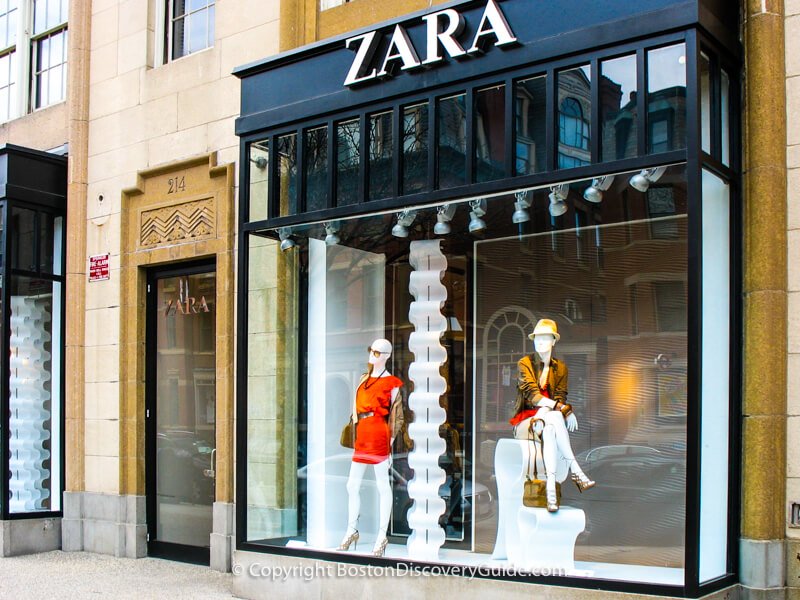 Tucked between the international brands, you'll find hat shops, a design-your-own bag boutique, Sophora, fitness studios, mid-market fashion brands such as Zara, Victoria's Secret, and a Nordstrom Rack.
There is also a huge - and hugely popular - H&M in a corner location extending all the way through to Boylston Street.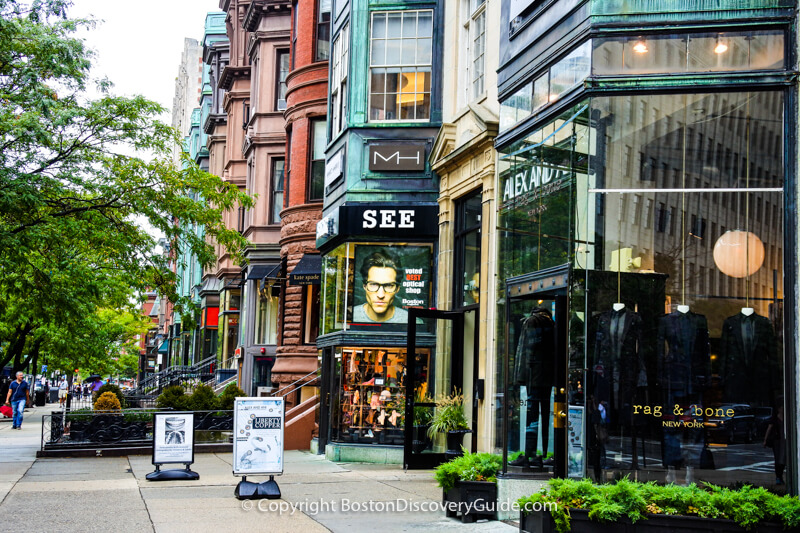 Once you walk a few blocks west from the Public Garden, boutiques become slightly less glitzy and more focused on edgier design, contemporary styles, and affordable price ranges.
Although Newbury Street attracts plenty of well-heeled Boston visitors and tourists who seek out the famous international boutiques, it is also a favorite shopping area for Boston's huge community - about 250,000 strong - of university students.
---
Local Shops & Designers on Newbury Street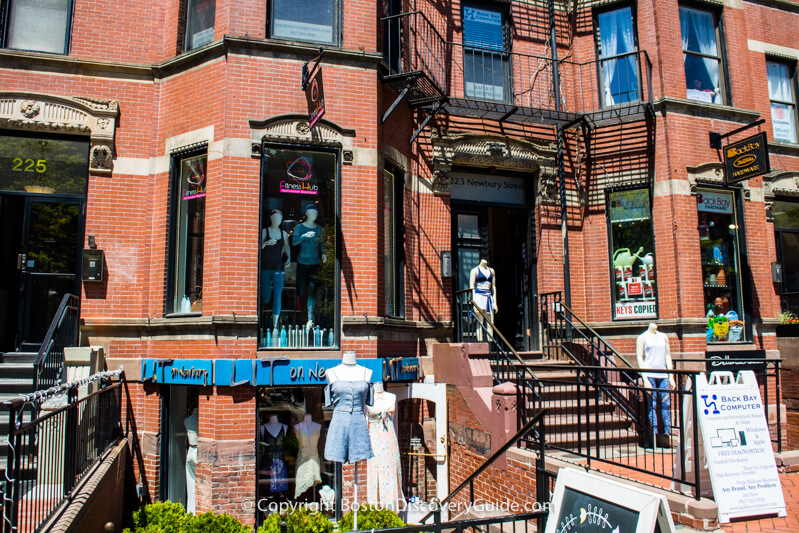 Fashionistas on a budget swear by the small, mostly locally owned boutiques such as LIT, No Rest for Bridget, and Soodee as well as consignment shops such as Second Time Around, Revolve, and The Closet filling the western end of Newbury Street.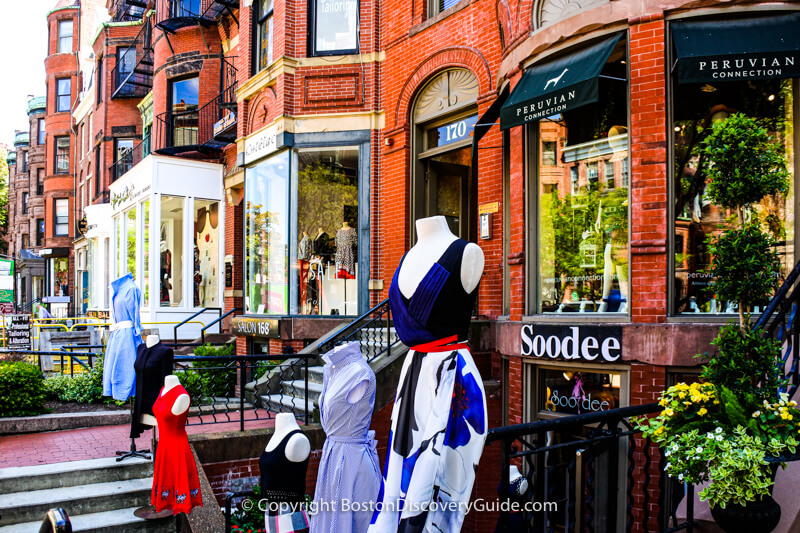 Decades ago, before the international brands moved in, independent local designers dominated Newbury Street and made it the city's mecca for creativity in the design world.
For many shoppers, this is still the most interesting section of the street, even though you will see larger brands such as Madewell, UNIQLO, and Patagonia here as well.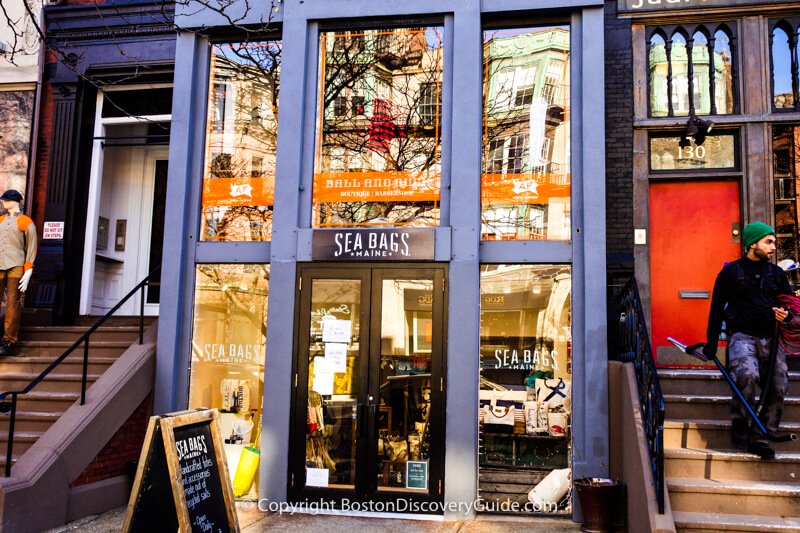 Shops, restaurants, and other businesses typically occupy the ground floor (which may require 5-10 steps or more to reach, the second floor, and the space several steps below ground level.
This is due to the design of the original Victorian brownstones which most businesses here occupy.
All of Back Bay was built on reclaimed land, starting in about the 1860s, and boasts of the largest areas of well-preserved Victorian buildings and architecture in the United States.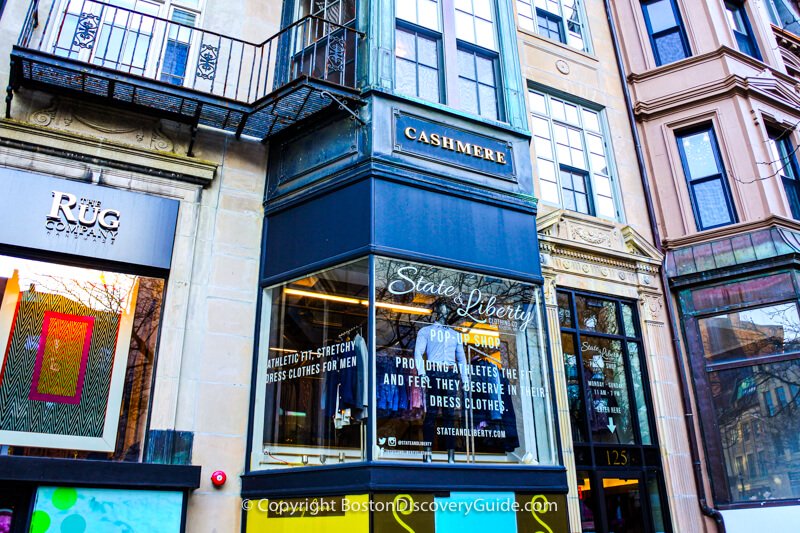 State & Liberty, purveyor of clothing for people with athletic builds, started as a pop-up shop on Newbury Street before committing to a more permanent presence.
Although some stores have been here for decades, others come and go as fashions change over time. You'll almost always find something new to explore!
---
More Types of Stores on Newbury Street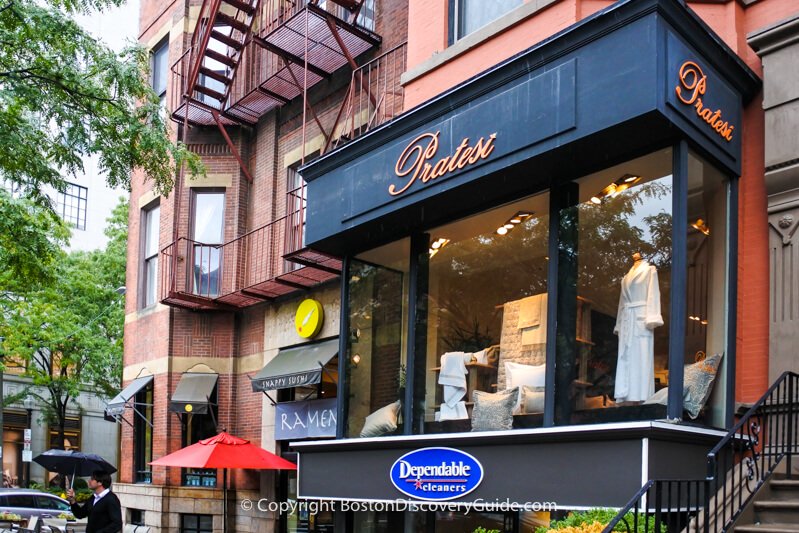 Newbury Street shopping includes way more than just clothes. You'll find high-end home furnishing stores such as Anthropology and Simon Pearce, plus antique stores, bookstores, and jewelry boutiques.
Trident Bookseller combines an all-day cafe of freshly-prepared comfort food favorites with a bookstore and almost nightly events such as readings by writers.
A large number of Newbury Street art galleries, most of which specialize in established and even famous artists, make this a popular destination for gallery strolls.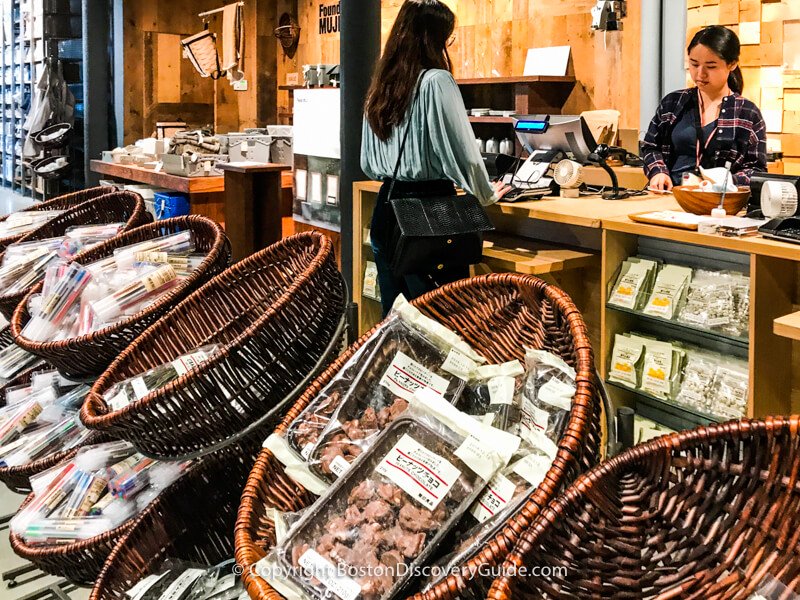 Japanese concept store Muji offers a bit of everything, all carefully curated to reflect a minimalist by stylish design aesthetic: clothing, luggage, home furnishings, tableware, food items.
You'll almost always see flocks of customers browsing in the area with small lucite storage drawers for pens, paperclips, and makeup.
And let's be honest: thanks to the always-on aroma therapy diffusers, the additively scented air makes this store hard to leave!
---
More Shopping Streets & Upscale Malls near Newbury Street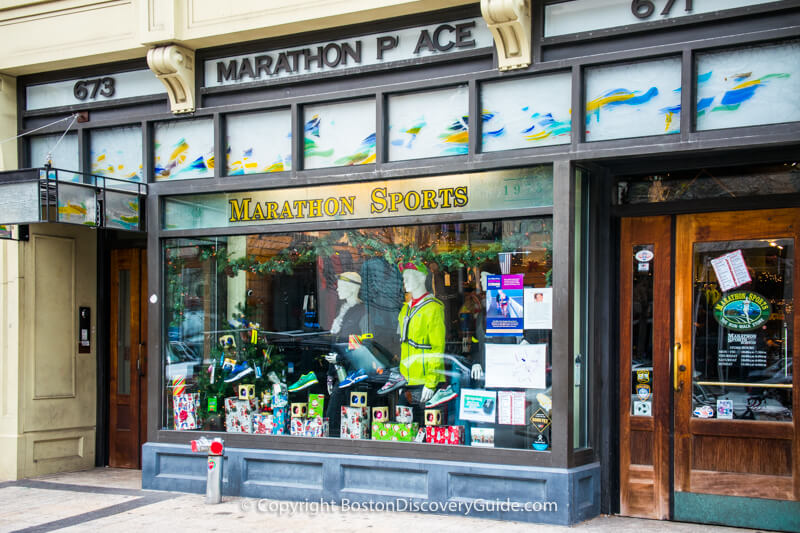 Only one block away is Boylston Street, running parallel to Newbury, where you'll find even more top shopping opportunities.
In addition to huge sporting goods emporiums such as Eastern Mountain Sports and City Sports, you'll find Back Bay's Apple Store, luxury linen purveyor Frette next to the Mandarin Oriental Boston Hotel, and even big discounter Marshalls.
But if that's not enough, upscale Prudential Center is steps away from the Mandarin Oriental. Anchored by Saks Fifth Avenue and Lord & Taylor, Pru Center is also home to the highly popular Eataly food complex.
For even more shopping, walk through the skywalk from Prudential Center to Copley Place, yet another luxury Boston shopping mall loaded with internationally renowned designers, including several who also have boutiques on Newbury Street.
Anchored by Neiman Marcus, Copley Place is home to Jimmy Choo, Dior, Armani, Tiffany, and more high-end brands.
---
More to Do & See On & Near Newbury Street
If you're visiting Boston, you'll find plenty of additional attractions to explore along and near Newbury Street, including Copley Square, the art-filled Boston Public Library, and Trinity Church and other historically or architecturally interesting churches.
Visiting the area with some less-than-enthusiastic shoppers? Send them over to King's Dining & entertainment where they can bowl, play other games such as skee ball, and chow down on burgers and (if 21+) beer. Fenway Park is also within easy walking distance (about 8-10 minutes) from the end of Newbury Street to the west of Mass Ave, in case your non-shopper companions want to see a game or take a tour.
Because if you love shopping, you'll want plenty of time - maybe a day or more - to explore all the stores in this fantastic and fascinating neighborhood!
---
Where to Stay & Dine Near Newbury Street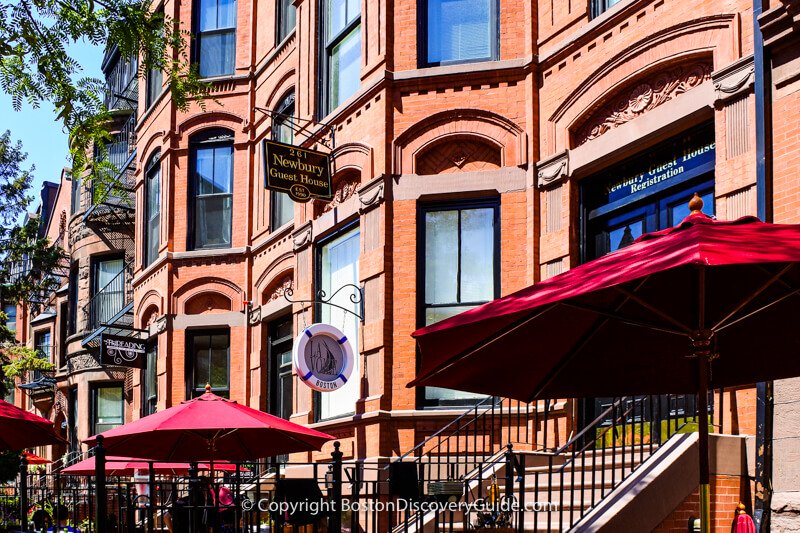 Newbury Street (& Nearby) Back Bay Hotels
Do you need more than one day to visit all the stores and boutiques on Newbury Street and the other nearby shopping areas?
Staying in a nearby hotel give you the ultimate convenience - and whatever your budget, you'll find excellent choices. Take a look:
Affordable Budget Accommodations in Back Bay
Charlesmark Hotel - Enjoy a drink on the outdoor patio after a long day of shopping at this affordable boutique hotel in a prime Back Bay location across from the Boston Marathon finish line - Find out more
Copley Square Hotel - One of Back Bay's best-loved bargain hotels - come enjoy its stately 1891 Italian Renaissance/Beaux Arts exterior and the warm hospitality inside - Check reviews & rates
Mid-Range Hotels Close to Newbury Street
Newbury Guest House - Boutique hotel with 35 nicely furnished guest rooms and complimentary breakfast in a Victorian brownstone on Newbury Street. Bonus: Top French restaurant La Voile is on the ground floor - Check rates & availability
Lenox Hotel - Elegant hotel with superb personalize service and wood-burning fireplaces in some rooms - Rates and reviews
The Newbury Boston - Overlooking Newbury Street and the Public Garden, The Newbury mixes luxury with the perfect location - Rates & reviews
5-Star Luxury Back Bay Hotels
Mandarin Oriental Boston - Splurge on a guestroom or suite and let the Mandarin Oriental pamper you after your shopping spree - Rates & reviews
Fairmont Copley Plaza - Enjoy the glamour and personalized service at this famous hotel overlooking Copley Square - Rates and reviews
More Back Bay hotels near Newbury Street shopping destinations
Where to Dine & Drink on Newbury Street
Need to refresh, refuel, and relax after all your shopping?
Newbury Street boasts well over 50 cafes, restaurants, coffee shops, tea rooms, bakeries, wine bars, juice bars, bistros, and ice cream, gelato, and chocolate shops.
Here's just a small sample to make your mouth water:
Dining: Sonsie, Serafina, Stephanie's on Newbury, Itadaki, Piattini Wine Cafe, La Voile, Kashmir, Cafeteria, Trident Bookstore, Double Zero Pizza, Beantown Pho & Grill, Wens Yunnan Noodle, Deluca's Market (carryout)
Drinking: Mother Juice, 1855 Bar a Vins, Pavement Coffee House, Tea Forte, Caffe Nero, Dunkin Donuts, Barrington Coffee, Thinking Cup, Egalitea Organic Cafe
Sweet things: Ben & Jerry's, Lady M, Patisserie on Newbury, Amorino Gelato, JP Licks, Teuscher Chocolatier
Find the best outdoor dining in Back Bay
---
More Places to Shop in Boston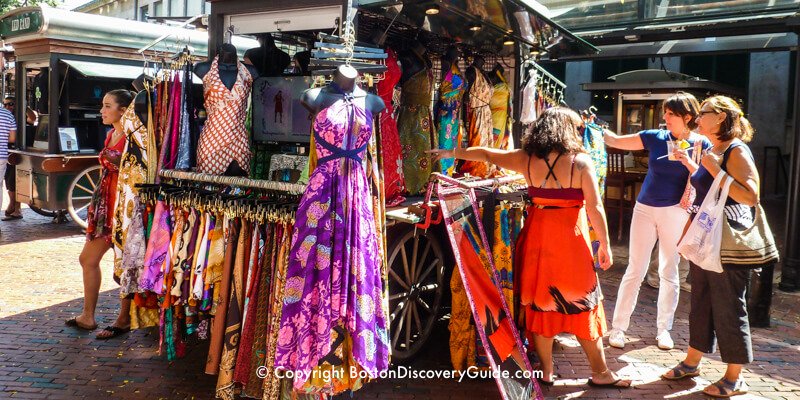 ---
Newbury Street Fashion . . . At a Discount
Although some Newbury Street boutiques offer affordable prices, others can flatten your wallet faster than you realize, especially when you get tempted by the most famous (and expensive) international fashion labels.
So how do you get the look you covet without breaking the bank?
That's where sales and discounts will be your friend.
You have two good choices:
Hit the seasonal sales - Semi-annual clearance sales after Christmas and after July 4th, as well as major holiday weekends like Indigenous Peoples Day, Memorial Day, and Black Friday (the day after Thanksgiving) are when you'll find the biggest sales and deals. Rule of thumb: the more expensive the stores offer the best savings.
Head down to Wrentham Outlets, the biggest discount shopping mall in Massachusetts - Gucci, Brooks Brothers, Coach, AllSaints, Armani, Burberry, and many of the other boutiques you'll find on Newbury Street also have stores here with regular discounts of up to 65-70% off - plus even more during sales. And to find even more luxury brands, shop Bloomingdale's outlet store.
---
Getting to Newbury Street
Newbury Street location: Boston's Back Bay neighborhood
Closest T (subway) stations: Green Line/Arlington (east end), Copley (central), and Hynes Convention Center (west end)
Parking: Prudential Center's large underground parking garage is the most convenient, but unless you buy something for $10 or more at Prudential Center and get your ticket validated, you'll be paying a lot for the convenience (more information: Pru Center website). Boston Common Garage has lower prices if you don't mind the 5-10 minute walk.
---
Another Way You Will Save on Newbury Street
If you are visiting from other states or overseas, you may benefit from a "hidden" savings when you shop for clothes on Newbury Street (and everywhere else in Boston): no sales tax on clothing items under $175. Massachusetts sales tax on non-clothing items and clothing costing $175 or more is only 6.25%.
Are you visiting from a country with a high VAT, or from a U.S. state where clothing is taxed? If so, you can expect to enjoy significant tax savings when you shop here!
---
More Articles about Shopping in Boston
---
Fun Ways to See Boston
---
Need a Boston Hotel or Apartment?
Use this handy map from Booking.com to find the perfect place to stay. Just enter your dates to find what's available, see the best rates, and make your reservations.