Home > Boston Shopping >
Newbury Street Shopping
Posh Boston shopping in Back Bay
Famed Newbury Street shopping in Boston's Back Bay neighborhood brings together internationally known designers such as Marc Jacobs and Ralph Lauren, trendy boutiques, national retailers, and individually owned shops.
If Newbury Street doesn't offer what you're looking for, visit nearby Boylston Street, Prudential Center, and Copley Place to sample a full array of international boutiques, national brands, unique local shops, mid-range and big-box retailers, department stores, discounters - basically, every thing you want can be found here somewhere.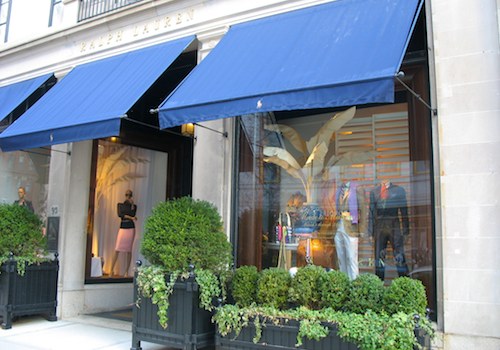 Newbury Street is where you'll find big-name designers - Valentino, Chanel, Marc Jacobs, Ralph Lauren . . . but fashionistas on a budget will also find more affordable options - Swedish retailer H&M, high-end consignment shops Second Time Around and The Closet, Zara, and more.
Newbury Street shopping includes more than just clothes. You'll find high-end home furnishing stores such as Madura and Simon Pearce, plus antique stores, bookstores, and jewelry. Hotel Chocolat, Pierre Deux, and Nespresso are just a few places where you can buy great gifts.
A large number of Newbury Street art galleries make this a popular destination for gallery strolls.
Newbury Street is located in Boston's elegant Back Bay neighborhood. All the shops can be found along 8 blocks sandwiched between the Public Garden and Massachusetts Avenue. As you can see in the photo show, grand Victorian mansions line both sides of the street, although you'll find some modern buildings tucked in here and there.
In addition to shopping, Newbury Street is where you'll find the elegant Taj Boston Hotel, top hair salons, fashionable restaurants such as Sonsie, one of Boston's most perennially popular nightspots.
Only one block away is Boylston Street, running parallel to Newbury, where you'll find even more top shopping opportunities. In addition to huge sporting goods emporiums such as Eastern Mountain Sports and City Sports, you'll find Back Bay's Apple Store, Anthropologie, luxury linen purveyor Frette next to the Mandarin Oriental Boston Hotel, and even discounter Marshalls.
But if that's not enough, upscale Prudential Center is steps away from the Mandarin Oriental. Anchored by Saks Fifth Avenue and Lord & Taylor, Pru Tower also offers some of the best views in Boston from the Prudential Skywalk and Top of the Hub restaurant.
For even more shopping, walk through the skywalk from Prudential Center to Copley Place, yet another luxury Boston shopping mall loaded with internationally renowned designers.
Anchored by Neiman Marcus, Copley Place is also home to Jimmy Choo, Dior, Armani, Tiffany, and more.
If you're visiting Boston, you'll find plenty of additional sites along Newbury Street, including Copley Square, Trinity Church, and a number of other historically or architecturally interesting churches. But if you love shopping, you can easily spend an entire day just browsing in all the stores.
If you enjoy Newbury Street shopping, check out: