If gallery-hopping is your idea of the perfect weekend experience, Newbury Street art galleries in Boston's fashionable Back Bay neighborhood are the ideal place to start. Pair your art stroll with one of Back Bay's popular wine tasting tours, and you'll have a memorable afternoon.
The galleries located in the Victorian mansions along this 6-block stretch of Newbury Street showcase Boston's largest range of artistic periods and styles - everything from affordable art by emerging artists to museum-quality pieces by Old and New Masters.
Many of the Newbury Street art galleries have been located on this famous 6-block long Boston shopping district for decades, and in a few cases, generations.
While a few cater mainly to museums and wealthy international connoisseurs with budgets in the millions, others offer art priced to attract new collectors and casual buyers.
Still others are where residents of Back Bay's spectacular townhouses, condos, and mansions go to buy art for their homes - and occasionally sell pieces as well.
What if you just want to browse? Will you be welcome you if you don't have a million or even a thousand dollars to spend on art?
Yes, don't worry. The gallery owners and staff are used to browsers who come just to look in and not buy . . . and they're also savvy enough to know sometimes the most casual looker may someday fall madly in love, pull out a credit card, and purchase something to take home and live with happily ever after.
Our map at the bottom of this page will help you find locations for the Newbury Street art galleries. And then, pick an afternoon and head over to Newbury Street for some world-class gallery-hopping and wine sipping.
Interested in seeing more art in Boston? Check out our art museums
Top photo: Child's Gallery on Newbury Street
Boston Discovery Guide is a reader-supported publication. When you buy through our links, we may earn a commission at no additional cost for you. Learn more
---
Newbury Fine Arts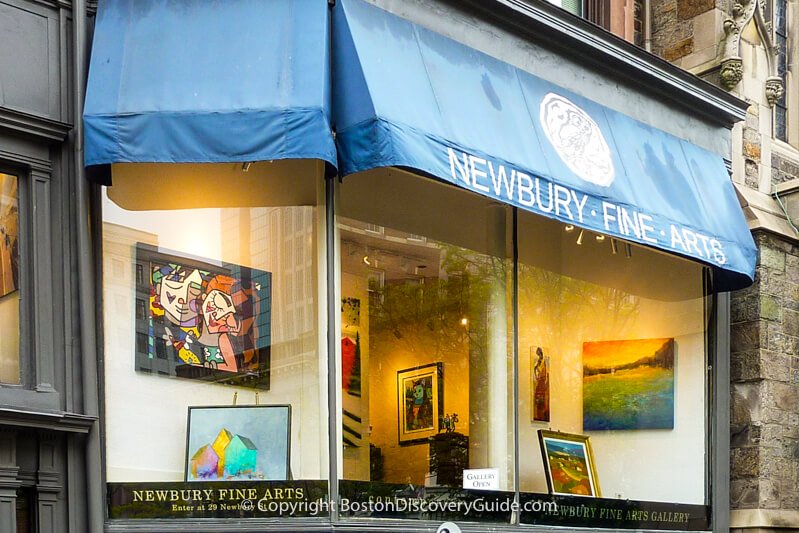 Opened in 1984 by two devoted collectors who wanted to share their art and love of art with others, Newbury Fine Arts features fine works by an interesting mix of top contemporary artists from all over the world. Many of the artists have exhibited here for years as their fame has grown.
Newbury Fine Arts draws upon its long-standing ties to the music world to bring together music and art in occasional "celebrity" exhibitions. These have featured the work of singer Tony Bennett, Police guitarist Andy Summers, and Rolling Stone lead guitarist Ron Wood.
Unless you happen by when a celebrity event is underway, the reason that you'll probably find this gallery interesting is that whatever your ideal price point is, you can probably find an affordable piece of high-quality work that you will love. Bottom line? This Newbury Street art gallery puts art in its proper place: your home.
35 Newbury St; 617-536-0517; www.newburyfinearts.com
---
Galerie d'Orsay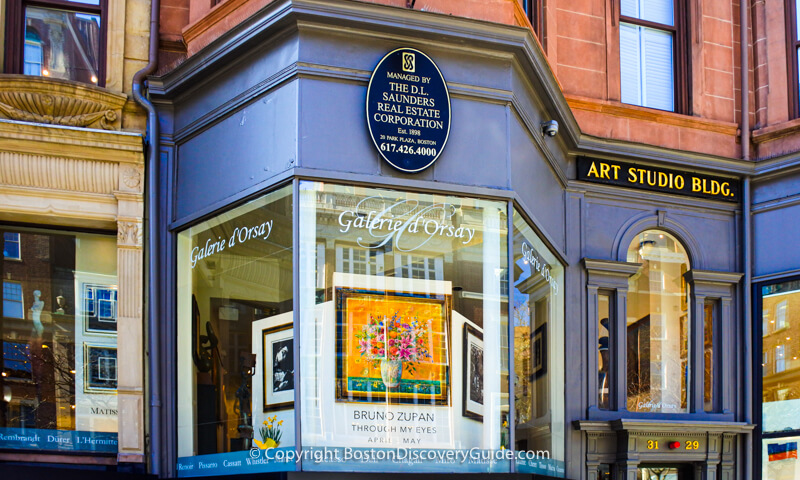 Galerie d'Orsay offers works ranging from Old Masters such as Rembrandt and Renoir to early 20th century modernists such as Picasso and Miro to contemporary painters, print makers, and sculptors such as Bruno Zupan, Luc Leestemaker, and Samir Sammoun.
Shows run for about a month. The wide-ranging periods and styles mean that you could stop by every time you visit Boston and see something completely different and interesting.
33 Newbury St; 617-266-8001; website
---
Gallery NAGA
NAGA specializes in contemporary art and studio furniture, typically rather avant garde and experimental. Out of all the Newbury Street art galleries, Boston's NAGA is where you'll typically see the most cutting-edge pieces.
Shows typically last 3, maybe 4 weeks, with a week off in between exhibitions.
67 Newbury St; 617-267-9060; www.gallerynaga.com
---
Galleria Florentia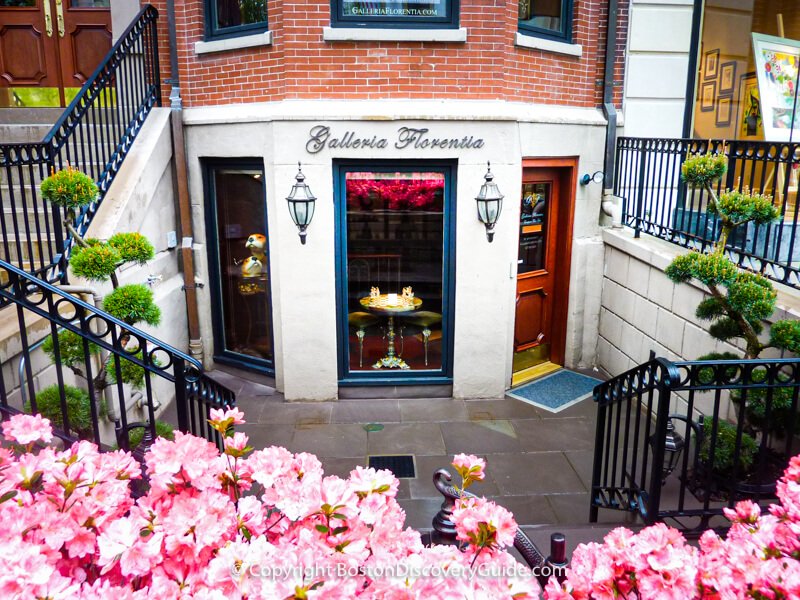 Somewhere between art gallery and high-end home furnishings / decorative arts, Galleria Florentia specializes in bronzes, European wood inlays (both furniture and decorative items), exquisite porcelains, leather bound books and other items, and breath-taking, spectacular, wish-I-could-have-every-single-piece Murano glass.
The Murano glass alone is reason to stop by. But when you see the other museum-quality items in this very chic Newbury Street art gallery, you'll be doubly glad that you did.
79 Newbury St; 617-585-9200; website
---
Arden Gallery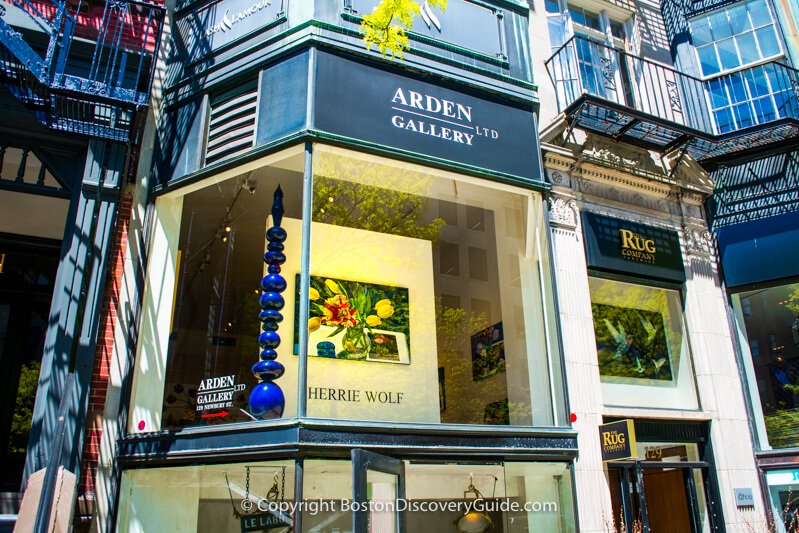 You'll find an interesting and eclectic mix of emerging and mid-career contemporary artists working in a wide range of styles at the Arden Gallery. Abstract, super-realism, surrealism, minimalist - you'll find it all here.
Exhibits feature artists such as Tom Seghi, Teri Malo, Joanne Mattera, Anthony James, and Sharon Booma.
If you like contemporary art, you're sure to find a lot of things of interest in this popular Newbury Street art gallery.
129 Newbury St; 617-247-0610; www.ardengallery.com
---
Brodney Antiques & Jewelry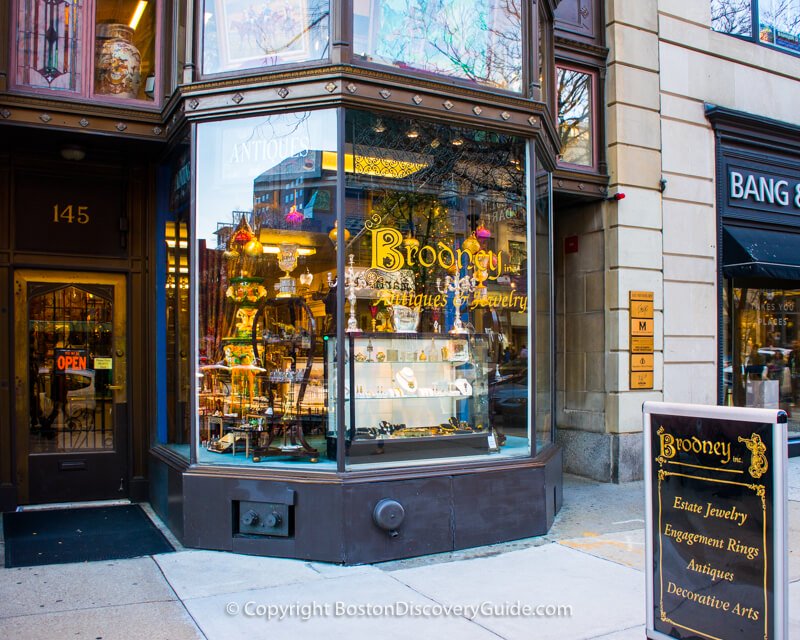 Although as Brodney's name suggests, the emphasis here in on antiques, collectibles, and estate jewelry, you'll find enough sculpture and paintings here to make a visit worthwhile, especially if your interests lie in pre-20th century American, European, and Asian art.
The emphasis is on very good to museum quality items, and not surprisingly, this family-owned shop (now run by the younger generation) is a favorite of serious collectors - and just about everyone else who shops here.
176 Newbury St; 617-536-0500; website
---
Rolly-Michaux
Just off Newbury Street, one of Boston's top art galleries is located in the historic Vendome building on the corner of Dartmouth Street and Commonwealth Avenue.
Ron Rolly and Ron Michaux have been art dealers and gallery owners since 1967, and focus on 20th century master graphics, watercolors, drawings, and contemporary American and European artists and photographers.
In the light-filled space, you'll see work by contemporary artists such as Robert Castagna and Robert Sweeney.
290 Dartmouth Street; open Tues-Fri 11am-4pm and Sat 11am-5pm; 617-536-9898
---
DTR Modern Galleries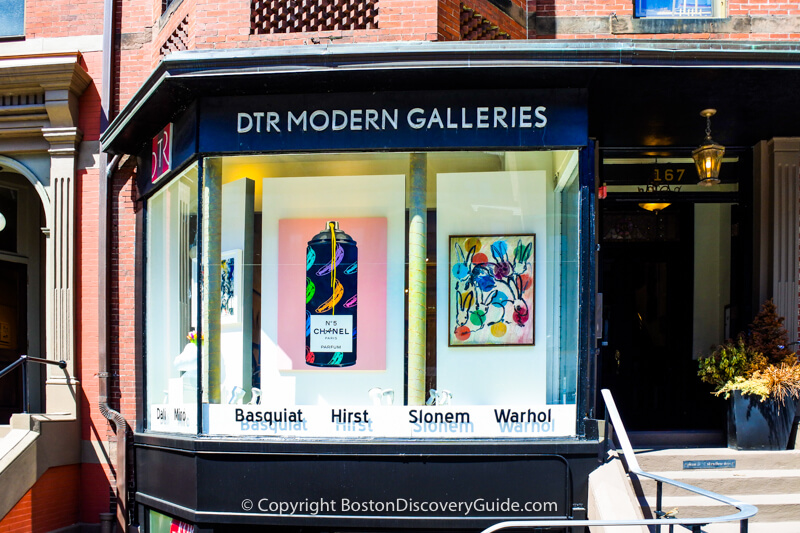 DTR Modern Galleries, which also has branches in New York and Palm Beach, specializes in 20th century modern masters and 21st century big-name contemporary artists.
You'll see Basquiat, Dali, Miro, Warhol, Hirst, Picasso, and Matisse - as well as many others not so well known. The gallery focuses on newer enthusiasts as well as serious connoisseurs, and both private and corporate collectors.
167 Newbury St; 617-424-9700; website
---
Childs Gallery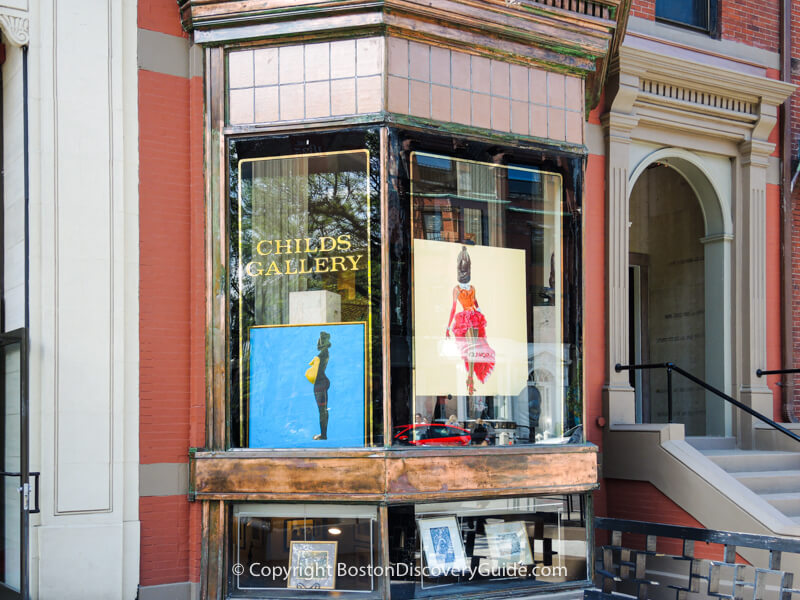 Specializes in high quality European and American paintings, prints, watercolors, drawings, and sculpture, from Renaissance through the 1950s.
Among all of its other famous artists, Childs Gallery represents the late Boston-born sculptor, Donald De Lue (that's his Cosmic Head in the window) - you may have noticed his magnificent Quest Eternal statue next to Prudential Center's Boylston Street entrance.
Established in 1937, Childs is the oldest of the commercial Newbury Street art galleries, and has a huge inventory - one of the largest in the U.S. In addition to art that appeals to mainstream tastes and would look perfect in elegant settings, the highly knowledgeable staff at Childs also seeks out works that may be slightly overlooked, out of favor, or unusual.
As a result, you never know what you'll find here, and there's a good chance that you'll see something very interesting. Exhibitions usually run for about 8 weeks, and may feature groups of artists, individuals, or works based on particular techniques, media, or themes.
169 Newbury St; 617-266-1108; website
---
Pucker Gallery
Drawings, paintings, prints, photos, sculpture, and ceramics by contemporary artists from all over the world - especially African, Israeli, Japanese, and European artists.
Pucker Gallery offers informative and interesting audio tours on two of its floors.
240 Newbury St, 3rd floor; 617-267-9416; www.puckergallery.com
---
Marcoz Antiques
Within its three very fine antique furniture and decorative art galleries, Boston's Marcoz Antiques includes many treasures that cross over into the "art" category.
Although the focus is on 18th to 20th century European furnishings, you'll also find many wonderful pieces of art, especially 3-dimensional pieces, that will fit perfectly with period decor but also look.
10 St. James Avenue, Park Square; 617-262-0780; www.marcozantiques.com (not far from Newbury Street)
---
Nielsen Gallery
The high-regarded Nielsen Gallery, a Boston presence since 1963, showcases and supports contemporary artists whose work tends to be experimental and avant-garde.
Exhibitions typically last 4-6 weeks, and includes artists of international reputation such as Joan Snyder, Dexter Lazenby, Nathalie Miebach, and James Cambronne.
The Nielsen maintains long-term nurturing relationships with many of its artists, and mounts exhibits of their work on a periodic basis.
Currently working by website and appointment only; 978-369-7071; www.nielsengallery.com; formerly at 179 Newbury Street
---
Person + Killian Photography
Boston photographers Jill Person and Lauren Killian blur boundaries by infusing their wedding photos with such a high level of photojournalism that the results are something that you might see showcased in a gallery.
So if you're out gallery-hopping, pop in for a couple of minutes, or at least peer through the window. You'll see "I do" photos elevated to an art form. Who know, you may even decide that you need your wedding photo taken . . . hmm. . . time to get engaged? or renew vows?
251 Newbury St; 617-236-1622; www.personkillian.com
---
Vose Galleries of Boston
Founded in 1841, the Vose Galleries have been passed down through 6 generations of the Vose family and is the oldest family-owned art gallery in America.
Vose Galleries specializes in 18th, 19th, and 20th century American realistic paintings and works on paper, and has the largest inventory on American realistic paintings in New England.
This large Newbury Street gallery displays paintings in exquisite settings on 5 floors. Each gallery is furnished like a room so that you can see the pieces in a home-like setting. If this genre is within your area of interest, the Vose Galleries are a "must-stop" site.
238 Newbury St; 617-536-6176; www.vosegalleries.com
---
Guild of Boston Artists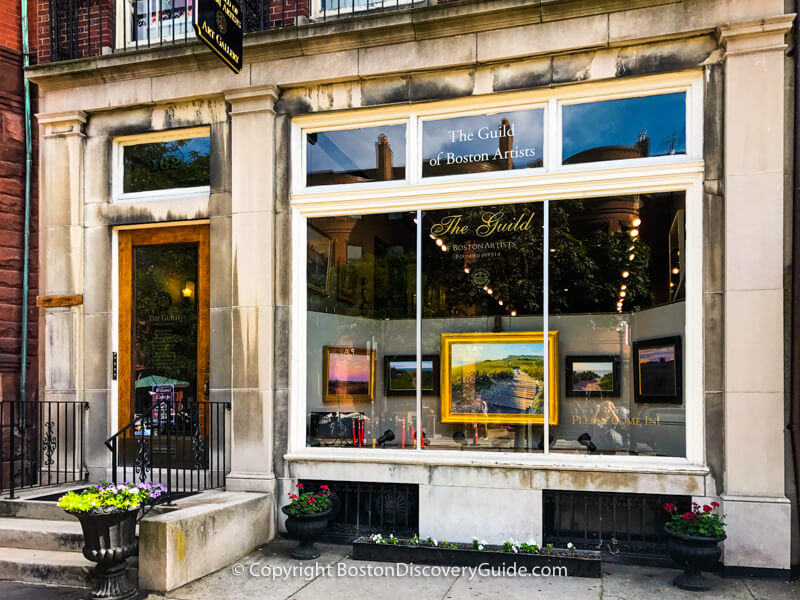 One of the most popular Boston art galleries since 1914, the Guild of Boston Artists shows the work of contemporary local and New England artists who specialize in traditional painting styles.
The gallery represents about 70 artists who work in a range of media. You'll see lots of traditional, realistic landscapes here. When you want an excellent painting with which you can live happily for a long time, this is the place to come.
162 Newbury St; 617-536-7660; www.guildofbostonartists.org
---
Copley Society of Art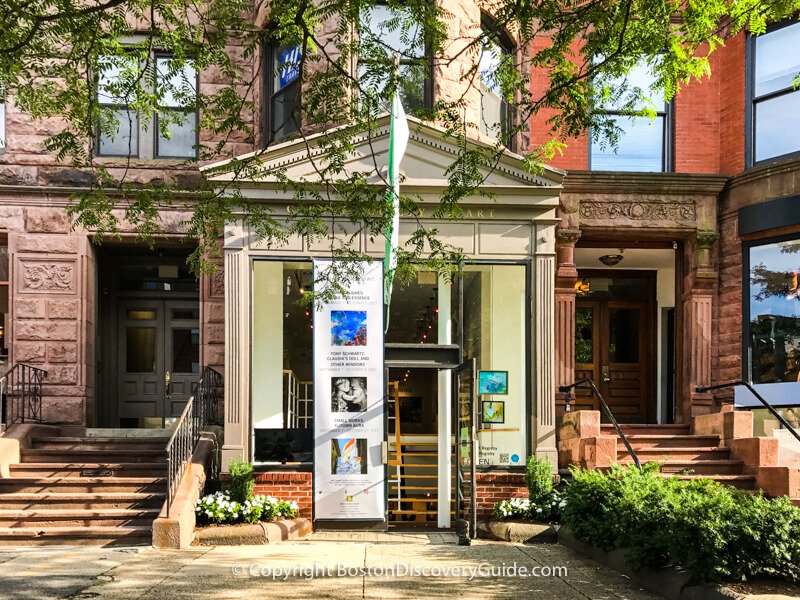 This non-profit art association (called "CoSo"), founded in 1879 and the oldest in the U.S., features exhibits of emerging regional and local artists.
The CoSo building has 3 galleries, with exhibitions sometimes spanning more than one of them. Each exhibition typically features one artist and runs for about a month, although some group shows go for a couple of months.
CoSo is a top spot for discovering and acquiring works of not-yet-famous artists for affordable (although not cheap) prices. Styles generally tend toward realism rather than abstract, and are fairly mainstream rather than avant garde. You'll see some wonderful things here.
158 Newbury St; 617-536-5049; website
---
Krakow-Witkin Gallery
The Krakow-Witkin Gallery specializes in post-World War II paintings, sculpture, drawings, and prints.
You'll find big-name contemporary and mid-to-late 20th century artists featured in this highly-esteemed Newbury Street art gallery - Joseph Albers, Cindy Sherman, Richard Serra, Elsworth Kelly, as well as a few emerging artists destined for future fame.
Shows typically represent single artists, run 4-6 weeks, and are always interesting. This gallery is a favorite with owners and designers of lofts and other large, sleek spaces, as well as collectors and lovers of art of this period.
10 Newbury St, 5th floor; 617-262-4490; website
---
Thos Moser Cabinetmakers: Showroom
Here's where you can see furniture as sculpture. Hand-crafted from cherry by highly skilled artisans using traditional joinery methods, Thos Moser furniture is simple, elegant, and beautiful.
But another reason to visit the Arlington Street showroom is that the floor space doubles as gallery space to exhibit top-notch original work by local and national artists. You'll find some beautiful and affordable pieces . . . and by seeing them in this showroom, you can even get a sense of how they might look in your home.
19 Arlington St; 617-224-1245; www.thosmoser.com
---
St. George Gallery
As part of a growing trend toward artist/owner art galleries, Boston big-name artist William St. George showcases his own evocative work in the St. George Gallery, where he also represents the work of Yvette Stenzel.
St. George's work is big, full of light and life, and exuberant, and so popular that he also sells high-quality giclée reproduction prints and cards. The gallery also hosts classes and workshops.
Formerly on Newbury St - now at 162 Boylston Street, Suite 49 (the Steinert Building), in the Theatre District across from Boston Common; 617-338-0200; www.stgeorgegallery.com
---
Map of Newbury Street Galleries
---
Other Galleries: No Longer on Newbury Street
Axelle Fine Arts - Closed in 2016 following the death of founder Bertrand Delacroix, but reborn as M Fine Arts Galerie under the ownership of his former associates, Mitch Plotkin and Madison Maushart, who strive to continue Delacroix's vision by representing the best contemporary artists, both local and international. You can visit M Fine Arts Galerie at 460 Harrison Ave #C24 in Boston's SoWa neighborhood in the South End.
International Poster Gallery - Moved to 460-C Harrison Ave, Suite C20 - The International Poster Gallery features vintage and modern posters from all over the world. Specialties include vintage travel and sports (including Olympics) posters, food and beverage posters, Italian posters, and contemporary jazz posters. Prices range from affordable (around $100) to much higher. 617-375-0076; website
Lanoue Fine Art - Moved to 460 Harrison Ave in Boston's SoWa neighborhood in the South End, where Lanoue Fine Art continues to feature mid-career and well-established painters, sculptors, and printmakers who create abstract and representational work, often with an almost dreamlike or mythic quality.
L'Attitude Gallery - Moved to 460-C Harrison Ave, Suite 8A - This is the place to come for all kinds of 3-dimensional pieces, in all kinds of media, indoor and outdoor, large and small, by emerging and established artists. Pieces range from serious to whimsical and will dazzle you with their humor, profundity, and creativity. Many pieces are museum quality. 617-927-4400; www.lattitudegalleries.com
Martin Lawrence Gallery - The Boston location closed, although other U.S. locations remain open.
Society of Arts and Crafts (SAC) - Moved to a beautiful and large light-filled space 100 Pier 4 Boulevard in the Seaport District of South Boston where you can continue to see exquisite craft-meets-art designs by top artisans.
---
Fun Things to Do While Exploring Art on Newbury Street
Want to see Boston the fun way? Combine your love of art with wine or chocolate:
Wine Tasting Tour - Join a small group wine tasting experience led by a wine sommelier as you visit two of Back Bay's top restaurants where you'll savor 6 different vintages as you enjoy appetizers and small plates on this informative wine-lovers' walking tour.
Back Bay Chocolate Walking Tour - See Boston Common, Trinity Church in Copley Square, and other top sites as you learn about Boston's long love affair with chocolate and sample chocolate desserts along the way.
---
More Articles about Art in Boston
Boston Public Library - See all the art and architectural treasures in this historic renaissance revival masterpiece
SoWa - Find out what you can see at Boston's top artisan market
Boston's Art Museums - Learn about more venues for seeing fantastic art in Boston