With over 60 museums in and near the city, Boston offers a wealth of fascinating exhibits to explore, whatever your interests happen to be.
You'll find everything from antique cars to 21st century electric vehicles, fossils to biotech, 17th century houses to 21st century design, Boston Tea Party artifacts to Red Sox memorabilia, Egyptian mummies to avant-garde sculpture.
Have just a 20 minutes or so to spare?
In this article, we highlight 15 top Boston museums focused on a variety of interests such as art, science, history, sports, technological innovations, and medicine.
You'll also find family favorites, free museums, outdoor museums, and more.
Take a look - you may find some fun, fascinating, surprising, and irresistible new favorites.
Interested in seeing more art in Boston? Check out our art galleries
Top photo: Dale Chihuly blown glass & steel "Lime Green Icicle Tower" at Boston's Museum of Fine Arts
Boston Discovery Guide is a reader-supported publication. When you buy through our links, we may earn a commission at no additional cost for you. Learn more
---
1. Best Science Museum in Boston: Museum of Science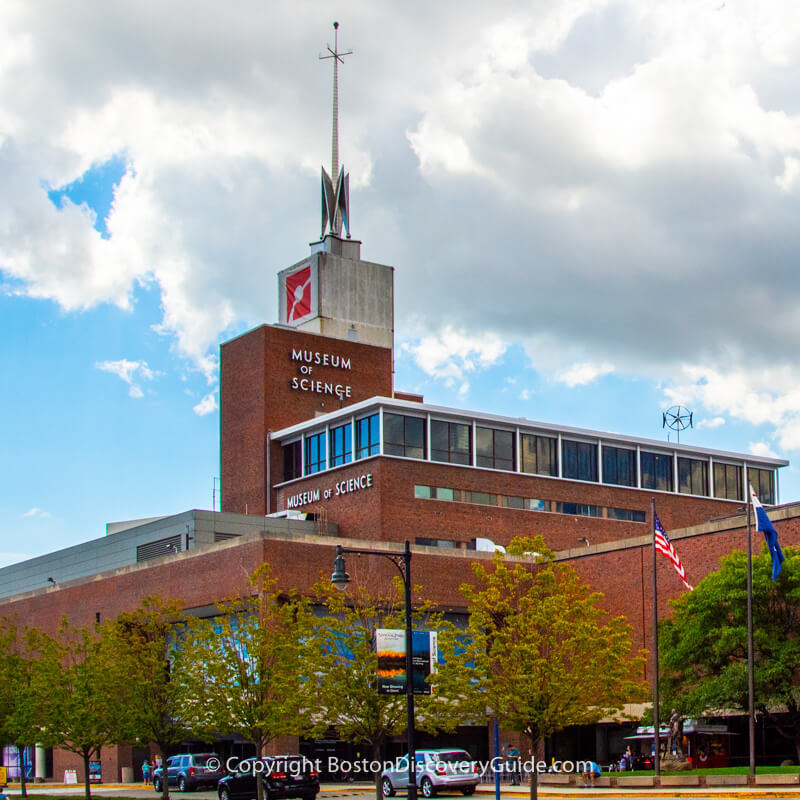 You'll experience science and technology in a new way at the Museum of Science, where a kaleidescope of visiting exhibitions, special presentations, and 700 or so immersive exhibits lead you through a journey of discovery.
Create your own tiny flying robot bee, meet a biologically-inspired cheetah robot , and move your body to create simulations based on your movements in a special mirror. Journey to the past as you examine a 23-foot long, 65-million-year-old Triceratops skeleton. Explore the natural world through a virtual tour of Arcadia National Park, observe mysterious environments, and walk among butterflies in a beautiful tropical conservatory.
You'll find lots more hands-on experiences: electricity, evolution, transportation, animals, space exploration, wind energy, nanotechnology, cosmic exploration.
Add to this an onsite Imax theater and planetarium, and you can easily spend an entire day here and still not have enough time to enjoy it all.
Get skip-the-line tickets, or use a Go Boston Pass for free admission
1 Science Park | Green Line/Aquarium Station | 617-723-2500 | www.mos.org
---
2. Best Boston History Museum: Tea Party Ships & Museum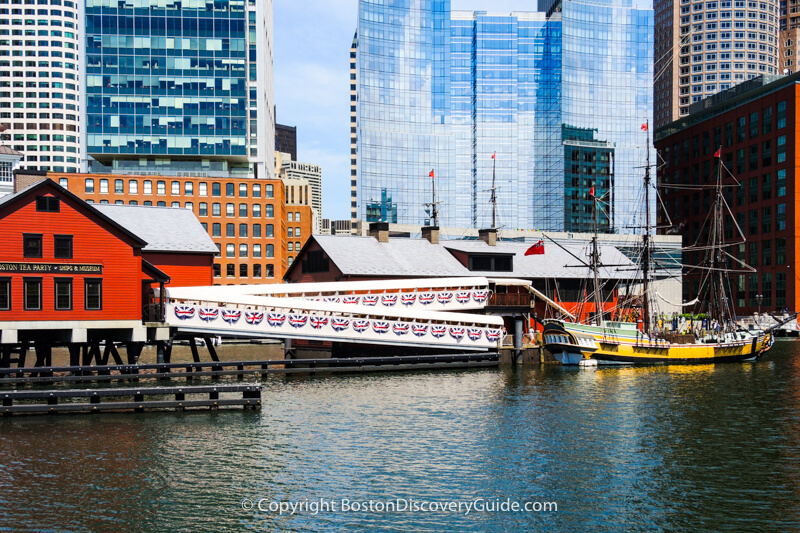 Costumed actors, interactive displays, and lots of high tech and multimedia effects immerse you in history at the Boston Tea Party Ships & Museum, bringing to life the events leading up to the American Revolution and making you feel like you're a part of the action.
During your 1-hour tour of the Boston Tea Party Ships and Museum, you're taken back in time to the momentous night in December, 1773 when the Sons of Liberty touched off the American Revolution with their tea party in Boston Harbor.
You'll be entertained for sure, but you also get to participate, explore, and learn. After you leave, you'll be surprised by how much history you've effortlessly soaked up. There's nothing else quite like it in Boston. An unforgettable experience for adults as well as kids and teens.
More information & tickets for the Boston Tea Party Ships & Museum
---
3. Best Immersive Museum: Plimouth Patuxet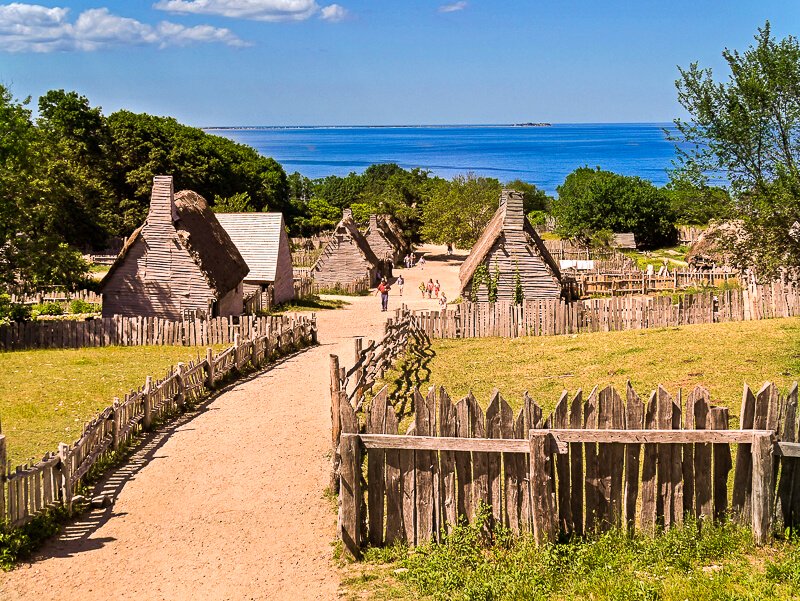 Plimouth Patuxet (formerly Plantation), a living history museum, recreates the first Pilgrim settlement in North America begun in 1620 soon after the English immigrants stepped off the Mayflower, and a Patuxet settlement, depicting the Native American group who was here when the Pilgrims arrived.
You can get tickets and go on your own, or join a small-group day trip to Plimouth Plantation from Boston.
When you visit, you get to immerse yourself in a historically authentic village with rough-hewn cabins, simple furnishings, and farm animals similar to those the Pilgrims brought with them.
The best part, though, is getting to chat with skilled role-player actors wearing historically authentic clothing who bring to life the real people who made their homes here - Edward Winslow, Susanna Fuller White, William Bradford, and other English settlers - and the traditionally-attired Patuxets, who are often portrayed by their descendents from the local Mashpee Wampanoag community on the Cape.
Ask them questions, and they'll tell you about their lives and cultures as you explore this re-created 17th village and Patuxent settlement overlooking the water.
Find out about the day trip to Plimouth Plantation from Boston
---
4. Best World-Class Art Museum: Museum of Fine Arts
With hundreds of galleries filled with treasures from the ancient world to contemporary art, Boston's Museum of Fine Arts can easily keep you enthralled for an entire day, especially if you take a few breaks to sample MFA's various dining options, browse the vast bookstore and specialized boutiques, and perhaps take in one of the special activities such as a tour, film, or performance.
However, if you want to focus on the superb world-class collections that set MFA apart, here are five places to start:
Art of the Americas: Filling a spectacular new wing, this vast collection covers the Pre-Columbian period through the late 20th century. What makes it outstanding is not only the exquisite and seldom-seen art from South and Central America and the Caribbean, but also the wide-ranging examples from North America, displayed to show you connections and continuity between cultures and across time. The Decorative Arts rooms featuring period furnishings are outstanding.
Egyptian: Considered one of the best in the world, MFA's exceptional collection of mummies, statues, pottery, and other artifacts bring to life almost four millenniums of Egyptian culture.
Japanese Buddhist Temple Room: Based on an 8th century monastery in Japan, MFA created this special gallery to display Buddhist deities 100+ years ago. It's part of MFA's much larger Japanese collection. Also, don't miss the Japanese contemplative garden located in a secluded corner outside the museum.
African: MFA's collection of West African masks, sculptures, funeral artifacts, and other art includes some fine examples of masks, funereal reliquaries, and sculpture.
Linde Family Wing for Contemporary Art: This is where you'll find MFA's growing collection of today's art, with a focus on internationally renowned artists in a wide range of media. Displays change frequently, and in addition to more traditional forms such as paintings and sculpture, you typically will also see video, new media, crafts, and very large scale pieces, as well as live interactive performances.
Get skip-the-line tickets, or use a Go Boston Pass for free admission
465 Huntington Ave; 617-297-9300; www.mfa.org
---
5. Best Art Collector's Personal Museum: Isabella Stewart Gardner Museum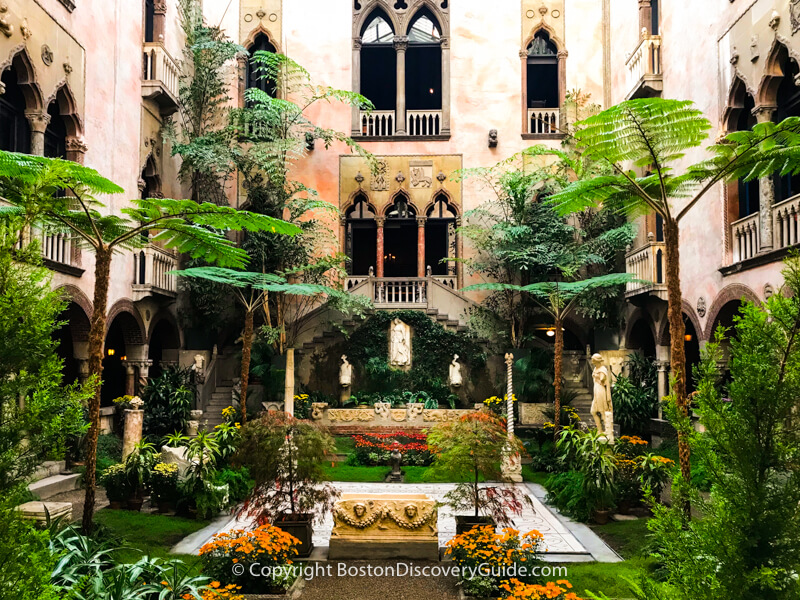 After an inheritance allowed Isabella Stewart Gardner to amp up her passion for collecting art, she and her husband Jack ran out of display space in their Beacon Street home and decided to build an art museum with living quarters for their own use. They spent the summer of 1897 in their favorite Italian cities collecting columns, statues, windows, and other decorative details from Roman, Byzantine, Gothic, and Renaissance periods for it, and shipped them home to Boston.
Jack died unexpectedly in 1898, but Isabella forged forward with their plans and directed every detail with the work in a hands-on way. By 1902, she installed the art.
The result? A surprisingly harmonious and stunningly beautiful creation resembling a 15th century Venetian palazzo with a spectacular interior courtyard and wonderful art to diverse to describe.
If you have any interest in art or design, a visit to the Isabella Stewart Gardner Museum is a must!
Free admission if your name is Isabella. Free admission on your birthday.
25 Evans Way, Fenway neighborhood; 617-566-1401; www.gardnermuseum.org
---
6. Best Contemporary Art Gallery: ICA Boston
The Institute of Contemporary Art - ICA Boston - focuses on identifying and presenting the most significant, thought-provoking, and sometime controversial and provocative contemporary art from emerging and established artists.
But it's more than just a museum. Visit ICA Boston, and you'll discover a breath-taking space on the South Boston Waterfront filled with performances, films and videos, presentations, and galleries filled with contemporary artists' explorations of the physical and unseen world.
Find out more about ICA Boston
---
7. Best Outdoor Museum: deCordova Sculpture Park & Museum
Walk around the deCordova Sculpture Park & Museum's 30-acre outdoor space, and you'll see a fantastic variety of modern and contemporary outdoor sculpture in a variety of settings: forests, lawns, fields, gardens, and terraces overlooking Flint's Pond in Lincoln, about 20 miles west of Boston.
At any point, you'll see about 60 sculptures on display from the museum's permanent collection, sculptures on loan, and special site-specific works and commissions.
The park appeals to all ages.
51 Sandy Pond Road, Lincoln; 617-424-9700; decordova.org
---
8. Best Museum for Families: Harvard Museum of Natural History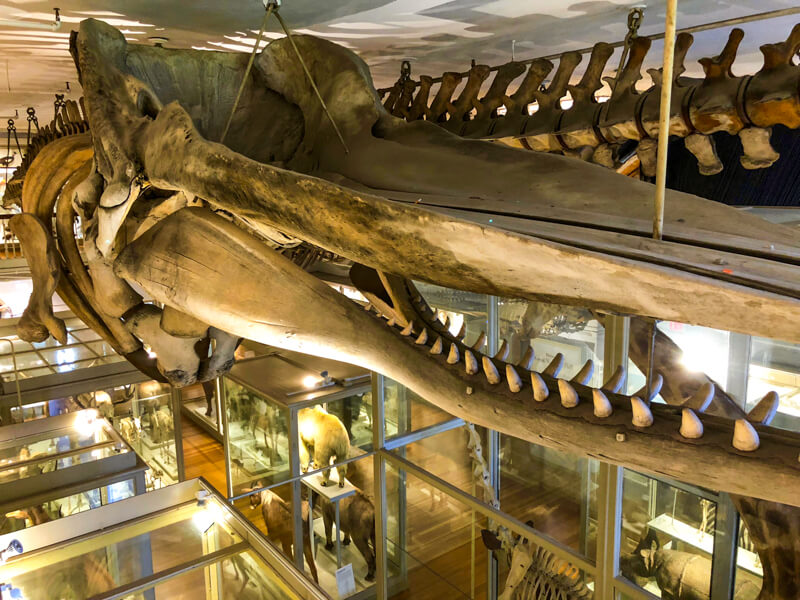 Your entire family will be mesmerized by the Harvard Museum of Natural History's huge 42 foot-long Kronosaurus skeleton, brilliant gems and minerals, and mounted wildlife specimums. You can explore ecology in multimedia exhibits, watch fruits decay from blight, rot, and other diseases, and gaze at a collection of hundreds of colorful beetles.
A must-see exhibit is the museum's dazzling "Glass Flowers" display from their collection of 4,300 Blaschka glass models of plants, created by a father-son team of Czech artists in Dresden between 1886 and 1936.
More to enjoy nearby: Walk over to Harvard Square for a meal, shopping, or sightseeing. You can also walk around the Harvard campus or get an insider's perspective about campus life with a student-led campus tour.
Free admission with Boston CityPASS and Go Boston Pass. Free admission for Massachusetts residents (ID required) on Sunday mornings 9am-12 noon, and Wednesdays 3pm-5pm from September through May. Also free for K-12 Massachusetts teachers and active duty military.
25 Oxford Street, Cambridge  |  Red Line/Harvard Station  |   617-495-3045  |   www.harvard.edu   
---
9. Best Museum for Kids: Boston Children's Museum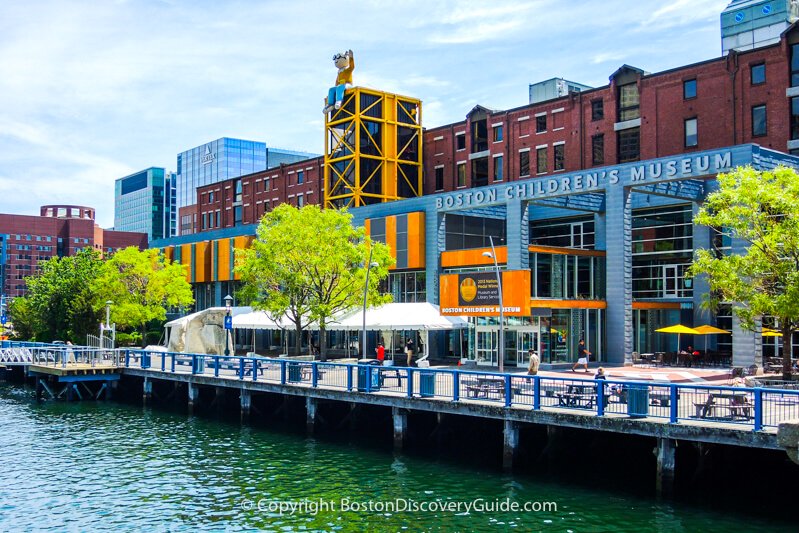 For the two-to-ten year old crowd (and their families), the Boston Children's Museum is the top favorite among all Boston museums.
Children love the hands-on interactive exhibits because they seem like a playground. Exhibits are designed to encourage children to explore and learn about the world around them. And with 20+ permanent interactive, hands-on exhibits and activities, you (and your kids) will find a lot to do in this museum.
Find out about the top things to do at the Boston Children's Museum
---
10. Best Boston Museum for Sports Fans: The Sports Museum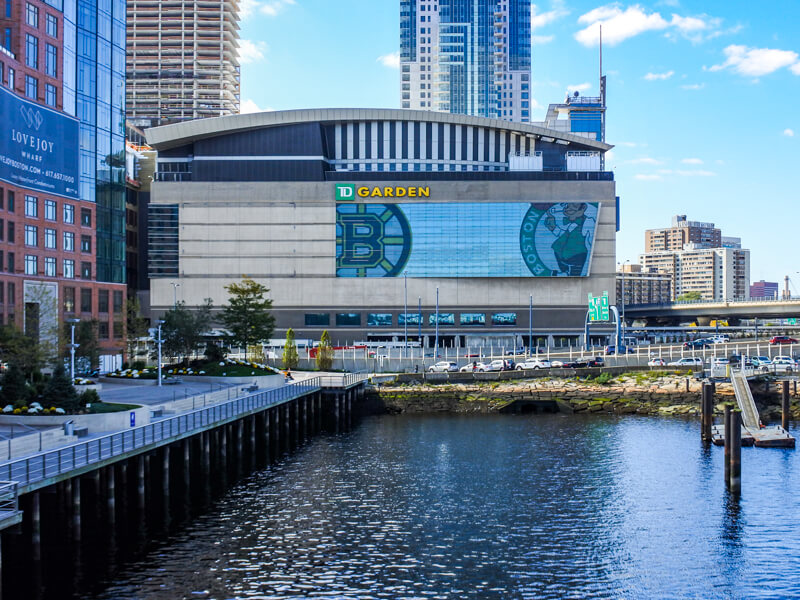 The Sports Museum's half-mile of exhibits featuring team shirts and other memorabilia, artifacts, and photos pay tribute to Boston's love of sports. Visits are by tour only (most last about an hour), during which you get to see all the displays and hear about Boston pro teams, past and present. The Red Sox, Bruins, Celtics, New England Patriots, and New England Revolution teams share much of the spotlight.
The Sports Museum is located on Levels 5 and 6 of TD Garden.
Free admission for kids 6 and under, and active duty military and their families (military ID required).
Located in TD Garden, 100 Legends Way; Nearest T station: Green & Orange Lines/North Station; 617-624-1231; sportsmuseum.org
---
11. Best Live Exhibit Museum: The New England Aquarium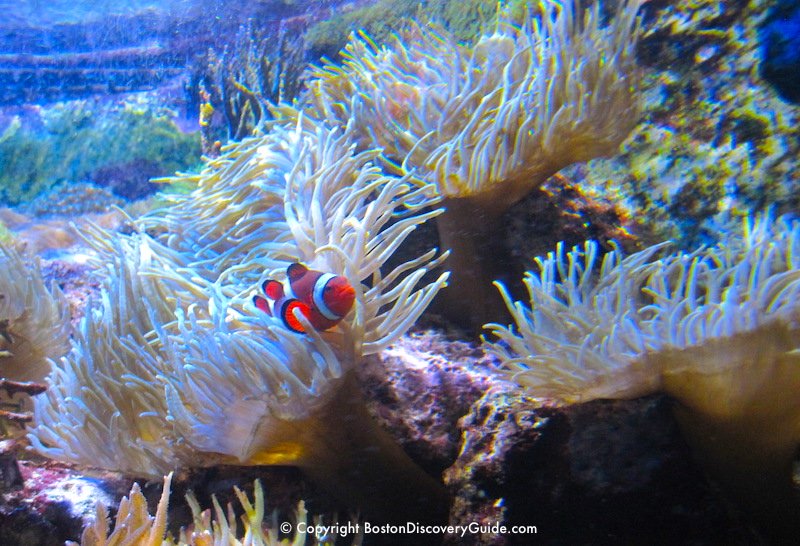 Maybe you don't normally think of The New England Aquarium as a museum, but think of it this way: it brings together collections of a variety of species related to a particular topic - marine life - and immerses you in ways both entertaining and educational. As a bonus, so to speak, everything you look at here is alive and displayed in its natural (although re-created) habitat.
located on Boston's downtown waterfront immerses you in another world where you can experience a giant coral reef and its colorful tropical fish, laugh at playful penguins, and can even meet and greet seals and sea lions on behind-the-scenes tours.
Designed to appeal to all ages, the aquarium is one of Boston's very top attractions for visitors as well as locals. It's the perfect place to visit on less-optimal weather days, and even better when the sun is shining and you can enjoy its expansive views of Boston Harbor.
Get your skip-the-line ticket to the Aquarium now
More about visiting the New England Aquarium
---
12. Best Technology & Innovation Museum: MIT Museum
Interactive technology and science exhibits feature holograms, robotics, innovative engineering, oceanographic research, scientific instruments, photography, and more.
It's easy to immerse yourself for hours here among the holograms, artificial intelligence demonstrations, and digital art.
Displays change frequently, and revolving series of special installations means there's always something new and exciting to see - self-driving electric cars, interactive gestural engineering, demonstrations of kinetics and motion.
Great place for kids as well as adults.
A recent move to a new, much larger space in at 314 Main Street in Kendall Square means more galleries as well as performance spaces and an onsite bookstore and cafe - so stay tuned!
265 Mass Ave, Cambridge; Red Line/Central Square; 617-253-5927; website
---
13. Best Historic House Museums
These house museums span several centuries of Boston life, and can be seen during guided tours.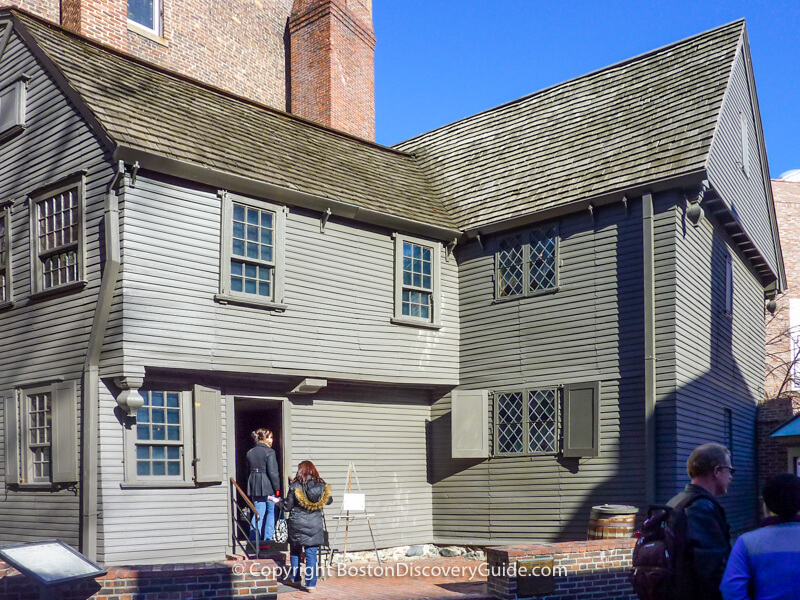 If you're a fan of house museums, Boston offers excellent opportunities to visit 17th, 18th, and 19th century homes of prominent citizens. Here are four of the best:
17th Century: Paul Revere House
Built in 1677-1680, Paul Revere House in the North End was almost 100 years old when the prominent silversmith and Sons of Liberty member moved there with his wife and their large family in 1770. This is the only house museum on the Freedom Trail.
The Tudor-style dwelling is the oldest house in central Boston, and you can still see some of Revere's furniture, pieces of silver, and other household items. One room is furnished in a late 17th century style.
Free admission with a GoBoston card
More about the Paul Revere House Museum
18th Century: First Harrison Gray Otis House
Designed in 1796 by famous Boston architect Charles Bulfinch, Federal-style Otis House has been through an extensive restoration based on meticulous historical and scientific research, so you will see the bright colors, fancy furnishings, and mirrored doors enjoyed by Boston's upper class in the late 1700s - early 1800s. Don't miss the fascinating architectural museum in the basement.
141 Cambridge Street, West End; Nearest T station: Red Line-Charles/MGH; 617-994-5920; www.historicnewengland.org/property/otis-house
19th Century: Nichols House
Even though Nichols House is another Federal-style house designed by Charles Bulfinch in 1804, you'll get a different vibe from Otis House. The house gets its name from garden designer and voting rights activist Rose Standish Nichols, who lived in the house between 1885 and 1960 and bequeathed it as a museum after her death. It contains furnishings and art from several generations of her family, including pieces by 19th century sculptor Augustus Saint-Gaudens.
55 Mount Vernon Street, Beacon Hill; Nearest T station: Red Line-Charles/MGH; 617-227-6993; www.nicholshousemuseum.org
19th Century: Gibson House
Built in 1859 on Beacon Street in Italian Renaissance style, Gibson House shows you a snapshot of Victorian Brahman Boston, thanks to a 1930s decision by then-owner and writer Charles Gibson Jr to preserve the house and its lavish contents where three generations of his family lived until his own death in 1954.
During a guided tour of the four floors, you'll see embossed wallpapers, elaborately carved walnut staircases, massive Victorian mahogany furniture and gilded picture frames, decorative art from around the world, and lots of dark reds, wall-to-wall carpets, and fringe - all testimony to Boston's Golden Age. Seeing the period kitchen and 1902 bathroom are worth the price of admission. As many as seven servants kept the house in order.
Gibson House will look remarkably familiar if you've seen the 1983 Merchant-Ivory movie, The Bostonians, which was filmed here.
137 Beacon Street, Back Bay; Nearest T station: Green Line-Arlington; 617-267-6338; www.thegibsonhouse.org
---
14. Best Library Art Collection: Boston Public Library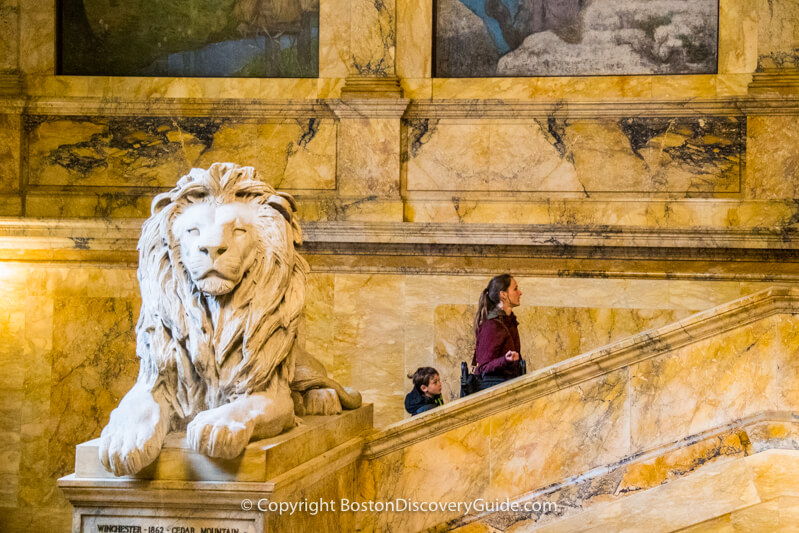 Although not a museum, the 1895 Renaissance Revival-style Boston Public Library is crammed with spectacular museum-quality paintings, tapestries, architectural details, and sculpture.
A second-floor gallery features dream-like murals painted by French artist Pierre Puvis de Chavannes, and are his only murals on display outside of France. On the third floor, you'll find a series of John Singer Sargent murals called The Triumph of Religion painted in the style of Italian Renaissance frescoes that are totally unlike his famous society paintings in the Museum of Fine Arts.
Free admission; free art and architectural tours available also. More information
Another Library with Outstanding Art: Boston Athenaeum
Boston Athenaeum, a members-only library on Beacon Hill, dates back to 1807 and boasts huge collections of rare books and art. To visit, join one of the art and architecture tours offered to the public 2-3 times each week. More information
---
15. Best Medical Museums: Warren Medical Museum & The Ether Dome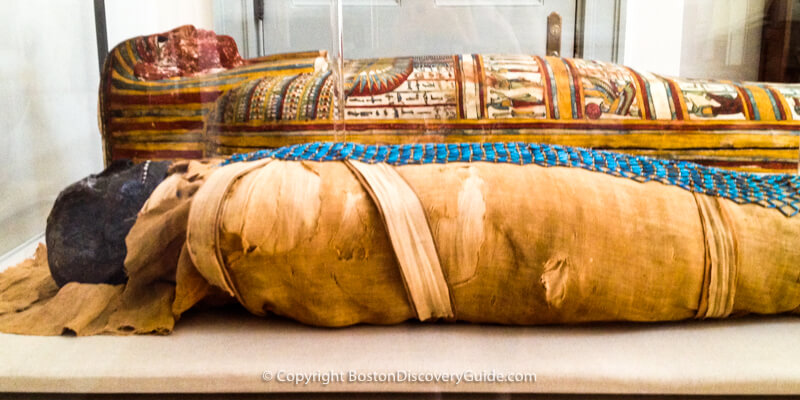 The dazzling copper and glass Paul S. Russell, MD Museum of Medical History and Innovation at Massachusetts General Hospital celebrates the medical institution's 200+ years of innovations and contributions to medicine and health care.
Displays feature the hospital's medical breakthroughs and innovations; frequent updates show you the latest technologies and medical approaches. On the third floor, a beautiful roof top garden gives you wonderful skyline views of Beacon Hill.
After exploring the exhibits and perhaps soaking up some sun in the garden, wind your way through the hospital complex to the Bulfinch Building where you'll find the Ether Dome, the historic surgical amphitheater in MGH's Bulfinch Building where anesthesia (ether) was first used successfully to block pain during surgery in 1846.
The Ether Dome is where you'll find MGH's oldest resident, Padihershef, an almost 3,000 year old Egyptian mummy who has been here since 1823. The room also contains his sarcophagus, a human skeleton, and some early (and cringe-worthy) medical instruments.
Free admission.
2 North Grove Street (at MGH, intersection of Cambridge and Grove Streets)  |  Subway station:  Red Line/MGH-Charles St  |  617-724-8009  |   www.massgeneral.org/museum   
---
More Boston Museums
Boston Fire Museum
Located in a historic granite, brick, and red tile Romanesque-style building, this small museum exhibits a hand-operated pumper dating from 1793, a steam pumper from 1882, and a ladder truck from 1860. Combine with a visit to nearby Boston Children's Museum. Open Fridays 5pm-8pm and Saturdays 9:30am - 4pm. Free admission.
334 Congress Street, Fort Point: Subway: Silver Line/Courthouse, or walk over from Red Line: South Station; www.bostonfiremuseum.com
Lars Anderson Auto Museum
Located in the original carriage house, this Boston museum features America's oldest car collection, gorgeous grounds, spectacular Boston skyline views, and a public ice skating rink open in the winter.
15 Newton Street, Brookline, MA; 617-522-6547; www.larzanderson.org
Harvard Art Museums
A spectacular new complex designed by Renzo Piano provides space to the collection of three Harvard museums: The Fogg Art Museum (British pre-Raphaelite, Italian Renaissance, and French art), the Sackler Museum (Islamic, Turkish, and East Asian art), and the Busch-Reisinger Museum (Germanic art).
32 Quincy Street, Cambridge; Subway: Red Line/Harvard; harvardartmuseums.org
McMullen Museum of Art
Global collections include Gothic and Baroque tapestries, 16th and 17th century Italian paintings, and American paintings. Terrific special exhibits. Located on the Boston College campus.
Boston College, 140 Commonwealth Ave, Devlin Hall 108, Chestnut Hill, MA; 617-552-8587; www.bc.edu - click on museum link
Rose Art Museum
This small museum's outstanding collection of modern and contemporary art is the best in New England, with particular strength in American artists of the 1960s and 1970s. Come here for abstract expressionists, conceptual artists, and pop art . . . modernism, surrealism, social realism, photorealism, color field painting, minimalism. Exhibits rotate, so unfortunately, you'll seldom see much of this collection at once. The museum also features shows by contemporary artists, both emerging and established.
The Rose Art Museum belongs to Brandeis University, and closes during the summer, semester breaks, and other school holidays. Always check the current schedule on the website before coming.
Brandeis University, 415 South Street, Waltham; 781-736-3434; www.brandeis.edu/rose
Commonwealth Museum
See one of the 14 original copies of the Declaration of Independence and the U.S. Bill of Rights, the state's constitution, the 1629 charter of the Company of the Massachusetts Bay, and more.
Located in the State Archives Building across from the Kennedy Museum, 220 Morrissey Boulevard, Dorchester; 617-727-9268
Boston Holocaust Memorial
Created by Nazi Holocaust survivors in the Boston area, the memorial's 6 glass towers symbolize the major death camps. Six million names are etched in the towers, designed to also resemble a menorah.
More about Boston Holocaust Memorial
John F. Kennedy Library and Museum
Dedicated to the memory of the 35th American president, this I.M. Pei museum overlooking the Boston waterfront presents multi-media "you are there" exhibits about Kennedy's life and times.
Columbia Point, Dorchester, Boston; 617-514-1600; www.jfklibrary.org
Museum of African American History
Housed in historic Abiel Smith School on the Black Heritage Trail, the Museum of Afro-American History features rotating exhibits about Colonial period African-American Bostonians.
46 Joy Street at Smith Court intersection, Beacon Hill, Boston; www.afroammuseum.org
Old South Meeting House Museum
Interactive exhibits give life to history in this former Puritan place of worship on the Freedom Trail, a museum since 1878, where many of the speeches and events leading up to the American Revolution took place.
More about Old South Meeting House Museum
Old State House Museum
Explore two floors of interactive, hands-on exhibitions about the role played by the Old State House in the Boston Tea Party and the Boston Massacre - events leading up to the American Revolution. Also a Freedom Trail site.
More about Old State House Museum
Peabody Museum of Archeology & Ethnology
Founded in 1866 and one of the oldest museums in the world devoted to anthropology and human cultural history, many of the Peabody's exhibits and lectures focus on Native American communities and customs.
11 Divinity Ave, Cambridge, MA; website
Vilna Shul
Vilna Shul, built as a synagogue in 1919 by Jewish immigrants from Lithuania and now Boston's Center for Jewish Culture and a Jewish heritage museum, commemorates the history of this part of Beacon Hill (once part of the West End), and the Eastern European Jewish community in Boston. Restored murals, layers of history, and interesting informational displays.
18 Phillips St, Beacon Hill, Boston; www.vilnashul.org
USS Constitution
The wooden USS Constitution built in 1793 is the oldest commissioned warship afloat in the world. Nicknamed "Old Ironsides" after repelling British cannonballs in the War of 1812, this ship-museum is wildly popular with kids.
More about visiting the USS Constitution
---
More Articles about Art in Boston