Veterans Day events in Boston pay tribute to veterans, and to Boston's military history and fight for freedom. The holiday marks the anniversary of the November 11, 1918 signing of the Armistice, the agreement to end the fighting phase of World War I, once called the "war to end all wars."
Veterans Day takes place on Saturday, November 11, with the big Veterans Day Parade scheduled for November 4 at 12 noon.
By tradition, Veterans Day is always officially observed on the Armistice anniversary, regardless of the day of the week on which it falls, although other events such as the parade may take place on other dates.
Veterans Day is an official Federal holiday, which means Federal, state, and municipal offices, banks, and schools are closed in Boston on November 11, although most other businesses including stores, shopping malls, and restaurants remain open.
Boston's Veterans Day events include the Veterans Day Parade marching through Downtown Boston, a special Harbor cruise to Fort Warren to explore Boston's military history, Veterans specials offered by several area restaurants, commemorative services, and other special events to honor the service and sacrifices of veterans.
Big Veterans Day sales and discounts also start on the weekend before or including the 11th, making this the last good chance to shop for gifts at sale prices and deep discounts before the frenzy of Black Friday holiday shopping starts after Thanksgiving.
Although Armistice Day initially honored just those who fought and died in World War I, its meaning was expanded after World War II and the Korean War to honor all veterans - and to be renamed Veterans Day.
Looking for other top Boston events during November? Check the November Events Calendar.
---
Boston's Veterans Day Parade
Boston's Veterans Day Parade will be bigger and better than ever this year, with an assortment of about 25-30 military units, high school ROTC groups, honorary militias, marching bands, and veterans' organizations.
About 300-400 marchers will participate, making the Veterans Day Parade one of Boston's largest marches.
The parade kicks off at 12 noon on Saturday, November 4 in front of the Boston Public Library (700 Boylston Street) across from Copley Square, marches down Boylston Street to Boston Common, turns left on Tremont.
The parade continues on Tremont Street (which eventually turns into Cambridge Street) for several blocks along the Freedom Trail, passing Granary Burying Ground on the left and King's Chapel Burying Ground on the right before ending at City Hall Plaza.
The Mayor's Office of Veterans' Services and the American Legion Department of Massachusetts coordinates the parade.
This is always one of Boston's best parades, and a fantastic opportunity to come show your support for Veterans and Active Duty personnel!
---
Boston Veterans Day Parade Photos
Here are a few photos from previous years to give you an idea about what to expect: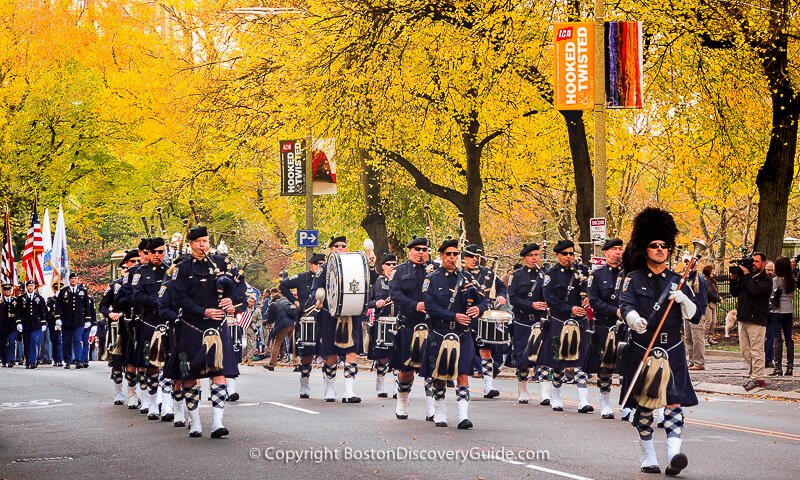 The Boston Police Pipes and Drum Corps often leads the parade, playing stirring traditional and contemporary military music spanning the centuries.
The award-winning Gaelic Column performs at many local cultural events and parades, police officer funerals, and ceremonies.
They have also performed in concert with the Dropkick Murphys.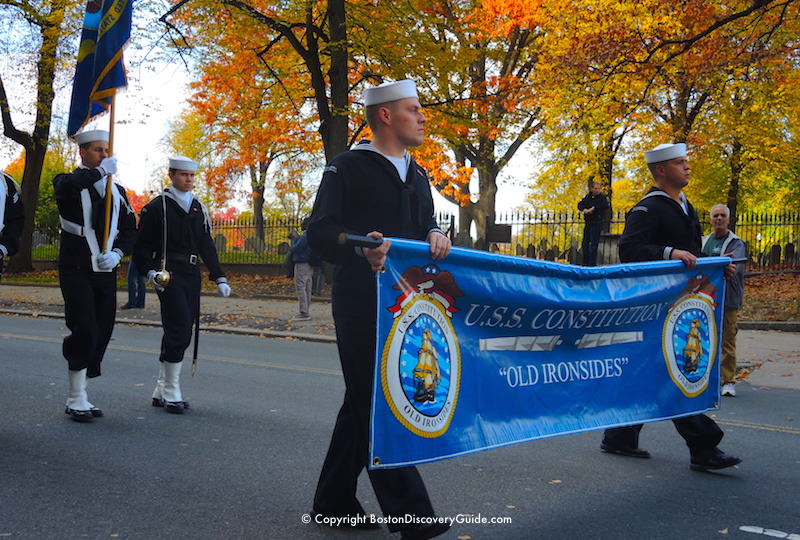 These Active Duty marchers are part of the U.S. Navy crew who operate, maintain, and offer tours of U.S.S. Constitution in the Navy Shipyard.
Built in Boston in 1797, "Old Ironsides" is the oldest commissioned warship afloat in the world and is most famous for defeating a British frigate after a fierce battle during the War of 1812.
The U.S.S. Constitution is a popular Freedom Trail site. More about visiting the ship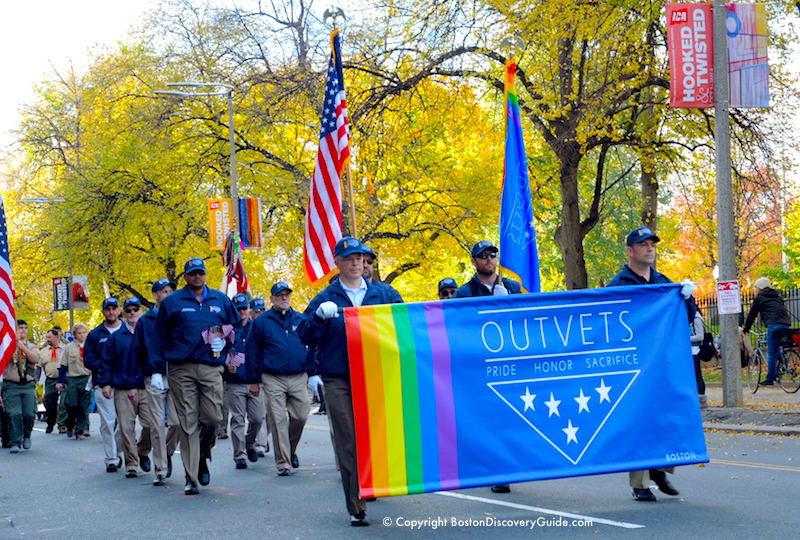 These marchers are from OUTVETS, a fairly new Boston LGBT veterans organization (and the first in New England) dedicated to LGBTQ vets, active duty members, and their families.
Members are involved in community service activities here in the Boston area. They also - usually - march in the South Boston Saint Patricks Day Parade.
---
Boston Hotels Close to the Veterans Day Parade Route
If you are coming from out of town to march in or watch the Veterans Day Parade, here are hotels close to the parade route:
Want to stay near superb shopping, TD Garden, the New England Aquarium, the Waterfront, the Freedom Trail, and many more attractions near Boston's historic Downtown and Waterfront?

Check out these top hotels near Faneuil Hall Marketplace
---
Veterans Day Cruise to the Boston Harbor Islands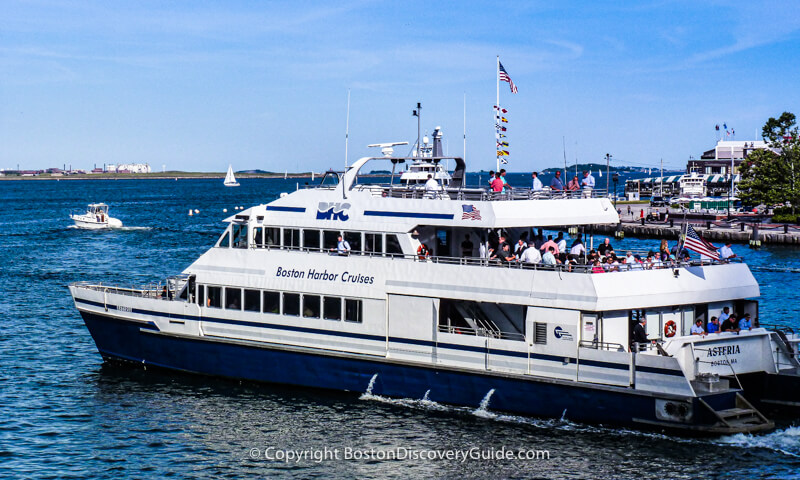 Being almost 400 years old, Boston has plenty of military history - and this special Veterans Day cruise to Fort Warren on Georges Island provides an enjoyable way to learn about it while honoring our veterans, past and present.
Once you reach Georges Island, Park Rangers will offer guide tours, as well as other activities for all ages.
The cruise boats depart from Long Wharf on Boston's Downtown Waterfront.
The cruise is free this year for Veterans and active duty military, plus up to 3 family members. To get free veteran tickets, call Boston Harbor Cruises at 617-227-4321.
Please note - this cruise takes place on Saturday, November 4, 11am-3pm. Be there no later than 10:30am for boarding.
More information: Reservations are required.
If you are not a veteran or active duty military (or family member) and want to join the cruise, tickets are available for $10.
To purchase a cruise ticket for the Veterans Day even, go to: https://www.bostonharborislands.org/calendar/
---
Veterans for Peace: Reclaiming Armistice Day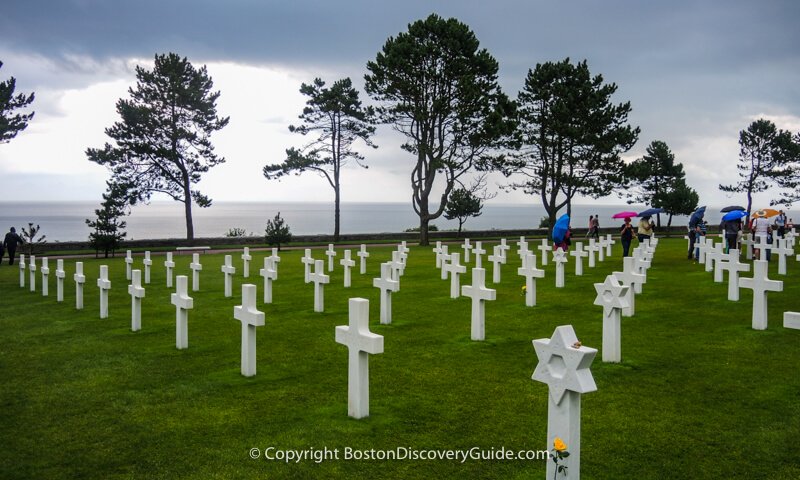 The Boston-based Smedley Butler Brigade chapter of Veterans for Peace may host an event at Boston Common's "Speaker's Corner" (corner of Park and Tremont Streets by Park Street T Station) on Thursday, November 11th from 10am - noon to remember those died in war and celebrate peace, the original purpose of Armistice Day.
Veterans will stand along Tremont Street with signs and flags, pass out fliers, and ring bells 11 times at 11:11am to commemorate the moment when the Armistice agreement was originally signed.
There will also be short (1-2 minutes) speeches in support of peace at the Speaker's Corner.
(We haven't been able to confirm this for 2023 - but if you're in the area, look for them at Speaker's Corner on the 11th.)
---
Shop the Veterans Day Sales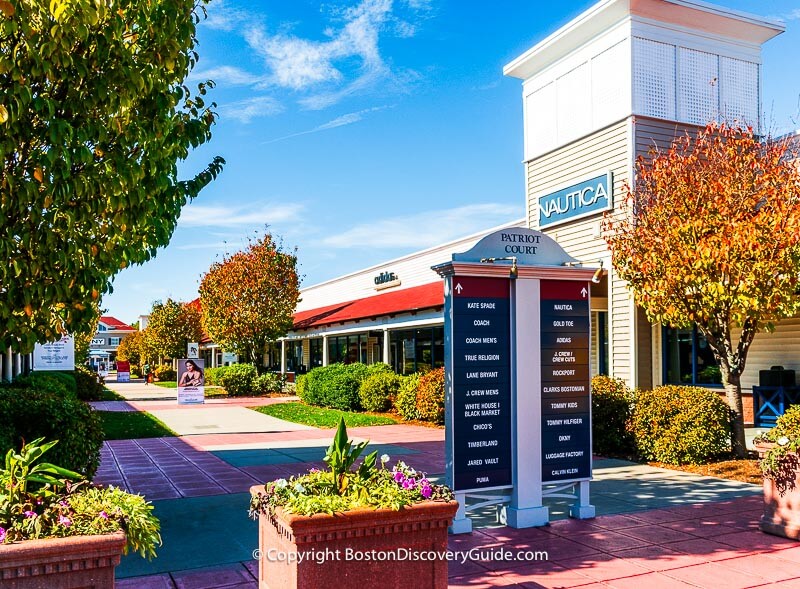 Smart shoppers hit the Veterans Day sales hard!
For best places to go, see our Indigenous Peoples Day Sales suggestions.
Columbia Outlet stores (Wrentham Village and Assembly Row) normally offer military veterans (active and retired) 10% off their entire purchase. On Veterans Day, they double the discount to 20% (source: www.military.com).
That's on top of the discounts and sales they already offer.
Their Veterans Day Sale typically offers 40%-50% savings on all men's and women's outerware - so the combined discount over Veterans Day Weekend gives veterans a really great deal. You'll need an account at ID.me to receive this.
If you are a US Armed Forces Veteran, Active Duty, or Spouse, Home Depot and Lowe's will give you a 10% discount every day on most items.
For Home Depot, register through their military discount app (although your government-issued military ID card may also sometimes work).
For Lowes, verify your status through ID.me and a Lowes online account (check the details here).
Home Depot's discount is limited to an annual discount total of $400.
As far as we are aware, Lowe's does not limit your savings.
Wrentham Village Outlets offer some of the biggest bargains on luxury brands - sale prices on top of the usual discounts but get there very early to avoid traffic and parking snarls.
You can also find a closer discount shopping alternative at Assembly Row, 5 minutes (by subway) from Downtown Boston. Hop on the Orange Line and get off at Assembly station, which is literally just a few steps from the stores.
Veterans Day sales at both Assembly Row and Wrentham Village Outlets usually give you 30% to 70% off the already discounted prices.
Target offers a 10% military discount for up to two purchases to all active-duty military personnel, veterans and their dependents for a couple of weeks before July 4 and Veterans Day. To get it, you need to create an account on their website (search for "military discount" to find the right page) and then verify your military status.
Costco offers $30 new member sign-up promotion to active-duty military, veterans, and retired military. To get it, go to their membership page, scroll down to the bottom and click on "Military." You'll see information plus instructions to verify your stations with the "verify with ID.me" process. The basic annual membership currently costs $60, so the $30 promo (which comes in the form of a shopping card to use in the store) is a good deal.
---
Volunteer for Veterans
Want to show your appreciation for the sacrifices that Veterans have made to keep our country strong? Volunteer to serve meals at the New England Center for Homeless Veterans at 17 Court Street in downtown Boston, just a few steps from the Freedom Trail.
Volunteers are needed every day to serve both lunch and dinner, and for other activities as well. You can volunteer as little as an hour, or for a full day - one time only, or on an on-going basis.
Call ahead to register at 617-371-1800, or register online.
Saying "thank you for your service" to a veteran is fine - but taking personal action to show your appreciation is even better!
---
Veterans Day Specials at Boston Attractions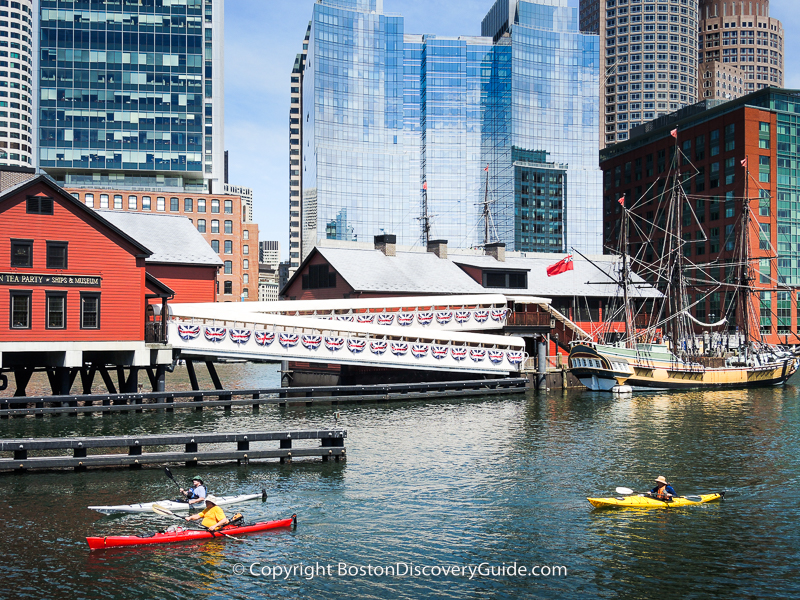 Old Town Trolley Tours and Boston Tea Party Ships & Museum - Free admission on Nov 11 for all veterans, active duty military personnel, and police officers. Must show current ID card for active duty or retired, or a DD214 (proof of release) at the Old Town Trolley Tours of America booth (Faneuil Marketplace - booth at 200 Atlantic Ave at the west of the Marriott Long Wharf Hotel next door to Columbus Park). Please note: The trolleys operate as a 1-hour tour, not hop-on hop-off, from early November through mid-March. More information: https://www.trolleytours.com/boston/coupons-promotions (to be confirmed)
Franklin Park Zoo and Stone Zoo - Free admission to Veterans and their immediate on November 11, 10am - 3pm (closes at 4pm). Military ID required. (to be confirmed)
The Hall at Patriot Place (by Gillette Stadium in Foxborough) - Free admission to this fun sports museum for military Veterans and Active Duty military service members on Veterans Day (also Memorial Day in May) - must show proper military identification. (to be confirmed)
While you're at Patriot Place, check out all the discounts (mostly 10%) offered by stores and restaurants (to be confirmed)
National Parks - Entrance fees are waived on Veterans Day for active duty, former, and retired veterans (to be confirmed)
Boston Tea Party Museum & Ships (306 Congress Street) : Free admission for all Veterans, active duty military personnel, and police officers on November 11 - must show current ID for active duty or DD214 (proof of release from the military) at the door. More information about admission - 1-855-832-1773 (to be confirmed)
More information about the museum
---
DAV 5K Boston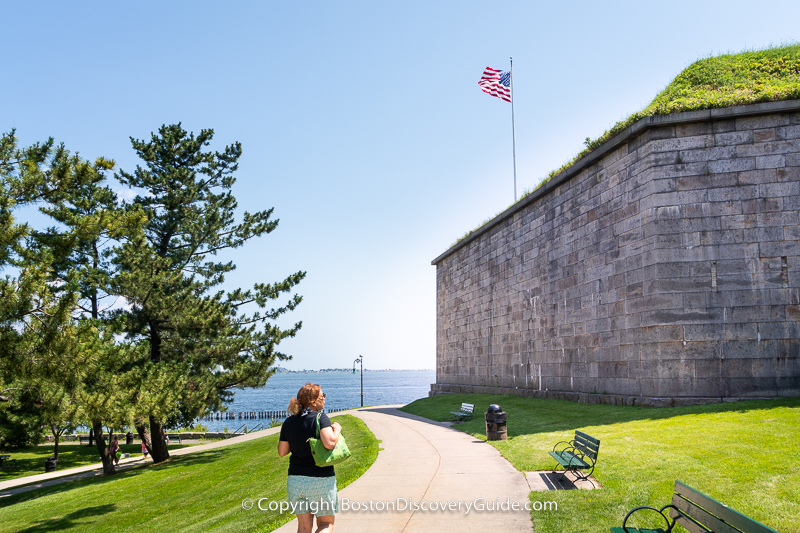 The DAV 5K Boston is a run, walk, roll, and motorcycle ride that thanks those who served and raises awareness of issues faced daily by ill and injured veterans. It also features a shorter walk/run option of 1 mile or less.
This fundraiser supports Boston area events to help veterans and their families, and is sponsored by USAA and a number of other organizations.
This event takes place on November 11, 2023 (to be confirmed) at Fort Independence (no inside tour this year due on an on-going structural assessement) on Castle Island (2010 William J. Day Blvd), and starts at 9am. Check-in is at 7am.
---
Veterans Specials at Boston Restaurants
If you're a veteran or active duty military, local restaurants want to thank you. You will need proof of your status, such as a military ID, photo of yourself in uniform, or other proof of service such as ID.me. Unless otherwise noted, these Veterans Specials are for November 11 only.
All offers are to be confirmed for 2023.
The Liberty Hotel in Boston is hosting a special Veterans Day 4-Course Dinner Special with Michters Whiskey pairings in Clink and the Liberty Bar (215 Charles Street, Beacon Hill neighborhood) with discounts for all Veterans and Active Duty on November 10, 6:30pm. Book through Eventbrite by November 7. 21+, ID required. Email claire.cipolla@libertyhotel.com for an exclusive discount code to use when you book
Bar Louie - Free craft burger for all active duty and retired military on Nov 11 - dine-in only; plus, Bar Louie offers a 15% military discount everyday to Veterans and Active Duty military on regular-priced food items at participating locations (note: we have not been able to confirm if the Boston location participates)
California Pizza Kitchen - Free entree and non-alcoholic beverage from a special Veterans Day menu including pizza, salads, and pasta; come in your uniform or bring your military ID
Chili's: Free meal on Nov 11 from a select menu for veterans and active duty military
Dunkin' Donuts - Free doughnut for all veterans and active duty military, no purchase necessary
Einstein Brothers Bagels - Free hot or iced medium coffee for all veterans and active-duty military
Ikea - Free meal (up to $15) on Veterans Day at participating locations from Nov 9-11; military ID required; active duty, retured, veterans, including Reserves, National Guard
McCormick & Schick's offers veterans, National Guard, and Gold Star honorees (parents and spouse) a half-priced lunch or dinner entree from a special menu (ie, no big steaks) at most locations on November 13.
Ninety Nine Restaurant & Pub - Free entree from a special Veterans Day menu when you purchase any other entree, 11am - 5pm, dine in only
Starbucks - Free tall (ie, small) hot-brewed or iced coffee for veterans, active duty military, reservists, and military spouses
---
Where to Stay for Veterans Day Weekend in Boston
Use this Boston hotel map from Booking.com to find great rates:
More about how to save on Boston hotels
---
Go to the North End for Ravioli
Ravioli gained status as the traditional Veterans Day food after President Woodrow Wilson invited 2,000 hungry returning soldiers to the White House to dine on ravioli (newly trendy at that time due to advances in commercial canning) in 1918.
Carry on the tradition by heading to Boston's North End where most of the Italian restaurants along Hanover and Salem Streets will have ravioli - or other equally delicious pasta - on their menus.
---
More Boston Veterans Day Weekend Suggestions
Coming to Boston for a 4-day weekend including Veterans Day? Here are suggestions about a few more things to do: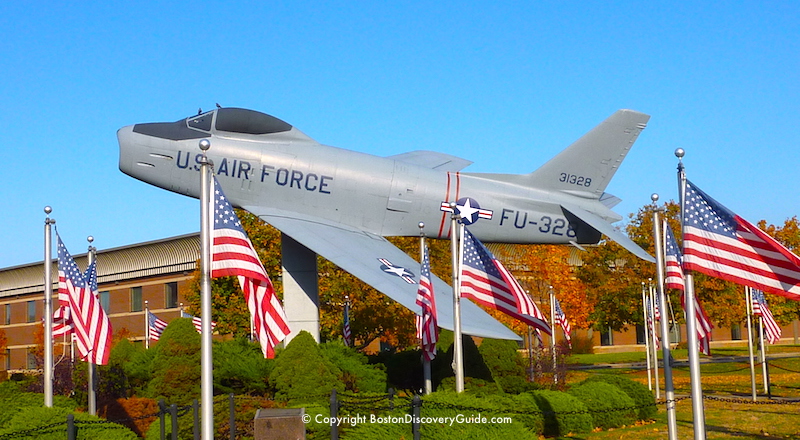 ---
Favorite Boston Restaurants & Pubs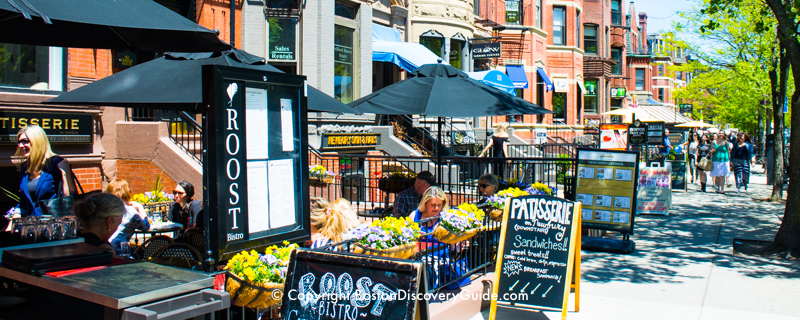 ---
More to See and Do in Boston during November
More to Do in Boston in November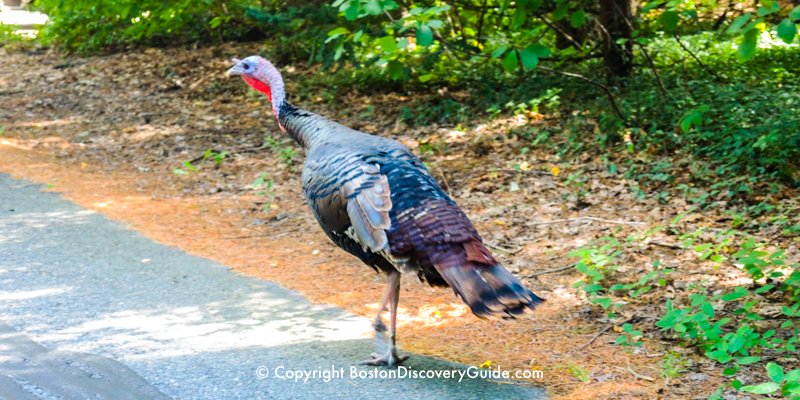 ---
---
More Articles about November Events in Boston