Veterans Day events in Boston pay tribute to veterans, and to Boston's military history and fight for freedom. The holiday marks the anniversary of the November 11, 1918 signing of the Armistice, the agreement to end the fighting phase of World War I, once called the "war to end all wars."
Veterans Day takes place on Thursday, November 11, with the big Veterans Day Parade scheduled for November 6 at 12 noon. Although Veterans Day is always officially observed on the Armistice anniversary, regardless of the day of the week on which it falls, not all events take place exactly on the 11th.
Veterans Day is an official Federal holiday, which means Federal, state, and municipal offices, banks, and schools are closed in Boston on November 11, although most other businesses including stores, shopping malls, and restaurants remain open.
Boston's Veterans Day events include the Veterans Day Parade marching through Downtown Boston, a special Harbor cruise to Fort Warren to explore Boston's military history, Veterans specials offered by area restaurants, commemorative services, and other special events to honor the service and sacrifices of veterans.
Big Veterans Day sales and discounts also start on the weekend before the 11th, making this the last good chance to shop for gifts on sale before the frenzy of Black Friday holiday shopping starts toward the end of the month.
Although Armistice Day initially honored just those who fought and died in World War I, its meaning was expanded after World War II and the Korean War to honor all veterans - and to be renamed Veterans Day.
Looking for other top Boston events during November? Check the November Events Calendar.
---
Boston's Veterans Day Parade - 2022
Boston's Veterans Day Parade kicks off at 12 noon on Saturday, November 6 at the corner of Boylston and Tremont Streets, and lasts about 3 hours.
The parade begins at the corner of Boylston and South Charles Street (between the Public Garden and Boston Common), marches around the Common along Boylston and Tremont Streets, and continues on Tremont Street to Government Center / City Hall Plaza.
Look for an assortment of military units, high school ROTC groups, honorary militias, marching bands, and veterans' organizations.
The Mayor's Office of Veterans' Services coordinates the parade. For more information: 617-635-3713
---
Boston Veterans Day Parade Photos
The Boston Police Pipes and Drum Corps leads the parade, playing stirring traditional and contemporary military music spanning the centuries.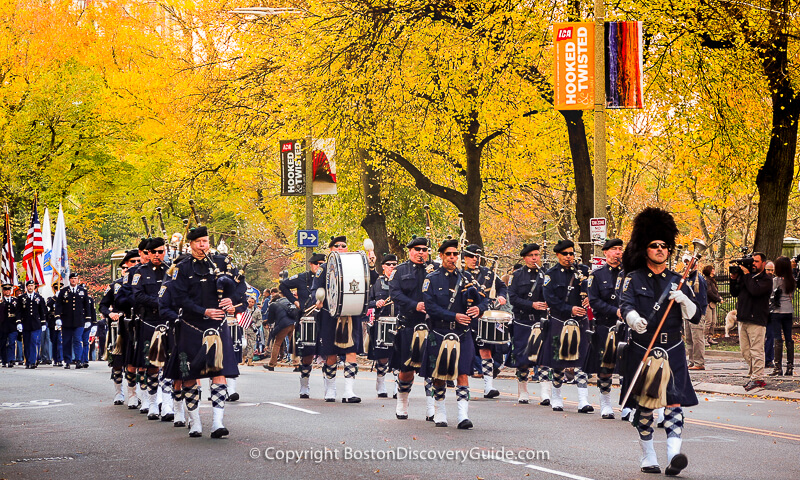 This is the Gaelic Column of Pipes and Drums - the Boston Police Department's bagpipe band.
The award-winning Gaelic Column performs at many local cultural events and parades, police officer funerals, and ceremonies. They have also performed in concert with the Dropkick Murphys.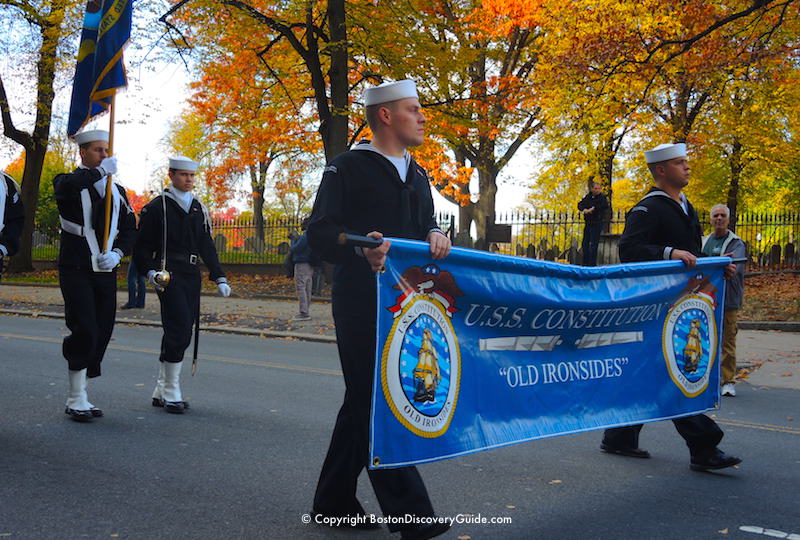 These Active Duty marchers are part of the U.S. Navy crew who operate, maintain, and offer tours of U.S.S. Constitution in the Navy Shipyard.
Built in Boston in 1797, "Old Ironsides" is the oldest commissioned warship afloat in the world and is most famous for defeating a British frigate after a fierce battle during the War of 1812.
The U.S.S. Constitution is a popular Freedom Trail site. More about visiting the ship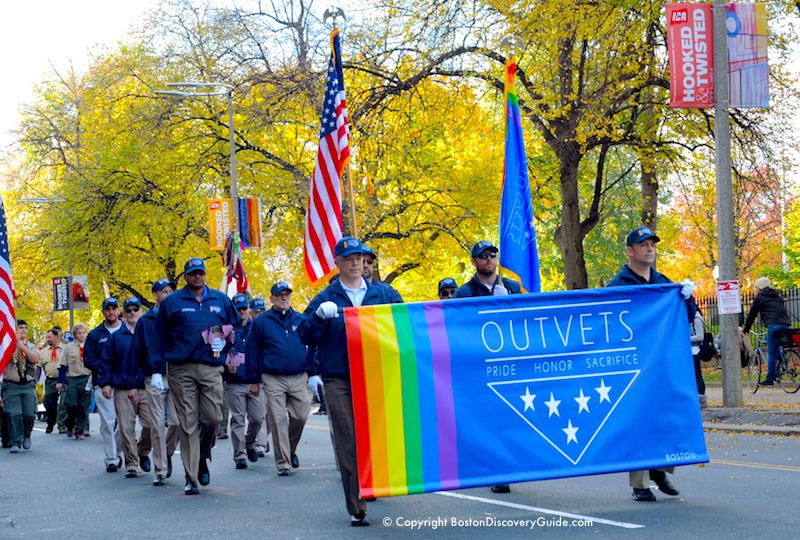 These marchers are from OUTVETS, a fairly new Boston LGBT veterans organization (and the first in New England) dedicated to LGBTQ vets, active duty members, and their families.
Members are involved in community service activities here in the Boston area. They also - usually - march in the South Boston Saint Patricks Day Parade.
---
Boston Veterans for Peace Veterans Day Parade - Previous Years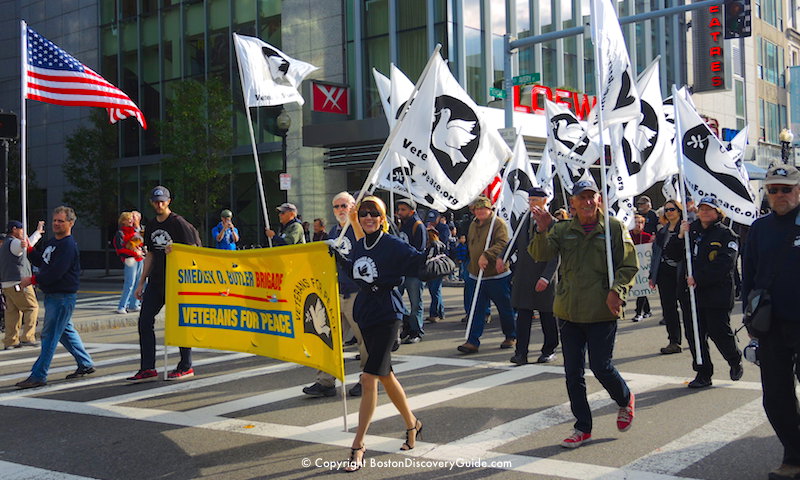 Prior to this year, a second Veterans Day Parade known as the Veterans for Peace Parade led by Boston's Smedley D. Butler Brigade of Veterans for Peace followed right behind the first parade to honor and celebrate the original intention for Armistice Day - a Day of Peace.
Why two parades?
Some groups marching in the official Boston Veterans Day Parade didn't want Veterans for Peace, a group founded in 1985 to increase awareness about the price society pays to fight wars, to participate in their parade.
So every year, Veterans for Peace marched in a second Veterans Day Parade in commemoration of Armistice Day, separated from the first parade by about 3 minutes, 300 yards, and a police escort.
If you look closely, you may see marchers wearing hoodies emblazoned with a statement Veterans Day Parade marcher wearing hoodie with a statement attributed to Major General Smedley Butler, U.S. Marine Corps: "War is a racket. A few profit - the many pay."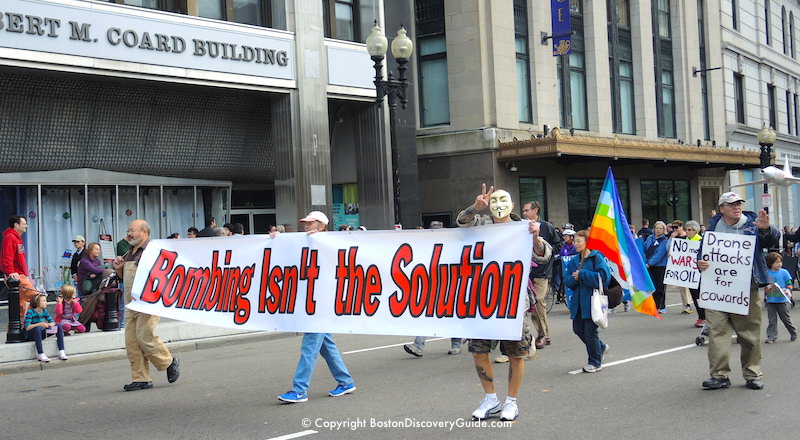 Marchers in the second parade carry a variety of signs to promote finding peaceful solutions to settle conflicts.
If you look closely, you may see marchers wearing hoodies emblazoned with a statement Veterans Day Parade marcher wearing hoodie with a statement attributed to Major General Smedley Butler, U.S. Marine Corps: "War is a racket. A few profit - the many pay."
---
Boston Hotels Close to the Veterans Day Parade Route
If you are coming from out of town to march in or watch the Veterans Day Parade, here are hotels close to the parade route:
---
Veterans Day Cruise to the Boston Harbor Islands - 2022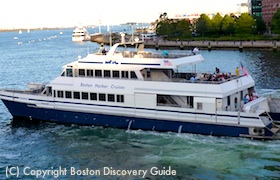 Being almost 400 years old, Boston has plenty of military history - and this special Veterans Day cruise to Fort Warren on Georges Island provides an enjoyable way to learn about it while honoring our veterans, past and present.
The cruise stops at Georges Island for a tour of Fort Warren.
Once you reach Georges Island, Park Rangers will present a program about the military history of Boston Harbor from the American Revolution through the Civil War and up to the present time.
The cruise boats depart from the Charlestown Navy Yard and from Long Wharf on Boston's Downtown Waterfront.
Veterans and active duty military pay $5. Everyone else pays $10. Masks are required.
Please note - this cruise takes place on Saturday, November 13, 11am-3:15pm. Be there no later than 10:30am for boarding.
More information: Reservations are required. Go online to sign up and get tickets: https://www.bostonharborislands.org/event/veterans-day-cruise/
(The link should take you to a page that lists the Veterans Day Cruise - if you don't see it, check back later as it probably hasn't been posted yet.)
Veterans for Peace: Reclaiming Armistice Day - TBD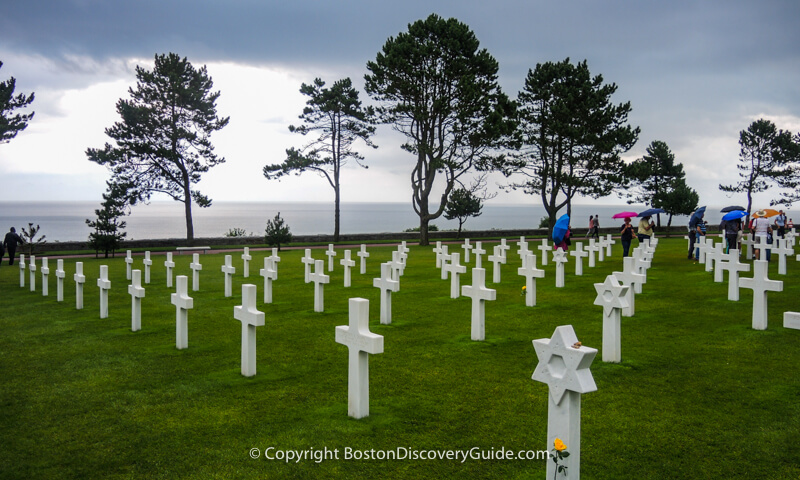 Veterans for Peace will host an event at Boston Common's "Speaker's Corner" (corner of Park and Tremont Streets by Park Street T Station) on Thursday, November 11th from 10am - noon to remember those died in war and celebrate peace, the original purpose of Armistice Day.
Veterans (masked and distanced) will stand along Tremont Street with signs and flags, pass out fliers(while wearing gloves), and ring bells 11 times at 11:11am to commemorate the moment when the Armistice agreement was originally signed. There will also be short (1-2 minutes) speeches in support of peace at the Speaker's Corner. More information
Veterans Day Ceremony in the North End - TBD
VFW North End Post 144 Veterans will conduct their annual Veterans Day memorial services to honor North End military veterans who served in World War I, World War II, Korean War, Vietnam War, and more recent wars. Prayers, wreath laying, and remembrances will take place in the Prado (Paul Revere Mall) near the Paul Revere statue behind Old North Church.
Following the ceremonies, veterans who wish to may attend mass at St. Leonard Church near the Prado on Hanover Street at 12pm. All are welcome to attend.
Veterans Appreciation Day at Plimoth Patuxet - TBD
Plimoth Patuxet, which includes the Mayflower II ship, the historic Patuxet Wampanoag Homesite, the 17th-Century English Village (ie, Plimouth Plantation), and the Plimoth Grist Mill location in Plymouth to the southeast of Boston will offer free admission on November 11 to active duty military and veterans plus one additional adult and up to four children age 12 and younger. This includes members of any branch of the US armed forces, included the National Guard and Reserves. Museum hours are 9am - 5pm. More information
Old North Church Remembrance Day Ceremony - TBD
The Old North Church (193 Salem Street) in Boston's North End neighborhood will host its annual Remembrance Day Ceremony on Sunday, November 10th at 11am. The morning prayer service will be followed by wreath laying and a festive reception. The British Officers Club of New England will be present for the reading of In Flanders Field written about World War I by Canadian physician Lieutenant-Colonel John McCrae. All are welcome.
Freedom Trail Run - TBD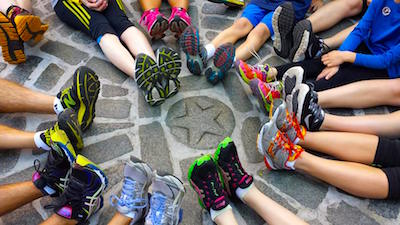 Freedom Trail Runs take place in Boston on just about every week (except during January and February), including the weekends before and after Veterans Day.
The guide-led run is actually a tour for runners, providing an active way to tour Boston's historic sites along a 5k course.
You'll run along the Freedom Trail from site to site, with stops at each landmark to learn about the site's history.
Tours depart at 2:30pm on Friday and 8:30am on Saturday and Sunday, and last about 2 hours. There is a fee, which covers the tour, the ferry ride back to Boston from Charlestown, a t-shirt, and a drink. There is no discount for Veterans (as far as we're aware), but if you're visiting Boston on Veterans Day Weekend, the run is a cool way to see these historic sites related to the Revolutionary War, War of 1812, and the fight to abolish slavery.
More information, including signup: www.freedomtrailrun.com
Shop the Veterans Day Sales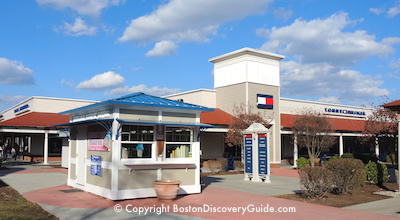 Smart shoppers hit the Veterans Day sales hard! For best places to go, see our Columbus Day Sales suggestions.
Columbia Outlet stores (Wrentham Village and Assembly Row) offer military veterans (active and retired) 15% off their entire purchase. That's on top of the discounts and sales they already offer. Their Veterans Day Sale typically offers 40%-50% savings on all men's and women's outerware - so the combined discount over Veterans Day Weekend gives veterans a really great deal.
If you are a Veteran, Home Depot and Lowe's will give you a 10% discount on November 11. (Bring your government-issued military ID card; discounts apply to other days for most U.S. military; here is more information.)
Mahoney's Garden Center is offering all US military veterans and active duty military a generous 25% discount on all purchases (except for gift card purchases and a few other things) from November 11 through November 14th. Find all 7 Boston-area Mahoney's locations
Wrentham Village Outlets offer some of the biggest bargains on luxury brands - sale prices on top of the usual discounts but get there very early to avoid traffic and parking snarls. Or hop on one of the Wrentham Village buses from Boston and relax while someone else does the driving.
You can also find a closer discount shopping alternative at Assembly Row, 5 minutes (by subway) from Downtown Boston. Hop on the Orange Line and get off at Assembly station. Veterans Day sales at both Assembly Row and Wrentham Village Outlets usually offer 30% to 70% off the already discounted prices.
Volunteer for Veterans
Want to show your appreciation for the sacrifices that Veterans have made to keep our country strong? Volunteer to serve meals at the New England Center for Homeless Veterans at 17 Court Street in downtown Boston, just a few steps from the Freedom Trail.
Volunteers are needed every day to serve both lunch and dinner, and for other activities as well. You can volunteer as little as an hour, or for a full day - one time only, or on an on-going basis.
Call ahead to register at 617-371-1800, or register online.
Saying "thank you for your service" to a veteran is fine - but taking personal action to show your appreciation is even better!
Veterans Day Specials at Boston Attractions - 2022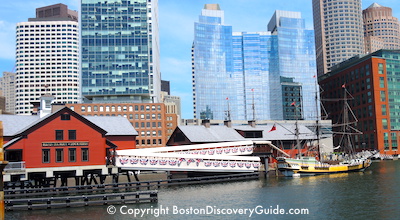 Old Town Trolley Tours - Free admission on Friday, Nov 11, 2022 for all active duty, retired, and honorably discharged US Military Veterans. Must show current ID card for active duty or retired, or a DD214 (proof of release) at the Old Town Trolley Tours of America booth (Faneuil Marketplace - booth at 200 Atlantic Ave at the west of the Marriott Long Wharf Hotel next door to Columbus Park). Please note: The trolleys operate as a 1-hour tour, not hop-on hop-off, from early November through mid-March. More information: https://www.trolleytours.com/boston/coupons-promotions
Franklin Park Zoo and Stone Zoo - Free admission to Veterans on November 11, 10am - 3:30pm (closes at 4pm). You must reserve online to get your free admission ticket.
The Hall at Patriot Place (by Gillette Stadium in Foxborough) - Free admission to this fun sports museum for military Veterans and Active Duty military service members on Veterans Day (also Memorial Day in May) - must show proper military identification. The Hall is closed on some days for private events as well as on some holidays - you can check the schedule here: https://www.patriotshalloffame.com/visit/admission/
While you're at Patriot Place, check out all the discounts offered by stores and restaurants
Federal parks - Entrance fees are waived on Veterans Day for active duty and retired veterans
Wang Theatre at Boch Center Tour (270 Tremont Street - 2 blocks from Boston Common) - Free admission is not available this year to Veterans for a behind-the-scene tour of the gorgeous Wang Theatre, including photos and memorabilia of rock and folk legends in the new Music Hall, part of the upcoming Folk Americana Roots Hall of Fame - but check back next year! Hourly tours are available starting at 12 noon on Fridays and Saturdays on a first come, first served basis. Please arrive at the ticket booth in the lobby 15 minutes before the hour. More information about the tour: https://www.bochcenter.org/tours
Boston Tea Party Museum & Ships (306 Congress Street) - Not confirmed for 2022: Free admission for all Veterans, active duty military personnel, and police officers on November 11 - must show current ID for active duty or DD214 (proof of release from the military) at the door. More information about admission - 1-855-832-1773
More information about the museum
DAV 5K Boston - TBD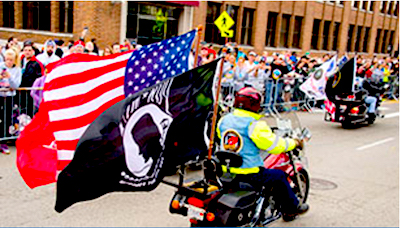 The DAV 5K Boston is a run, walk, roll, and motorcycle ride that thanks those who served and raises awareness of issues faced daily by ill and injured veterans. It also features a shorter walk/run option of 1 mile or less.
This fundraiser supports Boston area events to help veterans and their families, and is sponsored by USAA and a number of other organizations. It raised over $200,000 last year.
This event takes place on Castle Island (2010 William J. Day Blvd), and starts at 9am. Check-in is at 7am.
This year, the event is virtual-only. More information
Veterans Specials at Boston Restaurants & Stores - 2022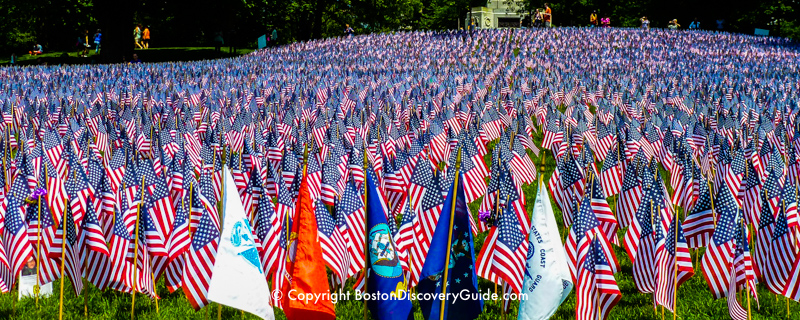 If you're a veteran or active duty military, local restaurants want to thank you. You will need proof of your status, such as a military ID, photo of yourself in uniform, or other proof of service. Unless otherwise noted, these Veterans Specials are for November 11 only.
Bar Louie - Free craft burger or flatbread of your choice for all active duty and retired military
California Pizza Kitchen - Free entree from a special Veterans Day menu including pizza, salads, and pasta; come in your uniform or bring your military ID
Chili's: Free meal from a select menu for veterans and active duty military
Dunkin' Donuts - Free doughnut for all veterans and active duty military, no purchase necessary
East Coast Wings + Grill - Free meal all day - dine in or take out
Einstein Brothers Bagels - Free hot or iced medium coffee for all veterans and active-duty military
Fox & Hound - Free meal for dine-in only
Friendly's - Free All-American meal (burger or cheeseburger, fries, drink) for lunch or dinner
Hard Rock Cafe - Free Legendary Steak Burger, and 15% military discount on other items for active-duty and retired military
IHOP - Free red, white, and blue pancakes from 7am-7pm on Veterans Day for all active-duty military and veterans
Ikea - Free meal on Veterans Day; military ID required
Macaroni Grill - Free mom's ricotta meatballs and Spaghetti with military ID
McCormick & Schick's (Faneuil Hall Marketplace and Park Plaza Boston locations) offers veterans, National Guard, and Gold Star honorees (parents and spouse) a half-priced lunch or dinner entree from a special menu (ie, no big steaks) on November 8.
Ninety Nine Restaurant & Pub - Free entree from a special Veterans Day menu when you purchase any other entree, 11am - 5pm, dine in only
Starbucks - Free tall hot-brewed coffee for veterans, active duty military, reservists, and military spouses
Yard House - Free appetizer for veterans and active military with a valid military ID; dine in only
---
Where to Stay for Veterans Day Weekend in Boston
Use this Boston hotel map from Booking.com to find great rates:
More about how to save on Boston hotels
Go to the North End for Ravioli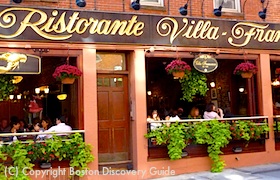 Ravioli gained status as the traditional Veterans Day food after President Woodrow Wilson invited 2,000 hungry returning soldiers to the White House to dine on ravioli (newly trendy at that time due to advances in commercial canning) in 1918.
Carry on the tradition by heading to Boston's North End where most of the Italian restaurants along Hanover and Salem Streets will have ravioli - or other equally delicious pasta - on their menus.
More Boston Veterans Day Weekend Suggestions
Coming to Boston for a 4-day weekend including Veterans Day? Here are suggestions about a few more things to do: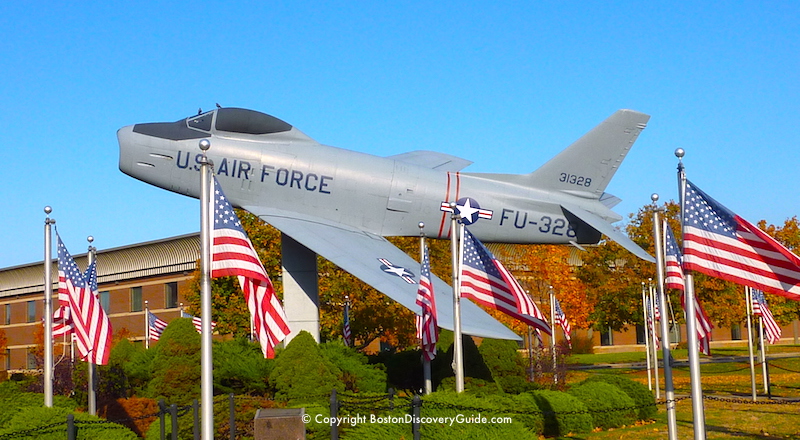 ---
Favorite Boston Restaurants & Pubs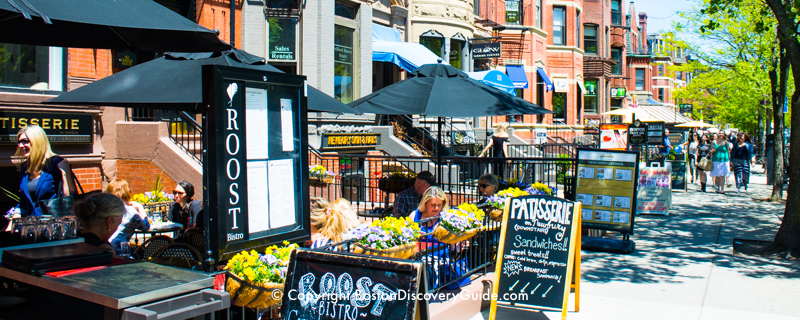 ---
More to See and Do in Boston during November
---
More to Do in Boston in November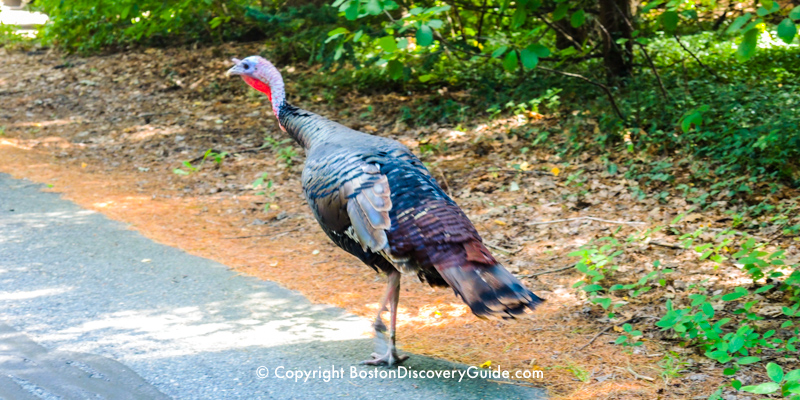 ---