Boston weather in November ranges from warm and glorious to cold and bitter - with many possibilities in between.  
If you're planning to visit Boston in November, knowing what kind of weather to expect will give you the best travel experience. 
Check out the photos on this page showing Boston scenes on sunny, beautiful days. 
November brings its share of rain and occasionally snow as well - so be sure to check out our packing suggestions later on this page.
Top photo: November fall foliage along Boston's Esplanade overlooking the Charles River, (c) Boston Discovery Guide
Boston Discovery Guide is a reader-supported publication. When you buy through our links, we may earn a commission at no additional cost for you. Learn more
---
Early November Weather in Boston - Photos
November weather in Boston can be hard to beat - when it's good.
At its best, clear blue skies and warm, balmy days enable us to go into denial about the winter months ahead. Colder, rainy, even snowy days - yes, these do happen! - make us appreciate the nicer days even more.
These photos, taken during the first week of the month, show what early November Boston weather can look like. Notice how many colorful leaves still cling to the trees.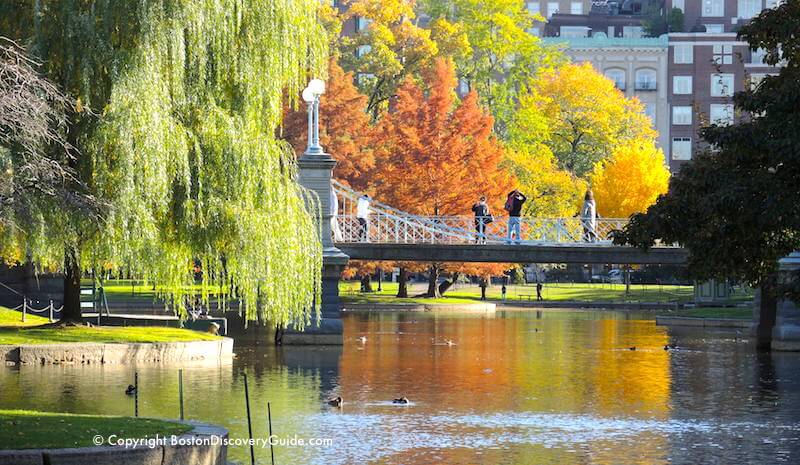 Golden and crimson foliage surrounds the Lagoon at Boston's Public Garden as spectators soak up the early afternoon sun - even though the huge weeping willow trees stay stubbornly green until toward the end of the month.
This photo was taken at about 3pm, but since Daylight Savings time has ended, days are short.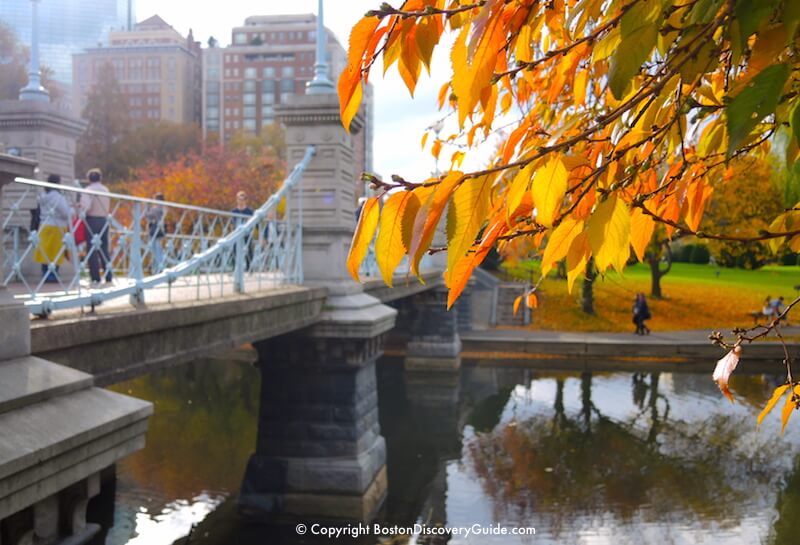 Another view of November fall foliage colors at the Public Garden. The bridge over the Lagoon provides a perfect viewing location.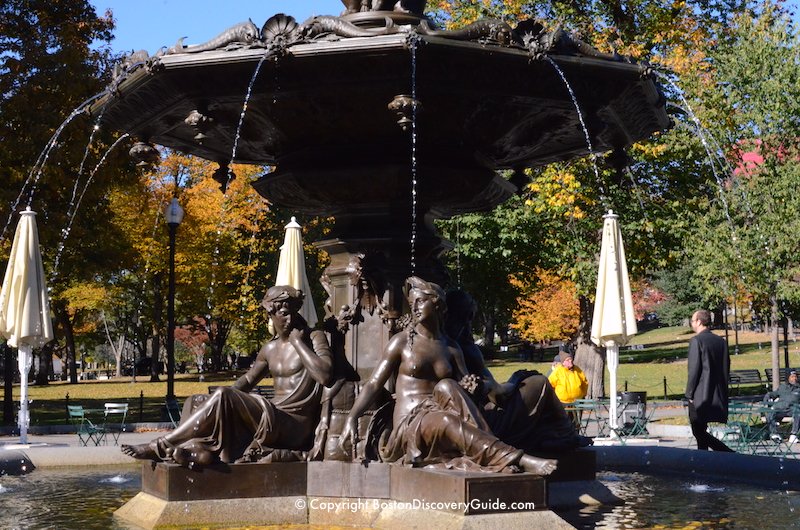 Brewers Fountain on Boston Common frames the brilliant fall foliage on the huge trees in the background.
The weather is still warm enough early in the month to allow the water to still be on (once the weather turns colder, all fountains have to be drained for the winter).
Tables and chairs around the fountain provide the perfect place to sit and soak up the sun.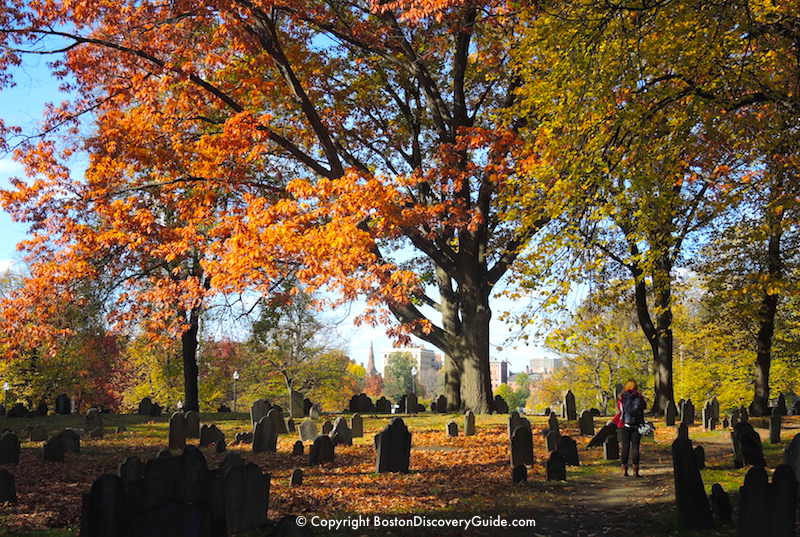 Boston Common provides a backdrop of gorgeous red and gold foliage for Central Burying Ground, located in a quiet corner near Tremont Street.
Walk around the graveyard, and you'll find many Revolutionary War-era graves.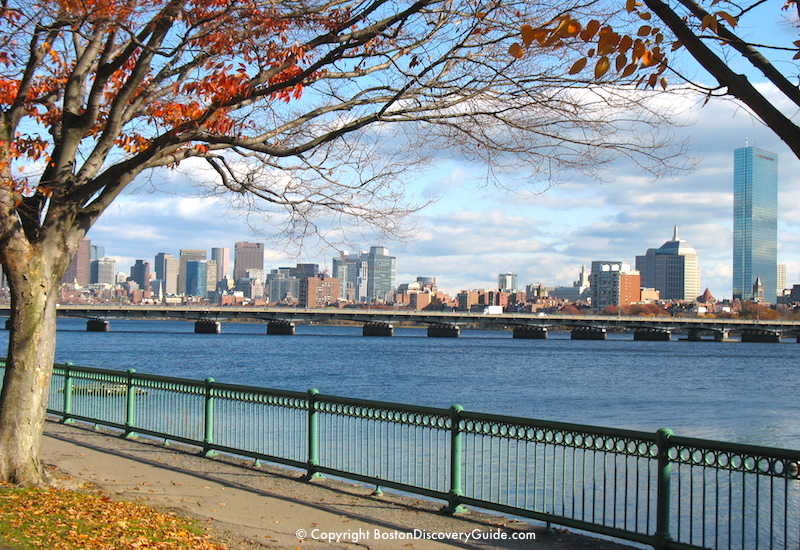 Boston's city skyline, photographed from Cambridge across the Charles River. As you can see, leaves on this tree - usually a spectacular red throughout the month of October - have mostly dropped to the ground.
---
November Temperatures and Conditions
November weather in Boston differs every year . Although warm weather, sometimes called "Indian Summer," may characterize the first part of the month, Thanksgiving temperatures at the end of the month may also be balmy.
Or not. Nor'easters, freezing rain, snow . . . all possible, and to some degree, probable. The only predictable thing about Boston weather in November is that it's unpredictable.
Record high temperature for November: 83° F (1950)
Record low temperature for November: -2° F (1875)
Average November high temperature: 52° F
Average November low temperature: 38° F
Average precipitation for November: 4.0 inches

The November - December timeframe typically brings the first significant snowfall to Boston - although in recent years, am October 28 snowfall, followed by a bigger weekend storm over Halloween, reminds us that snow can come earlier! If you are planning to travel, weather can be a big consideration when deciding what to pack, so be sure to check the Boston weather report before coming.
---
What to Pack for Boston in November
In addition to our regular suggestions about what to pack for your Boston trip, be sure to bring plenty of layers - sweaters, jackets, warm vest, rainproof gear - so that you'll be ready for whatever Boston weather in November comes your way.
During the first part of the month, temperatures in the mid-60s and even low 70s are not unusual.
These stretches of warm, beautiful weather can last for several days or even a couple of weeks. Even so, temperatures can drop steeply as soon as the sun fades.
By the end of the month, though, cold weather is the norm; expect bone-chilling cold winds at times, and perhaps even snow. (The good news about the snow? It usually melts quickly in November.) If you are out walking around, you need gloves, a warm hat and scarf, and of course a warm jacket. Otherwise, you may feel frozen and numb within minutes.
Particularly if you're visiting Boston toward the end of the month, pack a warm jacket or coat, insulated gloves, a hat, and scarf. Warm socks will also make you happy. Boots are a plus.
Keep in mind that a bone-chilling wind can feel miserable - but combined with freezing rain, it is even worse. So bring something waterproof as well.
---
Best Activities for Enjoying November Weather
November is the perfect month for walking around the city and enjoying the last of the fall foliage, bright red seed pods hanging from small trees, many-hued chrysanthemums and other autumn blooms, and orange pumpkins left over from Halloween.
Even if the weather isn't so nice, dress warmly and go out anyway.
Just in case you're visiting and rain starts falling, check out Boston Discovery Guide's suggestions for rainy day activities in Boston and our recommended walking itinerary for a rainy day in the city.
If you're visiting with your children, take a look at the outdoor and indoor options on our kids' activities recommendations.
And on cold nights, stay warm and have fun at Boston theaters, movies, bars and clubs, and restaurants.
---
More Scenes of November Weather in Boston
Early in November, you'll still see lots of leaves on trees - some colorful, some still green.
Weather during the first half of the month can be quite warm ... although don't count on that when you pack, because cold weather is equally likely.
But by the end of the month, you should expect the temperature to drop. Most leaves will be off the trees and on the ground.
What does Boston look like once the weather turns colder?
These photos, taken throughout the month, will let you see how vibrant the city looks even as November progresses.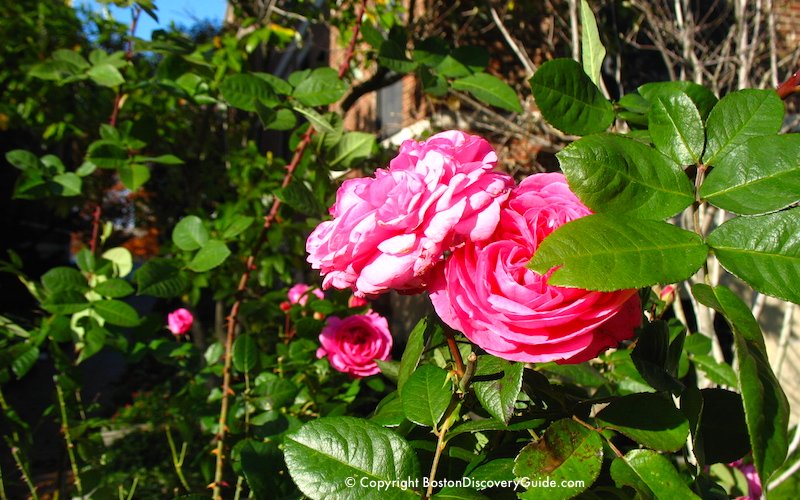 A surprising number of roses bloom in Boston throughout the fall, and well into late November. A little light frost does not seem to hurt them.
These beautiful pink heritage roses are blooming in the Back Bay neighborhood, where the mellow red brick Victorian mansions give them the perfect backdrop.
Other locations where you can see gorgeous fall-blooming roses include the Public Garden, Ramler Park (130 Peterborough Street) in the Fenway neighborhood, and Kelleher Rose Garden (73 Park Drive) in the Back Bay Fens (which, despite its name, is in the Fenway neighborhood just a couple of blocks from Fenway Park).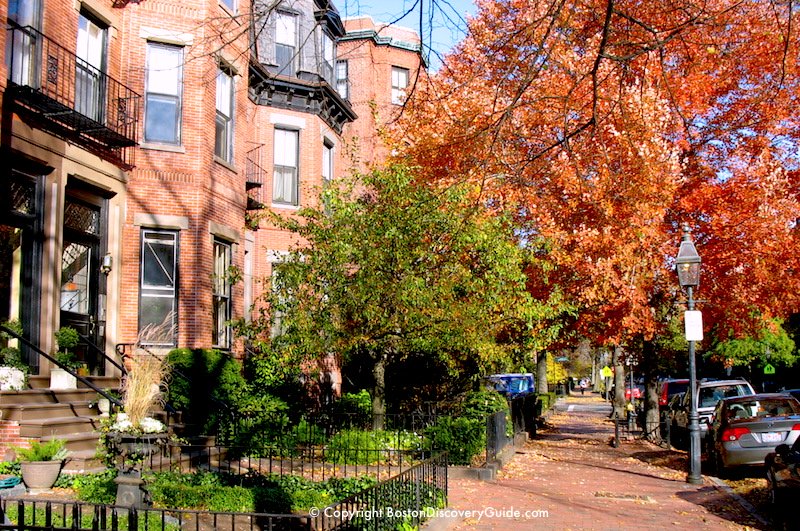 Marlborough Street in Boston's Back Bay neighborhood - photographed on November 10.
Red foliage on oak trees dotted along the sidewalks mask the bare branches of other trees.
Whatever the season, Marlborough Street is always one of the most beautiful spots in Boston.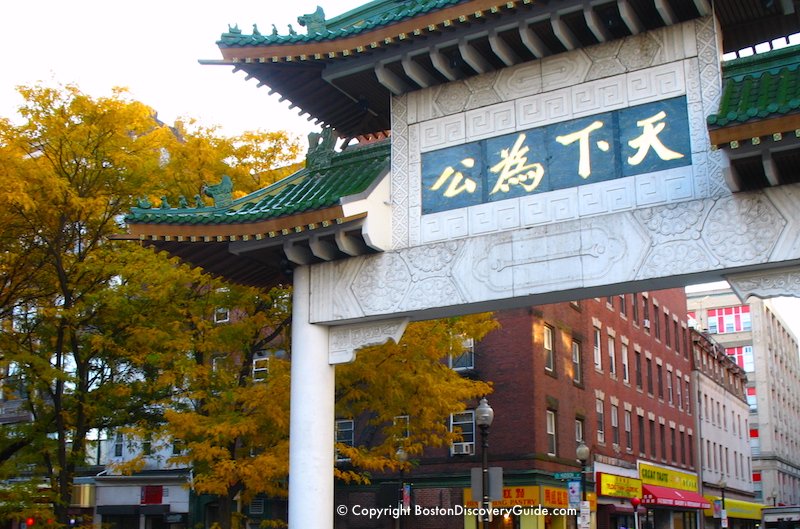 Chinatown Gate, photographed on November 19.
You can see the colorful foliage, even though this isn't a particularly leafy part of the city.
To see more November color in this area, walk out onto the Greenway, where the beautiful plantings of grasses and foliage plants will still retain autumn hues.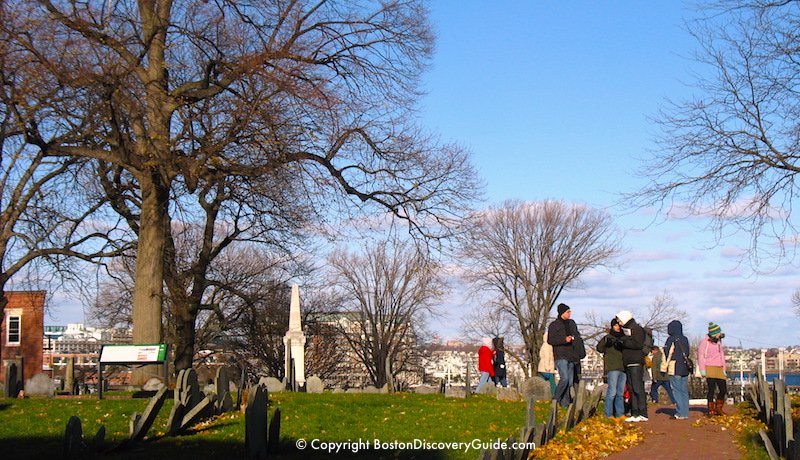 Copps Burying Ground, in Boston's North End neighborhood, dates back to the 1600s and is one of the city's oldest graveyards. It occupies high ground at the point where the Charles River and Mystic River meet as they flow into Boston's Inner Harbor.
Strong winds can hit Copps Burying Ground hard, which is probably why all the leaves had disappeared from the trees when this photo was taken on November 21, even though trees in less windy parts of the city still had plenty of leaves.
Even on warm sunny November days when the rest of the city feels warm, wear a warm jacket, hat, and gloves when you visit this Freedom Trail site!
---
Fun Things to Do and See in Boston
---
Boston Weather during Other Months
Find Out More About Weather in Paris
Paris Weather by Month
Jan - Feb - March - April - May - June - July - Aug - Sept - Oct - Nov - Dec
Related Articles
---
More Articles about Visiting Boston in November
---