Boston offers more things to see and do than you can possibly pack into one trip, or even a dozen.
From famous historical attractions to iconic events to whale watching cruises to sports and theater, Boston is full of interesting activities and places for you to explore and enjoy.
Boston's small, compact size makes getting around easy.
Take a look at all the possibilities, and then choose your favorite things to do and see while you're here.
Top photo: Duck boat splashing down in the Charles River
---
Top Attractions, Sightseeing, & Things to Do
---
---
Looking for a fun way to see Boston? The hop on hop off trolleys take you to see all the city's top attractions - plus you can get off and explore on your own whenever you want. More
See Boston from land and see on a duck tour. You'll drive past top historic sites, and then splash down in the Charles River for a tranquil ride along the Boston and Cambridge shores. More
---
Explore Boston's Brew Culture
Looking for an entertaining but legit way to see Boston and learn about its history and culture?
From the time of the first Puritan settlers, beer and taverns have been front and center in Boston life. These tours give you a fascinating glimpse of this important part of Boston history and current culture:
---
Entertainment, Sports, & Cultural Things to Do
With four pro sports teams, every kind of music you can imagine every night, a vibrant theater and performing arts scene, and world class museums, you'll never run out of things to do here!
---
---
---
---
Parks & Green Spaces
---
Celebrations, Top Events, & Fun Things to Do
---
---
Boston's Top Holidays & Celebrations
New Year's Eve / First Night | Valentine's Day | Chinese New Year's Parade | St Patrick's Day | Patriot's Day | Boston Marathon | Mother's Day | Memorial Day | July 4th Concert & Fireworks | Labor Day Weekend | Indigenous Peoples Day | Halloween | Veterans Day | Thanksgiving | Christmas in Boston | New Year's Eve / First Night | All Boston Events
---
More Things to Do in Boston Each Month
Find the top things to do in Boston each month:
January | February | April | July | October | November | December
Free Things to Do & See in Boston
---
Boston Hotels: Where to Stay
Choosing a hotel for your Boston visit? You'll find what you need in our Boston Hotel Guide: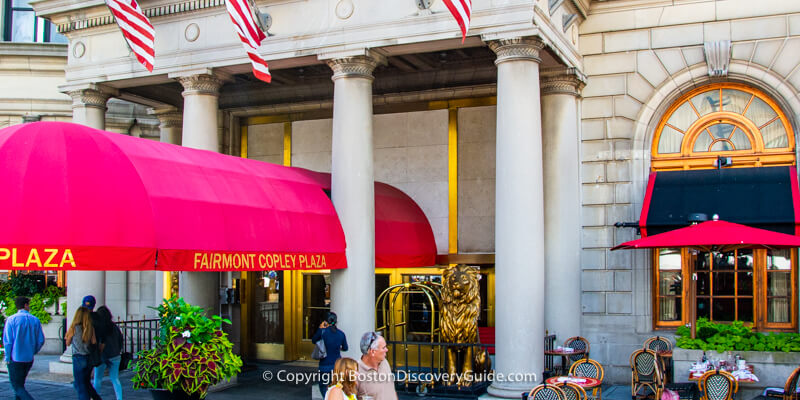 Here are a few suggestions to get you started:
Check our complete Guide to Boston Hotels
---
Easiest Way to Find a Cheap Boston Hotel
Boston hotel rates can be high - sometimes very high. How can you find affordable hotel rates for your visit?
The quickest way to find hotels with the cheapest rates is to enter your travel dates on this Boston hotel map from Booking.com. Zoom in with the + button if necessary, and you should be able to see at a glance which hotel (and apartments and short-stay rentals) offer the lowest rates:
More about how to save on Boston hotels
---
Exploring Boston
---
Sightseeing on the Water
---
More Boston Harbor and river cruises
Last-Minute Cruise Deals from Travelocity
---
Fun Things to Do & See
---
---
Fun Activities for Each Season
See Boston on Foot - Self-Guided Walking Tours
---
Top Shopping Destinations
---
Where to Find Discounts & Savings
Want to save on things to do in Boston? Here are some of our favorite savings tips:
---
Things to Do Beyond Boston
Don't miss out on these last minute cruise deals from Expedia
---
---
Need a Boston Hotel or Apartment?
Use this handy map from Booking.com to find the perfect place to stay. Just enter your dates to find what's available, see the best rates, and make your reservations.