When snow and wintery weather turn the city into a sparkling white paradise, chase away the cold by ice skating.
Boston offers excellent public rinks including the famous Frog Pond rink on Boston Common and an "Insider Secret" rink in the North End. You can find a couple more in Cambridge for enjoying this top winter sport.
Boston ice skating brings out crowds who love this winter activity. On warmer days, refrigeration under the ice and surface-smoothing zambonis keep the skaters happy.
If you're visiting Boston, no need to pack your skates - rinks offer rentals for a small fee.
Get ready to love winter in Boston!
Top photo: Ice rink on Frog Pond near Beacon Hill; Photo: copyright Boston Discovery Guide
Boston Discovery Guide is a reader-supported publication. When you buy through our links, we may earn a commission at no additional cost for you. Learn more
---
Ice Skating at Boston Common's Frog Pond
From late November through early March, Frog Pond transforms into a magical sheet of ice in the middle of the city, with an on-site zamboni keeping it smooth during skating season.
In case you're wondering, Frog Pond no longer an actual pond but instead, a shallow concrete-lined pool with a depth of about 6 inches.
The ice rink's convenient location on Boston Common, right in the heart of the city, means you can easily reach it on foot from most Downtown, Back Bay, and Beacon Hill hotels.
With picturesque Beacon Hill in the background, skating on Frog Pond is one of the things that makes Boston so much fun in the winter.
Bring your own skates, or rent them at the rink for a reasonable fee.
For a special experience, come during the holiday season when the Common's many trees sport colorful lights that turn ice skating at night a magical experience.
Frog Pond Amenities
Great hot chocolate, coffee, and other treats at the Frog Pond Pavilion snack bar - try the made-to-order Belgium waffles
Bobby Seals - Don't know how to skate? Rent a Bobby Seal, hang on to it as you glide across the ice, and you'll be able to skate on your own faster than you might expect
Frog Pond Essential Information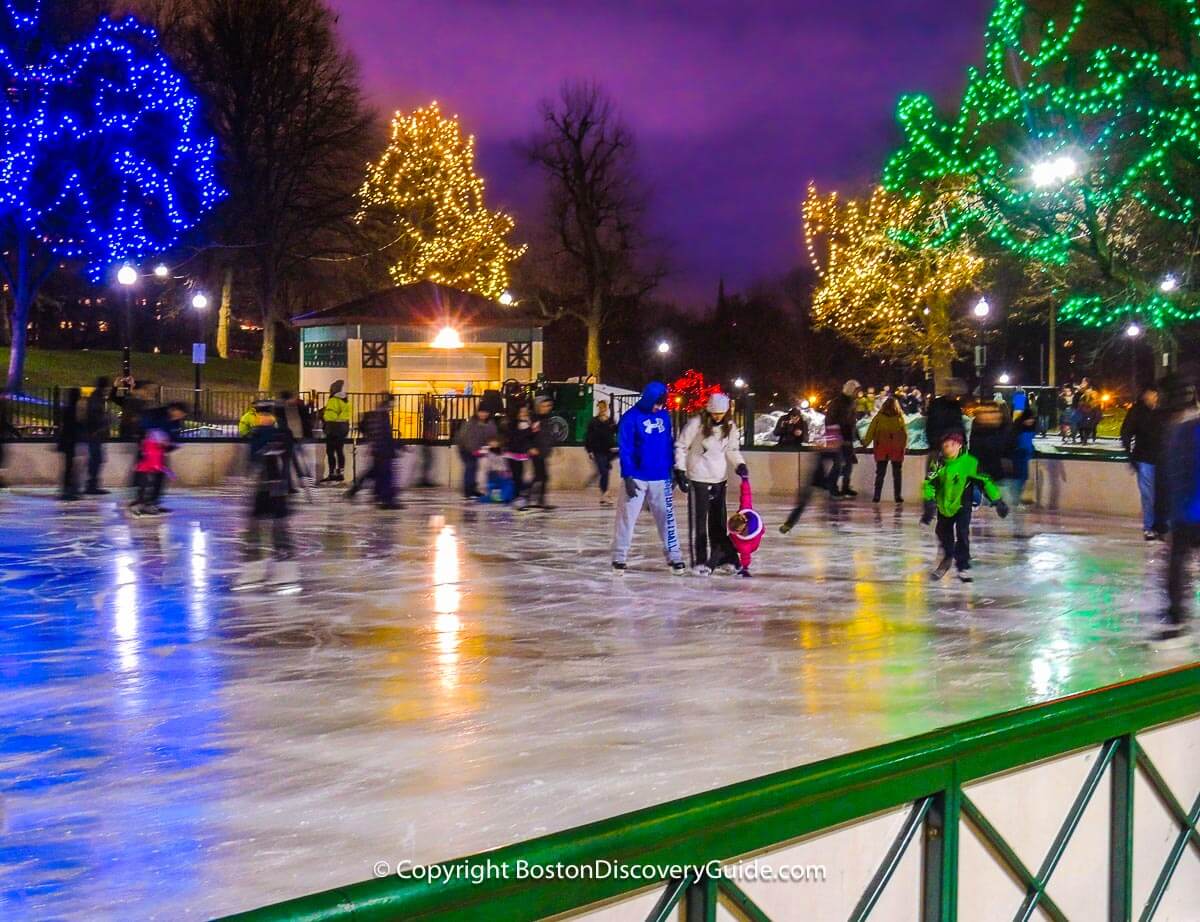 Cost: $6 if you are 58 inches or taller; free if you are under 58 inches
Open: Usually from mid-November (check Boston Event calendar for November for exact date) through mid-March - may vary by a week or two based on weather
Regular hours:
- Monday, 10am to 3:45pm
- Tuesday to Thursday, 10am to 9pm
- Friday and Saturday, 10am to 10pm
- Sunday, 10am to 9pm
Skate rental: Adults $12; children 13 and under are $6; locker rentals are $5
Skate Sharpening: $10/pair
Bobby the Skating Seal: $15 hour
Nearest T station: Red and Green Line/Park
Parking: Boston Common Garage.
More information: Boston Common Frog Pond website
More to Know about Ice Skating on Boston's Frog Pond
Frog Pond does get fairly crowded at times - especially on sunny weekend afternoons.
By contrast, Boston school holidays typically draw fewer crowds than you might expect, as a lot of Bostonians leave the city to go skiing.
Where to Stay near the Frog Pond Skating Rink on Boston Common
---
Ice Skating Rink Opens in Fenway
The Rink, the ice skating rink located between at 401 Park between Time Out Market and Trillium Fenway opens for the season this year on Saturday, November 12.
Adults can skate for $10, while college students (with ID), seniors and kits under the age of 12 pay just $6. Skate rentals cost $6.
The Rink is open from 3pm-9pm Monday - Friday, 11am-10pm on Saturday, and 11am-9pm on Sunday.
Once you finish skating, head into Time Out Market or Trillium for a hot drink, frosty beverage, and a tasty snack or meal from one of the terrific food concessions.
Nearest T Station: Fenway
---
More Fun Activities in Boston
---
Ice Skating - Boston's North End
The Steriti Ice Rink in Boston's North End is sort of an Insider's Secret: It's an easy walk from North Station, it's open from late November until mid-March, and skating is free!
The catch? The Steriti is heavily used by ice skating by Boston and North End teams and has limited public skating hours - usually a couple to a few hours daily. But hey, it's free.
If the hours happen to work with your schedule, you'll love the frendly vibe at this large, well-maintained rink, one of the 41 rinks throughout the state overseen by the Massachusetts Department of Conservation and Recreation (DCR).
Steriti Rink's indoor location offers a big advantage when outdoor conditions aren't perfect for ice skating.
Amenities
Spectacular waterfront views across to Charlestown and East Boston.
Limited snack bar (but who cares? You're in the North End, with plenty of fabulous bakery/coffee shops on nearby Hanover Street.)
Essentials
Location: 561 Commercial Street, North End, Boston
Open: Daily, late November through mid-March
Skate rental: $6 (skating is free)

Nearest T station: Orange and Green Lines/North Station
Public skating hours: Check their website
---
Community Ice Skating @ Kendall
You'll find Kendall Square Community Skating in in the heart of Kendall Square's Canal District (where you can also go kayaking in the summer), just across the Charles River from Boston. This trendy neighborhood also boasts numerous cafes and restaurants, so you'll find plenty of good places to eat after working up an appetite on the ice.
The seasonal outdoor rink is only a block from the edge of the campus of Cambridge's renowned MIT (Massachusetts Institute of Technology) - so if you're at MIT for an interview or campus tour during the winter, stop by for some stress-relieving ice skating. Boston is only 5 minutes away by T. Or you can walk across the Longfellow Bridge for scenic views of the Charles River.
Essentials
Address: 300 Athenaeum Street; Kendall Square, Cambridge, MA
Open: Daily, mid-December - mid March, weather permitting
Cost, schedule, skate rental: Check their website
Nearest T station: Red Line/Kendall-MIT. About a 4-5 minute walk to the rink
Tip: If the weather isn't good (sleet, rain, strong wind, heavy snow, too-warm temperature), check the website to make sure the rink is open.
---
Winter Skate in Patriot Place
Closed for the 2022-2023 season due to ongoing construction at adjacent Gillette Stadium. Check back next year!
---
Boston Harbor Hotel Ice Skating Rink - TBD
Look for Boston Harbor Hotel's seasonal ice skating rink right under the hotel's iconic arch, giving skaters spectacular views of the waterfront as they spin around the ice.
Amenities
Heart-warming beverages, libations, and snacks at Rowes Wharf Sea Grille
Enjoy the hotel's wonderful location next to the waterfront and the Rose Kennedy Greenway - plus close to Boston's historic and modern attractions!
Essentials
Location: Boston Harbor Hotel, Boston
Cost: Adults $10, children $5, children under 5 free
Open: Mid-December through late February - check the December events calendar for exact date
- Monday - Friday 3pm-8pm
- Saturday & Sunday 10am - 8pm
Skate rental: Adults $10, Children $8
Nearest T station: Red Line/South Station
Stay at Boston Harbor Hotel, or in a Nearby Waterfront Hotel
Take advantage of being close to BHH's skating rink - and enjoy low winter rates on the Waterfront.
Enjoy the views plus all of the fun activities along Boston's waterfront when you stay at the Boston Harbor Hotel.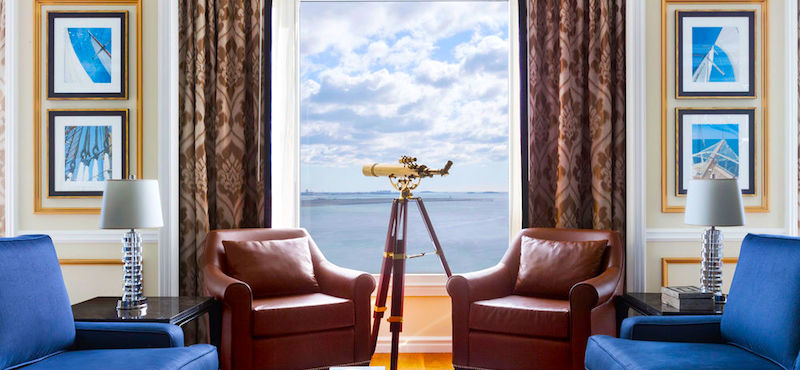 More top hotels on Boston's Waterfront:
Check out more hotels on Boston's Waterfront
---
Please note: Although we do our best to keep cost information on this page up to date, costs may (and do) change at any time, so please consider the costs on this page as approximate rather than as exact.
---
More to See & Do in Boston
---
---
Fun Winter Activities in Boston