Boston's Chinatown has dozens, or more likely hundreds, of restaurants ranging from banquet-sized palaces with novel-length menus and dim sum on steamer carts to tiny hole-in-the-wall spots serving just a few options.
Although Chinese specialties dominate, you'll find plenty of places to enjoy traditional Vietnamese pho, Japanese sushi, Mongolian hot pots, Taiwanese soup dumplings, Korean bulgoki, and Malaysian noodles. Almost hidden among them are some modern choices too - places where you can indulge in Hong Kong style chicken and waffles, innovative ramen, bubble tea, and boozy brunches.
So where should you go for the best Asian food in Boston? Especially if you're a visitor to Boston and not familiar with the maze of mostly narrow streets in this surprisingly large and somewhat sprawling neighborhood?
To make sure you get the most from your Chinatown visit, we recommend a mix of contemporary "new generation" and traditional choices where you'll enjoy the food, the ambiance, and have a memorable meal.
1. Q Restaurant - Hot Pot & Sushi Bar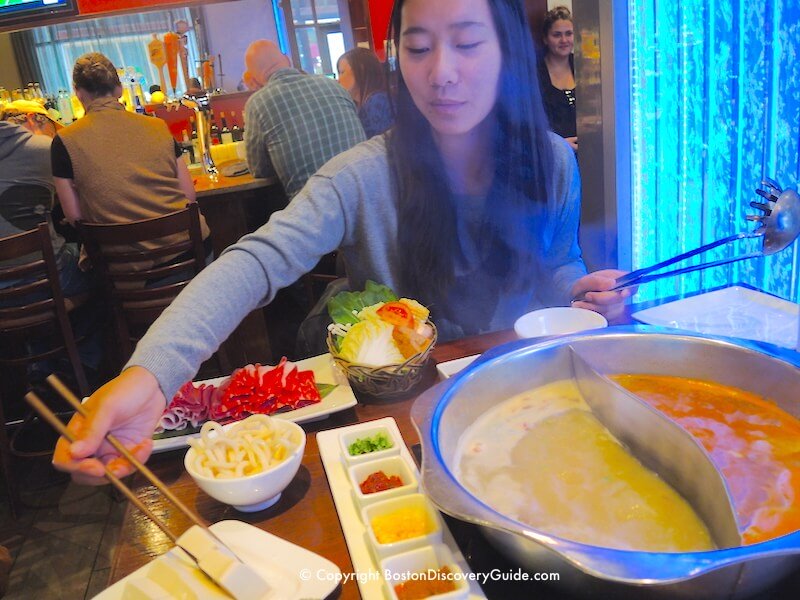 Q Restaurant is one of Chinatown's newest and trendiest spots, drawing enthusiastic crowds throughout most of the day and night, with occasional lines snaking down the sidewalk outside the door.
Q offers three rather different menus, each with extensive selections: Mongolian-style hot pot, sushi/makimono/sushimi, and Chinese dishes ranging from traditional to innovative. There's a full-service bar - and also a large selection of bubble tea.
If you're dining here for the first time, definitely try the hot pot - very tasty, plus you'll have a lot of fun cooking your meal at the table. Your first decision is the delicious broth prepared from long-simmered bones - you'll find more than a dozen flavor options offering various degrees of spiciness/heat. Small bowls of condiments arrive with the broth so that you can punch up the flavor complexity even more.
Then you choose the types of meats, seafood, tofu, veggies, and noodles that you want to add to the broth.
You can opt for a pre-set combination - or customize by ordering from almost 100 á la carte items. Everything is fresh, and top quality.
660 Washington Street, corner of Beach and Washington Streets | (857) 350-3968 | no reservations - but if you call about 30 minutes before you want to come, they will help you reduce your wait time | thequsa.com
2. Shojo - Contemporary Asian with a Manga Twist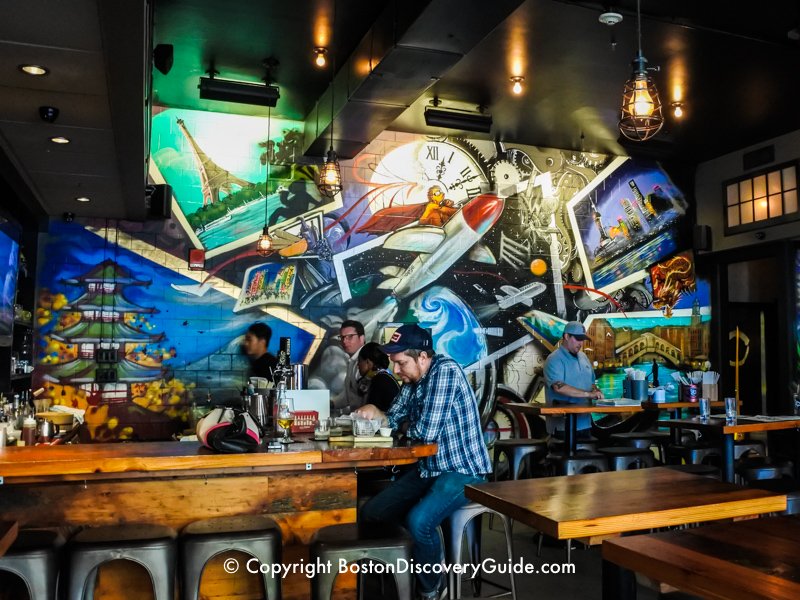 The second you step through the door at Shojo, you'll realize it's like no other Chinatown restaurant in Boston.
With a huge manga mural covering one wall, kung fu movies on the big screen over the bar (which offers an extensive list of sake, soju, shochu, craft beers, and Chinatown's most creative cocktails), a hip-hop/rap soundtrack, and congenial seating, Shojo practically screams "fun"!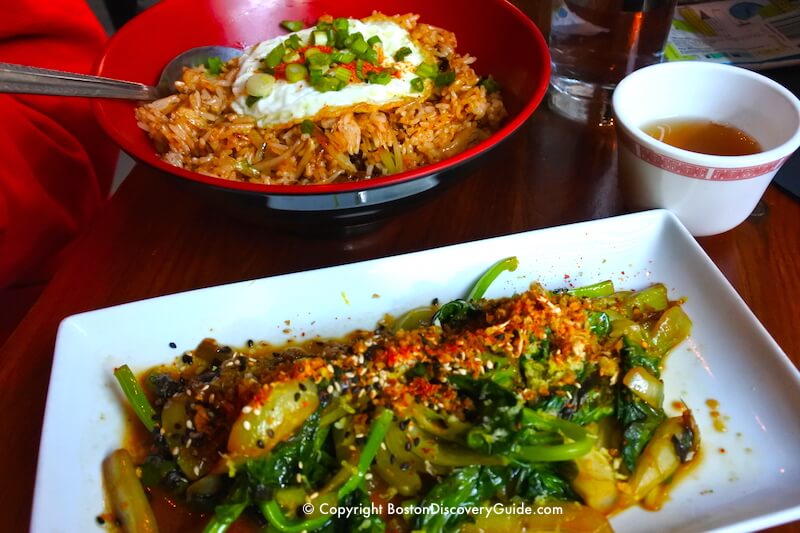 But as soon as the seriously good food arrives, everything else fades into the background.
You'll find flavors and influences from across Asia, especially Japan, Korea, Thailand, and throughout China - and possibly the most innovative cuisine in Chinatown.
Some dishes such as the kimchi fried rice topped with a fried egg are riffs on traditional Asian favorites, while others - the Wu-Tang tiger style ribs, and the crispy fish and chips taco - are more like Asian versions of Western cuisine.
You can buy tasty pork-stuffed bao at almost every bakery in Chinatown - but the version here made with suckling pig and a smoky BBQ sauce with plenty of kimchi and jalapeño for heat is in a class of its own. Shojo's small plates of sesame charred greens are addictive.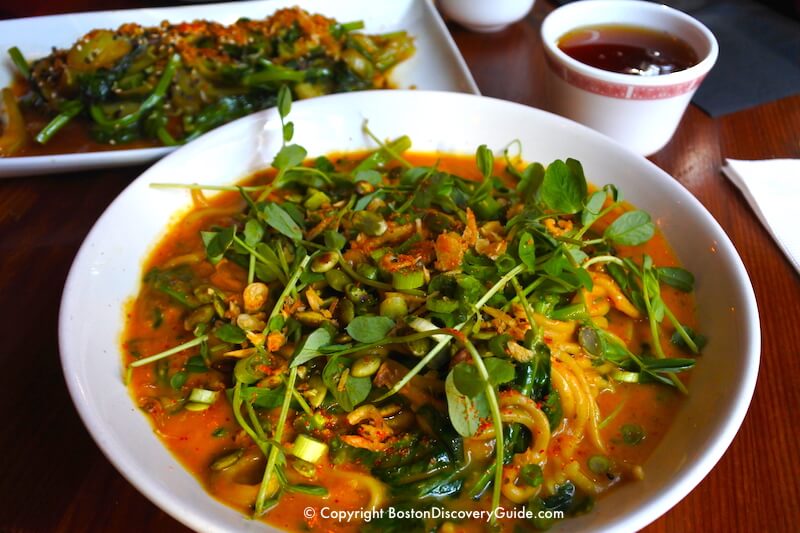 You'll see only 15 or so dishes on the dinner menu, and even fewer for lunch (ramen is offered only at lunch) - but there is plenty to love here. The chef changes the menu fairly frequently, based on what's fresh, what's good, and what inspires him.
9 Tyler Street | (617) 423-7888 | Dinner only Monday - Wednesday; lunch and dinner on Thursday - Sunday | www.shojoboston.com
3. Double Chin - A Light-Filled Asian Cafe
Double Chin, the fun-filled creation of sisters Emily Chin and Gloria Chin, serves up modern versions of Hong Kong comfort food plus Chinese spins on American classics such as mac and cheese (made with rice noodles) for you to mix and match while you savor an explosion of flavors.
A great place to start is the weekend "Boozy Brunch" when almost every table sports a carved out watermelon or pineapple holding fruit-infused drinks (alcoholic and virgin) and multiple straws. Order, perhaps, a Katsu Bo Lo Baowich (pineapple rice bun filled with katsu pork, a fried egg, unagi glaze, and house slaw), Chinese egg pastries, or Hong Kong style French Toast filled with peanut butter and a red bean sauce - ice cream optional.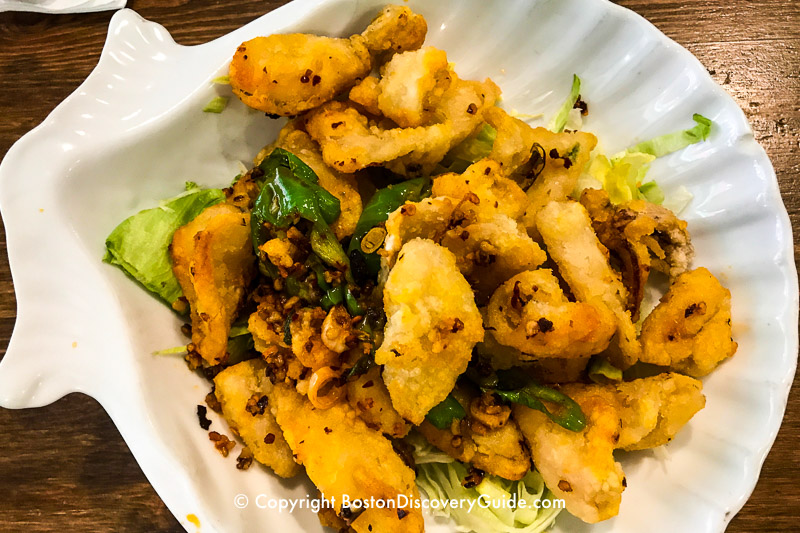 The regular menu offers everything from semi-traditional noodle, fried rice dishes, curries, and even roast duck to fusion riffs such as Corn Elote, Spam and Taro fries, and a fried soft-shell crab sandwich with sriracha mayo. Can't decide? Order a "Chinwich" - a sandwich made from scallion pancakes and savory fillings.
What you won't want to miss are the desserts. Hong Kong waffles with ice cream, fruit, small cubes of mochi, sauce, and pocky are spectacular, and so are the green tea (matcha) sundaes and fried donut slices with green tea and ovaltine dipping sauces.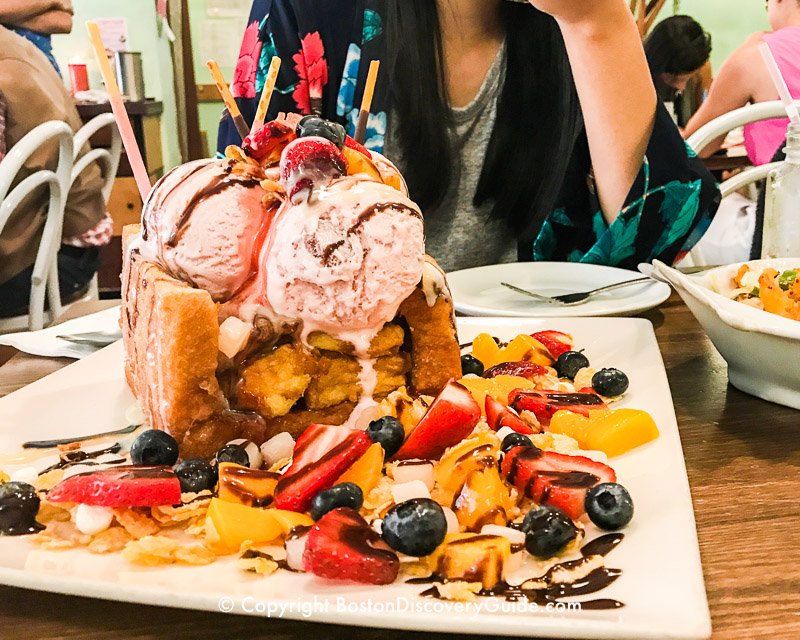 Although you can ask to have savory items arrive first and dessert at the end, even better is having everything on your table at once and alternating savory and sweet bites - a new way to experience the contrasting flavors.
Most dishes are meant to be shared, and each ice cream-filled waffle is easily enough for 2-4 people - unless, of course, you decide to skip everything else and just order dessert.
86 Harrison Ave | 617-482-0682 | Open at 11am until 4am on Thursday - Saturday, and 11pm on other nights | Boozy Brunch specialties available Saturday and Sunday 11am - 3pm | www.doublechinbos.com
More Ways to Enjoy Boston's Food Culture
4. Bubor Cha Cha Seafood Restaurant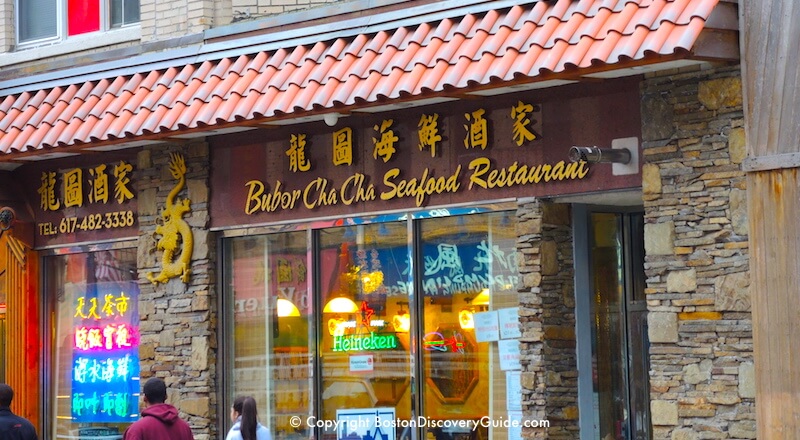 Bubor Cha Cha's decor - a fun South Pacific theme with fluffy white clouds scattered across the blue ceiling - gives you an immediate clue about this restaurant's specialties: Southern Chinese cuisine, with an emphasis on Cantonese, Hong Kong, and Hainanese dishes.
You'll see plenty of familiar items such as kung pao chicken and pork lo mein, plus you can order dim sum dishes throughout the day.
However, if you want to be adventurous, try one of the frog dishes, the delicate Hainan chicken, sautéed lotus root, sizzling beef rib with black pepper sauce, or the tasty eel with garlic.
And don't miss the very fresh seafood, swimming around in a tank until the moment you order it - and always one of the best reasons to dine in Chinatown. Choose what you'd like from a selection of fish and shellfish, including shrimp and lobster. The menu lists several preparation styles, but if you don't see exactly what you want - let's say you'd like your flounder served with garlic and ginger sauce - just ask.
45 Beach Street | (617) 482-3338 | Open until 2am on Friday and Saturday | www.buborchacha.com
5. Gourmet Dumpling House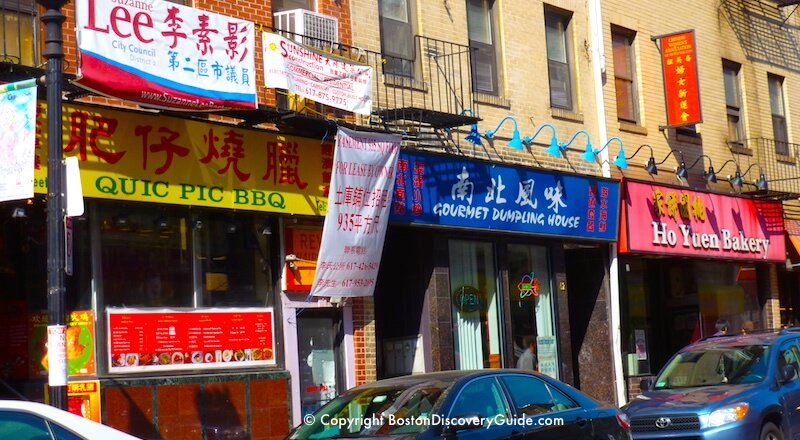 You'll often have to stand in line for a table at Gourmet Dumpling House - but if you want to dine on their intensely flavor soup dumplings, or xiao long bao (listed on the menu as "mini juicy dumplings") and other Taiwanese-style specialties such as sautéed mustard greens with edamame and tofu, chicken corn soup, pan-fried pork buns, eggplant with pork, fried peanuts, and sizzling baby beef ribs, you won't mind the wait.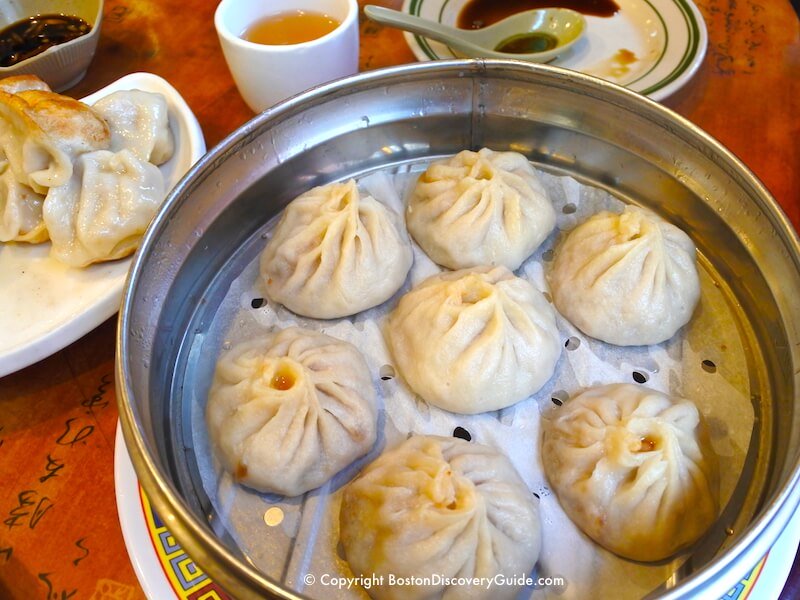 Gourmet Dumpling House is a no-frills restaurant, with tables crammed together in a small space.  You may sometimes be seated with strangers, which can actually be a lot of fun, especially when everyone tastes each other's food. 
52 Beach Street | (617) 338-6223 | www.gourmetdumpling.com
More Fun for Foodies: Boston Harbor Lunch & Dinner Cruises
Chinatown Restaurants - Directions & Parking
Subway: Green Line/Boylston or Orange Line/Chinatown
If you drive: The easiest place to park is in the garage under Boston Common, just 2-4 blocks from these restaurants. The 660 Washington Street Garage is also reasonably convenient. It costs a few dollars more than the Boston Common Garage, but Q Restaurant (located next door) gives you up to 3 hours of validated parking for $7 - a great deal! Although there are other garages in Chinatown, the narrow and congested streets can cause them to be difficult to access.
---
More Things to See & Do in Boston