Love wine? Wondering where to find the best local Boston wine tasting events, wine bars, food and wine festivals, organic wines, and wine tours?
An internationally-renowned Boston wine tasting event - the Boston Wine Festival at the Boston Harbor Hotel - gets the New Year off to a great start and puts Boston on the map as one of the best American city for wine lovers.
But as wine enthusiasts know, this event is just the beginning of Boston's love affair with wine - especially wine tastings, food-wine pairings, and new trends such as organic unfiltered wines. And if you're visiting the city, a wine tour can be the perfect way to combine sightseeing and pleasure
Thanks to our large number of wine bars, restaurants specializing in wine-food pairings, and even our own Boston Wine School, we get plenty of opportunities to savor the top vintages from around the world - and if you're visiting Boston, you can too.
Here's our guide to where to begin tasting wine in Boston, Somerville, and Cambridge, starting with the best wine bars, and then moving on to free wine tasting, wine tours, where to taste organic and biodynamic wines, special wine-tasting events and festivals, and wine-tasting classes.
---
Best Boston Wine Tasting Bars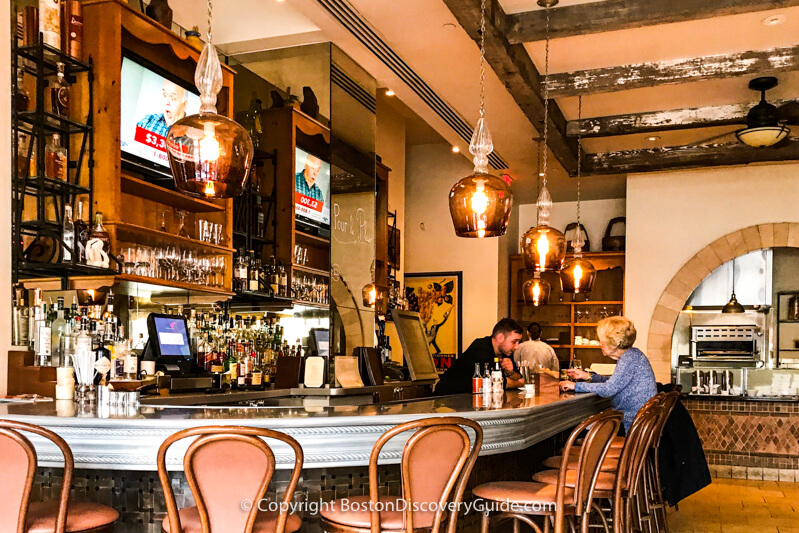 Boston offers a wealth of wine bars and other places where you can sample excellent and interesting vintages from wineries and vineyards from around the world.
Pair with food, and you have the makings of a very fine evening.
Sip Wine Bar
Choose from 4 different pour sizes ranging from a sip to a bottle, and pair your choices with the menu's tempting small plates, sushi, tapas, and dinner entrees. Check out other Theatre District restaurants offering food and wine pairings.
581 Washington Street, Theatre District; 617-956-0888
Bin 26 Enoteca
Come to this cozy Beacon Hill spot for the extensive wine list, and pair it with your choices from the innovative menu featuring contemporary Italian cuisine.
26 Charles Street, Beacon Hill; 617-723-5939
The Butcher Shop
This neighborhood wine bar and restaurant created by famous Boston chef Barbara Lynch and wine director Cat Silirie is a fantastic place to come for an entire meal with wine pairings, or just a glass or two of wine with a snack or small place. Perhaps 20-25 of the 100+ French, Italian, and Spanish wines are available by the glass; selections focus on small artisanal producers including many who both grow the grapes and make the wine.
552 Tremont Street, Boston's South End; 617-423-4800
Jaho
Coffee bar by day, wine bar by night ... this sleek but comfortable space beckons you to stop by for a drink at any time during the day and night.
665 Washington Street, Theatre District/Chinatown; 857-233-4094
Barcelona Wine Bar
Extensive selection of almost 400 Spanish and South American wines, mostly from small producers - at least 40 by the glass. Plus Spanish tapas, cheese, charcuterie, and a few larger dishes to share, including several paellas. Don't miss the chocolate bar.
525 Tremont St, South End; 617-266-2600
Piattini Wine Cafe
Appealing selection of Italian wines, organized on the menu so that even non-connoisseurs can make informed choices about what to order. As a bonus, each glass of wine comes with a small card with information about the region and tasting notes. Also a nice selection of small (and regular sized) plates of tasty Italian-influenced fare. Budget-friendly prices for both the wine and food.
226 Newbury Street, Back Bay; 617-536-2020
Les Zygomates Wine Bar and Bistro
Fine wine and exquisite food, plus live jazz or blues five or so evenings every week. A perennial Boston oenophile favorite. Wine tastings paired with food on Tuesday nights at 7 pm. Call to find out what's on offer, and make reservations.
129 South Street, Downtown; 617-542-5108
Troquet
Fabulous French bistro. Owner Chris Campbell directs the wine pairings, and Chef Scott Hebert prepares the delicious food. Many consider this Boston's best wine-pairings. Come here to enjoy some of the top vintages in the city, with many available by the glass.
107 South Street, near South Station; 617-695-9463
Bistro du Midi
Another Boston restaurant renowned for its Bordeaux and Burgundy-rich 1,000+ bottle wine cellar and wine pairings with French-inspired cuisine - casual downstairs on the bar-bistro level, and upstairs for more serious splurge-worthy dining. You'll find about 20-25 carefully selected choices available by the glass.
272 Boylston Street, Back Bay; 617-426-7878
Beacon Hill Bistro
The talented chef pairs the perfect vintages with his multi-course French and American dinners. Or just stop by the Fireplace Bar to enjoy a glass of your favorite. Stay in the hotel for the weekend and some serious sipping.
25 Charles Street, Beacon Hill, Boston; 617-723-7575
Now Pouring Wine Bar
Soon to open at Hub Hall, the new food hall within the Hub on Causeway complex next to TD Garden and North Station. Look for a rotating list of reds, whites, roses, and bubbly from around the world. No more details yet - but Now Pouring is rumored to be opening soon, so stay tuned!
Hub on Causeway, West End neighborhood
---
Fun Boston Wine Tours
Wine tours give you a fantastic way to combine good wine, good food, and exploring a Boston neighborhood as part of a small group of usually no more than six people. Whether you're a Boston local or a visitor to the city, it's a fun way to spend an afternoon.
---
Boston Wine Bars Specializing in Natural, Organic, and Biodynamic Wines
Natural, organic, and biodynamic wines (meaning no preservatives, no chemicals, minimal or no non-naturally occuring sulphites added or used during production; natural wines may or may not be made grapes grown organically or biodynamically) bring exciting new tastes, textures, and experiences that are turning the conventional 21st century concept of wines upside down.
Although many of these wines don't differ radically in taste, texture, or appearance from conventional wines, others do as winemakers test the boundaries of "what is wine?" From unusual colors like orange "white" wines to frankly weird flavors (try to imagine the essence of real but slightly to mouth-puckering sour fruit, or earthy mushroom tones, or unexpectedly carbonated effects) to obviously unfiltered (ie, cloudy) liquids, these are probably not the wines you grew up with but although they're not to everyone's taste, their fan base is growing.
Whether you're already an enthusiast and want to try more or just hope explore and see where the flavors lead you, Boston has some fantastic wine bars and at least one fully-committed wine shop where you can sample them, savor them, and maybe rethink the whole concept of wine.
Haley.Henry Wine Bar
Charming casual spot featuring a revolving selection of small batch naturally-made small production organic and biodynamic wines (and a few beer selections), tinned seafood, ceviche, crudo, charcuterie, and cheese. Commit to two glasses (roughly half a bottle), and the Haley.Henry staff will open any bottle for you.
45 Province St, Downtown Crossing; haleyhenry.com
Rebel Rebel
Just wine, simple snacks (olives, cheese from Formaggio, potato chips from Spain), and as Rebel Rebel promises, "rad music" and "rad people" in this tiny bar in Bow Market with seating for about 20 inside and another 20 outside. The focus in on natural wine. One of the best spots in Boston to try something you'll find unexpected, intriguing, and sometimes totally fantastic. The wine list changes all the time.
1 Bow Market Way, Somerville; www.rebelrebelsomerville.com
Tasting Counter
Better known for its ticketed tasting menu dinners where some of Boston's most highly acclaimed food is served up in a tiny space inside Aeronaut Brewery, Tasting Counter also has a wine bar (Wednesdays through Saturdays at 10pm and Tuesdays at 5pm) focused on natural and low-intervention wines, which they define as meaning wines produced from grapes farmed organically or biodynamically, hand harvested, fermented with wild yeast, and with no chemical additives. They cover a range of flavors and experiences, and you can pair them with small plates.
14 Tyler Street, Somerville; tastingcounter.com
Nathálie
Nathálie, a fairly new wine bar by Haley Fortier (of haley.henry wine bar) located near Time Out Market in Fenway is attracting a growing number of fans, both local and beyond, with its focus on small production, natural, and female-produced wines from around the world. Tasty assortment of small plates. Same 2 glass/half bottle policy as Haley.Henry.
186 Brookline Ave, Fenway neighborhood; nathaliebar.com
---
Wine Tasting Events in Boston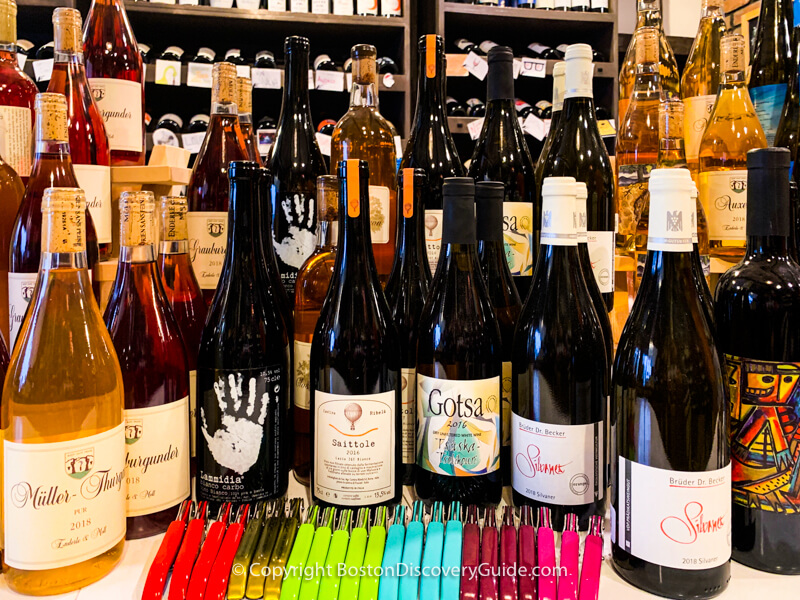 The Wine Bottega
Free Friday night wine tastings from 5:30-8:30pm make The Wine Bottega a popular Boston destination for fans of this small North End neighborhood shop's specialty: natural wine made with clean farming and no chemical additives or intervention that also tastes fantastic. The wines come from around the world, and despite its size, The Wine Bottega packs in a huge variety. Each week's tasting wines are discounted: 10% off if you buy one bottle, 20% if you buy 3.
341 Hanover Street, North End; 617-227-6607; thewinebottega.com
The Urban Grape
Free tastings three times each week (Thursdays and Fridays, 5pm-8pm, and Saturdays 3pm-6pm) give you plenty of reasons to visit Urban Grape in the South End. Almost all tastings involve wine, and some also give you the opportunity to sample craft beer from local breweries such as Night Shift and Lamplighter. Save 10% during tasting event hours.
303 Columbus Ave, 857-250-2509
Massachusetts Wine Shop - Boston Public Market
Massachusetts Wine Shop at Boston Public Market in the city's historic center offers free wine tastings every Friday from 4pm-7pm featuring one or more of their 90+ Massachusetts-grown and produced still wines, sparkling wines, hard cider, mead, and fruit wines. Great opportunity to sample local Massachusetts products.
100 Hanover Street, 617-953-7346
---
More Boston Wine Tasting Events
These Boston wine tasting events are about wine, of course - but also good places for socializing with others who love wine. Please note that these are NOT free events; although we note current costs, they may change at any time.
Charlesmark Hotel & Lounge
Charlesmark Hotel (655 Boylston Street, between Dartmouth and Exeter Streets, Back Bay) is one of the city's most popular on-going wine tasting events.
A $25 ticket gets you six wine samples plus appetizers from onsite restaurant Ora Trattorizza, and they also pass around martini shots. The wine tasting event takes place usually on the 3rd Wednesday of each month from 6pm-8pm. The best place to find date and ticket information is in the Events section on their Facebook page: www.facebook.com/pg/CharlesmarkHotelandLounge
Eataly Boston
Eataly Boston at Prudential Center (800 Boylston Street, Back Bay) offers almost-daily special events such as wine and cheese tastings, cooking and pasta-making classes, and even special dinners with wine pairings. The good news: you have a huge number of mouthwatering choices. The bad news: available slots fill up very, very quickly. Wine tasting events are especially popular so you need to book ahead at least two weeks or even farther in advance to get a place. For more information, click on Classes and Events to see what's on offer: www.eataly.com/us_en/stores/boston
---
Boston Wine Festival: Premier Boston Wine Tasting (& Savoring) Event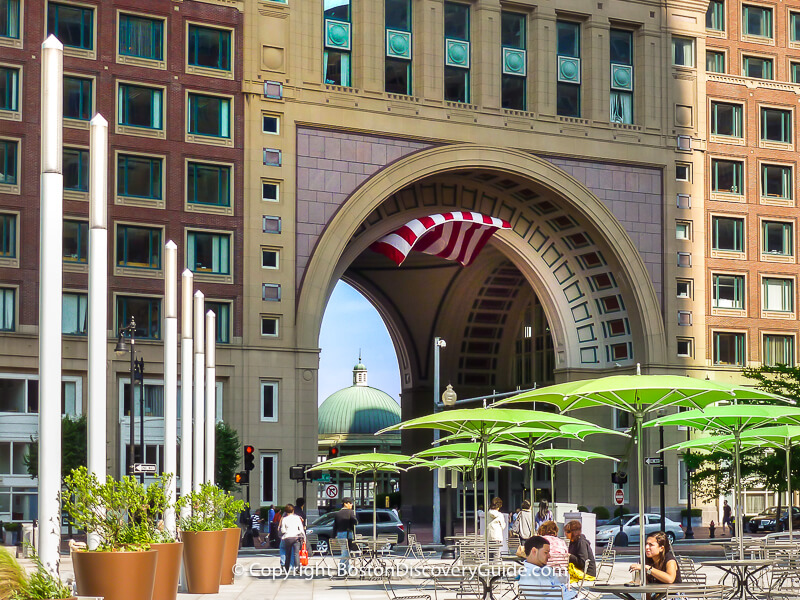 Over three decades ago, the Boston Harbor Hotel and its Executive Chef launched the Boston Wine Festival, now the longest-running and most famous food and wine event in the United States.
What is it about? From late January through late March, the chef pairs some of the world's finest wines with his innovative cuisine for guests to enjoy while overlooking Boston's waterfront. Guests come from all over the world to experience the unique pairings, which change with every dinner.
If you love excellent wine paired with superb food, this is a must-not-miss event.
Essentials: Boston Wine Festival
Dates: Late January through late March with dinners, lunches, tastings, and seminars as well as a Visiting Chef Series each week; check the festival's website for exact dates.
How it works: Make reservations for the night or nights of your choice for this Boston wine tasting event
Stay: Boston Harbor Hotel, the luxury waterfront hotel where this special event takes place (check for special Boston Wine Festival packages)
---
City Winery Tasting Flights in Boston's West End
City Winery (80 Beverly Street) near TD Garden in Boston's West End is a restaurant/concert/winery complex that sources its own grapes from North and South America, makes its own wine in its New York and Chicago wineries, and offers it in tasting flights, by the glass, and by the bottle - they even keep a selection of their 400+ wines on tap. You can try them in their restaurant, at their wine bar, or even during a concert.
---
Boston Wine School Classes, Dinners, & Events
Renowned wine writer/critic Jonathon Alsop founded the Boston Wine School, where he's been teaching about wine and food classes since 2000. Choose from a wide variety of wine tasting classes, with or without dinner.
Most tasting classes and dinners let you sample 6+ different wines with the perfect food accompaniments. If you're visiting Boston, this could be your most memorable experience! Check the Boston Wine School website for a calendar of tastings and dinners.
---
Not Wine, But . . . Boston Brewery Tours & Pub Crawls
Let's face it - even though Boston offers some great wine tasting bars and events, in reality Boston has always been a beer town.
Maybe it's because the city's original Puritan settlers drank beer instead of water, or maybe its because of our many sports teams - but for whatever reason, brewery tours and pub crawls rule.
And in fairness, our craft beer scene has exploded in recent years, with increasingly unique and tasty creations - so it's well-worth exploring. So if you prefer beer, try these tours and enjoy the brew:
---
More Articles about Where to Drink & Eat in Boston
---
Find a Hotel for Your Boston Visit
Enter your dates to see available hotels and rates: