Boston Marathon hotels fill up quickly - so if you want to stay in a hotel near the Boston Marathon route, make your reservations as soon as you know your travel dates.
Our guide shows you where to find the best hotels and rates near the Boston Marathon start line, finish line, and along the route.
Even though the Boston Marathon takes place in April, participants and their fans begin making hotel reservations in September when Marathon registration begins - or even earlier.
Marathon Weekend attracts huge numbers of visitors to Boston - so to get your top hotel choice, reserve early.
Top photo: Lenox Hotel, near the Boston Marathon Finish Line on Boylston Street
---
Hotels with Best Views of the Boston Marathon Finish Line & Last Mile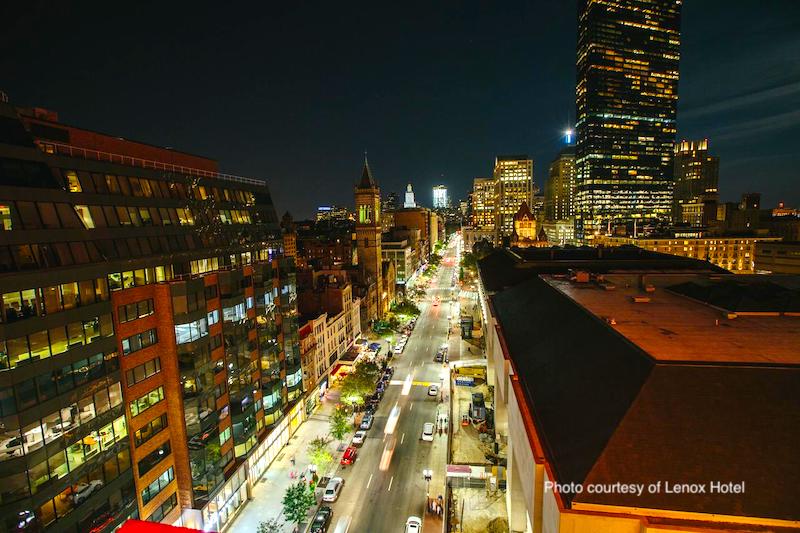 If you want to see the finish line from your room, you must book early and be prepared to pay a hefty price.
To score one of these views, you should book up to a year before the Marathon.
You may find best rates online - but be sure to to call the hotel directly to confirm your room location. Not all rooms in hotels on or near the last mile overlook the route.
These hotels offer views of the Finish Line on Boylston Street:
These hotels give you a great view along Commonwealth Avenue, just a few blocks before the finish line. They are a good choice if you want to avoid the most intense crowds but still be close to the action:
If you're coming with your family and need more room, a convenient choice is the Residence Inn Fenway on Brookline Ave, just behind Fenway Park. You can easily walk over to Comm Ave or Boylston Street to see the race. (If you want to stay here, don't wait to book - this hotel always fills up fast because everyone loves the little kitchenettes in the suites, plus you get free hot breakfast.)
Another nearby choice with suites, just one block away from the Commonwealth Ave stretch of the Marathon route, is Gryphon House, a magnificent Victorian mansion turned B&B.
Of course, if you plan to watch the Marathon at street level, almost any hotel in central Boston will be convenient to the race route, either on foot or by "T" (Boston's subway). Check our Boston hotel guide for more options.
Boston Hotels with Special Deals for Marathon Runners (to be confirmed for 2023)
Loews Boston Hotel - Located just 3 blocks from the Marathon Finish Line on Boylston Street and 3 blocks from the Boston Common pick up point for runners, Loews is offering terrific amenities this year for runners and their family who stay at the hotel on Marathon Weekend: a complimentary "grab and go" brackfast with race day fuel on Marathon Monday, a pre-race yoga session on Sunday offered by an Equinox (top Boston gym) certified trainer, access to a dedicated sign-making room with markers, glitter, etc on Friday through Monday, and 26.2% off selected pasta specials in onsite Pricinct Kitchen + Bar. Check rates & make your reservations
---
Hotels near the Boston Common Pick-Up Point for Runners
If you're running in the Marathon, the most convenient places to stay are hotels near the pick-up point at Boston Common or near Hopkinton where the race begins.
Official Boston Athletic Association (BAA) buses pick up runners (but not your family or friends) from the Tremont Street side of Boston Common in Downtown Boston between 6:00am - 7:30am and take you to Hopkinton State Park, where shuttle buses will transport you to the actual starting point for the race.
Since the buses to Hopkinton begin picking up runners on Boston Common at 6:00am on the morning of the Marathon, many runners prefer to stay as close to the Common as possible. Here are links to hotels in convenient locations:
Keep in mind that Boston is quite compact, and most hotels within the central part of the city will be an easy walk (or warm-up run) to the Common.
---
---
Boston Marathon Hotels near Hopkinton
Hotels near Hopkinton, almost 30 miles from the city, have lower rates than central Boston hotels.
Shuttle buses will pick you (and your family and friends) up from gathering points in Hopkinton State Park and Hopkinton Industrial Park, and take you to Hopkinton Center where the race begins.
Immediately after the start of Wave 2, the buses will return friends and family to the parks.
After the race, buses take runners back to Hopkinton from Boston between 1pm - 5pm, leaving from the corner of Stuart and Berkley Streets in Back Bay. Obviously, the only reason to go back to Hopkinton at this point is if you're staying in that area.
Although you won't find any hotels in the small mostly-suburban town of Hopkinton, here are towns within an 8 mile radius of Hopkinton where you'll find offer plenty of choices:
---
Suburban Hotels near the Marathon Route
Priced somewhere in between Boston hotels and accommodations near Hopkinton are suburban hotels convenient to the middle parts of the route.
Two areas between Route 128 and Boston offer some very good choices:
---
Hotels near Route 128 and the Boston Marathon Route
Both of these hotels are convenient choices if you're dropping off / picking up a runner, and are within walking distance of the Marathon route (although if you have a car, you'll find parking near the route to be relatively easy):
---
Hotels near the Marathon Route in Brookline
In addition to being near the Marathon route and conveniently across from T stops, both of these Brookline hotels are located near Coolidge Corner, where you'll find lots of terrific small restaurants, shops, and even a movie theater:
---
Find More Hotel Choices
Keep in mind that most hotels in the Boston area raise their rates - sometimes by a huge amount - during Marathon Weekend. If you can be flexible about location, here's a search tool for you to use to find hotels in other areas.
If you want to watch the race near the finish line, search for hotels near T stations. For example, several Waltham hotels are only about a 10-minute drive from the Alewife MBTA station at the end of the Red Line. Burlington and Lexington hotels are about 15-20 minutes from Alewife.
---
Find a Boston Hotel or Apartment for Your Visit
Enter your travel dates to see available hotels and apartments, and get cheapest rates.
More about how to save on Boston hotels
---
Last Minute Boston Marathon Hotel Reservations - Where You Might Find a Vacancy
Boston hotels notoriously book up months before the Marathon. So what if you need last minute reservations?
Fortunately, last minute cancellations mean you will find vacancies - if you don't mind paying a rate premium ranging from not bad to hefty.
During previous years, these hotels have had vacancies pop up just a few days before the race. You may not find low rates- but all are centrally located in Boston (unless otherwise noted) although some may be a bit of a walk to Copley Square.
More Boston hotels: All Boston Hotels - Newest Hotels - Deals & Discounts - Theatre District Hotels - Boston Marathon - Hotels with Fireplaces - Seaport/CruisePort Hotels - New Year's Eve Packages - Inexpensive Hotels - Discount Hotels - Back Bay Hotels - Hotels near Fireworks - Hotels with Outdoor Pools - Faneuil Market Hotels - Valentine's Day Packages - Downtown Boston - Park & Fly - Airport Hotels - Waterfront - Seaport - Historic Downtown - Suburban Hotels - Fenway Park Hotels - TD Garden Hotels - Gillette Stadium Hotels - Financial District
---
---
More Fun Things to Do in Boston