Choosing a Back Bay Boston hotel for your next trip gives you the experience of staying in Boston's most exclusive neighborhood.
Located only a 5-minute walk across Boston Common and the Public Garden from Downtown, Beacon Hill, and the Financial District, Back Bay puts you within easy reach of all the city's top attractions.
You'll find plenty to see and do in Back Bay as well - Copley Square, the Boston Marathon finish line, plenty of terrific restaurants and bars, and streets lined with elegant Victorian brownstone mansions.
Shoppers love Newbury Street boutiques and art galleries, Prudential Center, and Copley Place shopping malls.
Not surprisingly, you'll find almost half of Boston's hotels located in Back Bay.
Best of all, you can choose from a wide price range, from budget hotels to luxury palaces, without sacrificing location.
Top photo: Boutiques and bistros along Newbury Street in Boston's Back Bay neighborhood, (c) Boston Discovery Guide
Boston Discovery Guide is a reader-supported publication. When you buy through our links, we may earn a commission at no additional cost for you. Learn more
---
Colonnade Hotel Boston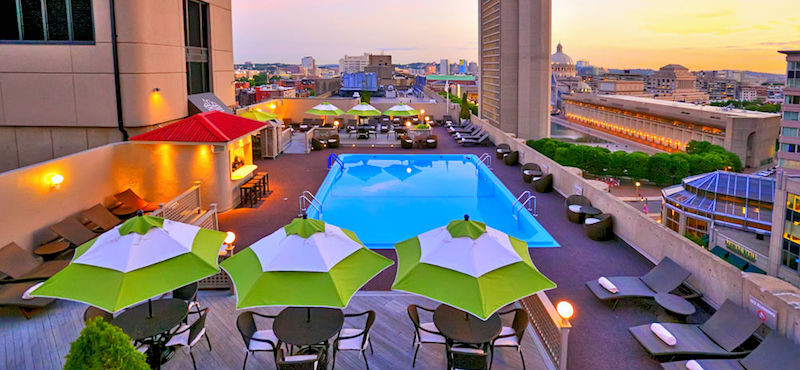 Located across the street from Prudential Center and just a few blocks from Copley Square and Newbury Street, the sleek and modern Colonnade Hotel offers terrific value and numerous luxury touches.
The convenient location also puts you within easy reach of Symphony Hall and the Museum of Fine Arts.
What's special: The Colonnade's spectacular roof-top swimming pool. Enjoy sweeping views, as well as pool-side concerts throughout the summer.
---
Fairmont Copley Plaza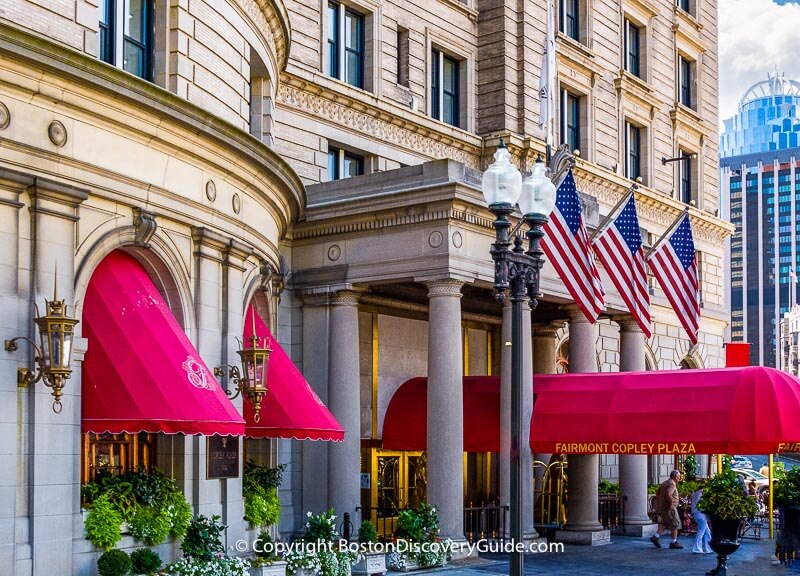 A Back Bay jewel, the opulent Fairmont Copley Plaza Boston Hotel, built in 1912, caters to business and leisure travelers who love its mix of luxury, top-notch service, and comfort.
The hotel offers guestrooms and suites in a wide range of sizes, meaning you'll have a good chance of finding accommodations here to meet your budget and needs.
Luxurious fabrics and furnishings, commissioned sketches of Boston, and plenty of marble everywhere make staying here an unforgettable experience.
What's special: The Copley Plaza Boston's location overlooking Copley Square and Trinity Church, the Boston Marathon finish line, and the annual July 4th Fireworks display over the Charles River.
And of course, Carly Copley, the Copley Plaza's resident canine ambassador, who will accompany you on walks and runs around the city.
---
Hotel 140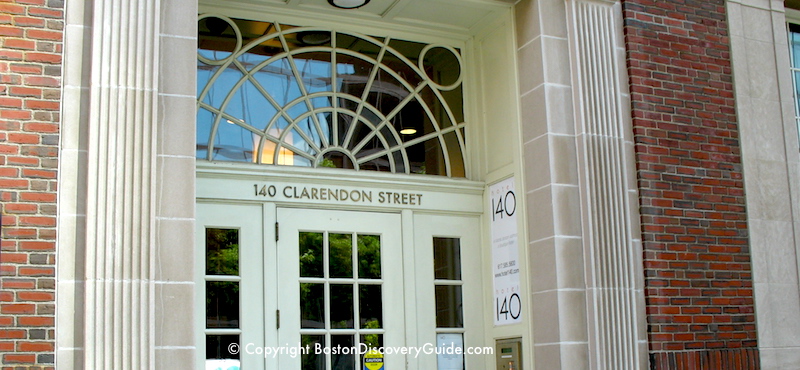 140 Clarendon Street
The budget boutique Hotel 140 is in an excellent location close to Copley Square, the South End, Bay Village, and the Theatre District - very convenient for seeing all of Boston's attractions.
What's special: Hotel 140 is well-known among savvy travelers who seek bargain rates in a top location - so if you want to stay here, you should make reservations as far in advance of your arrival date as possible, as the hotel is often completely booked.
What do you give up in return for cheap rates? Space and amenities. Rooms and bathrooms are small, and don't expect to find fancy shampoos.
But Hotel 140's cool ambiance appeals to travelers seeking savings and indie style, and you can't beat the location!
And, fun fact: Hotel 140's historical landmark 1929 building is listed on the National Register of Historical Places.
---
Four Seasons Hotel at One Dalton Street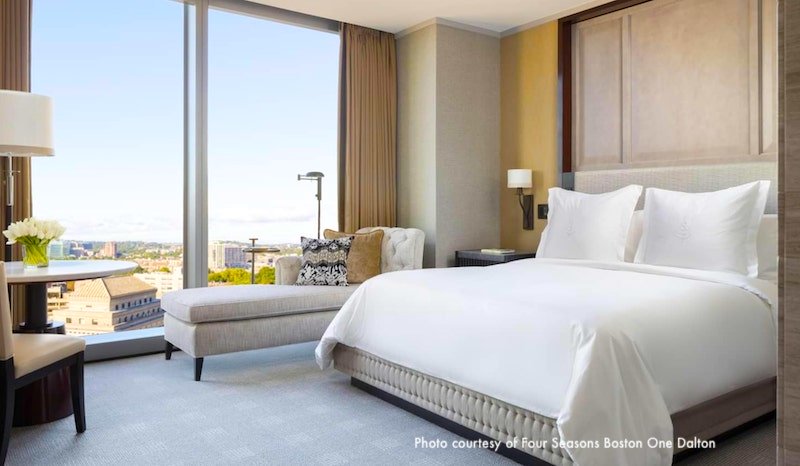 Four Season Hotel One Dalton Street is the famous 5-star luxury brand's second hotel in the ritzy Back Bay neighborhood, and one of Boston's newest hotels.
Stay here, and you're just a few steps from international designer boutiques and acclaimed restaurants along renowned Newbury Street, Fenway Park, and the city's top cultural attractions such as the Museum of Fine Arts and Symphony Hall.
With 211 guest rooms topped by 160 ultra-luxury condos, the hotel's 61-story building is Boston's third tallest.
What's special: You'll enjoy the sweeping views, the onsite spa, restaurant, and bar, and of course Four Season's superb service. Plush contemporary furnishings are both elegant and supremely comfortable.
---
The Inn at Saint Botolph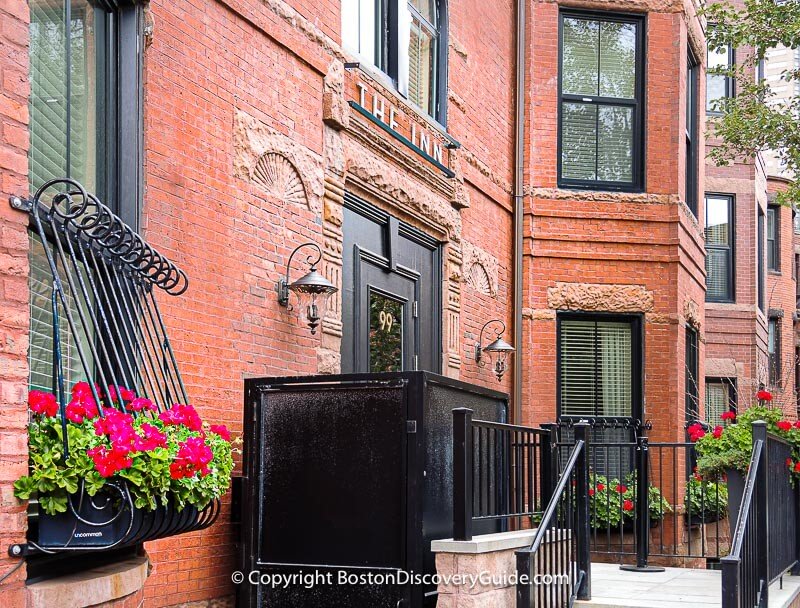 With only 16 suites, the upscale Inn at Saint Botolph is at the luxury end of the spectrum for Boston boutique hotels (not a surprise, as it has the same owner as the luxurious Fifteen Beacon on Beacon Hill).
All the large apartment-style suites have kitchens, and some have fireplaces. You'll get private keyless entry, as there is no lobby or onsite 24x7 staff; however, continental breakfast is served daily.
What's special: The Saint Botolph is a hidden gem, occupying a gorgeous red-brick Victorian mansion tucked away on a quiet, charming residential street complete with little corner shops near the South End - but it's just 1 block away from glitzy Prudential Center and the hustle and bustle of busy Huntington Ave.
The St. Botolph is the perfect place to stay if you want to experience a bit of "real" Boston neighborhood life, but still have easy access to city attractions. You can even walk to Fenway Park!
---
Hotel AKA Back Bay
Hotel AKA Back Bay is located in an interesting spot near the edge of Back Bay, just a couple of blocks from Boston's Victorian-era Public Garden and convenient to the Theatre District, the South End, Beacon Hill, and Downtown.
Boston's least-known and tiniest neighborhood, Bay Village, is just 1 block away and well worth strolling through to see all the Federal-era brick townhouses and Art Deco-era former warehouses, now sought-after condos but once the site of Boston's now-defunct film industry.
What's special: The hotel itself, located in a handsome limestone building formerly home to Boston's police headquarters, offers comfortable public spaces such as the outdoor dining terrace, and luxurious guestrooms and suites. Nearby are several excellent places to eat, drink, and relax.
---
The Newbury Boston
The Newbury Boston overlooks the lovely Public Garden from its superb Newbury Street/Arlington Street location directly across from the park - perhaps the most desirable spot in Back Bay for beauty combined with shopping convenience.
With 286 guestrooms and (including 90 suites, some with wood-burning fireplaces), The Newbury exudes luxury at every turn, with antique furnishings, original art, and high-end linens and amenities.
What you'll love: The location and white-glove service. The bar's floor-to-ceiling windows overlooking the Public Garden - go in the afternoon when the light floods in. Dining at Contessa's rooftop terrace - the perfect combo of delicious cuisine and the best views in the city!
---
Lenox Hotel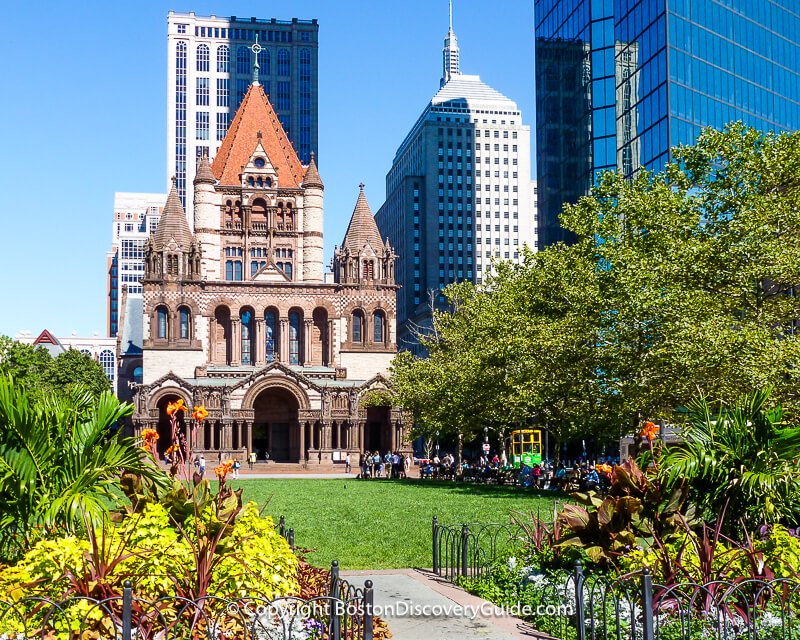 With a perfect location between Copley Square and Prudential Center, the luxury boutique Lenox Hotel is one of Boston's most revered Back Bay hotels.
In addition, the hotel is almost directly across from the Boston Marathon Finish Line on Boylston Street. Book a street-side guest room to watch the famous race from your window.
During your visit, visit the art-filled Boston Public Library localed almost next door.
What's special: Service here is top-notch - staying here is like being a guest in the private home of a very, very rich friend. Some guestrooms have the greatest luxury of all: real fireplaces.
---
Copley Square Hotel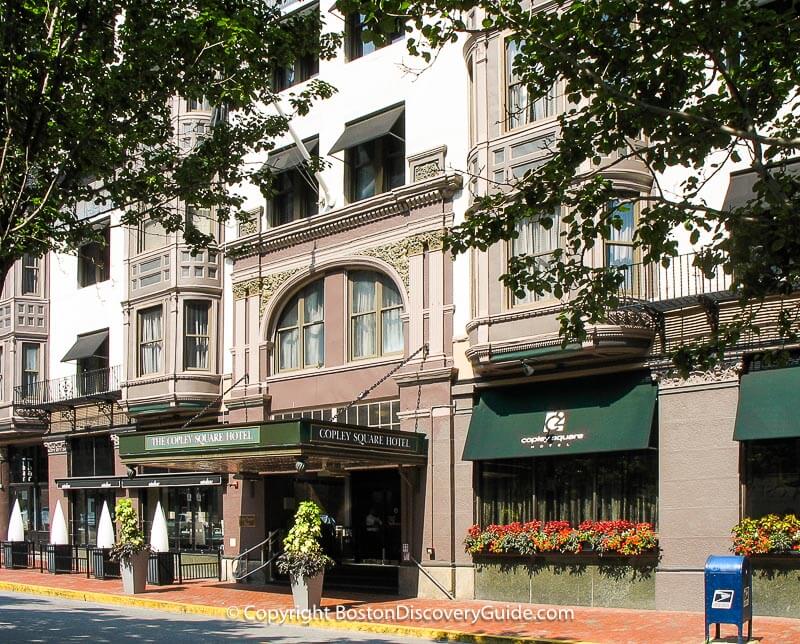 Built in 1891, this was the first hotel to open in Copley Square. Now a luxurious boutique hotel, the Copley Square Hotel offers personalized service.
The 143 guestrooms and suites sparkle after recent renovations, and feature luxurious fabrics and linens.
An 2-floor venue with a bar and supper club is part of Back Bay's dining and nightlife scene.
What you'll enjoy: On site guest laundry, a communal kitchen where you can enjoy coffee and a quick bite, valet parking with in-out privileges, and convenience to Copley Square and Newbury Street shopping.
The hotel is also only one block from Hynes Convention Center.
---
More Hotels in Boston's Back Bay
Part of the Copley Place shopping and dining complex, the Marriott Copley Place is popular with business travelers and conference attendees as well as leisure visitors.
What's to love here: You'll be staying right in the middle of one of Boston's nicest shopping arcades, surrounded by terrific restaurants.
---
This small boutique hotel is one of the most popular Back Bay Boston Hotels because of its excellent location next to Copley Square.
Affordable rates make it a popular choice with savvy travellers.
What's special: The Charlesmark Hotel Boston is convenient to all the area's attractions and plus great Newbury Street shopping. Boston Marathon fans love that the Charlesmark is right at the finish line.
---
Location on beautiful Commonwealth Avenue near the western end of Back Bay, the luxurious mostly-suites Eliot Hotel is just a short walk from Fenway Park and the eastern end of Boston University.
What's special: Beautiful decor, personalized service, Commonwealth Avenue Mall location.
---
This small hotel operated by Marriott is in an excellent location near the Boston Public Library, Copley Square, and Prudential Center, not to speak of all the great shopping on nearby Newbury and Boylston Streets.
---
Popular with business travelers and conference attendees, the well-appointed Hilton Back Bay Boston Hotel is just across the street from the Hynes Convention Center and Prudential Center.
Stay here for super convenience when you attend a conference - or use the Back Bay Hilton as your home base for attending a Red Sox game, shopping along trendy Newbury Street, or visiting nearby Northeastern University, Boston University, and Colleges of the Fenway.
You'll also find the finish line for the Boston Marathon just a couple of blocks away.
Although rates usually reflect the Back Bay Hilton's status as a desirable business hotel, you can sometimes find attractive weekend rates.
What you'll enjoy: Down comforters, great views from the top floors, and a nice indoor swimming pool.
---
This luxury 5-star hotel offers spacious rooms and every convenience in the heart of Back Bay. It also boasts one of the best spas in town, and several top onsite restaurants.
What you'll love: Probably everything - but here are 3 to start with: incredible service, total comfort, and superb location.
---
With 1,215 rooms and suites, the Sheraton Hotel Boston is the city's biggest hotel, and also boasts one of the largest indoor swimming pools.
The Sheraton Boston Hotel is also a terrific spot for a mid-winter "staycation," especially if swimming and shopping are on your agenda.
The hotel offers direct access to Prudential Center's splendid shopping plaza, which in turn has direct access through a skywalk to Copley Place.
If the weather turns frigid, you can shop until you drop without venturing outside. But if you do, you'll find the designer boutiques on Newbury Street just a block away.
What's special: If you're attending an event at the Hynes Convention Center, you'll love the direct access. The Sheraton is the ultimate conference hotel - big, comfortable, and with excellent service.
---
This large, glamorous hotel across from Copley Plaza is a favorite Back Bay Boston hotel due to its terrific location for sightseeing, shopping, and dining.
What's special: The lovely indoor swimming pool.
---
Created from 3 adjacent brownstone townhouses built in the early 1900s, this comfortable B&B's location in a relatively quiet section of Newbury Street is close to everything in Back Bay and also is only about a 10-minute walk to Fenway Park.
Rates are usually attractive - but with only 32 rooms, Newbury Guest House books up fast.
---
Terrific location in a beautiful brownstone looking out onto Commonwealth Mall. Rooms are on the small side (true for many Boston hotel rooms) and no frills, but have small kitchenette areas.
You get a chance to stay in one of the best areas of the city at typically very attractive rates. Easy walk to Fenway Park and Newbury St shopping.
---
These furnished studio and 1-bedroom apartments with kitchens on the southern edge of Back Bay offer an interesting alternative to Back Bay Boston hotels.
Short term rentals in Boston can be hard to find - and these are in a great location. The catch? Reservations here can be hard to get, so you should book as early as possible.
---
More Boston hotels: All Boston Hotels - Newest Hotels - Deals & Discounts - Theatre District Hotels - Boston Marathon - Hotels with Fireplaces - Seaport/CruisePort Hotels - New Year's Eve Packages - Inexpensive Hotels - Discount Hotels - Back Bay Hotels - Hotels near Fireworks - Hotels with Outdoor Pools - Faneuil Market Hotels - Valentine's Day Packages - Downtown Boston - Park & Fly - Airport Hotels - Waterfront - Seaport - Historic Downtown - Suburban Hotels - Fenway Park Hotels - TD Garden Hotels - Gillette Stadium Hotels - Financial District
---
More Articles about Where to Stay in Boston
---
More Fun Things to Do in Boston
---
Need a Boston Hotel or Apartment?
Use this handy map from Booking.com to find the perfect place to stay. Just enter your dates to find what's available, see the best rates, and make your reservations.