Stay in hotels near Boston's TD Garden when you want the most convenient location for sports event, concert, the circus, an ice show, or any other event in this famous sports/entertainment arena.
In addition, most of these hotels near TD Garden are also close to Boston's Museum of Science, the North End, MGH (Massachusetts General Hospital), Beacon Hill, and Faneuil Hall Marketplace.
Even if you live in the Boston area, consider the convenience of staying just a block or two from the Garden after attending a game or other event - especially if you plan to celebrate at the nearby sports bars, dance clubs, and pubs. No need to have a designated driver when you can walk!
These TD Garden hotels do get booked up for the big games and concerts - so plan ahead and make your reservations as soon as you know your dates.
Map Showing Hotels near TD Garden
Hotels closest to TD Garden include the

Onyx,

Boxer,
Hotel Indigo Boston Garden, and the new

Courtyard Downtown/North Station. For the shortest walk to a game, concert, or the many exciting sports bars and clubs in the area, these hotels offer the greatest convenience along with a variety of styles and price points.
Slightly farther away but still within a 10-minute walk, the
Wyndham puts you close to historic Beacon Hill, the
Bostonian gives you easy access to Faneuil Marketplace and Downtown Boston, and the

Residence Inn lets you easily explore Charlestown and the waterfront.
Need TD Garden tickets? Check out the schedule
Top photo: TD Garden
---
Courtyard by Marriott Boston Downtown / North Station at TD Garden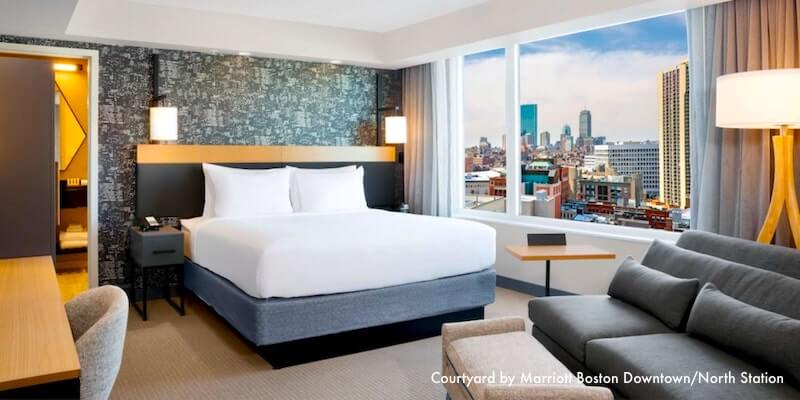 107 Beverly Street, Boston's North End neighborhood
The Courtyard Boston Downtown/North Station boasts a terrific location: directly across the street from famed sports and entertainment arena TD Garden, and at the edge of Boston's legendary North End neighborhood, home to over a hundred superb Italian restaurants, cafes, and bakeries.
Faneuil Marketplace is nearby, and you can easily walk to Downtown Boston - or take the commuter rail or subway from North Station.
You get all the usual Courtyard amenities, plus the pleasure of staying in a bright new building with great views from upper floors.
---
The Boxer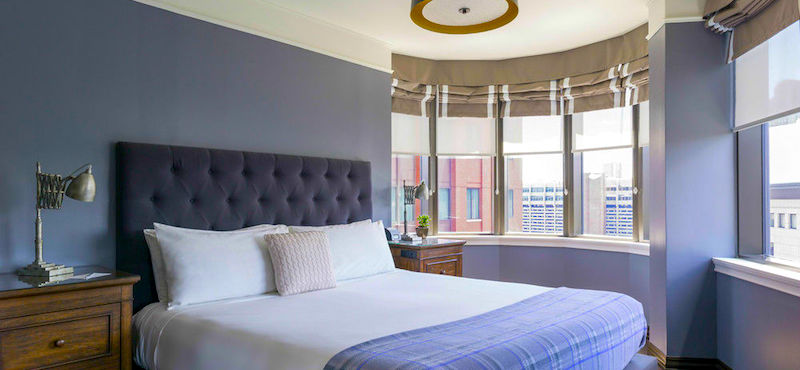 Located two short blocks from TD Garden in Boston's most unique "flat iron" building, the interior of the Boxer Hotel exudes cool sophistication.
The 80 unique rooms and suites in this trendy boutique hotel feature newly updated plush yet sleek decor with nice touches like great reading lamps.
Be sure to explore the immediate neighborhood around Bulfinch Triangle, one of the oldest spots in the city.
If you walk toward nearby Beacon Hill, you'll notice the huge, rather ugly concrete building with a weird stairway zig-zagging across its side opposite the hotel. Look familiar? You may have seen it in Boston movie classic, Gone, Baby, Gone, filmed in this neighborhood.
---
Onyx Hotel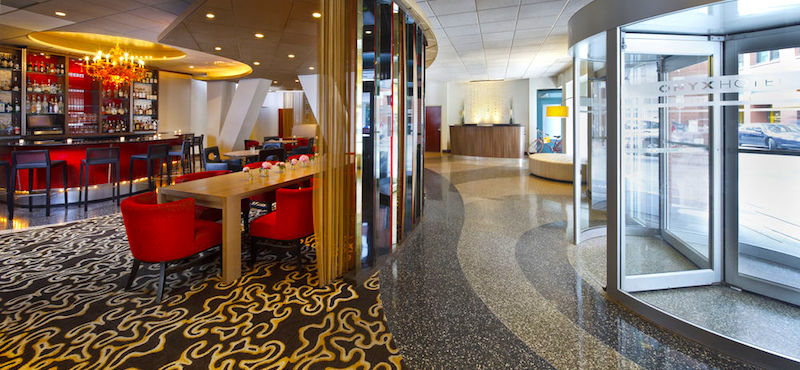 A complimentary wine hour in the hotel lobby is only one of the special touches provided by the Onyx Hotel Boston, located just half a block from TD Garden.
You'll also enjoy how the Onyx is close to Beacon Hill, Faneuil Hall Marketplace, and all the fun nightlife and sports bars near TD Garden.
---
More Boston hotels: All Boston Hotels - Newest Hotels - Deals & Discounts - Theatre District Hotels - Boston Marathon - Hotels with Fireplaces - Seaport/CruisePort Hotels - New Year's Eve Packages - Inexpensive Hotels - Discount Hotels - Back Bay Hotels - Hotels near Fireworks - Hotels with Outdoor Pools - Faneuil Market Hotels - Valentine's Day Packages - Downtown Boston - Park & Fly - Airport Hotels - Waterfront - Seaport - Historic Downtown - Suburban Hotels - Fenway Park Hotels - TD Garden Hotels - Gillette Stadium Hotels - Financial District
---
Hotel Indigo Boston Garden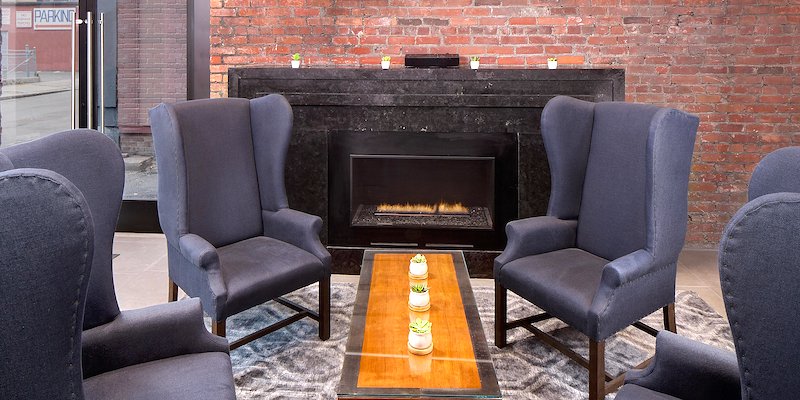 Recently refurbished inside and out, the Hotel Indigo Boston Garden is the closest hotel to TD Garden - literally just across the street - and offers great value and affordable rates.
You're surrounded by cute bistros and some of the best sports bars in the city. Celebrations after Bruins and Celtics victories do get noisy, so ask for a room on an upper floor at the back if you want a quieter location.
Although some rooms in the Hotel Indigo Boston Garden are on the cozy side, suites offer more space as well as kitchenettes.
---
Wyndham Hotel Boston near Beacon Hill
The Wyndham Hotel offers comfort and convenience in a choice location a few blocks away from TD Garden, Massachusetts General Hospital (MGH), Beacon Hill, and downtown Boston.
You'll find lots of excellent restaurants nearby, especially along the Beacon Hill side of Cambridge Street. Directly behind the hotel is a Whole Foods with what is rumored to be the biggest prepared food section of any WF in the country, so if you want to same some money on meals, you'll have terrific carryout options.
The Wyndham also features a rarity among city hotels: a very nice outdoor swimming pool!
---
Bostonian Hotel
The Bostonian Hotel's Historic Downtown location next to Faneuil Hall Marketplace and the Freedom Trail puts it right in the middle of one of the most exciting spots in the city.
With TD Garden just a few short blocks to the north, the mouth-watering Italian restaurants and cafes of the North End across the Rose Kennedy Greenway, and the waterfront and Financial District equally close by, you're steps away from everything.
The Millennium offers plush contemporary decor, fireplaces in many rooms, and an interesting array of luxury touches for a perfect weekend getaway.
On Fridays and Saturdays, Boston's historic Haymarket open air market takes place in the blocks surrounding the hotel.
---
Residence Inn on Tudor Wharf - Charlestown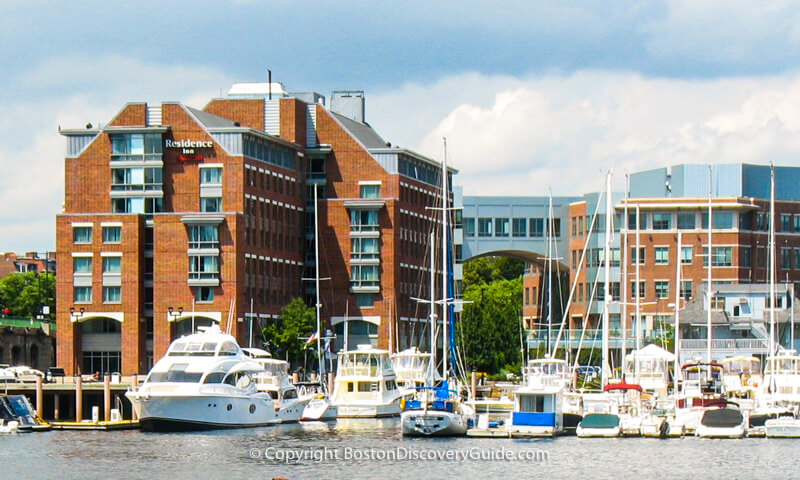 All-suite Residence Inn on Tudor Wharf in Charlestown is only a 10-minute walk across a scenic bridge from TD Garden.
With an indoor swimming pool, complimentary hot breakfast buffet each morning, wonderful waterfront views, and attractive rates, the Residence Inn offers great value as well as convenience.
You're close to the Garden and the North End, and also just a short walk to the historic Charlestown Navy Yard, USS Constitution, and Freedom Trail.
---
TD Garden Events & Schedule
Enter DISCOVERY 10 to save 10% on TicketLiquidator & TicketNetwork tickets
---
More Articles about Boston Entertainment & Hotels
---
Need a Boston Hotel or Apartment?
Use this handy map from Booking.com to find the perfect place to stay. Just enter your dates to find what's available, see the best rates, and make your reservations.