Check the Boston Event Calendar for May for fun things to do as spring arrives. Boston bursts into bloom, and you'll want to be outside soaking up the sun.
Top May events include the Boston Calling Festival. On other Boston concert stages, look for performances in the smaller venues (for now).
More top May events include Memorial Day Weekend activities, Mother's Day events, concerts, ArtWeek, and art walks.
More big events include Lilac Sunday, the Garden of Flags on the Common, Duckling Day Parade, special Harbor cruises, Beacon Hill's Hidden Gardens tour, and lots of Theatre District shows and performances.
Take advantage of the balmy temperatures to see Boston on a Duck Tour, catch a Boston Red Sox games at Fenway Park, join a Historic Pub Crawl Tour along the Freedom Trail for a fun way to explore Boston, or just relax as you enjoy outdoor patio dining at one of our wonderful restaurants.
See for yourself why May is the perfect month to be in Boston!
Top photo: Tulips blooming in mid-May in Boston's Public Garden
---
Boston Calling 2022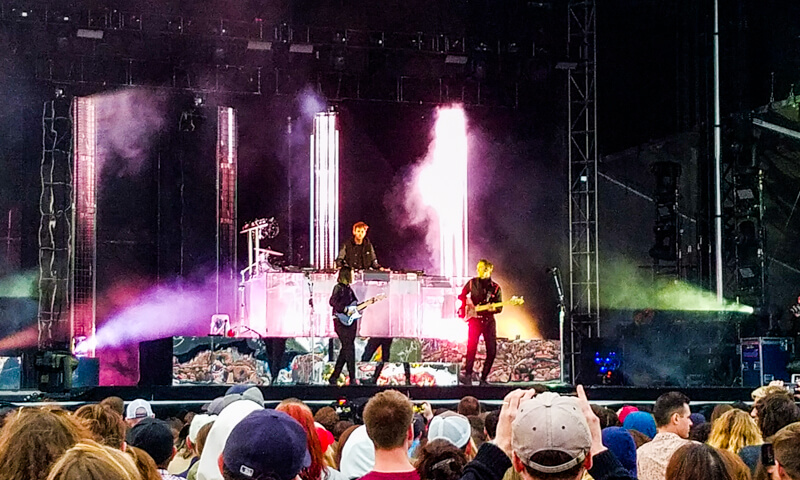 Boston Calling Music Festival, the popular 3-day indie and pop rock music festival that takes place over Memorial Day Weekend, returns to the Harvard Athletic Complex in Allston bigger and better than ever.
Headliners Metallica, Foo Fighters, and Rage against the Machine will take center stage in 2022.
Look for three music stages, a comedy stage, and more music than ever from over 50 groups, plus over 30 food vendors, a wide selection of beer and wine, sponsor exhibits, and surprise attractions.
Tickets typically go fast, and prices rise as the dates draw closer. In addition for single-day passes, you'll see options for 3-day passes plus a tiered array of VIP tickets; the most expensive tiers typically sell out the fastest.
Boston Calling 2022 Tickets
Enter DISCOVERY 10 to save 10% on TicketLiquidator & TicketNetwork tickets
---
Revere Beach Kite Festival - 2022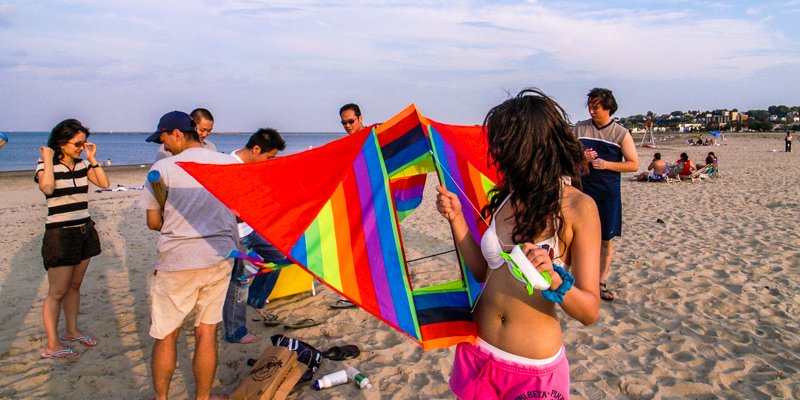 Celebrate spring by heading to Revere Beach, America's oldest public beach, on Saturday, May 15 at 11am-2pm for the annual family-friendly kite festival.
Bring your own kite, and watch it soar. You'll see people of all ages flying kites, having a great time, and enjoying this lovely 2-mile long expanse of sun and water.
Don't forget that across from the pavilion, you can get fabulous fried clams or a lobster roll at Kelly's Roast Beef, just a short walk from the Blue Line's Wonderland Station.
More about Revere Beach and other Boston beaches
More Ways to Enjoy Boston

More: Sightseeing Tours | Tours for Teens | Kids & Family Tours
---
Memorial Day Weekend Events in Boston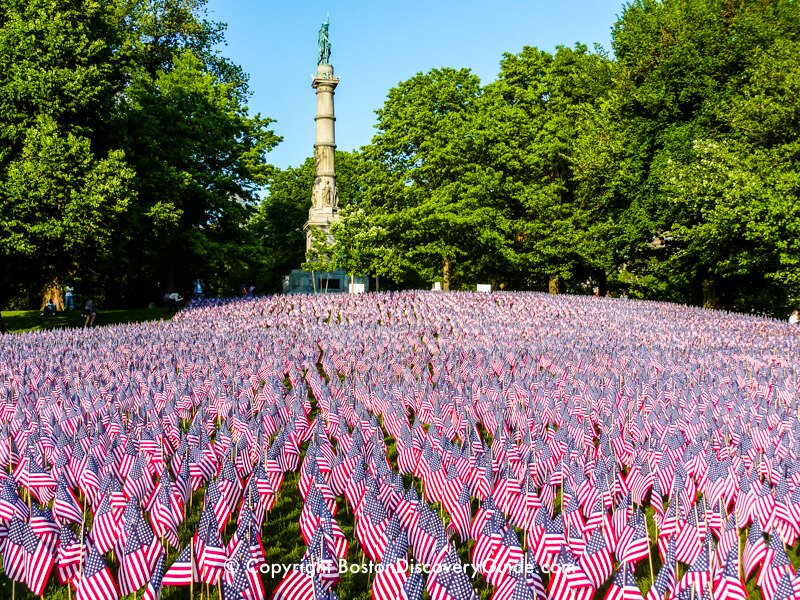 When: Monday, May 30 - Memorial Day 2022
Many Bostonians leave town on Memorial Day - so if you're visiting, you have the best of both worlds: plenty of fun things to do, less competition for tickets (and perhaps lower prices), and somewhat smaller crowds.
Memorial Day Weekend events in Boston range from somber ceremonies of remembrance and the Garden of Flags on Boston Common to fun activities embracing summer weather such as the Boston Calling Music Festival, the city's waterfront location, and of course, the Red Sox, home again in time to play the Cleveland Indians at Fenway Park on Memorial Day.
Find out about all the best Memorial Day events and activities.
Need a hotel? Hotels.com is listing lots of last-minute deals right now - Check them out!
---
Boston Harbor Sightseeing Cruises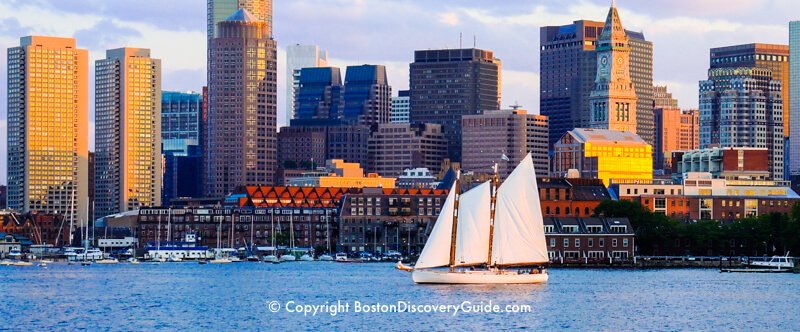 Tour Boston by boat - the best way to see the city!   Check out these fun sightseeing, music, and entertainment Boston Harbor cruises on the Yacht Northern Lights and Schooner Adirondack III:
Fall Foliage Cruises (through November 6)
Popular Cruises on the Northern Lights:
Northern Lights Sunset Cruise - Grab a refreshments from the bar and then relax as you watch the sun set on this sail around the Harbor, just in time to catch the USS Constitution fire its cannons as the sun dips down past the horizon
Sunday Evening Jazz Cruise on Northern Lights - End your weekend on the perfect note by grooving to live jazz as you watch the ever-changing sunset colors as the sun sets behind Boston's city skyline (Oct 23, 30)
Holiday Cruises
Gift Card
Whale Watching Cruise Tickets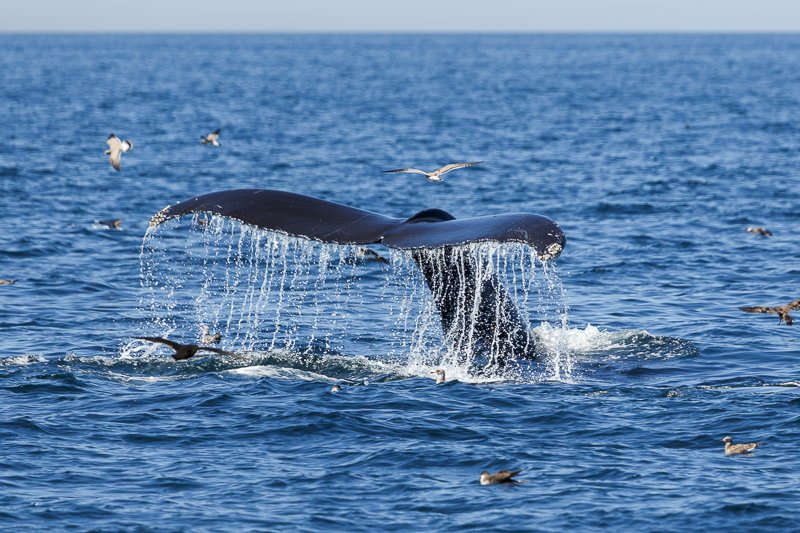 Join one of the exciting 3-hour Whale Watching Cruises departing from the Downtown Boston Waterfront, and experience the thrill of spotting whales off the coast of Boston.
You'll see magnificent creatures such as Humpback and Finback whales close-up from the deck of your ship, and spot White-Sided Dolphins frolicking in the waters.
These cruises sell out quickly, so don't wait to get your tickets now for this iconic Boston experience!
---
Where to Go for Mother's Day Brunch in Boston 2022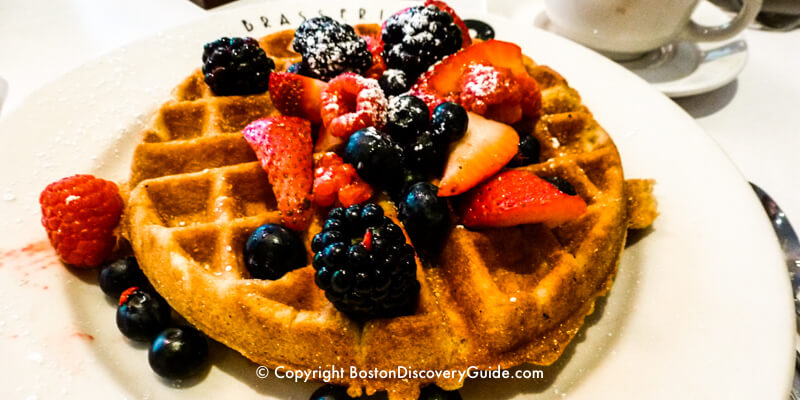 Show your appreciation for all those tasty meals your mom cooked for you, and take her out for Mother's Day Brunch on Sunday, May 8 at one of these Boston and Cambridge restaurants offering a special menu for the occasion.
Miel Brasserie (InterContinental Hotel on the downtown waterfront; website) - Celebrate your mom with French flair at brunch featuring Chef Didier Montarou's mouth-watering Mother's Day menu; all entrées include the homemade dessert bar with strawberry shortcake

Peregrine (Whitney Hotel, Beacon Hill; website) - Enjoy patio dining and Peregrine's Italian coastal specialties such as dressed oysters, spring risotto, radiatore pasta, confit lamb breast, and lemon pistachio cake
Cafe Luna (612 Main Street, Kendall Square, Cambridge; website) - Take your mom to brunch (9am-4pm) and choose from Cafe Luna's huge brunch m menu with specialty eggs benedict (steak and lobster, crab cake, prosciutto with roasted fig jam, smoked salmon and avocado), Mexican churro French toast, shrimp tacos, wings and waffles, lemon ricotta pancakes, and lots more.
Q Restaurant (660 Washington Street, Chinatown/Theatre District) - Share Mongolian hot pot with your mom, or choose from the extensive Chinese entrees and sushi selections.
Bistro du Midi (272 Boylston Street, Back Bay; website) - Start with a selection of Viennoiserie or a charcuterie board, follow with a main course such as salade Niçoise, duck confit on a Belgium waffle, bavette steak and eggs, or a croque madame, and end with a chocolate hazelnut torte and you'll almost believe you're in Paris for Mother's Day.
Stephanie's on Newbury (190 Newbury St; website) - Relax with your mom on Stephanie's huge patio and treat yourselves to her favorite brunch classics: cinnamon monkey break, a smoked salmon platter, New England clam chowder, a skillet breakfast with eggs, smoked bacon, maple sausage, and baked cheddar home fries, and an ice cream sundae.
Forgot to make reservations? Take your mom for Dim Sum in Boston's Chinatown - but pretend that's what you were planning all along. You'll see other mom/child couples doing the same thing.
---
Duckling Day Parade - 2022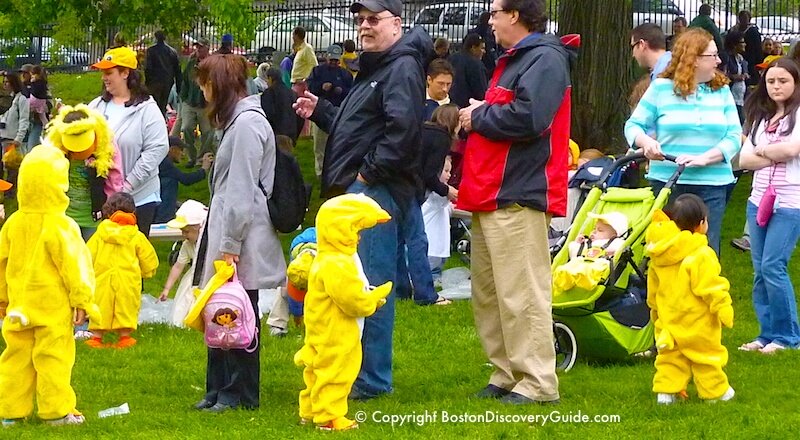 For the perfect Mother's Day celebration, join Boston's annual Duckling Day Parade with your young children - and be sure to bring your camera!
You'll retrace the path taken by Mr. and Mrs. Mallard and their own flock of 8 young ducklings in Robert McCloskey's beloved children's book, Make Way for Ducklings. To really get into the spirit, dress your offspring in yellow to resemble their favorite Ducklings characters, and decorate your stroller or even a wagon.
When: Mother's Day Sunday, May 8, with entertainment and the Harvard University Band starting at 10am until the parade kicks off at around noon
Where: Boston Common and the Public Garden - Starts at the Parkman Bandstand on Boston Common and ends in the Public Garden near the Make Way for Ducklings statues.
Cost: $35 before May 6 ($40 on day of event) donation per family, which includes a special goodie bag for each child; proceeds benefit the nonprofit Friends of the Public Garden
More info
Need cute duckling outfits? Here's our favorite selection on Amazon (#ad).
More about the Duckling Day Parade
For a special Mother's Day weekend, stay in a hotel overlooking the Public Garden. Here are 4 with spectacular views to consider:
Hotels with Public Garden & Boston Common Views
Find out more about these spectacular hotels
---
Boston Theater & Shows for May 2022

Top May Shows in Boston - Schedules & Tickets
Enter DISCOVERY 10 to save 10% on TicketLiquidator & TicketNetwork tickets
More Boston Theater District Shows
Where to stay and dine in Boston's Theatre District
---
Top Hotels near Boston's Theatre District
Enjoy your Boston performance or show experience to the fullest when you stay in one of the nearby Theatre District hotels, such as the hip and glamorous Revere Hotel: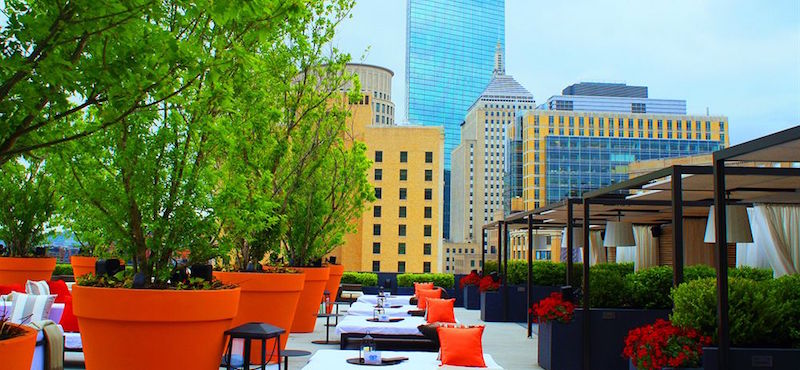 More top Theatre District hotels:
Check out more hotels in Boston's Theatre District
---
Fun Boston Sightseeing Tours
---
Boston Concerts & Shows - May
Top April Concerts & Shows in Boston
Enter DISCOVERY 10 to save 10% on TicketLiquidator & TicketNetwork tickets
Schedules & Tickets
Boston Concerts throughout the Year
---
Boston Comedy Clubs May 2022
Looking for something to do in Boston that doesn't (usually) cost too much money? Head over to one of Boston's comedy shows. You're sure to leave smiling!
Enter DISCOVERY 10 to save 10% on TicketLiquidator & TicketNetwork tickets
Find more comedy club show schedule & tickets
More about Boston's comedy clubs
---
May Boston Red Sox Schedule - Home Games at Fenway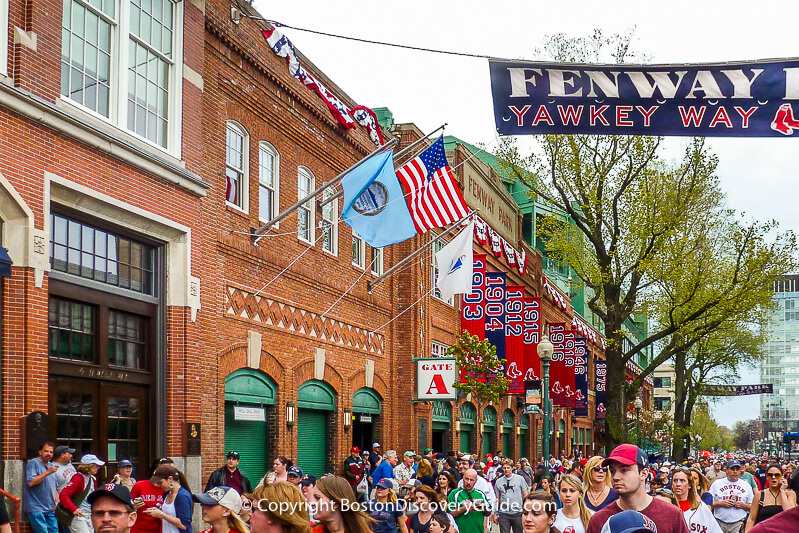 Location: Fenway Park
Nearest T stations: Green Line B or C/Kenmore; Commuter Rail Worcester Line/Yawkey
Indulge your passion for baseball by going to see the Boston Red Sox at Fenway Park!
Get Schedule & Tickets
Enter DISCOVERY 10 to save 10% on TicketLiquidator & TicketNetwork tickets
Find Red Sox Home Games at Fenway for Other Months
June - July - August - September - October
Stay: Hotels near Fenway Park
Park: Garages & lots near Fenway Park
Celebrate: Best sports bars near Fenway Park
Find out about more Boston sports
---
MFA: Memorial Day Open House - Free Admission - 2022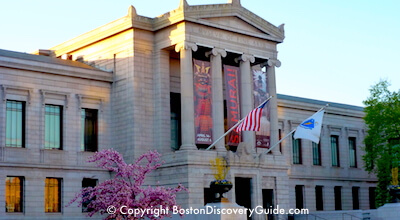 When: Monday, May 30 - Memorial Day Weekend
MFA will offer family-oriented festivities this year with special exhibitions and free admission on Memorial Day.
This fun family event takes place in the Shapiro Family Courtyard where you can make art, make music, watch a film, and join tours and discussions in the art galleries.
Want to come on another day? If you have a GoBoston card or CityPASS, you can get free admission at any time.
Find more things to do on Memorial Day Weekend in Boston
---
Boston Hotels with Outdoor Swimming Pools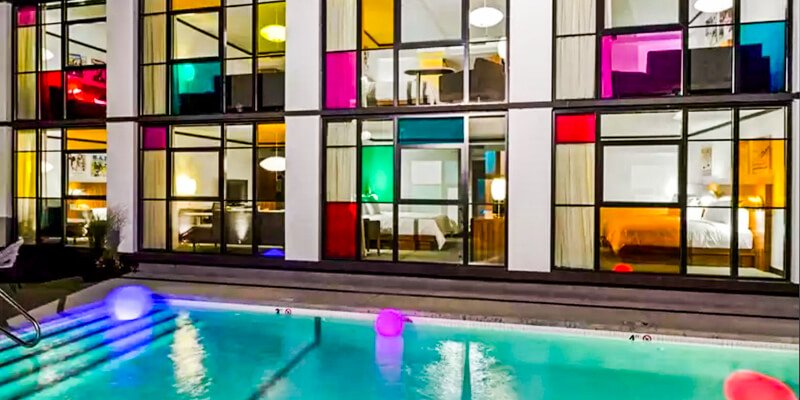 Find more Boston hotels with outdoor swimming pools
---
Fun Boston Tours for May
---
Fun Events & Activities on the Rose Kennedy Greenway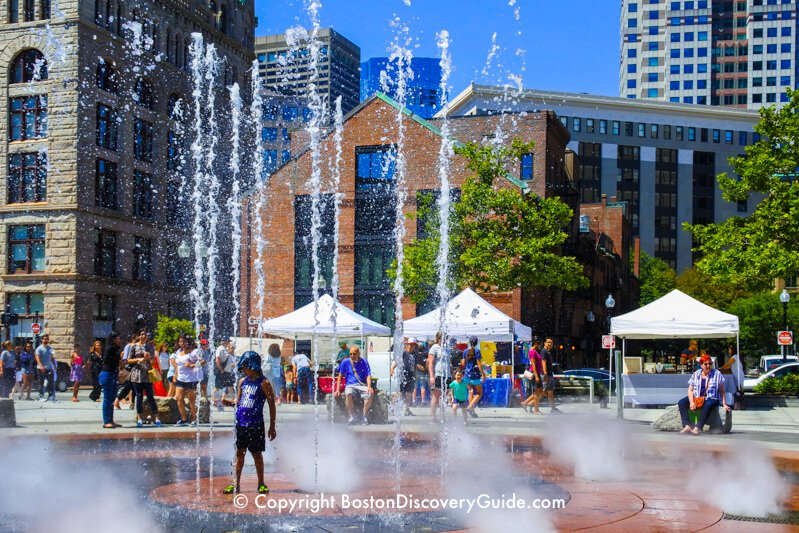 The Rose Kennedy Greenway is offering so many fun things to do this summer:
Greenway Food Trucks: Over 35 trucks offering specialties ranging from Korean to Summer Shack's seafood to fresh seafood in Dewey Square, the Carousel, Rings Fountain (Milk Street), State Street, Rowes Wharf Plaza, and Trillium Beer Garden. You'll find them at several locations each day, usually with a total of 5-7 trucks per day.
Farmers Market in Dewey Square run by Boston Public Market offering fresh produce, meat, cheese, breads and pastries, ice cream, and more. Open Tuesdays and Thursdays 11am - 4pm
Trillium Beer Garden in the Wharf District Parks (High Street and Atlantic Ave) featuring draft beers by Trillium Brewing Company and a rotating selection of food trucks. Open Wednesday and Thursday2-9pm, Friday and Saturday 12 noon-10pm, Sunday 12 noon-7pm.
City Winery Open Air Wine Garden on Dewey Square across from South Station, serving their locally-crafted wine on tap plus with craft beer and cider by Harpoon Brewery along with a menu of fresh wraps, cheese boards, and snacks. Open Wed and Thurs 4-9pm, Friday 4-10pm, Sat. 1-9pm, Sunday 11am-7pm.
Public Art - See new installations by Rob "ProBlak" Gibbs, Cheryl Wing-Zi Wong, Juan Travieso, and Yu-Wen Wu.
Fountains - You'll find them in 7 different locations along the Greenway - so get ready to splash, wade, and cool off!
Carousel - Open daily, 11am-8pm. Tickets: $4.
Greenway Fitness Programs: Free fitness and yoga classes from local studios; must preregister
More about the Rose Kennedy Greenway
---
Independent Film Festival Boston
When: May 6-16
Where: Normally at the Somerville Theatre, Brattle Theatre, and Coolidge Corner Theatre - but online this year
Tickets: Buy season passes (partially tax deductible) or individual tickets - see IFF's website for pricing.
More information: IFF Boston Website
The Independent Film Festival Boston spans 11 days this year year, and promises to be bigger and better than ever, with familiar names plus many new ones. IFF Boston showcases independent film makers from around the world working outside of the Hollywood system, and the lineup offers plenty of interesting features, shorts, and documentaries. Lots of panels and parties let you can talk with the filmmakers and ask them questions. Boston film fanatics rate this festival as one of the best.
Find more Boston film festivals
---
SoWa First Fridays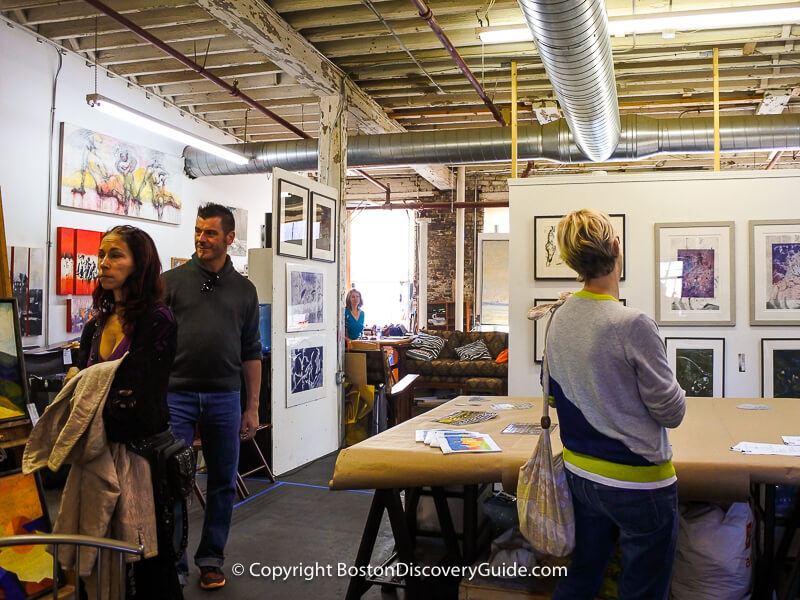 On April 2 as well as on other SoWa First Fridays in Boston's art-filled South End, over 60 galleries south of Washington Street and at the Artist's Guild at 450 + 460 Harrison Ave, and nearby businesses and restaurants open their doors from 5pm to 9pm to give you a chance to experience the vibrant South End arts community.
Start at either 450 or 460 Harrison, and just follow the gallery lights and signs as you stroll around the neighborhood. Wrap up your evening at one of the South End's renowned restaurants.
Please note: Right now, capacity limitations apply to galleries, plus not all have reopened yet. If you are interested in a particular gallery or artist studio, please check with them directly to confirm their open status and hours.
---
Martha's Vineyard Day Trip from Boston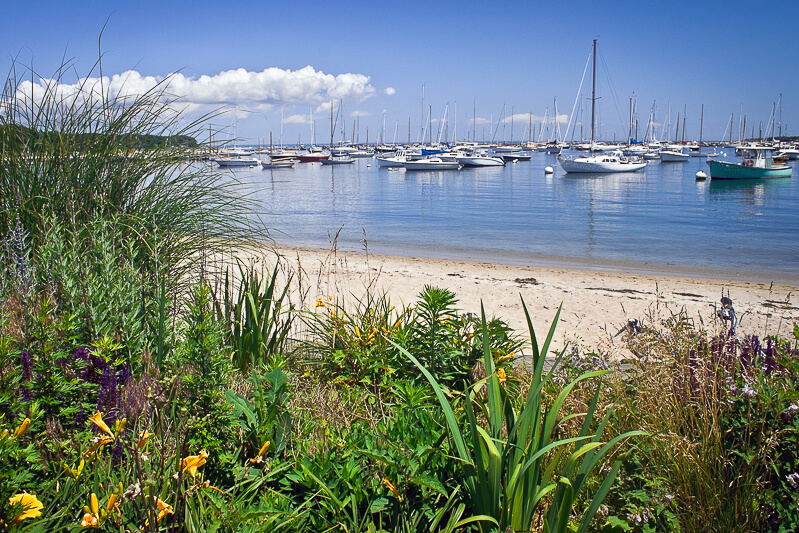 Spend the day exploring the beautiful beaches, art galleries, gingerbread houses, and seafood restaurants on this unforgettable Martha's Vineyard Day Trip fro Boston. And don't forget to catch the brass ring at the country's oldest carousel!
Pickup and dropoff from selected Boston hotels plus ferry tickets are included.
---
More Fun Boston Tours
---
What to See in Boston's Museums - May 2022
Museum of Science Exhibits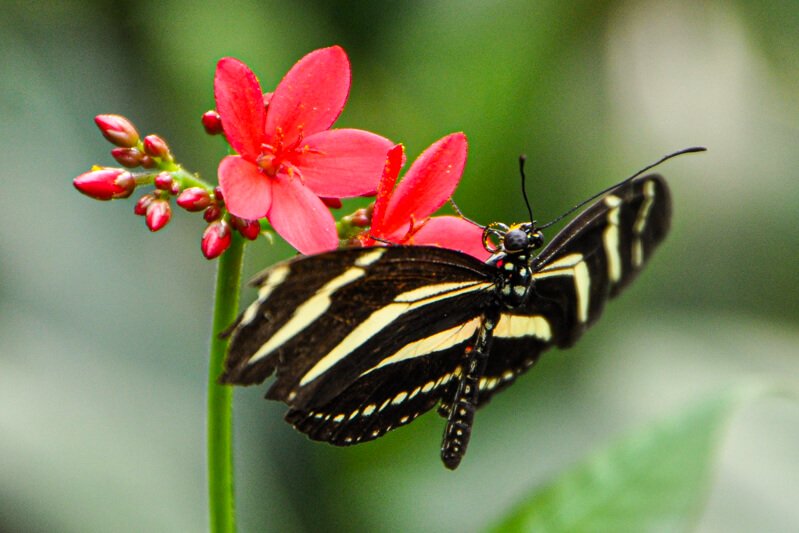 Special Exhibits
Project Vaccine - Learn more about vaccines and their development in the Museum's newest exhibition
Design Engineering Workshop - Design, build, and test solutions for everyday problems
Resilient Venice: Adapting to Climate Change - Learn how we can implement solutions in this new pilot gallery
Permanent Exhibits
With fascinating permanent exhibits for all ages, there's always something to see, do, and learn. Here are just a few of the most popular: Butterfly Garden (extra fee), Colossal Fossil: Triceratops Cliff, Cosmic Light, Dinosaurs, Arctic Adventure, Hall of Human Life, Live Animal Care Center, Mathematica, Nanotechnology, Natural Mysteries, New England Habitats, The Light House - plus 17 more!
Where: Boston's Museum of Science
When: Daily, 9am-5pm; open until 9pm on Fridays
Admission: $29 general museum admission ($24 for kids). Buy online to skip the line. Get free museum admission when you have a GoBoston Discount card or Boston CityPASS card.
Imax Theater and Planetarium: Additional fees apply
New England Aquarium
Harbor seals and seal lions, a giant 4-story ocean tank with hundreds of Caribbean reef animals, an Amazon rain forest, sharks, Myrtle the green sea turtle, and frisky penguins are just a few of the thousands of aquatic animals you'll experience here.
Get your tickets in advance, or find out more about the Aquarium. Admission also available through the Go Boston Pass, Explorer Pass, and Boston CityPASS discount cards.
Boston Tea Party Ships & Museum
Watch the famous tea party event come alive with live actors, immersive exhibits, and a visit to the full-scale replica 18th century sailing ships at this unique living history museum. Get advance tickets.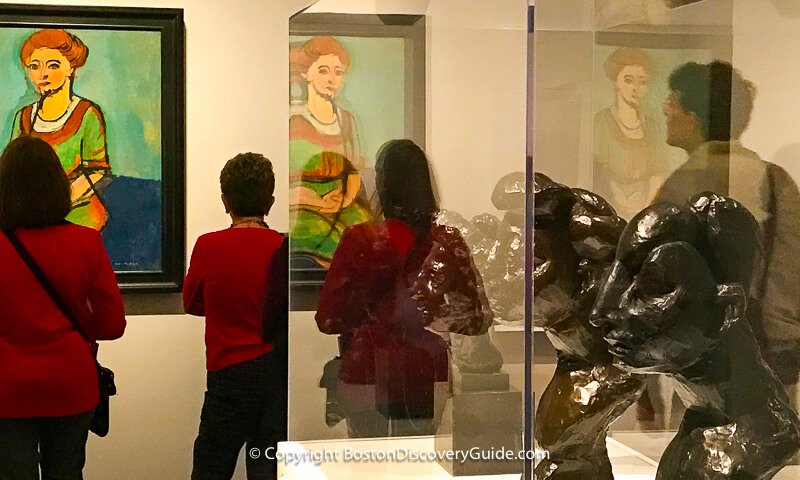 MFA Boston - Current & Future Shows
Helina Metaferia: Generations: Collage, video, and installations explore how inherited trauma informs present day experiences for women of color - Through April 11, 2022
New Light: Encounters & Connections - Juxtapositions of contemporary pieces with objects from other places, other times - Through Aug 22, 2022
The Banner Projects: Lauren Halsey - The artist remixes signs, symbols, and Afrofuturist vistions inspired by her LA neighborhood with works from ancient cultures of Egypt and Nubia from the MFA's collections - Through May 29, 2022
Turner's Modern World - More than 100 paintings (including some of his most famous), drawings, and sketchbooks - March 27-July 10, 2022; special ticket (and timed-entry) required
Philip Guston Now - Major retrospective of this late-20th century giant - May 1-Sept 11, 2022
Museum (and show) admission: $25 adults ($27 starting 3/1/22); special exhibits included unless otherwise noted; free entrance with Boston Discount Cards (GoBoston card and Boston CityPASS). Free admission on Martin Luther King Jr. Day, Lunar New Year Celebration Day, Memorial Day, Labor Day, & Indigenous Peoples' Day. MFA is open Thursday - Monday and closed Tuesday & Wednesday.
Institute of Contemporary Art/Boston - Current & Future Shows
Raúl de Nieves: The Treasure House of Memory - Fanciful sculptures encrusted with bangles, beads, bells, sequins, and other unexpected materials - Through July 24, 2022
Eva LeWitt - Huge colorful hanging wall sculpture made from coated mesh fabric - Through Oct 23, 2022
Admission: $15 adults; free entrance with GoBoston card and Boston CityPASS. Closed on Mondays. Free admission on Martin Luther King Jr. Day, Presidents' Day, Memorial Day, Labor Day, & Indigenous Peoples' Day, and every Thursday from 5-9pm. Must have timed tickets for free admission.
---
Voices of Humanity Concert at Vilna Shul - 2022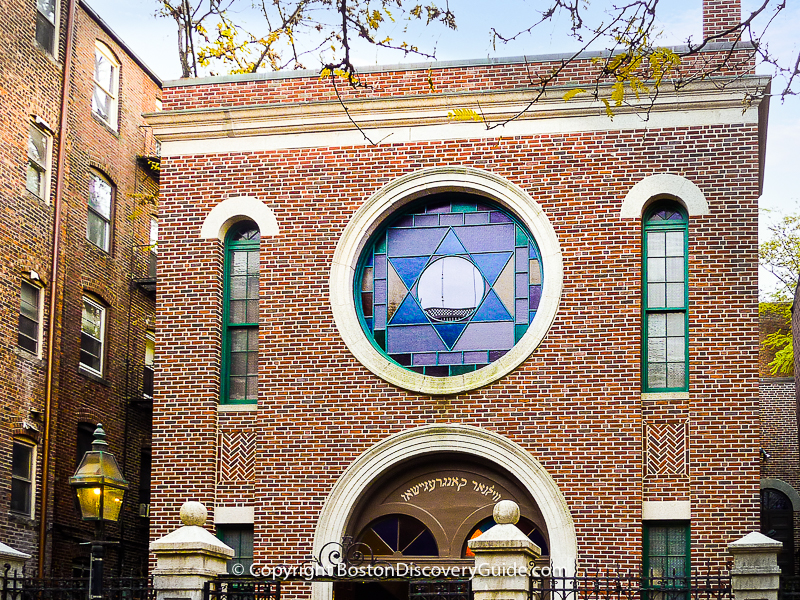 Vilna Shul, a historic landmark on Beacon Hill and Boston's last remaining immigrant-era synagogue (now a Jewish cultural center), presents their annual Voices of Humanity concert on May 15 at 3pm. In this community event, three Boston-based choirs will perform uplifting songs from Jewish, Muslim, and Christian traditions in an expression of unity and hope.
Location: 18 Phillips St, Beacon Hill, Boston
Tickets & more information: Vilna Shul website
---
2 Easy Ways to Save BIG in Boston on Tours, Cruises, Admissions
Best way to save in Boston. Save up to 50% when you take a Boston Harbor cruise or Duck Boat tour, visit Plimouth Plantation, the New England Aquarium, Museum of Science, Museum of Fine Arts, Fenway Park Tour, and more. Compare to find out which one is best for you.
---
Anime Boston 2022
Anime Boston - the largest anime convention in New England - returns to the Hynes Convention Center and Sheraton Boston Hotel (find rates & reviews) on May 27-29 with music, films, cosplay, and star guests plus lots of exhibits, artists, and special presentations. The focus is on Japanese pop culture, including anime, manga, J-Pop, J-Rock, and live-action Japanese media, plus some aspects of Japanese history and traditional culture. More information
---
Harpoon Fest - 2022
Harpoon Brewery (306 Northern Ave, South Boston Waterfront) celebrates spring, local music, and local beer with a 2-day beer festival at their brewery featuring a large selection of Harpoon beers, live music, and food trucks plus drinks from UFO Beer, Clown Shoes Beer, Arctic Chill Hard Seltzer, and WhistlePig PiggyBack Rye Smash.
Dates: May 20 and 21, rain or shine
Cost: Tickets (credit cards onlyi) start at $30 - Includes festival entrance, souvenir cup, and first beer.
Nearest T station: Silver Line 2/Harbor Ave
Age: 21+
More information and advance tickets: Harpoon Brewery website
---
Not Sure about Boston Neighborhood Locations?
This neighborhood map should help you get oriented. You can find a list of top attractions in each neighborhood here.
Need a more details? Here are our favorite free and low-cost Boston maps.
---
Lawn on D 2022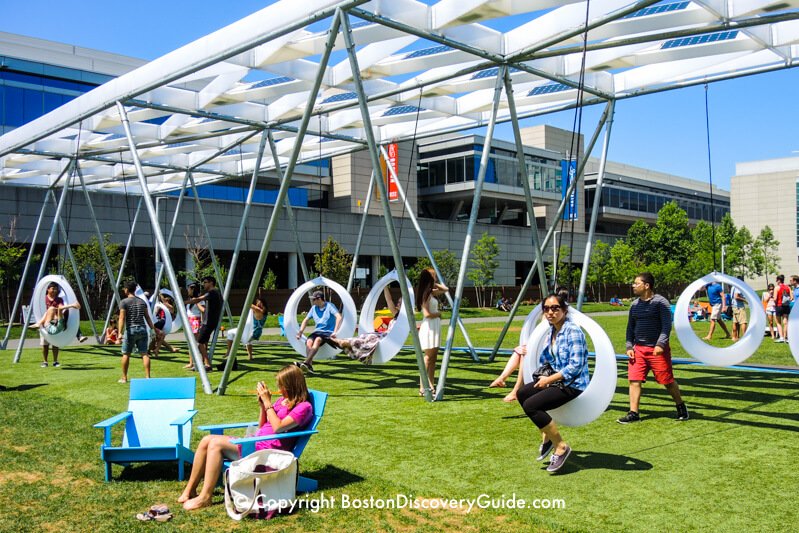 Lawn on D, a playground for adults (kids are welcome too but this is primarily an adult venue) located behind the Convention Center in the South Boston Waterfront, is where you'll find fun swings with LED lights and comfy seating, bocce and other games, and music throughout the summer and early fall, along with casual food and wine, beer, cocktails, and non-alcoholic beverages.
Opening date: May 22
Open daily from 7am-11pm from May to October, except when closed for private events (always check their website before going). Food, drinks, and lawn games available Thursday 3-10:30pm, Friday & Saturday 12 noon-11pm, Sunday 12 noon-10:30pm, with live entertainment by local bands on the weekends. Swings are open whenever Lawn on D is open.
Rules, in case you're wondering: No dogs, no outside alcohol, no outside food during concession hours.
Another option in this area is to sample one of the many restaurants in the Seaport and Fort Point areas of the South Boston Waterfront. For Boston Harbor views while you dine, visit a Seaport restaurant. To try the creative cuisine of some of Boston's most innovative chefs, head to a Fort Point restaurant.
---
Featured New Hotel for May: Four Seasons Hotel One Dalton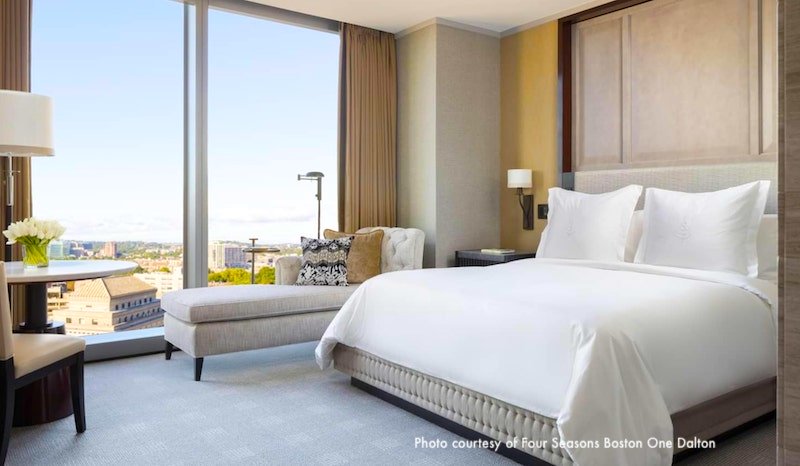 One Dalton Street, Boston's Back Bay neighborhood
The opening this month of Four Seasons Hotel One Dalton Street in Boston's third tallest building brings another 5-star luxury hotel to chic Back Bay. You'll enjoy the excellent location near renowned Newbury Street, top cultural attractions, and Fenway Park - plus the onsite spa, restaurant, and bar, and superb service.
---
Boston Theater Marathon XXIII
Even though the Boston Theater Marathon, produced by the Boston Playwrights' Theatre, stretches across a weekend filled with full-length play reading, the heart of this part-festival, part-race takes place from noon until 10pm on one special day when 50 New England theater actors, directors, and technicians present 50 new 10-minute plays (out of 400 submissions) produced by 50 New England theaters.
To call this event "lively" is an understatement! In one short 10-hour period, you'll see the wide diversity of Boston theater in this showcase for the local and New England theater community.
When: May 18, noon-10pm (ticket needed) - To be confirmed
Where: Calderwood Pavilion at the Boston Center for the Arts at 527 Tremont Street in Boston's South End neighborhood
Tickets: $25 in advance, $35 on day of marathon; all net proceeds benefit the non-profit Theatre Community Benevolent Fund to provide financial help for actors in dire need
More information: www.bu.edu/bpt/performances/boston-theater-marathon-xvi
---
SoWa Open Market Opening Day & Sunday Markets
A sea of white, blue, and even a few red tents await you at SoWa, Boston's biggest outdoor art and indie market showcasing artists, artisans, and designers in Boston's South End.
Add in musicians, the SoWa Vintage Market (downstairs at 450 Harrison Ave) Sundays, 10am-4pm all year), and onsite food trucks, and you have the perfect way to spend a Sunday afternoon.
Vendors are carefully chosen to avoid duplication - plus the mix of vendors is different every week, so you never know what you'll find.
More information: What to shop for at SoWa Open Markets
When: Every Sunday from May 4 through October 25, 10am - 4pm
Where: 530 Harrison Ave, Boston's South End
Closest T station: Orange Line/Back Bay, or Red Line/Broadway

---
Free Art and Architecture Tour at BPL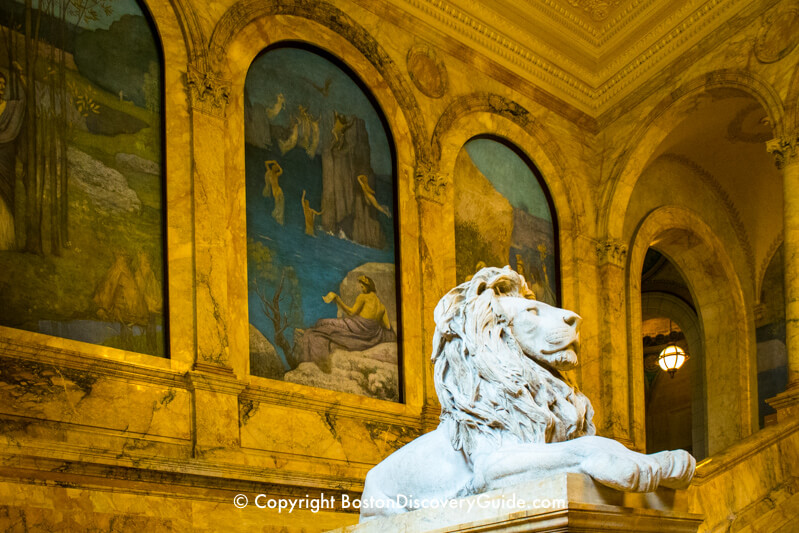 Join one of the Boston Public Library's free tours offered once a day almost every day. You'll see highlights of the library's magnificent Renaissance Revival architecture by Charles Follen McKim and late 20th century building by Philip Johnson. You'll also get to view some of the many works by famous artists throughout the building. Tours last about an hour, and are conducted by trained volunteer guides.
When: Every day in May - and almost every day throughout the year; times vary
Where: Meet at Dartmouth Entrance (McKim Building), 700 Boylston Street, Copley Square, Boston
Cost: Free
Closest T station: Green Line/Copley
More information: 617-536-5400; BPL website - click "Central Library/Art & Architecture Tours" on the top menu to get dates and times
More about Boston Public Library
---
Boston Discount Cards for Attractions, Tours, Cruises
Best way to save in Boston. Save 50% or more when you take a Boston Harbor cruise or Duck Boat tour, visit Plimouth Plantation, the New England Aquarium, Museum of Science, Museum of Fine Arts, Fenway Park Tour, and more. Compare to find out which one is best for you.
---
Greenway Open Market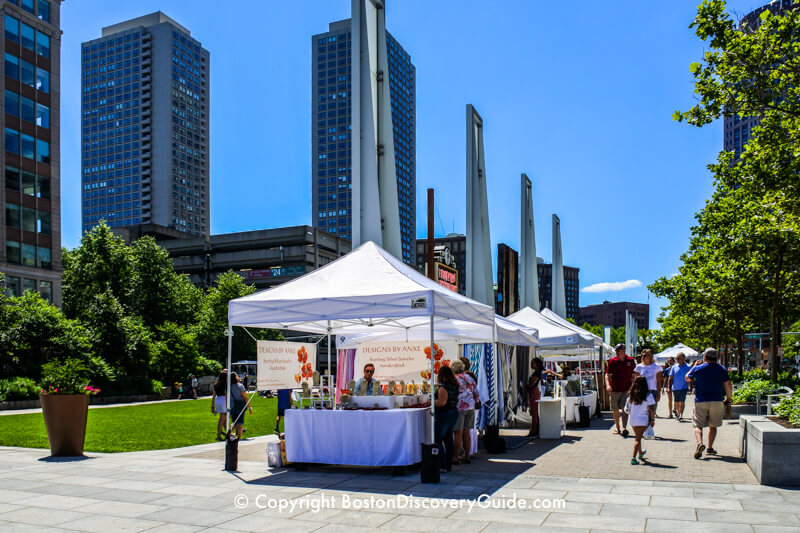 Greenway Open Market, sister market to SoWa Open Market (held Sundays in the South End), brings an eclectic mix of hand-made art, music, and locally produced products to Boston. Look for the sea of white vendor tents - and get ready for some fun shopping, plus good eating at the gourmet food trucks. With a different mix of vendors present each week, you never know what treasures you'll find! It's a quintessential Boston event.
When: Every Saturday and 1st and 3rd Sunday from May through October, 11am - 5pm May, June, Sept, Oct, and 11am-6pm July and August
Where: Rose Kennedy Greenway, near Rings Fountain along the Wharf District parks (look for the Carousel and the vendors' white tents)
Nearest T station: Blue Line/Aquarium, or Orange and Green Lines/Haymarket
Cost: Free (but of course you'll probably be tempted to buy things
---
Opening Day for Boston Harbor Islands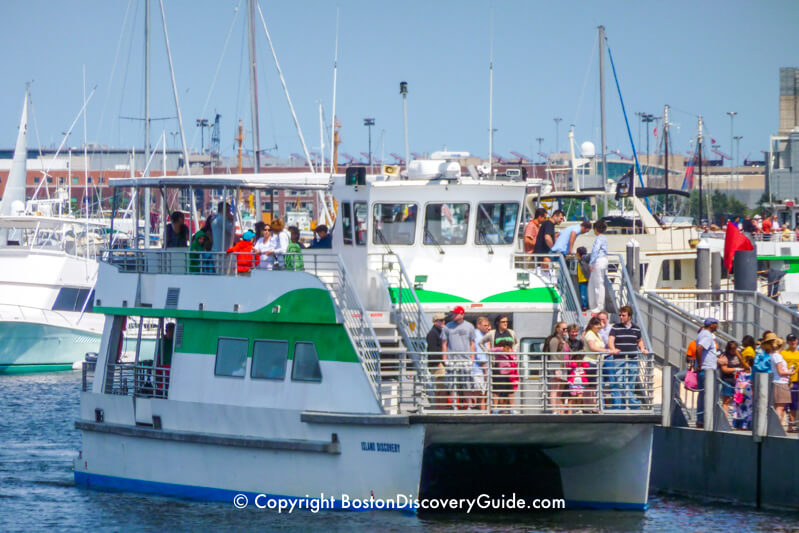 When: Saturday, May 21 to Spectacle Island; service from Boston to both Spectacle and Georges Islands begins June 25
Where: Long Wharf - North (ferry location)
Closest T station: Blue Line/Aquarium
Cost: Check Boston Harbor Islands for current ticket costs. You can buy your tickets at Long Wharf ticket booth
More information: Park Rangers: 617-223-8666; Harbor Island Express: 617-222-6999
Hop on a ferry at Boston's Long Wharf (near the Boston Marriott Long Wharf) for a 15 minute cruise to Georges or Spectacle Island. Join a free tour led by the Park Rangers, or enjoy a day of exploring historic sites, photographing birds, enjoying a picnic, hiking, swimming, wading in tidal pools, or simply enjoying the scenery.
---
Ancient Fishweir Project on Boston Common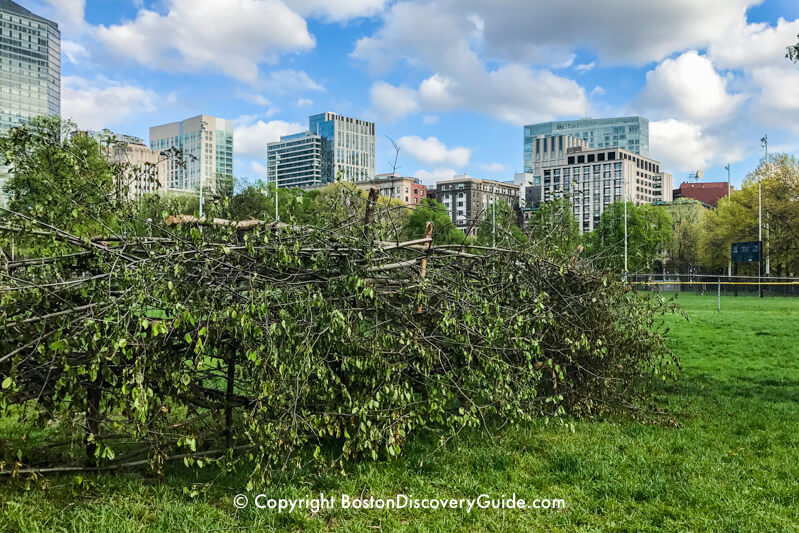 When: May 5 through June, with dance and music performances by the Wampanoag Nation Singers and Dancers on Monday, June 1 during school hours
Where: Boston Common
Cost: Free
Each year, members of the local Wampanoag and Massachusetts Nations collaborate with about 1,000 Boston public school students to build a 150 foot fishweir sculpture on the Common to commemorate those built by local Native people about 5,000 years ago to catch alewife, herring, smelt, and salmon in the tidal flats then covering the area. Remnants of these still exist, buried in layers of clay 28-35 feet under the city's streets.
This temporary fishweir is Boston's only centrally-located historical monument focused exclusively on the Native people who lived here for 12,000 years before the arrival of the Puritans.
If you want to take a look at this temporary memorial, you'll easily find it close to the path running from Charles Street to the baseball field.
More info: Ancient Fishweir Project
---
SoWa Art Walk in the South End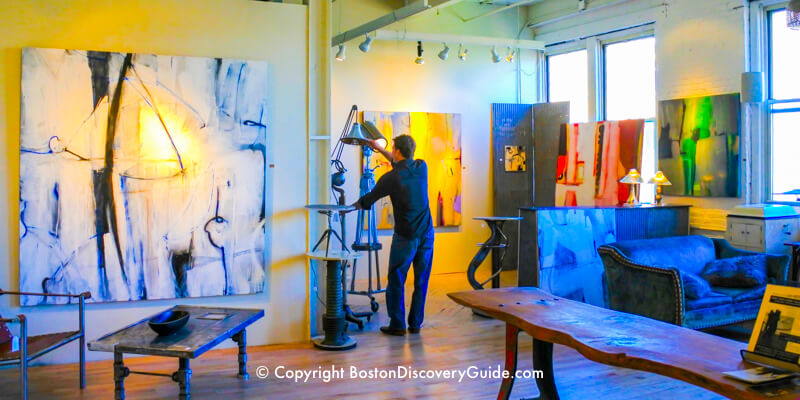 The annual spring SoWa Art Walk in Boston's South End gives you the perfect destination for enjoying a Sunday afternoon in May while viewing the creations of emerging and established artists in 200+ working artists studios.
Explore the fascinating artists' studios, and admire the paintings, sculpture, jewelry, ceramics, photography, and more in the South End's SoWa (South of Washington) neighborhood, home to the largest concentration of artists in the city.
Be sure to drop into SoWa Open Market which kicks off on Sunday.
When: Saturday May 7, and Sunday, May 8, 11am-5pm (dates and times to be confirmed)
Where: Participating locations include 450 and 460 Harrison Ave in Boston's South End
Closest T station: Orange Line/Back Bay; or Red Line/Broadway
Parking: Look for signs
Cost: Free

---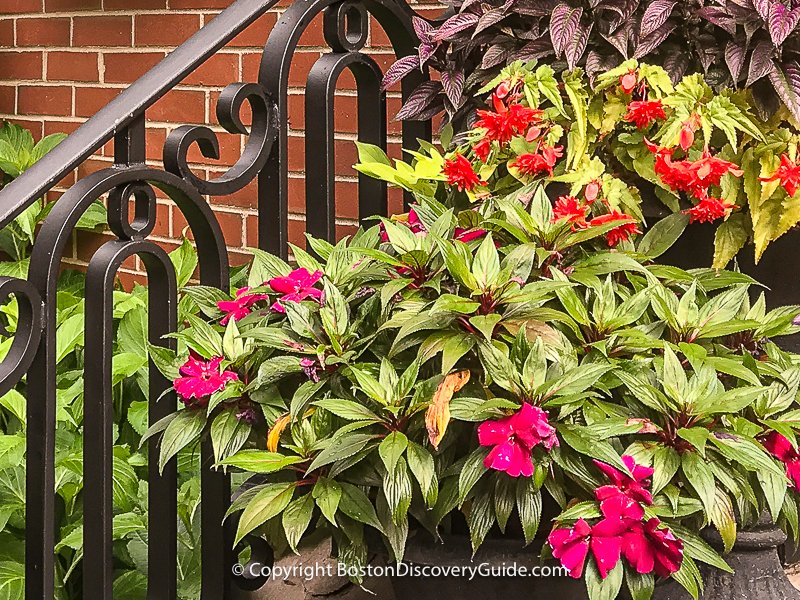 Once a year on the third Thursday in May, a dozen or so Beacon Hill Garden Club members open their gardens to the public for a special Hidden Gardens of Beacon Hill self-guided tour.
Celebrate spring by spending a day exploring the secret gardens in this historic Boston neighborhood. But don't forget to break for a relaxing brunch or lunch in one of these wonderful neighborhood spots:
75 Chestnut Street - Brunch menu will be available in dining room or on the patio
Peregrine at the Whitney Hotel - (170 Charles Street) - Start your day with breakfast here, enjoy coastal Italian specialties for lunch, or relax with a glass of wine at the bar
The Paramount (44 Charles Street) - Classic diner food with a huge local fan base
The King & I (145 Charles Street) - Some of the best Thai food in Boston
The Grotto (37 Bowdoin Street) - Wonderful Mediterranean cuisine; nice wine list
More about Boston and Cambridge Garden Tours
When: Thursday, May 19, 9am - 5pm, rain or shine
Where: Beacon Hill; hostess booths will be at the corners of Charles and Mt. Vernon, and Charles and Chestnut Streets
Closest T stations: Green and Red Lines/Park
If you drive: Park in the garage under Boston Common; if you plan to find on-the-street parking, read this first
Cost: $50 advance reservations (see website for deadline), $60 day of the event
More information: Beacon Hill Garden Club website
More about What to See & Do in Beacon Hill
---
Mother's Day Events in Boston
Mother's Day is on Sunday, May 8. Check out things to do with your mom in Boston on Mother's Day
More Mother's Day events:
---
Mother's Day Harbor Cruises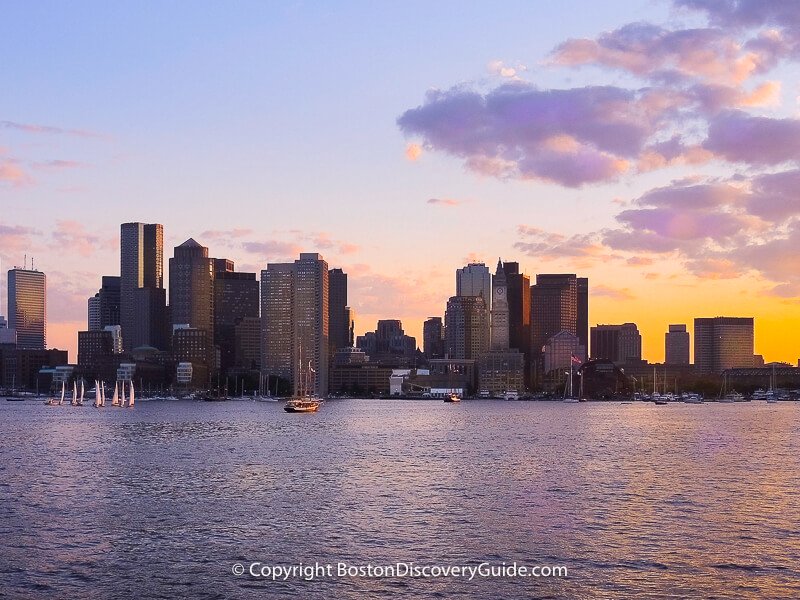 Treat her to a fun, relaxing cruise around Boston Harbor aboard the Northern Lights classic 1940s-style commuter yacht or Adirondack III, Boston's own "tall ship" schooner.
Enjoy the music, treat your mom to the beverage of her choice, and smile as you watch her relax and enjoy the best views of Boston.
Mothers Day Cruise
More Cruises on Mothers Day Weekend (Friday, Saturday, Sunday)
---
Lilac Sunday - Mother's Day Event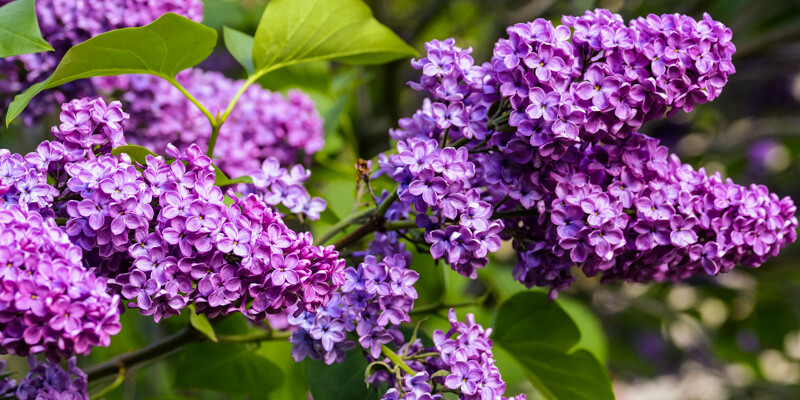 The Arnold Arboretum's large lilac collection bursts into glorious bloom in May, putting on an exuberant show of color and intoxicating fragrance just in time for Mother's Day. Visit on Lilac Sunday to enjoy family-oriented activities in honor of Mother's Day - or come any time during early-to-mid-May to experience the unforgettable scent of these gorgeous lilacs.
Lilac Sunday is the only day of the year when the Arboretum allows picnics - so take advantage by bringing a tasty brunch or lunch and perhaps a blanket for sitting.
When: May 8; lilac tours and family activities from 10am - 3pm; Arboretum open from dawn to dusk
Where: Arnold Arboretum, 125 Arborway, Jamaica Way, Boston
Closest T station: Orange Line/Forest Hills; follow the signs to the Arboretum, about a 10 minute walk
Parking: Street-side parking spaces are always quite limited so don't count on finding any available on Lilac Sunday - take public transportation!
Cost: Free
More information: 617-524-1718; Arnold Arboretum website
---
Looking Ahead to June Events in Boston
---
More Things to Do in Boston in May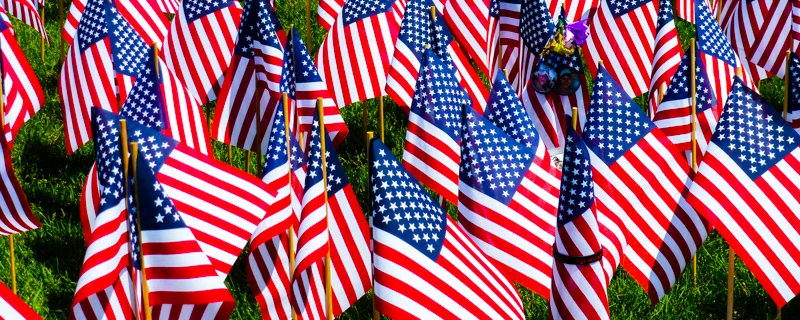 ---
More Ways to Experience Boston in May
Balmy May days make exploring the city easy. These fun trolley tours, bus tours, and special destinations let you enjoy Boston at its best!
---
Continuing during May
---
Boston Events Each Month
January | February | March | April | May | June | July | August | September | October | November | December | Year at a Glance
---
Need a Boston Hotel or Apartment?
Use this handy map from Booking.com to find the perfect place to stay. Just enter your dates to find what's available, see the best rates, and make your reservations.