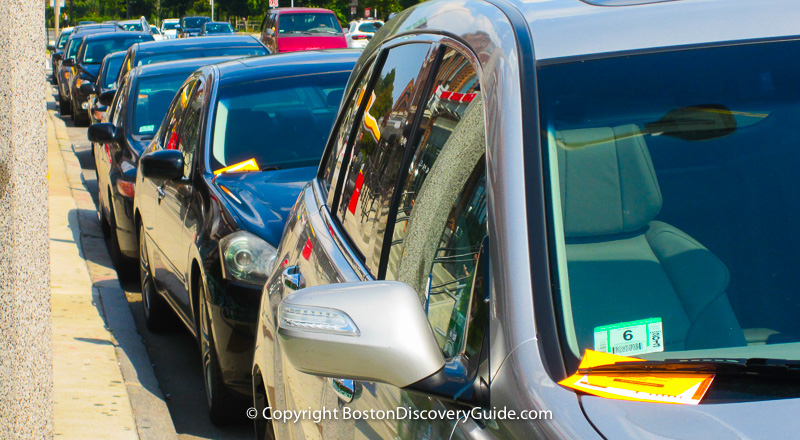 Parking in Boston can be tricky.
If you're visiting Boston and trying not to get lost while navigating the twists and turns of narrow streets laid out during Colonial times, you'll soon find out that finding cheap parking will be even more challenging.
Up to half the traffic in some parts of the city consists of cars trying to find curb-side parking - but even if you feel tempted, don't waste your time.
The best place to park in Boston is in a garage.
Metered Parking in Boston - and Why to Avoid It
On-street metered parking in Boston is quite limited in most areas and virtually non-existent in others. You'll see mostly "Resident Only" spaces.
And if you make a parking mistake such as parking in a tow zone or your parking meter runs out of time before you return to your car or you park in a Residents Only space without a sticker (easy to do in areas such as parts of Back Bay where metered parking morphs into Residents Only after 6pm), Boston parking ticket fines can be expensive - from $25 to as much as $120 for some offenses. That hurts.
Metered parking costs $3.75/hour in Back Bay, $4/hour in the Seaport District, and slightly lower amounts in other neighborhoods. Many streets boast new meter machines where you can use credit cards, bills, and coins to purchase timed parking tickets, but many neighborhoods still have the old-fashioned type of meters that you have to "feed" with quarters, so stockpiling enough quarters can be a challenge. Alternately, you can download the City of Boston's parking app at park.boston.gov
But still, even $4/hour to park is dirt-cheap - so parking at one of Boston's 9,000 metered spaces, if you can find one, can be tempting.
But parking at a meter can lead to pain . . .
Parking Pain - When Things Go Wrong
Unfortunately, our Boston parking police are the fastest on the planet at issuing tickets, especially in neighborhoods such as Beacon Hill and Back Bay. They know which meters are about to expire, and watch them like hawks. Return to your car just one second too late, and you'll find a fluorescent orange ticket on your windshield. Trust us, they're ugly.
Furthermore, many areas limit the total amount of time you can stay in one spot within a certain area, even if you successfully race back and add more quarters before the red Expired! sign flashes.
You can be ticketed for exceeding the time limit for parking on a particular block, even if you move from one spot to another.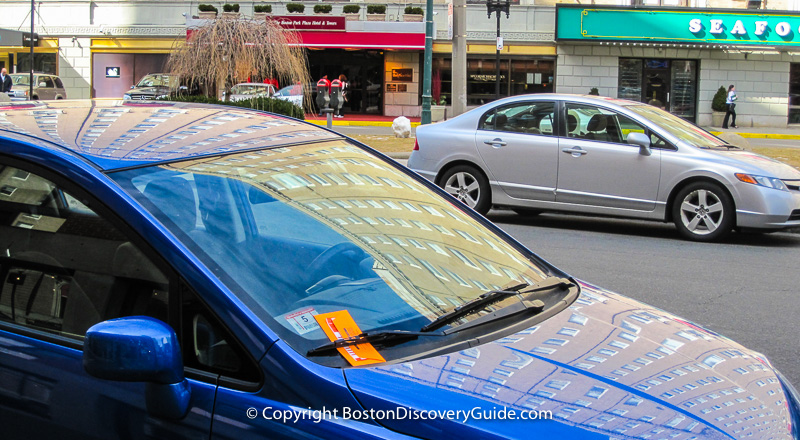 Free Parking Days in Boston
The only days when you don't have to put money in the meter for on-street parking are Sundays and City of Boston holidays - which, in case you're wondering, include all the usual federal and state holidays plus Evacuation Day (March 17, which of course also happens to be St Patrick's Day), Patriots Day, and Bunker Hill Day.
What's important to note about free parking on holidays is that on-street parking is free on the actual holiday, not the day when it happens to be celebrated. For example, if New Year's Day (January 1) falls on Sunday but offices close on Monday (January 2) to celebrate it, on-street parking in Boston is free on Sunday (which is free anyway), not Monday. Make sense?
Of course, sometimes the Mayor declares free parking. Good luck trying to find a metered space on those days!
Why Paying More at a Garage Makes Sense
If you're visiting Boston, you probably want to focus on enjoying our attractions and events, not worrying about exceeding your time at a parking meter. Plus, it can be tough to know which blocks don't allow extended parking and which days are free. And paying a parking ticket can certainly spoil a vacation fast.
During winter months when ice and slush makes streets slippery and driving treacherous, parking on the street can be hazardous for your car.
In this context, you can see why parking garages quickly become your best choice.
Although Boston parking garages charge hefty rates, they're cheaper than parking fines or repairing scraped fenders - if you avoid the most expensive options, and know where to find discounts and specials.
More to See & Do in Boston