Boston parking garages near North End attractions, TD Garden, Faneuil Hall Marketplace, and the Aquarium are life-savers if you must drive and park in this part of the city.
But take a look around this part of the city, especially the area around TD Garden. See all the construction and new high-rise towers? The construction is gobbling up an increasing number of parking garages and surface lots. The North End is suffering the same fate.
And forget curbside parking. If you've ever tried to find on-the-street parking here, you know how scarce it is, especially since most most available spaces along the narrow streets are Boston permit parking spaces marked "North End Residents Only." You'll find even fewer around the Garden.
Even if you find one, overstay your metered time by just a few minutes and a ticket will appear on your windshield. Or worse, you might get towed.
So a parking garage or lot can actually save you a whole lot of money and trouble.
The good news is that you can find somewhat cheaper parking rates near the North End and even the Garden than in nearby Downtown Boston - especially if you use "early bird" strategies, discounts, parking lots, and especially if you're parking for events, avoid the most expensive options.
But, spoiler alert: there is one garage on the edge of the Financial District (and close to Faneuil Marketplace and the Aquarium, plus an easy walk to the North End and TD Garden where you can get fantastic weekend rates - especially when you pay in advance.
Of course, you can take the "T," Boston's subway . . . several stations (North Station, Haymarket, and Aquarium) are conveniently close and within easy walking distance of North End attractions. The T almost always provides the cheapest and most convenient way of getting around Boston if walking isn't an option.
We get why you might prefer driving - so this article mostly focuses on our run-down of all the best parking options in and near the North End. They are convenient to TD Garden, Faneuil Hall Marketplace, Haymarket, the New England Aquarium, and Boston cruises departing from Long Wharf and Rowes Wharf, including the particular bargains each one offers.
You may be pleasantly surprised. A couple are almost steals ... IF you avoid the most expensive days and times.
Want to see their locations at a glance? Here's our map.
But just in case you change your mind when you see the parking garage rates, we're also including insiders' tips for the best places to park near this part of Boston and then hop on the T for the last few minutes of your trip.
Please note: Although we provide rates in this article for comparison purposes, Boston parking rates in some garages and lots change frequently - so do check garage websites to verify rates if you're trying to get the best deal.
Find out more about parking in Boston
What you need to know about driving in Boston before you come
Top photo: Longfellow Parking Garage near TD Garden, (c) Boston Discovery Guide
Boston Discovery Guide is a reader-supported publication. When you buy through our links, we may earn a commission at no additional cost for you. Learn more
---
Best (aka, Cheapest & Most Convenient) Parking Garages & Lots
Parcel 7 Garage: Cheapest Parking Garage in Boston ... IF You Have Validation!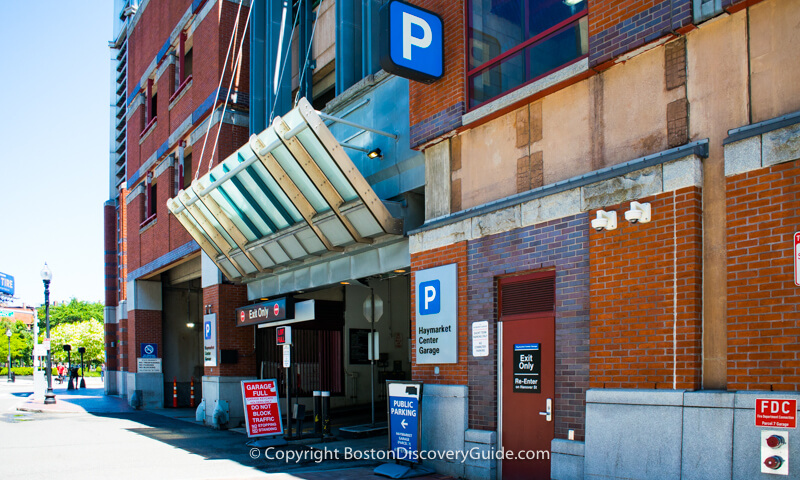 City of Boston's Parcel 7 Garage (its sign says Haymarket Center Garage because it is across the street from Haymarket T Station but few if any locals ever call it that) is not Boston's newest, cleanest, or sleekest garage, and the ramps are kind of steep . . . but it's really, really cheap (if you get your ticket validated), really, really convenient, and considering how pricey. parking is at most Boston parking garages, a phenomenal bargain.
How cheap? Would you believe only $3 for up to 3 hours? And just $1 for 1-2 hours?!! But after the 3-hour limit - even just 1 minute past - regular rates apply. They're not the worst in the city - but why pay higher rates if you don't have to?
Here's the catch (don't worry, it's not a big one) - you have to have your ticket validated.
But no worries - Boston Public Garden, Haymarket vendors, and most North End stores, restaurants, churches, attractions, and other organizations will validate. If in doubt, call your destination and ask if they validate for Parcel 7.
Easiest place for validation: Boston Public Market, located on the building's lowest floor with entrances on the other sides. Best bet in a pinch: Adam's Pizza & Convenience Store at the corner of Hanover and Blackstone will validate with any purchase of $10 or more.
Unfortunately, there's a second catch: even though Parcel 7 qualifies as an "insider's secret," there are plenty of "insiders" who know about it . . . so sometimes it's full. If you plan to park at Parcel 7, always have a #2 choice in mind.
Address: 92 Sudbury Street (but use 110 New Sudbury Street for your GPS, and when you're returning to the garage to get your car, use Stairwell 1 on the Hanover Street side across from Bell in Hand.
Number of spots: 308
Near: Haymarket, Faneuil Hall, Quincy Market, Boston Public Market, Government Center and City Hall Plaza; walk across the Greenway to the North End, waterfront, Boston cruises, New England Aquarium
Reasonably close: TD Garden and nearby bars / nightlife venues, West End, Downtown Boston
Forms of payment accepted: Cash, credit cards
For more information: 617-973-6954; no website
Parking rates:
Regular daily rates: $10/1 hr, $20/2 hr, $25/3 hr, $28/4 hr
Evening hours (in after 5pm, out by 5am): $16
Bargain rates with validation: $1 for up to 2 hours parking, $3 for up to 3 hours . . . but regular rates kick in at 3 hours
---
North Station Garage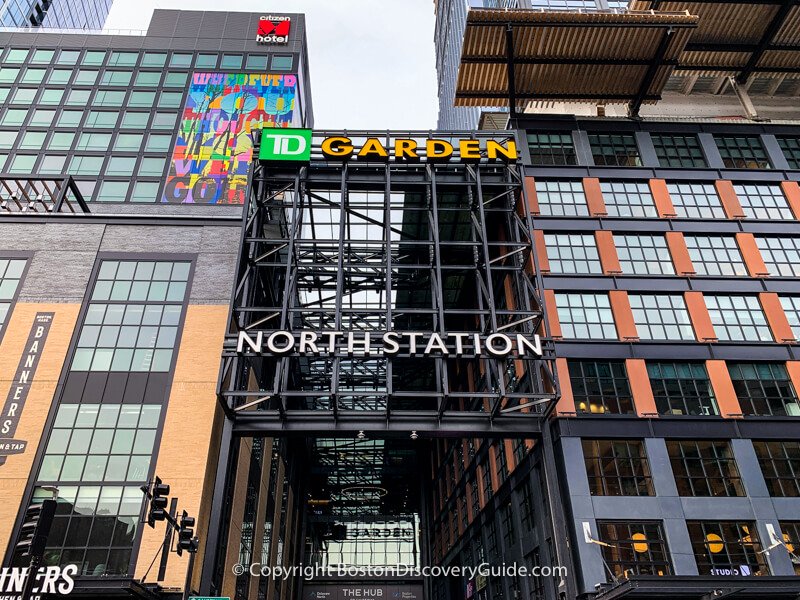 North Station Garage sits squarely under TD Garden - so if you're heading to a Bruins or Celtics game, concert at the Garden or Big Night Live, or just want to relax over a brew at Banners or one of the other Hub on Causeway venues, this is absolutely your most convenient parking choice.
Elevators in the garage bring you straight up to the main concourse in North Station.
Enter either on the Nashua Street ramp (121 Nashua) or the Causeway Street ramp (140 Causeway). This is one of Boston's fancier garages - you'll find multiple EV charging stations on levels 1 and 3, with well-marked signs to help you spot them easily (or just ask the parking attendant).
Event parking is on the expensive side, especially when there are events at the Garden - but again, you cannot beat the convenience.
Best parking deal at North Station Garage: Weekends until 6pm (non-event events too - but those hardly ever happen)
Address for entrance ramps: 141 Nashua Street and 140 Causeway Street, Boston's West End
Number of spots: 1275
Near: North End
Reasonably close: Faneuil Marketplace, New England Aquarium
Hours: 5am - 1am
For more information: 617-973-6954; no website
Parking rates:
TD Garden event rates: $54 - enter up to 3 hours before your event's start time, and stay as long as 8 hours
Big Night Live: $40 - enter up to 3 hours before your event's start time, and stay as long as 8 hours
Daily rates: $15/1 hr, $22/2 hrs, $30 max up to 6pm, $75 daily max - these rates apply only when there are no events at TD Garden or Big Night Live
Non-event evening rates 6pm-1am: $20 - please know that non-event nights almost never happen
Weekend rates 5am-6pm, when there are no events at TD Garden or Big Night Live: $20
How much does North Station Parking Garage cost if you're attending a Big Night Live event, but there's a TD Garden event at the same time (until 9pm)?
In this situation, you'll be charged the TD Garden rate, even if you're going to Big Night Live or any other venue.
---
Government Center Garage
Government Center Garage regular daily rates are high . . . but attractive for evening and weekend parking, and competitive (although not cheap) for TD Garden event parking. (There's even one fantastic rate - more about that in a moment.) Great weekend (non-event) rate - for example if you're planning an all-day visit to the New England Aquarium, check out this garage!
Plus, if you love mid-century modern and Brutalist architecture, you'll be parked right in the middle of it. Not that we're suggesting you should choose a garage based on its design style.
Best parking deal at Government Center Garage: Are you visiting in Boston for 3-30 days, won't need your car at all, and just want a safe place to store it? The Park 'n Stay rate is actually fantastic - at $15 per day, it's almost a steal.
Address: 50 New Sudbury Street; entrances on New Sudbury Street and New Chardon Street; easy access to I-93 northbound and southbound ramps, and right above the Haymarket T station
Near: Haymarket, Faneuil Hall, Quincy Market, West End / Government Center / City Hall Plaza, Suffolk University
Reasonably close: TD Garden and nearby bars / nightlife venues, Downtown Boston; walk across the Greenway to the North End, waterfront, Boston cruises, New England Aquarium
Number of spaces: 2,000
Forms of payment accepted: Cash, credit cards
For more information: 617-227-0385; website
Parking rates:
Daily parking rates: $9 for 20 minutes or less; $27 for 80 minutes or less; $33 for 100 minutes or less; $42 maximum daily rate.
Evening/weekend rates: $17 if you enter after 5pm and exit before 5am Mondays - Fridays, and for all day on Saturdays and Sundays. Not valid during Garden events.
TD Garden event rates: $40, valid until 5am the next day
---
Longfellow Place Garage
Longfellow Place Garage is generally one of the more expensive parking garages in this area - but if the convenient Staniford Street location works for you and especially if you need to park for less than an hour, it's a good option to know about.
Best deal at Longfellow Place Garage: You can sometimes save a bit on event parking compared with other options, especially if you can happen to get a rate at the lower end of the scale.
Address: 60 Staniford Street
Number of spots: 565
Near: TD Garden, Mass General Hospital
Reasonably close: North End, Faneuil Marketplace
More information: 617-973-6954; no website
Parking rates:
Regular daily rates: $12/1 hr, $24/2 hr, $36/3 hr, $48/24 hr
Event rates: $20-$50
Slightly cheaper rates with validation: You won't save a lot - but some MGH and other other medical offices in the area offer validation, so if you have an appointment in this area, it never hurts to ask if they validate
---
North End Garage
With 600 parking spots, the North End Garage is a decent mid-size facility, especially for this neighborhood. However, a number of spaces are rented on a monthly basis, so this garage can fill up more quickly than you might expect.
The location is ideal for events at TD Garden and Hub on Causeway venues as well as North End restaurants and other destinations.
Although the rates here are not cheap, they're fairly decent, especially if you're here more than two but less than 10 hours. For example, 9 hours for $27 works out to be $3/hour - cheaper than street-side parking meters in some parts of the city.
Best parking deal at North End Garage: Event parking, especially for TD Garden
Address: 600 Commercial Street, North End neighborhood
Number of spots: 600
Near: North End restaurants and attractions, TD Garden, Big Night Live, Hub on Causeway
Reasonably close: Faneuil Marketplace and New England Aquarium are about 10-12 minutes on foot
For more information: 617-742-6759; pilgrimparking.com
Parking rates:
Regular daily rates: $15/1 hr, $23/2 hr, $27/up to 10 hr
Evening hours (in after 5pm, out by 5am on non-event nights): $19 Sunday - Wednesday; $25 Thursday - Saturday
Event rate: $44 - includes all large events in the area, not just those at TD Garden
---
75 State Street Garage
75 State Street Garage, located at the edge of the Financial District, targets business customers during the week and while weekday rates are nothing special for this part of the city, the evening and weekend rates are a steal.
The garage itself is quite nice - modern and clean. And if you come at the right time and think ahead, you can get really fantastic bargain parking here.
The big bargains here happen during the evenings and weekends. If you're visiting Faneuil Marketplace or any of the other nearby attractions on the weekend, State Street Garage's location is ideal. In particular, weekend rates rival those at Boston Common Garage for being the best deal in town.
Want to save even more at State Street Garage? Reserve and pay online at least 1 hour before your arrive. Go to their website to get rates, reserve, and pay. Biggest bargains are for evenings and weekends - but you can also get lower weekday rates.
You'll thank us when you see how cheap parking in Boston can be!
Address: 75 State Street - entrance at corner of State and Broad Streets
Number of spots: 674
Near: Faneuil Hall Marketplace/Quincy Market (very close), New England Aquarium, Haymarket
Reasonably close: TD Garden and nearby bars / nightlife venues, Government Center / City Hall Plaza, Downtown Boston; walk across the Greenway to the North End, waterfront, Boston Harbor cruises departing from Long Wharf and Central Wharf
Restrictions: Cannot accommodate large passenger vans or motorcycles
Drive up parking rates at State Street Garage:
Regular daily rates: $28/1 hr, $42 for over 1 hour
Monday-Friday evening hours (in after 5pm, out by 5am): $18
All day Saturday & Sunday (enter after 5am and exit before 5am on the following day): $18
Holidays (New Year's Day, Memorial Day, July 4th, Labor Day, Thanksgiving Day, Christmas Day): $18
---
Harbor Garage across from the Aquarium
The good news: Harbor Garage remains open - sort of - at this time.
The bad news: The garage may not remain open for long, if the current proposal for a 42-story, 600-foot skyscraper gains approval. At this time, redevelopment plans do not appear to include any public parking. And with possible development on the horizon, the garage appears to have not been maintained for quite awhile.
Although Harbor Garage is one of the most expensive Boston parking garages near the North End if you use the regular daily rate, it does offer convenience. Especially in bad weather or if you're taking your young children to the Aquarium or IMAX Theatre, both of which are just a few steps away, you'll appreciate how close it is.
Entering the garage, you insert your credit card in the machine rather than taking a ticket. Then when you're leaving, just insert your card again to pay.
Harbor Garage used to offer free battery starting and tire inflating/changing services - but those services no longer seem to be available.
Address: 70 East India Row (at intersection of Atlantic Avenue and Milk Street)
Near: Closest parking garage to the New England Aquarium, Simons IMAX Theatre, Boston Harbor Cruises and Whale Watching Cruises; very close to North End, Long Wharf, Rowes Wharf
Reasonably close: Easy walk across Greenway to Faneuil Hall / Quincy Market / Haymarket
Forms of payment accepted: Cash, credit card
Parking rates at Harbor Garage:
Daily including weekends: $40/2 hours
Discounts: Discounts available only for Aquarium Members, Whale Watch cruise visitors, and Simons Theatre (IMAX) patrons AFTER 4:30pm. Please note if you are NOT in any of these categories (for example, you are visiting the Aquarium but are not a member), you will NOT be able to get the discounted rate. To get it, you MUST get your parking ticketed at the Aquarium information desk.
Convenient to:
New England Aquarium
Faneuil Marketplace
North End
TD Garden (about an 8-10 minute walk)
---
North End Parking Lots (+ 1 Garage)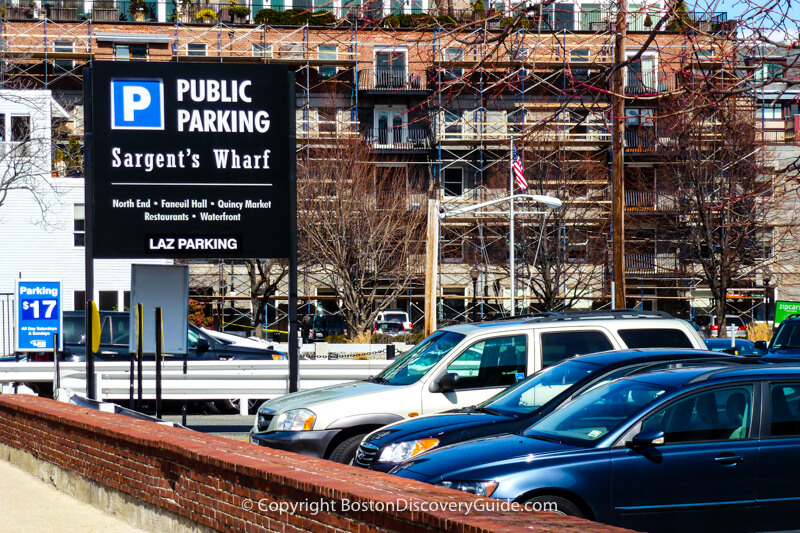 Commercial Street and Atlantic Avenue loop around the outer perimeter of the North End. (Note for non-Bostonians who may be wondering: this will seem like the same street when you're driving, but Commercial Street actually veers off to the right as you're going south. When this happens, stay on Atlantic Ave, no matter what your GPS tells you to do.)
Near Lewis Wharf and Sargent's Wharf, you'll find a cluster of parking lots and a garage that usually offer attractive (and sometimes competing) rates. Sometimes, you can snag the cheapest parking in Boston's North End - but sometimes not, so read the signs VERY carefully to avoid surprises.
Parking lot rates vary depending on the day, time, and season, so your best bet is to drive slowly as you approach them and either stop (if no one is behind you) or pull over to read the signs. They may also be higher for special events. Because the lots and garage are close to each other, you can pick whichever one appears to offer the best price.
We're not going to give prices because they vary too much. But if you get a $15 rate for, let's say, 3 hours or more, you've scored a great deal in this neighborhood where parking is scarce and pricey.
What's the secret to getting the lowest prices in these North End parking lots and garages? Arrive early - especially on the weekends!
Sargent's Wharf Parking Lot
Sargent's Wharf (269 Commercial Street) - Spaces are tight - so find a spot close to the entrance for easiest parking and departure.
LAZ Parking Lot
Read the signs at LAZ Parking (290 Commercial Street) carefully because they can be confusing. But even if you miss a detail and pay more than you expect, you'll still be getting relatively cheap deal for North End parking here.
2 Atlantic Avenue Garage (a.k.a. Pilot House Garage)
2 Atlantic Avenue Garage (Lewis Wharf - next to Pilot House) - Getting in and out of this underground garage is easy, and rates are similar to the nearby parking lots. NOT a 24-hour garage - so be sure to note closing times.
Lewis Wharf Parking Lot
Lewis Wharf Lot (28 Atlantic Ave) sometimes offers 10 hours of parking for $15 - but usually the trick to getting it is to be here early.
---
Map of Boston Parking Garages near North End & TD Garden
Use this map to find Boston parking garages near North End attractions and other favorites in the area: Faneuil Hall, Quincy Market, Boston Harbor cruises, the New England Aquarium, and TD Garden.
This map shows the garages near North End attractions and the TD Garden area that are reasonably priced or offer discounts or cheap prices at certain times. Some of the parking lots are fairly small, and at times, all of the garages and lots fill up - so do consider the T when at all possible!
---
Where to Find Super-Cheap Parking near TD Garden & the North End
So ... here's our Boston insiders' tip, which is the strategy most locals use to save on parking: drive almost to the city, but take the T (Boston's subway) for the last mile or two.
When you're heading to the North End, the Garden, and other nearby attractions, you have several convenient (and comparatively cheap) options. Here are basics about three of the best.
Sullivan Square Station and Wellington Station
To save money and possibly time, drive to the Wellington Station T station on Route 16 in Malden or the Sullivan Square T station in Charlestown. Both are just north of Boston, with MBTA parking lots. Your trip on the Orange Line to North Station from Wellington will take only about 5 minutes. Sullivan Square station is even closer: just 2 stops and barely 3 minutes away.
Although these parking lots fill up with commuters on weekdays, you'll find plenty of parking for evening and weekend events.
Currently, you can park at Sullivan Square Station for $9, and $6 on weekends, plus the cost of riding the T.
Parking at Wellington Parking Lot, with 1,335 spaces runs $9 per weekday but only $4 on Saturdays and Sundays.
See the MBTA website for more details about these lots.
Patriot Parking - Cheap & Convenient Lot at Sullivan Square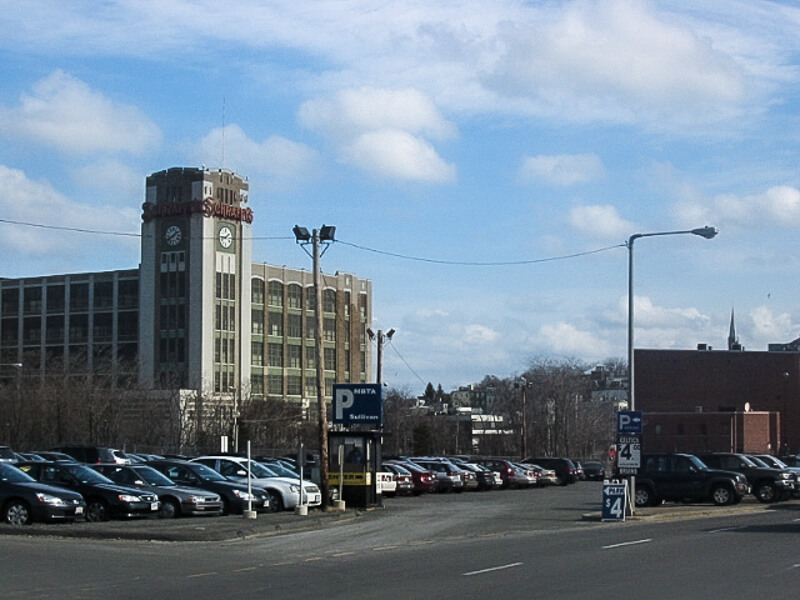 Patriot Parking Lot, a 200-space lot located at 5 Maffa Way across from Sullivan Square T Station in Charlestown, gives you additional options and can even save you a little money during the week compared with the MBTA lot across the street by the station.
Weekdays, enter from 6am to 1pm to get their $8 flat rates. Afternoons and all day on Saturdays and Sundays, enter after 1pm to get their $6 rate.
Rates occasionally a little higher - $8 flat rate when the Bruins or Celtics are in playoffs, and a $10 flat rate for weekday Red Sox games.
More information: website
More to Know about the Patriot Parking Lot
Commuters park here in the mornings when the Sullivan Square T Station lot gets full, but it seldom fills up, plus it begins to empty out by mid-afternoon. If you don't happen to know where it is, you can easily miss it, especially if you are not in the left lane as you approach it.
To park here, head south down I-93 toward Boston.
To get off at Exit 28, take the ramp on the right for Mystic Ave toward Sullivan Square / Charlestown.
In about 0.5 mile, take the ramp left for Broadway toward Boston via Charlestown / Sullivan Square - stay in the far left lane as you head toward the underpass because in a few seconds, you will be able to pull into Patriot Parking on the left.
In about 0.2 mile, the road name changes to Maffa Way.
As soon as you go under the underpass, you can see the entrance to Patriot Parking on your left, across from the Sullivan Square T Station - exactly what you see in the photo above.
Once you park, all you need to do to get to the T station is to cross the road - sometimes easier said than done, as traffic here can be fast assuming you avoid rush-hour gridlock. The safest way to cross is to walk to the traffic light at the intersection with the rotary - about a 1-minute walk.
Assembly Row Garages - Possibly the Cheapest Park & Ride Location
What if a big event means that all the more obvious cheap parking lots near T stations are filled? In that case, park in one of the Assembly Row garages and take the Orange Line from Assembly Station to North Station or Haymarket.
In case you're not familiar with Assembly Row, it's the huge discount shopping and entertainment center in Somerville just north of Boston. You can park free at any of its 5 garages for up to 3 hours. After that, you can get up to 4 hours parking for $2, 5 hours for $3, 6 hours for $15, and more than 6 hours for $25.
So if you need to park for less than 5 hours, this is your cheapest option. Although once you scope out all the fun things to do here - movie theater, Legoland, bargain shopping, restaurants and bars - you may scrap your plans for Boston and stay here instead.
---
More Articles about Parking in Boston
---
Fun Things to Do in Boston
---
Need a Boston Hotel or Apartment?
Use this handy map from Booking.com to find the perfect place to stay. Just enter your dates to find what's available, see the best rates, and make your reservations.