Boston Duck Tours take you on a unique adventure - a sure winner when you want to combine sightseeing with fun.
Each brightly-painted Boston Duck tour vehicle has its own name celebrating the city's cherished heritage: Red Sox Nation, Faneuil Holly, Haymarket Hannah, just to name a few.
There's no better way to see Boston by land and by water!
Check available dates and times for a Boston Duck Tour and book your tickets here:
Top photo; Duck Boat "splashing down" as it enters the Charles River, (c) Boston Discovery Guide
Boston Discovery Guide is a reader-supported publication. When you buy through our links, we may earn a commission at no additional cost for you. Learn more
---
What Will You See on a Boston Duck Tour?
Once you board your Duck-mobile, you'll cruise through several of the city's most historic neighborhoods - Downtown, Back Bay, Beacon Hill, Charlestown.
Have your camera ready, because Boston duck boat tours show you why this is the Birthplace of Liberty . . . your "duck" will take you past the Bunker Hill Monument, Faneuil Hall, the golden-domed Massachusetts State House.
You'll also see stunning Victorian mansions, glitzy shops along Newbury Street, Copley Square, and plenty of tantalizing restaurants that you can return to later.
Exuberant Duck Tour "ConDUCKtors" - Captain Courageous, Admiral Amnesia, and Colonial Duct Tape, to name a few - entertain you along the way with witty and interesting commentary about Boston's history, attractions, and little known events.
"My husband and I spent our honeymoon in Boston, and took a Duck Tour on our first day. We had so much fun and laughed so hard that we went a second time a few days later. Drivers are like stand-up comics, but also explain a lot of history, and each one tells different stories. We'll do it again when we come back!"
Margaret
Galway, Ireland
---
What to Expect on Boston Duck Tours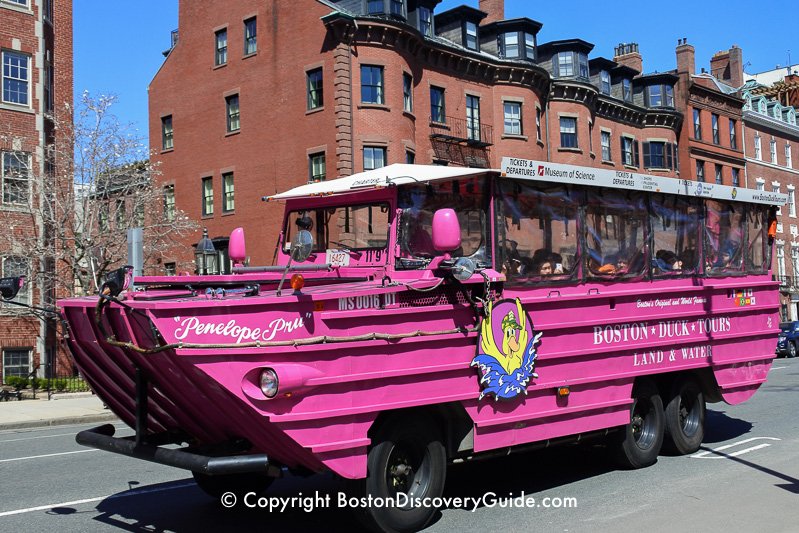 Duck Tours give you two very different experiences: the land excursion, which takes you around to see a surprisingly large number of Boston's central neighborhoods and many famous historic sites, and the tranquil river portion, which transports you to a different world as you float past Boston on one side and Cambridge on the other.
The most exciting moment comes when you "splash down" into the Charles River! Suddenly, you're water-borne.
Fortunately, you're in a World War II-style amphibious vehicle, so you'll enjoy the surprisingly serene excursion up and down the river.
You'll see the Boston Esplanade, bridges, and city skylines on both sides of the river from a unique perspective.
In particular, be sure to notice the ornate details on the bridges, wildlife habitat along the shore lines, and the flocks of friendly ducks that sometimes swim along next to the boats.
Best of all . . . some ConDUCTors let you steer the boat.
Be sure to bring your camera!
---
Duck Tours - Tickets, Deals, & Savings
When you get a 3, 5, or 7-day GoBoston Discount Card, you can choose a free Duck Tour ticket. Plus, the discount card gives you free admission to 40+ other top Boston area cruises, tours, and attractions, for savings totaling up to 55%.
Get a 3, 5, or 7-day GoBoston Pass and go for a Duck Tour
---
Boston Insider Tips: What You Need to Know about Duck Tours
What to wear? Even on the steamiest of summer days, the river cruise may feel about 10 degrees cooler than the land portion - so dress accordingly.
Where do Duck Tours departure locations? Prudential Center (nearest T station: Green Line/E), Museum of Science (Green Line/Lechmere), New England Aquarium (Blue Line/Aquarium). You'll see the same things regardless of your departure location, and all the tours last approximately 80 minutes.
Should you buy your tickets in advance? Yes, tours sell out, plus some time slots fill up early. Get your reservations and tickets online here through GetYourGuide to save time, get your preferred date, and find the best deals.
Number of stops during the Duck Tour: Zero.
Do tours take place year-round? Almost. They operate all year except for January, February, and early March.
---
More Fun Boston Cruises:
---
Related Boston Cruise Articles
Need a Boston Hotel or Apartment?
Use this handy map from Booking.com to find the perfect place to stay. Just enter your dates to find what's available, see the best rates, and make your reservations.