Looking for fun things to do in Boston during February vacation week with your kids and teens?
Winter break week begins on President's Day Weekend (President's Day takes place on the 3rd Monday during February) when public schools in Boston and the rest of Massachusetts begins a week-long holiday.
Although some families head north to ski for the week and others seek out warmer temperatures in the Caribbean, there are lots of special family-oriented activities going on in Boston so it's a great time to be here - plus you'll save on low hotel rates.
We've rounded up 27 fun things family-friendly activities and events to keep everyone entertained over winter break.
Boston's weather during February can be tricky - frigid and snowy one day, sunny and 50 degrees (or higher) by the next morning - so our suggestions include a mix of outdoor and indoor attractions plus some fun walking tours.
Article contents:
Top photo: Ice skating on Frog Pond in Boston Common - Beacon Hill mansions in the background
---
Indoor Fun for February Vacation Week
1. Explore Sea Life at the New England Aquarium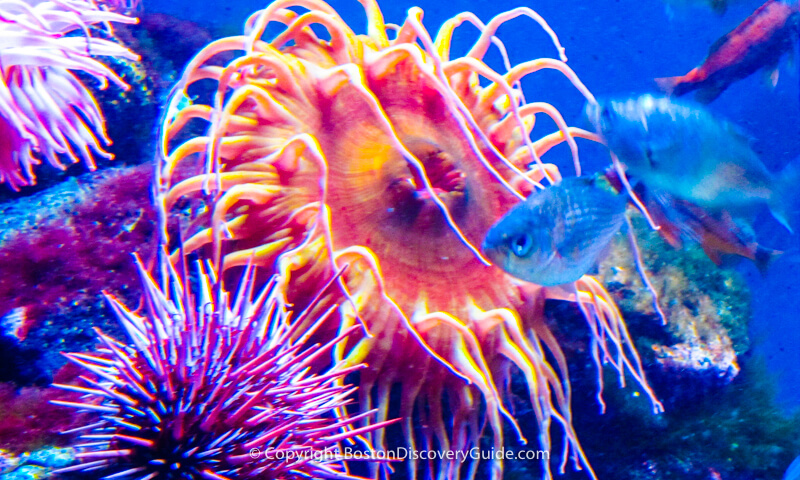 Need the perfect indoor activity? Spend a day at the New England Aquarium touching the Atlantic rays, petting a starfish, and getting up close to a lobster at the tide pool touch tank. Gaze at the circling sharks, meet Myrtle the Green Sea Turtle, and laugh at the antics of over 60 penguins as they frolic next to the Giant Ocean Tank.
Plenty of other exhibits provide enough to do to fill a whole day - especially with the giant IMAX theater next door.
Save time by getting skip-the-line tickets in advance (required).
Or use a Go Boston card or Boston CityPASS for free skip-the-line admission (and you benefit from low winter rates!).
---
2. Visit the Franklin Park Zoo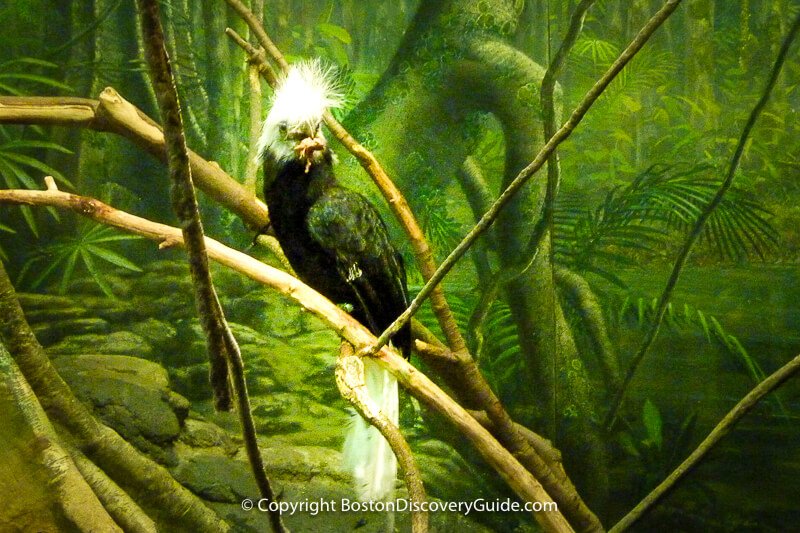 Although Boston's Franklin Park Zoo may not be the obvious spot for a winter break visit, many animals such as the zebras, lions, tigers, wildebeests, ostriches, and others will be out and about, especially on warmer days (ie, above the 32 degree freezing mark). You'll also see most of the tropical forest animals such as gorillas, lemurs, pigmy hippopotamuses, ocelots, birds, and more, plus farm animals. Sometimes even the kangaroos will be out and frolicking.
What if you get chilly? Not to worry! Head for the tropical forest and soak up the 72 degree warmth. Bird's World will also feel comfy. Indoor dining at the Giddy-Up Grill is available when you get hungry, and don't forget to also check the special and holiday events and education programs that take place throughout the winter.
Get your tickets online before you go.
---
3. Roll the Balls at Boston's Coolest Bowling Alley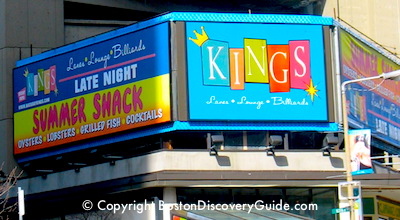 Tucked away in a high-rise parking garage on the western edge of Boston's elegant Back Bay neighborhood is Kings bowling alley.
But Kings is not just any bowling alley - it's a premier entertainment center where Boston's sports celebrities stop by to show off their bowling skills and everyone else gathers to see and be seen. Top equipment, cool decor, sports-filled big-screens, and plush seating make it a popular 21+ destination in Boston's nightlife scene.
Before 6pm, though, Kings is the best bowling alley your kids and teens could ever dream of. You'll enjoy the reasonable rates and burgers. Find out more on Kings' website
4. Watch Disney on Ice - Favorite Family Event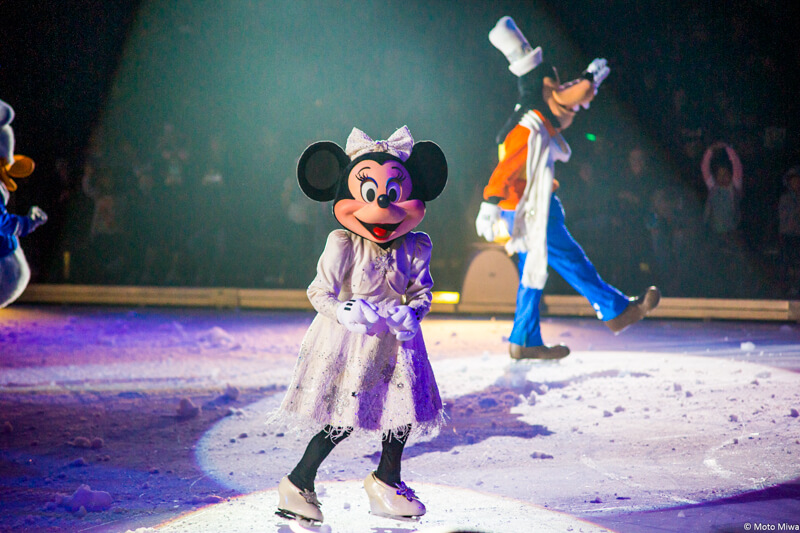 Disney on Ice brings an fantastic show on the ice to TD Garden during February break week. For many families, coming to this event is a winter vacation tradition!
Enter DISCOVERY10 to save 10% on TicketLiquidator & TicketNetwork tickets. Good through 12/31/24.
Find All Disney on Ice Show Performances & Tickets
More about Disney on Ice and visiting TD Garden
5. Explore America's Famous Fighter Ship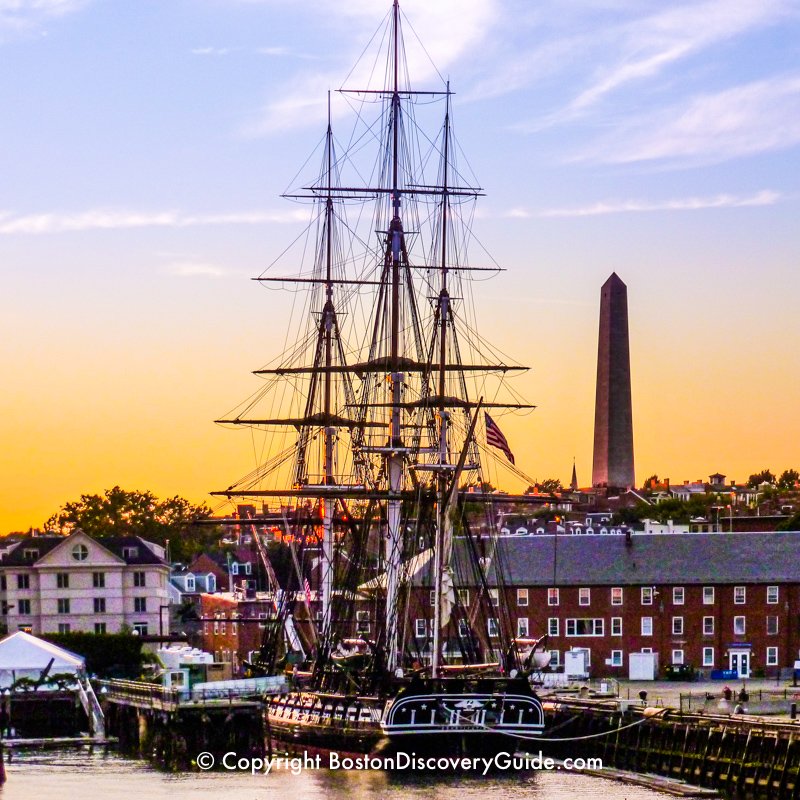 Take the MBTA Ferry from Long Wharf on Boston's Downtown Waterfront over to Charlestown and go on a free tour to explore Old Ironsides - a.k.a. the USS Constitution, a site on Boston's Freedom Trail.
The active duty Navy crew members who serve as guides will entertain your teenagers (and you) with tales about the 200+ year old ship's history fighting Barbary pirates and defending America during the War of 1812. Even though it's school vacation week, your kids will learn some history without realizing it - and also have a great time.
More about free USS Constitution tours
Check the Constitution's Winter Hours: www.navy.mil/local/constitution
6. Build Your Own Ship at the USS Constitution Museum
Join the LEGO Maritime Festival during school vacation week at the USS Constitution Museum across from the famous battleship, and build your own ship with LEGO and DUPLO bricks. Need inspiration? Check the Museum's "Master of Miniature" model ships.
Cost: Voluntary donation
More information: USS Constitution website
---
7. Get Hands-On at the MIT Museum Feb Fest
The MIT Museum celebrates National Engineers Week each year during the February winter school vacation week by hosting Feb Fest, 6 days of fun hands-on engineering activities, workshops, and afternoon demonstrations. Most are free with museum admission. Find out more: http://mitmuseum.mit.edu/febfest
8. Enjoy Fun Kids Activities at Faneuil Marketplace during Winter Vacation Week
Faneuil Marketplace is hosting fun activities everyday during school vacation week. Look for everything from cooking classes to puppet shows to a scavenger hunt. All are free or low cost. (Please note: some activities take place outside.) Find details here: faneuilhallmarketplace.com/boston-events-calendar
9. Go for Bubble Tea & Board Games at Tea-Do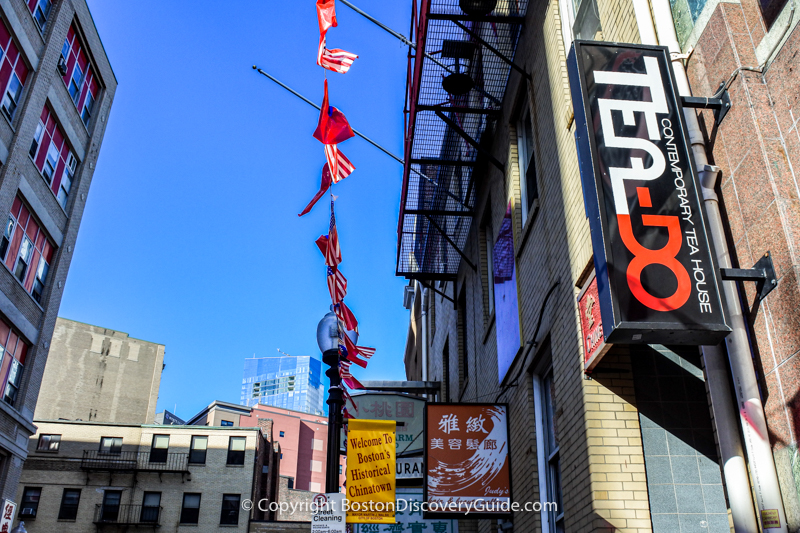 Order your favorite bubble tea at Tea-Do (8 Tyler Street) in Chinatown, grab a table and pick out a board game from the shelf near the back to enjoy while you sip your tea.
10. Catch the Action at TD Garden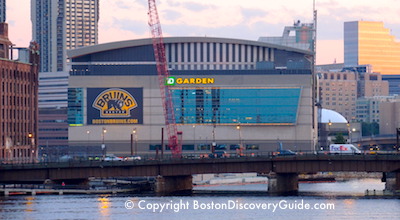 Between the Boston Bruins, Boston Celtics, Disney on Ice, and star-filled concerts, you'll find an event scheduled almost every night at TD Garden.
For kids (and grownups), nothing beats the excitement of these big events in Boston's premier ice arena. Tickets are usually affordable, and the fun can't be beat!
Find Tickets for TD Garden Events
11. Visit the Museum of African American History
To celebrate Black History Month, visit the Museum of African American History (MAAH) (46 Joy Street in Beacon Hill). Current exhibits focus on great African American jazz musicians and selections from the museum's permanent collection.
For more information and tickets (which much be purchased in advance, visit the Museum of African American History website.
12. Be Dazzled by the Annual Bugs Bunny Film Festival in Cambridge
Brattle Theatre's annual Bugs Bunny Film Festival brings all your favorite Looney Tunes characters to the big screen - and your kids are sure to love it too. The festival runs from February 15 through February 23, and tickets are affordable, especially if you choose a matinee. Children must be accompanied by an adult. More info: Brattle Theatre website
More movie theaters in Boston and Cambridge
---
13. Laugh at the Funniest Act in Boston at the Charles Playhouse
Get ready to laugh until you cry at Boston's favorite ongoing comedy act, Blue Man Group. Shows take place almost daily at the historic Charles Playhouse in the Downtown Theatre District, just one block from Boston Common.
Find Schedules & Get Your Tickets
Find more shows in Boston's Theatre District this month
---
14. See Boston the Fun Way on a Hop On Hop Off Tour Trolley
With 18 stops close to 100+ attractions and other points of interest, the Hop On Hop Off trolley is the best way to see the city's top sites - and get off and explore them whenever you want.
You'll even get a few bonuses with your ticket, such as free admission to Dreamland Wax Museum and to the Old State House (a historic site/museum on the Freedom Trail where you can see actual bits of tea left over from the Boston Tea Party) plus a bunch of other interesting exhibits.
Choose a 1-, 2-, or 3-day ticket.
---
15. Get Your Fill of Pizza on this Tour of the Italian North End
The whole family will enjoy this pizza and walking tour around Boston's charming North End neighborhood. You'll sample pizza at 3 of the neighborhood's famous pizzerias, visit the Old North Church where Paul Revere hung his lanterns to warn about movement of British troops ("one if by land, two if by sea ...") on the night before the American Revolution started, and even visit historic Clough House where you'll get to see how chocolate was made in the old days - and then sample the chocolate!
---
Save with Discounts, Attraction Passes, & Winter Hotel Rates
16. Get Discount Tickets to Top Events & Attractions
Discount tickets from Groupon can give you big savings. Why pay more if you can save?
---
17. Save with Boston Discount Cards
Choose from 3 different discount passes to give you big savings on top Boston attractions, cruises, and tours. Once you buy the card, you get free admission to included activities. Choose the pass that fits your needs best:
Go Boston Cards: Save up to 55% with a 1-, 2-, 3-, 5-, or 7-day card good for 40+ activities including Boston Children's Museum, Fenway Park Tour, Blue Man Group (3-, 5-, & 7-day passes), Hop-On Hop-Off Trolley, Museum of Science, New England Aquarium, & more
Go Boston Explorer Pass: Choose 3, 4, or 5 attractions, get discounts, & build your own pass good for up to 30 days.
Boston CityPASS: Save 46% on 4 top Boston attractions: New England Aquarium, Museum of Science, Skywalk Observatory (closes in April - so see it while you can!), and your choice of a Boston Harbor Cruise or Harvard Museum of Natural History. Visit at your own pace - cards are good for 9 consecutive days.
---
18. Find Cheap Rates on Boston Hotels
Boston hotel rates drop to their lowest points during January and February - so take advantage of these savings. Use this hotel map to find the cheapest rates - just enter your travel dates to see what's available:
More about how to save on Boston hotels
---
Outdoor Adventures & Sports
19. Spin Around the Ice on Frog Pond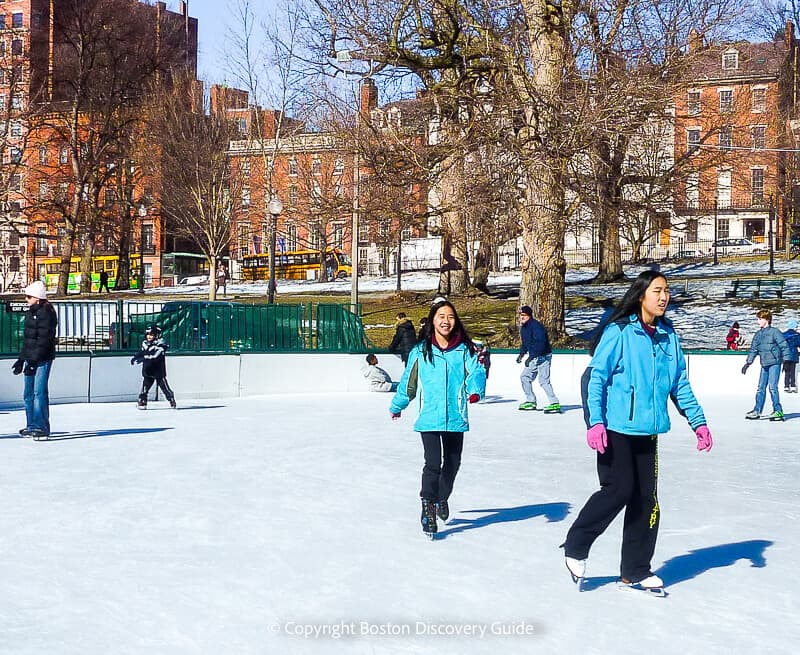 Frog Pond on Boston Common turns into the city's most popular ice rink from November to March, thanks to its convenient location and a zamboni that smooths the ice every hour or so.
Rates are reasonable, and you can bring your own skates or rent a pair right at the rink.
Don't know how to skate? Rent a "Bobby Seal" to hang on to while you learn how to stay on your feet.
More about where to ice skate in Boston
---
20. Have Fun at the Children's Winter Festival & Winter Camp on Boston Common
A fun Winter Camp for kids sponsored by the Highland Street Foundation takes place on Boston Common throughout school vacation week with free ice skating (including rentals) and lots of other fantastic activities each day.
A huge assortment of free fun activities awaits you on Boston Common from 11am - 2pm on Thursday, February 18 when the Children's Winter Festival brings 45 foot long Toboggan Tunnel mountain adventure (like 2 long slides), a 3-car trackless train, and logs of hands-on games to the nation's oldest public park.
Look for other things as well: free giveaways from Disney to celebrate the release of Frozen 2, hot tea from David's Tea, a Zumba class for the whole family, and activities organized by the Girl Scouts, and more fun activities from other local organizations.
---
21. Go High Fashion on Newbury Street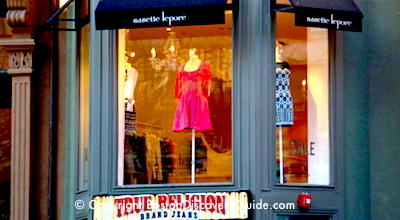 Let your teen step into the world of glitzy designer fashions on Boston's famed Newbury Street in Back Bay.
Only about 8 blocks long, Newbury Street sports not only famous designers but also a good selection of affordable discount stores - try H&M for the perfect trendy and non-spendy combo.
For more practical options, check out the many sports gear stores on Newbury and nearby Boylston.
And great news: During winter break week in February, you'll find plenty of deeply discounted sale prices on Fall and Winter fashions.
More about Newbury Street shopping
---
22. Hit the Slopes near Boston for Skiing & Snowboarding
An hour's drive or less brings you to ski areas in Massachusetts and Southern New Hampshire for an afternoon or day of downhill skiing, cross-country skiing, ski lessons, snowboarding, tubing, and more. A bit farther away, you'll find even more options, including ski resorts in the Berkshires.
---
23. Make a Snowman or Go Sledding on Boston Common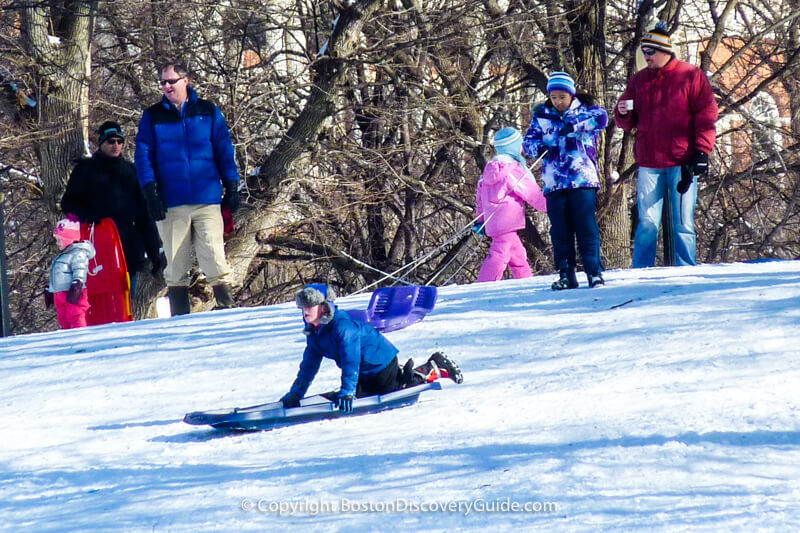 You need a snowy day (or at least some snow already on the ground) for this one - but if the weather cooperates and we get a fresh snowfall during February vacation week, head over to Boston Common and make a snowman.
Or even better, go sledding down the Common's hills and slopes. You can buy an inexpensive plastic sled at most Boston CVS and Walgreens drugstores, as well as neighborhood hardware stores (try Charles Street Supply at 54 Charles Street in Beacon Hill).
---
24. Hit the New England Ski Resorts for Even More Winter Sports
Winter break week is when everyone takes advantage of school holidays and heads to ski resorts in Vermont, northern New Hampshire, or Maine, so if this is your plan, book accommodations as far in advance as possible to get your first choice. But if you're making last minute plans, no worries - check out some of the smaller less-famous ski areas. You'll find lots of ideals in our guide to New England ski areas.
25. Catch a Show in the Theatre District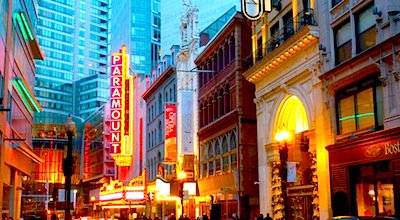 For a splurge, let your teen experience the excitement Boston's thriving Theater District by going to a matinée or evening show.
With everything from Broadway to Disney to ballet - plus lots more - there's something for everyone. To make your teen feel really grown up, go for a meal before or after your show.
See what's scheduled at all the Boston theaters during February
26. Go Behind the Scenes at Fenway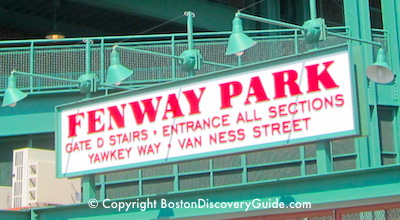 Even though the Red Sox don't start playing until April, you and your kids can get a fascinating behind-the scenes view of the famous ball park by going on a Fenway Park Tour.
Your guide will take you to different spots and regale you with interesting information about Fenway history, famous Red Sox players, and even current updates about the current team.
Get free tour admission when you have a Go Boston card.
After the tour, stop by Bleacher Bar overlooking the field for a Fenway Frank, or walk over to Tasty Burger for the best shakes in town (try the "Green Monster").
27. Get the Real Scoop on Harvard & MIT
Find out what student life is really like at two top Boston universities, Harvard and MIT, on a student-led campus tour.
Bonus: You'll also learn a little about the history, architecture, and culture at these famous schools. And if you like the way the campuses look in February, you'll LOVE them during Boston's spectacular spring and fall seasons.
---
More to Do in Boston during School Vacation Week in February
More Things to Do in Boston in February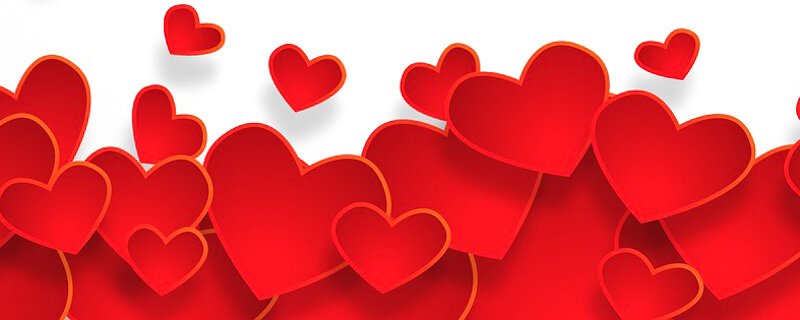 ---
More Articles about Fun Activities for Kids & Teens in Boston
---
Need a Boston Hotel or Apartment?
Use this handy map from Booking.com to find the perfect place to stay. Just enter your dates to find what's available, see the best rates, and make your reservations.