To plan your Boston sightseeing experience, use the map and attractions guide on this page to locate top attractions, tours, events, and places to go in Boston, and plan your vacation experience.
Boston is a city of gorgeous neighborhoods - Beacon Hill, Historic Downtown, Back Bay, the North End, the West End, Fenway, the Waterfront, Charlestown. Just across the Charles River is the city of Cambridge, home to Harvard University and MIT (Massachusetts Institute of Science).
Each Boston neighborhood has its own personality, attractions, mouth-watering restaurants, and fascinating places to visit and things to do.
Boston's compact size makes sightseeing easy because most of our top attractions cluster in just the few central neighborhoods shown on the map on this page. You can easily walk from one area to the next, so getting around is fast and convenient.
The best way to start planning your Boston travel itinerary, especially if you'll be here just for a short time, is to focus on the top attractions in your "must see" list, and then find other interesting places to visit located nearby.
Use our Boston sightseeing map and attraction locations to get started.
More about Boston neighborhoods
Top photo: View of Back Bay and Prudential Tower
Boston Discovery Guide is a reader-supported publication. When you buy through our links, we may earn a commission at no additional cost for you. Learn more
---
Boston Sightseeing Attractions Map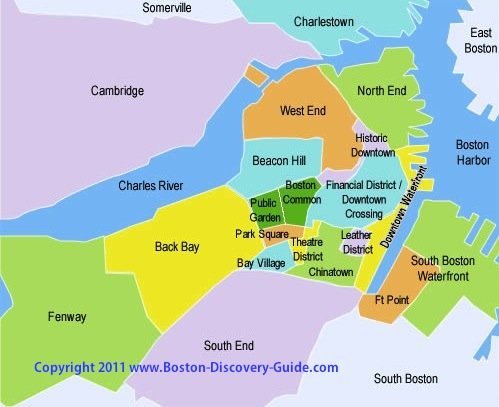 Most of Boston's top attractions, events, and historic sites are located in the city's central neighborhoods shown on this map
Want to know which sightseeing attractions are in a specific neighborhood? Click on it in the map, or scroll down to the neighborhood overview below.
Want to find out about the best hotels in each neighborhood? Check our Boston Hotel Guide.
---
Fun Boston Tours
To get an in-depth view of a particular area or an experience tailored to your special interests, consider these tours led by professional guides:
You can do these self-guided walking tours on your own:
Another good way to get to know Boston is to simply wander around and explore - easy to do because of the city's compact size.
---
Guide to Sightseeing Attractions in Each Boston Neighborhood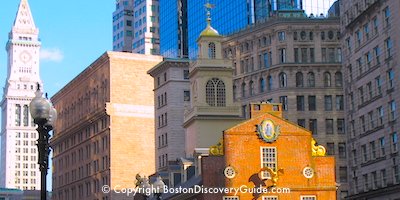 ---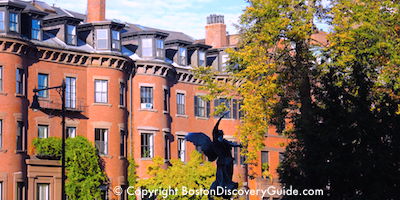 Charles Street Antique Shops
Black Heritage Trail
Vilna Shul
---
---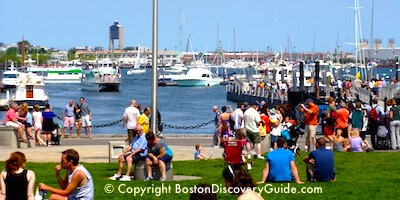 Downtown Waterfront
---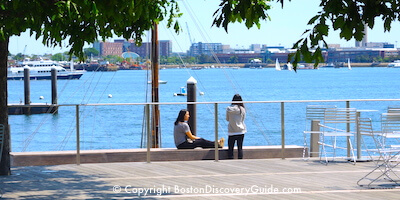 ---
---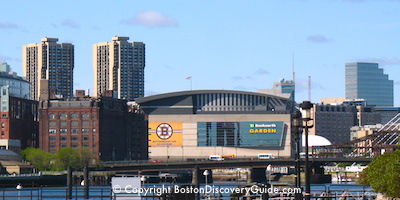 West End / Government Center
---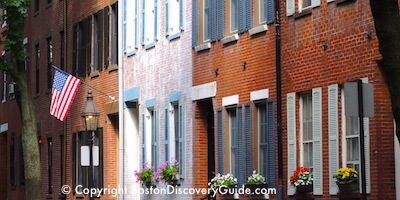 No major attractions in tiny Bay Village but the Federal and Art Deco buildings lining the narrow streets of this tranquil, little-known neighborhood - one of Boston's "hidden secrets" - are worth seeing.
---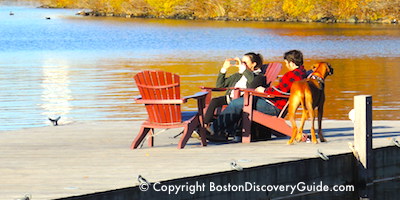 Charles River & Boston Harbor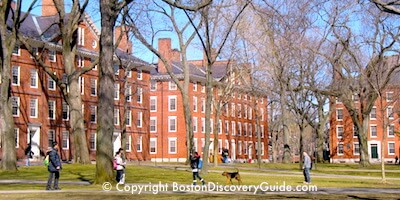 Cambridge
Want more information about Boston neighborhoods, including where to eat, stay, and shop? Check out our Boston Neighborhood Guide.
---
Key Attractions and Events in Other Boston Neighborhoods
Although most tourist attractions cluster in Boston's central neighborhoods, a few are located in surrounding mostly-residential areas.
Here are the neighborhoods and areas where you'll find other key Boston sightseeing attractions, historic sites, cultural venues, entertainment, and tourism-related attractions and events.
Although not all are near a T station, shared ride services such as Uber and Lyft make them easy to get to.
East Boston
Boston Logan Airport
Constitution Beach
Piers Park and Piers Park Sailing Center
Belle Isle Marsh Reservation
The Watershed (ICA seasonal exhibition space)
---
Dorchester
John F Kennedy Library and Museum
Franklin Park Zoo
Strand Theatre
University of Massachusetts, Boston
Edward M. Kennedy Institute
Jamaica Plain
Latin Quarter
Riot Theatre
Forest Hill Cemetery (also an arboretum and sculpture garden)
---
Allston / Brighton
Paradise Rock Club
Boston Landing Sports Complex
---
Roslindale
Roslindale Village Main Street Farmers Market
Franklin Park (shared with Dorchester)
Roxbury
National Center of Afro-American Artists
Roxbury International Film Festival
Diablo Glass School
---
More Fun Ways to See Boston
---
---
Need a Boston Hotel or Apartment?
Use this handy map from Booking.com to find the perfect place to stay. Just enter your dates to find what's available, see the best rates, and make your reservations.