Outdoor patio dining at Boston's restaurants starts the moment the weather turns warm - as early as April 1 when we're lucky - and there's no better place to experience the pleasure of an al fresco meal than along Newbury Street, Boylston Street, and nearby side streets in the city's Victorian Back Bay neighborhood.
Tucked between Newbury Street's famous designer boutiques and art galleries and the larger stores near Copley Square on Boyston Street, outdoor dining areas in front of nearly every bistro and cafe/coffee bar give you ideal spots to people-watch, enjoy lunch or dinner, and bask in the sun at umbrella-topped tables.
Although every Boston neighborhood offers patio seating, competition for the coveted outdoor spots can sometimes be fierce - which is why the sheer number of outdoor tables along Newbury Street plus more along Boylston Street make this area the perfect destination when you want to finding your place in the sun.
Here are 13 sidewalk dining patios on Newbury Street and nearby Boylston Street ranging from casual (and inexpensive) to elegant (and pricey) where you can enjoy a relaxing meal or drink, and appreciate Boston at its best.
We also include a few irristible outdoor spots in other neighborhoods.
Should you make reservations? On sunny weekends, Friday and Saturday evenings, and around holidays, definitely yes. Otherwise, unless you covet a table at a particular location, just stroll down Newbury Street and see what looks appealing.
Top Photo: Patio dining along Newbury Street in Boston's Back Bay
Boston Discovery Guide is a reader-supported publication. When you buy through our links, we may earn a commission at no additional cost for you. Learn more
---
La Voile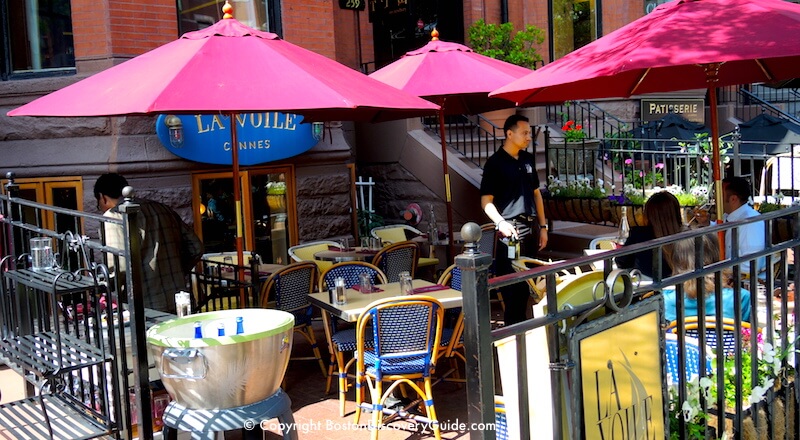 Settle into the comfy chairs under the rose-colored umbrellas at La Voile, and you can almost imagine you're in the South of France, especially when you taste the restaurant's authentic French and Mediterranean specialties prepared by the restaurant's chef, who in fact hails from southern France.
The emphasis here is on the food - perfectly prepared and intended to be enjoyed at a leisurely pace. Surrounded by wrought iron rails, flower-filled planters, and delicious French cuisine and wine, you won't want to rush away.
Favorites: The charcuterie platter, seared lobster with sweet pea risotto, grilled sea bass with lemon and olive oil
261 Newbury Street | 617-587-4200 | www.lavoileboston.net
---
Back Bay Social
Back Bay Social's large sidewalk dining patio manages to be secluded without blocking your view of the lively street scene - perfect spot to relax with friends over a drink and share a couple of small plates or order a burger. It's the type of place you'll want to return to again and again because service, location, and ambiance are all on point.
Favorites: The menu offers a wide variety of upscale pub favorities and American comfort food. Stick with the basics, and you can't go wrong: chicken and waffles, burgers, steak-frites, fresh local oysters.
867 Boylston Street | 617-247-3200 | Lunch, dinner, Sunday Brunch | http://www.backbaysocialclub.com/
---
Sonsie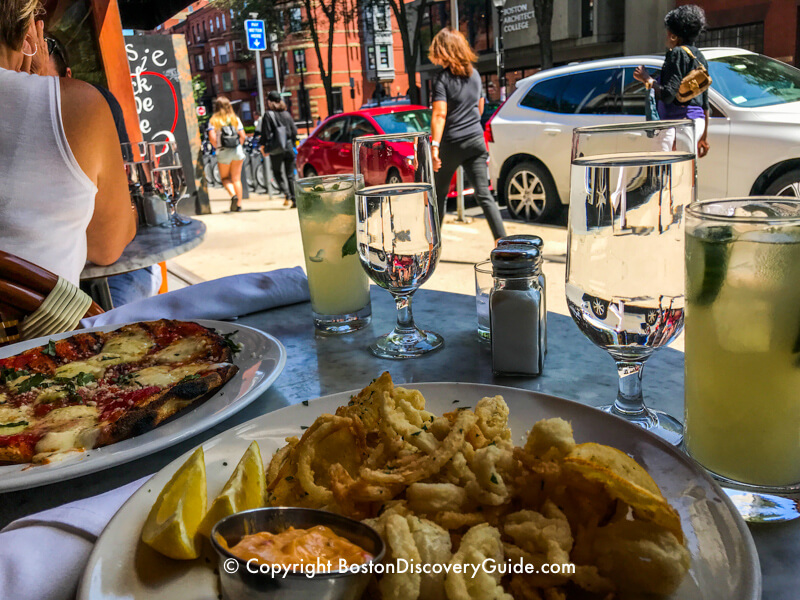 Sonsie's glass front wall completely retracts. During warm weather, you get the benefits of al fresco dining without actually taking up space on the sidewalk.
Front tables face directly onto Newbury Street, positioning you perfectly for prime people-watching.
What to Order: A seasonal menu makes it hard to predict what will be on offer - but during summer months, look for the fried calamari. Steak frites, pizza, and seafood are great choices - enjoy the raw bar in the evening.
327 Newbury Street | 617-351-2500 | sonsieboston.com
---
Cafeteria
Cafeteria's spacious outdoor dining area offers an appealing mix of sun and shade from trees as well as the big umbrellas.
The attractive row of evergreen yews and flower-filled urns make you feel like you're in a luscious secluded garden - but they're conveniently trimmed low enough to allow good people-watching along Newbury Street..
Cafeteria's tasty menu features contemporary American classics made with organic local produce, organic grass-fed beef and lamb, free-range chickens, and fresh seafood.
Favorites: Shrimp Caesar salad, gazpacho, curried chicken salad sandwich, lobster roll, pulled pork with coleslaw
279 Newbury Street | 617-536-2233 | www.cafeteriaboston.com
---
More Cool Places to Dine: Boston Harbor Lunch & Dinner Cruises
---
Itadaki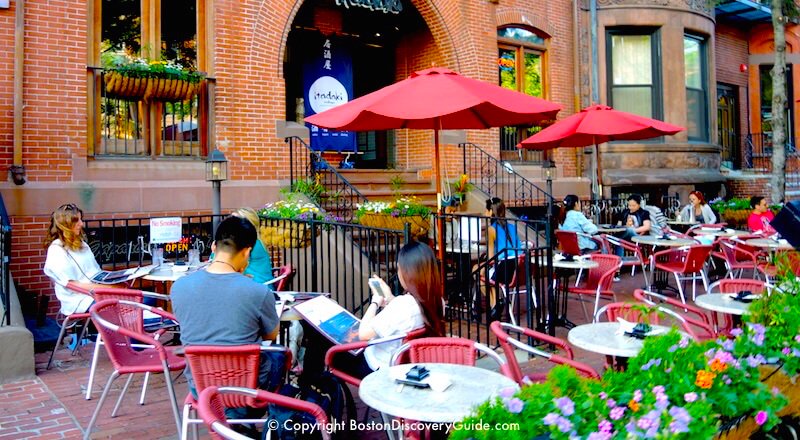 Rustic baskets overflowing with blooming flowers line Itadaki's expansive outdoor dining area.
Snag a spot under one of the cheery red umbrellas on sunny days to enjoy Itadaki's izakaya (Japanese version of gastro-pub) small-plate specialties, or relax over a leisurely dinner with Japanese beer or shochu at one of the small tables as the sun sets and lights go on at the elegant Victorian brownstones across Newbury Street.
Favorites: Fried calamari and seaweed salad with spicy mayo, spicy tuna avocado medley, agedashi tofu, lobster tempura, shoyu ramen, unagi sashimi, Rising Sun sushi
269 Newbury Street | 617-267-1840 | www.itadakiboston.com
---
More Ways to Enjoy Boston's Food Culture
---
Nespresso Boutique Bar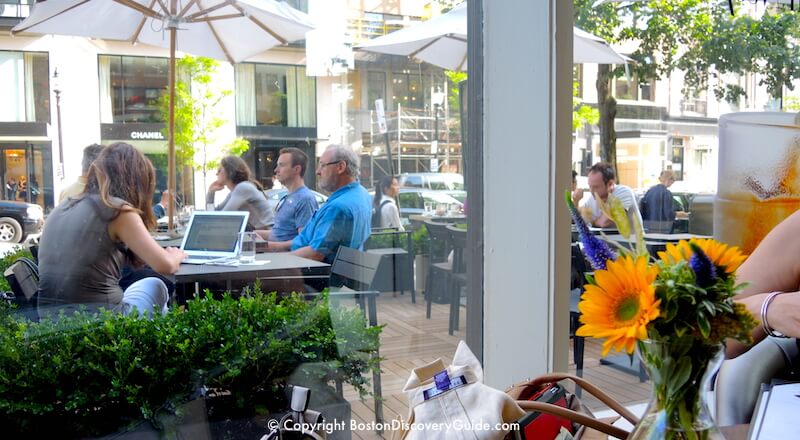 Once just a place to pop in and buy pods for your espresso machine, Nespresso has now created an outdoor patio seating area along with an indoor cafe where you can order espresso drinks, desserts, and snacks.
This is the glamorous end of Newbury Street, across from the Public Garden and surrounded by designer boutiques, so find an umbrella-covered table and relax over a hand-crafted espresso drink. Service is leisurely - so come here when you have time to linger and savor.
Favorites: Café liégeois with salted caramel ice cream (hot espresso poured over ice cream), latte, baguette with nutella, Boston cream pie
7 Newbury Street | 800-562-1465 | www.nespresso.com
---
Where to Stay in Back Bay
---
Piattini Wine Cafe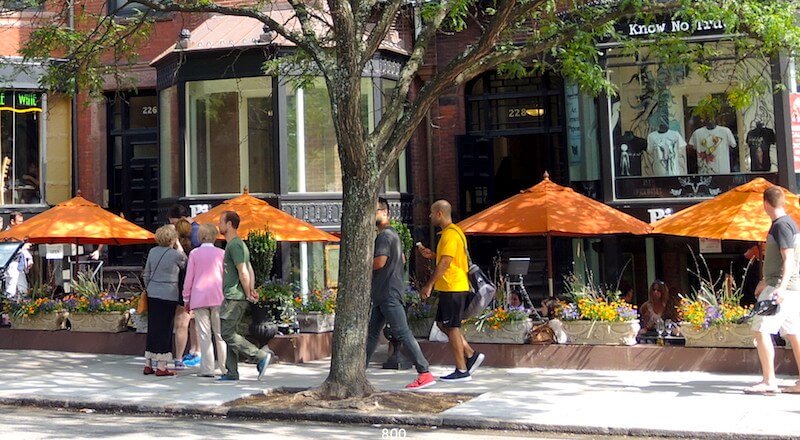 Piattini's outdoor sunken seating area, enclosed with low walls topped with flower-filled planters, makes you feel like you're in a private courtyard. Cheerful orange umbrellas and shade from trees along the street add to the feeling of privacy and seclusion.
Piattini specializes in small plates of Italian specialties with wine pairings, mostly very affordably priced - so this is the perfect spot to order an assortment of good things to eat and drink, and enjoy a leisurely meal and great conversation.
Favorites: Arugula salad with artichoke hearts, caramelized cauliflower with kalamata olives, scallops with spinach and butternut squash, risotto with wild mushrooms, the house-made warm chocolate torta, prosecco
226 Newbury Street | 617-536-2020 | www.piattini.com
---
Stephanie's on Newbury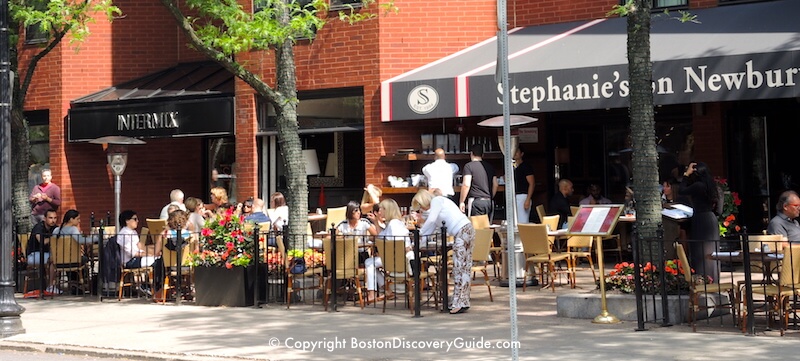 Stephanie's is one of the larger restaurants on Newbury Street, and the sidewalk cafe dining area is no exception.
But despite the restaurant's size, a menu of American comfort food, appealing decor, and plushy seating (especially indoors) has attracted enthusiastic fans since Stephanie's opened 20+ years ago, so feel lucky if you can score a table without having to wait - or better yet, make reservations.
Once you're seated under the dappled shade of street-side trees or the glamorous evening lights, be sure to look at the special lobster menu, available throughout the summer.
Favorites: Grilled lobster with garlic-basil aioli, New England clam chowder, gazpacho, grilled tenderloin salad, smoked salmon bagel (breakfast only), scallops saltimbocca
190 Newbury Street | 617-236-0990 | www.stephaniesonnewbury.com
---
Met Bar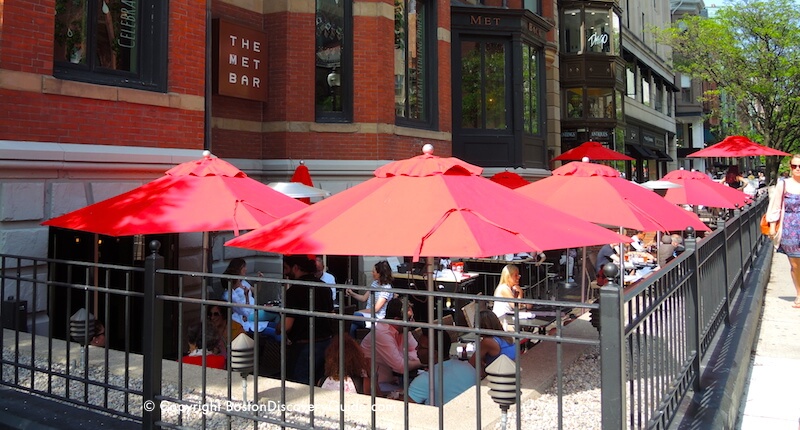 Part of a national chain, Met Bar's sunken outdoor dining area, well below sidewalk level, is almost completely enclosed by walls with red umbrellas overhead. You will barely notice pedestrians walking along Newbury Street - so this is a great place to come when you want to focus on your companion, drinks, and food.
Although the menu offers a variety of salads and small-plate appetizers, the focus is on fresh local seafood and steaks, especially for dinner. Sandwiches are also available for lunch - plus Met Bar also serves breakfast.
Favorites: Shrimp cocktail, arugula salad with hazelnuts, the LA burger, pan-roasted halibut, grilled asparagus with bacon and fried egg
279 Dartmouth Street (at the corner of Newbury and Dartmouth) | 617-267-0451 | www.metbackbay.com
---
Thinking Cup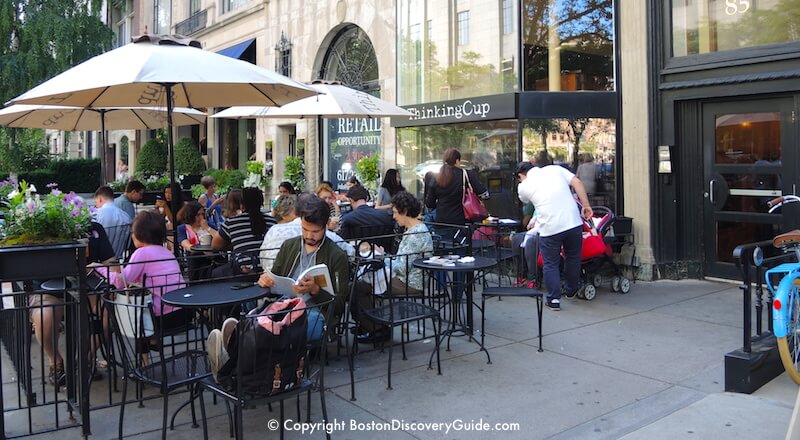 Thinking Cup's sidewalk tables can be hard to snag - that's what happens when a coffee shop serves high quality Stumptown coffee roasted in Brooklyn for under $2 a cup in the middle of one of Boston's swankiest neighborhoods.
Fortunately, Thinking Cup is open from 7am until 10-11pm, giving you plenty of chances to find a place to sit at the stylish black metal tables and enjoy the casual (and affordable) breakfast, lunch, and bakery fare.
Favorites: Hazelnut latte, organic China green tea, egg and cheese sandwich, chocolate croissant, brown sugar lemonade, grilled cheese sandwich
85 Newbury Street | 617-247-3333 | www.thinkingcup.com
---
Capital Grille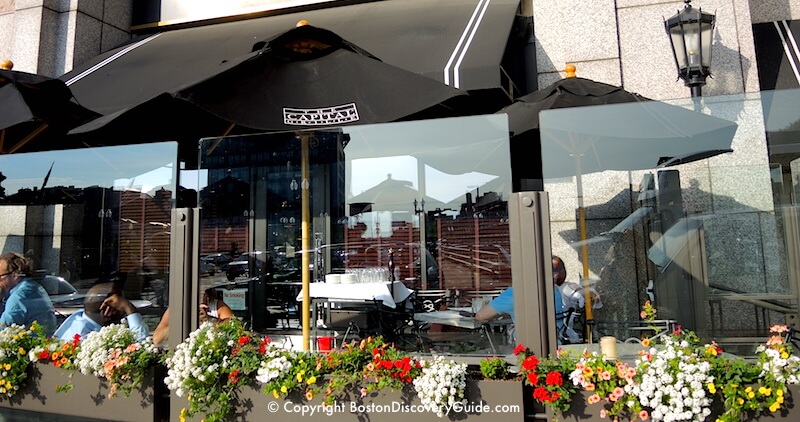 Part of a national steakhouse group featuring dark interiors with plush seating, The Capital Grille offers sidewalk seating with a light and airy ambiance.
Although the location at the corner of Boylston and Dalton Streets gets a fair amount of traffic due to the nearby Hynes Convention Center, clear paneling acts as both a sound barrier and, along with the black umbrellas, a privacy screen of sorts. Planters overflowing with flowers and candles on the table add to the attractive outdoor area.
Favorites: Tenderloin with lobster tails, filet mignon, lobster and crab burger, warm chocolate cake with port-infused cherries and ice cream, tenderloin sandwiches (bar menu only)
900 Boylston Street | 617-262-8900 | www.thecapitalgrille.com
---
Parish Cafe & Bar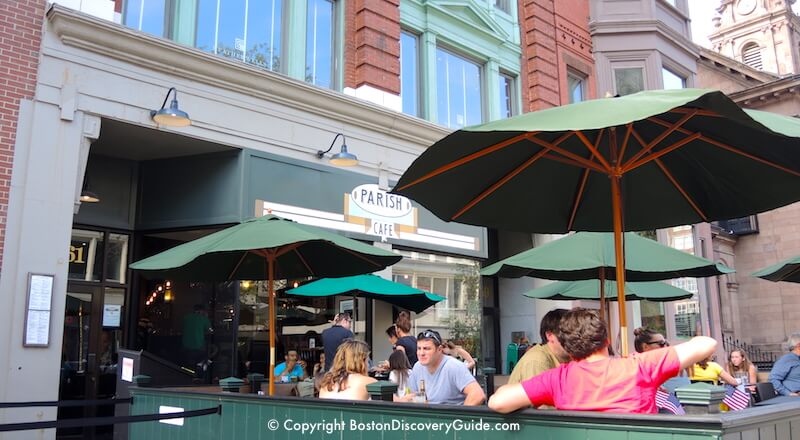 In warm weather, Parish Cafe's outdoor tables feel like an extension of the restaurant itself, and with mid-height walls separating you from the sidewalk, you can enjoy the pleasures of al fresco dining combined with the privacy of a more interior space.
Located less than half a block from the Public Garden, Parish Cafe is the perfect spot to retreat to when you need a break from sightseeing but don't want to go indoors. But even better, the restaurant stays open until 2am and serves the full menu until 1am - perfect on spring, summer, and fall nights when you want to dine under the stars at the end of the evening.
The restaurant is acclaimed for its gourmet sandwiches bearing the names of their creators: other local chefs. In fact, reading the menu gives you a crash course in the city's best cuisine. Salads are equally tasty, and although you probably wouldn't come here for the dessert (since the cafe normally serves only 2), once you're here, you should not leave without ordering the white chocolate bread pudding. If you're counting calories from carbs, have the kitchen hold the bread on your sandwich so that you can order the pudding.
Favorites: "The Mistral" - grilled marinated tenderloin with caramelized onions, chive mashed potatoes, and melted Bel Paese cheese; "The Lumière" - slow-roasted pork butt with lime and green curry sauce, served with a papaya salad with pepper-coated peanuts; "The Boylston" - baked haddock on a brioche roll with avocado mayo. And of course, the white chocolate bread pudding.
361 Boylston Street | 617-345-0005 | www.parishcafe.com
---
More Patio Dining in Boston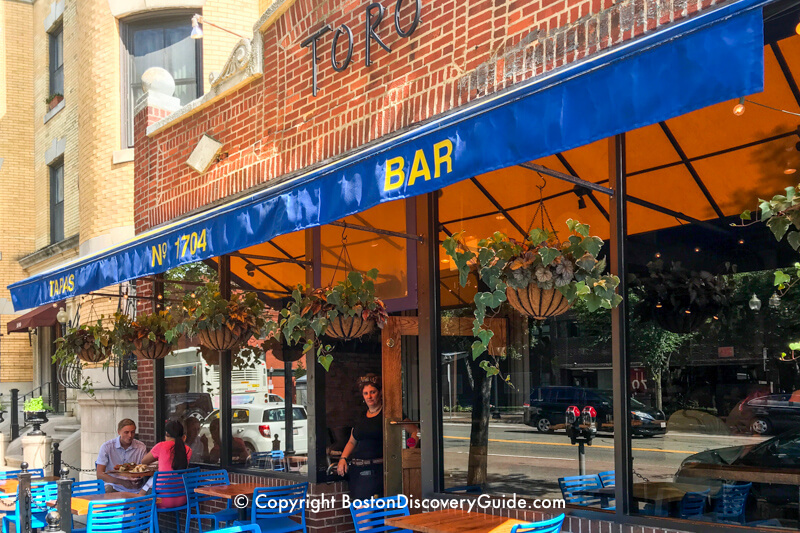 Here are more popular spots for outdoor dining around the city:
Mare (3 Mechanic Street, North End, Boston) - Dine on fresh seafood on Mare's secluded patio with fire pits and plush couches. Dinner only
Toro (1704 Washington Street, South End, Boston) - Sit on the little sidewalk patio and enjoy Barcelona tapas and some of the city's best paella from chef/owners Ken Oringer and Jamie Bissonnette. Dinner, weekday lunch, and Sunday brunch. No reservations
Deuxave (371 Commonwealth Ave, Back Bay, Boston) - Modern French and fresh New England ingredients on a Comm Avenue patio perfect for people-watching. Dinner only
Row 34 (383 Congress Street, Fort Point, Boston) - The small but always packed side patio is the place to go for delicious oysters from Duxbury and Wellfleet and one of Boston's best lobster rolls (have it hot or cold). Lunch (brunch on Sundays) and dinner. Find more Fort Point restaurants
Buttermilk & Bourbon (160 Commonwealth Ave, Back Bay, Boston) - Umbrella-topped patio tables overlooking leafy Comm Ave Mall, an oyster bar, buttermilk fried chicken, and Southern hospitality make chef/owner Jason Santos' riff on New Orleans-style cuisine irresistible. Dinner, weekend lunch/brunch
Tico (222 Berkeley Street, Back Bay, Boston) - The outdoor fireplace and bar will lure you out to the patio to enjoy Tico's Spanish and South American cuisine. Lunch and dinner, Monday through Saturday
Baseball Tavern & Sports Grill (1270 Boylston Street, Fenway, Boston) - Who needs an actual patio when you have rooftop dining with views of Fenway Park? Order a burger and beer for the perfect afternoon
More Things to See & Do in Boston
---
More Articles about Dining in Boston