Home > Cruises > Boston Harbor Cruises >
Odyssey Dinner Cruises
Boston's Most Elegant Cruise Ship
Dinner, Dancing, and Spectacular Views
Boston skyline photographed from Odyssey during a dinner cruise
Imagine you're on a luxurious cruise ship, sipping on a frosty drink and enjoying spectacular vistas while you relax on the spacious observation deck.
In a few moments, you'll go into the elegant dining room where you'll enjoy a sumptuous dinner paired with the perfect wine . . .
Odyssey cruises give you this special luxury experience right in Boston Harbor.
Even if you have only a couple of hours to spare, you can enjoy the pleasure of a memorable dinner cruise complete with live music, dancing, and magical views of the city skyline and the Harbor Islands.
Get more information and reserve your place now -
Why You'll Love an Odyssey Cruise
"This
Odyssey
dinner cruise has been the best evening of our entire Boston visit...it will be the first thing we do when we come here again."
~ Sophie and Jean-Luc, visitors from France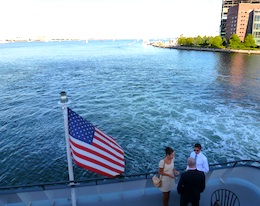 An Odyssey dinner cruise is a wonderful addition to your itinerary if you're planning a visit to Boston.
Not only do you get an outstanding 2- or 3-hour Boston Harbor sightseeing tour, but you'll also enjoy an excellent dinner - all for about the same price you'd pay for a meal in a nice restaurant.
It's a sweet deal - you're basically getting the cruise for free.
Like her sister ship Spirit of Boston, Odyssey offers a variety of evening cruises, as well as brunch or lunch cruises on most days.
Because all dining areas are enclosed and climate-controlled, Odyssey (and Spirit of Boston) operates year-round, summer and winter.
Around major holidays such as Valentine's Day, July 4th, Thanksgiving, Christmas, and New Year, look for festive holiday cruises, as well as special occasion and theme cruises at other times of the year.
Odyssey Dinner Options
As soon as you board the Odyssey, you can stop by the full bar for a glass of wine or champagne, a cocktail, or beer.
Soon after the ship leaves the wharf, you'll be seated for dinner in one of the three spacious climate-controlled areas.
Chefs prepare the meals in an on-board kitchen, with results that rival many top Boston restaurants.
The menu format and selections for each course vary a bit depending on which night you choose for your cruise. Look at the options before you book, if the number of courses and choices matter to you.
While the food and attentive service are outstanding, the ambiance plus the panorama of fascinating views outside the windows take center stage.


Odyssey's Boston Harbor Tour Route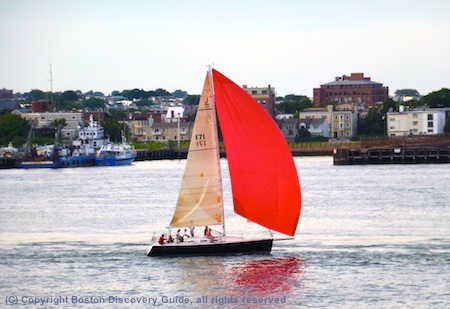 View from Odyssey - Boat with red sail, and Charlestown in the background
Although Odyssey's exact route will vary based on the length of the tour as well as Harbor traffic conditions, you'll typically cruise along the Boston shoreline past the North End, Charlestown, the South Boston Waterfront and Castle Island.
At this point, you'll begin to notice individual islands. You'll typically pass by Georges Island and Little Brewster Island, home to Boston Light, one of the country's oldest lighthouses.


More about Odyssey Cruises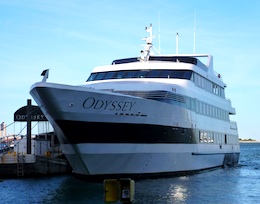 Odyssey, with a passenger capacity of 600, is one of the two largest cruise ships offering Boston Harbor tours (Spirit of Boston is the other), and also the most luxurious.
Even when filled to capacity, Odyssey never feels crowded because with 3 large areas for dining and 2 outdoor observation decks, it's huge.
Board Odyssey at Rowes Wharf, behind the Boston Harbor Hotel.



Make Your Reservations for an Odyssey Cruise
If you're not from Boston, you may not be aware of how popular these cruises are with locals - we celebrate birthdays, anniversaries, promotions, and graduations on the Odyssey. You'll typically see families, couples, groups of friends, and colleagues enjoying a relaxing or romantic evening.
Odyssey cruises become especially popular around holidays, such as Valentine's Day, and are a popular romantic destination as well.
So if you want reservations for a specific date and time, make them sooner rather than later!
Check availability and make your reservations now:
View of Boston Harbor Islands and Boston Light (far right, very small) -
Photographed from Odyssey right before sundown
More Boston Travel Planning Information
Boston Discovery Guide > Cruises > Boston Harbor > Odyssey