Want to explore Boston when your cruise ship stops at the Flynn (Black Falcon) Cruise Terminal for a Port of Call visit?
Port of Call visits typically give you about 8-10 hours in Boston - plenty of time to see many top historic and modern attractions due to the city's compact size.
For the ultimate convenience, choose a shore excursion tour designed specifically for cruise ship visitors. They pick you up close to the CruisePort, and are designed to make sure you're back in plenty of time to re-board your ship before departure.
You can book two of the most popular Boston shore excursion tours online, sometimes saving quite a lot compared with making reservations through your cruise ship or travel agent.
Alternately, you can easily explore on your own. Unlike some ports where getting into the nearest city can be a hassle, the Cruise Terminal is in Boston's trendiest waterfront neighborhood, and just a short walk from other top attractions such as the Freedom Trail.
Here's a quick overview of Boston's shore excursion tours available for online booking, plus tips about what to see and do if you decide to head out on your own.
Top photo: Costumed tour guide next to the Freedom Trail in Faneuil Marketplace, a top Boston attraction, (c) Boston Discovery Guide
Boston Discovery Guide is a reader-supported publication. When you buy through our links, we may earn a commission at no additional cost for you. Learn more
---
Boston Shore Excursion Tours for Online Booking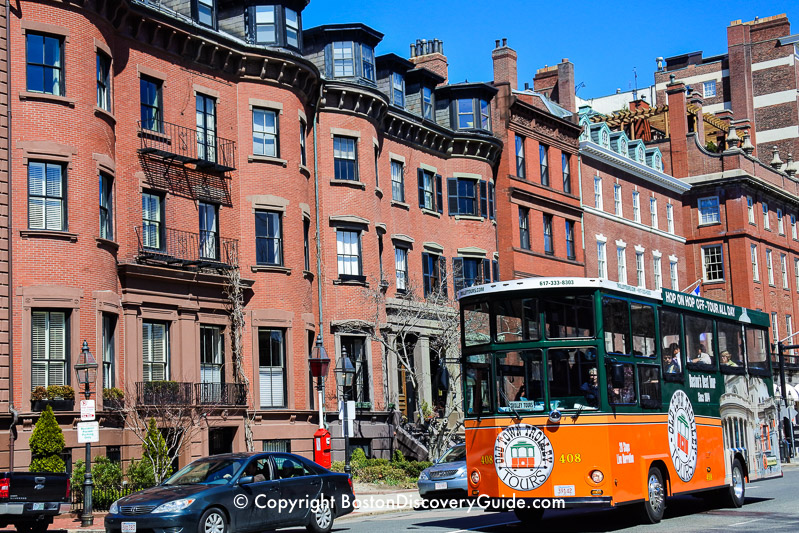 Two Boston shore excursions are available for you to book online, and both give you an exciting way to tour Boston.
Choose the Hop On Hop Off Trolley Tour if you want an easy way to travel around the city at your own pace. You can easily spend the whole day traveling around the route and getting off to explore specific attractions or have lunch along the way.
Opt for the half-day motor coach tour to Cambridge, Lexington, and Concord if you want to go beyond Boston to see famous Revolutionary War sites, bustling Harvard Square, and the lovely New England towns of Concord and Lexington.
---
Boston Trolley Tours
Board the Hop On Hop Off Trolley near the Cruise Terminal in Seaport, and get ready to see our top attractions and most spectacular neighborhoods.
Ride the trolley for the whole narrated loop (about 2 hours) or get off and back on whenever you please. Stops include Faneuil Hall Marketplace, New England Aquarium, Newbury Street, Harvard, the Boston Tea Party Museum, and more.
Recommended if you are a:
First-time visitor who wants to see Boston's top attractions at your own pace
Returning visitor who wants convenient transportation around the city while exploring favorite neighborhoods or attractions
Book the Hop On Hop Off Trolley Tour
---
Boston, Cambridge, Lexington, & Concord Revolutionary War Sites Private Tour
This special private excursion tour to Revolutionary War sites takes you along Paul Revere's path on the famous night when he rode across the countryside sounding his famous warning to the Colonists: "The British are coming!"
You get to visit Harvard Square, bucolic Lexington Green where the first battle of the Revolutionary War on April 19, 1775, and the Old North Bridge in Concord, where British troops met the wrath of Minutemen and local Militias who retaliated for those killed earlier in the day in Lexington.
Recommended if you are a:
Returning visitor who has already see top Boston attractions and wants to explore beyond the city
History buff who wants to visit the locations of these iconic Revolutionary War events
First-time visitor who wants to see all of these iconic sites
Find out more about Cambridge, Lexington, Concord Tour
---
Prefer to Explore on Your Own?
Here are 5 suggestions for ways to see Boston at your own pace:
1. Explore the Seaport/South Boston Waterfront and Fort Point Channel neighborhoods
CruisePort's location on the South Boston Waterfront means you are in Boston's trendiest neighborhood which you can explore on foot or on the Silver Line of the MBTA (details about getting around). Check out the waterfront restaurants and bars overlooking the Harbor, visit the Institute of Contemporary Art, and explore some of the many galleries, particularly in the Fort Point Channel area - a great place to start is the Society of Arts and Crafts (100 Pier 4 at Pier 4 Blvd/Seaport Blvd, open 10-6pm Tues-Sat, and until 9pm on Thursdays) where you'll find exciting exhibits in sleekly designed industrial space. Hungry? Try one of the many chef-owned Fort Point restaurants. To immerse yourself in history, travel back in time with the interactive exhibits at the Boston Tea Party Ships and Museum. More about the South Boston Waterfront/Seaport neighborhood
2. Walk along the Freedom Trail
Boston's famous Freedom Trail is a 2.5 mile path linking 16 sites related to the beginning of the American Revolution and the fight for freedom and civil liberties. Take the Silver Line from the Flynn Cruise Terminal to South Station, and change to the Red Line and go to Park Station on Boston Common where the Freedom Trail begins. Walk along the Trail on your own, or opt for one of the many Freedom Trail tours, perhaps led by a costumed guide.
3. Watch a game at Fenway Park
Are you a baseball fan? If an afternoon game is scheduled - they typically start around 1pm - get tickets and head over to iconic Fenway Park, home to the Boston Red Sox. Depending on when you need to be back at the cruise terminal, you may have to leave before the game ends - but it's still a perfect way to spend the afternoon. If no game is scheduled but you want to see the ball park (and perhaps enjoy yourself at some of the nearby sports bars), you can still take a Fenway Park tour.
Check the schedule at Fenway and get your tickets:
Save with these Ticket Discount Codes:
Enter DISCOVERY10 to save 10% on TicketLiquidator & TicketNetwork tickets. Good through 12/31/24.
4. Spend a Day in the Aquarium
Boston is known for its huge New England Aquarium on the Downtown waterfront, and you can easily spend a whole day there. The Aquarium is also a great alternative for a rainy day. Easiest way to get there from your cruise ship? Hop on a water taxi right at the cruise terminal, and you'll be there in about 5 minutes.
5. Discover Boston from the Rose Kennedy Greenway
The Greenway, a ribbon-shaped 1.5 mile park covering an area once occupied by a highway, stretches from Boston's Chinatown neighborhood near South Station (get there on the Silver Line from CruisePort) up to the historic North End neighborhood, once home to Paul Revere and now where you'll find dozens of wonderful Italian and seafood restaurants. Start at the Chinatown end, and walk along the flower-lined paths through a series of parks, each with its own attractions such as art installations, an open-air beer garden, a carousel featuring marine life, splash fountains, farmers markets, a Saturday artisan market, and even a zipline. Along the way, small detours will bring you to Faneuil Marketplace, the Aquarium, and some of Boston's Revolutionary War era historic taverns. Once you reach the North End (or at any point on the waterfront along the way), hop on a water taxi to head back to your cruise ship. More about the Rose Kennedy Greenway
---
More to See & Do in Boston During Your Shore Visit
---
How to Save with Boston Discount Cards
Do you have specific places you want to visit? Boston sightseeing passes let you go straight to the front of most lines and get free admission to museums, whale watching cruise, Harbor cruises, and tours.
---
Want to Stay near Cruiseport?
Check out these top hotels near Cruiseport:
---
Questions and Answers about Boston's Cruiseport
Transportation from Cruiseport to Boston Logan Airport
What is the best transportation to take from the Boston cruise terminal to Boston Logan Airport after our cruise? We'll have all our bags with us . . .
Getting from Logan Airport to Cruiseport, storing luggage, and seeing Boston
I was wondering if you could offer some suggestions for us because we're traveling as a group of 16 (extended family). We are arriving at Logan on Saturday morning . . .
Getting from the cruise Terminal to Faneuil Hall Marketplace
We're coming to Boston for the day for a Port of Call visit. What's the best way to get to Faneuil Hall? Is there a shuttle? What else should we consider doing while . . .
---
More Articles about Boston Tours
---
More Fun Ways to See Boston
---
Need a Boston Hotel or Apartment?
Use this handy map from Booking.com to find the perfect place to stay. Just enter your dates to find what's available, see the best rates, and make your reservations.