The Boston Events Calendar for July normally gets off to a rousing start with the big annual July 4th Boston Pops concert at the Hatch Shell, spectacular fireworks over the Charles River, and Harborfest.
This year will be different as Boston slowly reopens after the coronavirus pandemic lockdown. Large events including the fireworks over the Charles River, Harborfest, concerts and shows in large venues, the North End festivals have been cancelled, and some other events have been cancelled.
But there's good news too: city parks and beaches are open, Boston Red Sox games start again on July 23 or 24, you can watch the Boston Pops July 4th concert and pre-recorded fireworks online (details below), many restaurants have reopened for outdoor and even indoor dining, and fun sightseeing tours, whale watching cruises, and Provincetown and Salem cruises are now happening.
Boston July weather should be as fantastic as usual with lots of gorgeous hot sunny days and occasional brief afternoon thunderstorms. Despite the need to be cautious (and of course wear a mask and socially distant in public), you'll find plenty of fun ways to enjoy the city this month.
Top photo: Confetti rains down at the Boston Pops July 4th concert at the end of the 1812 Overture - photo courtesy of U.S. Navy
Find more fun things to do in Boston during July
Summer Boston Harbor Cruises Begin on July 2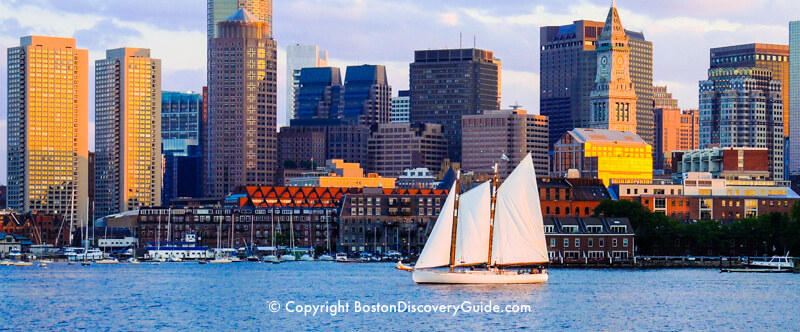 Tour Boston by boat - the best way to see the city!   Check out these fun sightseeing, music, and entertainment Boston Harbor cruises on the Yacht Northern Lights and Schooner Adirondack III:
Fun Boston Harbor Cruises To Do Now:
Celebrate Saint Patrick's Day:
Book Now for May:
Sunday Evening Jazz Cruise - End your weekend on the perfect note by grooving to live jazz as you watch the ever-changing sunset colors as the sun sets behind Boston's city skyline - Starts May
Adirondack III Day Sail - Enjoy cool breezes and the afternoon sun on this relaxing sightseeing sail around Boston Harbor and the Inner Harbor Islands - Starts May 7
Adirondack III Sunset Sail - Relax as the setting sun turns the sky brilliant colors during this calming sunset sailing experience - Starts May 7, 2021
Boston Pops July 4th Concert & Fireworks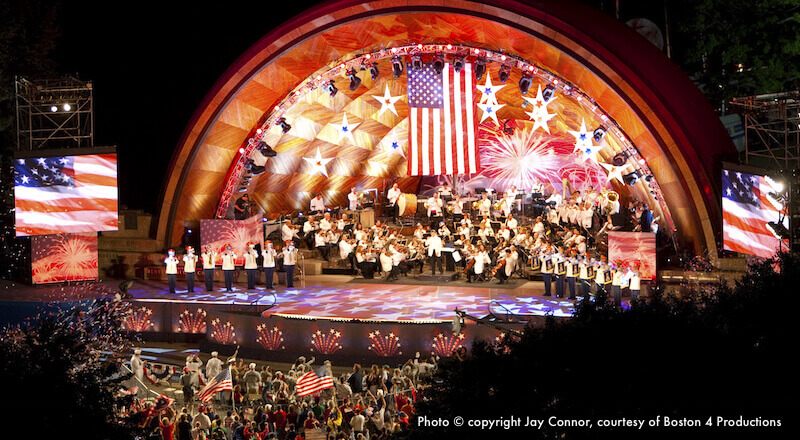 Celebrate America's birthday on July 4th with the Boston Pops as they present a fantastic 3-hour Independence Day concert online with a huge lineup of special guest performances from recent years including Rhiannon Giddens, Leslie Odom Jr, Arlo Gutherie, Andy Grammer, Brian Stokes Mitchell, and more, followed by a pre-recorded fireworks display.
The show's theme this year is "A Boston Pops Salute to Our Heroes," and it celebrates the everyday heroes among us. Keith Lockhart will host the show, along with other special guests..
Rita Moreno and Amanda Gorman will provide narration and poetry. The show also includes newly created virtual performance pieces by Boston Symphony Orchestra and Boston Pops members joined by the Middlesex County Volunteer Fifes and Drums.
The show starts at 8pm on July 4th on Bloomberg TV, Bloomberg.com, and Boston's Channel 7 WHDH - so grab your favorite brew and snacks, and get ready to enjoy this special experience.
Find out about Boston's typical concert and fireworks if you're planning a trip for next year
Visit Cape Cod on the Fast Ferry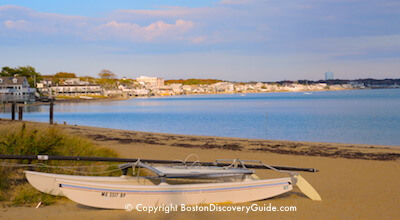 The easiest and fastest way to get to scenic Provincetown at the eastern tip of Cape Cod is on the "Fast Ferry" - a sleek and luxurious passenger-only catamaran that whisks you to this charming village in only 90 minutes.
Explore Provincetown's many art galleries, chic clothing boutiques, and picturesque lanes at your leisure.
Watch the sun set as you feast on clam chowder and a lobster roll at one of the many restaurants overlooking the water.
Get Your Fast Ferry Tickets to Provincetown
Find out more about visiting Provincetown
Whale Watching Cruise Tickets
Join one of the exciting 3-hour Whale Watching Cruises departing from the Downtown Boston Waterfront, and experience the thrill of spotting whales off the coast of Boston.
You'll see magnificent creatures such as Humpback and Finback whales close-up from the deck of your ship, and spot White-Sided Dolphins frolicking in the waters.
These cruises sell out quickly and capacity is currently limited to 15 participants per cruise, so don't wait to get your tickets now for this iconic Boston experience!
Fun Events & Activities on the Rose Kennedy Greenway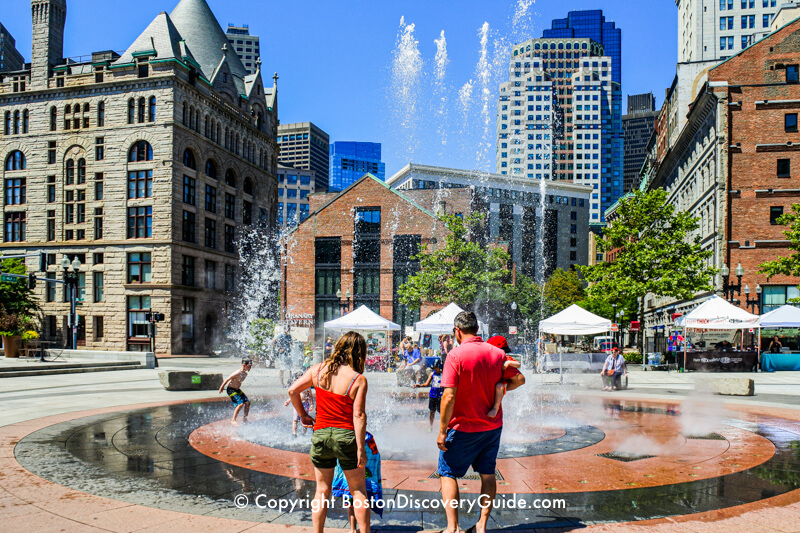 Exciting news - some Greenway events and things to do this summer will be happening:
Greenway Food Trucks: Generally Monday - Sunday (but not on holidays) in Dewey Square, Carousel, Rings Fountain (Milk Street), State Street, and Rowes Wharf areas of the Greenway - reduced schedule, with only 2-3 locations and only a few trucks per day.
Farmers Market in Dewey Square run by Boston Public Market offering fresh produce, meat, cheese, breads and pastries, ice cream, and more - opens on June 2; Tuesdays and Thursdays 11:30am - 6:30pm through November 21.
Public Art - See new installations by Mexican-American folk artist Catalina Delgado-Trunk and British-Nigerian artist Yinka Shonibare, plus other revolving art installations thoughout the Greenway, and especially in the Fort Point Channel Park
Fountains - All 7 will be on.
Greenway PlayCubes - Chinatown Park; children must be with a supervising adult.
Greenway Open Market - Each Saturday and the first and third Sundays of each month, 11am-5pm in the Wharf District Parks.
Carousel - Will follow a limited Friday, Saturday, Sunday schedule, 11am-6pm. You can expect lots of cleaning and physical distancing.
Not Now but Maybe Later:
Boston Calling Block Parties held at Dewey Square (between Pearl and Oliver Streets) across from the InterContinental Hotel; different local band each week, plus a cash bar for 21+
Trillium Beer Garden in the Wharf District Parks (High Street and Atlantic Ave) featuring draft beers by Trillium Brewing Company and barrels of Westpoint Rivers Winery.
City Winery Open Air Wine Garden on Dewey Square, with beer and cider by Harpoon Brewery.
On hold for now:
Greenway Fitness Programs: Free fitness classes from local gyms and instructors
Greenway Play: Play programming for kids
More about the Rose Kennedy Greenway
Free Drop-In Summer Yoga on Boston Common
Dropping in on free summer yoga sessions near the carousel on Boston Common is part of what makes Boston fun in the summer. Instructors will lead a vinyasa flow class focused on releasing stress and expanding energy and welcome participants of all levels.
When: Every Thursday, 6-7:15 - through September 26 (no class on July 4th)
Where: Frog Pond at Boston Common
Nearest T station: Green Line/Park
Cost: Free
Bring: Your own mat, blocks, towels, and belt

Landmarks Orchestra Concerts at the Hatch Shell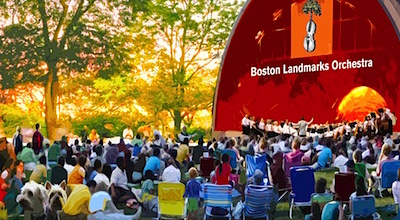 The Boston Landmarks Orchestra's weekly free summer Esplanade concerts normally attract large crowds to the Hatch Shell each July and August with its mix of classical, traditional, modern, and contemporary music.
This year, the concerts will be virtual, with 2 events planned:
July 15 - 7-8pm - Simple Gifts - Music by Joplin, Copland, Coleman, Scott
July 29 - Dances and Delights - Music by Romero, Baker, Price, Abels, Piazzolla

Find details on the livestream on Landmark Orchestra's website
Mashpee Wampanoag Powwow
The 98th annual Mashpee Wampanoag Powwow takes place on traditional tribal lands on Cape Cod just an hour south of Boston. Dancers, drummers, and other participants celebrate Mashpee Wampanoag culture during this 3-day historical festival with dancing, drumming, games, food, art, jewelry, and crafts. Special events include a Fireball spiritual healing ceremony on Saturday evening at sundown, and a traditional Clambake and crowning of the Mashpee Wampanoag Powwow Princess on Sunday afternoon.
When: July 5, 6, 7
Where: Mashpee Wampanoag Tribal Powwow Grounds, 483 Great Neck Road South, Mashpee, MA
Tickets: $12; Elders $10, free for children 4 and under
More information: 774-413-0520
The Mashpee Wampanoag Tribe is part of the Wampanoag Nation of people living in Southeastern Massachusetts and Eastern Rhode Island for more than 12,000 years.
Find out more about the Wampanoags from the Stone Age to the present by visiting the Mashpee Wampanoag Museum (414 Main Street, Mashpee, MA; website).
Boston Theater & Shows for July 2021

Top July Shows in Boston
TicketNetwork Discount Code - Enter TNTIX to get $10 off orders of $300+

Find more shows for July
Fun Boston Sightseeing Tours
Boston Red Sox Schedule - Home Games at Fenway - July - 2021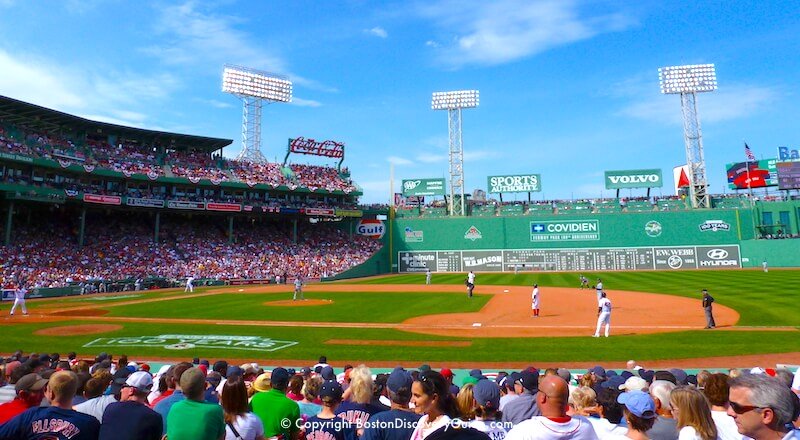 Location: Fenway Park
Nearest T stations: Green Line B or C/Kenmore; Commuter Rail Worcester Line/Yawkey
Although the Boston Red Sox will play at Fenway Park, fans are not currently allowed into the stadium - although that may change later in the season.
---
Hotels near Fenway Park
If you're coming to a Red Sox game, spend the night or the weekend at one of the nearby hotels, such as the luxurious Hotel Commonwealth: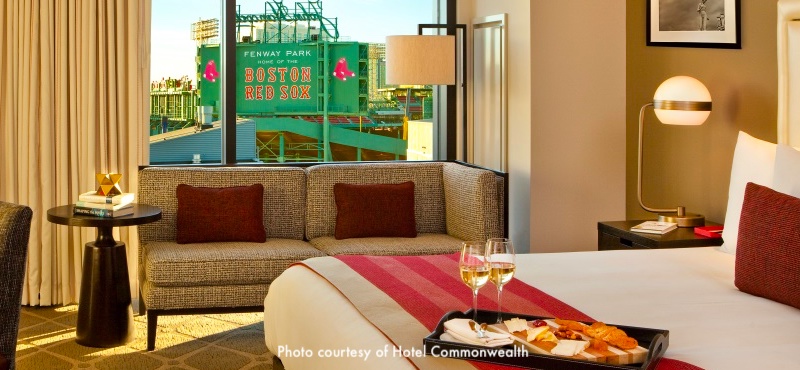 More top hotels near Fenway Park:
Check out more hotels near Fenway Park
Park: Garages & lots near Fenway Park
Celebrate: Best sports bars near Fenway Park
New England Coastal Tour from Boston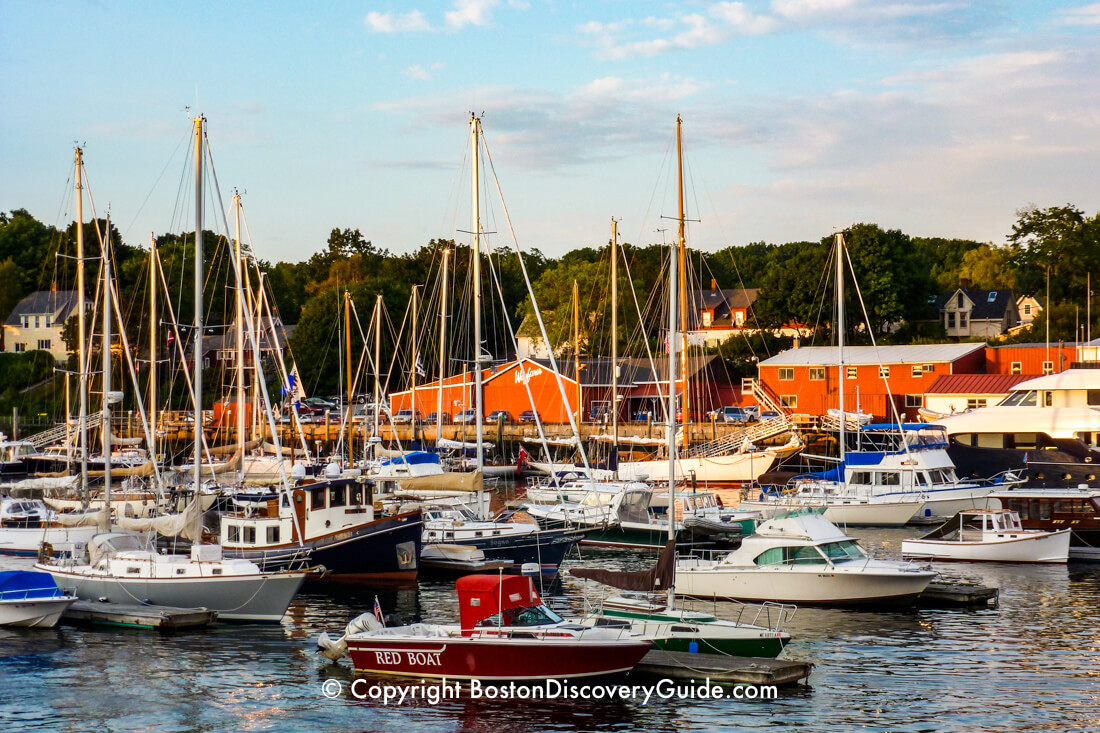 These special 1-day New England Coastal All-Day Tours on a luxury bus show you spectacular beaches, wetlands, quaint seaside villages, harbors, and lighthouses along the North Shore of Massachusetts, New Hampshire, and Maine.
Depending on when you go, you may also see the first displays of brilliant fall foliage along the New England coast.
You'll visit Hampton Beach and have plenty of time to photograph 19th century Nubble Light in York, Maine.
Don't miss this chance to see New England's glorious coast at its best!
- Find out more about the New England Coastal Tour - Now through October
- Find out about fall foliage sightseeing tours departing from Boston - Tours start in September
Bastille Day in Boston
Please note: This event (in French) will be virtual this year. Please see the French Cultural Center's website for details.
This information is from last year:
Bastille Day, the French Fête Nationale holiday celebrating the storming of the Bastille prison, the beginning of the French Revolution against the tyranny of the monarchy in 1789, and the birth of modern France occurs on July 14. Boston's French Cultural Center celebrates it on the preceding Friday by blocking off Marlborough between Berkeley and Claredon for a huge street party.
Look for high energy live Francophone music, dancing in the street, and complimentary French hors d'oeuvres and desserts, as well as delicious French food from the city's top French restaurants drinks including wine available for you to purchase. Come celebrate with 2,000 other revelers, sing "La Marseillaise," and raise a glass to Liberté, Egalité, Fraternité.
When: Friday July 12 from 6pm - 11pm (music ends at 10pm) - rain or shine
Where: Marlborough Street, between Berkeley and Clarendon
Nearest T station: Green Line/Arlington
Cost: $34 in advance, $40 at the door; free for children under 10 (alert: tickets normally sell out well in advance)
Tickets & more info: https://frenchculturalcenter.org
Boston Hotels with Outdoor Swimming Pools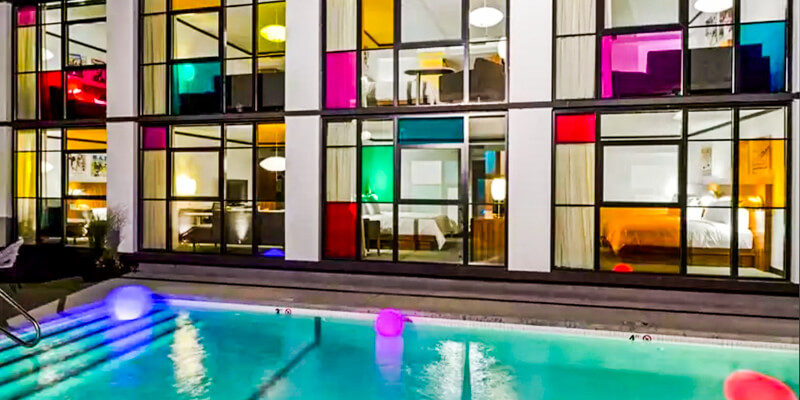 Berklee Summer in the City: Free Summer Concerts in Boston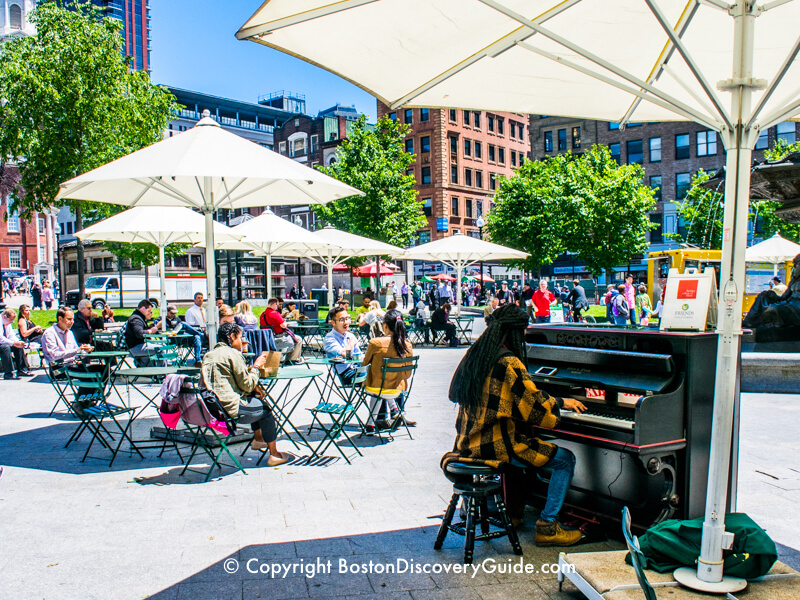 Free outdoor concerts take place all over the city during the summer - and Berklee College of Music students, faculty, and alumni give over 400 of them between early June and early October. Music ranges from jazz to classical, Latin to funk, folk to world, and are free.
Locations include Atlantic Wharf, the Boston Public Library, Brewer Fountain Plaza on Boston Common, the Charlestown Navy Yard, Chin Park and City Winery on the Greenway, selected Boston Harbor Cruises, the Arnold Arboretum, Christopher Columbus Park on the waterfront, Downtown Boston, the Longwood Medical Campus, multiple locations in Cambridge, Dorchester Heights, Institute of Contemporary Art, Prudential Center, Fenway locations, and more - so check the schedule at https://www.berklee.edu/events/summer
More Free Summer Concerts in Boston
Concerts in the Courtyard: Boston Public Library in the McKim Courtyard (700 Boylston Street, Copley Square in Back Bay), Wednesdays 6-7pm and Fridays 12:30-1:30pm, June 1-August. Music ranges from jazz to classical, folk to world, and are free. Concerts move indoor to Rabb Hall in case of bad weather. More info: https://www.bpl.org/concerts-in-the-courtyard/
Boston Calling Weekly Block Parties: Live performances by a different group every Thursday evening (except July 4th) from 5-8pm at Dewey Square on the Rose Kennedy Greenway through August 29. Cash bar for 21+ with beer and wine, plus food to purchase. Check out the weekly lineup on their Facebook page: www.facebook.com/bostoncallingblockparties
Museum of Science Exhibits - 2021
MOS at Home:
Sounds of the Arctic - Hear marine mammals using hydrophone recordings from different Arctic locations to learn who swims there
Daily Live Stream - Museum educators share fun livestreamed presentations for the entire family
Permanent Exhibits (when the museum reopens)
With 29 fascinating permanent exhibits for all ages, there's always something to see, do, and learn. Here are just a few of the most popular: Butterfly Garden (extra fee), Colossal Fossil: Triceratops Cliff, Cosmic Light, Dinosaurs, Hall of Human Life, Live Animal Care Center, Mathematica, Nanotechnology, Natural Mysteries, New England Habitats, The Light House - plus 17 more!
Where: Boston's Museum of Science
When: Daily, 9am-5pm; open until 9pm on Fridays; occasional special closings occur
Admission: $29 general museum admission ($24 for kids). Buy online to skip the line. Get free museum admission when you have a GoBoston Discount card or Boston CityPASS card.
Imax Theater and Planetarium: Additional fees apply
Not Sure about Boston Neighborhood Locations?
This neighborhood map should help you get oriented. You can find a list of top attractions in each neighborhood here.
Need a more details? Here are our favorite free and low-cost Boston maps.
North End Feasts and Festivals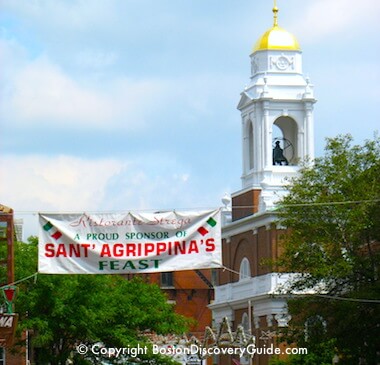 Boston's North End Italian Feasts and Festivals draw huge crowds to this historic neighborhood. You can smell the wonderful food, hear the music, and sense the excitement as you walk across the Greenway to Hanover Street, where many of the celebrations take place.
These festivals take place almost every weekend throughout the summer.
North End Festivals scheduled for July:
Madonna della Grazie's Procession - July 14, 2pm - Starts at St Leonard's Church (Hanover and Prince Streets)
St. Rocco's Procession - July 21, 1:30pm - Starts at US Coast Guard Base, Commercial Street
St. Joseph Procession - July 28, 1pm - Procession starts at St Joseph Society Club (Hanover Street)
Find out about North End Feasts and Festivals taking place in August
Interested in staying in the North End? Check rates at Bricco Suites, in the heart of the neighborhood, and the waterfront Yacht Haven Inn and Battery Wharf Hotel.
Chinatown Main Street Festival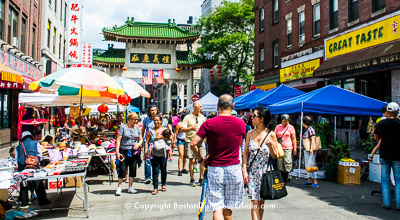 Enjoy colorful open-air market booths selling crafts, lucky bamboo, traditional silk clothing, and lots more, plus Chinese folk dances, Lion dances, and martial arts on stage on the Greenway in this mid-summer festival in Chinatown. A great excuse for a tasty meal in one of these fun Chinatown restaurants.
When: Saturday, July 6, 10am - 6pm
Location: Beach Street near the Chinatown Gate and Chinatown Park on the Greenway, plus other locations around Chinatown
Cost: Free
Closest T station: Orange Line / Chinatown, or park under Boston Common and walk over - 5-minute walk
Magic 106.7 Family Film Festival
Enjoy this free fun family activity - movies under the stars in Prudential Center's lovely South Garden (go up the escalators from Huntington Ave, and the garden is to your right; from Boylston, it is on your left).
When: Every Saturday from July 1 - August 26; entertainment and children's activities start at 5pm, and movies start at sundown; rain dates will be held on the following Wednesday
Where: Prudential Center, South Garden
Nearest T station: Green Line/Prudential
Nearest parking garage: Prudential Center Garage - get discounted parking with a $10 purchase
Cost: Free
Schedule:
July 6: Lego Movie 2
July 13: Mary Poppins Returns
July 20: Incredibles 2
July 27: Ralph Breaks the Internet
Find More Magic 106.7 Family Film Festival movies for August
Sand Sculpting Festival at Revere Beach
Over 500,000 spectators gather at Revere Beach during the course of the big 4-day New England Sand Sculpting Festival to watch 15 renowned master sculptors from around the world work their magic with individual 12 ton allotments of sand imported from Hudson NH, plus water. Sculptors compete for $14,000 in prize money, and the sculptures they create will amaze you with their detail and artistry.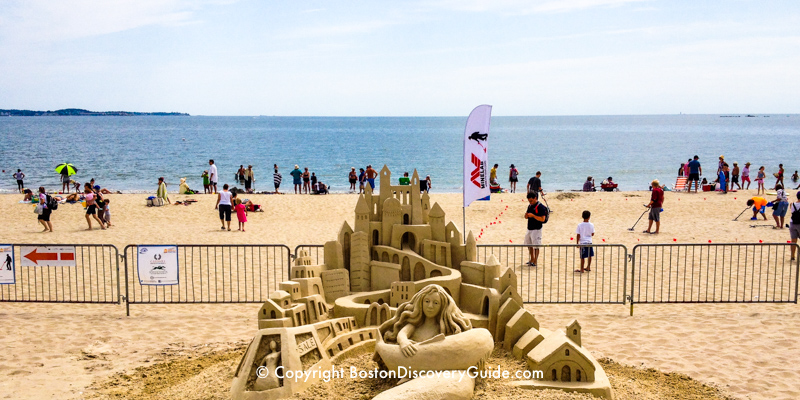 With music performances, a food truck festival, amusement rides, and crafts activities on site as well, you'll find plenty of family entertainment - and don't forget to bring your swimsuits, sunscreen, and towels for the beach!
Fireworks provide the grand finale for the sand sculpting festival.
When: July 26-28; sculptors work from 8am until 8pm - plus fireworks at 9pm on Sunday
Where: Revere Beach, Revere (about 2 miles north of Boston, but easy to get to by subway)
Nearest T station: Blue Line/Wonderland - the beach is just 2 blocks away
Cost: Free
Find out more about Revere Beach and other Boston beaches
Free Events in Columbus Park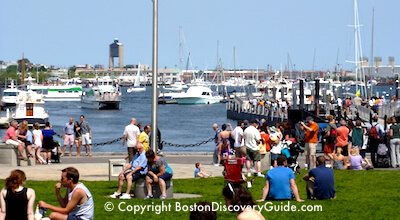 Enjoy free outdoor movies, croquet, and celebrations at Columbus Park in Boston's North End.
Here's the summer lineup:
Croquet - Wednesdays, June 5-Aug 28, 5:30-7:30pm - Play croquet on the West Lawn. Don't know how? A member of the sponsoring organization (Friends of Christopher Columbus Park) will be on hand to teach you
Lawn Games - Saturdays July 20-September 14, noon - 4pm - Corn hole, giant jenga, ladder golf, & more!
Independence Day Celebration & Fireworks - Children's parade, cartoon charachters, jugglers, magicians, face painting, and more kids activities from noon-4pm on Saturday, June 29
Movies in the Park - Sundays July 21 through August 26, 7pm - Bring a blanket or low folding chairs and watch family favorites starting at sundown. Find out what's showing: https://www.foccp.org/foccpevents
Lawn on D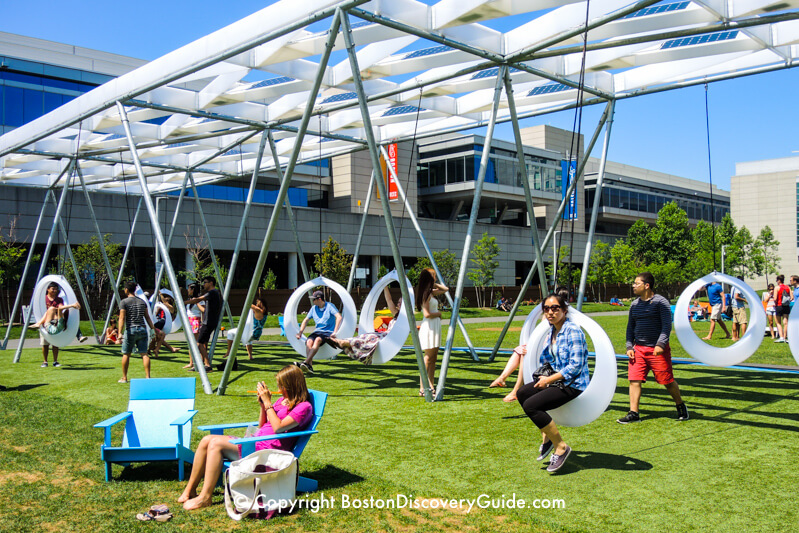 Lawn on D, a playground for adults (kids are welcome too) located behind the Convention Center in the South Boston Waterfront, is normally where you'll find fun swings and outdoor seating, beanbag and other games, and art installations throughout the summer, along with a rotating series of food trucks.
But like almost everything else, Lawn on D will be different this year.
There won't be any swings or games due to health and safety concerns - but the Lawn will be transformed into a giant outdoor dining venue with 180 carefully-spaced tables, 700 seats, and food and beverages provided by Rebel Restaurants.
Seating will be by reservation only - More info
Another option in this area is to sample one of the many restaurants in the Seaport and Fort Point areas of the South Boston Waterfront.
For Boston Harbor views while you dine, visit a Seaport restaurant.
To try the creative cuisine of some of Boston's most innovative chefs, head to a Fort Point restaurant.
Fun Boston Tours for July
4th of July Fireworks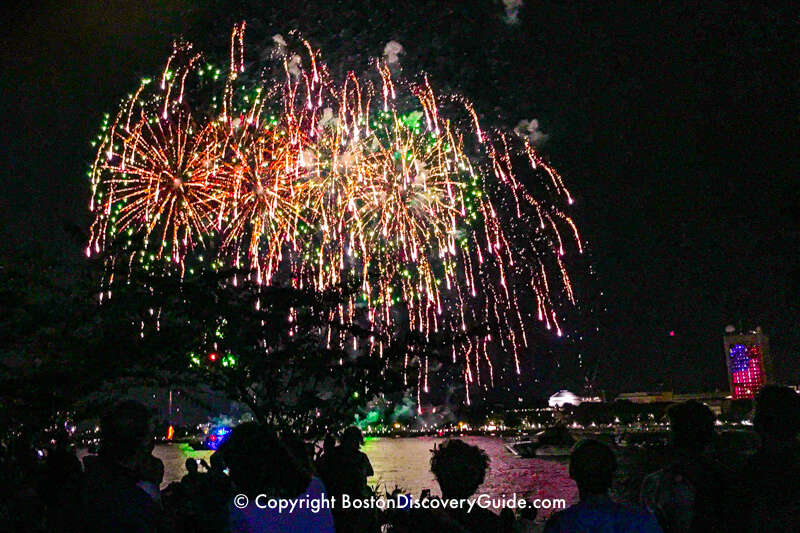 Boston's most spectacular firework display of the year follows the Pops Concert on the 4th.
Watch from tall buildings, rooftops, or the banks of the Charles River.
When: Thursday, July 4 at 10:30pm, immediately following the Boston Pops Concert - ends at about 11pm
Where: Charles River, between the Longfellow and Mass Ave Bridges
Nearest T stations: Depends on where you plan to sit - use Red Line/Harvard Square if you plan to be on the Cambridge side, and Green Line/Arlington or Red Line/Charles-MGH for the Boston side.
Cost: Free
More information: Boston Fireworks
USS Constitution Turn-Around Cruise on July 4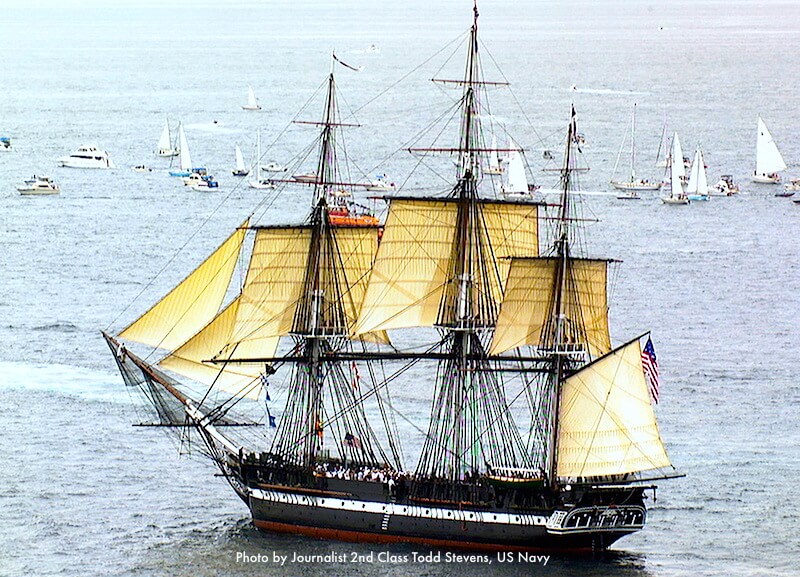 The USS Constitution makes her annual turn-around cruise in Boston Harbor each Fourth of July to celebrate our nation's independence.
The magnificent 204 foot-long wood-hulled ship which first launched in 1797 and is the oldest commissioned warship afloat in the world will sail out to Fort Independence on Castle Island, exchange a 21-gun salute, and then turn around and head back into the Inner Harbor and exchange cannon fire with Boston's Coast Guard Base in the North End.
Departure from Charlestown Navy Yard's Pier One normally takes place at 10:45am and she returns to her Navy Yard berth across from the USS Constitution Museum at 2pm.
Watch from points along the harbor or Castle Island, or even better, from the water on the Schooner Adirondack III or the Northern Lights (not offered in 2021).
More about the USS Constitution
Harborfest Parade of Lights & Fireworks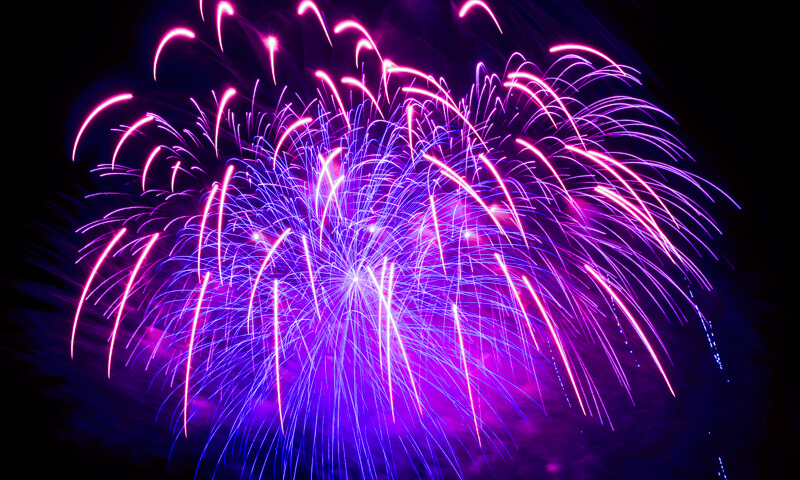 When: Saturday, July 2 at 6pm-10pm
Where: Long Wharf, Boston Downtown Waterfront, and Christopher Columbus Park, North End (next to Long Wharf Marriott)
Cost: Free
The Inner Harbor will glow with lights as sailors decorate their boats for a festive Parade of Lights, followed by a spectacular fireworks display over the harbor as part of the gala Boston Harborfest celebration.
Enjoy the views along the Downtown Waterfront and Seaport shorelines - or treat yourself to front-row seats on these special Parade of Lights/Fireworks harbor cruises:
-  Northern Lights' Fireworks & Lighted Boat Parade Cruise - A classic 1920s style commuter yacht; includes desserts, cheese, flatbreads, sliced fruit, plus cash bar
-  Adirondack III Fireworks & Lighted Boat Parade Cruise - An 80' tall ship-type schooner; includes desserts, cheese, flatbreads, sliced fruit, plus cash bar
More information: Boston Harborfest Events & Schedule
Boston Harborfest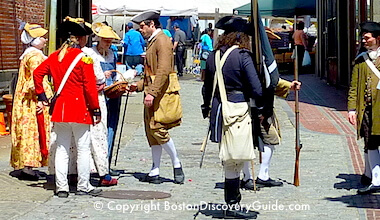 Harborfest is Boston's gala celebration of American Independence, July 4th, and the joy of summer in Boston. Revolutionary War reenactments, live entertainment, Chowderfest, Parade of Lights & Fireworks, Arts at Harborfest, cruises, exhibits, walking tours, and more exciting events showcase Boston's colonial, Revolutionary War, and maritime history.
When: July 1-7 (Dates to be confirmed)
Where: Main events take place at Faneuil Marketplace, Downtown Crossing, along the Freedom Trail, and on the waterfront - but with 200+ events, you'll also find events in other locations as well.
Cost: Free to pricey - depends on the event! Some venues request donations.
More about Boston Harborfest events and schedulesBest Boston hotels for Harborfest
Boston Concerts & Shows - July 2021

Top July Concerts in Boston
At this time, all large concerts originally scheduled for July have been cancelled or postponed due to the coronavirus pandemic.
Find concerts & shows for: January | February | March | April | May | June | July | August | September | October | November | December
Shakespeare on the Common - 2021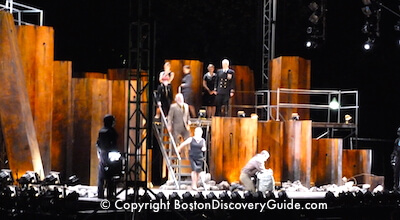 One of the most popular summer Boston events, Commonwealth Shakespeare Company presents The Tempest, one of the Bard's romantic comedies, in this year's Shakespeare on the Common.
Bring a blanket or low folding chair, perhaps a picnic basket, and get ready to enjoy a magical evening of free theater under the stars. You can also rent a chair for $5, plus a $5 deposit that you will get back when you return the chair.
Bring your own food, or purchase something tasty from the vendors who will be onsite for the occasion. Toilets are available at the nearby tennis courts.
More information: Shakespeare on the Common
When: July and August (Exact dates TBD) at 8pm on Tuesdays through Saturdays, 7pm on Sundays, plus a 3pm matinee (note - no performances on Mondays); performances run about 2.5 hours; heavy rain and lightening storms can cause cancelations for safety reasons, so if in doubt, call the weather line at 617-426-0863.
Where: Boston Common, near the Parkman Bandstand
Getting there: By subway: Green/Red line to Park Street Station, or Green Line to Boylston; By car: Park under the Common in the Boston Common Parking Garage: pick up a discount coupon at one of the event tents (you'll spot them easily) - you'll save a bit on parking, and the garage donates the proceeds to CSC
Cost: Free admission; chairs in a small special priority section near the stage are available in return for a donation of $75 or more, with proceeds to benefit CSC.
Boston Pizza Festival at City Hall Plaza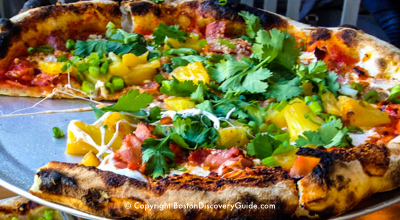 Boston's expansive City Hall Plaza turns into a giant picnic ground when the Boston Pizza Festival returns on July 13-14, bringing pizza, entertainment such as pizza tossing shows and live music, adult and other beverages, and games to this family-friendly celebration of summer.
Fans devoured over 27,000 pizzas by top local pizza makers such as Pizzeria Regino, Bricco, Antico Forno, Babbo, and Serafina at last year's event. Pizza slices and beverages sold on site.
Tickets: $15 in advance (children 5 and under free)
More info: https://www.bostonpizzafestival.com/
Free Friday Flicks at the Hatch Shell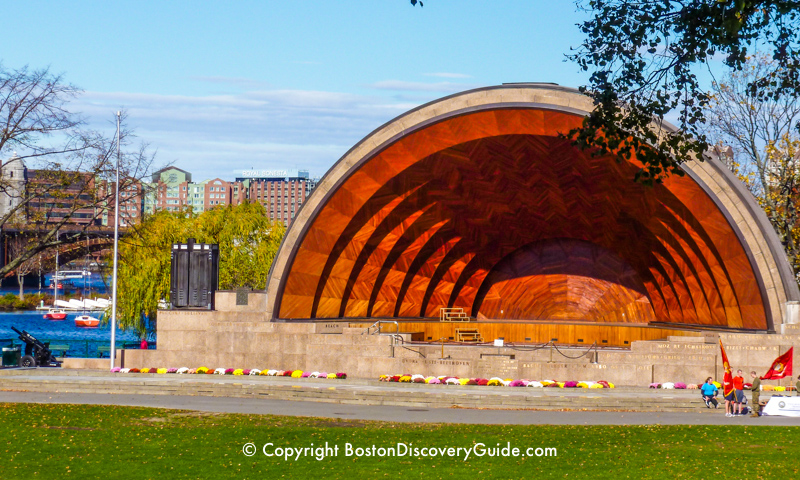 Enjoy free outdoor concerts at the Hatch Shell on Boston's Esplanade throughout July and August.
This series of family movies sponsored by WBZ NewsRadio 1030 and the Department of Conservation and Recreation (DCR) provides the perfect excuse to grab a blanket, pack a picnic, and head for an evening of entertainment under the stars.
The July movie lineup includes:
- July 10 - Frozen 2
- July 17 - Toy Story 4
- July 24- Dolittle
- July 31 - Aladdin
When: Movie starts at sundown (about 8:15 in July)
More information, including the movie schedule and weather cancellations: Call the Free Friday Flicks Hotline at 617-787-7200
Puerto Rican Festival & Parade
The annual Puerto Rican Festival takes place on July 26 (5pm-11pm), 27 (noon-11pm), and 28 (noon-11pm)on City Hall Plaza and features Puerto Rican music, entertainment, carnival rides including a ferris wheel, and vendors. Free admission.
On Sunday, July 28, the festival's huge Grand Parade kicks off at Hynes Convention Center (900 Boylston Street) at 12 noon, marches down Boylston Street to the Common, turns left onto Tremont Street, and heads to City Hall Plaza. More information: https://www.puertoricanfestivalofma.org/
Summer in the City - July Events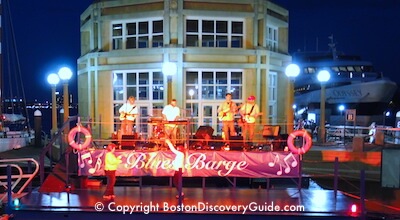 Boston Harbor Hotel's popular "Summer in the City" series lets you kick back and enjoy free music and movies overlooking the waterfront throughout the summer from June 6 until August 30.
Listen to music between 6pm - 10pm as musicians perform on the Blues Barge on Tuesday (Pop-Soul), Wednesday (Rat Pack), and Thursday (Blues Barge).
On Fridays, enjoy music (starts at 4:30) and Movies By Moonlight - your favorite classics projected on a large screen over the Harbor- starts at dusk.
Combine these events with a drink at the hotel's Rowes Wharf Sea Grill and dinner at Meritage for the perfect summer evening.
July movies:
July 5 - The Parent Trap
July 12 - Moana
July 19 - Jurassic Park
July 26 - Sleepless in Seattle
More about Boston Harbor Hotel
Check reviews and rates for the Boston Harbor Hotel
Figment Arts Festival on the Greenway
Figment
brings an explosion of creative energy to the
Greenway
each summer for one weekend of participatory art and culture on July 27 (11am-11pm) and July 26 (12 noon - 6pm).
This free event transforms the entire length of the Greenway from the North End Parks to Dewey Square (across from South Station) into a massive collaborative artwork. Expect to see performances, sculptures, activities, art, photographs, dance, and more.
Bring sunscreen and a water bottle, and come have fun!
More about the Rose Kennedy Greenway
New England Revolution at Gillette Stadium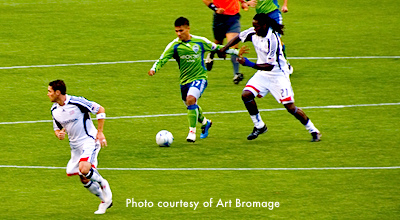 Watch our local soccer team, the New England Revolution, bring men's soccer to a new level at Gillette Stadium.
Only 1 home game is scheduled for July - so don't miss the chance to see the Boston area's professional men's soccer players in action!
Home Games & Tickets:

Getting there: Gillette Stadium from Boston
More at Gillette: See all events at Gillette Stadium
---
Hotels near Gillette Stadium
Going to Gillette Stadium for a game or concert or to Patriot Place for shopping? Stay in a convenient nearby hotel, such as the spectacular Renaissance Boston at Patriot Place: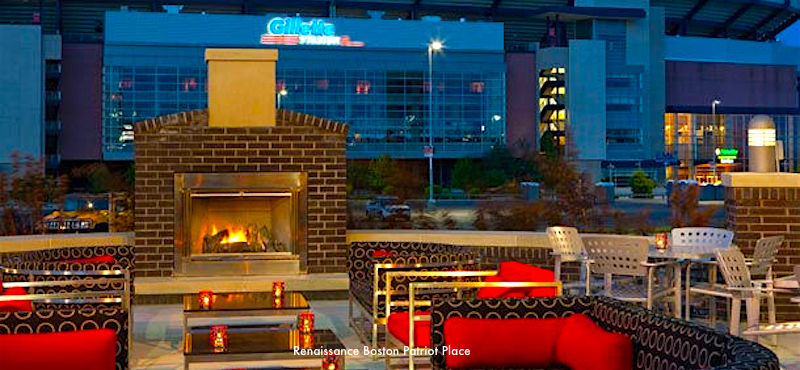 More comfortable hotels near Gillette Stadium:
Check out more hotels near Gillette Stadium
More hotels near Wrentham Premium Outlets and Gillette Stadium
2 Easy Ways to Save BIG in Boston
Find out more about Boston discount cards, and how they give you big savings on top attractions.
Fun Free Fridays in Boston in July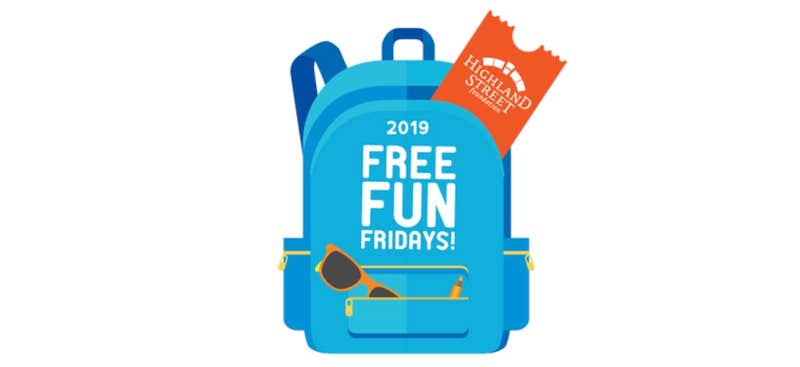 Fun Free Fridays give you free admission to top Massachusetts cultural venues throughout the summer, thanks to the generosity of Highland Street Foundation. A different selection of destinations offer no-cost access each Friday from the end of June through the end of August.
Here is the schedule for Boston area destinations during July:
July 5:
- Cape Cod Maritime Museum (Hyannis)
- The Old Manse
- Pilgrim Hall Museum (Plymouth) - The Telephone Museum (Waltham)

July 12:
- Museum of Fine Arts
- New England Quilt Museum (Lowell)
- The Hall at Patriot Place (Foxboro)

July 19:

- Boston Children's Museum
- Arnold Arboretum
- Battleship Cove (Fall River)
- Peabody Essex Museum (Salem)

July 26:
- Isabella Stewart Gardner Museum
- Commonwealth Shakespeare
- Larz Anderson Auto Museum (Brookline)

More Free Friday Events - August
More locations outside of Boston: Highland Street Foundation website
Outside the Box Free Performing Arts Festival in Boston
Outside the Box, Boston's largest performing arts festival, transforms the Common by erecting six stages and tents where over 100 local artists and groups stage theater, dance performances, and music for 5 days from July 13-17.
Most events take place on Thursday through Sunday from 12 noon - 9pm.
With so much going on at the festival, you can just walk around Boston Common and find the performances you like best. But if you want to plan ahead, check the festival's schedule on the Out of the Box website.
Looking Ahead to August Events in Boston
Shakespeare on the Common (continuing)
More Things to Do in Boston in July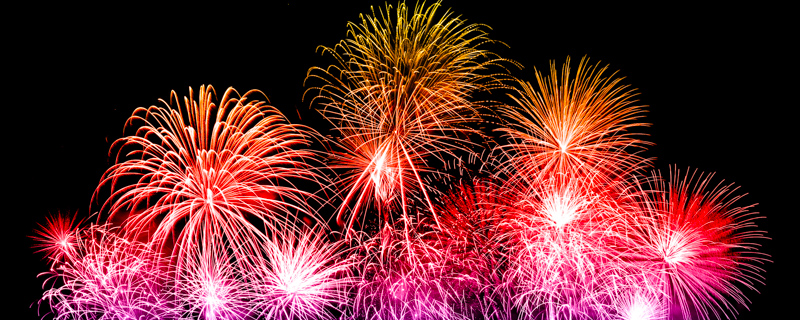 Continuing during July
---
Boston Events Each Month
January | February | March | April | May | June | July | August | September | October | November | December | Year at a Glance