The Boston Events Calendar for July gets off to a rousing start with the big annual 5-day Harborfest celebration of American Independence (including a big fireworks show over Boston Harbor on July 1), the July 4th Boston Pops concert at the Hatch Shell, and the spectacular July 4th fireworks display over the Charles River.
In addition, the USS Constitution's annual turn-around cruise in Boston Harbor also takes place on July 4th. Watch from anywhere around the Waterfront or on a turn-around viewing cruise such as these:
There's plenty of fun events too: the Harborfest celebration in early July, city beaches are open, Boston Red Sox games at Fenway Park, and fun sightseeing tours, whale watching cruises, and Provincetown and Salem cruises.
Boston July weather typically serves up lots of gorgeous hot sunny days with occasional brief afternoon thunderstorms.
You'll find plenty of fun ways to enjoy the city this month!
Find more fun things to do in Boston during July
Top photo: Confetti rains down at the Boston Pops July 4th concert at the end of the 1812 Overture - photo courtesy of U.S. Navy
Boston Discovery Guide is a reader-supported publication. When you buy through our links, we may earn a commission at no additional cost for you. Learn more
---
Boston Pops July 4th Concert & Fireworks 2023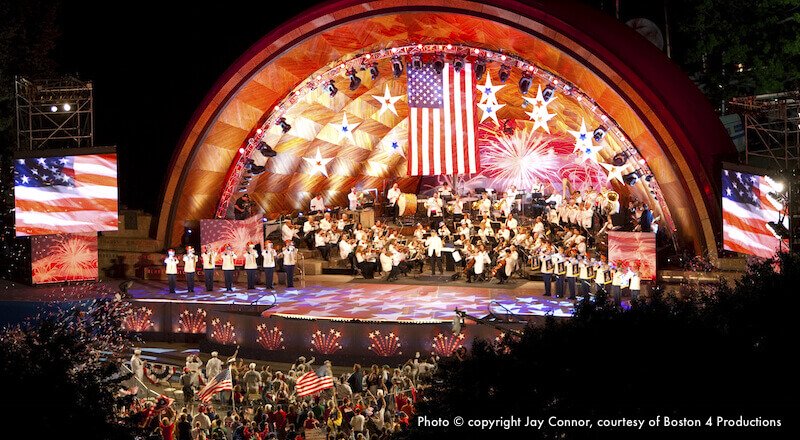 Celebrate America's birthday on July 4th in Boston with a spectacular fireworks show.
The Boston Pops July 4th Concert conducted by Keith Lockhart will be back in Boston this year, and will feature a wonderful lineup of special guests, still to be announced.
The concert starts at 8pm on July 4th, and will be broadcast (along with the fireworks) on Bloomberg TV, Bloomberg.com, and Boston's Channel 7 WHDH.
Fireworks will start at approximately 10:30pm and last half an hour.
Both the concert and fireworks show are free, but you must get a free ticket (which means lining up hours in advance) to enter the concert grounds.
Find out more details about the July 4th concert and Boston fireworks, including concert ticket information
---
Fireworks Cruises 2023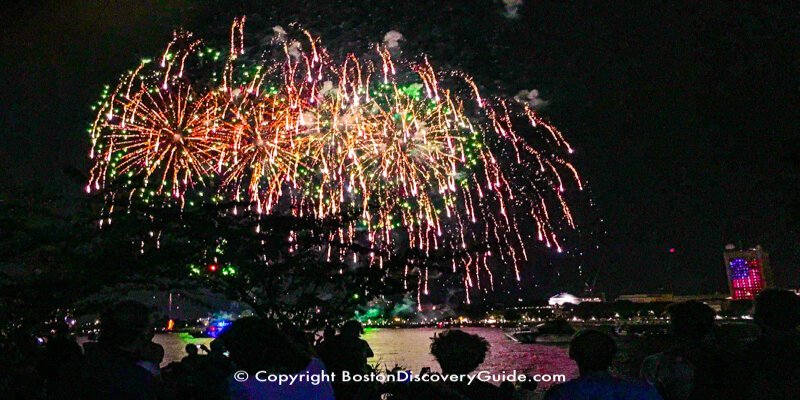 ---
Boston Concerts & Shows - July 2023
Top July Concerts & Shows in Boston

Enter DISCOVERY10 to save 10% on TicketLiquidator & TicketNetwork tickets. Good through 12/31/24.
Top Boston concerts in July 2024 include the Foo Fighters and Blink 182 at Fenway Park, the annual July 4th Boston Pops Independence Day free concert at the Hatch Shell, and lots more top artists to be announced:
Schedule & Tickets
More Concerts & Shows for July
Boston Concerts throughout the Year
---
Boston Harborfest with Chowderfest & Fireworks 2023
Harborfest is Boston's gala celebration of American Independence, July 4th, and the joy of summer in Boston.
Revolutionary War reenactments, live entertainment, Arts at Harborfest, cruises, an artisan craft fair, walking tours, and more exciting events showcase Boston's colonial, Revolutionary War, and maritime history.
Highlights this year: A gala 45-minute fireworks show over Boston's Inner Harbor on July 1 and Boston's favorite seafoood event, Chowderfest.
When: June 30 - July 4
Where: Main events take place in Boston's Historic Downtown district, Downtown Crossing, along the Freedom Trail, and on the waterfront.
Cost: Many events are free, with some ticketed tours and cruises.
More about Boston Harborfest events and schedules
Best Boston hotels for Harborfest
---
USS Constitution Turn-Around Cruise on July 4, 2023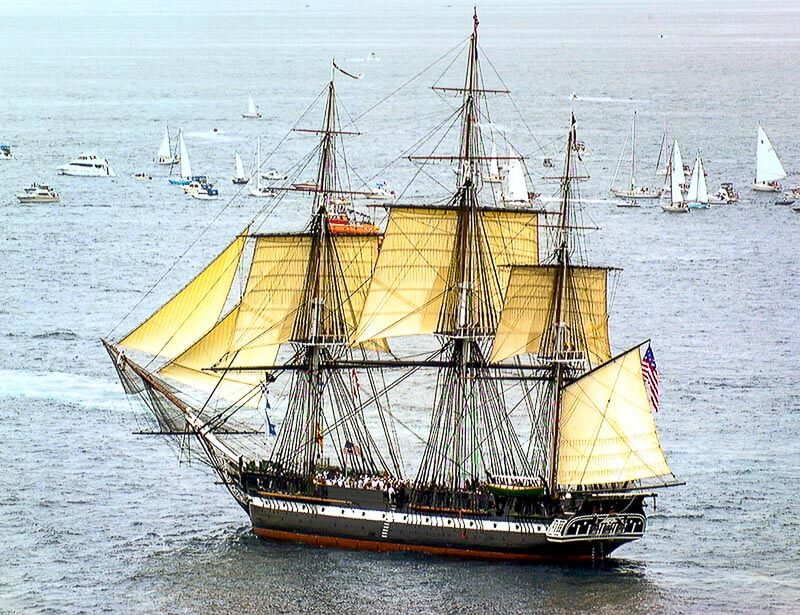 The USS Constitution makes her annual turn-around cruise in Boston Harbor each Fourth of July to celebrate our nation's independence.
The magnificent 204 foot-long wood-hulled ship which first launched in 1797 and is the oldest commissioned warship afloat in the world will sail out to Fort Independence on Castle Island, exchange a 21-gun salute, and then turn around and head back into the Inner Harbor and exchange cannon fire with Boston's Coast Guard Base in the North End.
Departure from Charlestown Navy Yard's Pier One normally takes place at 10:45am and she returns to her Navy Yard berth across from the USS Constitution Museum at 2pm. (to be confirmed)
Watch from points along the harbor or Castle Island, or even better, from the water on the Schooner Adirondack III or the Northern Lights:
More about the USS Constitution
---
Boston Theater & Shows for July 2023

Top July Shows in Boston - Schedules & Tickets
2024 Shows in Boston:
MJ: The Musical - Boston Opera House - July 2-7 - A jukebox musical about the story of singer/songwriter/dancer Michael Jackson, and featuring Jackson's top hits
Enter DISCOVERY10 to save 10% on TicketLiquidator & TicketNetwork tickets. Good through 12/31/24.
More Boston Theater District Shows
---
Fireworks Cruises & Other Boston Harbor Cruises 2023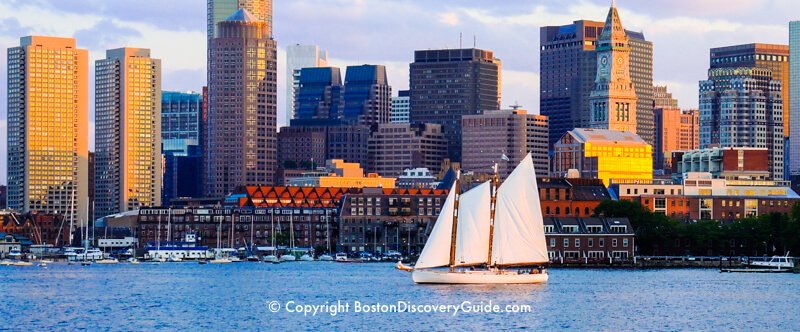 Tour Boston by boat - the best way to see the city!   Check out these fun sightseeing, music, and entertainment Boston Harbor cruises on the Yacht Northern Lights and Schooner Adirondack III, and don't miss the Fireworks Cruises on July 1:
Popular Cruises on the Northern Lights:
Sailing on the Adirondack III
Adirondack III Day Sail - Enjoy cool breezes and the afternoon sun on this relaxing sightseeing sail around Boston Harbor and the Inner Harbor Islands - Starts May 3
Adirondack III Sunset Sail - Relax as the setting sun turns the sky brilliant colors - Starts May 3
Adirondack III 90-Minute Mimosa Day Sail - Soak up the sun on this afternoon sail through the Inner Harbor and Harbor Islands with drinks available for purchase at the bar - Starts July 1
Book Your July 4th Cruises Now!
---
Boston Red Sox Schedule - Home Games at Fenway - July 2023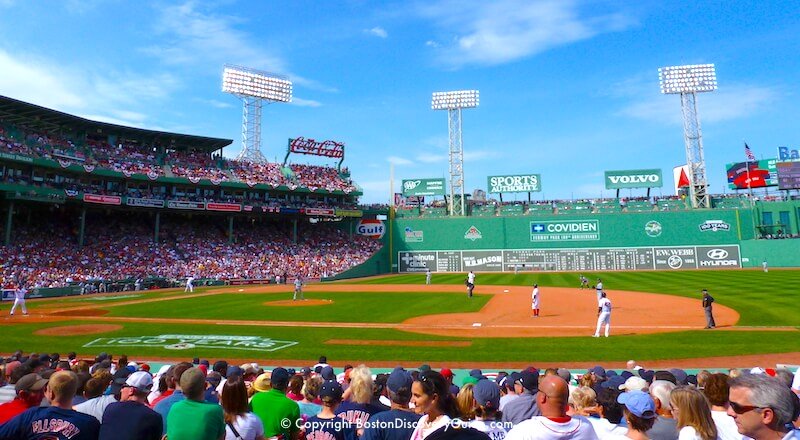 Location: Fenway Park
Nearest T stations: Green Line B or C/Kenmore; Commuter Rail Worcester Line/Yawkey
The quintessential July experience in Boston is watching the Red Sox play at Fenway Park - so don't miss it!
Get Schedule & Tickets
Enter DISCOVERY10 to save 10% on TicketLiquidator & TicketNetwork tickets. Good through 12/31/24.
Find Red Sox Home Games at Fenway for Other Months
Stay: Hotels near Fenway Park
Park: Garages & lots near Fenway Park
Celebrate: Best sports bars near Fenway Park
Find out about more Boston sports
---
Fun Events & Activities on the Rose Kennedy Greenway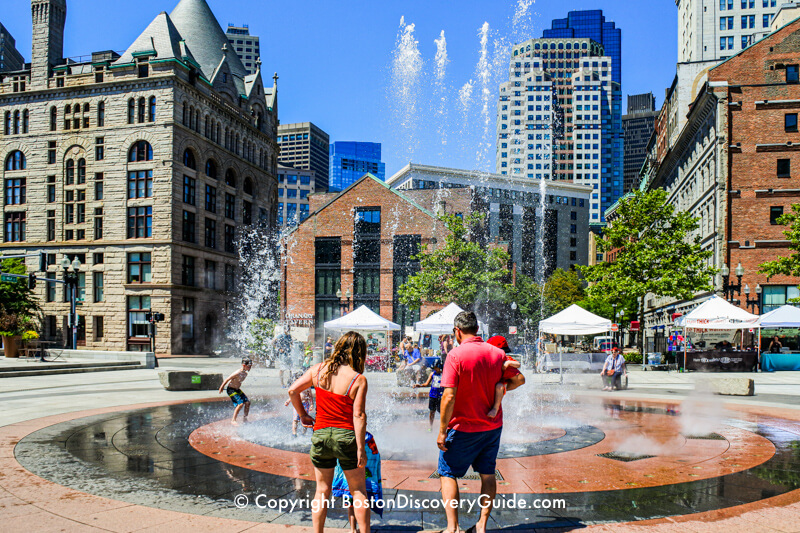 The Rose Kennedy Greenway is offering so many fun things to do this summer:
Greenway Artisan Market, 11am - 5pm, operated by Somerville Flea on Rowes Wharf Plaza - Shop for handmade items by local makers and artisans; open every Saturday from May 6 through October 31 and every Sunday from May 28 through October 8, 2023
Trillium Beer Garden in the Wharf District Parks (High Street and Atlantic Ave) featuring draft beers by Trillium Brewing Company and a rotating selection of food trucks. Open Thursday 3pm-8pm, Friday and Saturday 12pm-8pm, and Sunday 12 noon-6pm.
Greenway Food Truck Festival, May 6, 11am - 3pm at High Street and Atlantic Avenue - Savor everything from dumplings to ice cream, including local favorites such as The Dining Car, Gogi on The Block, Indulge India, and many more
Fountains - You'll find them in 7 different locations along the Greenway - so get ready to splash, wade, and cool off!
Carousel - Open daily, 11am-6pm. Tickets: $4 (buy online)
Boston Chinatown Lantern Festival with Gala Performances - 5:30pm-6:30pm, May 16 at Chin Park (near Chinatown's Gate) - Enjoy free music and dance performances in this celebration of Asian and new immigrant families
Massachusetts Youth Pride Celebration - May 20, 10am - 4pm - Youth-led festival with a march and live performances the India Street and Atlantic Ave
Greenway Food Trucks: A rotation of 18 trucks, including 6 new ones this year, offer Korean, Jamaican, Italian, Caribbean, Italian, seafood, and other specialties along the Greenway in Dewey Square, the Carousel, Rings Fountain (Milk Street), State Street, Rowes Wharf Plaza, and Trillium Beer Garden. You'll find them at several locations each day, usually with a total of about 3 trucks per day. You can track the schedule and locations of your favorites here
Public Art - See new installations by top artists
More about the Rose Kennedy Greenway
---
Visit Cape Cod on the Fast Ferry 2023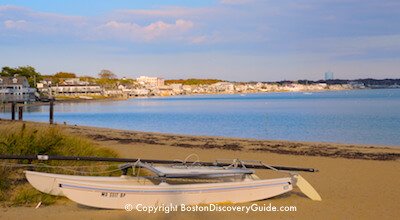 The easiest and fastest way to get to scenic Provincetown at the eastern tip of Cape Cod is on the "Fast Ferry" - a sleek and luxurious passenger-only catamaran that whisks you to this charming village in only 90 minutes.
Explore Provincetown's many art galleries, chic clothing boutiques, and picturesque lanes at your leisure.
Watch the sun set as you feast on clam chowder and a lobster roll at one of the many restaurants overlooking the water.
Get Your Fast Ferry Tickets to Provincetown
Find out more about visiting Provincetown
---
Whale Watching Cruise Tickets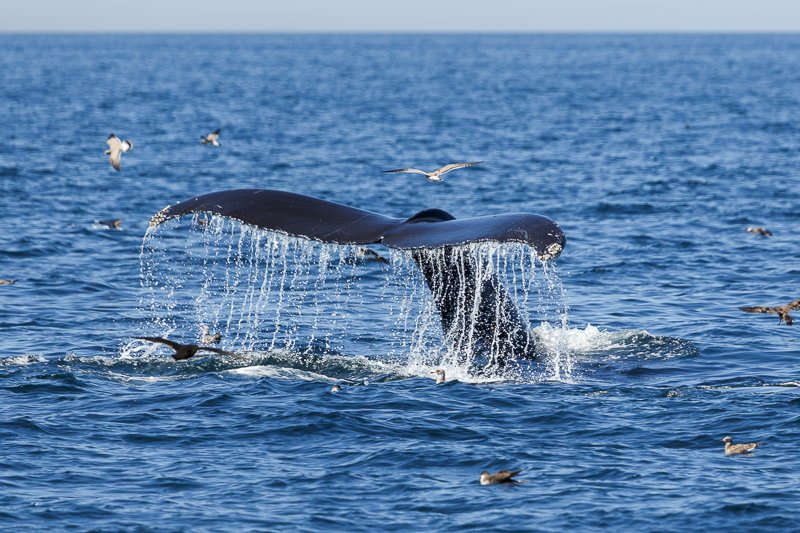 Join one of the exciting 3-hour Whale Watching Cruises departing from the Downtown Boston Waterfront, and experience the thrill of spotting whales off the coast of Boston.
You'll see magnificent creatures such as Humpback and Finback whales close-up from the deck of your ship, and spot White-Sided Dolphins frolicking in the waters.
These cruises sell out quickly, so don't wait to get your tickets now for this iconic Boston experience!
---
Free Drop-In Summer Yoga on Boston Common 2023
Dropping in on free summer yoga sessions near the carousel on Boston Common is part of what makes Boston fun in the summer. Instructors will lead a vinyasa flow class focused on releasing stress and expanding energy and welcome participants of all levels.
When: Every Thursday, 6-7, May 18 - August 31
Where: Frog Pond at Boston Common
Nearest T station: Green Line/Park
Cost: Free
Bring: Your own mat, blocks, towels, and belt
---
Night Market in Boston's Little Saigon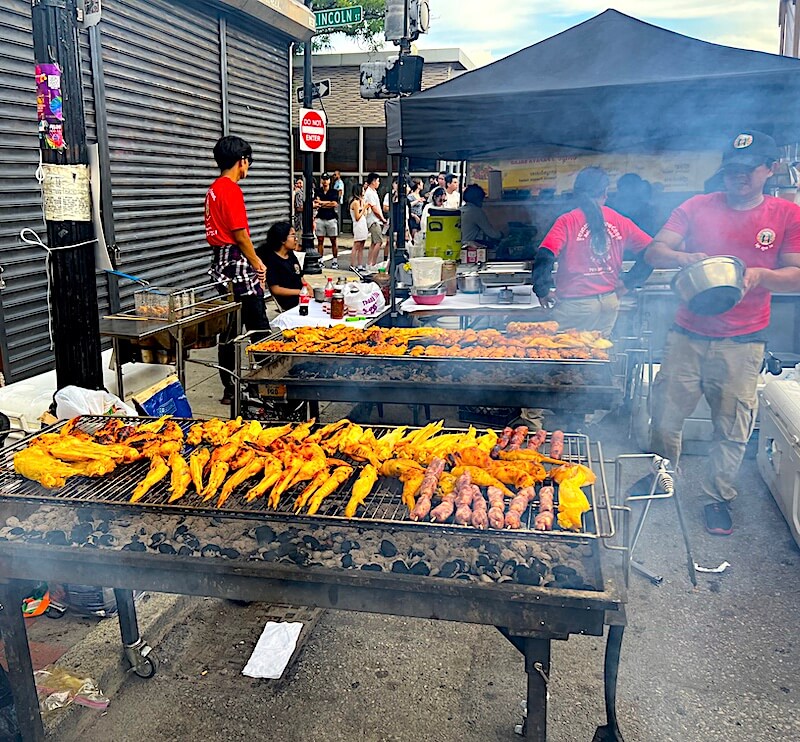 Boston's Little Saigon Cultural District will host their first annual Cho Dêm, Boston Little Saigon Night Market Street Festival, in Fields Corner, Dorchester on Saturday, July 15, 4pm-9pm.
Look for crafts, games, entertainment, a beer garden, mouth-watering street food, and bubble tea.
Fields Corner is known for its numerous Vietnamese restaurants.
Admission: Free
Location: Dorchester Avenue between Park Street and Adams Street (Town Field Park - you'll see the market when you get off the T)
Closest subway station: Red Link/Fields Station
Find more information about the Street Market
---
Landmarks Orchestra Concerts at the Hatch Shell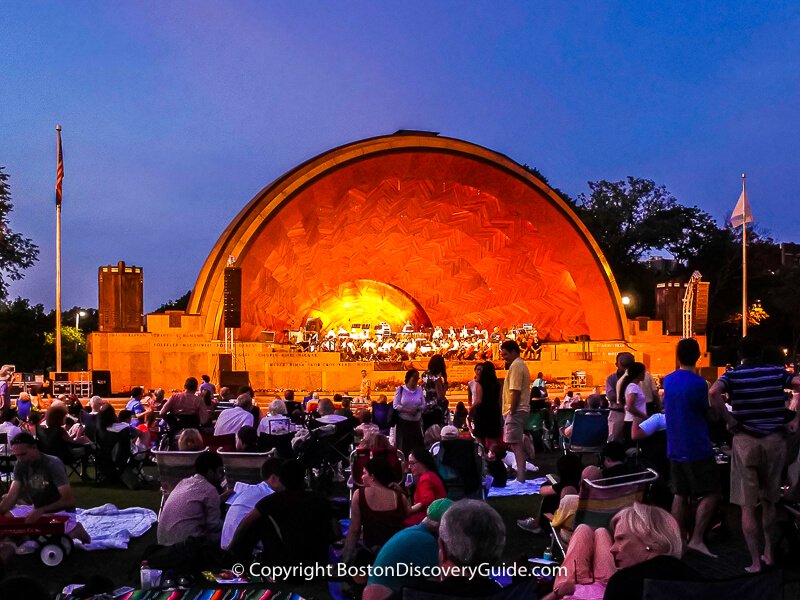 The Boston Landmarks Orchestra's weekly free summer Esplanade concerts attract large crowds to the Hatch Shell on Wednesday evenings during July and August with its mix of classical, traditional, modern, and contemporary music. Concerts start at 7pm and run about 2 hours. Bring and blanket or low folding chairs to sit on, and a picnic dinner.
Landmarks Concert schedule for July:
July 20 - Sorcerer's Apprentice & Symphonie Fantastique: Telling Tales
July 27 - Finlandia & Romeo and Juliet: Sweet Sorrow
Weather alerts and alternate locations in case of rain: 617-987-2000; orchestra website
Cost: Free

More about what to see & do on Boston's Esplanade
---
Fun Boston Sightseeing Tours
---
New England Coastal Tours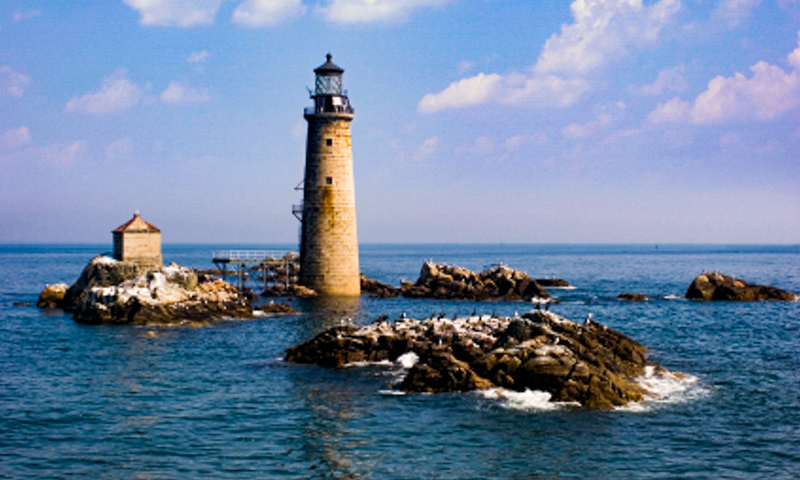 This special 1-day Boston to Coastal Maine & Kennebunkport Guided Day Trip with Trolley Tour with a driver/tour guide shows you beautiful beaches, wetlands, quaint seaside villages, harbors, and lighthouses along the New England Coast.
You'll stroll along Ogunquit's coastal Marginal Way, take a 1-hour trolley tour around idyllic Kennebunkport, and have plenty of time to visit and photograph 19th century Nubble Light (light house) in York, Maine.
Don't miss this chance to see New England's glorious coast at its best!
Pickup/dropoff at central Boston locations near hotels is included.
Find out more about the New England Coastal Tour
Want to explore a different coastal area? Check out this popular day trip from Boston to Martha's Vineyard:
Find out about the Martha's Vineyard day trip with an option island tour
---
Boston Lights at Franklin Park Zoo 2023
Franklin Park Zoo transforms into an evening wonderland as more than 55 brilliant outdoor all-new displays take you through fantastic journeys filled with color and light.
You'll discover an ice-breathing dragon, underwater adventures in a coral reef, and Chinese lantern scenes with pagodas, cranes, and lotuses.
Not to be missed: a 80-foot glowing walk-through dragon tunnel.
Get your tickets at the gate (if available), or secure your spot (highly recommended) and also save a little by booking online in advance on the Zoo's website.
Boston Lights dates/hours: July 22 - October 29, 6pm-10:30pm
Just want to visit the zoo during the day? You can also book or pre-book tickets online for a regular visit (does NOT include the Boston Lights show).
More Fun Things to Do in Boston
---
Bastille Day in Boston
Bastille Day, the French Fête Nationale holiday celebrating the storming of the Bastille prison, the beginning of the French Revolution against the tyranny of the monarchy in 1789, and the birth of modern France occurs on July 14. Boston's French Cultural Center celebrates it this year with a gala event at La Voile restaurant in Brookline.
Look for a jazz band playing your favorite French music, dancing, your favorite beverages, and delicious French hors d'oeuvres, and fun games for kids. Come celebrate with other revelers, sing "La Marseillaise," and raise your glass to Liberté, Egalité, Fraternité.
When: Saturday July 14 from 5pm - 9pm (to be confirmed)
Where: La Voile restaurant, Brookline
Nearest T station: Green Line/Brandon Hall
Cost: $70 (includes tip), with advance resvations required; free for children under 12 (alert: tickets normally sell out well in advance)
Tickets & more info: https://frenchculturalcenter.org
---
Boston Hotels with Outdoor Swimming Pools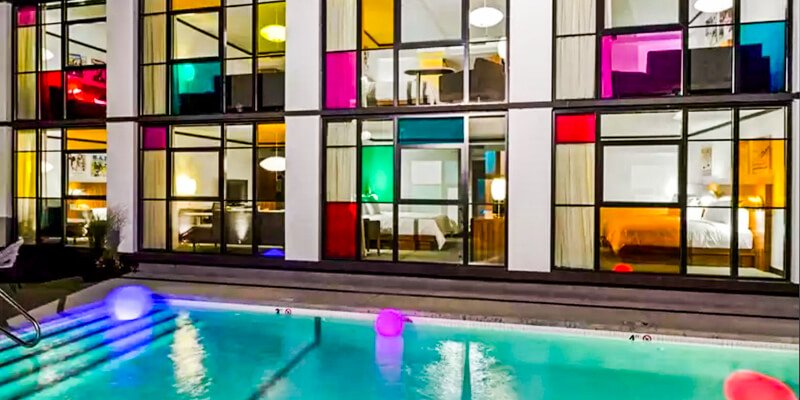 Find more Boston hotels with outdoor swimming pools
---
Berklee Summer in the City: Free Summer Concerts in Boston - 2023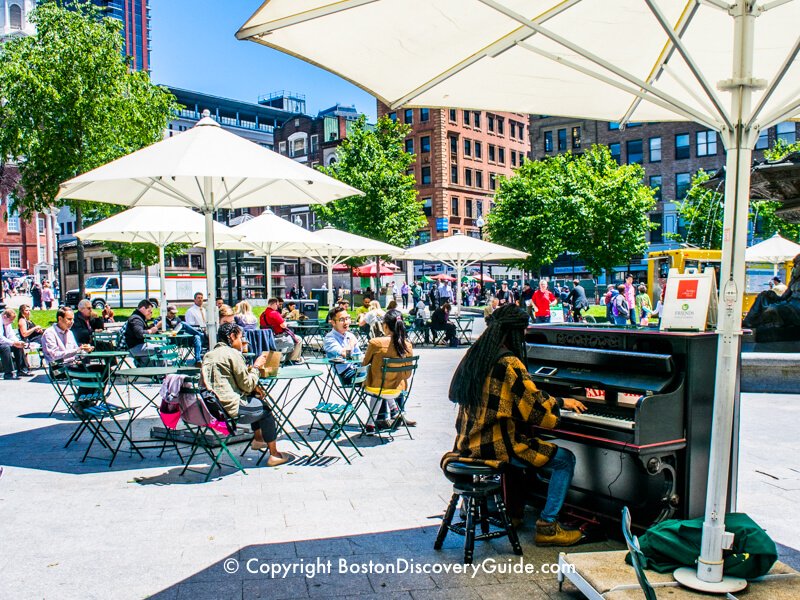 Berklee College of Music students, faculty, and alumni give hundreds of free outdoor concerts all over the city from May 1 and throughout the summer, usually going through September.
Music ranges from jazz to classical, Latin to funk, folk to world, and are free.
Most concerts for this year are still TBD but once they're announced, you can find the schedule here: Berklee events website
Locations typically include Atlantic Wharf, the Boston Public Library, Brewer Fountain Plaza on Boston Common, the Charlestown Navy Yard, Chin Park and City Winery on the Greenway, selected Boston Harbor Cruises, the Arnold Arboretum, Christopher Columbus Park on the waterfront, Downtown Boston, the Longwood Medical Campus, multiple locations in Cambridge, Dorchester Heights, Institute of Contemporary Art, Prudential Center, Fenway locations, and more.
---
Museum of Science Exhibits - 2023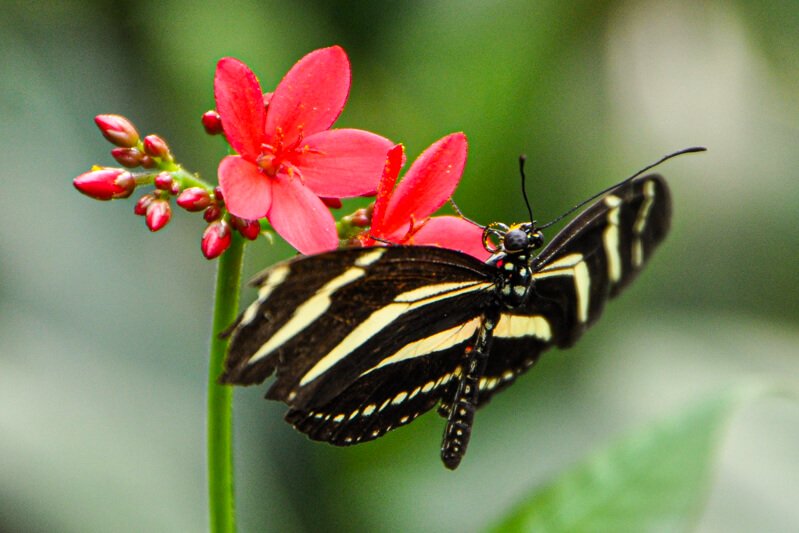 Special Exhibits
New England Climate Stories - Meet fascinating New England animals
All Aboard! Trains at Science Park - Visit miniature landscapes with fantasic model trains - through January 16
Gaia - View our planet in a new way through UK artist Luke Jerram's artwork with NASA images of Earth's surface
Mental Health: Mind Matters - Get insights into understanding mental health through this interactive exhibit
With fascinating permanent exhibits for all ages, there's always something to see, do, and learn. Here are just a few of the most popular: Engineering Design Workshop, Colossal Fossil: Triceratops Cliff, Cosmic Light, Dinosaurs, Arctic Adventure, Hall of Human Life, Live Animal Care Center, Mathematica, Exploring AI, Natural Mysteries, New England Habitats, Project Vaccine.
Where: Boston's Museum of Science
When: Daily, 9am-5pm; open until 9pm on Fridays
Admission: $29 general museum admission ($24 for kids; children under 3 free). Get free museum admission when you have a GoBoston Discount card or Boston CityPASS card.
Imax Theater and Planetarium: Additional fees apply
---
Not Sure about Boston Neighborhood Locations?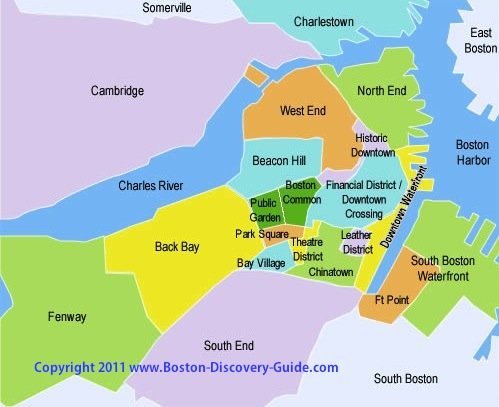 This neighborhood map should help you get oriented. You can find a list of top attractions in each neighborhood here.
Need a more details? Here are our favorite free and low-cost Boston maps.
---
North End Feasts and Festivals
Boston's North End Italian Feasts and Festivals draw huge crowds to this historic neighborhood. You can smell the wonderful food, hear the music, and sense the excitement as you walk across the Greenway to Hanover Street, where many of the celebrations take place.
These festivals take place almost every weekend throughout the summer.
North End Festivals scheduled for July: (to be confirmed)
Madonna della Grazie's Procession - July 9, 2pm - Starts at St Leonard's Church (Hanover and Prince Streets)
St. Rocco's Procession - July 16, 1pm - Starts at St Leonard Church, Hanover and Prince Streets
St. Joseph Procession - July 23 1pm (to be confirmed) - Procession starts at St Leonard Church (Hanover and Prince Streets)
Find out about North End Feasts and Festivals taking place in August
Interested in staying in the North End? Check rates at Bricco Suites, in the heart of the neighborhood, and the waterfront Yacht Haven Inn and Battery Wharf Hotel.
---
Chinatown Main Street Festival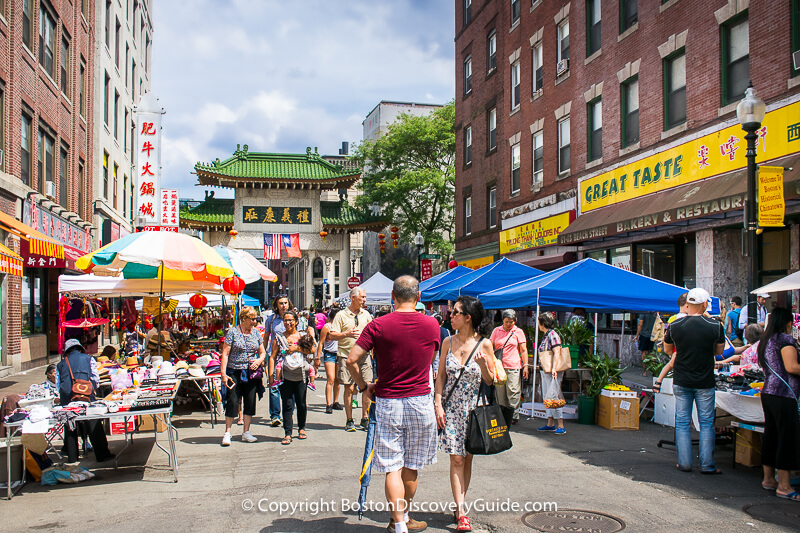 Enjoy colorful open-air market booths selling crafts, food, lucky bamboo, traditional silk clothing, and lots more, plus Chinese folk dances, Lion dances, and martial arts in this mid-summer festival in Chinatown. A great excuse for a tasty meal in one of these fun Chinatown restaurants.
When: Saturday, July 1, 10am - 6pm (to be confirmed)
Location: Beach Street near the Chinatown Gate and Chinatown Park on the Greenway, plus other locations around Chinatown
Cost: Free
Closest T station: Orange Line / Chinatown, or park under Boston Common and walk over - 5-minute walk
---
Free Summer Flicks @ Prudential Center
Enjoy this free fun family-friendly activity - movies under the stars in Prudential Center's lovely South Garden (go up the escalators from Huntington Ave, and the garden is to your right; from Boylston, the garden is on your left).
Bring a picnic blanket or low beach chairs, and grab dinner at Prudential Center.
Schedule:
July 8: Top Gun: Maverick
July 15: Matilda
July 22: Minions: The Rise of Gru
July 29: LIghtyear
When: Every Saturday during July and August; movies start at sundown but the garden will be open for the event from 6pm - 10pm
Where: Prudential Center, South Garden
Cost: Free
Nearest T station: Green Line/Prudential
Nearest parking garage: Prudential Center Garage - enter after 5pm for $20 rate, or get discounted parking with a $25 purchase from any Pru Center store, restaurant, cart, or kiosk; bring your parking ticket with you when you leave the garage and have your sales associate validate your parking ticket after you make your purchase

Find More Family Flicks at Pru Center for August
---
Sand Sculpting Festival at Revere Beach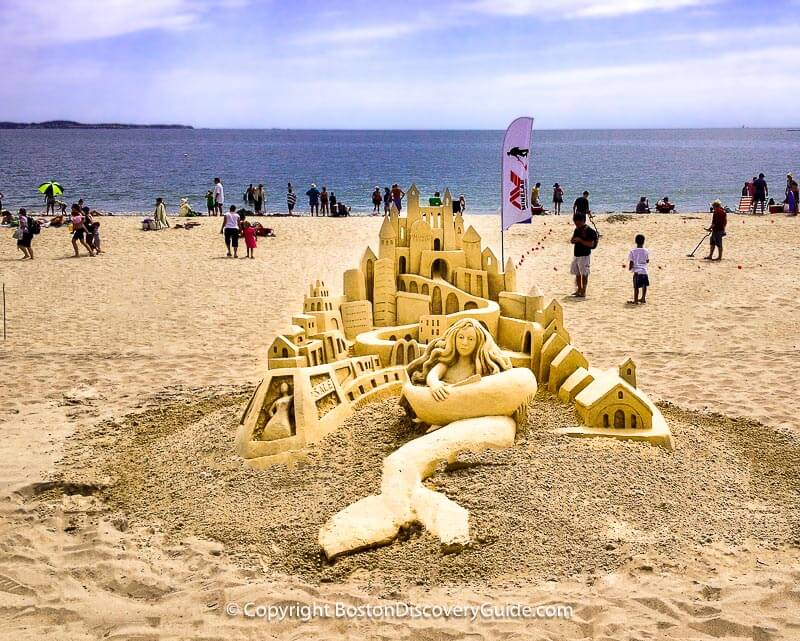 Over 1 million spectators gather at Revere Beach during the course of the big 4-day New England Sand Sculpting Festival to watch 16 renowned master sculptors from around the world work their magic with individual 12 ton allotments of sand imported from Hudson NH, plus water.
Sculptors compete for $14,000 in prize money, and the sculptures they create will amaze you with their detail and artistry. The theme this year is "Kong," in celebrating of his 90 years in pop culture.
With music performances, a food truck festival and local food vendors lining the boardwalk, entertainment, and of course the gorgeous beach, you'll find plenty of family fun.
On Saturday night, a Fireworks Extravanza lights up the sky over the water.
Don't forget to bring your swimsuits, sunscreen, and towels for the beach!
When: July 28-30; sculptors work from 8am until 8pm - plus fireworks at 9pm on Saturday
Where: Revere Beach, Revere (about 2 miles north of Boston, but easy to get to by subway); nearest T station: Blue Line/Wonderland - the beach is just 2 blocks away.
Avoid driving if at all possible. Traffic in this area always gets highly congested in the summer, even on weekdays. The main street along the beach will be closed, and nearby (legal) parking is extremely limited.
Cost: Free
Find out more about Revere Beach and other Boston beaches
---
Free Summer Movies in Christopher Columbus Park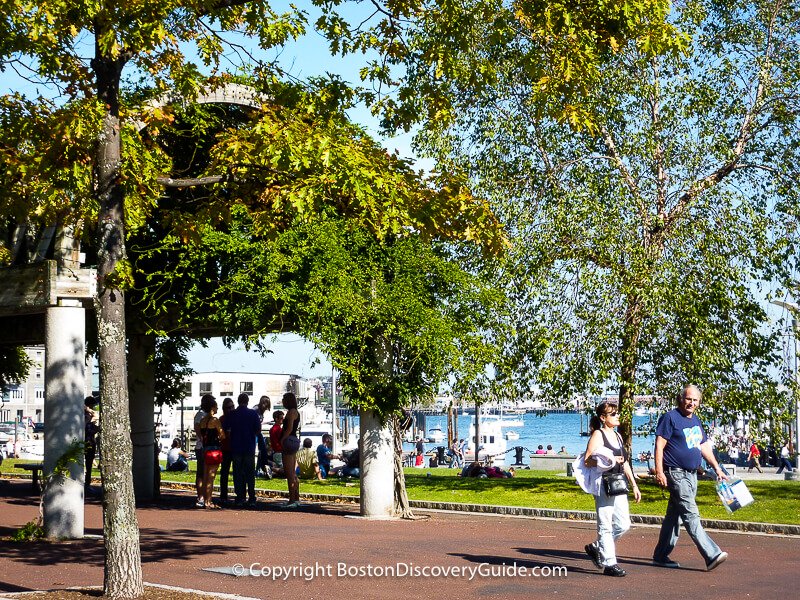 Enjoy free outdoor Summer Sunday Movies on most Sunday evenings during July 16 and August 20 at Christopher Columbus Park in Boston's North End. (to be confirmed) Movies start at sundown, which means 9:30pm in mid-July, moving gradually to 8pm for the last film in August. Bring a blanket or low folding chairs and watch family favorites.
Check the lineup and schedule on the park's website.
---
Immersive Disney Animation Boston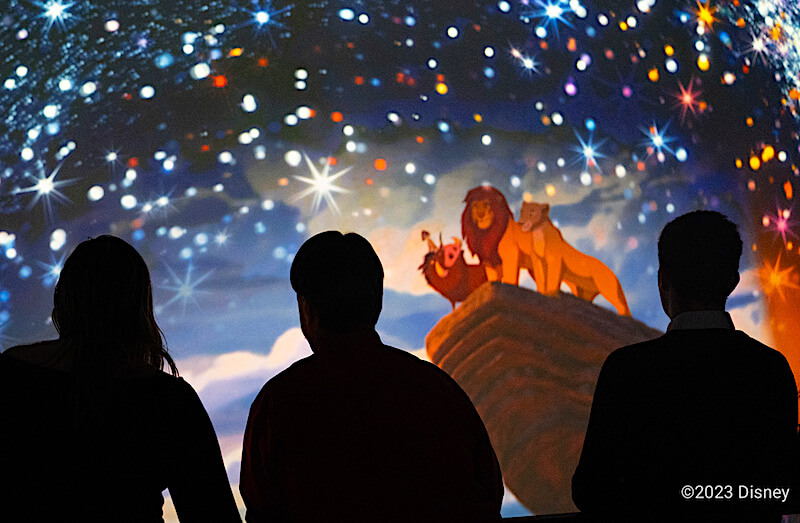 Immersive Disney Animation Boston brings all your favorite Disney characters, stories, and music to life in a magical immersive experience with you at the center.
You'll visit La Casita with Mirabel from Encanto, watch Rafiki present Simba in the Lion King, take the journey of a lifetime with Aladdin and Jasmine in the Magic Carpets of Aladdin, hop on a train to Zootopia, enter the enchanted worlds of Peter Pan and Pinocchio, and so much more in this family-friendly, kid-pleasing innovative production.
The show lasts one hour and is currently playing at Boston's Lighthouse ArtSpace at The Saunders Castle, 130 Columbus Ave, now through August 13.
Sensory-friendly viewings are scheduled at 9am on July 8 and August 13.
Book your tickets online in advance to get your preferred date/timeslot.
---
Lawn on D 2023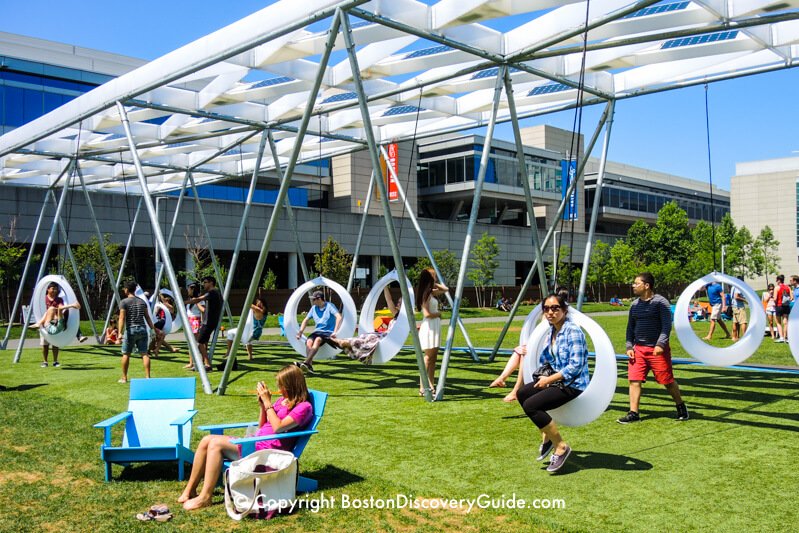 Lawn on D, a playground for adults (kids are welcome too but this is primarily an adult venue) located behind the Convention Center in the South Boston Waterfront, is where you'll find fun swings with LED lights and comfy seating, pickleball and other games, and music throughout the summer and early fall, along with casual food and wine, beer, cocktails, and non-alcoholic beverages.
Open daily from 7am-11pm from May to October, except when closed for private events (always check their website before going).
Food, drinks, and lawn games available Thursday 3-10:30pm, Friday & Saturday 12 noon-11pm, Sunday 12 noon-10:30pm, with live entertainment by local bands on the weekends.
Swings are open whenever Lawn on D is open.
Rules, in case you're wondering: No dogs, no outside alcohol, no outside food during concession hours.
Another option in this area is to sample one of the many restaurants in the Seaport and Fort Point areas of the South Boston Waterfront.
For Boston Harbor views while you dine, visit a Seaport restaurant. To try the creative cuisine of some of Boston's most innovative chefs, head to a Fort Point restaurant.
---
Fun Boston Tours for July
---
Shakespeare on the Common 2023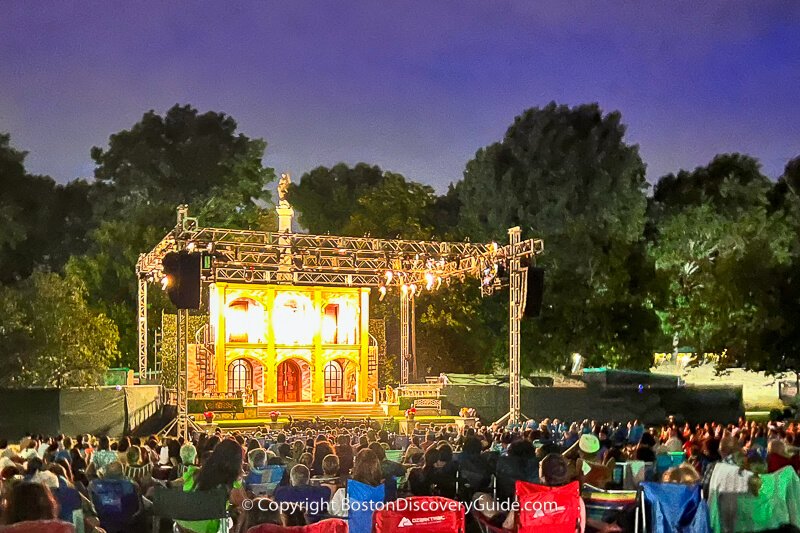 One of the most popular summer Boston events, Commonwealth Shakespeare Company presents Macbeth, the famous tragedy in which a toxic mix of political ambition, power, guilt, and paranoia collide in an unstoppable path to murder, madness, and death, in this year's Shakespeare on the Common.
Bring a blanket or low folding chair, perhaps a picnic basket, and get ready to enjoy a magical evening of free theater under the stars.
You can bring food (but please note, there's not enough room for a lavish picnic spread). Portable toilets are located near the tennis courts.
You can also rent a chair on site for $10 (prepay on Comm Shake's website). A small "Friends" section of beach chairs in a prime location are available in return for donations of $100 or more, made through the website.
When: July 19-23 and 25-30, plus August 1-6 at 8pm on all nights except for July 30, when the show starts at 4pm; performances normally run about 2.5 hours with no intermission. Heavy rain and lightening storms can cause cancellations for safety reasons; if in doubt, call the group's Weather Hotline at 617-362-7485.
Where: Boston Common, near the Parkman Bandstand
Getting there: By subway: Green/Red line to Park Street Station, or Green Line to Boylston; By car: Park under the Common in the Boston Common Parking Garage: pick up a discount coupon at one of the event tents (you'll spot them easily) - you'll save a bit on parking, and the garage donates the proceeds to CSC
Cost: Free
More information: Shakespeare on the Common
---
Mashpee Wampanoag Powwow - 2023
The 102nd annual Mashpee Wampanoag Powwow takes place on traditional tribal lands on Cape Cod just an hour south of Boston. Dancers, drummers, and other participants celebrate Mashpee Wampanoag culture during this 3-day historical festival with dancing, drumming, games, food, art, jewelry, and crafts. Special events include a Fireball spiritual healing ceremony on Saturday evening at sundown, and a traditional Clambake and crowning of the Mashpee Wampanoag Powwow Princess on Sunday afternoon.
When: July 1, 2, 3
Where: Mashpee Wampanoag Tribal Powwow Grounds, 483 Great Neck Road South, Mashpee, MA
Tickets: $12; Elders $10, free for children 4 and under
More information: 774-413-0520
The Mashpee Wampanoag Tribe is part of the Wampanoag Nation of people living in Southeastern Massachusetts and Eastern Rhode Island for more than 12,000 years.
Find out more about the Wampanoags from the Stone Age to the present by visiting the Mashpee Wampanoag Museum (414 Main Street, Mashpee, MA; website).
---
Free Friday Flicks at the Hatch Shell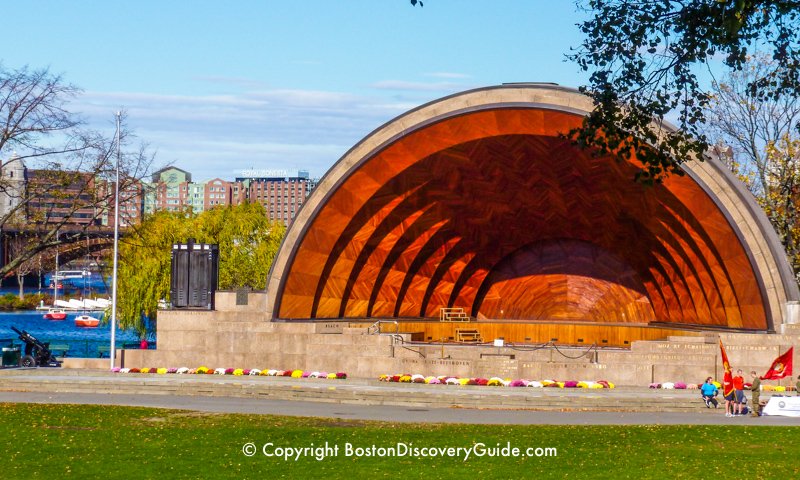 Enjoy free outdoor concerts at the Hatch Shell on Boston's Esplanade throughout July and August.
This series of family movies sponsored by WBZ NewsRadio 1030 and the Department of Conservation and Recreation (DCR) provides the perfect excuse to grab a blanket, pack a picnic, and head for an evening of entertainment under the stars.
The July movie lineup includes: (from last year - look for updates soon)
July 15 - Encanto
July 22 - Frozen 2
July 29 - Onward
When: Movies start at sundown (about 8:15 in July)
More information, including the movie schedule and weather cancellations: Call the Free Friday Flicks Hotline at 617-787-7200
---
Puerto Rican Festival & Parade
The annual Puerto Rican Festival takes place on July 28 (2pm-10pm), 30 (noon-10pm), and 31 (noon-10pm) on City Hall Plaza and features Puerto Rican music, entertainment, carnival rides including a ferris wheel, and vendors.  Free admission.  (to be confirmed)
On Sunday, July 28, the festival's huge Grand Parade kicks off at Franklin Park (1 Franklin Park Rd) at 12 noon, then continues down Seaver street to Blue hill and then returns to Playstead Park behind the Franklin Park zoo.
More information: https://www.puertoricanfestivalofma.org/
---
Greenway Open Market 2023
Greenway Open Market, sister market to SoWa Open Market (held Sundays in the South End), brings an eclectic mix of hand-made art, music, and locally produced products to Boston.
Look for the sea of white vendor tents - and get ready for some fun shopping, plus good eating at the gourmet food trucks.
With a different mix of vendors present each week, you never know what treasures you'll find! It's a quintessential Boston event.
When: Every Saturday from May 1 through October 31, 11am - 5pm
Where: Rose Kennedy Greenway, near Rings Fountain along the Wharf District parks (look for the Carousel and the vendors' white tents)
Nearest T station: Blue Line/Aquarium, or Orange and Green Lines/Haymarket
Cost: Free (but of course you'll probably be tempted to buy things
---
Summer in the City - 2023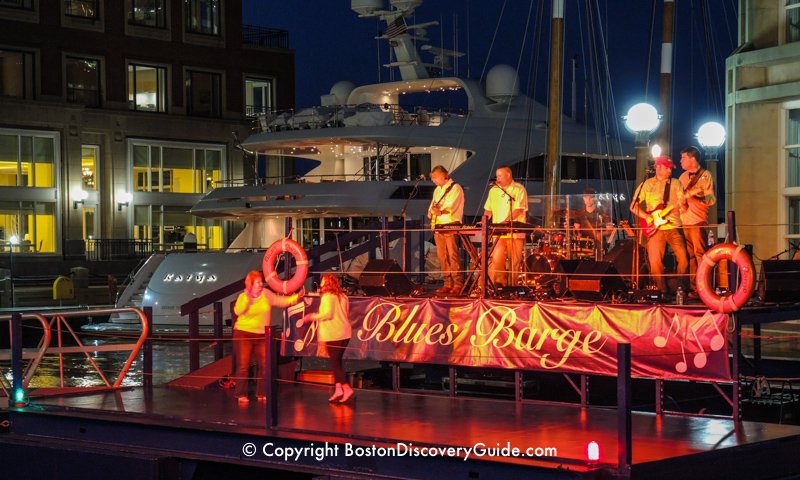 Boston Harbor Hotel's popular "Summer in the City" series lets you kick back and enjoy live music overlooking the waterfront throughout the summer until August 26. 
Listen to music between 6pm - 10pm as musicians perform on the Blues Barge on Tuesday (Pop-Soul), Wednesday (Rat Pack), Thursday (Blues Barge), and Friday (Movie Night).
Combine these events with a drink and dinner on the hotel's terrace overlooking the Harbor for the perfect summer evening.
More about Boston Harbor Hotel
Check reviews and rates for the Boston Harbor Hotel
---
New England Revolution at Gillette Stadium 2023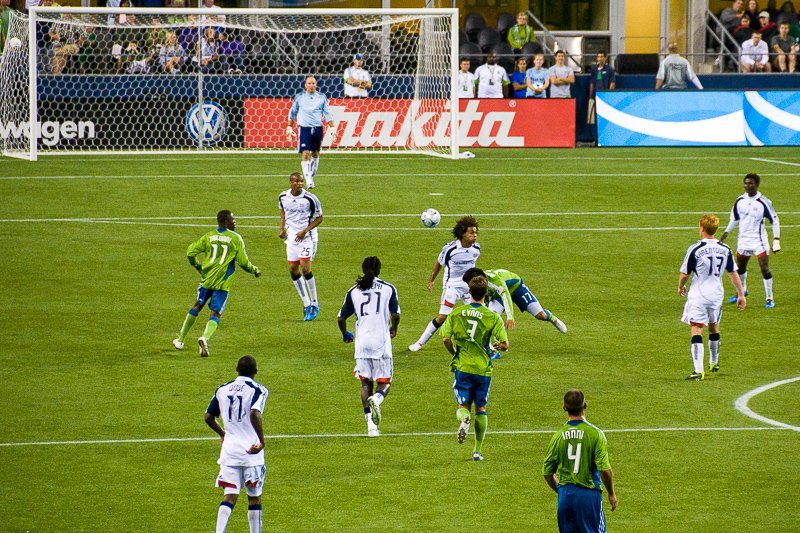 Watch our local soccer team, the New England Revolution, bring men's soccer to a new level at Gillette Stadium.
Only 1 home game is scheduled for July - so don't miss the chance to see the Boston area's professional men's soccer players in action!
Find New England Revolution's Game Schedule & Tickets
Getting there: Gillette Stadium from Boston
More at Gillette: See all events at Gillette Stadium
---
Hotels near Gillette Stadium
Going to Gillette Stadium for a game or concert or to Patriot Place for shopping?
Stay in one of these convenient nearby hotels:
Check out more hotels near Gillette Stadium
More hotels near Wrentham Premium Outlets and Gillette Stadium
---
2 Easy Ways to Save BIG in Boston
Find out more about Boston discount cards, and how they give you big savings on top attractions.
---
Looking Ahead to August Events in Boston
Shakespeare on the Common (continuing)
---
More Things to Do in Boston in July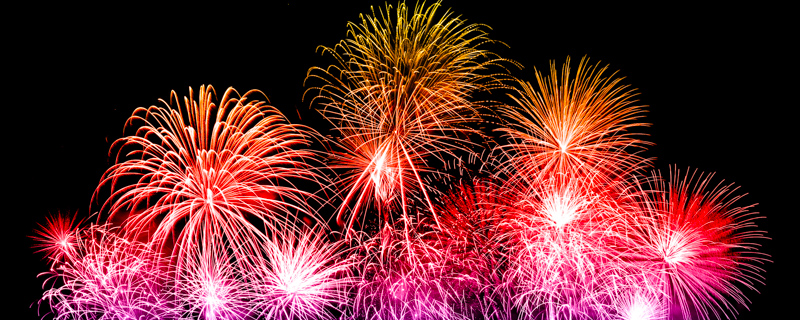 ---
Continuing during July
---
Boston Events Each Month
January | February | March | April | May | June | July | August | September | October | November | December | Year at a Glance
---
More Articles about Things to Do in Boston in July