Best Things to Do in Boston in July 2018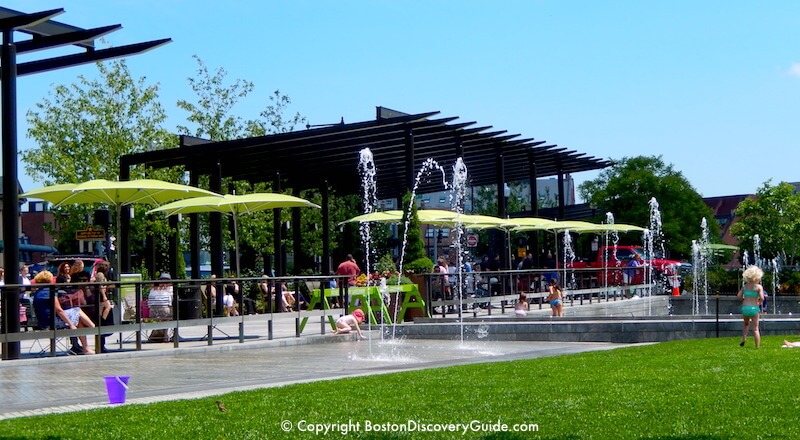 The most exciting things to do in Boston in July center around celebrations - fireworks and the Boston Pops concert for the Fourth of July, the huge Boston Harborfest with more than 200 events daily, and mega-star concerts.
Red Sox tickets are in huge demand for home games at Fenway Park. But keep in mind that some of the best things to do in Boston in July are free...enjoy the greenery in Boston's many gorgeous parks, catch the Friday Flicks on the Esplanade, and even catch a few rays on a city beach.
Hot July days and warm nights make this one of the best months of the year in Boston. So keep reading to find out about the most popular July activities.
1. Celebrate Independence Day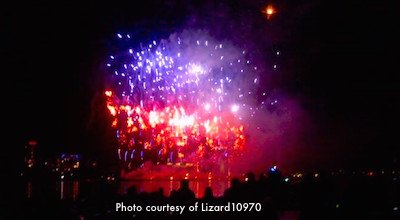 The July 4th Pops Concert and Fireworks Spectacular is Boston's biggest July event - as well as being the biggest Independence Day celebration in the country. If you're visiting Boston for this holiday, you'll have a memorable experience.
On both July 3rd and 4th, Conductor Keith Lockhart leads the Boston Pops Esplanade Orchestra in playing familiar favorites and rousing patriotic music, complete with real cannon fire, on the Boston Esplanade, a grassy embankment along the Charles River. On July 4th, a spectacular display of fireworks above the Charles River follows the concert. It's the quintessential summer experience in Boston, and if you've seen it broadcast on television - well, it's even more wonderful in person! For details, see the Boston Events Calendar for July.
---
---
2. Continue Celebrating - Boston Harborfest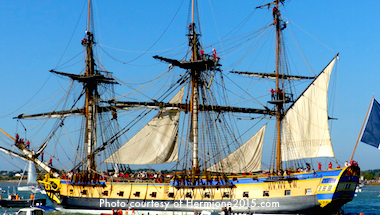 Harborfest gets bigger and better every year as more and more events and participants join this gala celebration of Independence, Boston, and summer. With over 100 events daily, you'll find something going on almost all the time.
Or, head straight to one of Boston's top seafood restaurants for choices beyond chowder - definitely one of the best things to do in Boston in July!
More about Boston Harborfest events and schedules
---
Boston Harbor Sightseeing Cruises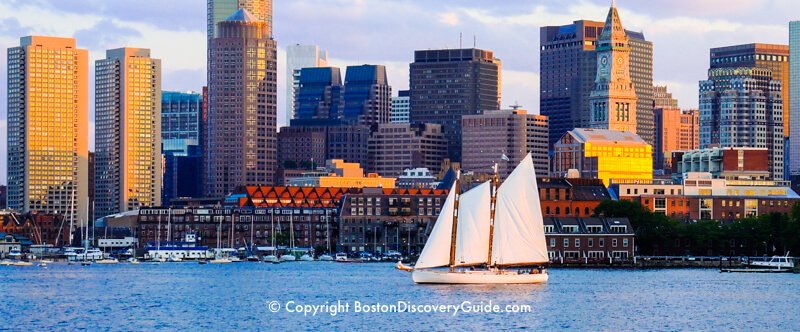 Tour Boston by boat - the best way to see the city!   Check out these fun sightseeing, music, and entertainment Boston Harbor cruises on the Yacht Northern Lights and Schooner Adirondack III:
---
3. Watch the Red Sox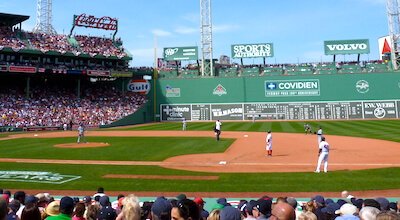 Winning or losing, the Boston Red Sox put on the best show in town. If you're visiting Boston and love baseball, attending a home game at Fenway is a "must do." No matter which team you root for, being in Fenway Park on a balmy evening is one of the best things to do in Boston in July.
If attending a game is the focus of your trip, you may even want to stay in one of the hotels near Fenway Park. You'll also find a great range of Fenway restaurants for a bite before or after the game, plus of course the famous Fenway bars and nightspots near the stadium.
Get Tickets:
Ticket Discount Code: TicketLiquidator - Enter TLSPRING to get $10 off orders of $350+
---
---
4. Go to a Summer Concert
Top musicians present some of the best Boston concerts of the year during summer months because of our outstanding outdoor venues - the Blue Hills Bank Pavilion, Gillette Stadium, and even Fenway Park. Take advantage of this opportunity to see superb performers in great locations.
Schedules & Tickets:
Ticket Discount Code: TicketLiquidator - Enter TLSPRING to get $10 off orders of $350+
---
5. Enjoy Shakespeare on the Common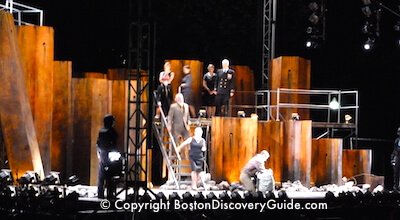 Boston's most popular free outdoor theater event is the annual production of Shakespeare on the Common.
Bring a blanket, buy something yummy to eat from one of the gourmet food vendors who arrive for the event, and enjoy the bard under the stars.
---
Hotels near Boston Common
---
---
More Fun Boston Activities for July
---
7. Tour & Cruise Boston with Half Price Tickets
A Boston tour or cruise gives you a fun way to see parts of Boston you might not see on your own.
Goldstar offers discount or half-price tickets for many tours and cruises, including brunch and dinner options:
- Charles River Sightseeing Cruise - Available through April 21 - Goldstar $5-$8; Full price $10-$15
- New England Revolution Soccer - Gillette Stadium - Goldstar $17-$42; Full price $40-$63
- Big Apple Circus - Assembly Row - Goldstar $12-$39; Full price $26-$63
- Chocolate 101 Class (& Sampling!) - @ Elephant & Castle Pub and Restaurant - Goldstar $25; Full price $40
- 1692 Salem Witchcraft Walk - Salem - Goldstar $6; Full price $12
- On Your Feet - Boston Opera House - Goldstar $54; Full price $119-129
- Cinco de Mayo Weekend Cruise - Spirit of Boston - May 5 (always sells out early) - Goldstar $10-$18; Full price $20-$35
- Tipsy Chocolate Tours - Boozy walking tour in Boston's Back Bay - Goldstar $48; Full price $68
- Stuart Little - Wheelock Family Theatre - Goldstar $13-$19; Full price $26-$38
- Shear Magic - Charles Playhouse - Goldstar $27-$37; Full price $56
- Tea Party Ships & Museum - Boston - Goldstar $19; Full price $30
- Stand Up Comedy at Nick's Comedy Stop - Boston - Goldstar $0 - $10; Full price $20
- The Donkey Show - Oberon, in Cambridge - Goldstar $15; Full price $35
- Caberet - Boston Center for the Arts - Goldstar $20-$30; Full price $60

Another fun and inexpensive option is the 15-minute ferry ride to the Boston Harbor Islands. Once there, you can explore, hike, take photographs, swim, bird watch, go on free tours led by the Park Rangers, picnic, and much more. You can even take another ferry to several smaller islands. You'll feel like you're in a different world - and you are!
Check out more options for Boston cruises
---
---
8. Cruise to Bermuda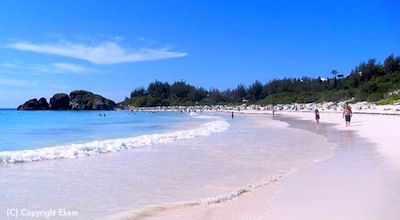 For a quick change of scenery from Boston during mid-summer, consider Bermuda.
Bermuda cruises from Boston depart weekly from April through September.
Boston's cruise port, the Black Falcon Cruise Terminal located in the South Boston Waterfront neighborhood, is so easy to get to, plus you can leave your car in their parking lot while you're away - or even better, get there on the T's Silver Line.
You have a couple of days each way to enjoy the amenities and ocean views from the 11-deck Norwegian Spirit cruise ship, plus 3 days on land in Bermuda to explore the famed pink-sand beaches, great shopping, and other fun activities.
---
9. Relax at a Local Boston Beach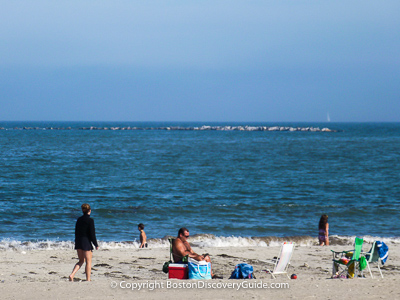 Boston Hotels with Outdoor Swimming Pools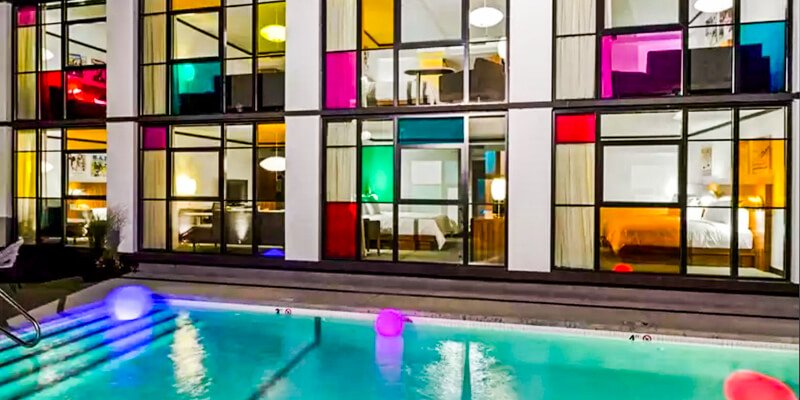 ---
10. Head to Gillette Stadium - and Shop Nearby
You'll find New England Revolution games as well as some of the biggest concerts of the summer at Gillette Stadium, just 22 miles south of Boston.
Patriot Place, where Gillette Stadium is located, is packed with interesting shopping, nice restaurants in all price ranges, the only Bass Pro Shop in New England, a cool sports museum, a theater, and much more. You can stay over at the spectacular Renaissance Hotel right next to the stadium.
Wrentham Village Premium Outlets are nearby - shop enough, and your savings can pay for the whole weekend!
Gillette Stadium & Tickets
Ticket Discount Code: TicketLiquidator - Enter TLSPRING to get $10 off orders of $350+
Tickets
See more Gillette Stadium games & concerts