Almost every flower in Boston seems to burst into bloom by Mother's Day, making this a perfect time to do something special with your Mom.
Here are our top suggestions for celebrating Mother's Day in Boston, which falls on Sunday, May 14 this year.
To help you choose, we've created a few Mom "profiles" - and then matched them to Boston Mother's Day events, activities, and other fun things to do together.
There's something here for everyone . . . and best of all, they're sure to please your mom - and you.
Pick the one that best fits your mom (and perhaps you too).
You'll both have fun - and you'll create new memories to savor for a lifetime.
Top photo: Golden tulips blooming in Boston's Public Garden on Mother's Day Weekend, (c) Boston Discovery Guide
Boston Discovery Guide is a reader-supported publication. When you buy through our links, we may earn a commission at no additional cost for you. Learn more
---
Treat Your Mom to a Relaxing Harbor Cruise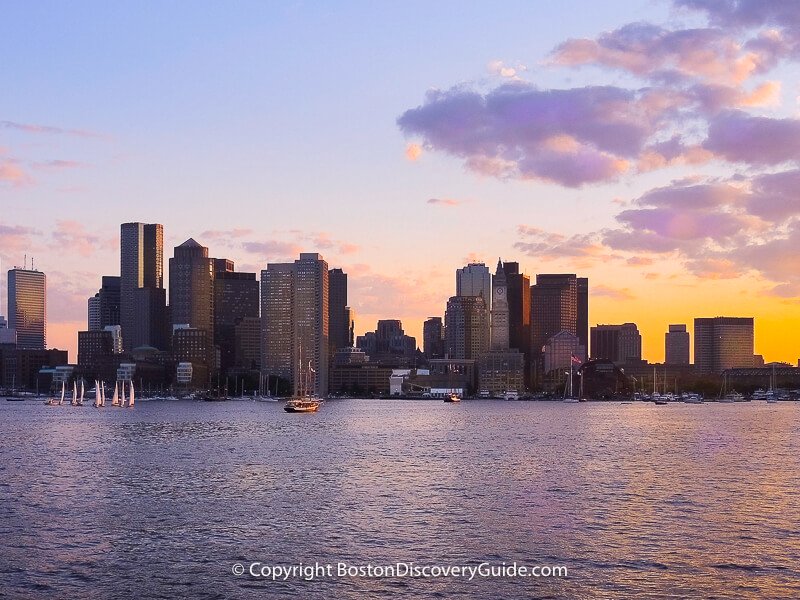 Your Mom: Busy helping others, sometimes stressed, and deserves a break
Treat her to a fun, relaxing cruise around Boston Harbor aboard the Northern Lights classic 1940s-style commuter yacht or Adirondack III, Boston's own "tall ship" schooner.
Enjoy the music, treat your mom to the beverage of her choice, and smile as you watch her relax and enjoy the great views.
Mothers Day Cruise
More Cruises on Mothers Day Weekend (Friday, Saturday, Sunday)
---
Take Your Mom for a Mother's Day Brunch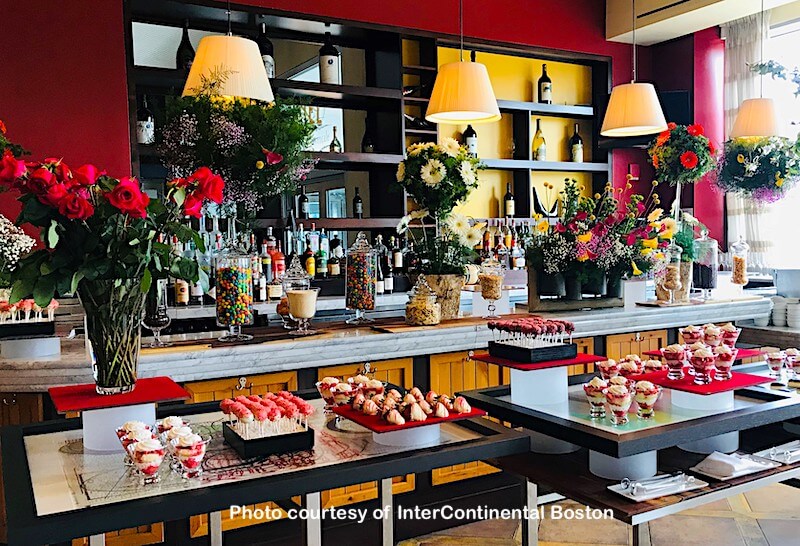 Your Mom: Loves to cook, and made a fantastic (or at least edible, most of the time) dinner every night when you were growing up.
But let's face it...that adds up to almost 10,000 dinners (not to speak of breakfasts, school lunches, and snacks for your entire soccer team) - So now, Mother's Day is her chance to enjoy a meal cooked by someone else.
Here are suggestions for where to treat her to a special Mother's Day brunch in Boston:
Miel Brasserie, at the InterContinental Boston - Treat your mom to a feast at Miel's Mother's Day brunch featuring an omelette station, lobster benedict, fruits, parfaits, French toast, a carving station, salads, and a sushi and seafood raw bar. Save room for the chef's dessert table!
Mamma Maria in Boston's North End - Northern Italian cuisine featuring local and New England products, with a seasonal menu that changes daily
Peregrine in the Whitney Hotel in Beacon Hill - Enjoy patio dining and Peregrine's Italian coastal specialties
Carmelina's in Boston's North End - Southern Italian cuisine at its finest, with one of the tastiest red sauces in the neighborhood. Go for the calamari fra diavolo, the pasta with Bolognese sauce, or the pesce al forno, and then head for one of the neighborhood bakeries for dessert
75 Liberty Wharf, Seaport neighborhood - So many great choices! Try the raspberry-stuffed French toast, the Seaport lobster toast, the Mediterranean platter, or the Nantucket Seafood Stew as you enjoy the views overlooking Boston Harbor
Q Restaurant in Boston's Chinatown/Theatre District) - Share Mongolian hot pot with your mom, or choose from the extensive Chinese entrees and sushi selections
Bistro du Midi in Back Bay - Start with a shellfish platter, and proceed to bavette steak and eggs or perhaps a croque madame, and you'll almost believe you're enjoying brunch in Paris - even though you're at this favorite Boston French restaurant overlooking the Public Garden
Stephanie's on Newbury in Back Bay - Relax with your mom on Stephanie's huge terrace overlooking Newbury Street, and treat yourselves to her favorite brunch classics: cinnamon monkey bread, a smoked salmon platter, New England clam chowder, and an ice cream sundae
Cafe Luna in Kendall Square, Cambridge - Take your mom to brunch (9am-4pm) and indulge her with steak and lobster eggs benedict, lemon ricotta pancakes, or the housemade corned beef hash with eggs; dine indoors or at a sidewalk table.
Forgot to make reservations?
Take your mom for Dim Sum in Boston's Chinatown - but pretend that's what you were planning all along. You'll see other mom/child couples doing the same thing.
More fun possibilities (because who doesn't love pizza?):
Join the Duckling Day Parade on Mother's Day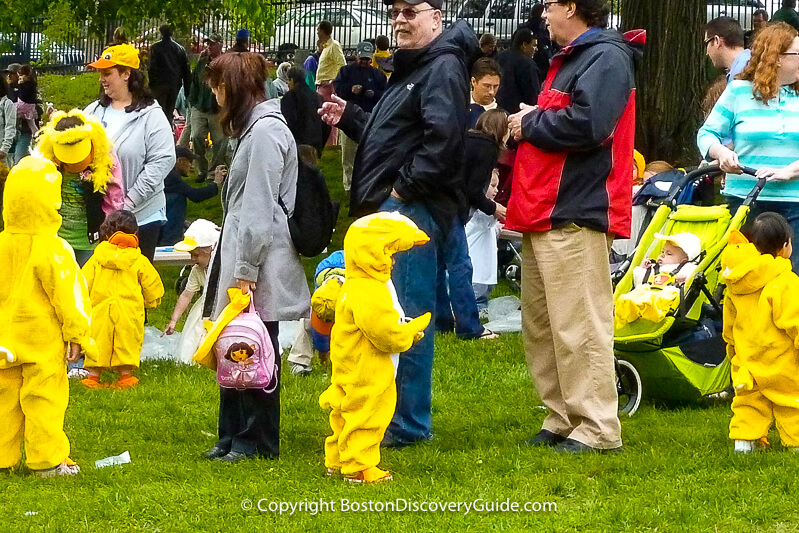 You are the Mom . . . The proud Mom of - let's be honest - the cutest, smartest, and most talented toddler on the planet
So dress your cutie in yellow duckling suit (Amazon offers a big selection) and join the Duckling Day Parade from Boston Common to the Public Garden - the perfect way to celebrate Mother's Day!
Pose by the Make Way for Ducklings statues for the perfect photo.
How to join the Duckling Day Parade
---
Picnic in the Arboretum on Boston's Lilac Day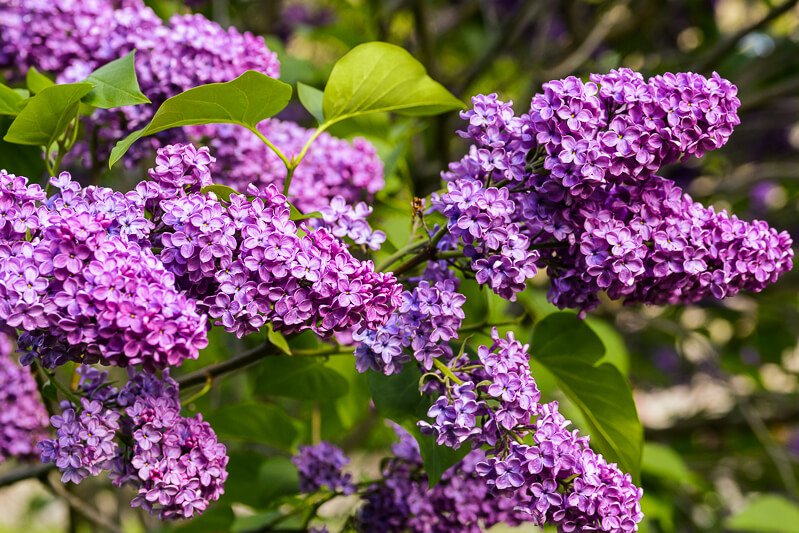 Your Mom: Loves the simple things in life, and lavender just happens to be her favorite color.
Pack a picnic lunch and blanket, and head over to Arnold Arboretum for Lilac Sunday, which always falls on Mother's Day.
Your mom will love the intoxicating scent of the many lilacs in full bloom.
---
Take Your Mom Shopping on Mother's Day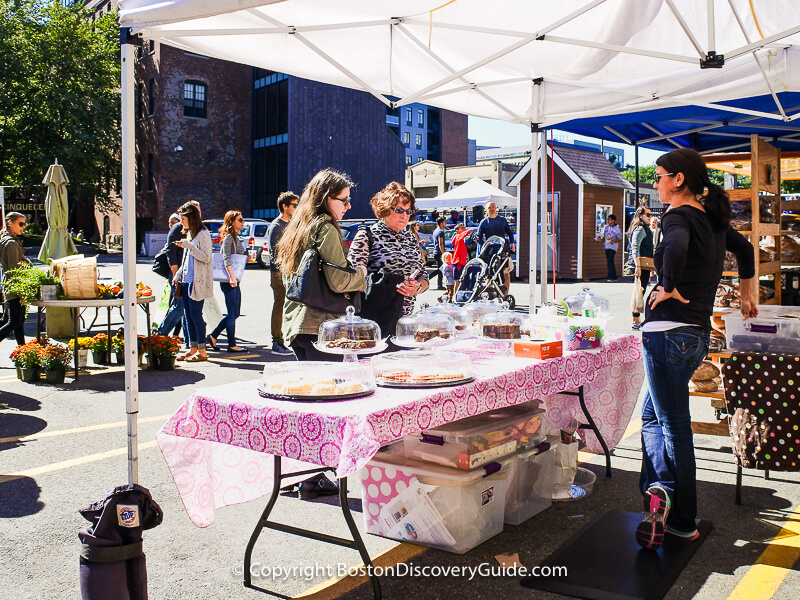 Your Mom: Loves shopping, but says she doesn't really need anything.
So for Mother's Day, get her something she wants.
Head over to SoWa Market, Boston's largest outdoor artisan market at 500 Harrison Ave in Boston's South End where you'll find a huge array of unique jewelry, clothing, crafts, gourmet foods, art, plus lots more.
Buy your mom something she loves! More about SoWa Open Market
---
You'll Aways Have Paris... for an Unforgettable Mother's Day Celebration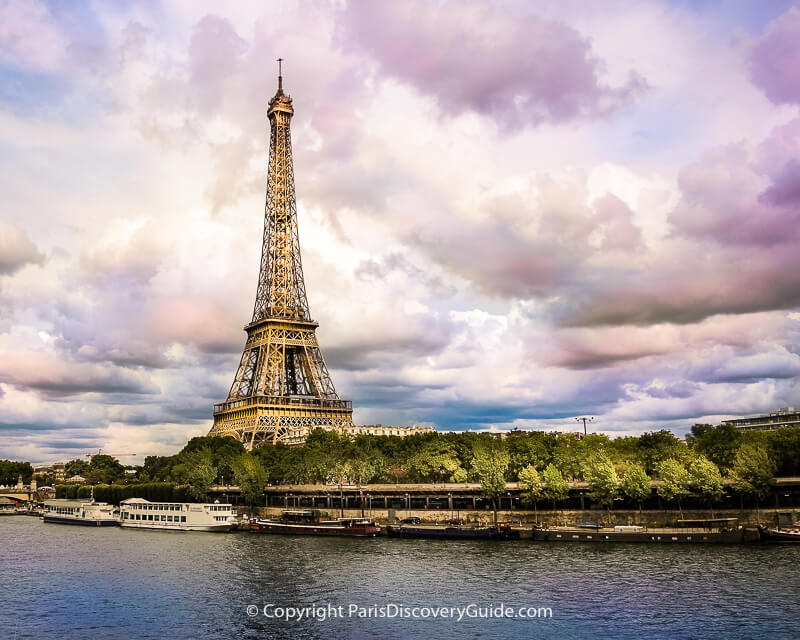 You: Once upon a time, the world's rudest teenager.
Your Mom . . . always (ok, almost always) patient and understanding.
Now (drumroll) . . . it's payback time.
Yes, it's a splurge.
But Paris is only 6 hours from Boston by air. Your mom deserves this!
Imagine your mom's face when you announce you're taking her to the City of Light for Mother's Day Weekend. Then imagine how much fun you'll have being there with her.
Find more information about what to do and see in Paris on our sister website, Paris Discovery Guide.
We even suggest some awesome ways to spend Mother's Day in Paris. So book tickets for you and your mom now!
Paris Tip: France celebrates Mother's Day on the last Sunday in May. So if you're coming from the U.S. where Mother's Day always falls on the second Sunday in May, you'll get to celebrate this special occasion with your mom twice.
---
More Things to Do on Mother's Day
Go watch the Sox at Fenway - But first, make sure your mom loves this idea as much as you do! Check the schedule and get tickets
Go for a Swan Boat ride in the Public Garden - This is especially fun if your Mom used to take you when you were little. Find out more
Take your mom to a show in Boston's Theatre District - Find out what's scheduled
Is your mom a craft beer fan? Try one of these unique experiences:
Pamper your Mom with a Spa Weekend - Consider these 3 luxurious Boston hotels with acclaimed on-site spas (tip - look for spa packages when you book):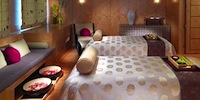 Boston's 5-star Mandarin Oriental Hotel boasts a luxurious spa with 8 private suites, pampering spa programs, and treatments designed to optimize physical and mental well-being.  
Book now at the Mandarin Oriental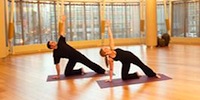 The Ritz-Carlton Boston offers a unique combination including state of the art spa indulgence, numerous fitness classes, and specially-designed Mind Body Studios within the spectacular on-site Sports Club/LA.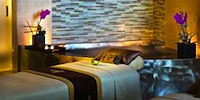 The Langham Boston's Chuan Body + Soul Spa brings together principles of traditional Chinese medicine and speciality treatments. Your mom will enjoy the great fitness facilities and indoor pool too.
Spending Mother's Day Weekend in Boston & Need a Place to Stay?
Use this map to locate Boston hotels and apartments in your favorite part of the city:
More about how to save on Boston hotels
More Articles about Fun Things to Do on Mother's Day in Boston