My family is visiting Boston in October, and we're thinking about getting the 7-day pass for Boston's subway. Is this a good deal? Or is there something better?
Also - if I purchase an unlimited weekly card for myself, can I use this same card to pay for my family? Or do we each need to purchase our own unlimited week card?
Thanks!
Erin
Top photo: Trolley on the T's Green Line at above-ground stop near Boston University, (c) Boston Discovery Guide
Boston Discovery Guide is a reader-supported publication. When you buy through our links, we may earn a commission at no additional cost for you. Learn more
---

Hi Erin -
Yes, the 7-Day LinkPass for Boston's subway (locally, we call it "the T") offers great value because it lets you ride the T as often as you want during the 7-day validity period. It saves you money if you make as few as 9 one-way trips in seven days.
You can also get a 1-Day Pass, which gives you unlimited travel for 24 hours and will save you money if you make 5 or more one-way trips within a 24-hour period.
Both the 1-Day and 7-Day Passes must be loaded onto either a CharlieCard (plastic card) or CharlieTicket (paper card).
You can use either the CharlieCard or CharlieTicket on the T (including Silver Line) and local buses. The CharlieTicket is also valid on Zone 1A of the Commuter Rail, the Charlestown Ferry, and the East Boston Ferry.
So for example, if you're planning to take the ferry to/from Downtown Boston to the Charlestown Navy Yard to visit the USS Constitution, then get the CharlieTicket.
Check current prices for the 7-day LinkPass & find out more about the T
Alternately, you can get single-trip CharlieTickets, the other option that makes sense for visitors.
Although stored-value plastic CharlieCards offer about a 20% discount per ride compared with the paper CharlieTickets, that adds up to only 1 or more trips.
For most visitors to Boston who plan to ride the subway several times a day, the 7-Day Link Pass is the most economical choice.
More about Boston's subway and fares
LinkPasses are limited to use by just one person. However, kids 11 and under ride free (up to two children per adult), so depending on the ages of your other family members, you may need fewer cards than you might expect.
For example, if you're traveling with another adult and 4 children aged 2, 4, 6, and 11, you'll need only two LinkPasses.
The T passes give you a lot of flexibility in your itinerary. Let's say that you're staying in a Back Bay hotel near Copley Square and are planning a day of sightseeing that includes walking along the downtown section of the Freedom Trail in the morning, having lunch at one of the Back Bay restaurants along Newbury Street, heading over to Fenway Park for a behind-the-scenes tour of the famous ballpark in the afternoon, and then going to the Theatre District to have dinner and catch a performance of Blue Man Group in the evening before returning to your Back Bay hotel. You can hop on the subway and easily travel between each of these points - but that's 5 trips right there, in just one day.
Although . . . something to consider is that Boston is a very walkable city. So unless the weather is bad, you may prefer to get to many destinations on foot, especially since there's usually a lot to see along the way.
Another popular option for getting around while sightseeing in Boston are the hop-on hop-off trolleys. They are LOTS of fun to ride, and kids love them - but most important, they take you around to see all of the city's top attractions. You can get on and off anytime you want to do some exploration on foot or stop for lunch.
A trolley-cruise combo is also available, and worth considering. The cruise is relaxing and fun, plus the captain points out top attractions from the water, giving you a unique view that you don't get on land.
A final sightseeing option to consider if you want to get around the city in a different way is a guided bike tour of Boston. The tours are designed for bike riders of all abilities, and they take you to see interesting attractions with stops along the way if you want to take photos.
Have fun in Boston!

Publisher, BostonDiscoveryGuide.com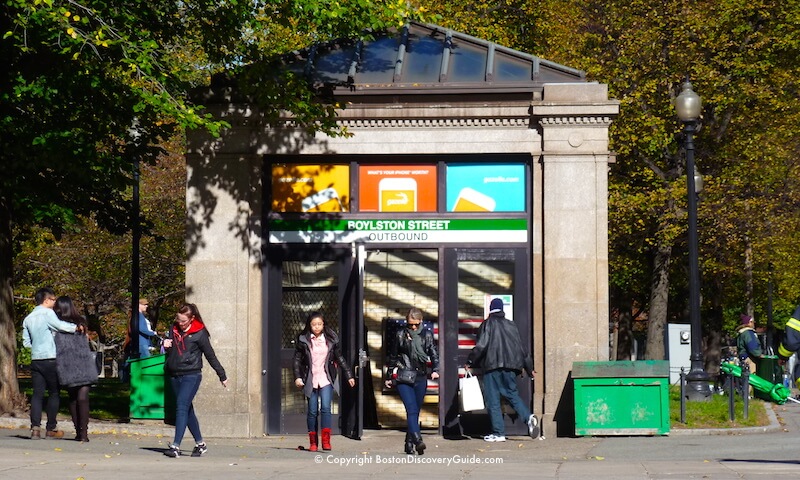 ---
Fun Ways to See Boston with Your Linkpass
---
Need a Boston Hotel or Apartment?
Use this handy map from Booking.com to find the perfect place to stay. Just enter your dates to find what's available, see the best rates, and make your reservations.
How to Get Around Boston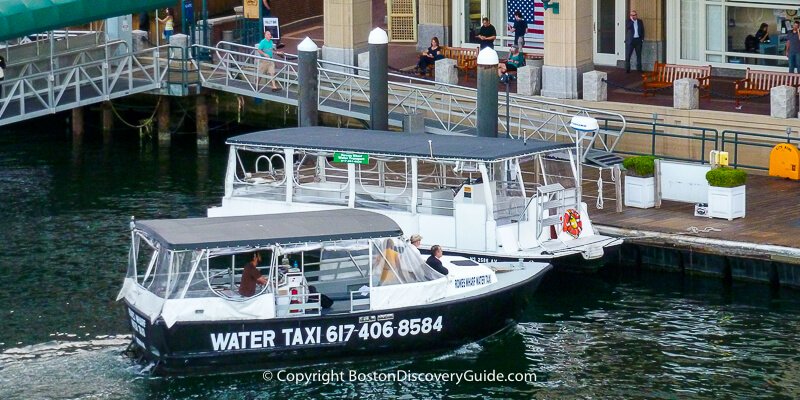 ---
More Articles about Getting Around Boston