Boston fall foliage tours take you to see brilliantly colored leaves in some of the most beautiful parts of the New England countryside near the city.
The advantage to taking one of these New England fall foliage tours is that someone else does the driving.
You get to relax and enjoy the spectacular scenery, take as many photos as you please, and explore selected locations.
Entertaining, knowledgeable guides, pick-up at selected hotels, and lots of photo opportunities give you the right mix of fun and convenience.
These tours are very popular and book up in advance - so to be sure of getting your preferred dates, do book early.
Boston Insider Tip: Fall Foliage Tours
Of course you see gorgeous foliage on these tours - but you also experience the scenic countryside outside of the city. If you're visiting Boston during September, October, or even early November, don't miss the chance to discover the beauty of New England!
Fall Foliage Sightseeing Tour from Boston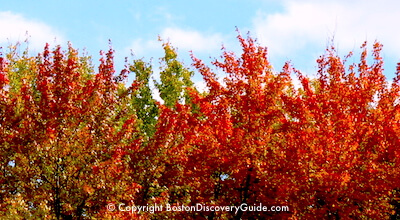 Vibrant reds and oranges blaze across New England's countryside as you tour through the rolling hills up northwest of Boston to picturesque New Hampshire villages.
A delicious buffet lunch in an old Yankee tavern, a visit to an apple orchard, a photo stop at traditional covered bridge, and views of beautiful Colonial churches, farms, and village greens show you the intoxicating beauty of New England.
If you've never seen this part of New England before, you owe it to yourself to spend a day immersed in the seasonal colors and tranquil landscapes of this unique part of the country. (And if you've ever wondered why those of us who live here put up with the cold winters, the beautiful places you'll see on this tour will show you why we do!)
Seasonal tour: September to October.
Autumn on Old Cape Cod Tour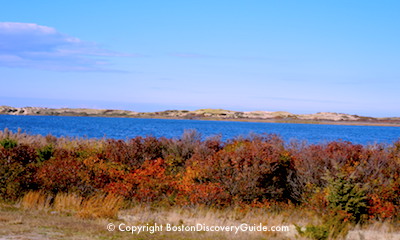 Always beautiful, Cape Cod in the fall glows with gold autumn foliage contrasting with blue water and skies.
You'll see entrancing views of quaint Cape Cod villages, visit the Whydah Pirate Museum, meet and greet archeologists, and even get to view secluded areas from the best vantage point of all: a sightseeing cruise around Lewis Bay. Seasonal tour: September to October.
Tickets for Autumn on Cape Cod Tour
For a different way to experience fall color on the Cape, join a small group day trip to Plymouth and Cape Cod where you'll visit historic Plimouth Plantation, home to the first English settlers, Plymouth Rock where the Mayflower landed, and the Heritage Museums and Gardens in Sandwich, the Cape's oldest town. The tour is offered from spring through late fall, so choose a date in late September, October, or November to see foliage colors at their peak.
New England Coastal Tour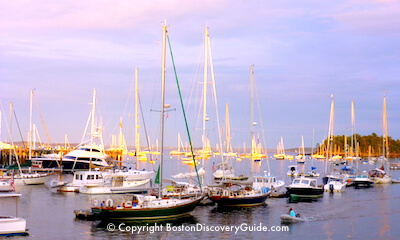 You'll see wonderful views of the dramatically beautiful New England coast from Boston to Maine, with spectacular foliage along the way.
Admire the beauty of New Hampshire's Hampton Beach, picture-perfect coastal Maine villages, the famous "Nubble Light" lighthouse - and then enjoy time on your own for lunch and shopping in Kennebunkport. Seasonal tour: June to October.
Tickets for New England Seacoast Tour
More Boston Tours for Fall Foliage
Want some more suggestions?
These interesting sightseeing tours take you outside of Boston through lovely areas filled with colorful foliage during late September and October:
Salem "Witch City" Tour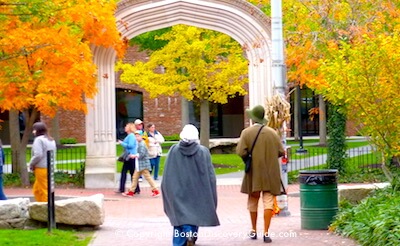 Travel up along Boston's beautiful North Shore to coastal Salem, home to several outstanding museums devoted to America's witch history and site of Halloween celebrations throughout October.
On the way back to Boston, your tour guide will take you through Marblehead where you'll see spectacular sea-side mansions and gorgeous views.
---
---
Cambridge, Lexington, and Concord Tour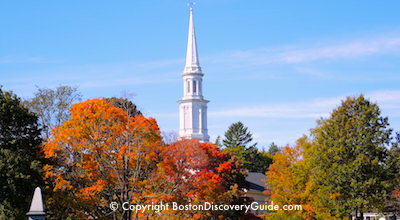 You'll see the beautiful countryside and towns west of Boston on this tour along the path taken by Paul Revere in 1775 when he warned Colonists that the British were coming. Fall foliage in Lexington and Concord is usually breathtaking. Offered through late October.
More about the Cambridge, Lexington, and Concord Tour
Boston Photography Tour of Beacon Hill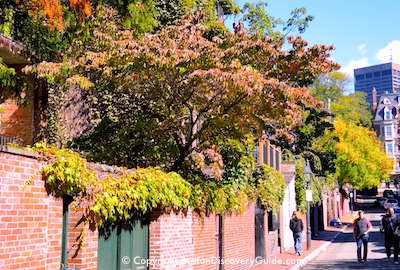 Want to stay in the city? Go on this walking tour of the beautiful Beacon Hill neighborhood across from Boston Common during late September and October (and most other months as well). Led by a professional photographer who will show you how and where to capture great images, the tour takes you through the historic neighborhood's iconic sites. As fall progresses, you'll see gorgeous golden foliage as well as lots of colorful Halloween and Thanksgiving decorations.
Find out more about the Beacon Hill Walking Tour
Or choose a walking tour with a personal photographer along the Freedom Trail or Back Bay - you'll see plenty of foliage on those tours as well.
More Boston Tours
Although not all of these tours specialize fall foliage, you'll see plenty of color when you take them during fall months.
Self-Guided Fall Foliage Tour from Boston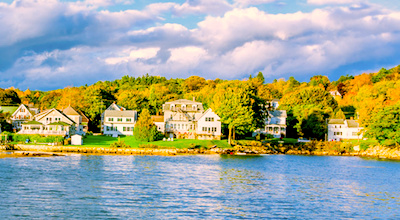 Plan your own fall foliage tour - rent a Zipcar for the day, and take the coastal route north from Boston along Route 1A.
At Beverly, detour onto Route 127 East to enjoy picturesque Manchester-by-the-Sea, Gloucester, and Rockport, and then pick up Route 133 and head north through Ipswich where you'll turn back onto Route 127 again.
Go for a walk along New Hampshire's Hampton Beach State Park.
Once you reach Maine (shown in photo), start looking for a road-side clam shack. Stop for a lobster roll and enjoy the gorgeous contrast between the blue of the Atlantic Ocean and brilliant coastal foliage.
Life is good!
More Tours & Cruises to See Fall Foliage in Boston . . . and Beyond
More Recommendations for You
How to Save on Boston Hotels
Check out all our tips on how to find discounts, deals, and promo codes for Boston hotels. Whether you're looking for bargain accommodations or want to pay less for luxury, we'll show you How to Save on Hotels in Boston.
More about how to save on Boston hotels