Boston cruises give you a fun and memorable way to view the city from the water, plus experience other exciting sights you'd get to see close-up from land: whales and dolphins, historic lighthouses, some of the more distant Harbor Islands, and even the close-up thrill of tall ship sails snapping in the breeze.
Most of Boston's river and harbor cruises do double-duty, letting you sightsee from a unique perspective while you enjoy a gourmet dinner or lunch, learn about the architecture and history of waterfront buildings from the on-board guides, visit Cape Cod and Provincetown, and see famous sights such as the Bunker Hill Monument and the famous War of 1812 battleship, the USS Constitution.
So pick your cruise, and get ready for an unforgettable experience!
Photo credit: Cruise boat on a sightseeing tour around Boston Harbor, (c) Boston Discovery Guide
Boston Discovery Guide is a reader-supported publication. When you buy through our links, we may earn a commission at no additional cost for you. Learn more
---
1. Whale Watching Cruises from Boston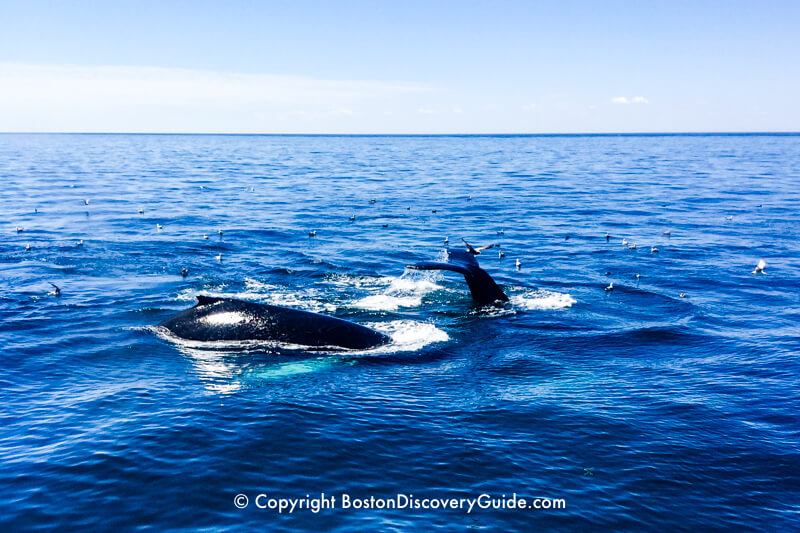 As your whale watching cruise boat whisks you 25 miles east of Boston to Stellwagen Bank Marine Sanctuary, you'll enjoy city skyline views and the beautiful Harbor Islands.
Although the cruise out to Stellwagen Bank is spectacular, once you're there, the real fun begins as you watch the whales, dolphins, other sea mammals, birds, and fish come close to your boat.
Not surprisingly, lots of Boston visitors consider these cruises to be the most exciting part of their trip to Boston.
More about Boston Whale Watching Cruises
Get your Whale Watching Cruise tickets now
---
2. Duck Tours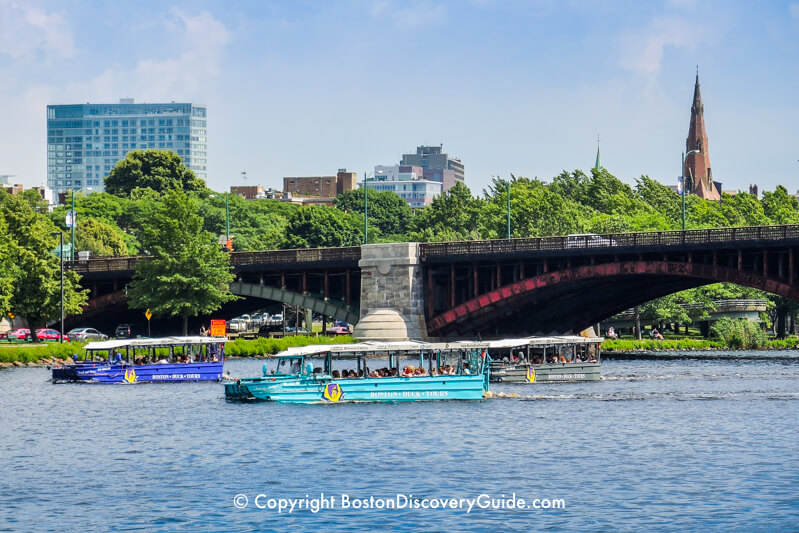 Boston Duck Tours take you on a unique adventure - a sure winner when you want to combine sightseeing with fun.
Part on land, part in the water, Duck Tours take you past iconic historic and modern sights. For many passengers, the best moment is when you splash down in the Charles River.
Reserve Your Duck Boat Tour Tickets Now
---
3. Boston Harbor Cruises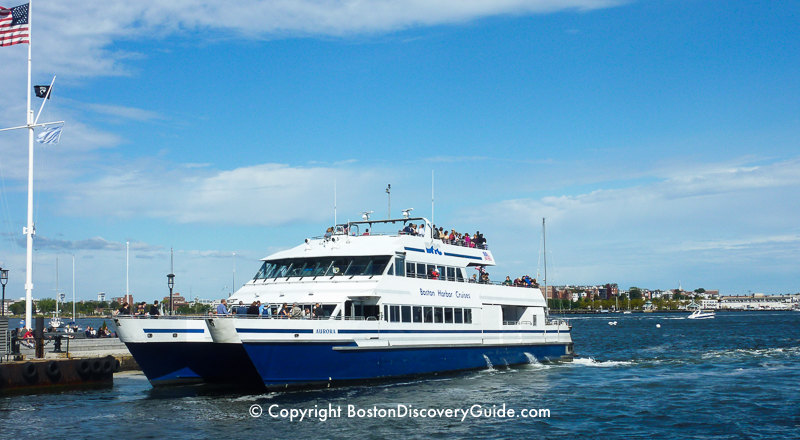 Boston Harbor cruises offer you a fun way to appreciate the city's most important historic sites, see the Harbor Islands, and enjoy city skyline views from the water.
If you have a special maritime interest, such as lighthouses or tall ships, Boston probably has a Harbor cruise that specializes in it. In addition, other cruises offer added entertainment, such as gourmet lunches and dinners, music and dancing, sunsets and romance.
Most Harbor cruises last from about 45 minutes to 2 or 3 hours. This means that even if you only have a small amount of time, you may still be able to fit one into your schedule.
Boston Harbor Cruises on the Northern Lights & Adirondack III
From historic sightseeing cruises to cruises with live music to special holiday cruises, the Northern Lights yacht and tall ship Adirondack III offer lots of Boston Harbor tour choices:
Popular Cruises on the Northern Lights:
Sailing on the Adirondack III
Adirondack III Day Sail - Enjoy cool breezes and the afternoon sun on this relaxing sightseeing sail around Boston Harbor and the Inner Harbor Islands - Starts May 3
Adirondack III Sunset Sail - Relax as the setting sun turns the sky brilliant colors - Starts May 3
Adirondack III 90-Minute Mimosa Day Sail - Soak up the sun on this afternoon sail through the Inner Harbor and Harbor Islands with drinks available for purchase at the bar - Starts July 1
Book Your July 4th Cruises Now!
More about Boston Harbor Cruises
Find out about Tall Ship Cruises
Fun Boston Harbor Cruises
---
4. Fall Foliage Cruises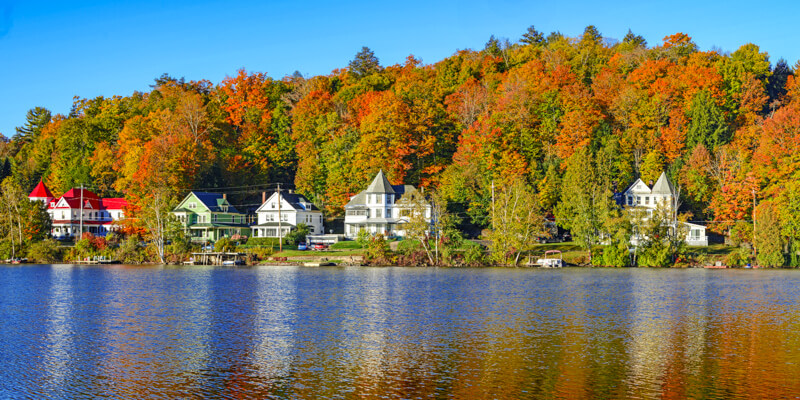 Some of us dream all year about going on a fall foliage cruise, and it's easy to understand why . . .
Imagine brilliant crimson, orange, and golden foliage splashed against the rugged New England and eastern Canadian coastlines, layered between brilliant blue sky and even bluer water.
Choose short 1-2 hour cruise, a day cruise, or something longer.
More about Boston Fall Foliage Cruises
View Fall Foliage Cruises from Boston & Reserve Your Tickets
---
5. Charles River Cruises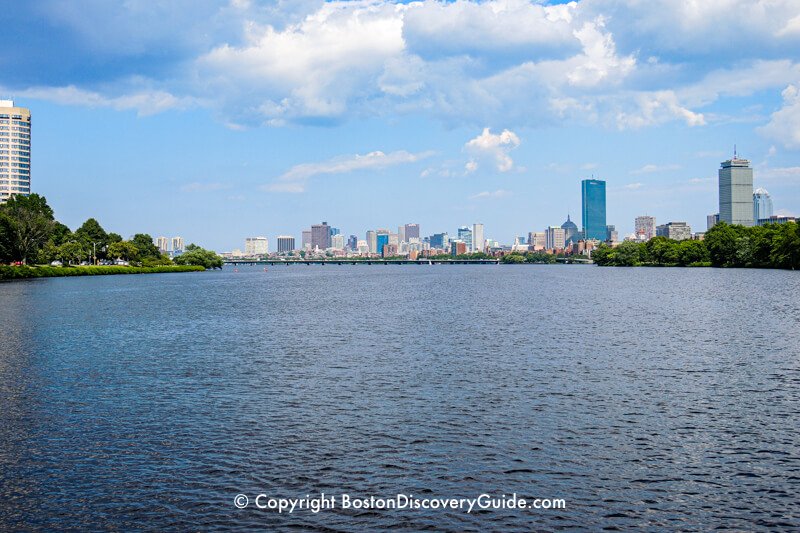 A Charles River cruise shows you Boston and Cambridge from a completely different perspective.
On the Boston side of the river, you'll pass Beacon Hill, Back Bay, and even one of Boston's quirkiest landmarks, a vintage Citgo sign.
And on the Cambridge side of the river, you'll view the Charles River Locks, MIT, Harvard, and the Museum of Science.
Four different Charles River cruise experiences are available ...
More about Charles River Cruises
---
6. Lunch, Brunch, & Dinner Cruises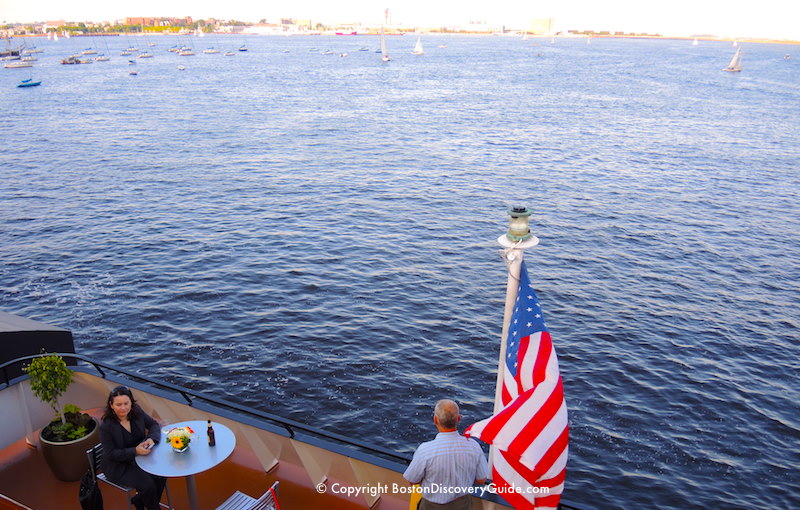 Going on a Boston dinner cruise - or lunch or brunch cruise - is a favorite with visitors and locals. Not only do you get to enjoy a delicious gourmet meal, but you'll also have a memorable voyage around the Harbor or Charles River and see gorgeous scenery.
On some Boston dinner cruises, you'll even enjoy DJs and dancing - or perhaps celebrate a special occasion such as Mother's Day or New Year's Eve.
Because of the size of the luxury vessels used for the dinner cruises, they happen year-round, regardless of the weather.
More about Boston Dinner Cruises
---
7. Cruises to Provincetown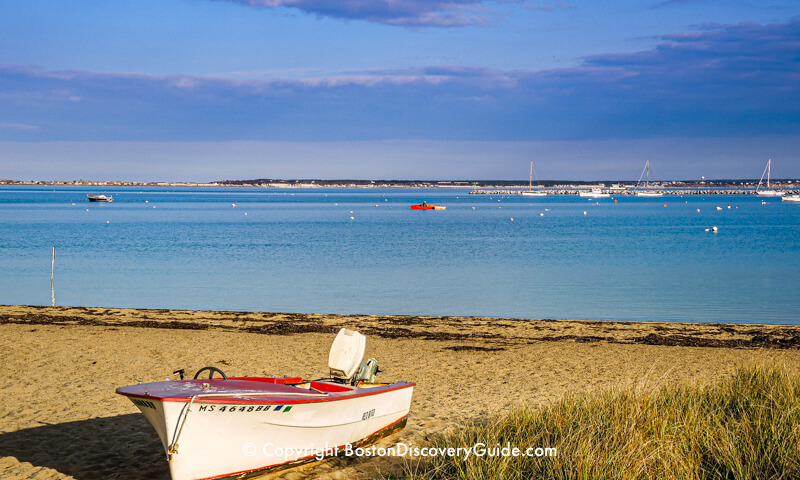 A whole different world awaits you on Cape Cod...and the easiest way to get there is by water.
Take a fast ferry from Boston to Provincetown, and you'll be stepping on shore in 90 minutes - perfect for a day trip or weekend away.
The Provincetown ferry runs daily from May - October, and you can choose from 2 convenient departure locations in Boston.
More about the Fast Ferry from Boston to Provincetown
Get Your Provincetown Fast Ferry Tickets Now
---
8. Cruises to Boston Harbor Islands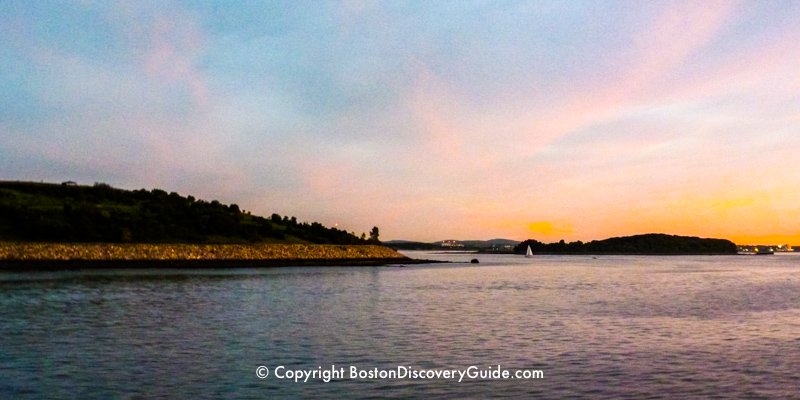 Hop on a Boston Harbor Islands cruise, and in only 15 minutes, you can be in another world.
The Harbor Island National Park Area includes 32 islands and 2 coastal peninsulas in Boston's Inner and Outer Harbors. You'll find a rich assortment of activities sponsored by local groups, a 19th century fort to explore, sandy beaches, hiking trails, campgrounds, and some of the best views of the Boston skyline.
More about Boston Harbor Island Cruises
---
9. Codzilla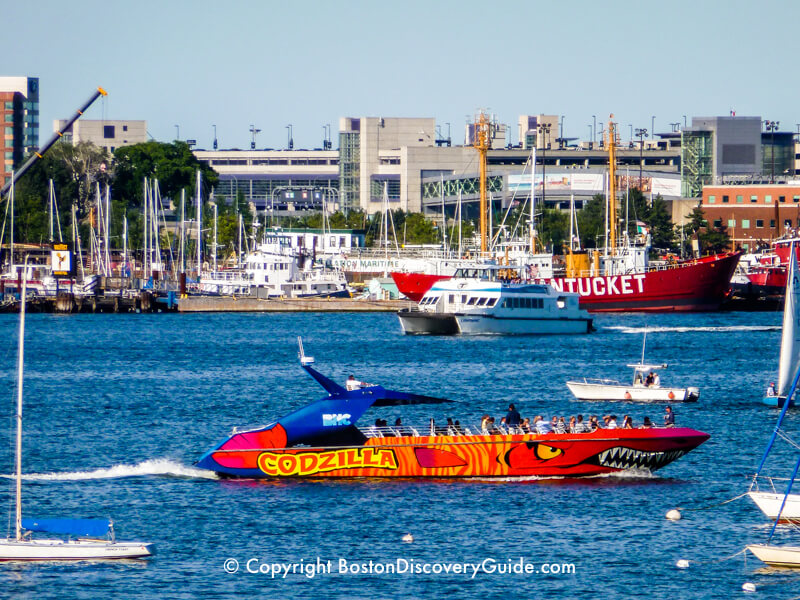 Speed, spinning turns, loud rock music blaring from 30 on-board speakers, and the crew's comic routine involving pirates and mutant cod make Codzilla the wildest ride in the Harbor.
The Codzilla cruise is not for the faint of heart - but if you're looking for a unique cruise experience that combines sightseeing with fun - and you don't mind getting wet - this may be the Boston Harbor tour for you.
More about Codzilla, the Terror of the Harbor
Get Your Codzilla Tickets Online
---
10. Tall Ship Cruises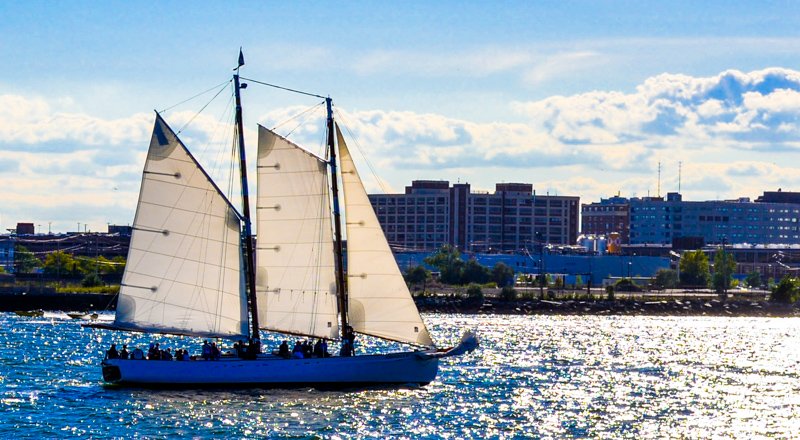 The romance of billowing white sails against blue skies . . . the excitement of being on an actual tall ship, a windjammer schooner that's a replica of mid-19th century Baltimore clippers . . . the adventure of exploring coastlines and open waters . . .
You'll get all of this and much more on a sailing cruise on Boston's own tall ships - the Adirondack III and the Liberty Fleet. You'll also find plenty of specialty cruises on these magnificent tall ships - Champagne cruises, sunset cruises, sightseeing tours of the coastline. So sit back, relax, and enjoy your memorable tall ship experience.
More about Tall Ship Cruises in Boston
Get tickets for a tall ship cruise (spring through late fall)
---
11. Vacation Cruises from Boston
Boston is a major port city, and a favorite departure point for vacation cruises going to Bermuda, other New England ports, Canada, the Caribbean, and even Europe.
The convenient location of Boston's Cruise Port makes going on these cruises especially easy and fun.
More about Cruises to Bermuda, the Caribbean, & Other Places from Boston
---
12. Water Taxis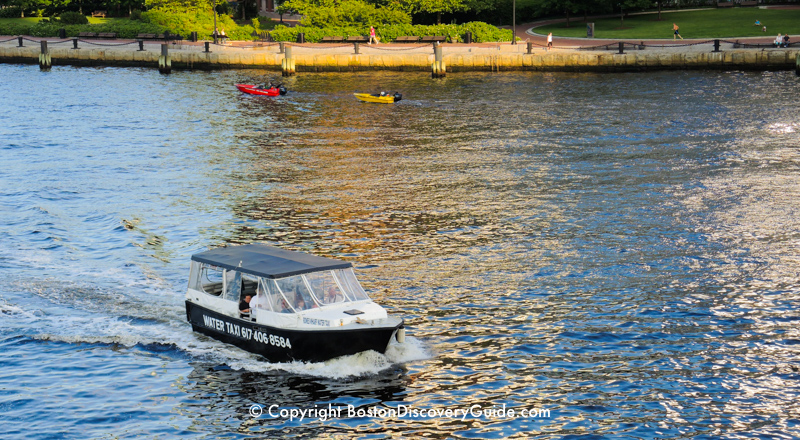 You're flying into Boston Logan Airport and staying in a Downtown Boston hotel . . . so you take a cab from the airport, right?
Wrong! You take a water taxi . . . faster, cheaper, and much more fun! And what a view!
Several companies provide on-call water taxi service to a number of locations - they'll zip you to most spots in 10 minutes or less. Think of this as one of the best Boston mini cruises!
---
More Fun Boston Cruises
---
More Boston Sightseeing Cruise Articles
---
Need a Boston Hotel or Apartment?
Use this handy map from Booking.com to find the perfect place to stay. Just enter your dates to find what's available, see the best rates, and make your reservations.