Where to Go Sailing in Boston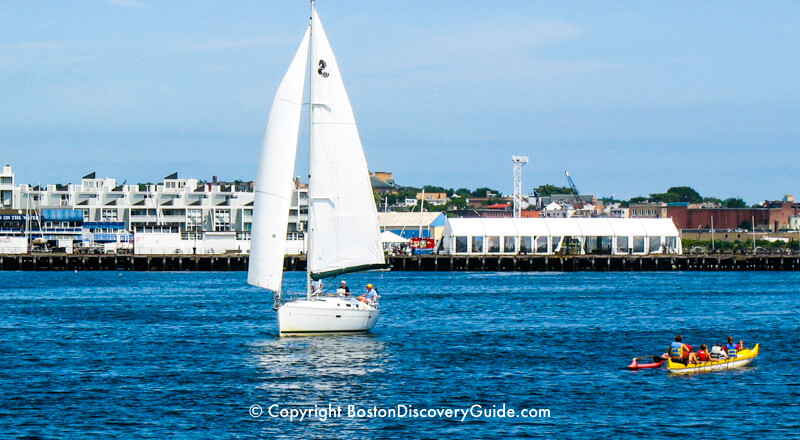 If you love sailing, Boston offers plenty of opportunities.
You can learn to sail, advance your sailing skills, arrange boat charters, and enjoy other water sports such as kayaking and windsurfing - even if you're here for just a short visit.
Boston's waterfront location puts sailing, kayaking, and boat charters right on your doorstep.
And if you visit the city frequently, you might even consider a membership in a Boston sailing club where you'll get boat access or fractional sailboat ownership.
Here are five Boston sailing school options, boat charters, and clubs for you to consider.
Have fun sailing and kayaking in Boston!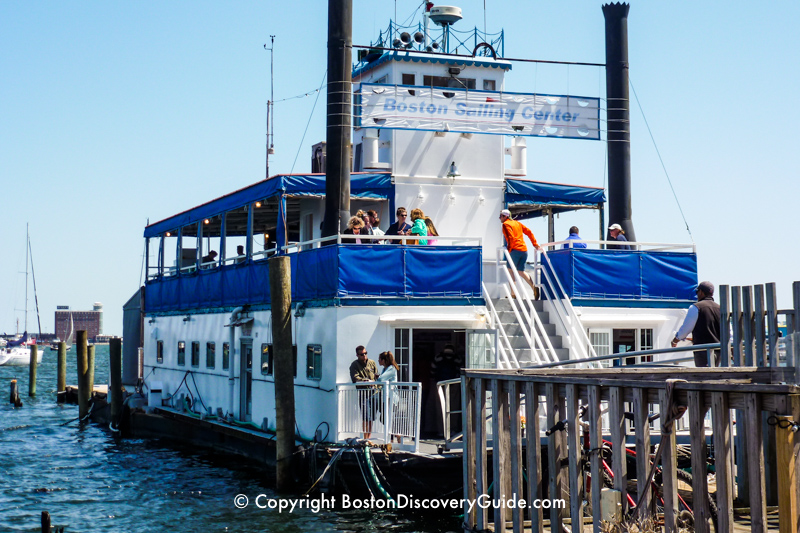 Headquartered in a Louisiana riverboat docked at Lewis Wharf on Boston Harbor in the North End, Boston Sailing Center offers a wide range of sailing lessons as well as club memberships.
Although Boston Sailing Center's regular season runs between May 1 and November 1, special "frostbite" racing, seminars, navigation classes, social activities, and even charters to warmer waters extend the fun through the winter months.
Founded in 1977, this popular Boston sailing club offers unrestricted sailing along the historic waterfront and around the Harbor Islands. You can also take overnight trips to Marblehead and longer trips to places like Provincetown on Cape Cod, Nantucket, Martha's Vineyard, and Newport.
A number of sailing club membership options are available, depending on the type of vessel you want. You also get boat privileges for a period of time after taking classes.
Serious sailors love the Boston Sailing Center memberships. In addition to basic sailing skills, classes include specialized skills, navigation, and racing. Individual lessons are also available. And for the ultimate experience, join one of the winter Caribbean cruises and learn to sail in tropical waters.
Boston Sailing Center's memberships and instructional programs are understandably geared toward residents, who of course will be here for more than just a few days. But if you're visiting for only a short time, you'll still find some attractive options here.
If you're visiting Boston, choose a 1-week class, or take a private lesson for just an afternoon to jump-start your skills and fit with your schedule.
You can also charter a boat for a reasonable hourly fee, which is based on the size and type of boat. A 2-hour minimum applies for Boston boat charters.
Finally, for not much more than you'd pay for chartering a boat for 3-4 hours, you can opt for a "mini" 30 day membership. The fee for this also depends on the size and type of boat. Even if you use the boat just for a day, you may come out ahead. And if you're going to be here for 30 days - well, that's even better!
Essentials: Boston Sailing Center
Location: Lewis Wharf, North End, Boston
More information: 617-227-4198; website
Nearest T station: Blue Line/Aquarium
Hotels near Boston Sailing Center:
More to Ways to See Boston from the Water
Boston Harbor Sailing Club
The Boston Harbor Sailing Club located on Rowes Wharf near the Boston Harbor Hotel offers lessons plus the possibility of boat rentals and charters. Rentals are available only when its 60+ vessels aren't being used by club members. To rent a boat, you need to have certifications or experience appropriate for the size vessel that you want to take out. You can also charter a boat.
Boston Harbor Sailing Club offers weekend and week-long lessons - so if you want to learn how to sail, check out their schedule and plan your Boston visit accordingly. And if you want the advantages of fractional sailboat ownership, check out their club options.
Club memberships, rentals, and lessons are all reasonably priced.
Essentials: Boston Harbor Sailing Club
Location: Rowes Wharf, Downtown Boston Waterfront
More information: 617-720-0049; www.bostonharborsailing.com
Nearest T station: Blue Line/Aquarium, Red Line/South Station
Hotels near Boston Harbor Sailing Club:
---
Boston Harbor Sightseeing Cruises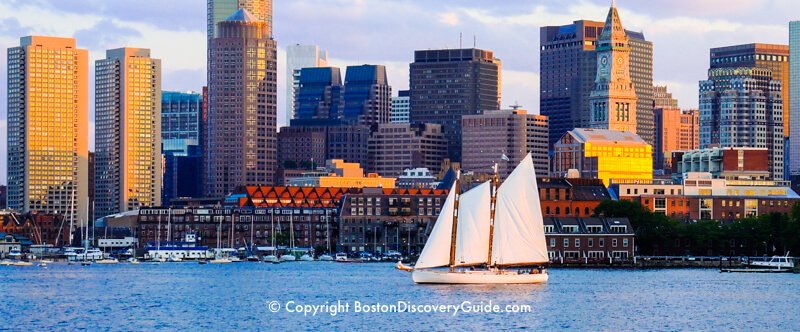 Tour Boston by boat - the best way to see the city!   Check out these fun sightseeing, music, and entertainment Boston Harbor cruises on the Yacht Northern Lights and Schooner Adirondack III:
Northern Lights Cruises:
Valentine's Day Cruises on the Adirondack III:
Romantic Valentine's Day Jazz & Champagne Tasting Cruise - Toast your valentine on this romantic evening cruise as you sample 3 champagnes and nibble on chocolate-covered strawberries while a live jazz band plays in the background - February 14, 15, 16
Galentine's Brunch Cruise - Celebrate friendship by inviting your BFFs on this mouth-watering 3-course brunch cruise for sightseeing around the Harbor, where you may even see porpoises and seals - adult beverages - February 15, 16
Adirondack III Sailing Cruises:
Community Boating - Sailing on the Charles River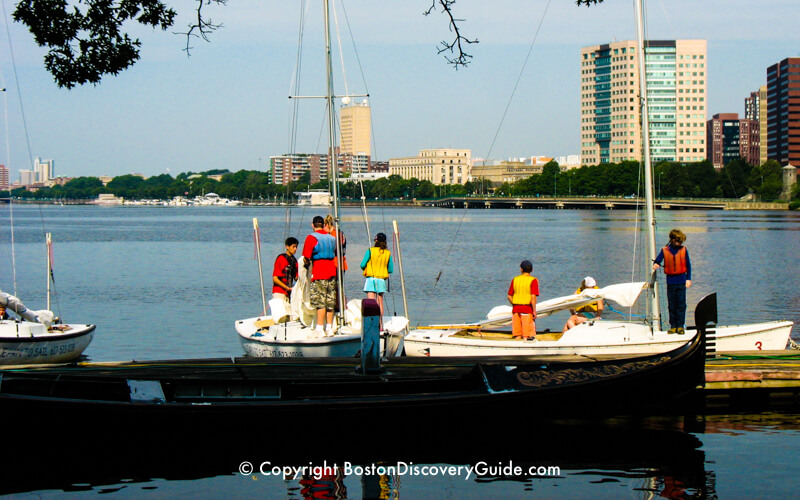 Community Boating, located on the Charles River Esplanade near the Charles Street pedestrian bridge, is one of the most popular programs in Boston for sailing, kayaking, and windsurfing lessons for kids and adults.
Begun in 1936, the non-profit Community Boating is also the largest, oldest, and one of the best public sailing program in the United States.
The Junior Program offers sailing, kayaking, and windsurfing classes from mid-June through mid-August for kids between 10 and 18, plus unlimited use of the boats. To participate, kids must be able to swim 75 yards.
All instructors are US Sailing Level One certified, and many of them learned to sail here themselves.
Kids pay a membership fee, and can take as many classes as they want. They also get unlimited use of the boats, windsurfers, and kayaks from 9am until 3pm Monday through Friday.
Membership fees for the Adult program for those are also reasonable, and give you unlimited classes and unlimited access to the boats from April 1 through October 31.
Essentials: Community Boating
Location: Boston Esplanade. Use the Charles Street footbridge to cross Storrow Drive, take the left stairs down the footbridge, and the Community Boating boat house is straight ahead.
Nearest T station: Red Line/Charles-MGH
Membership fees: Kids, sliding fee based on family income; Adult fees also reasonable - see website for details
More information: 617-523-1038; website
Hotels near Community Boating:
Boston Hotels with Outdoor Swimming Pools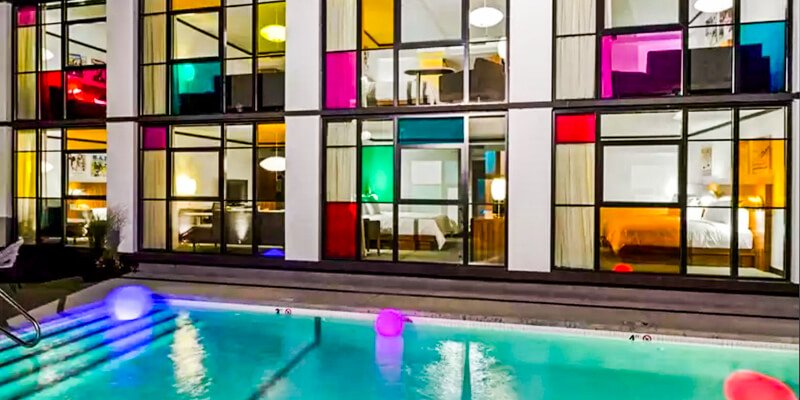 Black Rock Sailing School
The Black Rock Sailing School, located on Fan Pier in the South Boston Waterfront, offers both year-round lessons (including advanced class in the Caribbean during winter months), charter trips, and a couple of different club options to give you access to sailboats and yachts with the advantage of fractional sailboat ownership at a reasonable price.
Classes are small - typically a maximum of 3 people plus the instructor, although an exception will be made if two couples want to do a class together. Private lessons are also available. You can earn ASA (American Sailing Association) certification here.
Black Rock offers a variety of class formats, including 3-day "long weekend" classes designed especially for Boston visitors who make the classes the focus of their vacation here. Black Rock will also customize to fit your needs.
Essentials: Black Rock Sailing School
Location: Fan Pier, South Boston Waterfront
More information: 617-639-3016; www.blackrocksailingschool.com
Nearest T station: Silver Line/Seaport (connect at Red Line/South Station)
Hotels near Black Rock Sailing School:
Courageous Sailing in Charlestown Navy Yard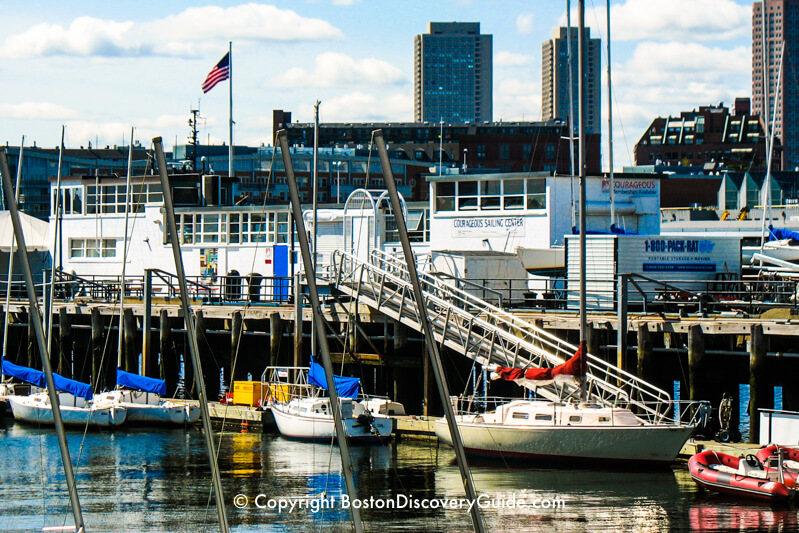 Most adult sailing classes take only a weekend (Saturday and Sunday) to complete, making this a great excuse for spending the weekend in Boston. If you need a customized curriculum, the staff is happy to discuss your requirements. Although Courageous Sailing offers membership options, you do not have to be a member to take a course.
Memberships are reasonably priced, and range from 1-day to annual options. The membership fleet is available for daily sailing from May through October, and frostbite racing continues through the winter.
Courageous Sailing's kids' programs emphasize learning sailing and water safety skills, along with building leadership skills.
If you are an experienced sailor visiting Boston for just a short time and want go explore Boston Harbor and the Harbor Islands, try the one-day option. Not a sailor? Not a problem! Courageous also offers charters for up to 4 people - call ahead to reserve.
Essentials: Boston Harbor Sailing Club
Location: Pier 4, Charlestown Navy Yard
Nearest T station: Orange and Green Lines/North Station (walk across the Charlestown Bridge)
Water Shuttle: Take the MBTA Water Shuttle from Long Wharf (Downtown) to Pier 3 in Charlestown and walk over to Pier 4
More information: 617-268-7243; website