You won't find many Boston hotels with outdoor pools ... but during warm summer months, nothing feels more glorious than a refreshing swim after a day of sightseeing!
Here's a guide to your options - including Boston hotels with roof top pools, hotels with indoor-outdoor atrium pools and roof decks, and a few budget and mid-range choices.
All of these hotels are centrally located, putting you close to Boston's top attractions, so you get city convenience, plus the joy of swimming and lounging outdoors under the sun.
Most of the seasonal pools are open between Memorial Day and Labor Day (weather permitting, of course).
To extend the season, choose a hotel with an indoor-outdoor atrium pool.
Top photo: Rooftop swimming pool - Photo credit: iStock.com/jodiejohnson
---
Verb Hotel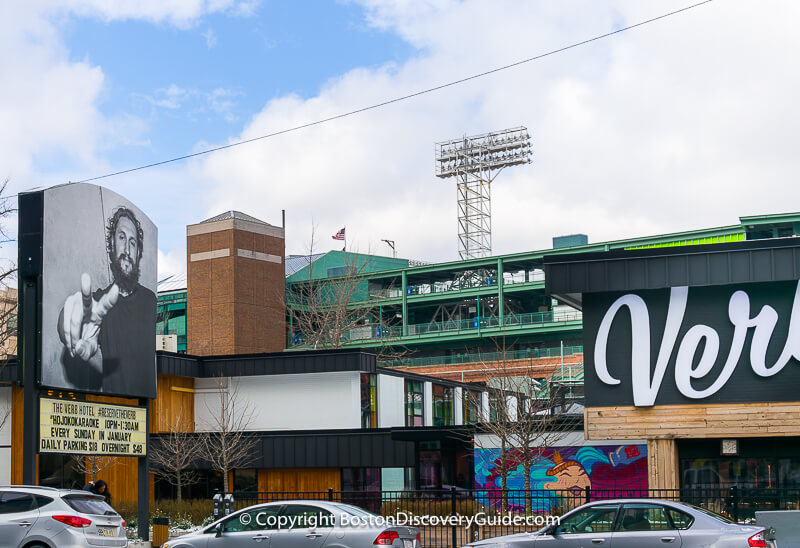 Verb Hotel, next door to Fenway Park, is the latest incarnation of the mid-century Fenway Motor Hotel, built in 1959.
Look for a cool vibe, lots of fun touches, and an inviting jewel-like pool.
What to do when you're not at the pool: With Fenway Park almost close enough to touch and lots of popular restaurants, sports bars, and House of Blues nearby, finding things to do won't be a problem. In fact, you may want to extend your stay!
What else is special: Boston's famous Victory Gardens and Kelleher Rose Gardens are across Boylston St in the Back Bay Fens park, only a 3-4 minute walk of the hotel.
Colonnade Hotel
Even without its roof top pool, the Colonnade would rank as one of Boston's best hotels - but the outdoor swimming pool on the hotel's 11th floor sets it apart.
Spend the day relaxing with a good book on one of the lounge chairs, go for a swim in the pool, and order lunch or a frosty drink at one of the umbrella tables. Occasional pool-side concerts add to the fun. You'll also enjoy the roof top views of the city.
What to do when you're not at the pool: Shop in Prudential Center across the street, explore nearby Copley Square, or take the Green Line to the Museum of Fine Arts and spend the day in the new Art of the Americas Wing.
Insider Tip: Get a complimentary room upgrade, Internet access, and a welcome gift by signing up for the Colonnade's "I Prefer" loyalty program - and earn points toward stays in over 400 other independent luxury hotels around the world.
---
Revere Hotel - No More Pool
The glitzy Revere Hotel used to sport a rooftop pool opening out onto a huge and glamorous deck with panoramic city view from its perch above the 7th floor.
Unfortunately for lovers of outdoor pools, Revere Hotel closed theirs during the pandemic.
But the good news is their rooftop deck and lounging area is now even larger.
As a bonus, the Revere's 356 contemporary guest rooms and suites put you right in the middle of Boston's Theatre District near Boston Common, and just a 5-10 minute walk away from Back Bay, the Downtown Financial District and Waterfront, and iconic historic sites along the Freedom.
---
Boston Sightseeing Cruises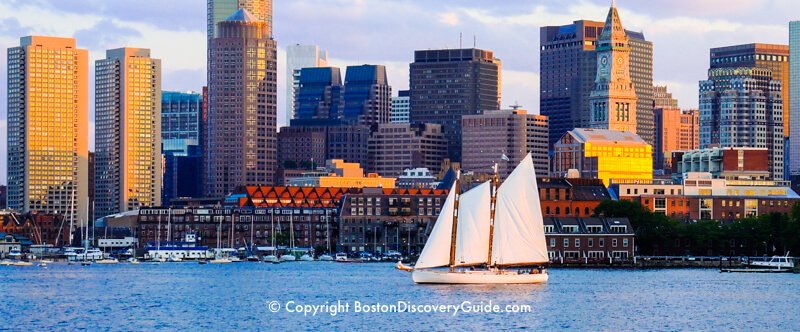 Tour Boston by boat - the best way to see the city!   Check out these fun sightseeing, music, and entertainment Boston Harbor cruises on the Yacht Northern Lights and Schooner Adirondack III:
Popular Cruises on the Northern Lights:
Sailing on the Adirondack III
Book Your July 4th Cruises Now!
---
Midtown Hotel - Closed
The Midtown Hotel was one of the most affordable Boston hotels with outdoor pools - in fact, it was also one of Boston's great bargain hotels.
Now, unfortunately, the property has been sold and will most likely be replace by a tower of condos or apartments, hopefully with retail and dining spaces on the ground floor.
---
Sheraton Boston Hotel
The Sheraton Boston Hotel's pool is one of the largest in the city - fitting, since the Sheraton is also Boston's biggest hotel.
What makes this pool special, aside from the luxurious size, is the retractable glass roof. Located on the Sheraton's 5th floor, the indoor-outdoor pool connects to the rooftop sun deck. You get the best of both worlds!
Although the Sheraton is best known as a high-end business hotel, it's also a family-friendly favorite - in part because of this wonderful pool. Savvy Boston-area and New England families come here for weekend getaways.
What else is special: Great location - the hotel connects directly to the Hynes Convention Center and Prudential Center. Newbury Street shopping is just steps away.
---
Wyndham Boston
The heated outdoor swimming pool behind the Wyndham at the edge of the West End neighborhood near Beacon Hill is one of Boston's best kept hotel secrets, and adds to the appeal of this mid-range hotel.
Although the pool is on a roof, it is not at the top of the hotel, which means the pool is nicely secluded but offers some great street views.
More to enjoy at the Wyndham Boston: Great location midway between TD Garden and the antique shops of Beacon Hill; convenient car rental pickup/dropoff on the garage level if you need a rental car just for the day; tons of very good restaurants nearby; short 6-7 minute walk to Faneuil Hall/Quincy Market and to Boston's North End.
---
Westin Boston Waterfront
The soaring glass atrium roof over the Westin Boston Waterfront's heated indoor pool gives you the feeling of being outdoor year-round.
More to enjoy at the Westin: All the trendy new restaurants, nightspots, and boutiques lining the nearby South Boston Waterfront - the city's trendiest neighborhood.
---
One More Indoor-Outdoor Pool near Boston: Royal Sonesta Cambridge
Just across the Charles River from Boston is another atrium-style hotel pool too good to miss.
Cambridge hotel Royal Sonesta's large indoor-outdoor pool has a retractable roof, and glass walls that slide open to the seasonal sun deck.
What else is nearby: The Royal Sonesta overlooks the Charles River and across the street from the Cambridgeside Galleria shopping mall. The Museum of Science and MIT are also nearby.
---
Things to Do in Boston during Your Stay
---
Boston Hotel Map
Enter your travel dates to see hotels available rooms and get accurate rates.
More about how to save on Boston hotels
More Boston hotels: All Boston Hotels - Newest Hotels - Deals & Discounts - Theatre District Hotels - Boston Marathon - Hotels with Fireplaces - Seaport/CruisePort Hotels - New Year's Eve Packages - Inexpensive Hotels - Discount Hotels - Back Bay Hotels - Hotels near Fireworks - Hotels with Outdoor Pools - Faneuil Market Hotels - Valentine's Day Packages - Downtown Boston - Park & Fly - Airport Hotels - Waterfront - Seaport - Historic Downtown - Suburban Hotels - Fenway Park Hotels - TD Garden Hotels - Gillette Stadium Hotels - Financial District
---
More Articles about Boston Hotels
Need a Boston Hotel or Apartment?
Use this handy map from Booking.com to find the perfect place to stay. Just enter your dates to find what's available, see the best rates, and make your reservations.