Boston Hotels near the St Patrick's Day Parade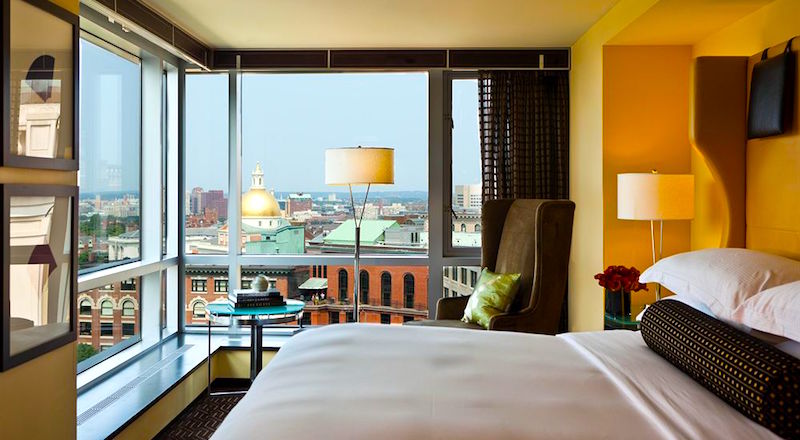 My wife and I are coming to Boston for St. Paddy's Weekend and need to book our hotel.  We're going to the St. Patrick's Day Parade in South Boston and also have tickets to the Dropkick Murphys concert at House of Blues.  Can you recommend convenient hotels close to both the parade and HoB?  We're flying into Logan so we won't have a car.
Appreciate your thoughts!
Tim, Silver Springs Maryland
---

Hi Tim,
Sure, I'm happy to recommend several Boston hotels that would give you easy access to both the St. Patrick's Day Parade and House of Blues. 
As you probably already know, the parade takes place in the South Boston neighborhood, and HoB is in the Fenway neighborhood, right across the street from Fenway Park.  Even though Boston is fairly compact, these locations are not within easy walking distance of each other.
A car would not benefit you for these events, so you are better off not having one. Streets anywhere close to the parade site will be blocked off. Although there are parking garages and lots near Fenway (and House of Blues), they are pricey; in addition, driving in the HoB/Fenway Park area is a pain during events such as St Patrick's Day because the streets will be full of pedestrians - plus streets may be blocked there as well.
Fortunately, the parade's kick-off site on West Broadway is close to the subway's Red Line/Broadway station, and House of Blues is only about a 10-minute walk, maybe less, from the Green Line's Kenmore Station.
So planning to take public transportation is your best approach for picking a hotel location. Here are two different strategies for you to consider:
1) Choose a hotel close to Park Street Station on the edge of Boston Common, where the Red Line and Green Line intersect. You can easily get to both the parade and House of Blues locations on public transportation. Bonus to this central downtown location: you're close to lots of other popular attractions - the Freedom Trail, Faneuil Marketplace, Beacon Hill, plenty of restaurants and bars, including those around TD Garden where you'll using find plenty of green beer and celebrations.
2) Or ... choose a hotel in the South Boston Waterfront neighborhood, which puts you within walking distance of the parade route. To get to House of Blues, you could take the subway (Silver Line to South Station, transfer to the Red Line and go to Park Station, transfer at Park to the Green Line and get off at Kenmore - it sounds more complicated that it really is). If you don't want to walk to/from the parade (depending on which hotel you choose, it will be about a 15-20-minute walk), you could alternately take the Silver Line to South Station, transfer to the Red Line, and get off at the Broadway Station. Bonus to this location: you're close to the sizzling nightlife along the South Boston Waterfront, plus you can take a water taxi to/from your hotel and the airport.
Hope this helps! Have a wonderful time in Boston!

Publisher, BostonDiscoveryGuide.com
Here are suggestions about hotels to consider in each location:
---
---