My wife and I are coming to Boston for St. Paddy's Weekend and need to book our hotel. 
We're going to the St. Patrick's Day Parade in South Boston and also have tickets to the Dropkick Murphys concert at House of Blues. 
Can you recommend convenient hotels close to both the parade and HoB?  We're flying into Logan so we won't have a car.
Appreciate your thoughts!
Tim, Silver Springs Maryland
Top photo: Cambria Hotel, close to the start of Boston's St Patrick's Day Parade
Boston Discovery Guide is a reader-supported publication. When you buy through our links, we may earn a commission at no additional cost for you. Learn more
---

Hi Tim,
Sure, I'm happy to recommend several Boston hotels that would give you easy access to both the St. Patrick's Day Parade and House of Blues. 
As you probably already know, the parade takes place in the South Boston neighborhood, and HoB is in the Fenway neighborhood, right across the street from Fenway Park. 
Even though Boston is fairly compact, these locations are not within easy walking distance of each other.
A car would not benefit you for these events, so you are better off not having one. Streets anywhere close to the parade site will be blocked off. Traffic near the blockaded areas will be gridlocked.
Although there are parking garages and lots near Fenway (and House of Blues), they are pricey; in addition, driving in the HoB/Fenway Park area is a pain during events such as St Patrick's Day because the streets will be full of pedestrians - plus streets may be blocked there as well.
You could take a shared ride service like Uber or Lyft - but remember the gridlocked traffic? Public transportation will be faster, and significantly cheaper.
Fortunately, the parade's kick-off site on West Broadway is close to the subway's Red Line/Broadway station, and House of Blues is only about a 10-minute walk, maybe less, from the Green Line's Kenmore Station.
So planning to take public transportation is your best approach, and that's where you should start when picking a hotel location. Here are 3 strategies for you to consider:
1) Stay in South Boston at the new Cambria Hotel next to the Broadway T (subway) station and next to the parade route. Pick a spot to watch the parade just a few steps from your hotel. To get to House of Blues, take the T (hop on the Red Line at Broadway; at Park Station, transfer to the Green Line and get off at Kenmore). See more details below
2) Choose a hotel close to Park Street Station on the edge of Boston Common, where the Red Line and Green Line intersect. You can easily get to both the parade and House of Blues locations on public transportation. Bonus to this central downtown location: you're close to lots of other popular attractions - the Freedom Trail, Faneuil Marketplace, Beacon Hill, plenty of restaurants and bars, including those around TD Garden where you'll using find plenty of green beer and celebrations.
3) Or ... choose a hotel in the South Boston Waterfront neighborhood, which puts you within walking distance of the parade route. To get to House of Blues, you could take the subway (take the Silver Line or walk to South Station, which puts you on the T's Red Line; at Park Station, transfer to the Green Line and get off at Kenmore). If you don't want to walk to/from the parade (depending on which hotel you choose, it will be about a 15-20-minute walk), you could alternately take the Silver Line to South Station, transfer to the Red Line, and get off at the Broadway Station. Bonus: you're close to the sizzling nightlife along the South Boston Waterfront, plus you can take a water taxi to/from your hotel and the airport.
Take a look below at a few of the hotels in each of these categories.
Hope this helps! Have a wonderful time in Boston!

Publisher, BostonDiscoveryGuide.com
Learn about other St Patricks Day events in Boston
Learn about the best places to watch the St Patrick's parade and see a map showing the route
Top photo: Cambria Hotel near Broadway subway station in South Boston
---
Cambria Hotel near Broadway Station
The most convenient hotel to the parade!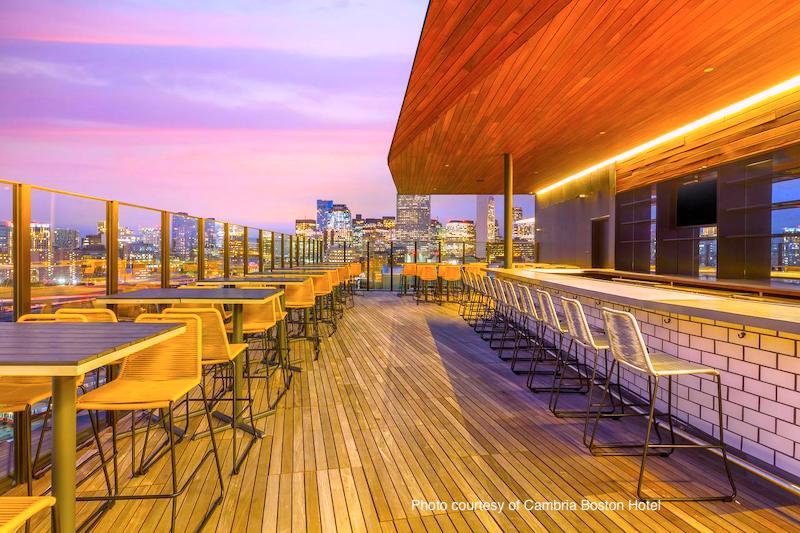 The sparkling new Cambria Hotel (90 Tremont St.) located directly across from the Red Line's Broadway Station puts you in the perfect spot to see the parade.
Enjoy free wifi, craft beer at the bar, and relax on the rooftop terrace. Look for lots of luxury touches and affordable rates.
Check reviews and find best rates
---
Boston Hotel Map
Enter your travel dates to find more Boston hotels near the House of Blues and St Patrick's Day parade:
More about how to save on Boston hotels
---
More Fun Things to Do in Boston on St Patrick's Day
---
Hotels near Park Station (& Boston Common)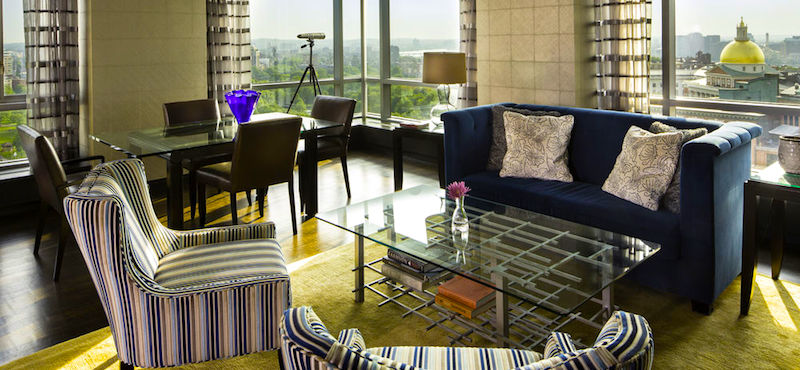 The Hotel AKA Boston Common (90 Tremont St.) occupies a wonderful spot just a block from the Park Station. You'll love the views overlooking Boston Common, Beacon Hill, and the golden dome of the Massachusetts State House.
This stylish 4-star boutique hotel emphasizes luxury and personal service.
---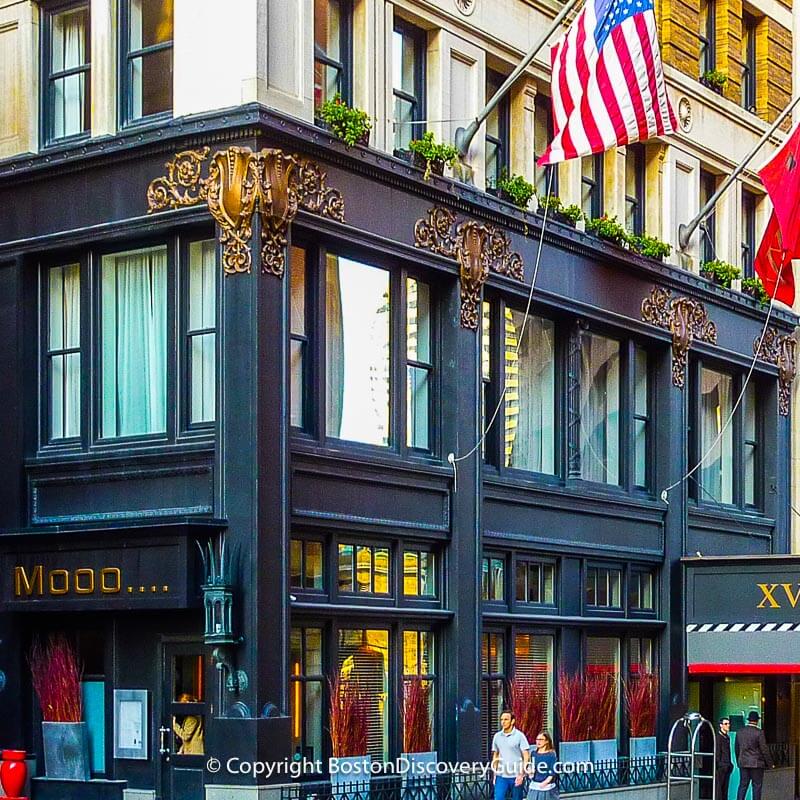 XV Beacon (15 Beacon Street) caters to well-heeled business travelers and their families. If you're visiting in March, you may still get to take advantage of lower winter rates.
This luxury boutique hotel is only slightly farther from Park Street Station than the AKA Boston Common, and is just around the corner from Faneuil Hall Marketplace in the most historic part of downtown Boston.
Check reviews and get best rates
---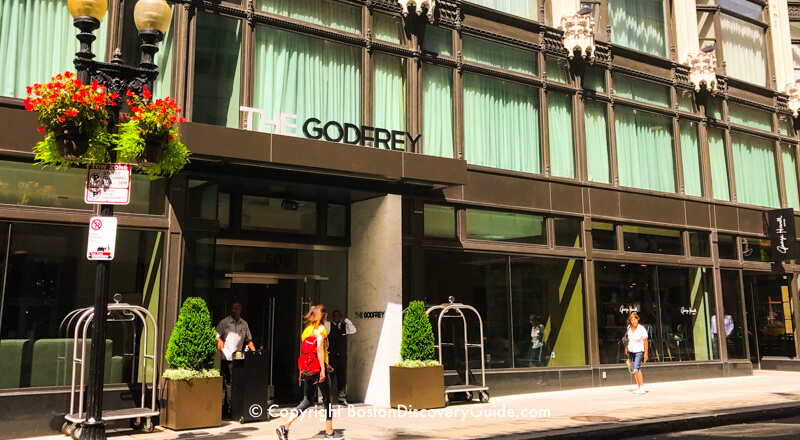 The stylish Godfrey Hotel (505 Washington Street), located in newly-trendy Downtown Crossing at the heart of the Theatre District, combines sophistication with luxury. In addition to its own top-rated restaurant and coffee bar, it is surrounded by excellent places to eat (Chinatown begins just one block away) and enjoy a drink.
It is also just one short block from Boston Common and the Green Line's Boylston station, about a block closer than Park Station.
Check reviews and get best rates
---
South Boston Waterfront Hotels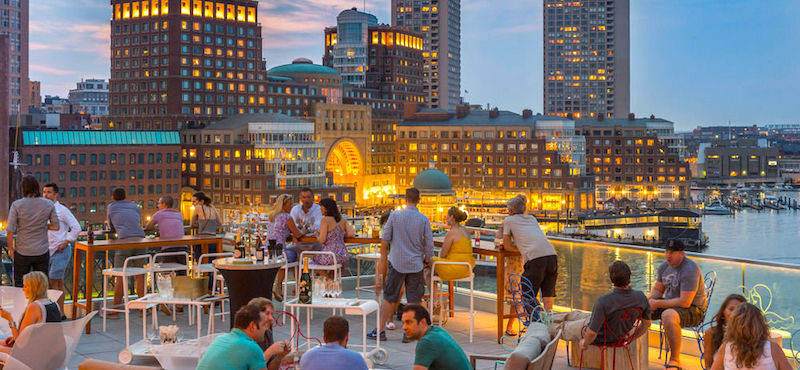 The Envoy offers lovely public spaces and plush, comfortable guestrooms - but let's cut to the chase about what makes it a special place to stay: the rooftop patio bar overlooking Boston Harbor and the city skyline. It is glorious.
Like other hotels in this über-trendy neighborhood, it's a little less than a mile from the parade starting point, but it's an easy walk and you'll find a lot to enjoy among the restaurants and bars overlooking the harbor ... if you can pull yourselves away from the hotel's rooftop patio.
Check reviews and find best rates
---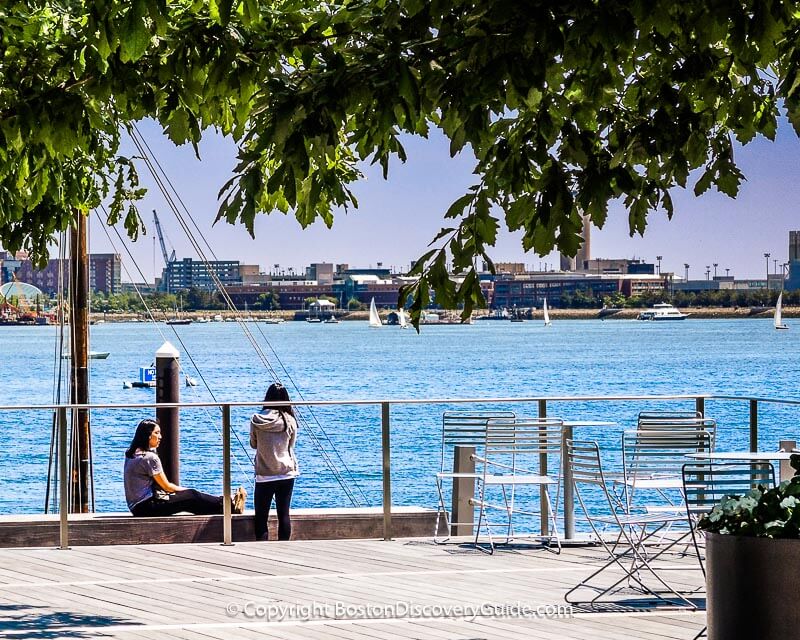 The upscale Seaport Hotel hosts many conferences and caters to business people who expect the best - which means you'll find a lot to enjoy.
There's a Silver Line stop in front of the hotel, which makes getting to South Station (ie, the Red Line) super-easy.
Check reviews and get best rates
---
A quirky, modern ambiance gives the Residence Inn - Seaport a super-cool vibe, fitting in this neighborhood of old brick warehouses repurposed for some of the city's most innovative businesses.
This hotel is in the Fort Point section of the neighborhood, known for its excellent chef-owned restaurants, artist studios, and galleries.
Check reviews and get best rates
---
Related Articles about Celebrating St Patrick's Day in Boston
---
More about Sports in Boston