Catch your favorite bands and performers at House of Blues Boston, site of some of the best blues, rock, and soul concerts in Boston.
Offering some of the most popular music shows in Boston, House of Blues is also part of the lively nightlife scene around Fenway Park but also maintains a family-friendly venue.
Located directly across from Fenway Park, House of Blues seats 2,500 plus another 350 in the private lounge area, making it one of the city's true mid-sized venues.
If you like to hear music in spaces more intimate than TD Garden or Gillette Stadium but larger than the many Boston and Cambridge bars, HOB fits the bill perfectly.
House of Blues address: 15 Lansdowne Street
Nearest T (subway) station: Green Line B, C, D/Kenmore
Top photo: House of Blues Boston across the street from Fenway Park, (c) Boston Discovery Guide
Boston Discovery Guide is a reader-supported publication. When you buy through our links, we may earn a commission at no additional cost for you. Learn more
---
House of Blues Boston Concert Schedule & Tickets
House of Blues Boston packs a lot of performances into its year-round schedule, with artists on stage almost every night.
Concert Schedule & Tickets:
Enter DISCOVERY10 to save 10% on TicketLiquidator & TicketNetwork tickets. Good through 12/31/24.
See complete concert schedule for House of Blues Boston
House of Blues Boston's lighting and sound systems are designed to make fans feel as close to the performers on stage as possible.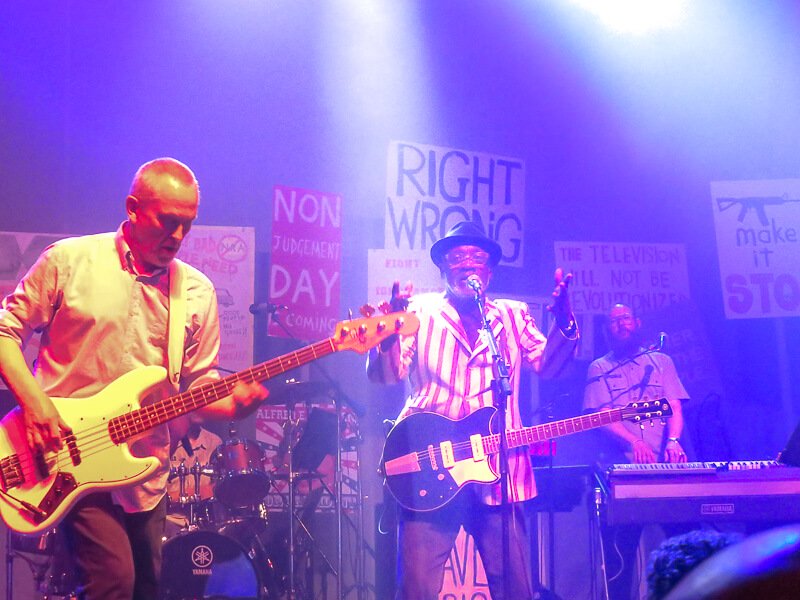 ---
House of Blues Boston Seating (and Standing) Plan for Concerts
House of Blues Boston's lighting and sound systems are designed to make fans feel as close to the performers on stage as possible.
Although seating plans can be configured based on the concert, House of Blues Boston is primarily a General Admission - Standing Room Only venue, with reserved seating limited to the upper balcony area on the third level, which also has a Standing Room Only area.
In particular, the VIP Balcony Boxes provide excellent sightlines, but you will pay quite a bit more for them. By comparison, the SRO general admission tickets usually go for a lot less.
It's worth noting that the mezannine and balcony levels are, in fact, raised areas, not floors. This is part of what makes the views of the stage so good as well as adding to intimacy of this mid-sized concert hall.
General Admission "floor" tickets give you access to the ground floor level, which basically functions as a dance floor, and the second level, the "GA Mezzanine," which is also standing room only. The reservations-only third level offers a mix of seating (although not a huge amount) and SRO areas.
The seating plan below shows House of Blues Boston's most frequently used layout and configuration: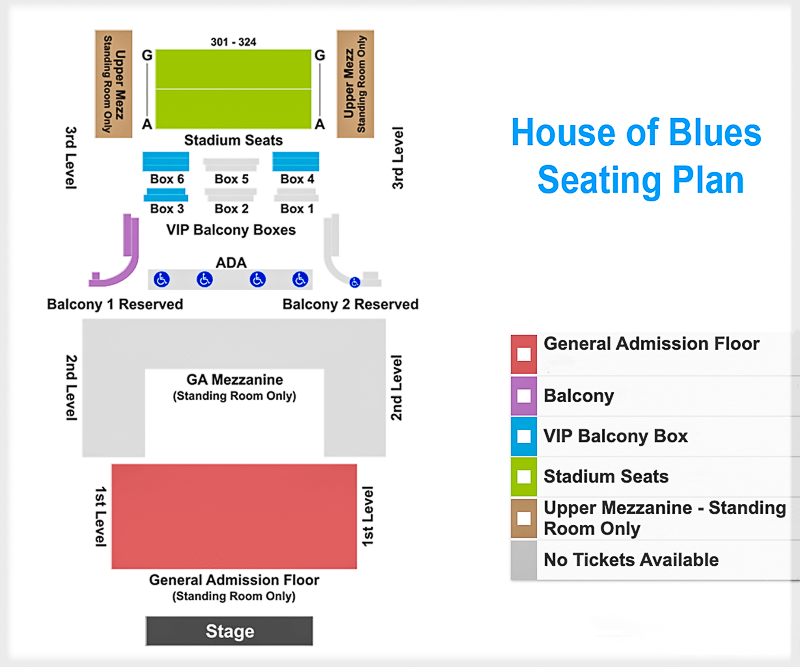 ---
What Else Can You Do at House of Blues Boston?
In addition to its concert venue, HOB Boston offers an in-house restaurant and bar featuring a Southern-inspired menu, live entertainment, a full array of alcoholic and non-alcoholic beverages, and a family-friendly vibe.
Enjoy the restaurant's Southern specialties such as jalapeño corn bread, fried pickles, and pulled pork sandwiches - or go for the hummus, Boston rice bowl, HOB burger, or Impossible burger.
HOB's restaurant typically opens at 4pm on concert nights, and 2 or 3 hours before Red Sox games. Confirm the opening time on their website before you go.
You can also check out the Foundation Room, a membership-based club area (but don't worry, you can always buy a 1-night pass) where you can enjoy pre-concert events, VIP tables and service, entertainment, food, and craft cocktails.
---
Where to Eat and Drink near House of Blues Boston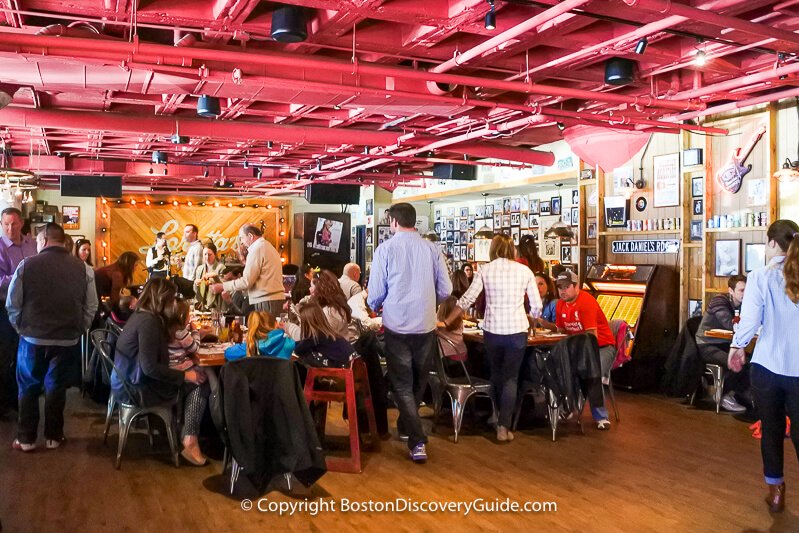 Thanks to HOB's location next to Fenway Park, you'll find MANY terrific places to eat nearby because Boston Red Sox fans take before-game and after-game noshing seriously.
Here are some great choices literally just steps from HOB Boston:
Loretta's Last Call - 1 Lansdowne Street - Southern cooking at its best, with chicken fried steak (brunch only), Cajun catfish, fried chicken, collards, and seriously good BBQ brisket. On the other hand, the craft beers and local ciders will make you happy you're in Boston. Add in the live music and dancing, and there's a lot to love here.
Lansdowne Pub - 9 Lansdowne Street - Irish pub with live music, Sunday morning Irish football (on a screen), very good Irish food (some of it perhaps more American than Irish but that's also true in Irish pubs in Ireland too), and a truly outstanding assortment of Irish whiskeys which will lure you back again and again.
Bill's Bar - 9 Lansdowne Street - Live music by local groups, DJs, cold beer, and food that's way better than the typical pub grub. Maybe you don't usually come to a bar because of its dessert, but let's just say that the lemon tart here has a big fan base. Try it, and you'll see why.
Bleacher Bar - 82A Lansdowne Street - Bleacher Bar has something no other no other place in this area can match: a direct view of Fenway Park's centerfield, thanks to its location under the bleachers. Come for a beer; while the food isn't the biggest attraction here, the burgers, chili, and onion fries are all solid choices.
More places to drink (& eat) near Fenway Park
---
Where to Stay near House of Blues Boston
With Fenway Park nearby, you'll find many wonderful hotels near HOB, such as the luxurious Hotel Commonwealth with views of the famous ballpark from some rooms: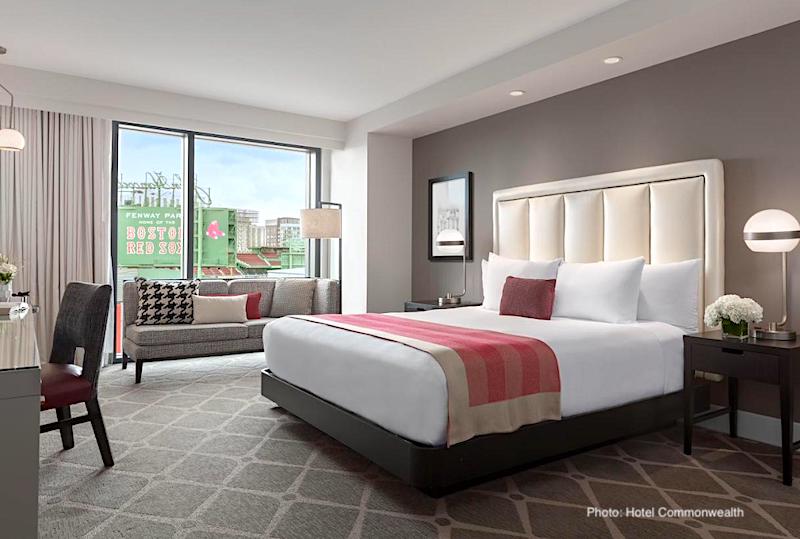 More top hotels near House of Blues Boston and Fenway Park:
Check out more hotels near Fenway Park
---
Transportation & Parking near House of Blues Boston
The easiest way to get to HOB is on the T (Boston's subway). The nearest station is Kenmore, about a 4-5 minute walk from HOB.
The closest parking is next door at the Lansdowne Garage - but if there's a game or concert scheduled at Fenway Park, don't even think about it. Just take the T!
Boston Insider Tip: Confused by House of Blues Boston's Location?
If you've been in Boston for 20 years or longer, you may remember House of Blues in a different location: Harvard Square. That was the very first HOB site in what is now a nation-wide chain with multiple locations in cities throughout the U.S. Founded by Isaac Tigrett, who was also a founder of the still-popular Hard Rock Cafe, and actor Dan Aykroyd, who co-starred with John Belushi in "The Blues Brothers," House of Blues opened in 1992.
Initially, the House of Blues in Cambridge focused on live American, and in particular Southern, blues music. In 2006, concert promoter and ticket seller Live Nation bought the House of Blues organization. Live Nation merged with Ticketmaster in 2010 to become Live Nation Entertainment.
In addition to House of Blues Boston, Live Nation has five other Boston venues: Brighton Music Hall, Paradise Rock Club, Orpheum Theatre, Leader Bank Pavilion, and Xfinity Center.
---
More Articles about Boston Concerts & Entertainment