Patriots' Day, a multi-day festival in and around Boston honors the memory and meaning of the first battle of the American Revolution fought in the nearby then-villages of Menotomy (now Arlington), Lexington, and Concord on April 19, 1775.
If you're visiting Boston during April, you won't want to miss this top event, a truly unique Massachusetts State holiday.
We officially observe the Patriots' Day holiday each year on the 3rd Monday in April, which also happens to be the day of the Boston Marathon (sometimes called the Patriots' Day Race).
However, festivals, celebrations, parades, reenactments, and other activities unfold throughout the entire 3-day weekend, as well as other times throughout April.
The most dramatic events include Paul Revere's midnight ride from Boston across the countryside, marches of local historic militias, and battles reenacted on Lexington Green, and Old North Bridge in Concord.
The Patriots' Day reenactments are local events, carried out each year by costumed members of historic militias portraying colonists and British soldiers as a commitment to keep history alive and pay tribute to those who fought for liberty almost 250 years ago. You may be surprised by how many locals attend - and how few tourists know about this wonderful annual ritual.
If you're visiting Boston during April, don't miss your chance to attend at least one of these special free reenactments. There's nothing else like them anywhere else in the world - because Boston and its surrounding towns and countryside is where the American Revolution began.
Find the schedule for 60+ Patriots Day reenactments and celebrations near Boston
Top Photo: Reenactors portraying Colonial Militia at Minute Man National Historic Park in Lexington, Massachusetts
---
Patriots' Day Reenactments: What to Expect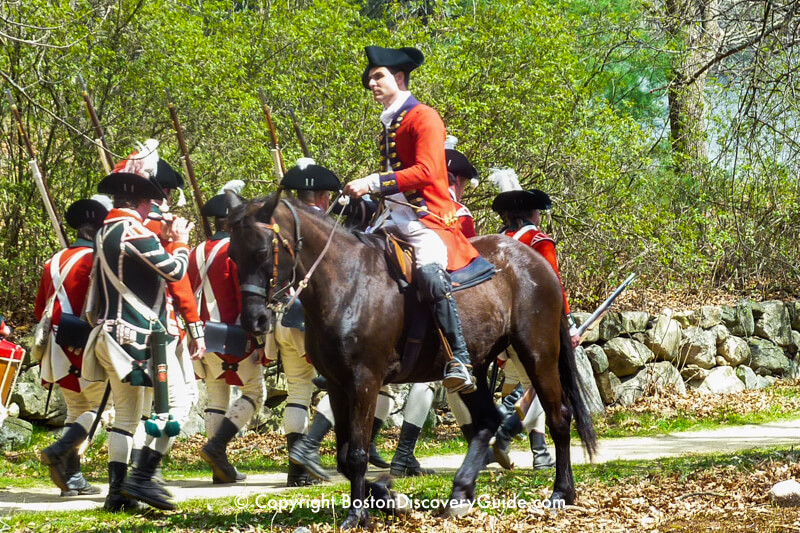 You'll see 2 major types of Patriots Day reenactments:
Battles, skirmishes, and the events leading up to them, such as Paul Revere's ride, the engagement between local militia and the British Regulars on Lexington Green, and the dramatic battle at North Bridge when the Colonists first fired at British soldiers.
Depictions of 18th century daily life, using actual historical buildings such as Paul Revere's house in Boston's North End and Hartwell Tavern in Minuteman National Historical Park in Lincoln.
In addition, a number of demonstrations show you more about battle tactics in the Colonial period.
For example, hundreds of Colonial and British reenactors stage the "Bloody Angle Tactical Demonstration at Hartwell Tavern" along a half-mile stretch of Battle Road in Lincoln.
You'll see different types of muskets and other weapons in use, learn about their accuracy at 100 feet ("inaccuracy" to be more correct), and get a sense of what an actual battle might really have felt like to those waging it.
The reenactors - local men, women, and children of all ages - stay in the character of the person they represent.
They share lots of information with you during presentations about their daily routines, life in Colonial America, and their feelings about the British and the taxes they imposed.
You'll also find out interesting facts about Colonial Boston and the Massachusetts Bay State Colony. For example, when the Revolutionary war began in 1775, the average family here included 11 children.
Historic & Sightseeing Tours of Boston
---
Patriots Day Hotels: Where to Stay near Reenactment Sites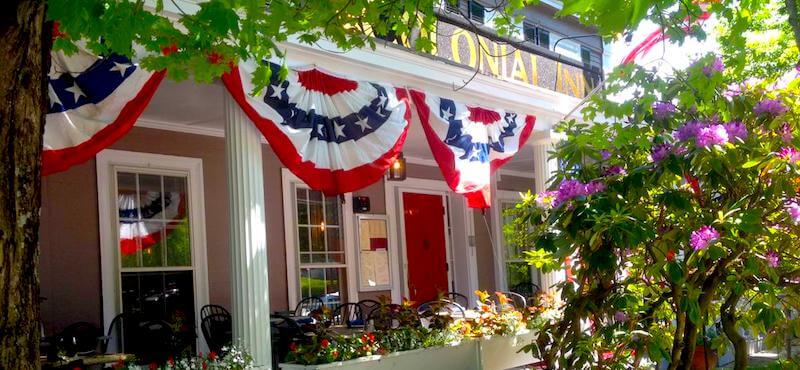 Boston (near the North End)
Concord / Lincoln / Lexington
---
Who Are the Patriots' Day Reenactors?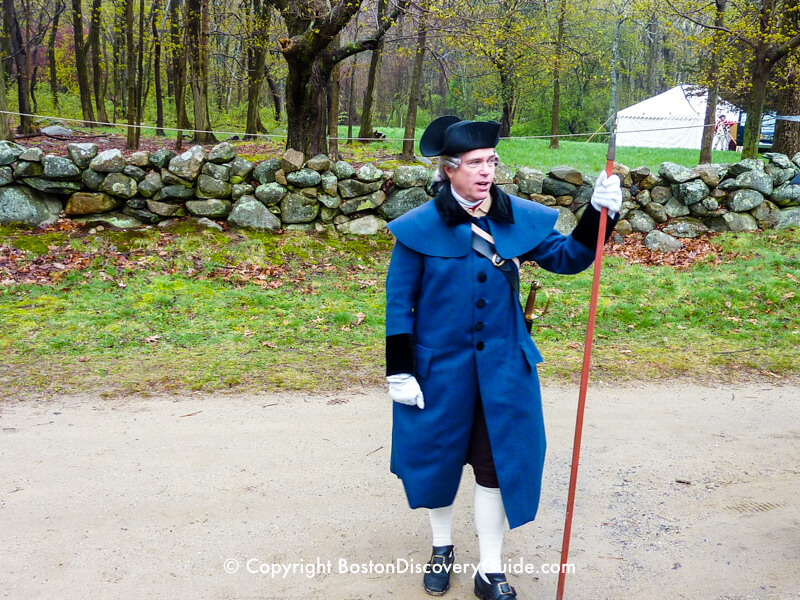 A variety of reenactor groups, with names like "First Foot Guards," "Lexington Minutemen and Lexington Training Band," "His Majesty's Tenth Regiment of Foot," "Colonel Bailey's Second Massachusetts Regiment," "Lincoln Minutemen," and "Concord Independent Battery" participate in the Patriots' Day re-creations of historic events.
Many of these groups are local, while some come from other New England states, and even farther away.
In general, reenactor group members share a keen interest in Colonial and Revolutionary War history, and a commitment to preserving history through authenticity.
Although some of these groups have been active for a long time, many arose in the 1960s, when New England towns revived their long-dormant local militias and minute companies in preparation for the country's Bicentennial celebrations in 1976.
The reenactor groups began by staging mock battles, and then became fascinated by the history.
Even the Colonial uniforms and other clothing worn reenactors are authentic.
In the words of one reenactor:
"These are 'real' Colonial clothes, not 'costumes.' If you want your clothes to look right and fit right, you have to make them yourself . . . I made my own, by hand. I finally even learned how to do buttonholes - must have made 100 or more before I got it right. The trick is to use silk thread."
---
What Are the Best Patriots' Day Events for Visitors?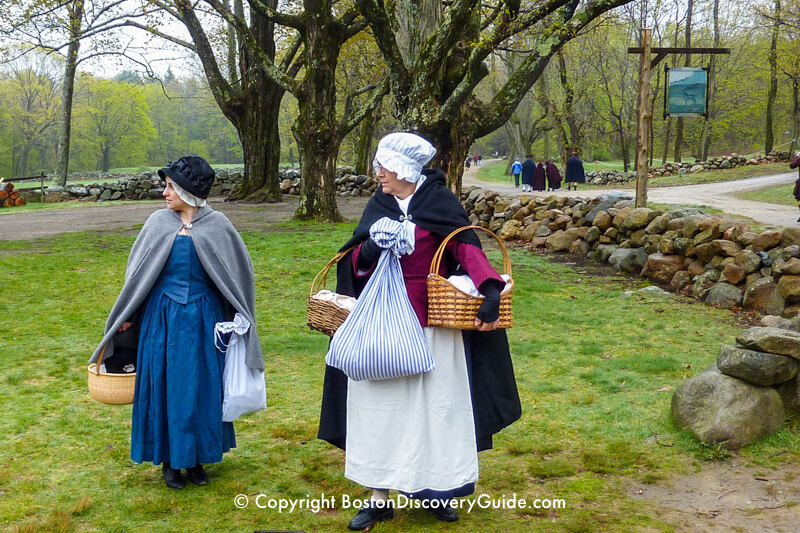 With so many reenactments taking place during Patriots' Day weekend, how do you decide which ones to attend?
Whatever you see will be a fascinating glimpse of an earlier time - but here are our recommendations (check the Patriots' Day schedule for times and availability (not all take place each year):
Boston
Events at Paul Revere's House - especially interesting for children.
Lantern-lighting ceremony in Old North Church commemorates the first in the chain of events leading to the Battle at Old North Bridge.
Reenactment by the National Lancers, a Massachusetts Militia cavalry troop formed in 1836, of the start of Paul Revere's famous ride to Concord to warn Patriots such as Samuel Adams about the imminent arrival of British troops.
Lexington
Reenactment of the "skirmish" on Lexington Green where the "shot heard 'round the world" was fired
Lincoln - Minute Man National History Park
Saturday reenactments at Hartwell Tavern - Tours and demonstrations by hundreds of reenactors - it's like being in a living history museum - great for kids and adults
The Parker's Revenge reenactment - See how the Minute Men managed to ambush the British soldiers as they returned to Boston from Concord
Concord
Reenactment of the Battle at Old North Bridge
More Things to Do in Boston in April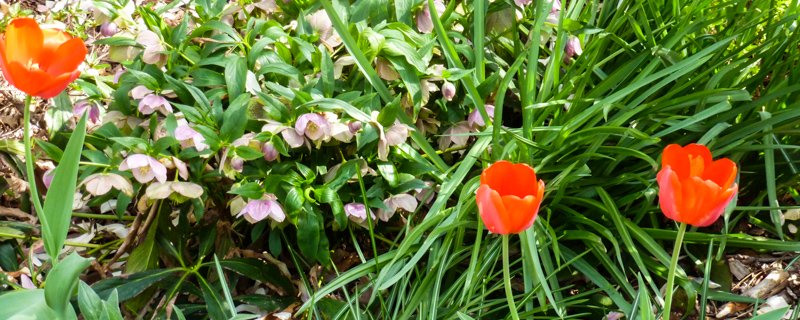 ---
Boston, Cambridge, Lexington, & Concord Revolutionary War Sites Private Tour
Want to retrace the footsteps of Paul Revere as he sounded his alarm? This special private tour to Revolutionary War sites takes you along Paul Revere's path on the famous night when he rode across the countryside sounding his famous warning to the Colonists: "The British are coming!"
You get to visit Harvard Square, bucolic Lexington Green where the first battle of the Revolutionary War on April 19, 1775, and the Old North Bridge in Concord, where British troops met the wrath of Minutemen and local Militias who retaliated for those killed earlier in the day in Lexington.
Recommended if for:
Returning visitors who have already see top Boston attractions and wants to explore beyond the city
History buffs who want to visit the locations of these iconic Revolutionary War events
First-time visitors who want to see all of these iconic sites
Find out more about this Cambridge, Lexington, Concord Tour
---
More Patriots Day Festival & Marathon Weekend Articles
---
Need a Boston Hotel or Apartment?
Use this handy map from Booking.com to find the perfect place to stay. Just enter your dates to find what's available, see the best rates, and make your reservations.